Eyewear is an important part of a person's look. Your eyewear can be the perfect finishing touch to any outfit, whether you're aiming for a professional, glamorous, or casual vibe. Different types of eyewear can also completely change your look and add personality to your appearance. Today I'm exploring five popular eyewear styles that never go out of style. From prescription glasses to sunglasses, these styles are sure to give everyone an all-new look.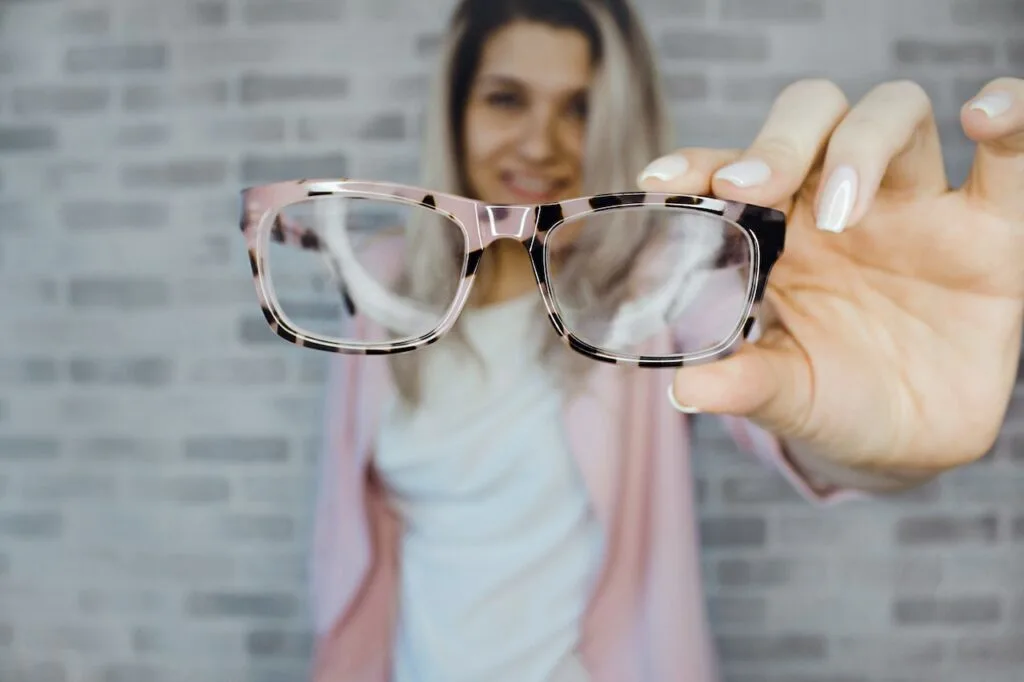 1. Rimless Prescription Glasses
Rimless glasses are one of the most popular eyewear styles. These glasses provide a timeless, minimalist design that doesn't overpower your face with intricate or bold features and frame designs. This eyewear style gives you a clean look and helps to show off your natural beauty.
Rimless prescription glasses are stylish and sleek and have continued to gain popularity worldwide. They offer the perfect combination of fashion sense and visual aid for those needing assistance seeing things. The frames are usually made from lightweight materials like titanium, stainless steel, or plastic, which makes them comfortable to wear all day long.
2. Colored Contact Lenses
If you want to change your eye color, coloured contact lenses are the perfect solution. Colored contacts come in shades and tints, from vibrant blues and greens to subtle browns and greys. With their help, you can transform your look while keeping the same clear vision that glasses provide.
Colored contacts are also a great option for people who don't want the hassle of wearing glasses or for those who want some extra sparkle in their eyes. You can even find special effect lenses such as cat eyes, zombie eyes, and vampire eyes.
With colored contact lenses, you have endless possibilities for transforming your whole appearance. In addition, contacts are easy to maintain and care for.
3. Sunglasses with Characteristic Design Features
Are you searching for sunglasses with distinctive designs? You're in luck because there are a wide variety of options available! Some of the most popular eyewear styles include oversized frames and cat-eye frames, among many others, so you can surely find a pair that suits your taste. Aside from shielding your eyes from harmful UV rays, these sunglasses also enhance your style.
Sunglasses are a must-have item for the summer months to protect your eyes from harmful UV rays and as a fashion statement. With sunglasses, you can easily change your look with their wide variety of shapes and styles. There's something for everyone, whether it is classic aviators or retro cat-eye frames.
Popular designs this season feature unique shapes like circles and square rectangles that come in bold colors such as blues, pinks, silvers, and gold. There is truly boundlessness when it comes to sunglasses designs these days!
4. Cat Eye Frames
Cat eye frames are another of the most popular eyewear styles. These frames have a unique shape with prominent, upswept corners. They add a unique flair to your look and are perfect for making a statement and standing out from the crowd. Cat eye frames come in various sizes and colors, so searching for that perfect pair is easy. These retro-inspired cat eye frames are the best way to add vintage flair to your look.
5. Retro-Inspired Glasses
Retro-inspired glasses have become another of the popular eyewear styles in recent years. These frames feature classic designs that combine modern and traditional elements, creating a timeless look. Some have thick frames with a bold design or pattern etched into them. while others feature round lenses that give off a vintage vibe. Retro eyeglasses come in various stylish colors, including browns, golds, coppers, pinks, silvers, and blacks. They can be found in both prescription and non-prescription varieties, and they are perfect for making a fashion statement. If you love the classic look, these are the glasses for you!
Conclusion
Eyewear can be the perfect way to change your look and enhance your personality. From rimless glasses to colored contact lenses, there is something for everyone. Whether you're looking for timeless frames or funky sunglasses with unique design features, there are plenty of popular eyewear styles that will help you express yourself stylishly!
Rimless prescription glasses are minimalist, while colored contact lenses provide an extra sparkle in your eyes. Sunglasses come in unique shapes and designs to explore the perfect pair for yourself. Cat-eye frames add vintage flair to your look, while retro-inspired glasses bring classic vibes with bold designs.
Whatever style you prefer, make sure the eyeglasses fit your face and personality. With these eyewear choices, you can enhance your look and be stylish all year round.