Ahhh, Summertime! Hot, long, sunny days, the kids are out of school, lots of fun outdoor activities such as camping, playing in the backyard, grilling out, swimming and more. But with the increase in outdoor activities comes an increase in bug bites, poison oak, ivy and sumac and cuts and scrapes. So for parents, summertime also means time to stock up on first aid products.
Recently, the makers of the popular, over-the-counter allergy relief medication, Allegra, expanded their product line to include two new topical anti-itch creams. I was sent both of these creams for review, and was impressed with how well they work.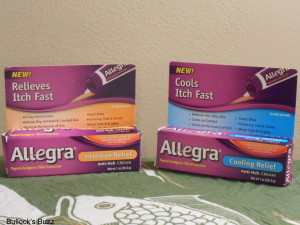 The two formulas include Allegra Anti-Itch Cooling Relief Cream and Allegra Anti-Itch Intensive Relief Cream, both of which are designed to alleviate itching and pain caused by insect bites, minor skin irritations, sunburn, rashes due to poison oak, ivy and sumac, and minor cuts and scrapes. Both creams also work to provide protection and temporary relief from chapped or cracked skin.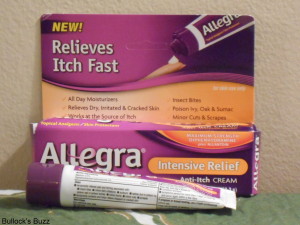 Itchy skin is usually triggered by a chemical in a person's body called histamine. The Allegra Anti-Itch Relief creams work in two ways. First, by acting as an antihistamine, getting beneath the surface of the skin to stop the itch at the source. Second, they contain all-day moisturizers and Vitamins A, C and E which help to soothe and protect the skin while it gets back to normal after scratching.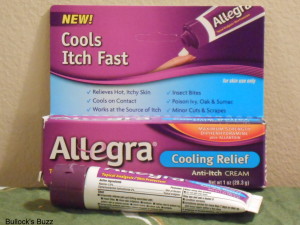 Allegra Anti-Itch Cooling Relief provides fast, cooling relief for hot, itchy skin caused by things like poison oak, ivy and sumac, while Anti-Itch Intensive Relief brings fast, intense, moisturizing relief for itchy, dry and irritated skin. Both products are safe for adults and children ages 2 and up.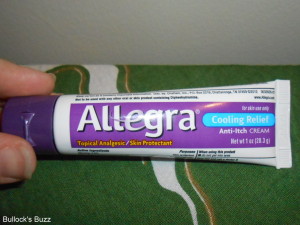 We have used both creams several times for everything from minor scrapes to mosquito bites, and they are living up to their name. When my husband and I got eaten alive by mosquitos while grilling out the other night, we immediately applied the Intensive Relief to each bite and within seconds the itch was gone. A few weeks ago, my husband was cleaning gutters on the roof and got a sunburn on his neck and shoulders. The Cooling Relief cream took the burn out, and once he started to peel, it helped with the dryness and itchiness.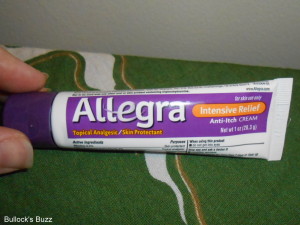 Anti-Itch Relief cream has become a permanent addition to our medicine cabinet, and I highly recommend it to anyone who spends time outside and suffers from itchy, irritated skin due to a variety of causes!
Allegra Anti-Itch Relief creams can be found at groceries, drug stores and mass merchandisers across the country. You can also find it through several online sites such as drugstore.com, Vitacost.com, Amazon.com and several others.