Everyone who knows me knows that ever since I was a child, I have waged a constant battle with my hair. I started out despising my curls, and would keep my hair as short as possible so as not to deal with them. Then, as I grew into my pre-teen and early teenage years, I would do my best to brush my hair out straight or slather it with gel or mousse in hopes of killing the curls. I would put it back in a headband, tie it in a ponytail, smush it under a hat, anything and everything to hide or get rid of the curl. Now, as an adult, I actually have grown to love my curls, and the focus of my battle has changed from fighting the curls to fighting the frizz and finding the best products to keep my curls well-defined, shiny, moisturized.
In my seemingly never-ending search I have tried tons of products,from commercial brands to top-of-the line salon brands, and everything in between. I have learned that much depends not only on the styling product I use, but also the type of shampoo and conditioner. And one key characteristic of that shampoo, conditioner and styling product that my hair craves, is some type of hydrating or conditioning ingredient. And on top of having hair that already leans towards the dry/damaged side, I discovered that when you add in coloring, my hair is pretty much begging for hydration.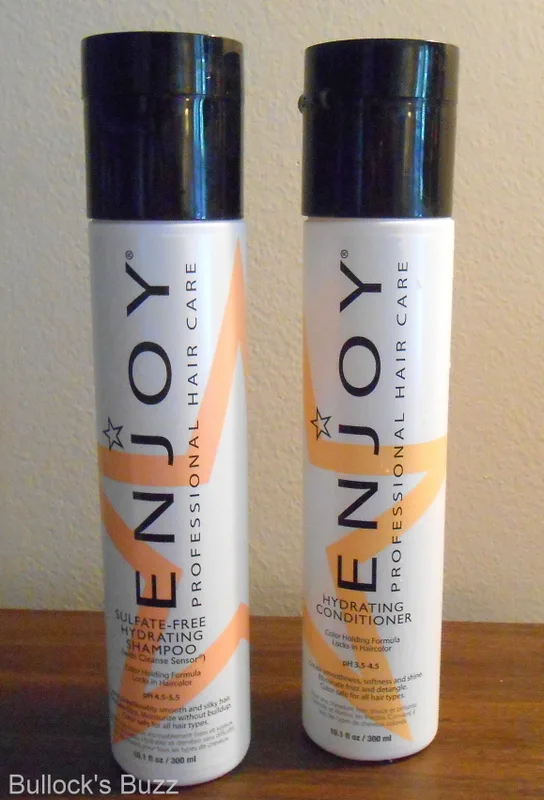 I recently came across a wonderful line of professional hair care products called Enjoy Professional Hair Care. They carry a full line of products for every hair type including shampoos, conditioners, styling aids and finishing tools, as well as hair coloring products and even flat irons. I was especially excited when they offered me the chance to review some of their products!
While perusing their products, I discovered both a shampoo and conditioner made specifically for hair in need of hydration that works to eliminate frizz, de-tangle and moisturize without any build-up. Plus, they are perfectly safe for color treated hair of any hair type!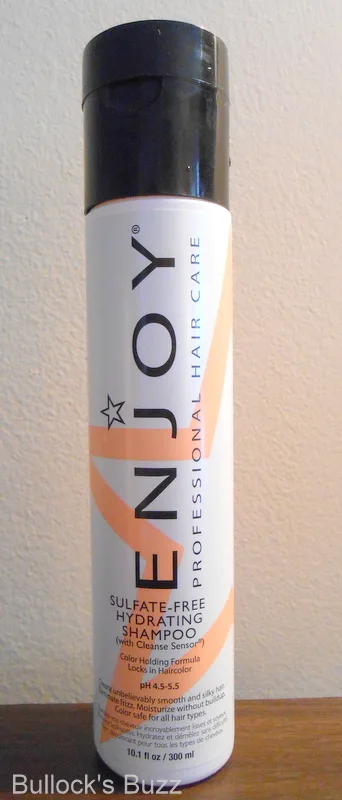 The Sulfate-Free Hydrating Shampoo is formulated to cleanse, hydrate and eliminate frizz without build up and without stripping the hair of moisture and color. It is color safe for all hair types, and is an ideal shampoo for dry, coarse, chemically processed or overly curly hair. It comes in a 10.1 fl. oz bottle with a handy flip top lid, and it has a unique, fresh and clean-smelling light scent. The shampoo is thick and creamy, and it only takes a small amount to create a nice, thick lather that thoroughly cleans and hydrates your hair. I was impressed with how quickly it rinses out, too.

In addition to the shampoo, I also tried the Hydrating Conditioner which is also color safe for all hair types. It also comes in a 10.1 fl. oz bottle and has a thick and creamy consistency with a light, pleasant scent. I always apply conditioner after shampooing, working it through my hair from scalp to ends and leaving it on for about 2 to 3 minutes. This conditioner immediately worked to detangle my hair and add much needed hydration. Once it was time to rinse, I was very happy with how easily, quickly and thoroughly it came out, leaving my hair hydrated, tangle-free and soft.
Overall I was very happy with how well both the shampoo and conditioner worked on my hair! My curls look wonderful, and are much less frizzy and dry feeling. My hair is soft, shiny, tangle-free and manageable. And as far as my color is concerned, I had started using both products just days after I had colored my hair, and neither product damaged or altered the color in any way. In fact, it seemed like the color actually stayed vibrant much longer than it has when I used a different brand of shampoo and conditioner.
Enjoy Hair Care products can be found in many fine salons across the country, as well as at several online sites. To locate a salon near you, visit the Enjoy Hair Care salon locator on their website.
Giveaway is over.