Add a little Fall to your walls with this free, festive fall subway art printable!
What happened to the summer? It literally flew by!
Don't get me wrong. I love Autumn. In fact, it is one of my favorite times of the year, even though I want to hang on to those long, warm, lazy days of summer for as long as possible.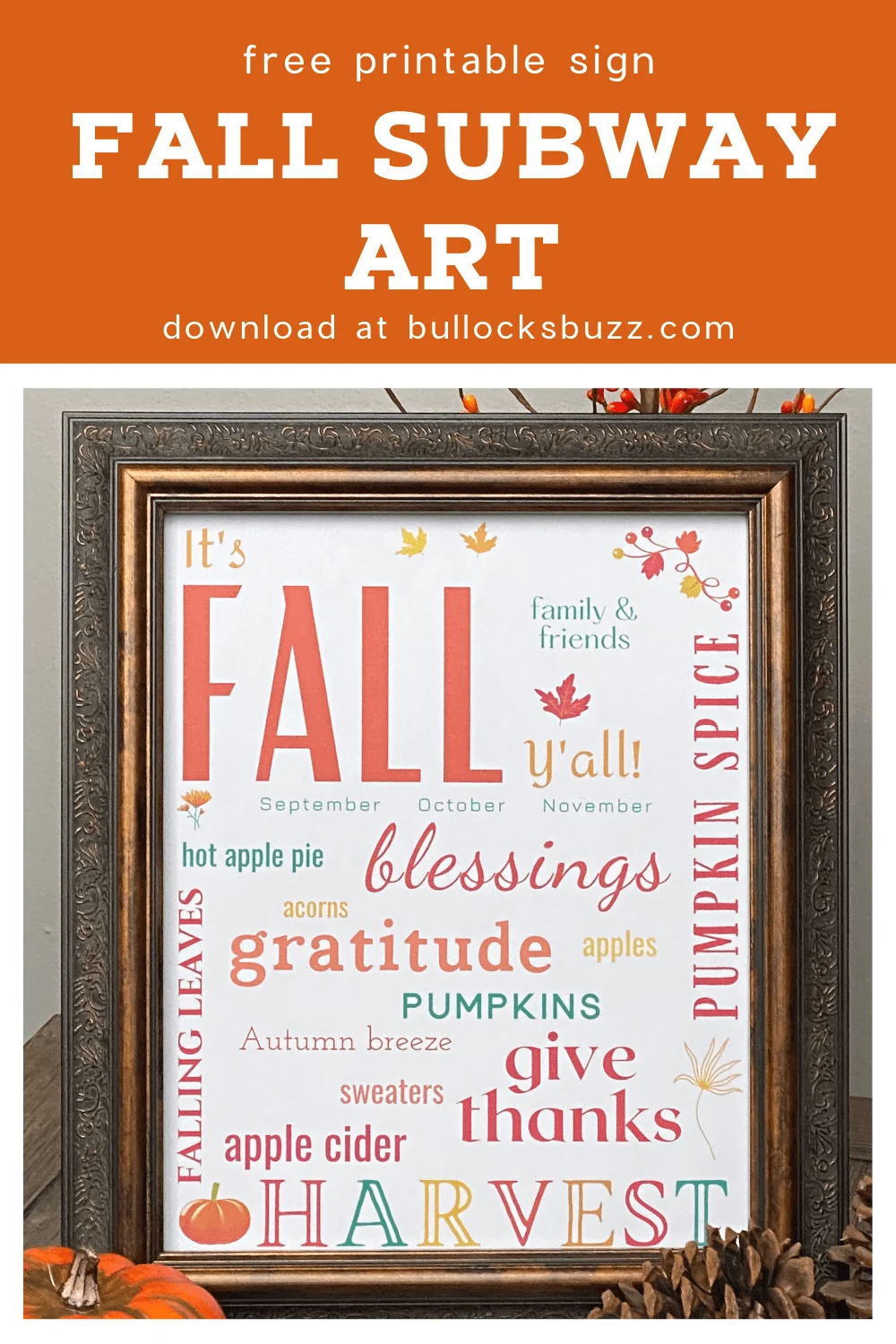 But I truly do enjoy this time of year. I love visits to local pumpkin patches, picking apples, and going on hayrides. The crisp air, warm, fuzzy sweaters, and drinking hot apple cider. The sound of rustling leaves, the smell of bonfires, football, and, of course, pumpkin spice.
I love baking Fall treats, and, of course, all that's involved with celebrating Halloween and Thanksgiving. And I absolutely adore preparing my home for a new season.
Since fall decorating is on my mind, I created this super cute subway-style Fall art printable for you to decorate your homes with this autumn season!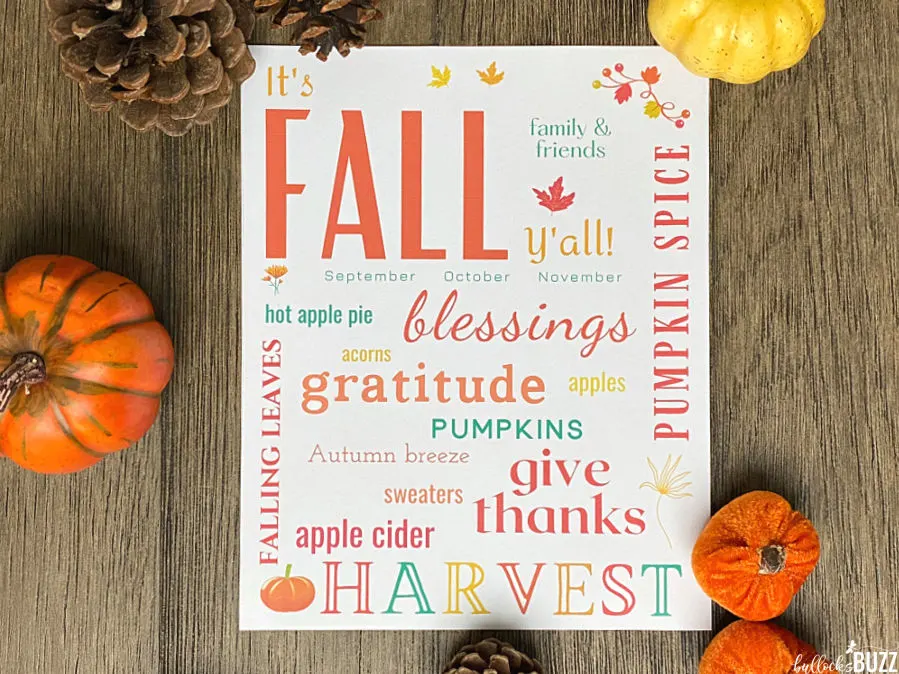 I think one of the easiest and most affordable ways to decorate is by printing out seasonal art. It's quick and it's easy. And you can just use the same frames and rotate the prints throughout the year.
If you're new to printables, here are some simple tips on how to go about printing and displaying them.
What's the Best Way to Print a "Printable?"
There are several ways you can print this fall subway art printable. I've listed four of the most common ways below, although I'm sure there are more!
First, you'll need to download the free printable and save it to your computer. You can do this either by right-clicking and selecting 'Save As' or by clicking the link that says download (see towards the end of this post).
Once you have the image saved to your computer, you can then print it using one of the following suggestions:
if you have a photo printer, you can simply print it out yourself. Many printers offer the option to print out images whatever size you like using photo paper. However, I suggest printing on white cardstock if you have it. If your printer does not offer the option to select a size, you can use Microsoft Publisher or Powerpoint, or Adobe Acrobat or Reader to size it.
save the image to a flash drive and take it to Staples, Kinkos, Office Depot, Costco, or another similar place to print.
upload the image to a photo website such as Shutterfly.com, size it to an 8×10, add it to your online shopping cart, then check out. You can then pick it up at a Target store (they are partners if you didn't know). Don't forget to choose the pick-up option during check-out.
Once printed, you can go to the dollar store or Walmart and purchase an affordable 8×10 frame to put it in.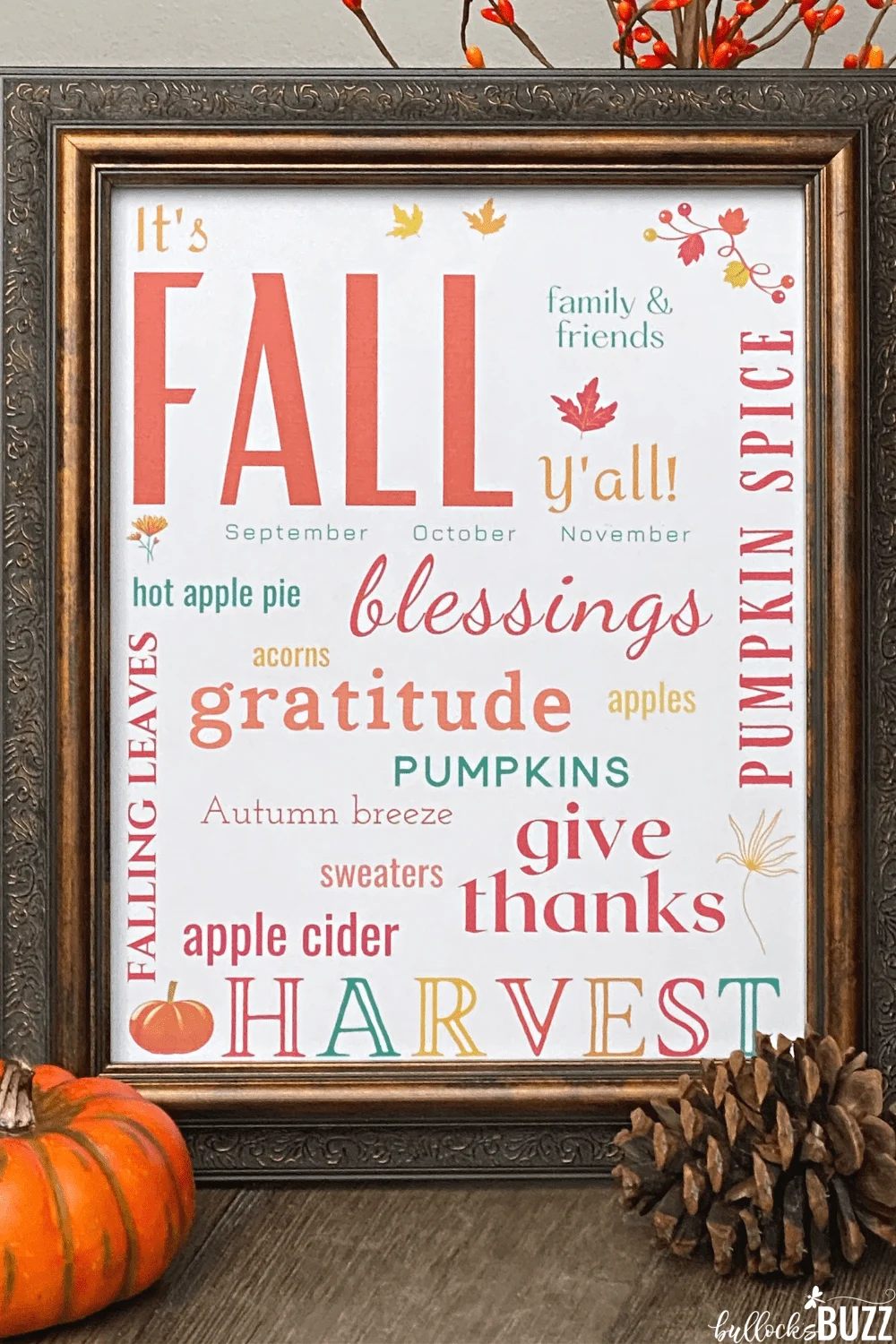 How to Decorate with Fall Printables
There are so many ways to use this Fall print. You can print it out on normal paper, tuck it into a frame, and hang it up on your wall. Or you can print it on cardstock and use it on a stand to display on a set of shelves.
You could also adjust the print size or adjust the PDF size using a program like Adobe Acrobat or Microsoft Powerpointand use it for all sorts of things. For example:
make it smaller and send it as a card.
make it a bit larger, laminate, and then use them as decorative place settings on your table.
use it as gift tags
make a framed canvas
transfer it onto wood or acrylic
and so much more!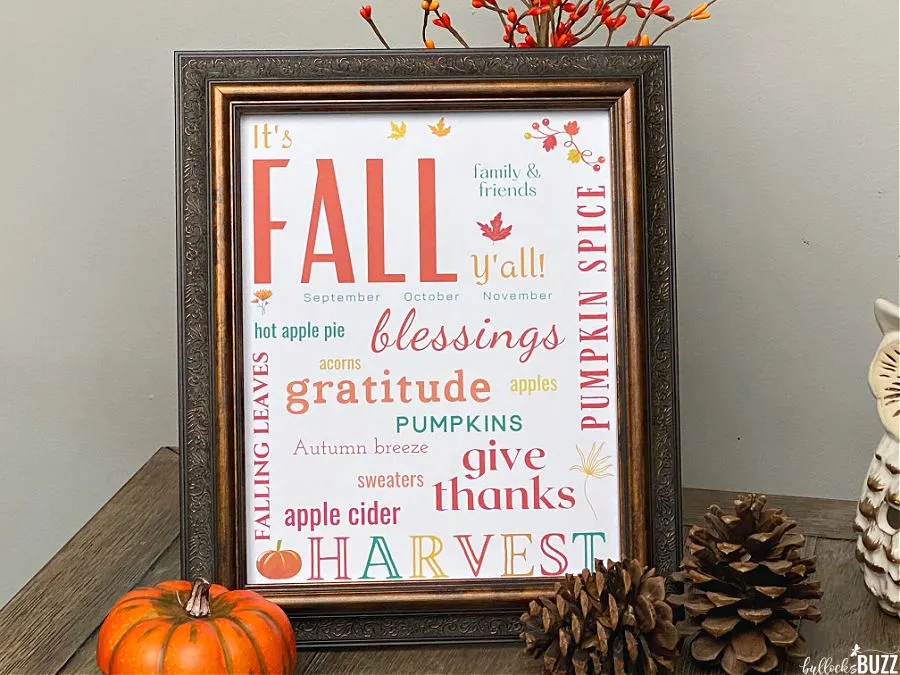 Free Fall Subway Art Printable Download
This free Fall Subway Art Printable is sized to be an 8×10 inch printable featuring a collage of some favorite fall words in the style of subway art.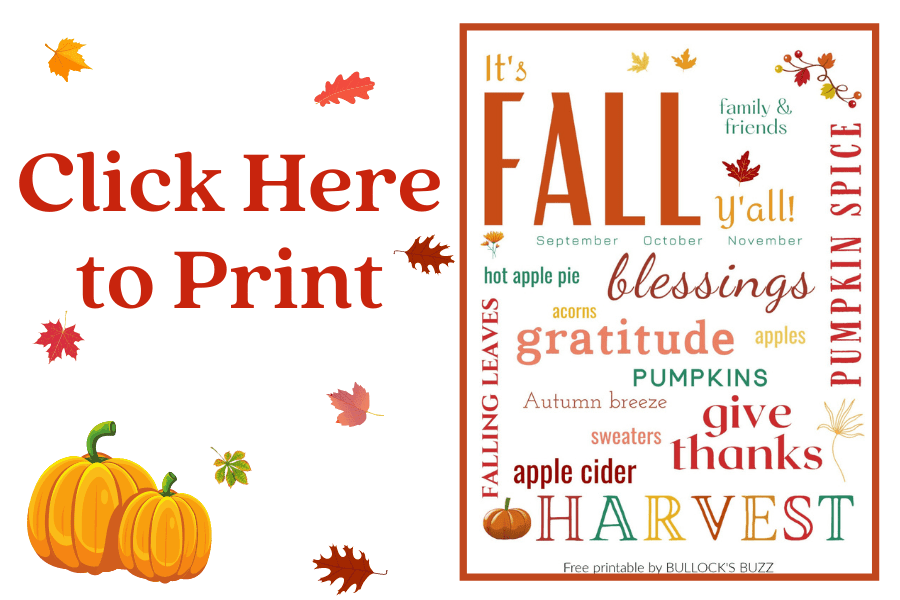 To download, simply click on the above image…
OR
Click the link below to download your free printable:
Fall Subway Art Free Printable
This printable is available for PERSONAL USE ONLY. Thank you!
Until next time…
~Alaina
More Seasonal Printables