Just a few more weeks until Halloween arrives! Between decorating for Halloween, creating fun Halloween crafts like this DIY Halloween wreath and these treat-filled jars, and costume hunting, I am having a blast! And if you're planning a spook-tacular Halloween party or your children are celebrating with a classroom party, then I have an extra special treat for you! Some frightfully fun Free Printable Halloween Treat Bag Toppers!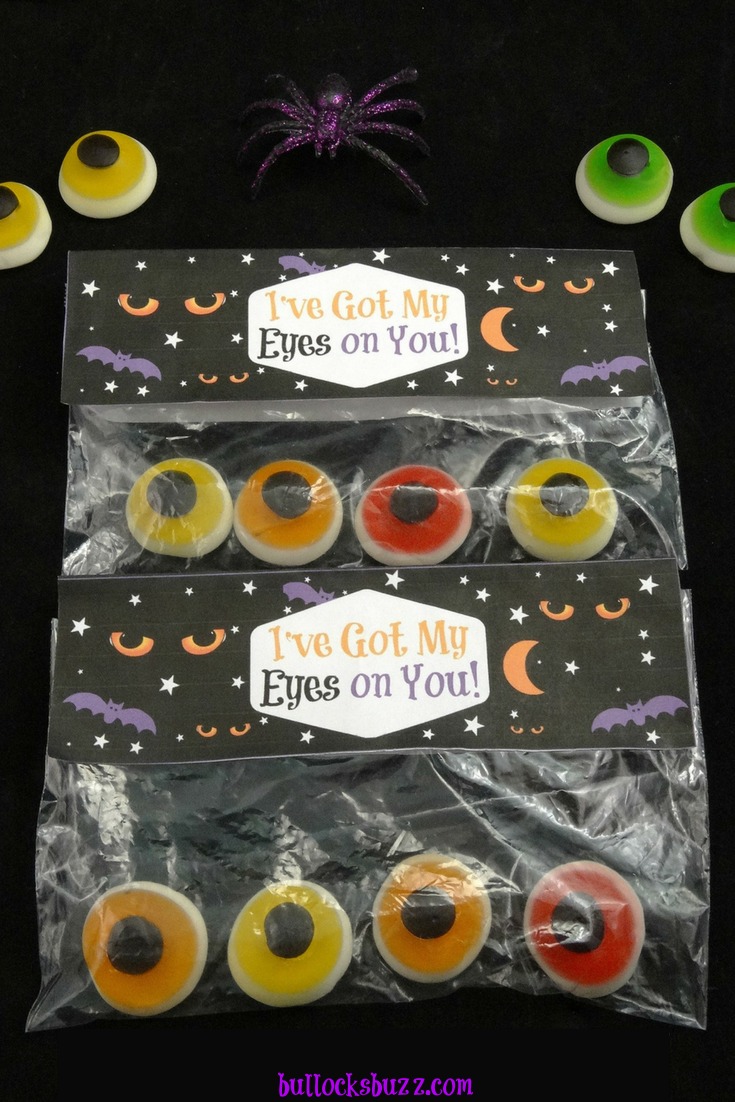 Hand out candy or toys wrapped in these bags and you'll be the favorite house in the neighborhood on Halloween night! They are also a great addition to a fun Halloween-themed lunch!
These easy, fun and freaky 'I've Got My Eyes on You' goody bag toppers can be used on treat bags filled with eyeball themed candy, cookies or toys. I used some colorful gummy eyes that I found at my local Dollar General, but you can also find them as well as other candy eyeballs on Amazon and at Walmart.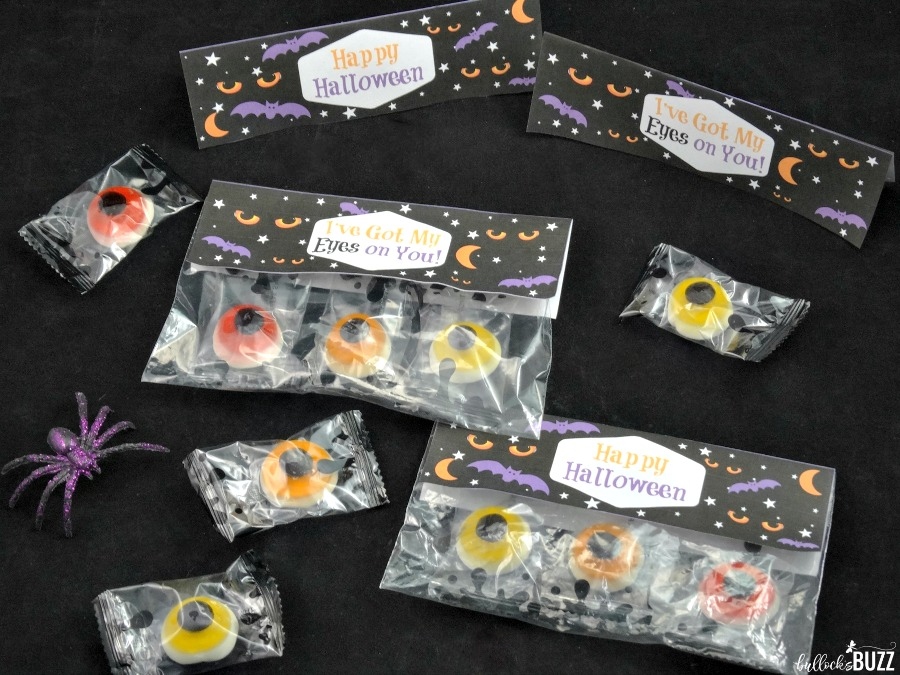 And if you are planning on using these treat bags for a classroom party, yet you are not allowed to send candy or food, these awesome glow in the dark eyeball bouncy balls will work great, too!
These Halloween treat bag toppers are just the right size to fit both Ziploc sandwich or snack bags (6.5″ by 4″). They are simple to make and take about 10 minutes to complete, depending on how many you bags you need to create. And the best part is you can make these right from home, so no need to go buy them from the store!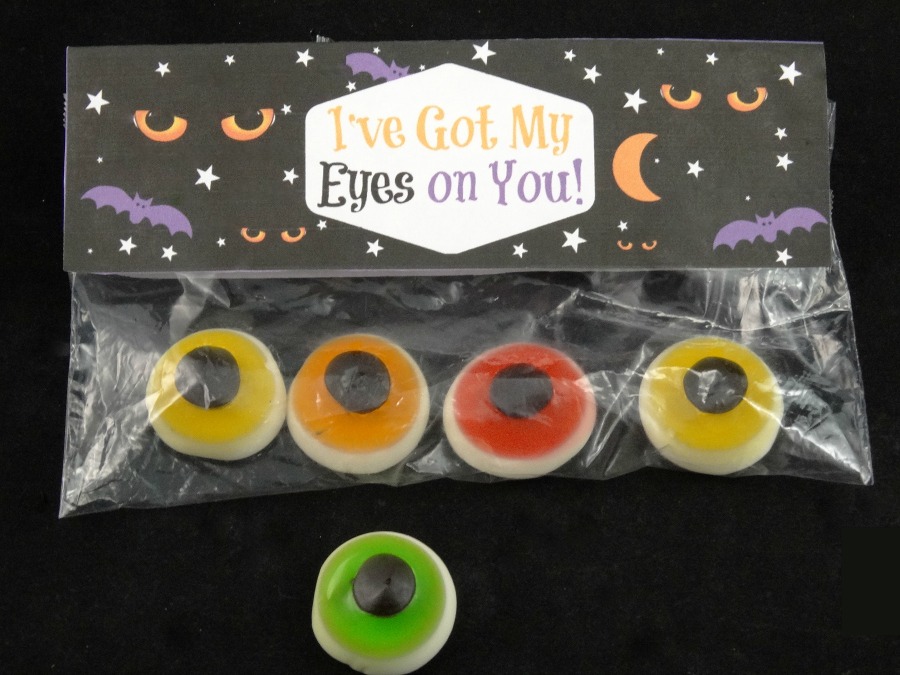 Free Printable Halloween Treat Bag Toppers
If you would like to use these Halloween Treat Bag Toppers to make your own Halloween goodie bags you can download the free printable Treat Bag Toppers by clicking the colored link in this sentence or by clicking the picture below. Each sheet will print 2 goodie bag toppers. Be sure to set your printer's ink to the 'Best' setting when printing, and use a heavy weight paper. I personally prefer to use cardstock for mine.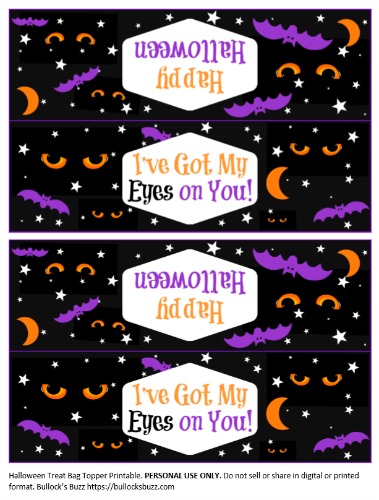 Instructions to Make Halloween Treat Bags
To put your Halloween treat bags together, print out as many treat bag toppers as you need, cut them out, and then fold them in half. Next, fill your bag with the eyeball-themed candy, cookies or toys, and then staple or tape the Halloween bag topper to the top of the closed bag. If there is a lot of room at the top of your bag after filling it, just fold down the top, and then add the printable treat bag topper.

Happy Hauntings! I hope you like these Halloween Treat Bag Toppers as much as I enjoyed making them! Be sure to use the social sharing buttons found at the top and bottom of the post to share with friends and family!
LET'S BE FRIENDS! STAY UP TO DATE ON ALL BULLOCK'S BUZZ FUN BY FOLLOWING ME ON:
FACEBOOK | TWITTER | PINTEREST | INSTAGRAM | GOOGLE+
Enjoy this post? Subscribe to our newsletter so you'll never miss another!
Subscribe to Newsletter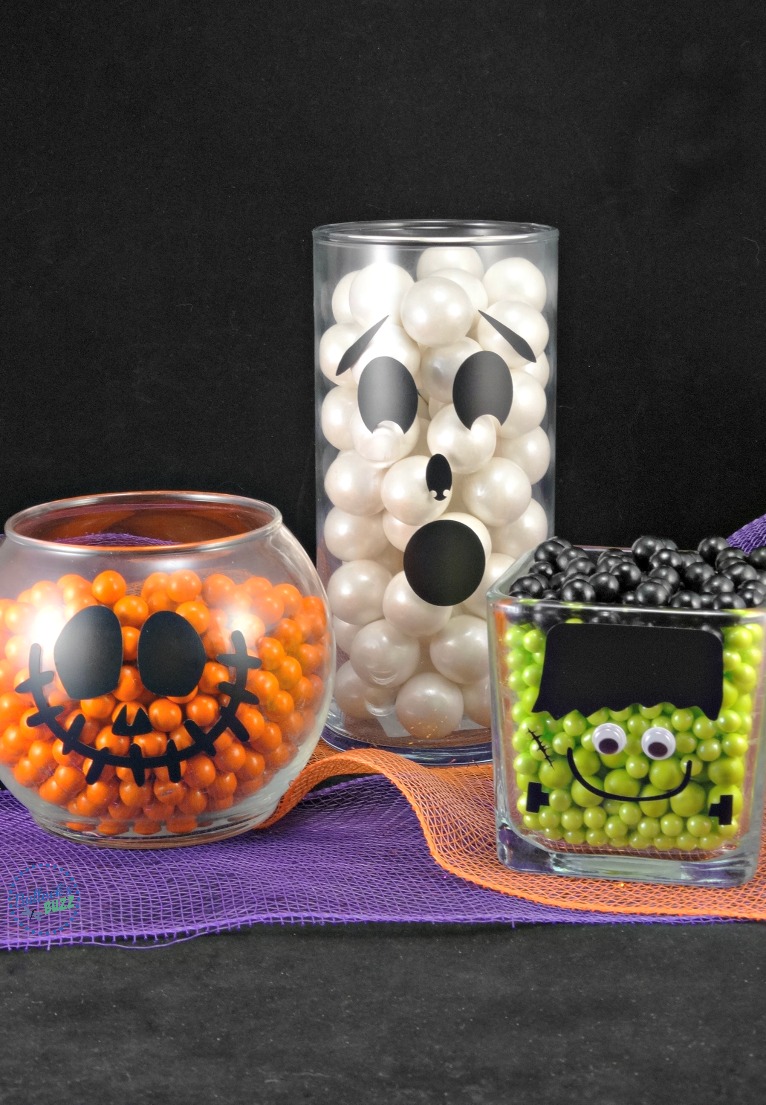 Do you have a favorite Halloween craft? I'd love to hear about it! In fact, I may even feature your craft in a blog post, with credit to you, of course! Share with us in the comments below!