Dress up those plain snack bags for Halloween with these free printable Halloween Treat Bag Toppers. Perfect for candy or toys, these free toppers are easy to print and cut at home for your next spooktacular celebration.
Just a few more weeks until Halloween arrives! Between decorating for Halloween, creating fun Halloween crafts like this DIY Halloween wreath and these treat-filled jars, and costume hunting, I am having a blast!
If you're planning a spook-tacular Halloween get together or your children are celebrating with a classroom party, then I have an extra special treat for you! These frightfully fun Free Printable Halloween Treat Bag Toppers!
Whether you are handing out candy at the front door or at a classroom party, treat bags are a great way to give out sweets without a bunch of hands reaching into the candy bowl.
Hand out candy or toys wrapped in these spooktacular bags and you'll be the favorite house in the neighborhood on Halloween night!
They are also a great addition to a fun Halloween-themed lunch!
WHAT SHOULD I PUT IN MY HALLOWEEN TREAT BAG?
These easy, fun and freaky 'I've Got My Eyes on You' goody bag toppers can be used on treat bags filled with eyeball themed candy, cookies or toys.
I used some colorful gummy eyes that I found at my local Dollar General, but you can also find them as well as other candy eyeballs on Amazon and at Walmart.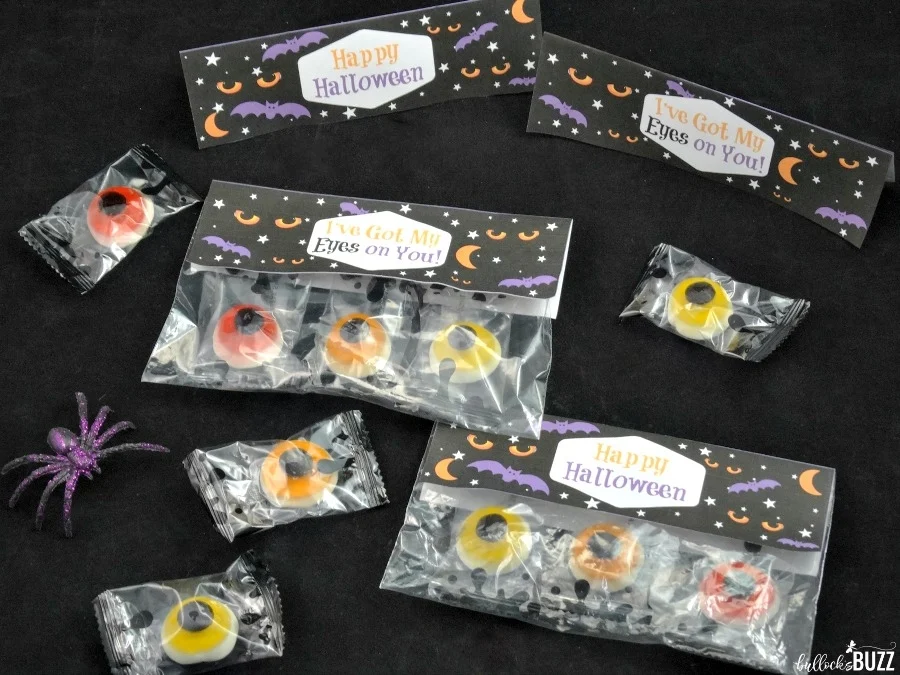 And if you are planning on using these treat bags for a classroom party, yet you are not allowed to send candy or food, these awesome glow in the dark eyeball bouncy balls will work great, too!
What Size Bag do These Printable Treat Bag Toppers Fit?
These Halloween treat bag toppers are just the right size to fit both Ziploc sandwich or snack bags (6.5″ by 4″).
They are simple to make and take about 10 minutes to complete, depending on how many bags you need to create. And the best part is you can make these right from home, so no need to go buy them from the store!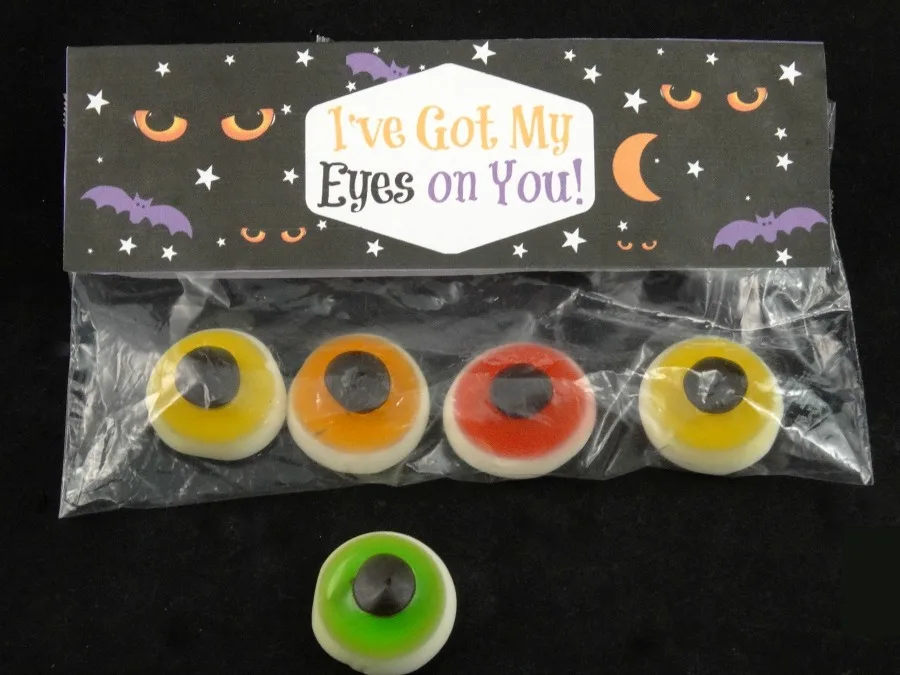 HOW TO MAKE PRINTABLE HALLOWEEN TREAT BAG TOPPERS
Whether you're looking for unique Halloween treats for a classroom party, to give out for trick or treat, or to pass out as party favors, these fantastic "I've Got My Eyes on You" Halloween treat bag toppers are sure to make them scream!
If you would like to use these Halloween Treat Bag Toppers to make your own Halloween goodie bags you can download the free printable Treat Bag Toppers by clicking the colored link in this sentence or by clicking the picture below.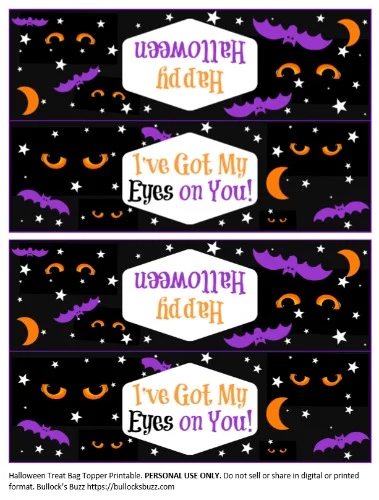 TOOLS YOU WILL NEED
Disclosure: This blog post contains affiliate links for products or services I think you'll like. This means if you make a purchase from one of these links, Bullock's Buzz may make a small commission at no additional cost to you. As always, I only recommend items I use and love.
Instructions to Make Halloween Treat Bags
Whether you are planning to make a bunch for trick or treat or just a few for your kids, these free Halloween treat bag topper are so quick and easy to make, it's scary!
Remember, all printables by bullocksbuzz.com are for personal use only. You may not sell, share, or link directly to these files.
STEP ONE: DOWNLOAD PDF
To get started, download the printable Halloween treat bag topper PDF from the link.
Next, locate the file on your computer, it should be in the download file.
Click to open the file and select the print option
STEP TWO: PRINT
Make sure to set your printer's ink to the 'Best' setting.
Double check that you are printing in color.
Next, load the printer with heavy-weight paper or cardstock.
Then print out as many treat bag toppers as you need.
Remember, each page has two toppers
STEP TWO: CUT
Carefully cut along the outside edges of the treat bag toppers
Then fold them in half
STEP THREE: FILL
Next, fill your bag with the eyeball-themed candy, cookies or toys
STEP FOUR: ATTACH TO BAGS
Use double-sides tape or staples to attach the toppers to the tops of the filled bags.
PRO TIP: If there is a lot of room at the top of your bag after filling it, just fold down the top of the bag, and then add the printable treat bag topper.

Happy Hauntings!
MORE HALLOWEEN CRAFTS AND RECIPES
If you like these Halloween treat bag toppers, I bet you will love these other Halloween crafts! Simply click on the image below and it will take you to the tutorial. It will open in the same page so that you can easily navigate back here by clicking the back button.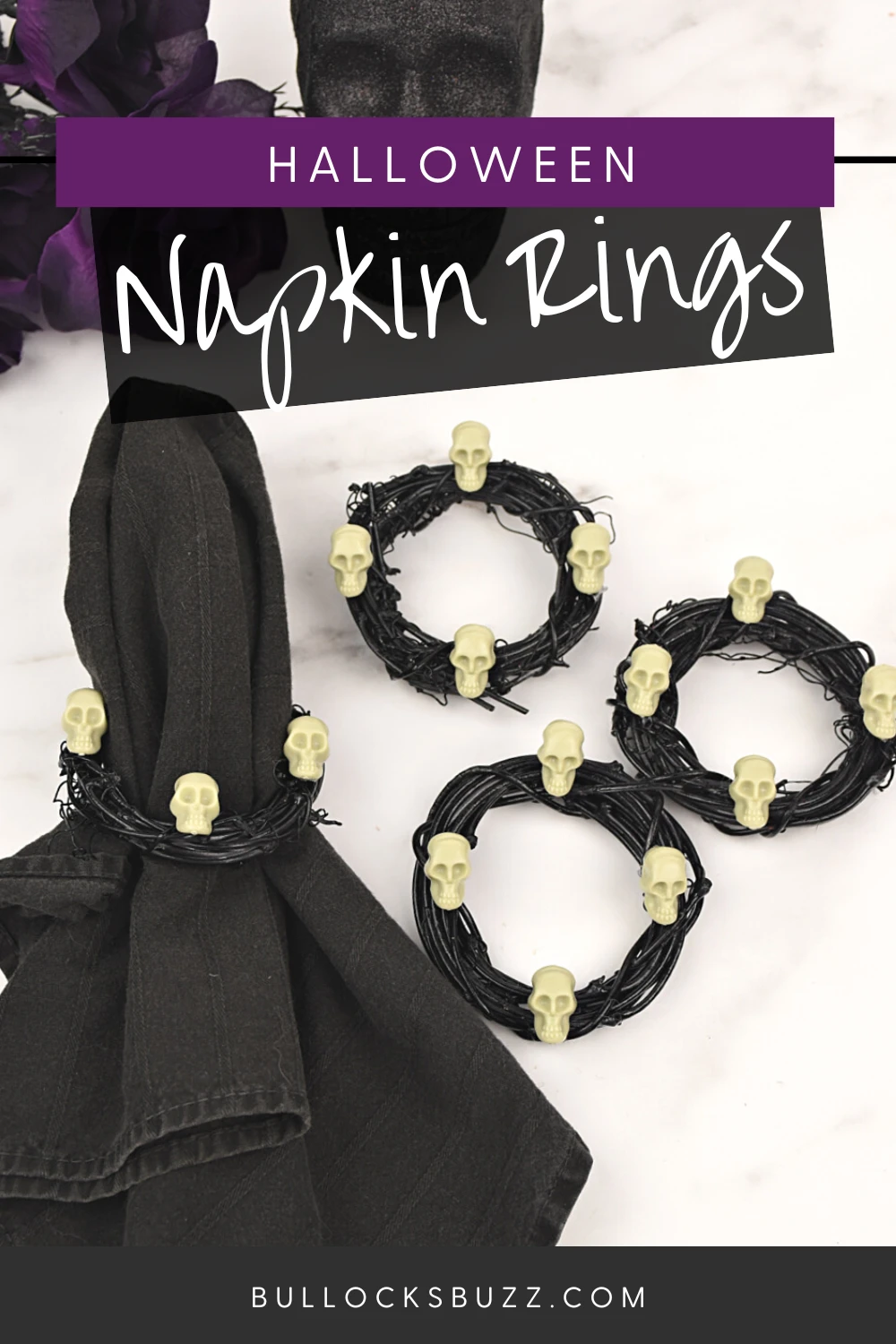 LIKE IT? LOVE IT? PLS SHARE IT!
I hope you love these DIY Treat Bag Toppers craft as much as I do! They are so easy and fun to make! If you decide to make them, I'd love to see how it turned out!
Nothing makes me happier than seeing your take on my recipes and crafts. Tag me at @bullocksbuzz (Instagram and Facebook) or @alainabullock (on Twitter) and be sure to use #BullocksBuzz so I can see your creation and share it!
And finally, if you get a chance, please comment and leave me a ⭐⭐⭐⭐⭐ rating on the printable craft card below!

LET'S BE FRIENDS! STAY UP TO DATE ON ALL BULLOCK'S BUZZ FUN BY FOLLOWING ME ON:
FACEBOOK | TWITTER | PINTEREST | INSTAGRAM | GOOGLE+
Enjoy this post? Be sure to use the social sharing buttons found at the top and bottom of the post to share with friends and family!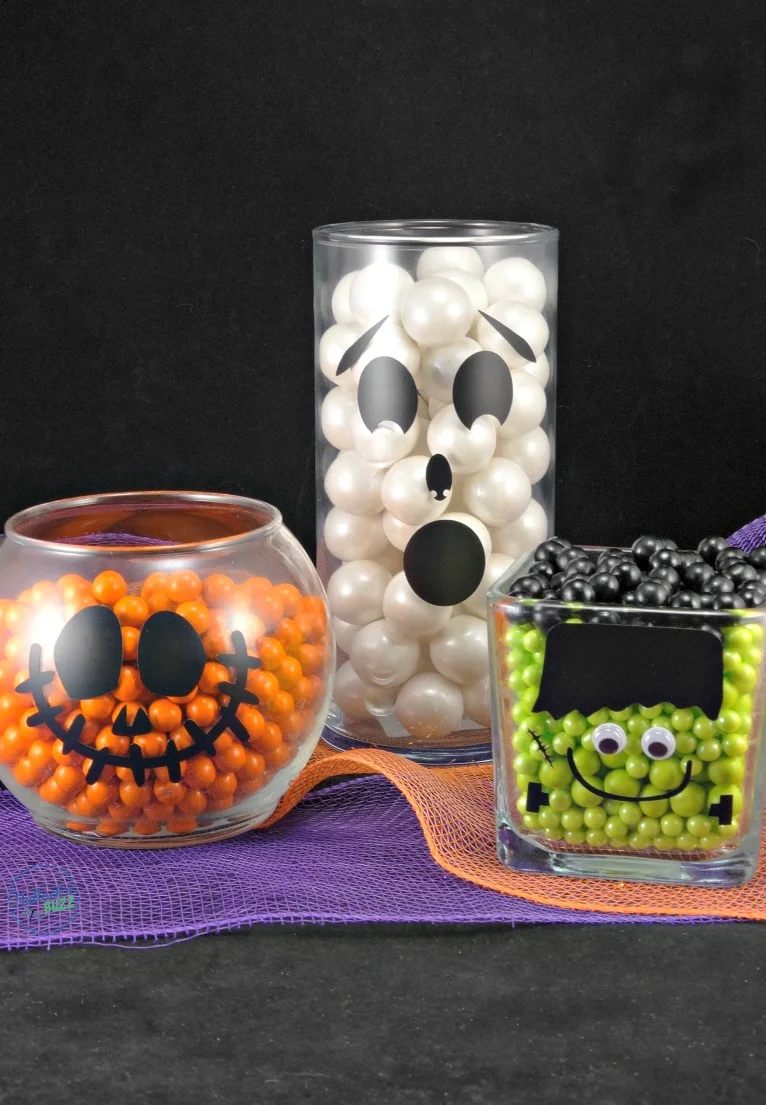 Do you have a favorite Halloween craft? I'd love to hear about it! In fact, I may even feature your craft in a blog post, with credit to you, of course! Share with us in the comments below!