2013 Holiday Gift Guide Suggestion

You've got the shopping out of the way, and now it's time to start the gift wrapping. And if you are anything like me, you want to wrap your gifts so they make the most beautiful presentation possible. This year, my gifts will stand apart from the rest thanks to Giftskins.com, who gave me the opportunity to try their unique, fun custom wrapping paper!
Giftskins.com lets you design your own custom gift wrap using pictures and words. They have wrapping paper for every holiday and occasion, with tons of colors and patterns from which to choose, or you can create your own design and upload it to the site!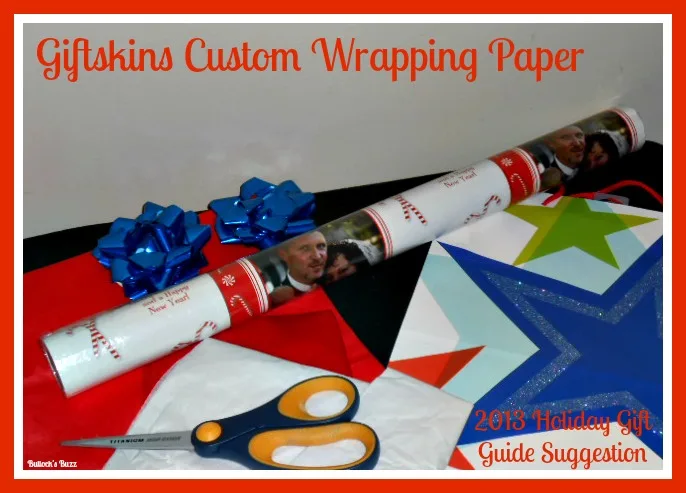 After much browsing and mind-changing, I decided on the Candy Canes Gift Wrap, a fun, bright red and white stripped pattern with candy canes and peppermints. With this pattern I was able to add up to two personal photographs and write my own custom message. Each roll measures 19.75″ x 76.75″ and will wrap three medium size gifts.
Creating my wrapping paper was fast and easy! I simply uploaded the image(s) I wanted to use, added my custom message, checked the proof for accuracy, then added it to my cart to check out. A short while later, I received an email confirmation, and all that was left for me to do was wait for it to arrive! Since all orders are shipped within 3 to 3 business days after placing it, I had my wrapping paper in hand just a few days later! You do have several different shipping options, so there is still time to get it before Christmas!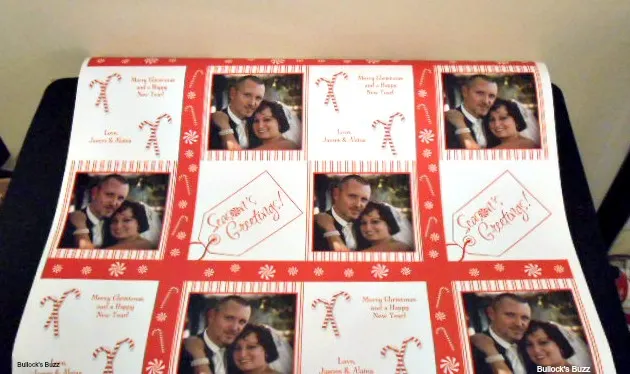 Once it arrived, I couldn't wait to see how it turned out! I like that it was shipped in a sturdy cardboard tube, so I had no worries about it being damaged. As soon as it was out of the tube, I knew it was perfect! The colors were bright and cheerful, and the photograph came out as clear as if it were printed on photo paper. The font they used was perfect, and my message was printed exactly as I ordered, and was clear and easy to read.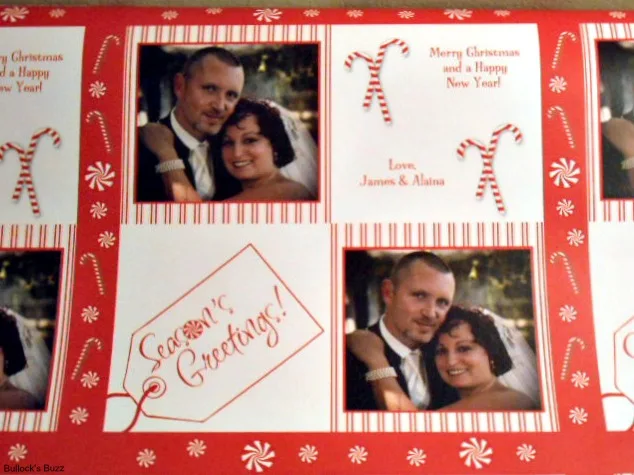 The paper itself is a fairly heavy weight which I really like since it does not rip as easily as lighter weight papers tend to do, but it is not so heavy as to make wrapping difficult. And I don't know about you, but it seems every time I cut wrapping paper, instead of getting a straight line, at some point I begin to veer off at an angle! I won't have to worry about that with this wrapping paper because they have added grid lines on the back to use as a guide! This paper looks so nice, I cannot wait to get started on wrapping the gifts!
To order your own custom wrapping paper visit https://giftskins.com/. As I mentioned above, they have wrapping paper for every occasion from weddings to Bat/Bar Mitzvah's, bridal showers to baby showers, and you can always create your own for any occasion you need! Wrap your gifts in style with Giftskins!