Halloween Marshmallow Witches are frightfully fun and dreadfully delicious! These faBOOlous no-bake Halloween treats are perfect for Halloween celebrations, class parties, and spooktacular after school snacks. Best of all, they're eerily easy to make!
My favorite thing about Halloween isn't dressing up in a costume or watching a scary movie — it's the Halloween treats! Creating and crafting is always fun — especially when there are cute Halloween snacks involved. And it's even more fun when those DIY Halloween treats are easy-to-make — just like these Halloween Marshmallow Witches!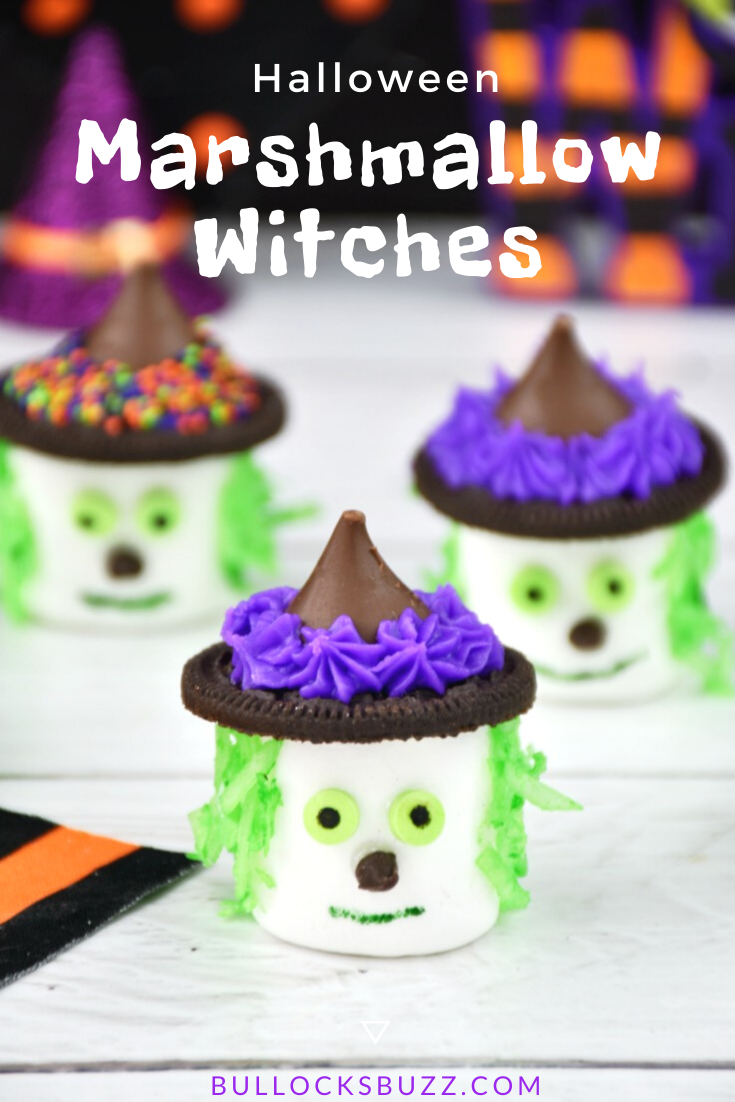 Make this year's Halloween the sweetest and spookiest one yet with these faBOOlous DIY Halloween Witch treats. These Halloween marshmallow treats are so cute and tasty they'll have everyone cackling with joy and screaming for more!
Plus these cute witch treats are so easy-to-make they're ghoulishly great for a Halloween classroom party or after school snack that the kids can make themselves!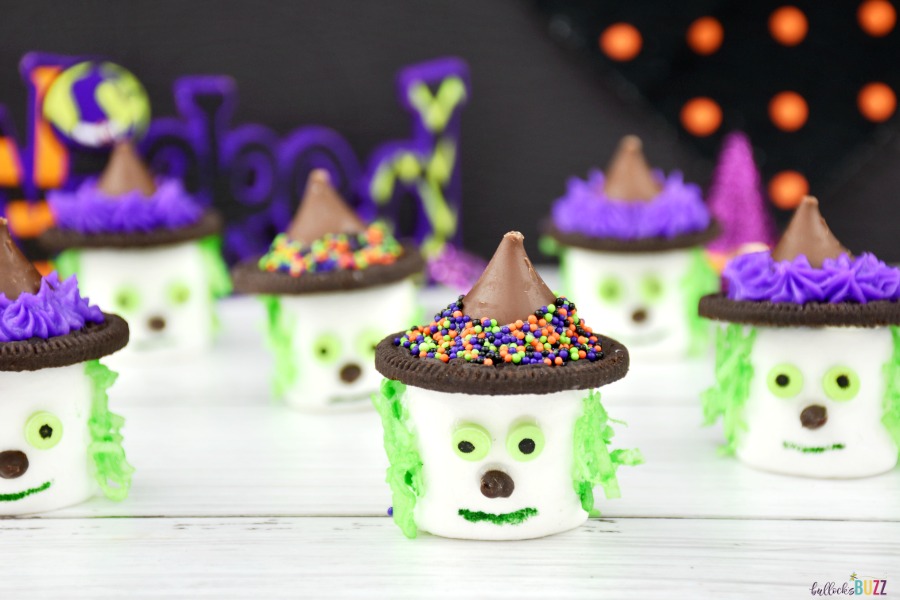 How to Make Halloween Marshmallow Witches
Making Halloween Marshmallow Witches is eerily easy. All you need are a few common ingredients and a little creativity. And since there is no melting, dipping, or coating involved, these Marshmallow Witches can be finished in minutes!
Disclosure: This blog post contains affiliate links for products or services I think you'll like. This means if you make a purchase from one of these links, I may make a small commission at no additional cost to you. I only recommend items I use and love.
Kitchen Tools You May Need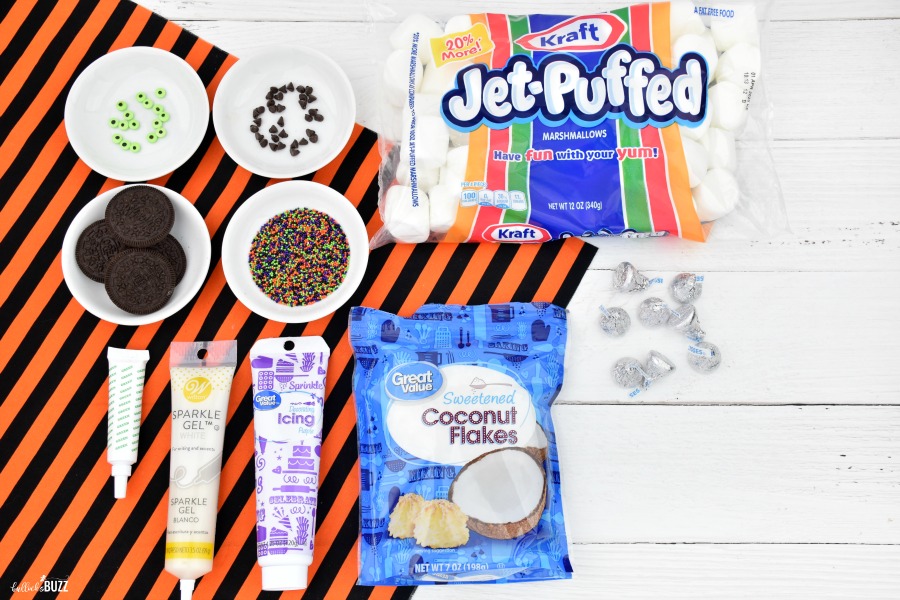 Halloween Marshmallow Witches Ingredients
These wacky and wicked marshmallow witches call for nothing more than a few common ingredients. They are spookily simple, too! You can find everything you need on Amazon or at Walmart or your local grocery.
marshmallows
white gel icing
purple decorating icing
Halloween colored sprinkles
chocolate wafer cookies (I used Oreo halves with the filling scraped off)
chocolate kisses
miniature chocolate chips
coconut
edible food marker – green or black
gel food coloring – green
Halloween Marshmallow Witches Instructions
Begin by coloring the coconut for the witches' hair. Place some shredded coconut in a small sealable plastic bag, then add few drops of green gel food coloring. Seal the bag, then shake well until all of the coconut shreds have turned green. Pour the hair out on to a plate and place it to the side.
Next, make the hats. Add a small amount of gel frosting to the center of each chocolate wafer and then press on a chocolate kiss. Allow it to dry for a few minutes.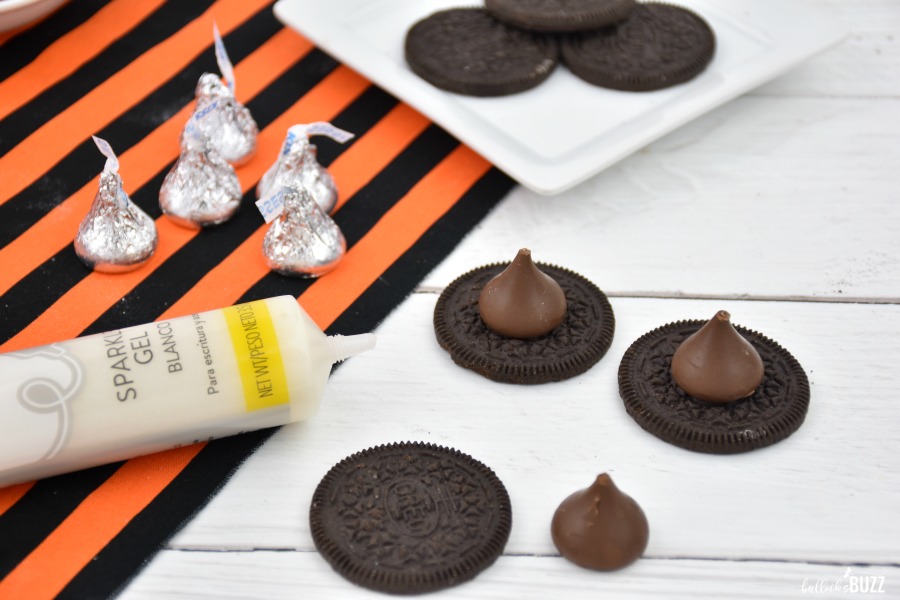 Then, use the purple frosting with a star tip, white gel frosting, and Halloween sprinkles to decorate around the base of each chocolate kiss.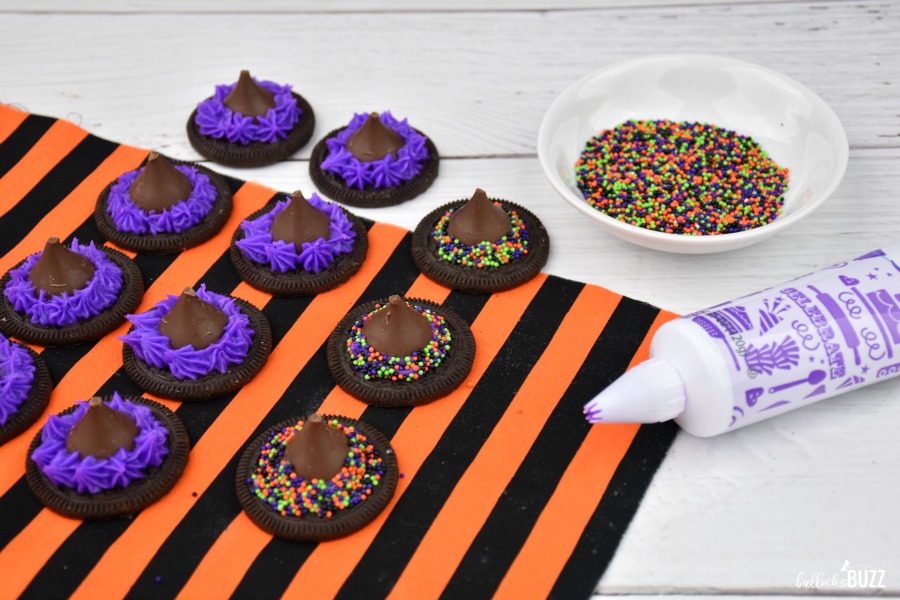 While the witch hats are drying, use the gel frosting to attach a pair of candy eyes and a miniature chocolate chip nose to the 'front' side of each marshmallow. Allow the icing glue to set.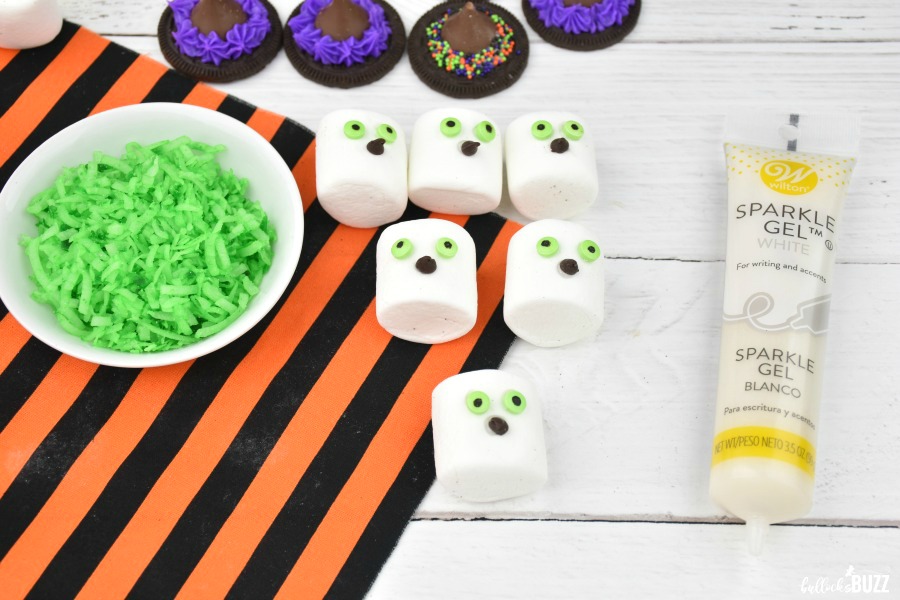 Next, add coconut hair to each marshmallow witch by spreading a small amount of gel frosting on the sides and back of the marshmallow. Then roll the frosted sides of the marshmallow into the coconut hair on the plate.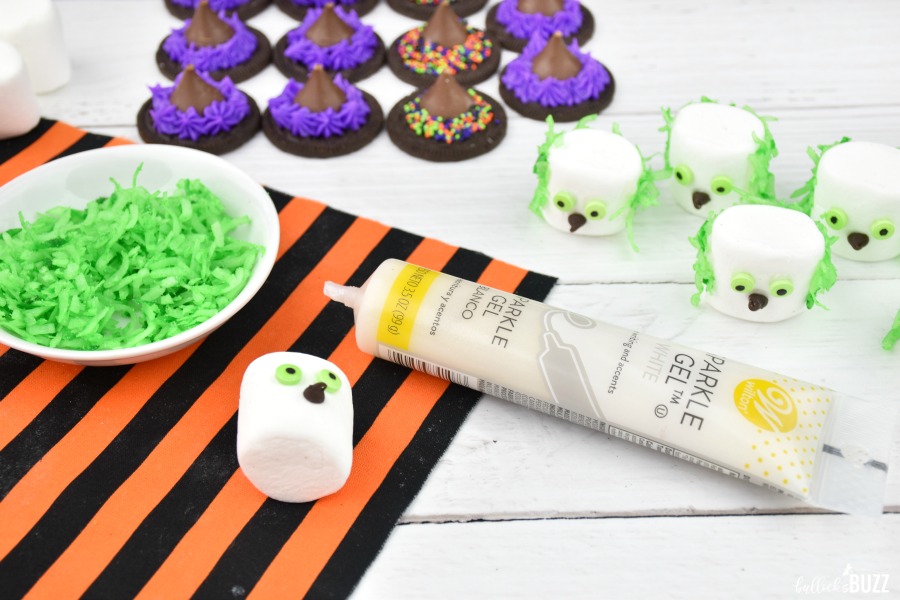 Lastly, place the hat on each witch using a dab of frosting to secure, then use a food marker to draw a mouth.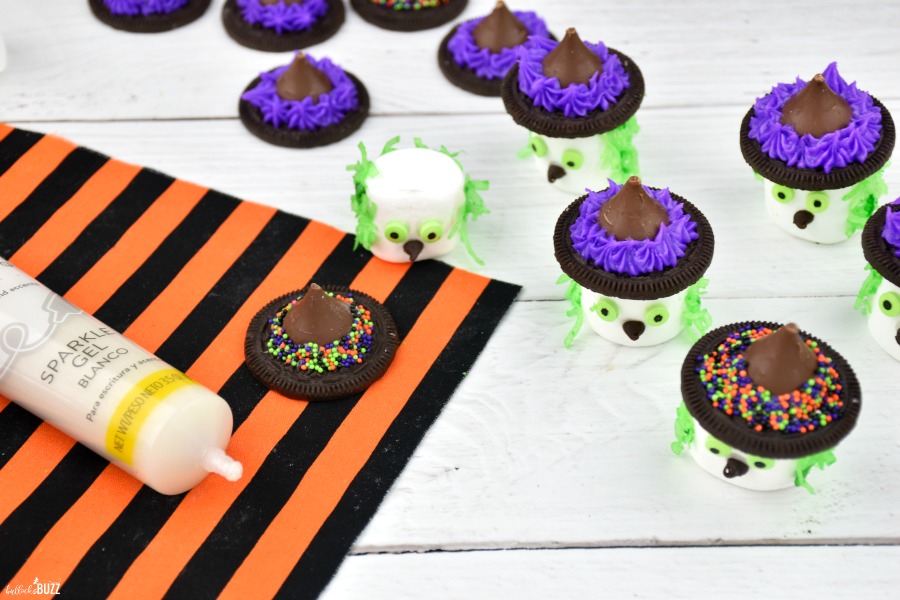 Allow your Halloween marshmallow witches to sit for a bit to ensure the frosting dries before serving. And that's it! Your wacky witches are finished! Are they insanely cute?!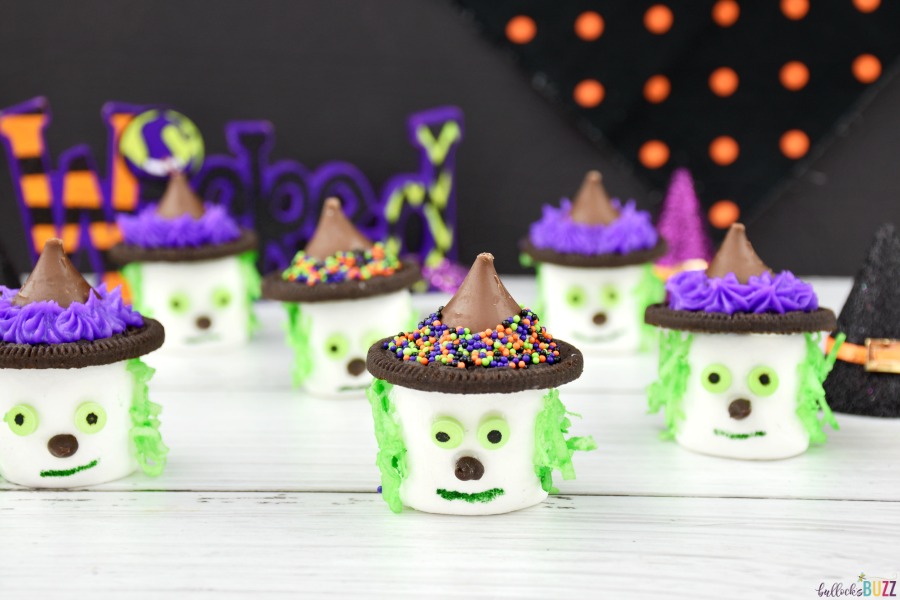 More Dreadfully Delicious Halloween Marshmallow Treats
Looking for more easy yet delicious Halloween marshmallow treats? Then take a peek at these frightfully fantastic Halloween treats!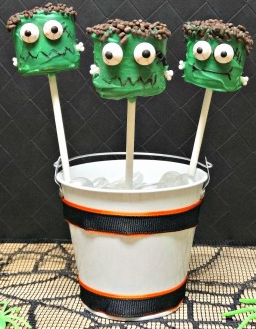 Frankenstein Marshmallow Pops – Last-Minute Halloween Ideas