With Summer finally here, my husband and I are looking forward to taking a week to drive down to Naples, Florida and spend some time with my mom. From Birmingham, Alabama, that is a 13 hour drive, a little over 800 miles. In my car, we can make it on a little over 2 tanks of gas. Unfortunately, with gas prices on the rise (almost everyday it seems), that is going to cost us close to $100, one way! Sound familiar? However, thanks to Shell's Fuel Rewards Network, it turns out it will not cost us that much at all. In fact, using the Fuel Rewards Network program, we may never have to pay full price at the pump again!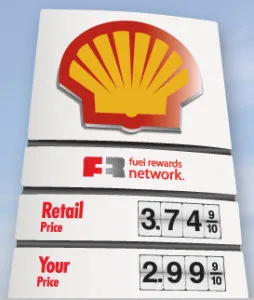 What Is The Fuel Rewards Network Program?
Shell's Fuel Rewards Network (FRN) program gives consumers the power to lower their fuel prices significantly with everyday purchases. Purchases like food, clothing and household goods, all of which can be redeemed for cents per gallon savings at participating Shell stations. The program is absolutely FREE and offers many ways to save.
Ways to Save with The Fuel Rewards Network Program
Members have several ways to save with the Fuel Rewards Network program. Below are just a few, so be sure to visit www.fuelrewards.com for a complete list of all the ways you can save!
SHELL FUEL REWARDS: Use your FRN Card to earn Fuel Rewards savings on your convenience store, car wash and auto service purchases at participating Shell stations. You can find participating stations near you through the Fuel Rewards website.
ONLINE MALL – Shop through the Fuel Rewards Network Online Mall (fuelrewards.com) and save at over 700 of your favorite brand name online merchants offering 5 cents per gallon for every $50 you spend! Some merchants even offer 2x, 5x, and 10x the rewards or more! Shop stores including Home Depot, Sephora, Macy's, PetSmart, Barnes and Noble, and many, many more!
DINING – Dine at your favorite participating restaurant and save! You can earn 10 cents per gallon for every $50 you spend! Choose from over 10,000 participating restaurant locations such as The Melting Pot, Johnny Ray's, Marco's Pizza, Whataburger and more. Just enroll in the dining program, register the credit and/or debit cards you normally use when dining out, and your rewards will automatically be credited to your FRN account. You don't even have to show your FRN card. To find a list of your local participating restaurants visit fuelrewards.com.
PREPAID GIFT CARDS OR AIRTIME CARDS – Save 5¢/gal with every $50 you spend on gift and airtime cards from the kiosk inside participating Shell stations when you use your FRN™ Card! Just be sure to swipe your registered FRN card when checking out and your savings will automatically be added to your account. Use the gift cards like cash, give them to friends and family, but be sure to take advantage of the Fuel rewards savings you'll earn by using gift cards at places you shop regularly!
GROCERY AND OTHER LOYALTY CARDS – Buy the everyday things you need and earn Fuel Rewards savings from participating grocers and retailers. Simply link your Fuel Rewards Network Card and your participating grocer or other retailer loyalty card to combine your rewards for even more savings at the pump at Shell in select markets. Plus, when you link a Mastercard® credit, debit and/or prepaid card to your FRN account, you'll earn an additional 3¢ per gallon for every $100 you spend on groceries at participating FRN program grocery stores! Shop the stores you love such as Winn Dixie, Bi-Lo, Country Mart, Homeland, Smartfoods, Hy-Vee, Lucky and Save Mart Supermarkets. Shop Your Way Rewards members can link their rewards card to their FRN card, too!
eCOUPONS – If you coupon, you can save! Link a participating grocery or drug store's loyalty card to your FRN account, find the eCoupons you need at fuelrewards.com, then select "get it" to have it added to your rewards card. When checking out at your participating store, scan your loyalty card, and your reward will be automatically added to your FRN account within 2 to 14 days!
REFER YOUR FRIENDS AND FAMILY – when you share the FRN program with your friends and family, not only will they save, but you will get rewards, too! Your friends and family will need to use your unique referral link to join the Fuel Rewards Network program, then after they use the program (either by earning a reward or swiping their card at a participating Shell station) for the first time, you'll earn 5¢ per gallon! There is no limit on how many times you can earn so be sure to share with everyone you know! You can find your unique referral link by going to your Account Profile and then looking under Account Information.
Fun Fact
Did you know that the The Winn-Dixie Fuelperks! Program, which is now part of the Fuel Rewards Network program, has already saved Winn-Dixie customers more than $65 million on fuel in the last three years? That is HUGE!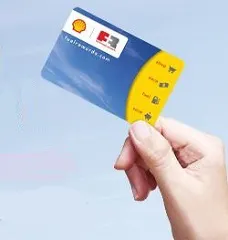 How to Redeem Your Fuel Rewards Network Rewards
Your rewards are cumulative, so that means all those discounts you've earned from groceries, restaurants, movies, coupons, and online shopping stack up to make for some deep discounts! On average, FRN members save $.23 per gallon, but you can earn up to $1.50 off! Keep in mind that you do have to redeem your discount all at once, so if you want to save your rewards, make sure you track them on the FRN website. Once you are ready to redeem your rewards, first swipe either your FRN Card or your participating grocer's rewards card (make sure you registered it with your FRN account) at the pump before you pay in order to lower your price. After you follow the prompts, insert your payment method and begin fueling. Remember, you can get up to a maximum of 20 gallons of fuel per purchase, per vehicle. If you prefer to pay inside, just hand the cashier your FRN rewards card before you pump the gas so they can lower your price for you. Savings can be redeemed on any grade of Shell Nitrogen Enriched gasoline including Shell V-power Premium and Shell Diesel!
New Members Save More For A Limited Time!
For a limited time, new members of the Fuel Rewards Network program can get a 25c/gal sign-up bonus when they join the program! To qualify, you must purchase at least 8 gallons of fuel on your first fill-up using your Fuel Rewards Network Card, while enjoying at least 3¢/gal. Then, the 25¢/gal will be credited to your account for your next fill-up.
Interested in Joining the Fuel Rewards Network Program?
The Fuel Rewards Network program is FREE! Simply pick up a Fuel Rewards Network Card at a participating Shell station, then visit fuelrewards.com to activate your card and get more information. Consumers can also request a Card online at fuelrewards.com. Once you are registered, your card will be mailed to you in 7-10 days. And don't forget to check out the Fuel Rewards Network program on both Facebook and Twitter.
Win a $100 Fuel Rewards Network Gift Card
Once you join Shell's Fuel Rewards Network program, you could win a $100 Fuel Rewards Network Gift Card just by sharing how you have saved with the FRN program – whether it be via the Fuel Rewards Network Online Mall or dining out at a restaurant! Leave a comment below letting me know how you have saved, and your story could be selected by the Fuel Rewards Network to win!