2015 Holiday Gift Guide
Like many woman, I love jewelry. And I especially love jewelry that is handcrafted. But introduce me to a company that makes gorgeous, unique handcrafted jewelry as a way to share an inspirational message or for another great reason, and I am usually sold. And that is exactly what happened when I learned about Luca + Danni handcrafted jewelry.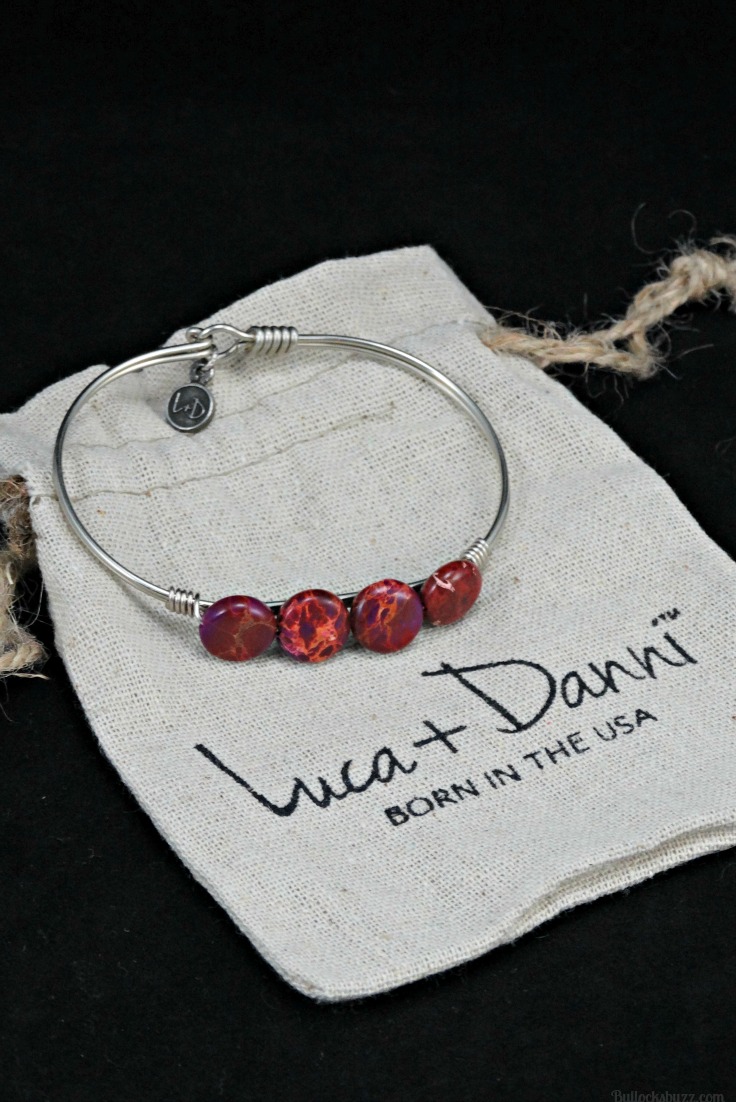 Luca + Danni creates beautiful handcrafted jewelry – from bangles to pearls to antique glass – and they have a sweet and powerful story. The company was born out of the simple yet powerful belief that dreams can come true. In 2013, Fred Magnanimi's brother lost (won) his difficult battle with Leukemia. Fred, who was an investment banker by background, left his career on Wall Street to carry on his brother's dream of creating a unique line of handcrafted American-made jewelry that "inspired others through the journey of life".
"Named after his two young children, Luca + Danni reminds us that through love, inspiration and passion, we should all boldly embrace the journey of life."
The Luca + Danni handcrafted jewelry collection offers many gorgeous pieces including this one, from the Natural Elements collection. Each handcrafted bracelet in this collection features four round or rectangle shaped sea sediment elements on bangles in your choice of oxidized natural brass or silver plated wrapped wire. They are available in multiple sizes, and each comes with a hook and catch closure to keep it safe on your wrist. The stones come in beautiful colors such as turquoise, sea green, navy blue, and the one I selected, amethyst.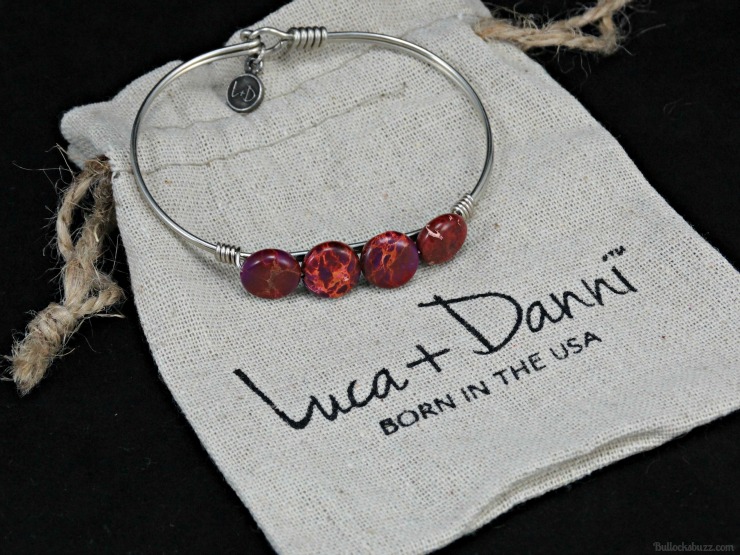 The first thing I noticed when my bracelet arrived was the cute drawstring bag the bracelet was packaged in. There was also a small card that tells the story behind the company, as well as another card with instructions on how to care for your Luca + Danni handcrafted jewelry.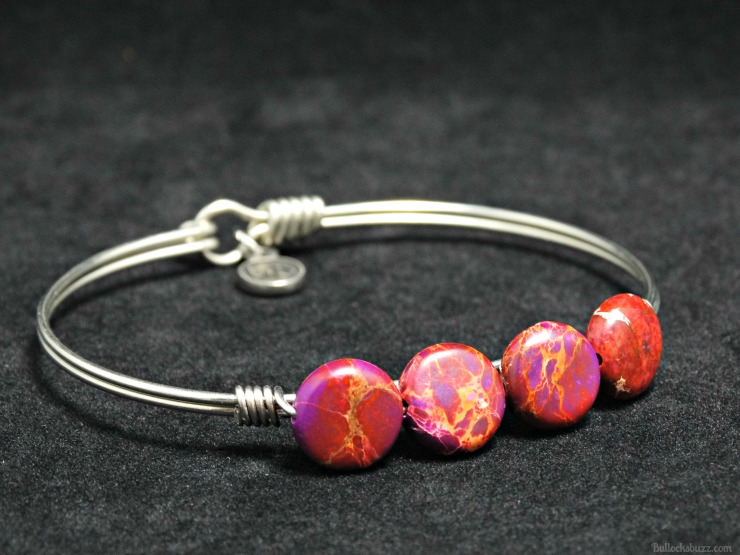 The bracelet itself was everything I was hoping for. Four deep wine-colored stones are securely attached to a shiny silver bangle. On closer inspection, you can see that there are actually multiple shades of red, orange and pink throughout each stone. The thin, lighter colored veins which trace patterns across their smooth, polished surface works with the coloring to give each stone its own individual look. Each stone measures a little less than one-half inch in diameter, and is about 7/16 of an inch thick.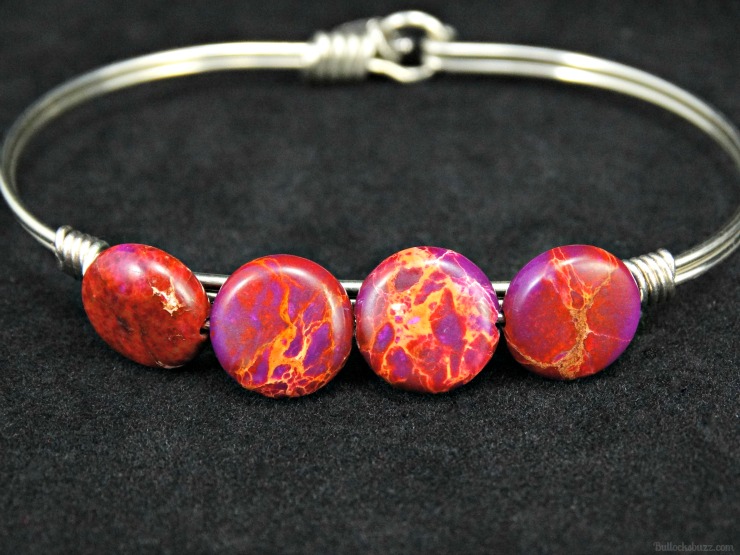 The heavy gauge wire on which the stones are threaded appears to be very securely wrapped around the bracelet and then either bent in tightly or possibly tapped with the tip of a soldering iron, so I don't think I have to worry about it coming loose and allowing the stones to fall off.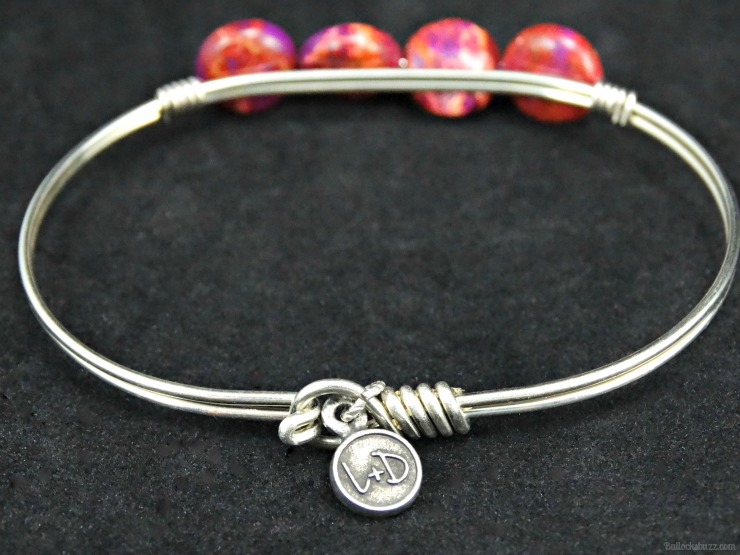 The wrapped wire actually becomes part of the style of the bracelet as there is the same style wrapping as part of the hook and catch closure. While the stones are securely threaded on a piece of wire, they do have a bit of play so you can move them just a bit to give them a less uniform look.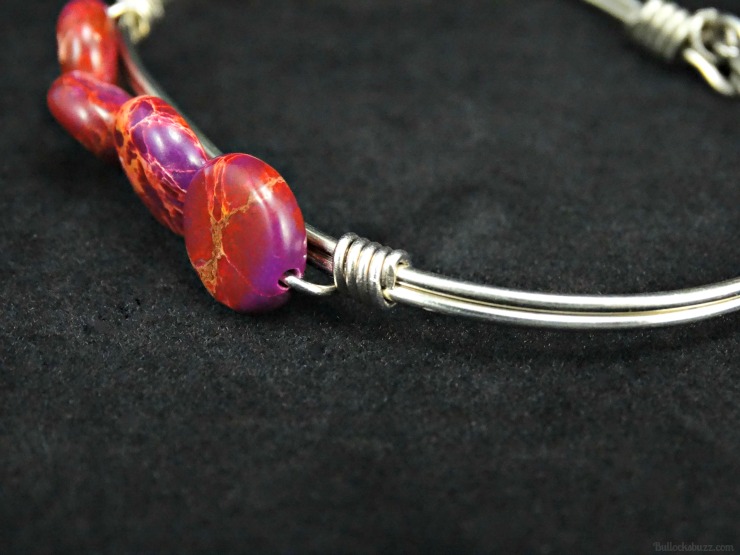 There is nothing flimsy about this bracelet at all, and it appears to be very well made. It fits my wrist perfectly and looks great with a variety of outfits! In summary, I love it!
Looking for the perfect holiday gift for the fashionista on your list under $40 that is both unique and beautiful? How about a handcrafted bracelet from Luca + Danni? Luca + Danni handcrafted jewelry can be purchased directly through their website as well as through multiple individual retailers. You can look to see if there is a retailer near you by using the Store Finder on the website.