Your wedding day should be one of the happiest days of your life! But it's easy to get so caught up in the details that it affects how you feel about your wedding. To help make your big day much more enjoyable, here are a few simple tips that should help make your wedding day less stressful.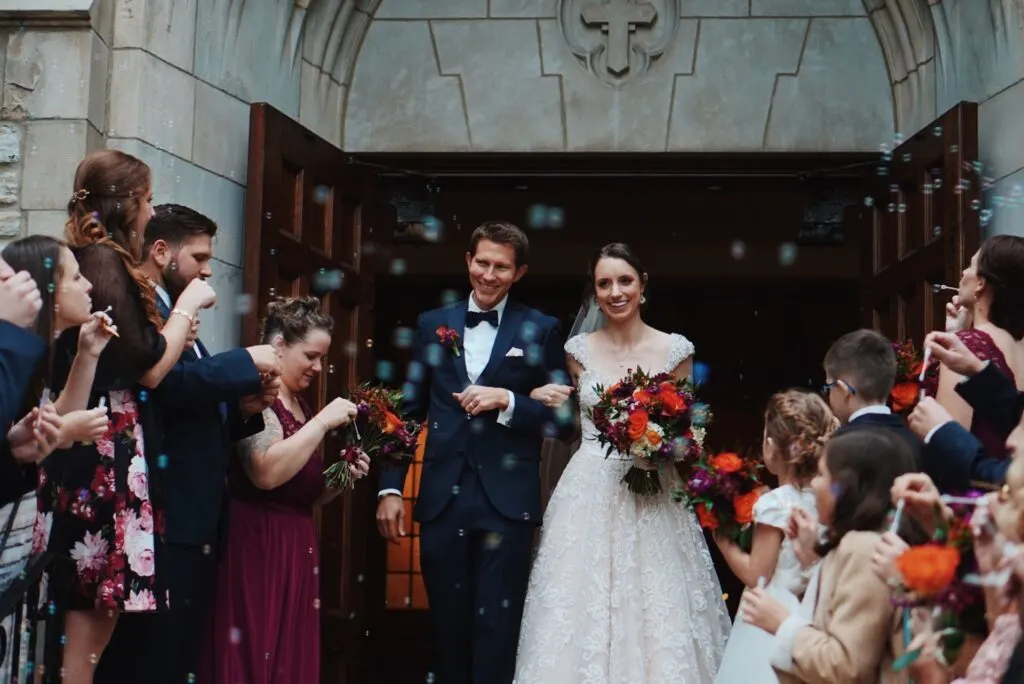 7 Tips That Will Make Your Wedding Day Less Stressful
According to a Zola survey, 96% of couples consider wedding planning stressful. While knowing you're not alone can be a relief for some, others want to take action by doing the following.
1. Take a Deep Breath
This period of your life can be quite hectic with organizing the wedding, dealing with family and friends, and trying to settle into a new life together. Do your best to stay centered and remember what your wedding is about in the first place: an entire day that's dedicated to sharing your mutual love.
Don't forget to do things you love amidst the chaos of planning. Participate in yoga, meditation, or breathing exercises. Spend more time with your friends, play video games, or take a cooking class. Be sure to pay attention to your physical and mental health when you're overwhelmed.
2. Get Some Extra Help
Hiring a wedding planner or day-of coordinator can be invaluable when it comes to ways to help make your wedding day less stressful. They'll handle all the little details, so you don't have to. On the day of the wedding, it's okay to ask family and friends for help. They will be more than happy to lend a hand, and it can make the day go smoothly.
You can even get help from technology, whether that's software or using an app. For example, sharing wedding day memories via a photo-sharing app is a lot easier than uploading your images after your big day. Technology can be really helpful for last-minute wedding plans.
3. Create a Detailed Timeline
Creating a timeline for the day's events is not only crucial in order to make sure everything runs smoothly, but it also works wonders for helping to make your wedding day less stressful. Create a detailed schedule for what will happen when and where, and give copies to your wedding party, vendors, and family so everyone knows what to expect and when.
Once you've created your timeline, do your best to stick to it and avoid changing it up. That said, try not to let it stress you out if something doesn't happen exactly on time. Flexibility is key, and it's likely that you'll encounter some unplanned changes in timing throughout the day.
4. Think Positive Thoughts
The key to a successful wedding day is to think positively. Stress can make it feel like the worst possible outcome is about to happen, but those feelings are likely just pre-wedding jitters. If you're feeling anxiety, immerse yourself in positive messaging via music, videos, or podcasts.
Remember that it's completely normal to feel nervous before the big day. It doesn't mean you're regretting your decision or that you don't love your spouse. If it helps, talk to your spouse about your nerves and see if there are steps you can take to remove the pressure from the situation.
5. Spend Time With Your Guests
It's funny how we spend so much time stressing about our wedding day when it goes by so quickly. No one blames you for being absent from your guests, but you shouldn't ignore them, either. Don't forget to spend time with the people who want to celebrate your big day.
At the beginning of your wedding reception, make it a point to greet each guest personally. Introduce your partner if they don't know them, and thank them for coming. Consider hosting a cocktail reception and plan a few group activities that get the entire wedding party involved.
6. Enjoy the Time With Your Spouse
Weddings are an exciting time, but the lead-up and the days before can be stressful. To keep the romance and excitement alive, and to help make your wedding day less stressful, it is important to make time for each other and enjoy yourselves before the day. Finding balance is essential for stress management.
Allow yourselves to relax and enjoy your pre-wedding days. Have fun and laugh together. Watching a funny movie, doing something silly, and taking part in a funny activity can all help you take your mind off of the wedding-related stress. Make sure to take breaks when needed.
7. Don't Drink the Night Before
It is okay to let loose the night before your wedding, but don't overdo it! Don't let yourself start drinking too early or too heavily. You'll want to enjoy the night but also remain clear-headed enough to remember certain moments. Being hungover on your wedding day isn't cute.
It's also a bad idea to stay up too late on the night before your wedding. A good night's sleep is essential to help make your wedding day less stressful, as being well-rested will decrease your stress levels. If you stay up too late, there's a chance you'll feel exhausted on your big day, which will make it harder for you to enjoy yourself.