These colorful Mardi Gras cupcakes are a deliciously fun and festive way to celebrate! Moist vanilla cupcakes are crowned with a fluffy cloud of vanilla buttercream frosting, then dusted with green, purple, and gold sprinkles. Laissez les bon temps rouler!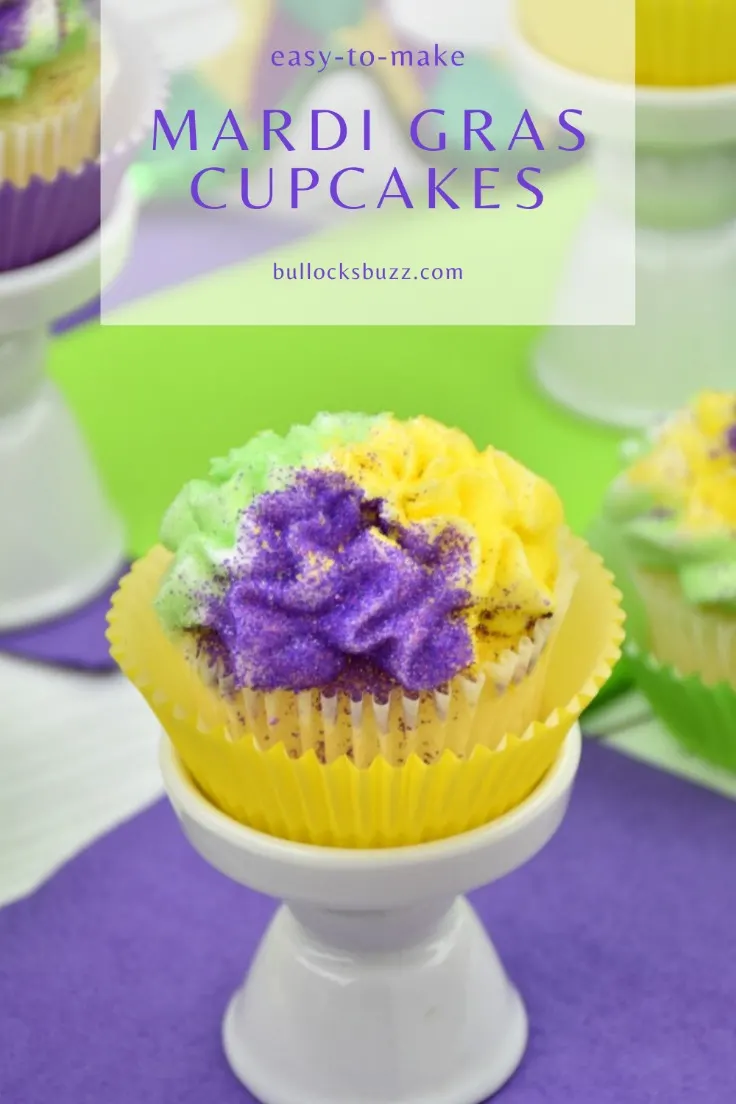 I love making cupcakes for special occasions like these Pot 'O Gold Cupcakes for St. Patrick's Day, Vanilla Raspberry Jam Cupcakes for Valentine's Day, and these Coca Cola Cupcakes for Christmas. They are quick, easy, and the perfect serving size. Plus they are so many fun and festive ways to decorate them (like these adorable Scarecrow Carrot Cake Cupcakes). Today, I'm sharing another fun and tasty vanilla cupcake recipe for Mardi Gras Cupcakes that are fit for a king!
The King Cake may be the signature confection of Mardi Gras, but these pretty Mardi Gras cupcakes with popping colors are perfect for your Fat Tuesday celebration. And they are so easy to make that even the kids can get in on the fun decorating them with colorful sprinkles!
How to Make Easy Mardi Gras Cupcakes
These Mardi Gras cupcakes were really fun to create, and incredibly easy, too. I simply whipped up some vanilla cupcakes, topped them with a mouth-watering homemade vanilla buttercream frosting, and then topped them off with sanding sugars in the traditional colors of Mardi Gras; purple for justice, green for faith, and gold for power. And although they were very easy to make, I think they turned out to be pretty impressive.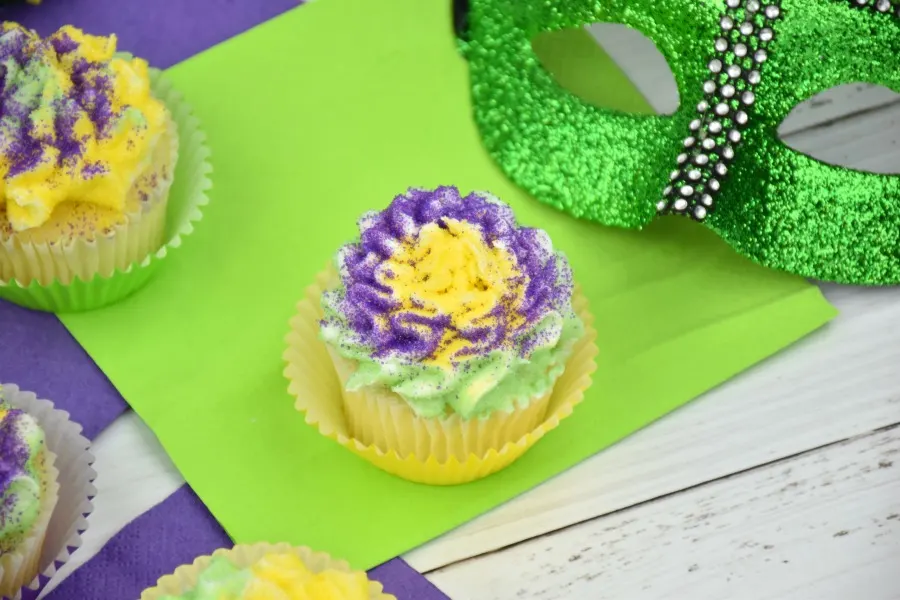 You don't have to make these vanilla cupcakes from scratch, either. You could buy a box of cupcake mix and a container of frosting. Or you could buy a package of already-made cupcakes topped with white frosting, then simply add the purple, gold, and green sprinkles.
Whichever way you choose, they'll be a huge hit at any Fat Tuesday celebration!
What You Need
Disclosure: This blog post contains affiliate links for products or services I think you'll like. This means if you make a purchase from one of these links, Bullock's Buzz will make a small commission at no additional cost to you. I only recommend products that I use and love.
Kitchen Tools Needed
Mardi Gras Cupcake Ingredients
Prepared Vanilla Cupcakes (see recipe card for complete recipe)
Vanilla Frosting (see recipe card)
Green, purple and gold sugar sprinkles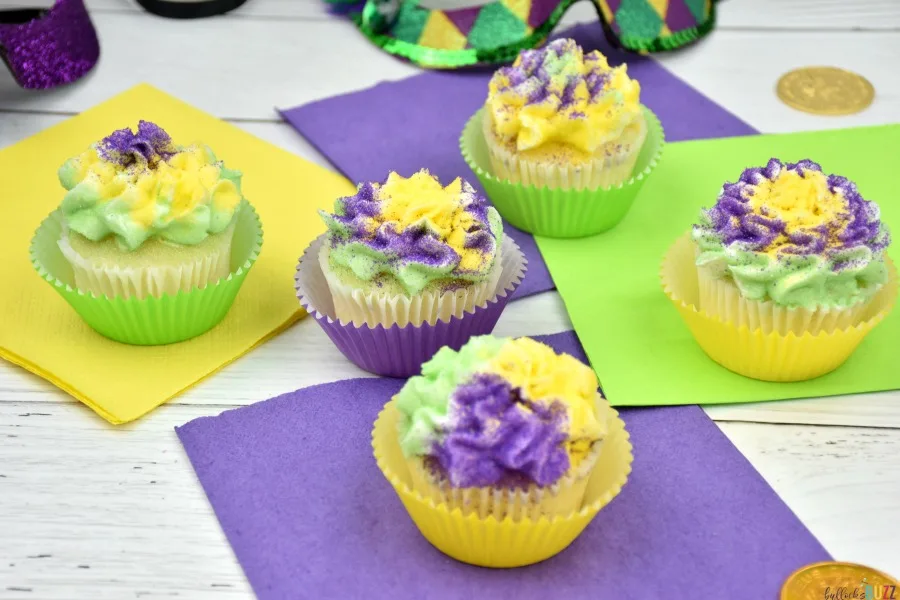 Pro Tips for Amazingly Moist and Delicious Vanilla Cupcakes
Everybody loves a soft, fluffy, and extra-moist cupcake. And believe it or not, making cupcakes that turn out perfectly isn't as hard as you may think. Use the tips below, and you'll be thrilled with the results!
Use quality ingredients. This makes a BIG difference when it comes to cupcakes and cakes. For example, you may think that you won't be able to tell the difference between imitation and real vanilla extract, but if you taste test a cupcake made with imitation/cheap ingredients next to a cupcake with high-quality stuff, the difference will amaze you. That's why I always use either a good quality Pure Vanilla Extract like a Madagascar Bourbon Vanilla or even vanilla bean paste in my vanilla cupcake recipes.
Bring cold ingredients to room temperature. Using eggs or milk straight out of the fridge will keep them from combining as smoothly with the dry and room temperature ingredients. Poorly combined ingredients can cause a cake to be heavy and dense rather than light and fluffy.
Use cake flour instead of all-purpose flour. While all-purpose flour works okay, cake flour has less gluten content which keeps cupcakes light.
Measure your flour correctly! Adding too much flour to a recipe is one of the most common mistakes. The best (and easiest) way to measure flour is to use a kitchen scale. However, if you don't have one then try fluffing the flour with a spoon, sprinkling it into the measuring cup, and then using a knife to level it off.
Use oil instead of butter. Vegetable or canola oil tends to make cupcakes and cakes moister. It also makes the crumb and texture a tad more tender and tighter.
Mix gently and don't overmix! When mixing cake batter, air bubbles tend to form and then expand in the oven. Those bubbles are what helps a cake become light and fluffy. If you over-mix the batter, the bubbles collapse and you end up with a heavier, denser cake. Therefore, always mix on low speed, and be sure to stop just as all ingredients blend.
Use a cookie scoop to fill cupcake liners. This helps to ensure a uniform baking time so that all of the cupcakes come out baked correctly instead of some overbaked and others underbaked. Also, only fill them about 2/3 of the way with batter.
Keep a close eye on the oven towards the end of the baking time. Being extra watchful will help minimize the chances of having dark edges, and help ensure they are light, fluffy, and moist!
Avoid overbaking. Cupcakes are ready when the centers are springy and a toothpick inserted in the middle of a cupcake comes out clean.
Let cupcakes cool for no more than a few minutes in their baking pans before you remove them to a wire rack. This ensures they will not overcook which dries them out.
When frosting a cupcake, cover the entire exposed top of the cupcake with frosting. This will help them retain their moisture longer.
Store finished cupcakes properly (more on that below).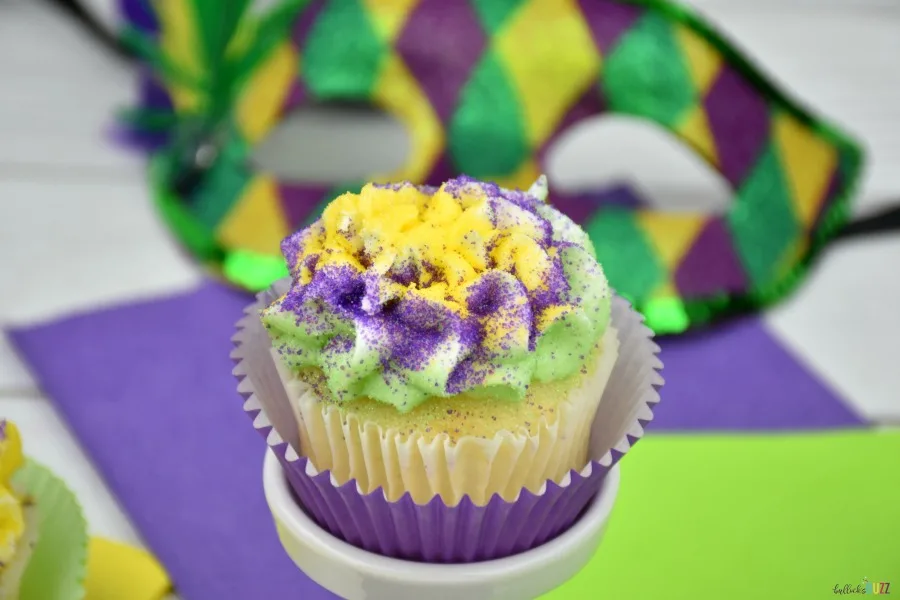 How to Store Mardi Gras Cupcakes
These Mardi Gras cupcakes can be made ahead of time and stored to frost later. If planning on storing to frost later, wait until they've cooled completely, then store them in an airtight container so they retain their moisture. They should be good on the counter for up to 3 days.
These cupcakes will retain their moisture at room temperature for a day or two, but after that, it's best to store them in the fridge.
You can also freeze cupcakes for up to a month. To do so, wrap the unfrosted cupcakes individually in plastic wrap and store a few in a plastic bag, then pop it in the freezer. Whenever you feel like a cupcake, allow it to defrost in the fridge then come to room temp on the counter. Frost it and enjoy it!
How to Store Buttercream Frosting
This homemade Buttercream Frosting can be made a few days ahead of time and stored for up to 3 days, but you need to keep it refrigerated in an airtight container.
When you're ready to use it, simply bring it to room temperature and beat it for about 5 minutes or until smooth. You may need to add a splash of milk or cream to revive the consistency before piping onto the Mardi Gras cupcakes.
Vanilla Cupcakes for Other Occasions
These gorgeous cupcakes don't have to be just for Mardi Gras either… they could be made in green and red for Christmas, blue and white for Hanukkah, pink and red for Valentine's Day or even green for St. Patrick's Day. The possibilities are endless!
If you're looking for a fun, simple, yet delicious cupcake to serve at your Mardi Gras party… give these Mardi Gras Cupcakes a try!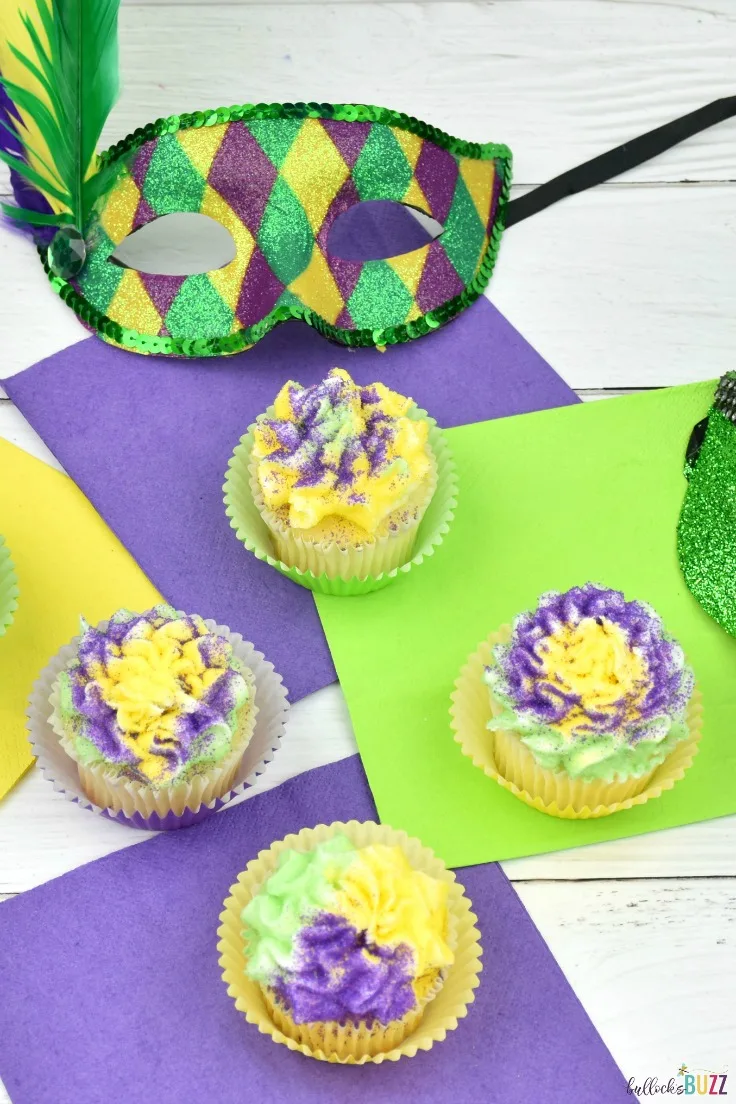 Printable Mardi Gras Cupcakes Recipe
Yield: 15 cupcakes
Mardi Gras Cupcakes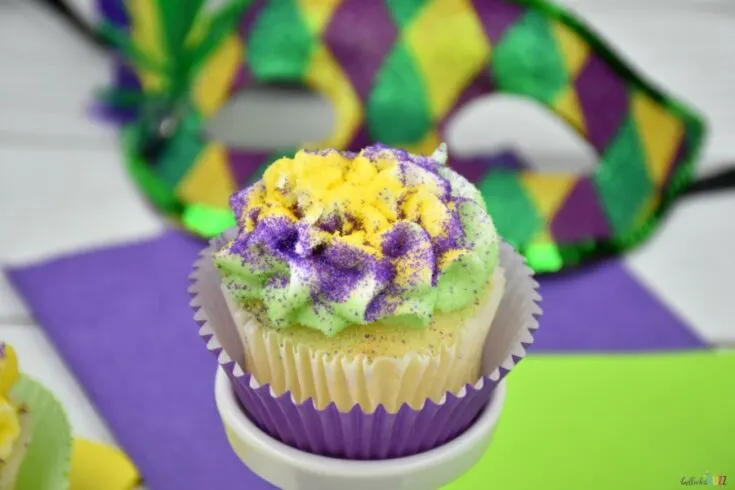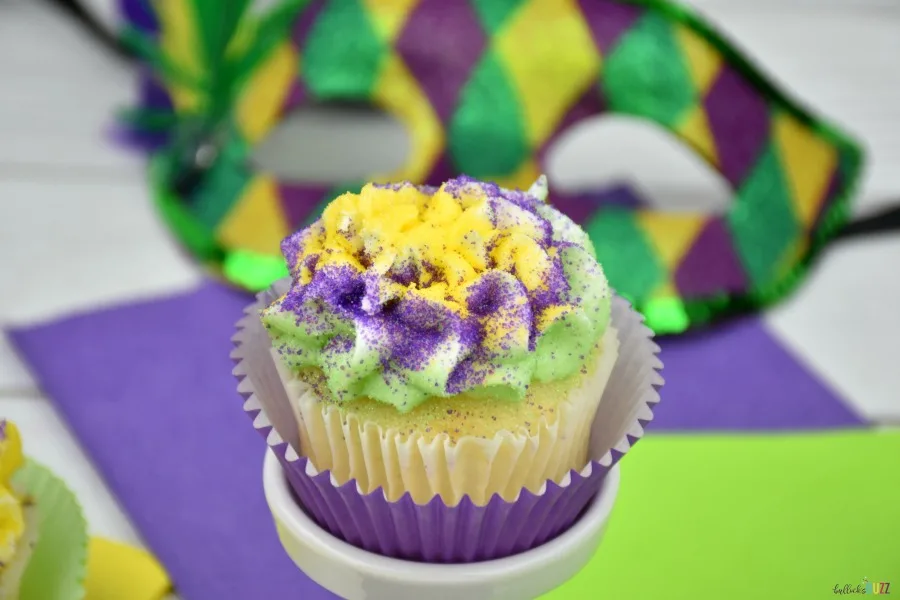 These colorful cupcakes are a deliciously fun and festive way to celebrate Mardi Gras! Moist vanilla cupcakes are crowned with a fluffy cloud of vanilla buttercream frosting, then dusted with green, purple, and gold sprinkles.
Ingredients
Cupcake Ingredients
1¼ cups Cake Flour or All-Purpose Flour
1¼ tsp baking powder
½ tsp baling soda
½ tsp salt
¾ cup sugar, granulated
2 large eggs, room temp
1½ tsp pure vanilla extract
½ cup canola oil
½ cup buttermilk
Frosting Ingredients
1 cup unsalted butter, softened
1 tbsp pure vanilla extract, clear
4 cups confectioners sugar, sifted
4-5 tbsps whole milk or heavy cream
Decoration ingredients
3 -4 tbsp green sanding sugar
3-4 tbsp yellow sanding sugar
3-4 tbsp purple sanding sugar
Instructions
Vanilla Cupcakes
In a medium bowl, whisk together flour, baking powder, baking soda, and salt. Set flour mix aside.
In the bowl of an electric or stand mixer, beat 2 eggs with the whisk attachment on medium speed for about 15-20 seconds.
Slowly add in ¾ cup sugar, then continue to beat on medium speed for about 30 seconds.
Add in the vanilla and oil and beat on medium speed for about 1 minute.
Reduce speed to medium/low and slowly add in about half of the flour mixture, mixing until just incorporated. Then add half of the buttermilk again mixing until just incorporated. Repeat with remaining flour and buttermilk, beating until just combined and smooth, scraping down the sides of the mixing bowl as needed. The batter will be thin.
Using a cookie scoop, add batter to lined cupcake pan filling to about ⅔ full. Be careful not to overfill.
Bake for 12 -14 minutes at 350 °F or until a toothpick inserted in the center comes out clean.
Remove from oven and allow to cool in the pan for a couple of minutes, then remove to a wire rack to finish cooling. Do not frost until cupcakes are completely cooled.
Frosting
Using a hand mixer or stand mixer fitted with the paddle attachment, beat the butter on medium-high speed for 6-7 minutes.
Reduce speed to low, then gradually add in the powdered sugar and continue beating until the sugar is fully incorporated. You may need to stop the mixer and scrape down the sides of the bowl with a spatula occasionally to fully incorporate all of the sugar.
Once the butter and sugar are fully incorporated, add in the vanilla mixing on low speed until incorporated.
Now add in the milk or cream 1 Tablespoon at a time until desired consistency is reached.
Increase mixer speed to medium-high speed and continue beating the buttercream for an additional 6-7 minutes. If the frosting is still too thick, add in a tiny bit of milk until you reach the desired consistency.
Decorating Mardi Gras Cupcakes
Once cupcakes are frosted, sprinkle all 3 colors of the sanding sugars in whatever design or pattern you prefer.
Notes
For Frosting (makes enough for 24 cupcakes)
if coloring the frosting, simply add 3-5 drops of the desired food coloring after you mix in the milk, Beat for an additional 30 seconds or until desired color is reached.
Nutrition Information:
Yield:
15
Serving Size:
1 cupcake
Amount Per Serving:
Calories:

550
Total Fat:

22g
Saturated Fat:

9g
Trans Fat:

0g
Unsaturated Fat:

12g
Cholesterol:

62mg
Sodium:

155mg
Carbohydrates:

86g
Fiber:

0g
Sugar:

70g
Protein:

4g
Nutritional information is automatically calculated with ingredients and serving size and may not be accurate. Please always double check with your own nutritional apps as well.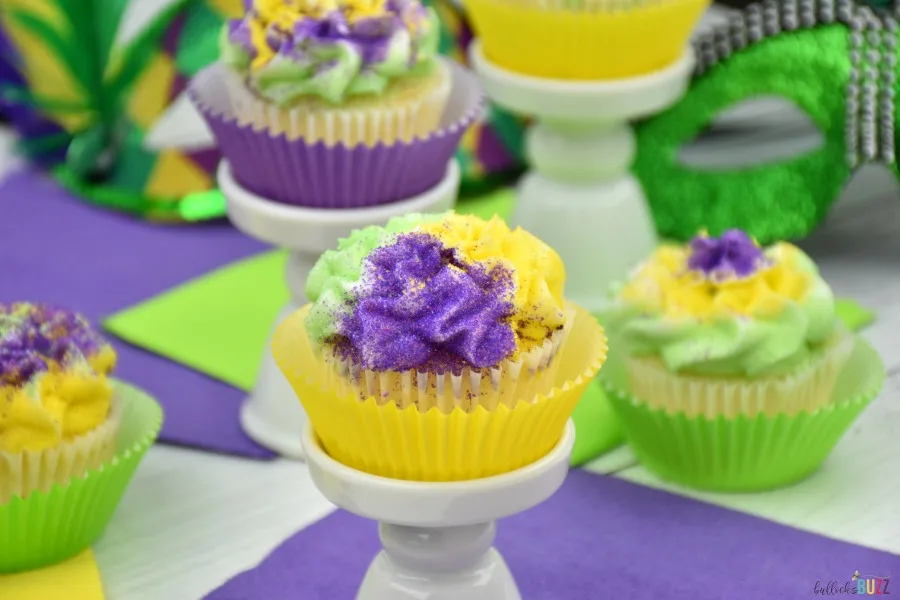 More Delicious Cupcake Recipes
Looking for more easy and delectable cupcake recipes like these Mardi Gras cupcakes? I think you'll love these: