2013 Holiday Gift Guide
I want to thank Conde Nast for all of the Mary Kay products they provided to make this post possible!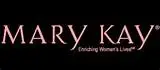 You've seen some of the hottest holiday make up looks in December's Glamour. Allure and Self. Mary Kay has everything you need to create these looks on your own! If you missed the magazines, you can still check out these gorgeous looks when you visit marykay.com/saucyglossie. With make up done by celebrity make up artist Mariela Bagnato, and styles inspired by Saucy Glossie blogger, Linsdsay Calla, there is definitely something for everyone whether you like the Flapper Chic look, the White Hot Suit, Silver Screen Siren or even a combination of the three.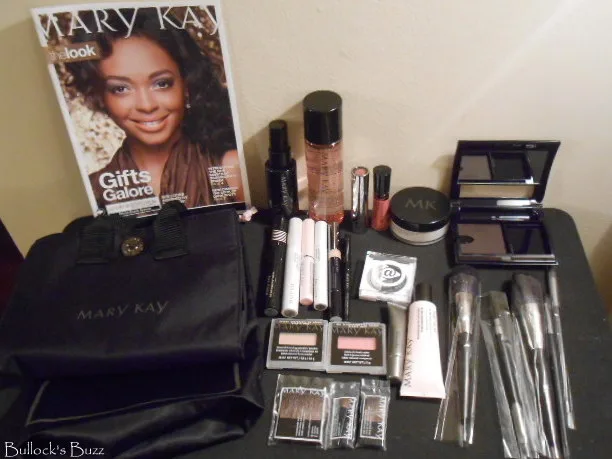 Recently, Mary Kay generously sent me everything I needed to create these looks or even one of my own. This was my first time using Mary Kay products, and after playing around with several looks, I finally discovered the one I like best; and I am well on my way to having a new favorite cosmetic line! Included in this amazing Mary Kay Holiday Look package was everything I needed for my eyes, face, lips and more! They even sent a wonderful make up case and a complete set of make up brushes!
FACE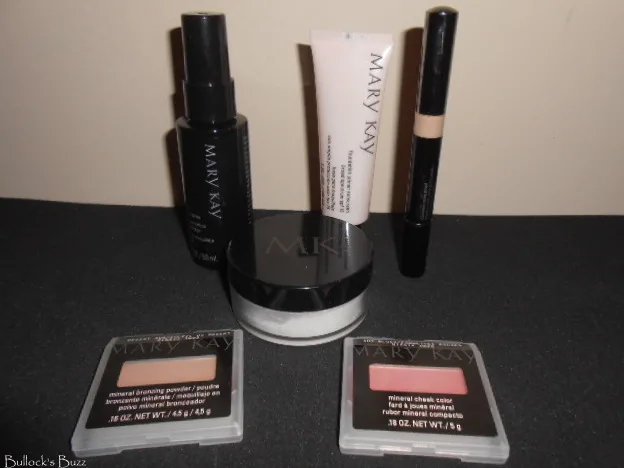 The very first thing I did before applying any make up was added a small amount of the Mary Kay Foundation Primer Sunscreen SPF 15 to my entire face. This light weight gel primer literally made my skin feel silky-smooth and it dried quickly. It helped to fill in some of my larger pores, and created a flawless finish ready for make up. I love that it did not have an over-powering scent, nor was it tinted with any color, instead it leaves your skin its own natural shade.
Next I used a small amount of the Mary Kay Facial Highlighting Pen to get rid of some of the shadowy areas in my face, and to highlight certain areas. Skipping around for a minute, after completing my eyes, I returned to the face products. To add some color to my face, and also to define my cheekbones I used the Mary Kay Mineral Bronzing Powder in Desert Sun. This two-toned bronzer combined to give just the right amount of color and shading to my cheeks, and around my chin, too. Next I added a small amount of the Mary Kay Mineral Cheek Color in Shy Blush which added the perfect amount of natural-looking color to the tops of my cheek bones. Both of these mineral products worked wonders getting rid of any shine, and I love their rich pigmented color!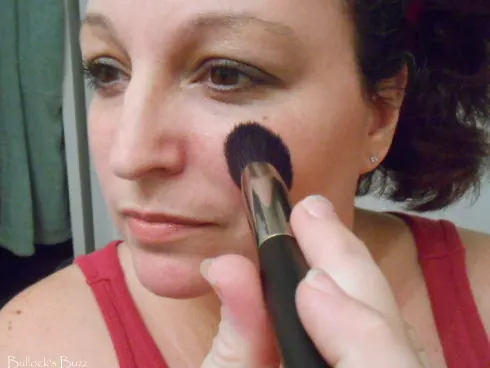 Finally I dusted my face with a thin layer of Mary Kay Translucent Loose Powder, which at first I was afraid was going to be way too light. Instead it blended in with my skin tone giving it a healthy glow while covering shine. I love how the container has a twist lid on the inside that you can twist to open to add some powder, then twist to close it back so no more powder comes into the tray. Very handy, clean and a great way to use only what you need!
EYES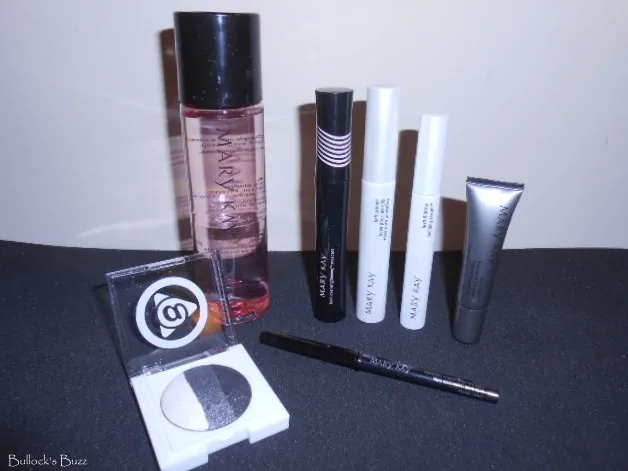 I started with the Mary Kay Eye Primer which was a nice thick cream that went on silky smooth like lotion. It dried quickly, and did not irritate my contacts. It also worked wonders for keeping my eye make up fresh-looking and in place for hours.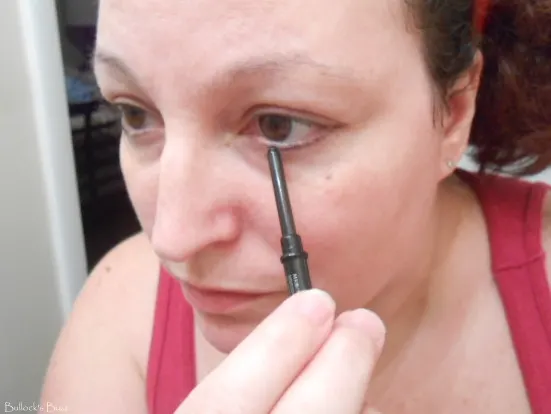 Next I outlined my eyes using the Mary Kay Eyeliner in Black. I like how this pencil has an included sharpener in the lid, and how it's creamy formula helped it go on smoothly with bold, rich color. I didn't have to worry about it smudging over time or fading.
I then used all three colors in the Mary Kay at Play Baked Eye Trio in Tuxedo. This trio consists of everything you need for the Smokey Eye Look including a lighter shade for highlighting, a medium and a dark. Each color has a beautiful sparkle, and richly pigmented color.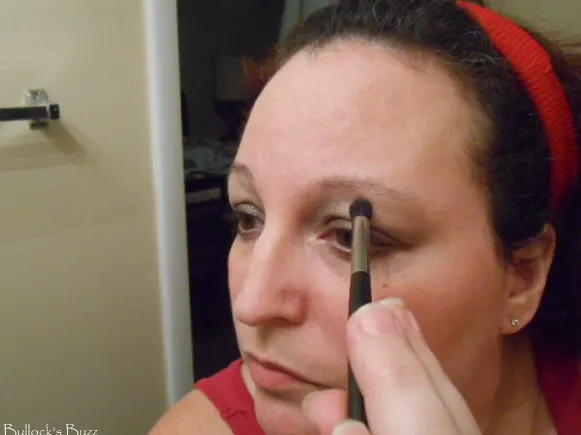 Next I added some Mary Kay Eyelash Lash and Brow Building Serum to help define my eyebrows. I also have been using this nightly, and have noticed an improvement in the appearance of both my lashes and brows! They seem healthier ans not as dry or brittle. I then applied a coat of the Mary Kay Lash Primer which helped the Mary Kay Lash Love Lengthening Mascara go on without clumping, and it also helped it to stay on longer. It did a great job of making my lashes look fuller and longer! I also love that this mascara contains the Mary Kay Panthenol-Pro Complex™ which helps condition lashes and defend against breakage.
And when it comes time to remove my make up, the Mary Kay Oil-Free Eye Make Up Remover makes removing eye make up a cinch! All you need is a small amount on a cotton ball, and the eye make up comes right off. It leaves my skin soft and not dried out like many eye make up removers I have tried.
LIPS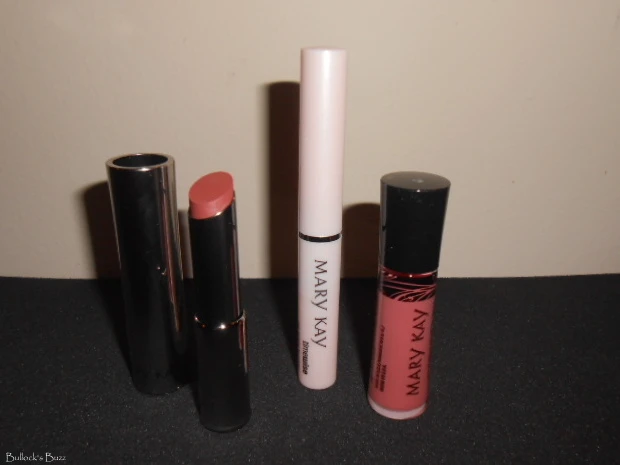 I finished my Holiday Look with my lips. I first applied the Mary Kay Age Fighting Lip Primer which immediately smoothed and softened my lips, preparing them for color. This primer has been shown to help reduce the appearance of lines and wrinkles on women's lips, making them appear fuller, smoother and younger. I then went over my lips one time with some Mary Kay True Dimensions Lip Stick in Natural Beaute. I love this very natural, neutral color, and the lipstick itself is very moisturizing!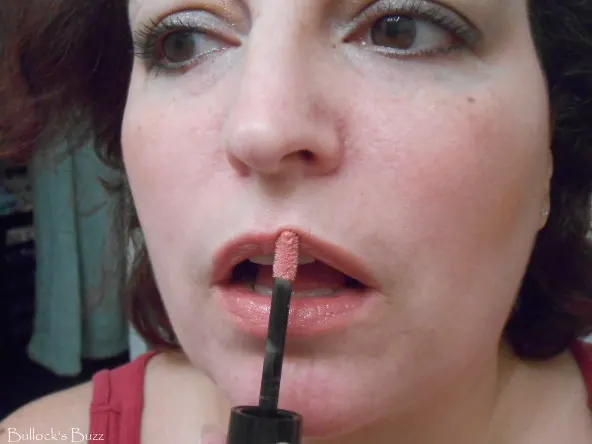 Finally I finished with a layer of Mary Kay Nourishine Plus Lip Gloss in Cafe Au Lait, another beautiful neutral color with lots of shine. I love how both the color and shine lasted for a long time!
To complete my look, I added one more dusting of the loose powder, then spritzed my face with the Mary Kay Make Up Finishing Spray which has a very pleasant scent and helps to set the make up extended its life even longer! It also works great as a refresher though out the day! Finally, my Holiday Make Up Look was complete!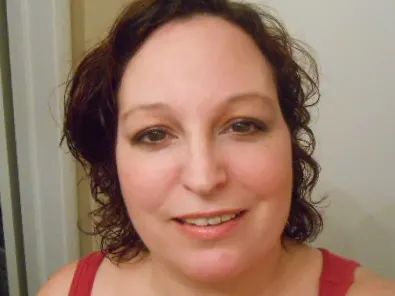 Now I know exactly how I want to wear my make up to the party my husband and I are going to this Saturday night. I plan on wearing my hair in a upswept hairstyle with a few lose, dangling curls, a pretty pair of black pearl earrings and a beautiful shimmery black dress to complete my Holiday Party Look!
But that's not all! I was also sent this neat Mary Kay Compact Pro, an all-in-one compact designed to make it easy to keep color products and applicators neatly organized It has a great magnetic refill system, a nice large mirror which I love, and it fits in my purse perfectly! The Mini Eye Applicators, Compact Powder Brush and Compact Cheek Brush will all fit in it easily! I also love that it is built to last, and made of durable materials.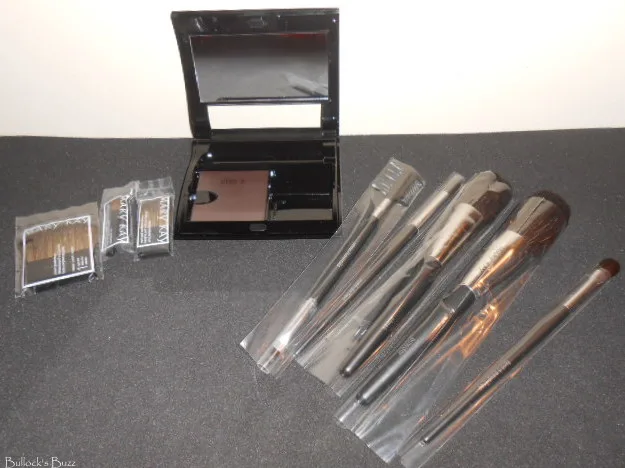 I also get to keep all of my new make up in this great Mary Kay Cosmetic Organizer bag (see catalog). The bag comes with a set of Mary Kay Make Up Brushes including a Powder Brush, Cheek Brush, Eye Crease Brush, Eyeliner/EyeBrow Brush and an Eye Color Brush, all of which have a special pocket on one side of the bag. On the other side of the organizer is a zippered mesh pocket, and there is another zippered pocket right in the middle. It is the perfect size for everything I need to use!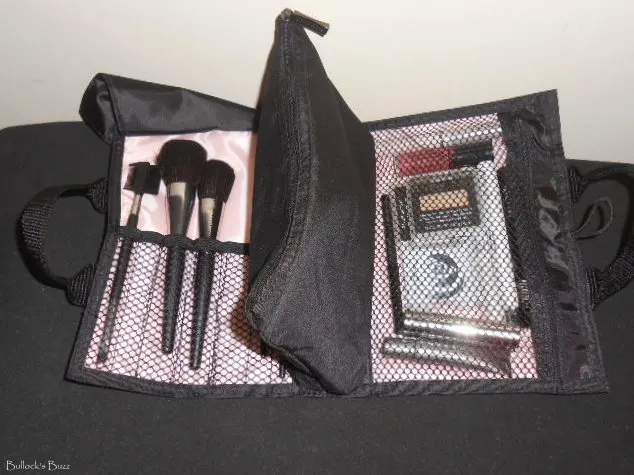 Where to Find Mary Kay Cosmetics
You can get all of these products and more directly through the Mary Kay website where you can also find many great tips and ideas. Find your perfect Holiday Look this season with Mary Kay! Be sure to connect with Mary Kay on Facebook, Twitter and Pinterest for the latest looks, deals, promotions, newest products and more! And remember, with Christmas right around the corner, MAry Kay would make a great gift idea and/or stocking stuffer!