Oreo Turkeys, made with Oreos, candy eyes, candy corn and a peanut butter chip beak, are so stinkin' cute, they'll be gobbled up in no time! These simple, no-bake Thanksgiving Treats are sure to be the talk of the table!
It's no secret that I love making adorable food crafts for any holiday around here. From Halloween Frankenstein Twinkies to homemade rainbow hearts candy, there are tons of sweet treats to enjoy. And these simple Oreo turkeys are going to be a delightful holiday addition!
Thanksgiving means turkeys and what could be cuter, and more delicious, than Oreo Turkeys? These adorable, edible Oreo turkeys look really impressive, but are super quick and easy to make. Add these no-bake Thanksgiving treats to your turkey day menu and all the kids will love you.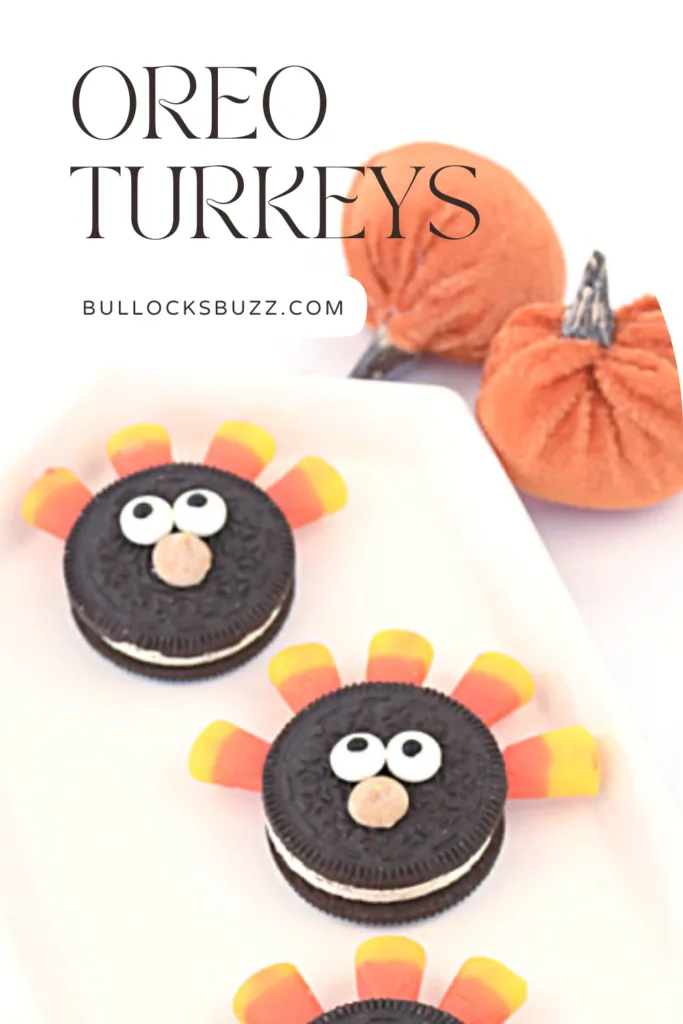 Make these Thanksgiving treats together, or have the kids make them while you finish getting the big supper on the table. And they are a great way to use up some of that left over candy corn from Halloween too!
I've got lots of cute, festive, and delicious fall and Thanksgiving recipes and crafts for you to try out – simply right-click the link and open these other Thanksgiving and Fall goodies for kids and adults in a new tab so that you can check them out after this one!
I also love using Oreos for desserts like Golf Ball Cookies, Lemon Oreo Fudge and White Chocolate Oreo Truffles.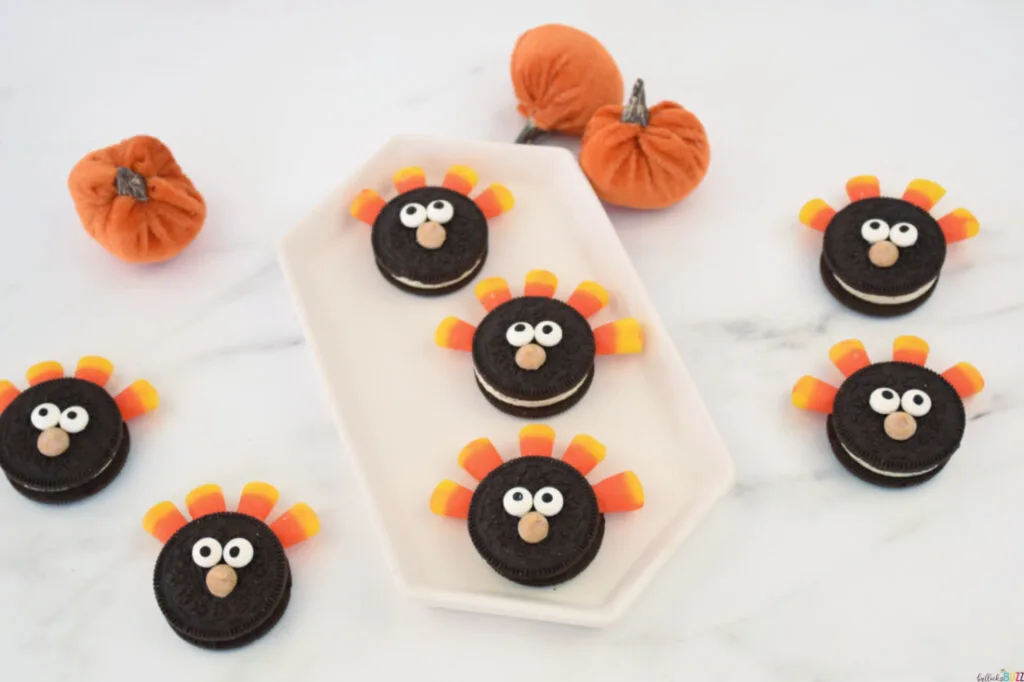 HOW TO MAKE OREO TURKEYS FOR THANKSGIVING
These easy turkey cookies are such festive Thanksgiving treats. They are super fun to assemble using Double Stuff Oreos, candy eyeballs, candy corn, peanut butter chips, and cookie icing to use as glue.
They only take about 5 minutes to make and since there is no cooking or baking involved, they are the ideal treat for kids to make!
You'll find the complete supply list and instructions in the free printable recipe card near the end of this post.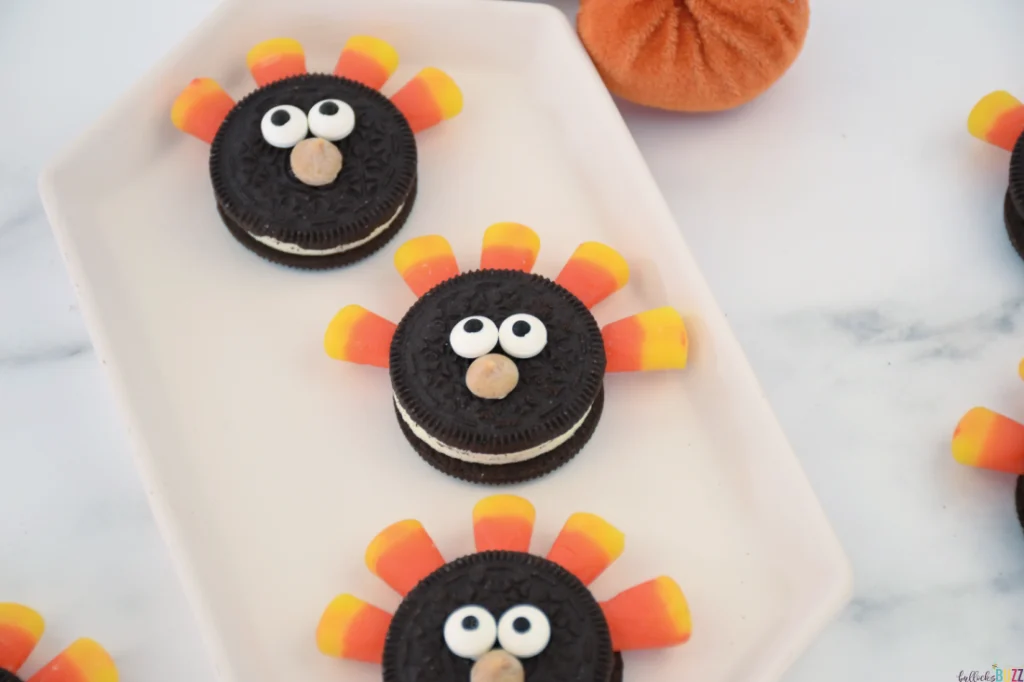 Disclosure: This blog post contains affiliate links for products or services I think you'll like. This means if you make a purchase from one of these links, Bullock's Buzz will make a small commission at no additional cost to you. I only recommend products that I use and love.
KITCHEN TOOLS YOU MAY FIND HELPFUL
wax paper or a plate to put Oreo turkeys on as you decorate
OREO TURKEYS INGREDIENTS
All you need for this Thanksgiving Oreo Turkeys recipe is five simple ingredients.
*Double Stuf Oreos – pulled apart
Reese's Peanut Butter chips (or butterscotch or caramel)
candy corn
cookie icing – to act as glue
*While you can try this using just a Double Stuf Oreo without pulling them apart and putting the iced sides together, I had problems getting the candy corn to fit (yep, despite the Double Stuf status, lol). There is a chance that the package I used was had less icing than it should have.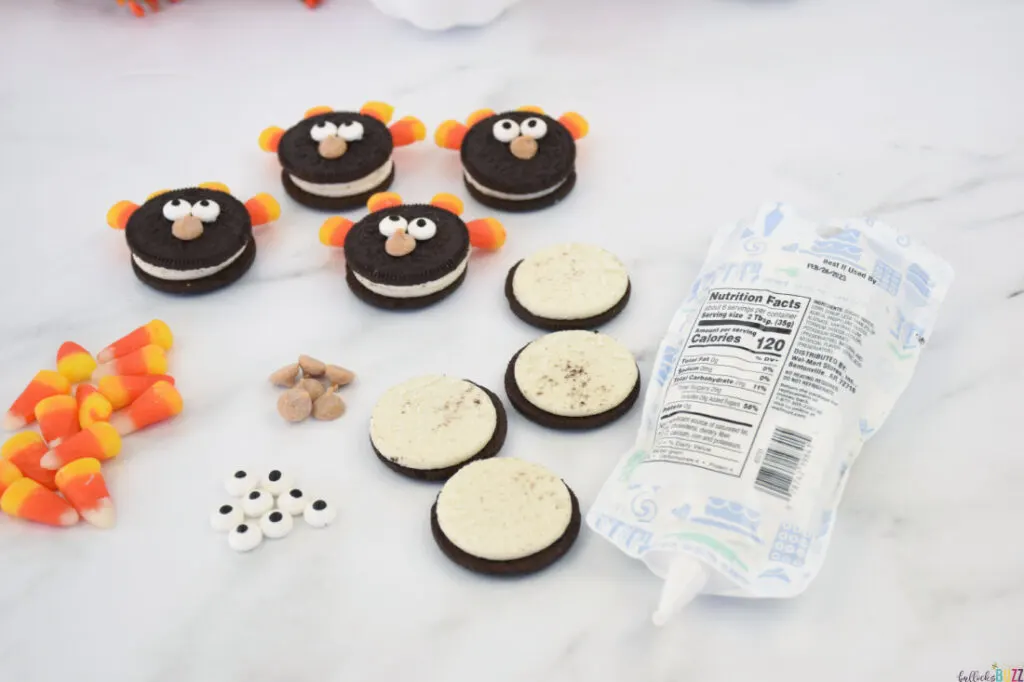 If you can find the Mega Stuf, they should work fine without you having to pull them apart.
INSTRUCTIONS TO MAKE OREO TURKEYS THANKSGIVING TREATS
These Oreo Turkeys are such a fun and festive no-bake dessert idea. Plus, they are really simple to make with zero fuss and no expensive ingredients.
STEP ONE: GATHER YOUR INGREDIENTS AND SUPPLIES
You will need two Oreos per turkey. Pull apart the Oreos so one side has icing and the other has none.
Take two of the sides with icing and gently press them together.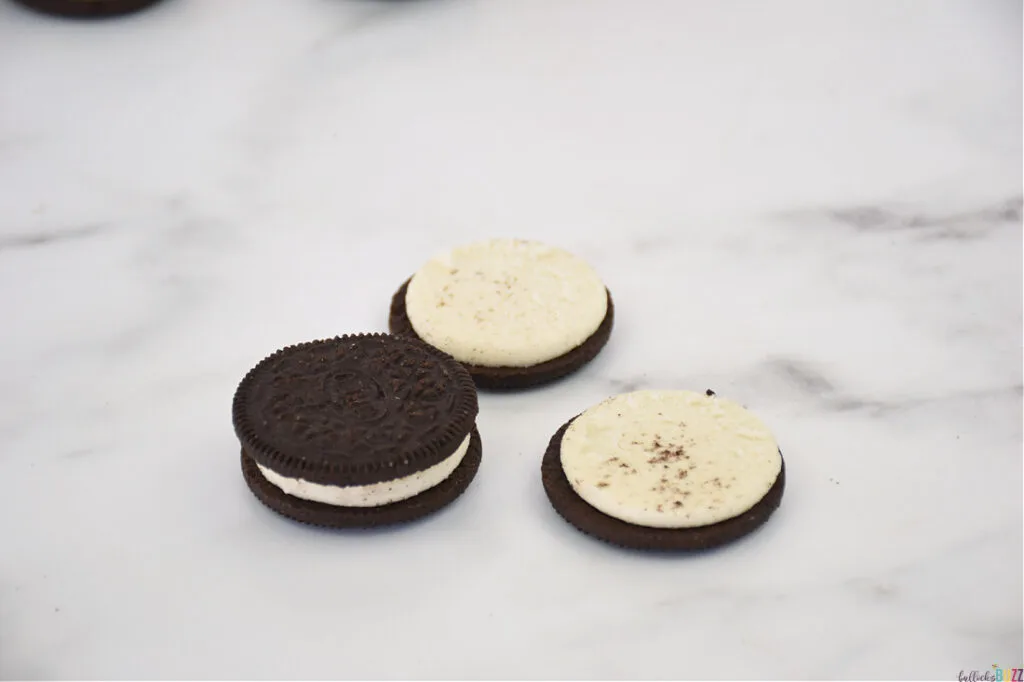 STEP TWO: ADD THE FEATHERS
Carefully insert 5-6 candy corns, pointed end first into the icing. Don't push too hard or the cookie may pull back apart or break.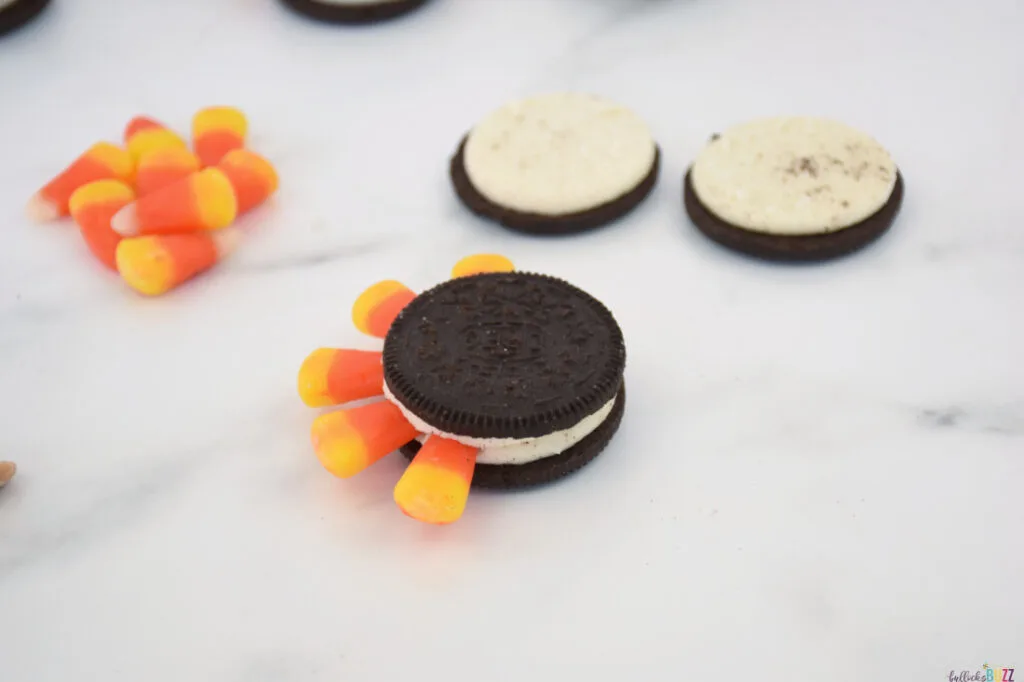 STEP THREE: ADD TURKEY EYES
Carefully add a tiny bit of the frosting onto the flat side of the candy eyes.
Press one onto the Oreo cookie, just a hair above the center of the cookie.
Repeat with the second eye.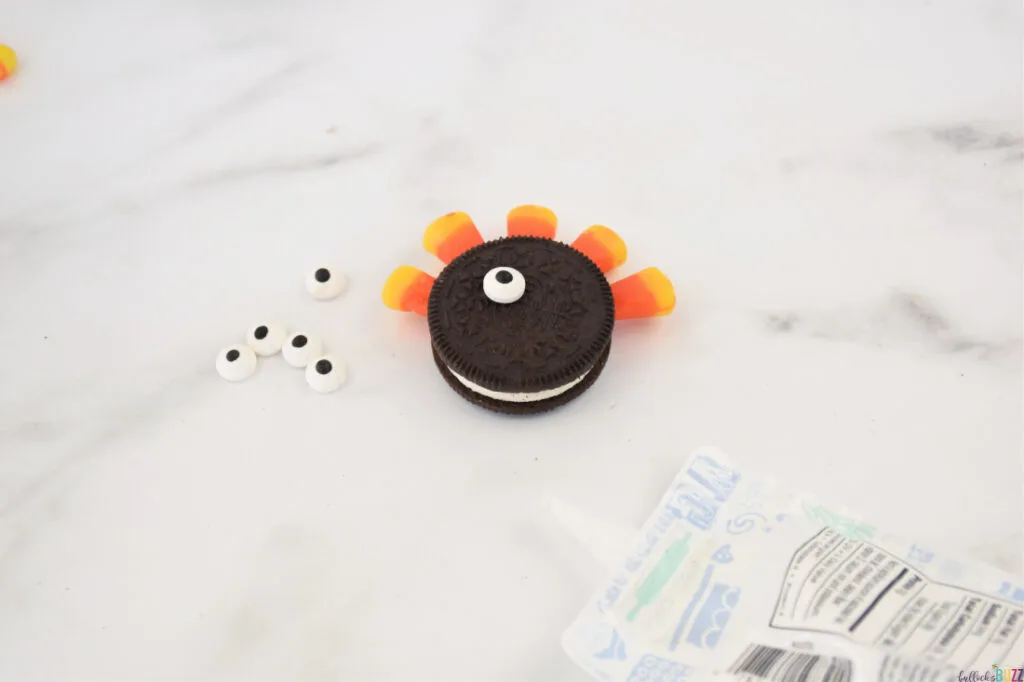 STEP FOUR: ADD THE BEAK
Pipe a small amount of icing onto the flat side of a peanut butter (or butterscotch) chip.
Press it directly below the eyes.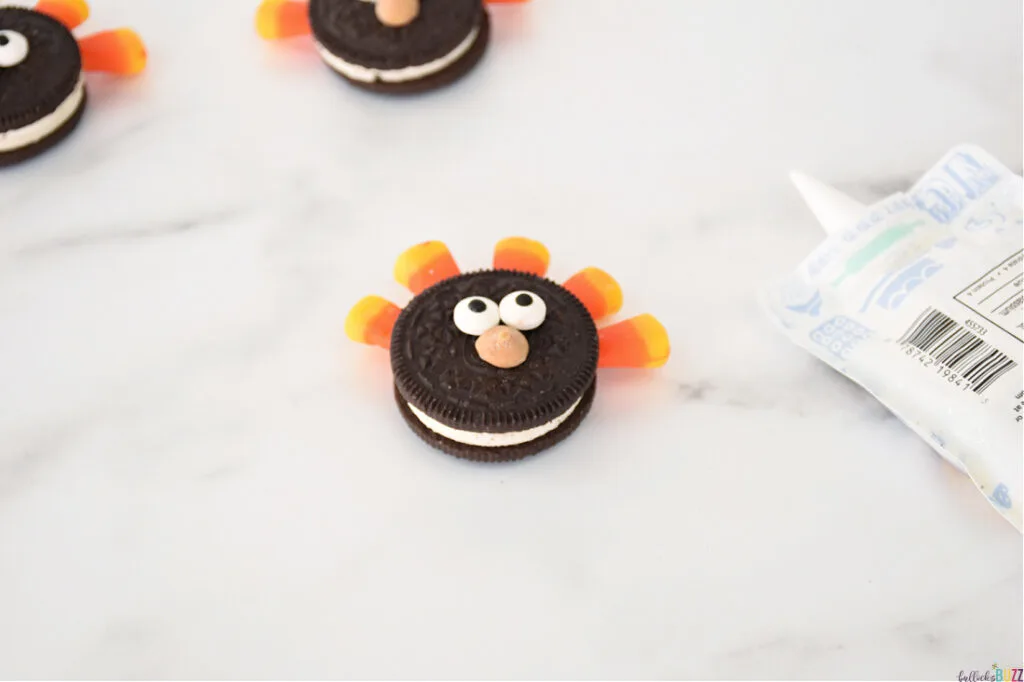 And that's it. Now all you have to do is let the icing on these Oreo Turkeys set, then they are ready to gobble up!
Aren't these Oreo Turkeys just so adorable?!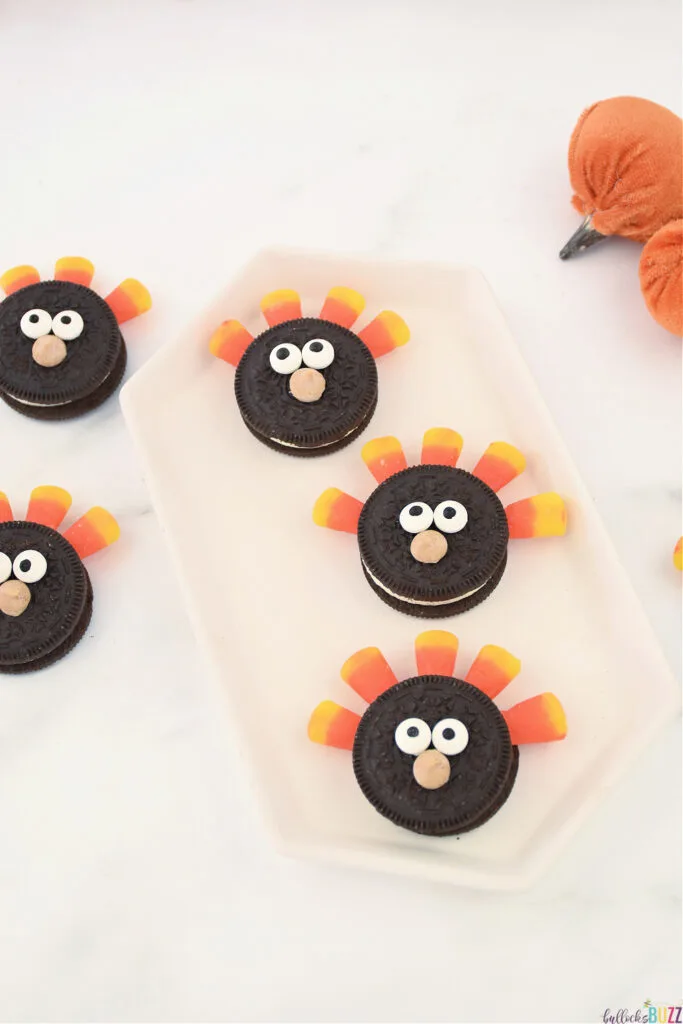 MORE THANKSGIVING AND FALL RECIPES
Looking for more fun and easy Thanksgiving and Fall recipes? Check these out! Simply click on the picture below that you like, and it will take you right to the post!
TRIED IT, LOVED IT, SHARE IT!
Be sure to let me know if you like this Thanksgiving treat recipe! And if you make it, take a picture and tag me. I'd love to see it!
Let me know on Pinterest or Instagram and tag me with #BullocksBuzz on your Instagram photo! Or leave a comment below.
Lastly, if you get a chance, please comment and leave me a ⭐⭐⭐⭐⭐ rating on the free printable recipe card below!