Fun (and Useful) Fall Baking Essentials
Please note, I added Amazon affiliate links to make shopping easy. If you make a purchase through these links, I'll make a small bonus at no extra charge to you:
One of my favorite things about Fall is all of the yummy baked goods that fill your kitchen with a warm harmony of autumn aromas! Below is a list of some of my favorite pans, cutters, molds and other fall baking essentials that will make your autumn baked goods look as delicious as they taste. Plus, a few tasty Fall recipes, you've got to try!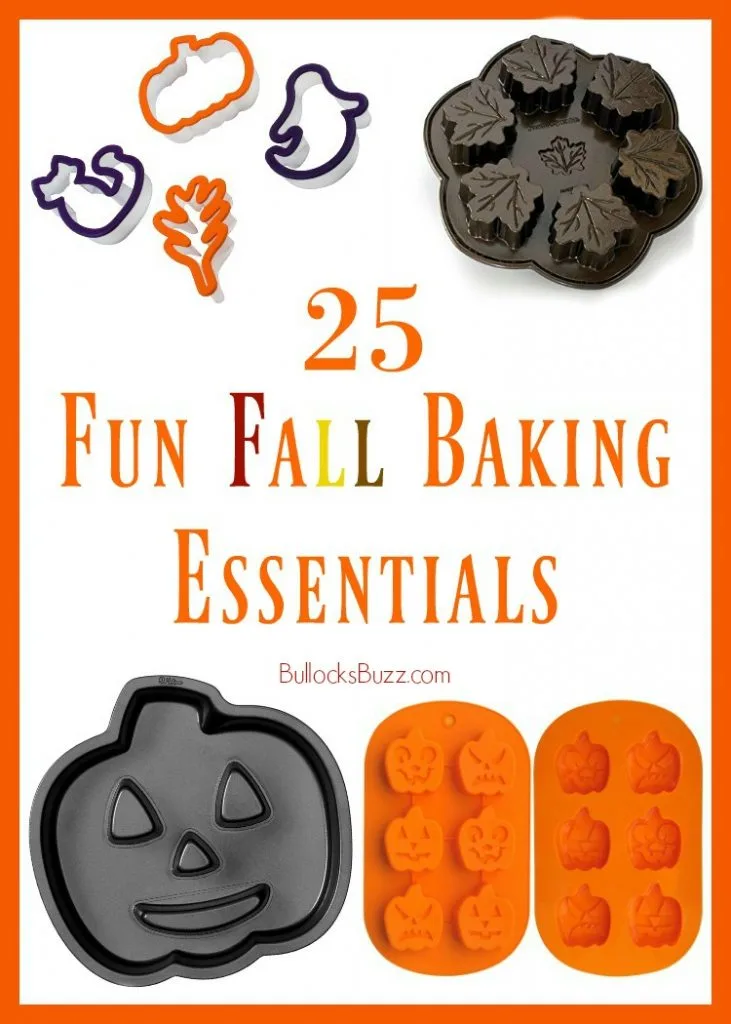 Fall Baking Essentials: Cake, Cupcake and Pie Pans
1. Wilton Halloween Cookie Shapes Non-Stick Pan – $11.95
2. Wilton Halloween Jack-O-Lantern Fluted Cake Pan – $9.94
3. Wilton Dimensions 8-Cavity 3D Skull Pan, Mini – $36.13
4. Wilton Aluminum Pumpkin Pie Pan – $13.99
5. Nordic Ware Seasonal Collection Autumn Cakelette Pan – $32.30
6. Nordic Ware Maple Leaf Pan – $33.33
7. Wilton Autumn Cast Aluminum Mini Cakes Pan, Leaves Acorns Pumpkins – $19.99
8. Wilton Pumpkin Nonstick Crown Muffin Pan – $16.99
9. Wilton 12 Cavity Nonstick Harvest Whoopie Pie Pan – $11.86
10. Platinum Classic Turkey Cake Pan – $33.99
11. Wilton Coffin Mini Nonstick Cake Pan – $19.95
Fall Baking Essentials – Molds
12. Wilton Spider Ice/Gelatin Mold – $6.99
13. Ozera 6 Cavity Pumpkin Faces Silicone Non Stick Mold, 2 Pack – $10.99
14. Wilton Pumpkin Patch Silicone Mold – $9.22
15. Jack-O-Lantern Silicone Cupcake Molds – Set of 6 – $9.99
Fall Baking Essentials – Cookie Cutters and Fondant Cutters
16. Wilton Harvest 6 Piece Mini Metal Cookie Cutter Set – $8.33
17. Ateco 7 Piece Stainless Steel Leaf Cutter Set – $15.99
18. Curious Chef 4-Piece Halloween Cookie Cutter Set – $11.66
19. Wilton Pilgrim Cookie Cutter Set, Assorted – $6.06
20. Wilton 7-Piece Autumn Cookie Cutter Set – $10.99
21. R&M Gobbler Turkey 3.75″ Cookie Cutter in Durable, Economical, Tinplated Steel – $4.09
22. Fox Run Autumn Cookie Cutter Set – $6.74
23. Wilton 7 Piece Haunted House Cookie Cutter Set – $7.99
24. Apple Cookie and Fondant Cutter – $8.99
25. R & M International Pastry/Cookie/Fondant Stamper, 3-Inch, Thanksgiving – Turkey, Acorn, Pumpkin, Oak Leaf – $10.47
Celebrate the season with these delectable Fall delights! (images click through to recipes!)
Scarecrow Carrot Cake Cupcakes + Free Printable Wrapper