Summer is right around the corner, and you know what that means…pool time! There is nothing better than slipping into your very own large pool of sparkling clean, cool water on a sunny, sweltering-hot Summer's day! And there are tons of great pool supplies out there to help you have the coolest piece of backyard paradise on the block!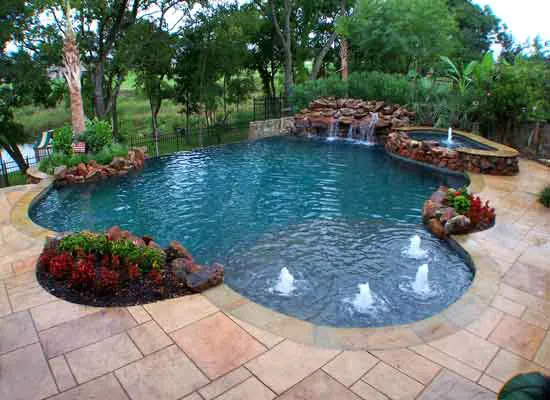 Growing up I was lucky enough to have an in-ground pool in our backyard. I learned first-hand everything that goes into making and maintaining your piece of backyard paradise, and while having a pool can be quite interesting, there is a lot involved in maintaining it.
Often when one hears the words 'pool supplies', thoughts of chemicals and equipment such as vacuums, pumps, heaters and nets come to mind. And while that is a large part of having a pool, there are so many more supplies to consider that are involved in creating and maintaining the perfect pool.
Pool and Landscape Design and Care
Things such as the landscaping, and what you want surrounding the pool are big factors to consider. Some people choose to surround it with different styles of concrete or tiles, others put in a wooden decking, and still others prefer the natural look of having the lawn encircle their pool.
The color and material of the pool bed, the pattern of tiles to add a splash of color, and the type of above-ground and underwater lighting also all play an important part of creating the look and atmosphere of your pool paradise.
Supplies to Keep Water Clean
Then there are all of the pool supplies needed to keep the water clean, clear, chemically balanced and comfortable. This not only includes the chlorine and other chemicals, but also the necessary machinery such as pumps, filters, vacuums, heaters and so much more. You always want to make sure you are using high quality, technologically advanced supplies from a leading manufacturer of pool equipment worldwide.
Pool Accessories
You also need to give thought to all the accessories you can add to make your pool a fun and safe place for the family to spend a hot Summer's day. The children can have a blast with slides and diving boards, and all kinds of rafts to ride and games to play! Adults can enjoy the beauty and serenity of a poolside waterfall surrounded by tropical flowers. And when the sun sets, flip on the pool lights and immerse yourself in colored water provided by a selection of vibrantly colored LED light covers.
Planning and Designing Your Pool
While trying to plan everything and find all of these supplies can be a large and daunting task, there are plenty of ways to make it easier and to save both time and money.
Know What You Want
First of all you want to make sure you have a good idea of what you want before you start. There are plenty of pictures online to help give you an idea of your version of paradise.
Choose a Contracrtor
Secondly, only use reputable and licensed contractors to actually design and build your pool. Third, find a wholesaler that carries everything you need at affordable prices and in one place, this will also help save time and money. Also, consider selecting equipment that can do some of the basic maintenance, like light cleaning, for you.
Ongoing Care
Finally, once you have the pool you want, be sure to check the chemicals and equipment on a regular basis so you can help prevent issues from arising that you will have to eventually fix.
There is so much that goes into the making and maintaining of a pool, but with a bit of planning, the use of high quality, reliable materials and equipment, and regular maintenance, you will have the perfect piece of paradise the entire family can enjoy!