Summer may be coming to an end, but that is no reason to neglect your feet! Profoot has everything you need to keep your feet sandal-ready throughout the cold Winter months!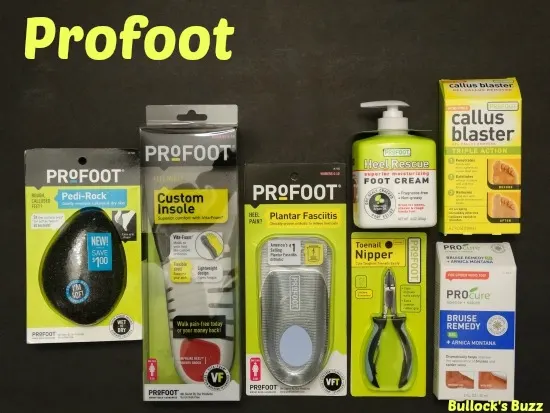 ProFoot is dedicated to providing you with the products you need to keep your feet feeling and looking good. From orthotic inserts to toenail clippers, they manufacture anything you could possible need when it comes to foot health. After all, foot pain can really slow you down and affect the way you live.
"The difference between being you and being the PRO-you starts with your feet. Because the better your feet feel, the more you can do. That's why at PROFOOT, we only make the highest quality products with the best materials so your feet can be free of pain, and never hold you back."
I know, because I have been dealing with some serious foot issues for a few years now, and can no longer stay on my feet for long periods of time. After graduating college, I began teaching and waiting tables as a way to bring in some extra money. Now, almost 15 years later, my feet have paid the price.
In addition to heel spurs, plantar fasciitis, and some other issues, I also have callouses on my big toes from constantly wearing sneakers and being on my feet. And now, to add insult to injury, I have dry, cracked skin on my heels and have been getting ingrown toenails more than ever before! So, when ProFoot offered me the opportunity to try some of their products, I couldn't wait to give them a try!
Profoot Custom Insole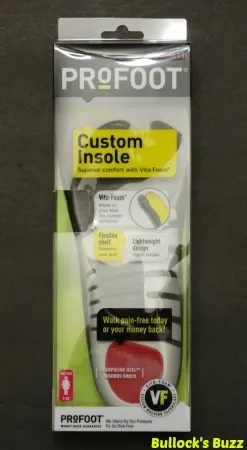 Profoot Custom Insoles are self-molding insoles designed to support & stabilize any type of foot. Made from Vita-Foam® these insoles mold to the unique contours of your individual feet just like custom orthotics do. As a result, you get a perfect fitting insole that provides comfort and support to tired, achy feet.
These insoles also feature a flexible shell to support your arch, and a Springboard Heel® to absorb shock. Plus, Profoot Custom Insoles are up to 50% lighter than gel insoles, and research has shown that lightweight footwear helps to reduce fatigue.
Do they work?
I was actually surprised with how comfortable these insoles are. Over the years I have tried many different insoles, and the majority prove to be more uncomfortable in the long run that they are comfortable.
Profoot Insoles do not crowd my feet inside my shoes, yet they still provide enough cushioning to help with foot pain! They are also much lighter, and really do conform to the shape of your unique foot.
Profoot Plantar Fasciitis Orthotic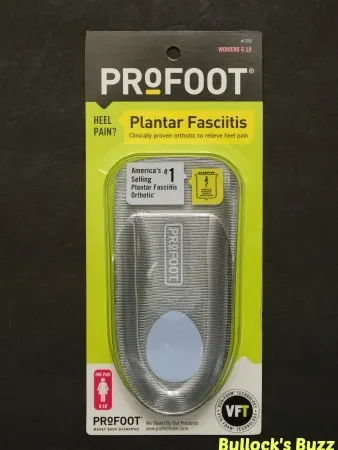 If you have plantar fasciitis then you know how incredibly painful putting pressure on your heel can be. These Plantar Fasciitis Orthotics are specially designed and clinically proven to fight the symptoms associated with plantar fasciitis.
Made with Vita Foam XD, this orthotic conforms to your unique foot shape. The unique orthotic design features a patented arch which supports the entire width of the plantar fascia to reduce stress and pain, while cradling the heel in order to provide support and stability that helps distribute your weight evenly while you walk.
In addition. a gel heel insert provides extra heel protection by absorbing more shock.
Do They Work?
"Clinically proven orthotic to relieve heel pain". As soon as I read those words, I knew I had to give these inserts a try. In the past I have tried two other orthotics that were made specifically for plantar fasciitis
Neither were very comfortable, nor did they work for long. Profoot's orthotics are actually very effective. When I first put them in my shoes, I was worried that they would either crowd my feet or slide around as I walked.
Instead, I still have plenty of room in my shoes for comfort, and each orthotic stays securely in place as I walk. I cannot even begin to express how nice it is to be able to stand on my feet and walk around without feeling pain with every step I take.
Profoot Callus Blaster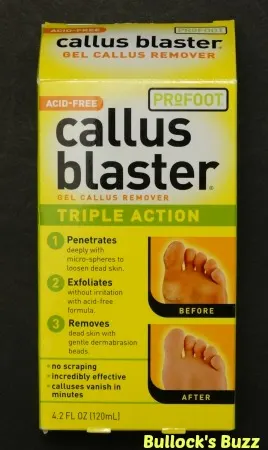 Say goodbye to ugly calluses with the unique Callus Blaster triple action gel callus remover. This gel works to gently remove calluses without the use of acids or cutting. The triple-action gel callus remover penetrates deeply with nano-spheres to loosen dead skin, then remove it with gentle dermabrasion beads, and finally exfoliate without any irritation.
Does It Work?
Finally, no more rubbing and cutting! I have found a gel that really does remove calluses off of your feet. All you do is apply a small amount to the callous, then wait for a few minutes (3 minutes maximum), then rinse. You will need to use the gel a couple of times before it removes the entire callus, but it is so worth it once it is gone! My only complaint is the scent – it has a very strong smell to it, but it works!
Profoot Pedi-Rock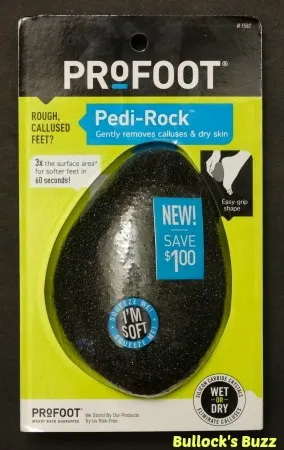 The Profoot Pedi-Rock is the ultimate foot and callus file. Unlike other pedi-rocks, the Profoot is much larger covering up to 3 times the surface area of other brands. In addition, its ergonomic shape provides you with a better grip, making it much faster and more effective. Plus, instead of being hard, this one is soft and conforms to the shape of your foot to gently eliminate calluses. It can be used wet or dry.
Does It Work?
I love using pedi-rocks and this one has definitely become my favorite! Thanks to its large size, and its ergonomic design allows you to quickly and effectively removes the dead skin. It leaves my feet so incredibly smooth in less than half the time it takes me with smaller pedi-rocks!
Profoot Heel Rescue Cream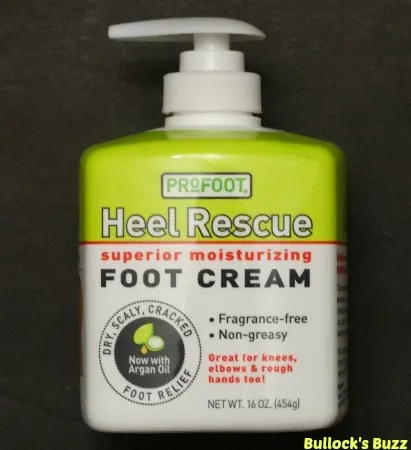 Cracked heels? Dry feet? The Profoot Heel Rescue Creamis specially designed to penetrate, moisturize and repair, all without leaving a greasy feeling. With anti-oxidant-rich Argan oil, your feet will be left feeling silky-smooth and soft. Plus, it is fragrance-free and never tested on animals.
Does It Work?
Finally, a foot cream that actually does what it says it will do. Just a small amount is all it takes to cover my feet, and after using this lotion for close to 3 weeks now, I can honestly say that my heels are much softer and the skin is no longer cracked and peeling. Although the lotion is a bit thinner than I usually prefer, it still works great! I love that it quickly absorbs and doesn't leave a greasy or oily feeling. Instead my feet feel soft and silky smooth.
Toenail Nippers


These innovative toenail clippers are made of the finest surgical steel and are designed to easily cut through tough toenails and remove ingrown toenails safely. The 5″ long, spring-action nippers are easy to hold and use, with a non-slip grip for extra control and comfort.
Do They Work?
For my entire life I have clipped my nails using the standard toenail clippers. This was my first time trying some of this style, and I have to say that I like these ProFoot Nail Nippers much better! Because of the way they are designed, you have a lot more control when clipping, and they really do make it easier to remove ingrown toenails.
Profoot Procure Bruise Remedy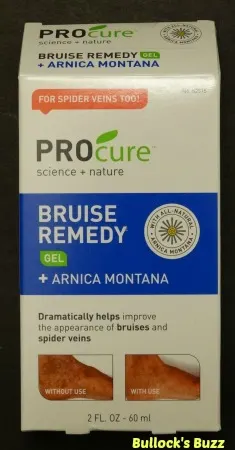 The Profoot Procure Bruise Remedy Gel
is one of the newest Profoot products. It is a unique gel designed to dramatically help improve the appearance of bruises and spider veins on your feet.
Does It Work
The Procure Bruise Remedy comes in a tube with a sponge like applicator on the end which is perfect for application. All you do is squeeze out a small amount of gel until it appears on the end and then apply to your skin. It takes several minutes for it to absorb, but once it does you can't really tell you ever put anything on. As far a bruising I was quite impressed with how quickly they faded. As far my spider veins, I have noticed a lightening in the area which makes them much less noticeable! You do have to use it several times a day in order to get the full results
My Thoughts on Profoot
In summary I am very impressed with all of their products! Each one I tried did exactly what it was advertised to do. In fact, Profoot is so sure that you will be happy with their products that they offer a money back guarantee on all of them! And did I mention that their products are more affordable than some of the other name brands?!
Where to Find Profoot Products
Profoot products are sold at all of your favorite retailers both online and off including Amazon.com, Drugstore.com, Wal-Mart, Walgreens, RiteAid, Publix and many others.
For a complete list of locations visit the Profoot website at https://profoot.co/ (yes, that is correct, there is no 'm' at the end of .co).