If you are anything like me, and hundreds of thousands of other women, then you are most likely constantly on the search for that perfect skin care product that will provide the quickest-acting and longest-lasting anti-aging results. I personally laugh aloud at that age-old adage about growing old gracefully. No, thank you! I plant to fight with a full arsenal of masks, cleansers, moisturizer and serum!
While I have not had much luck finding the proverbial Fountain of Youth, I did find one line of skin care and healthcare products that do a truly impressive job of keeping my skin feeling soft and supple, and looking clean and radiant. One who was kind enough to send several products for me to review that had quite noticeable results, Obey Your Body.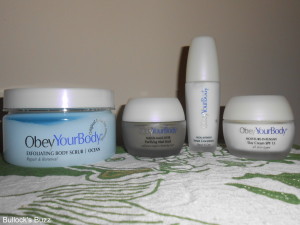 Using a holistic approach to beauty, and combining the best of natural herbs and minerals with cutting-edge pharmaceutical technology, Obey Your Body has created a complete line of health and beauty products including dietary supplements and several collections of skin care products for the face and the body, including facial cleansing products, facial care products, body care products, anti-aging products and a collection made exclusively for men. The products I tried came from several of their collections and together they provide the perfect routine for my skin care.
This purifying mud mask is made of Dead Sea mud and minerals to gently, yet effectively, exfoliate and unclog skin pores while removing ingrained dirt, left over traces of make up, dead and dull cells and other impurities. Essential antioxidants like Vitamin E and Algae guard against environmental pollutants and skin-aging signs, while mineral-based oils such as such as Avocado, Beeswax, Borage Seed and Evening Primrose provide moisture. You apply it about two times a week after thoroughly cleansing your face, and leave it on for two minutes while allowing the soothing aroma of chamomile and lavender help you to relax. It dries quickly, and you can literally feel it pulling out the dirt and impurities. I love how it easily rinses off and leaves my skin extremely clean and soft. I have used it for close to three weeks now, and I can tell a big difference. The occasional and annoying blackheads I used to get are gone, and my skin looks cleaner and healthier, plus it feels incredibly soft.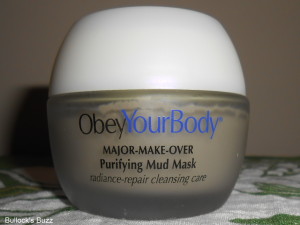 Moisture Care Day Cream SPF 15
This thick and creamy moisturizing day cream provides deep and long-lasting hydration while helping to protect against damaging pollutants and the signs of aging. Enriched with Omega 3 and 6, Avocado, Olive, Borage Seed and other mineral oils, it provides intense hydration which lasts from morning to bedtime. Obey Your Body's original Dead Sea Mineral Complex revitalizes the skin, while the antioxidants Vitamin E and Ginseng help to protect against the damaging and aging effects of free radicals; add in Hydrolyzed Silk and Soy Protein and this moisturizing day cream also promotes skin renewal. With an SPF of 15, your face is protected from the sun's damaging UV rays. What more could you ask from a day cream? I love how thick and creamy it is, yet it only takes a small amount to completely cover my face. Unlike other facial creams, this one absorbs quickly without a leaving greasy feeling or shiny appearance. And it has the very pleasant scent of Aloe and Chamomile.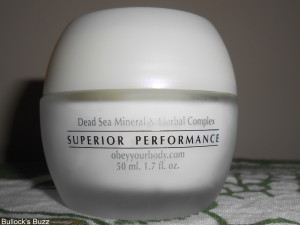 Facial Intensive Serum Concentrate
This serum effectively provides optimal hydrating care for the face, locking in much-needed moisture while supplying the skin with essential nutrients to help restore and refine the skin. Chamomile extract and Pro-Vitamin B5 provide deep hydration, while Omega 3 and 6, Jojoba and Rose Hip Oil help to refine dry lines. It also provides antioxidants Vitamin E, Aloe Vera and Algae Extracts which help to protect against the signs of aging. All of this, along with their unique Dead Sea Mineral Complex, work together to keep skin hydrated, soft and revitalized. A small amount of this light, moisturizing serum really is all it takes to leave my skin moisturized and radiant. I like to apply it a small amount in certain areas on my face and neck both in the morning and after I clean my face at night. I also find it works great to apply a small amount before putting on make up. Like all of the other Obey Your Body products, a small amount goes a long way!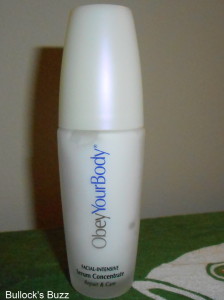 This is my absolute favorite, spoil-me-rotten treat that I love to use once or twice a week while in the shower. I am a sucker for a good body scrub and this one goes beyond good! It not only smells amazing, but leaves my skin incredibly soft and smooth! Packed with all-natural ingredients such as Avocado, Apricot, Sesame and Almond emollient oils combined with Kiwi extract, Vitamin E and Dead Sea Minerals, this scrub not only removes rough and dead skin cells along with dirt and other impurities, but it also conditions and encourages skin renewal. I can tell a huge difference in both the texture and look of my skin each time I use this scrub. It only takes a small amount to exfoliate your body, and unlike other similar scrubs I have tried, this one rinses away clean without its oils leaving a greasy residue. However, be careful as it does contain oils so it will make your tub slick!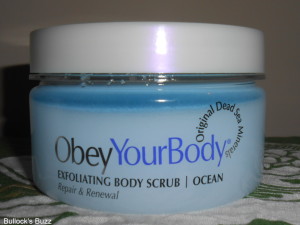 My Verdict
After almost three weeks of daily use, I can tell a pretty good difference in both the appearance and texture of my skin. Not only does my skin look healthier with a more radiant and supple appearance, it feels healthier: smoother and softer. Of course what I am putting in my body is helping as well (more water), but Obey Your Body's products are combining with my healthcare to provide the best possible care for my skin. I also really like that they use they use natural ingredients, including many from the Dead Sea, in their products instead of chemicals and other products that I believe have no business on my skin! True, Obey Your Body's products are a bit on the expensive side, but I myself have seen that they work, and I am pretty sure this may be as close to that magical Formula of Youth I will ever get!
You can purchase Obey Your Body's products directly through their website. Be sure to connect with them on both Facebook and Twitter for all the latest promotions, deals and more.
For a limited time, Bullock's Buzz readers can save 20% off any Obey Your Body product by using the promo code: 20off. Just go to https://obeyyourbody.com/ and pick out whatever products you want site-wide. When you check out be sure to enter the promo code and you will save big!