You don't have to be Irish to celebrate St. Patrick's Day, but it certainly wouldn't hurt to have some luck of the Irish for this fun-filled St. Patrick's Day Treasure Hunt for kids!
A little leprechaun has left clues that lead to a 'pot o' gold'. And it's up to your kids to find it!
So grab a copy of this printable DIY St. Patrick's Day Treasure Hunt and challenge your kids to find their 'pot o' gold' treasure!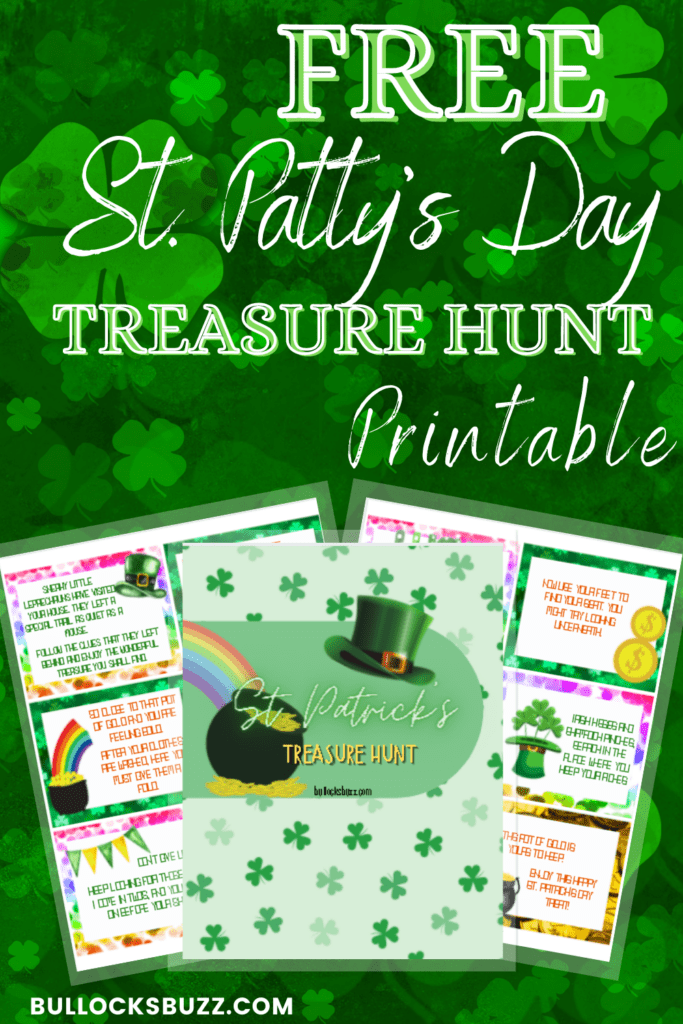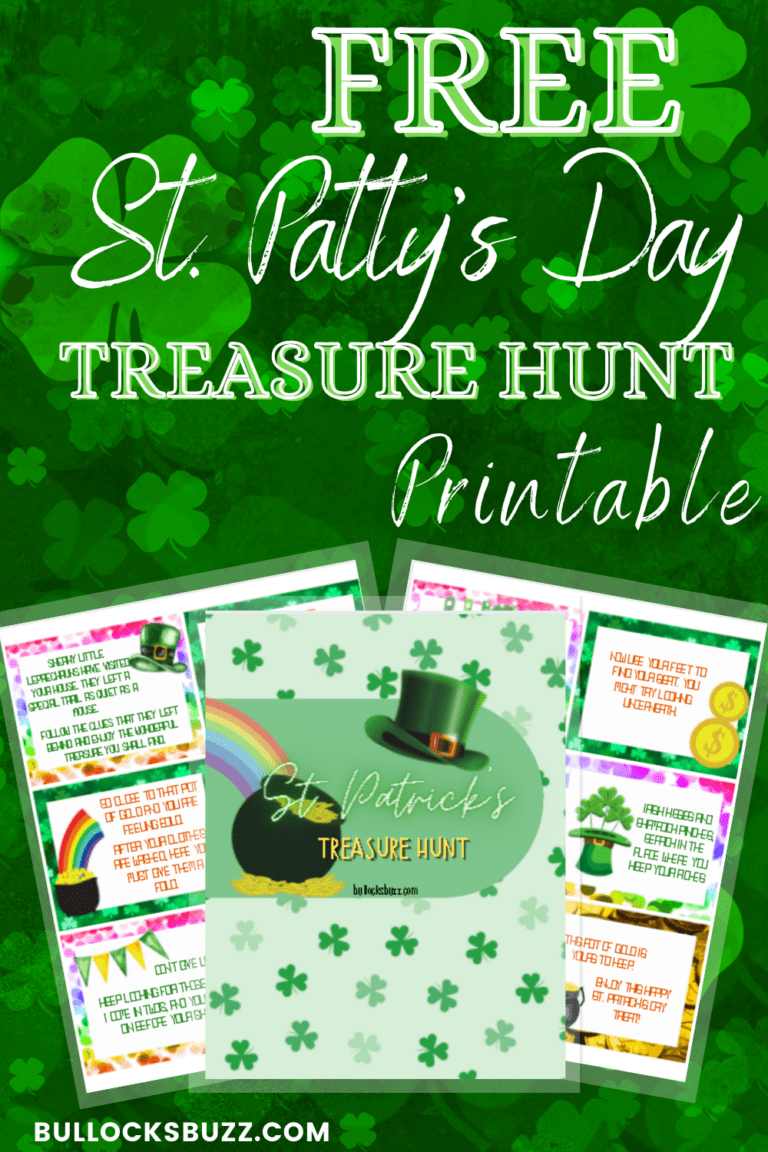 If you're looking for an exciting St. Patrick's Day activity, you've found it. This St. Patrick's Day treasure hunt is packed full of fun for kids! And it's FREE.
Plus, it's a wonderful way to get the kids up off the couch and keep them occupied (wink-wink).
HOW TO USE THIS PRINTABLE ST. PATRICK'S DAY TREASURE HUNT
This free printable St. Patrick's Day treasure hunt is super easy to use. Children can follow the twelve different clues that will eventually lead them to the 'pot o' gold'!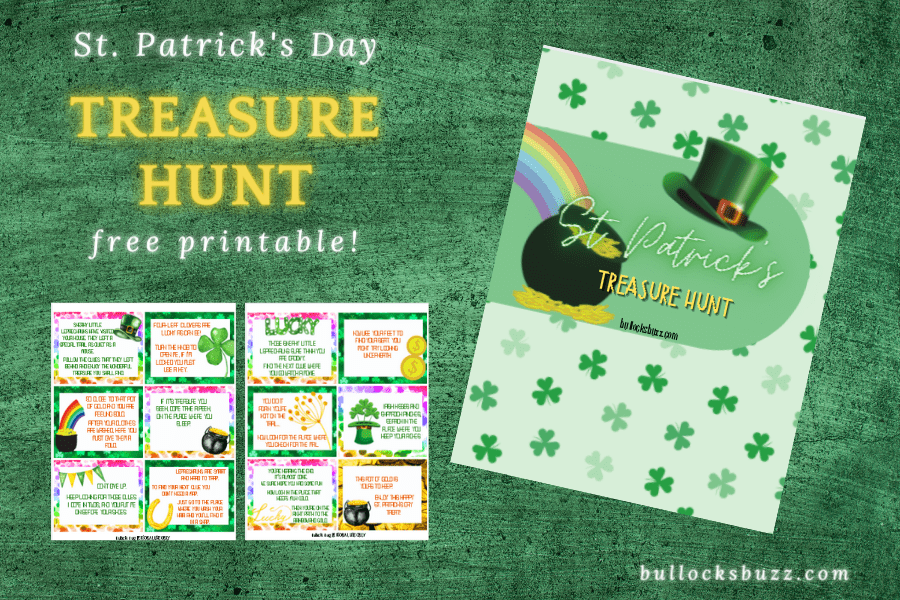 TOOLS YOU WILL NEED
Disclosure: This blog post contains affiliate links for products or services I think you'll like. This means if you make a purchase from one of these links, Bullock's Buzz may make a small commission at no additional cost to you. As always, I only recommend items I use and love.
Paper or cardstock – regular paper works fine, but you can also use card stock (for sturdier cards)
Prize for the 'pot o' gold'
This St. Patrick's Day Treasure Hunt printable is for personal use only.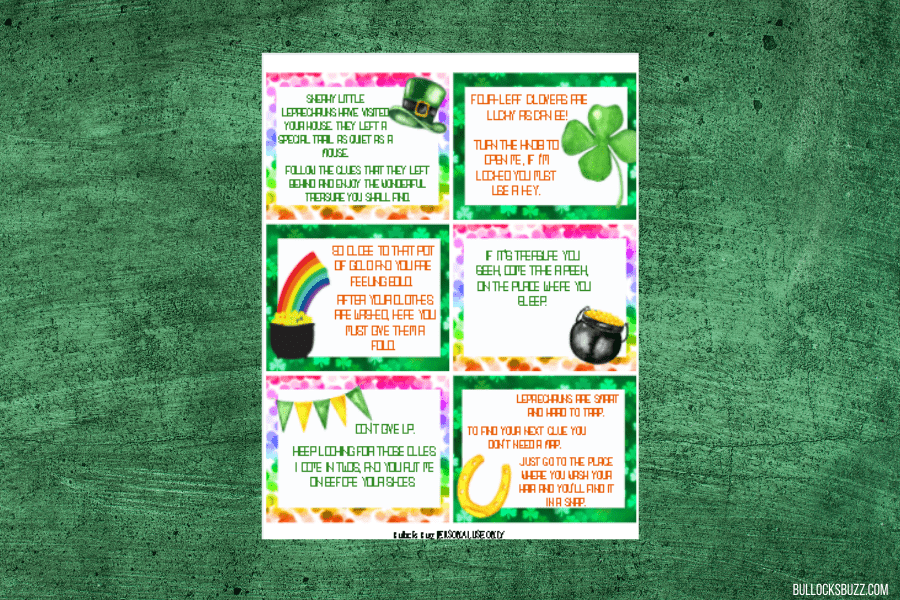 ST. PATRICK'S DAY TREASURE HUNT INSTRUCTIONS
Begin by printing the "lucky" clues I created. Simply download the PDF from the link, and then print out the clues. There are 2 pages, each with six clues, so make sure you print both pages.
Once the St. Patrick's Day Treasure Hunt clues have printed, use scissors to cut them apart. Then, if you want to, you could either fold them in half or roll them up, tying a string or ribbon around each clue to hold them in place.
Next, while the kids are at school or in bed, place each clue around the house in its corresponding place. Below I've listed each clue with suggestions of where to hide it.
Don't forget to put the treasure, aka the 'pot o' gold', with the very last clue!
When you're ready to begin, tell the kids that a leprechaun paid a visit and hid a treasure. It's up to them to find and follow the clues that will lead them to the 'pot o' gold'.
Next, show them the welcome message and the very first clue and send them on their way!
HOW TO SET UP THIS ST. PATRICK'S DAY TREASURE HUNT
Once you have the clues printed, cut apart, and the treasure ready to go, all that's left is to set up the actual treasure hunt. Here are some tips to help you prepare this adventurous St. Patrick's Day Treasure Hunt.
Welcome Message (Clue 1) – Begin by placing the welcome message at the beginning of your treasure hunt to get the kids started. Leave it in a central location, like the family room or kitchen.
Sneaky little leprechauns have visited your house. They left a trail as quiet as a mouse. Follow the clues they left behind and enjoy the wonderful treasure you shall find.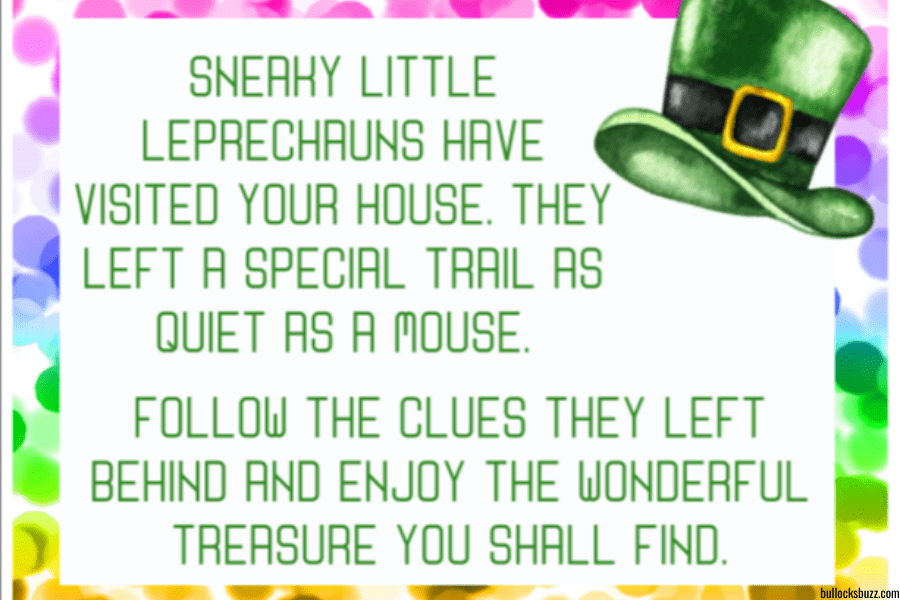 Clue 2 – Now place this one along with the welcome message. This clue will lead your kids through the nearest door, heading in the direction of the laundry room.
Four leaf clovers are lucky as can be. Turn the knob to open me, if I'm locked you must use a key.
Clue 3 This third clue gets placed on the door nearest to the first clue that leads in the direction of the laundry room.
So close to that pot of gold and you are feeling bold. After your clothes are washed, here you must give them a fold.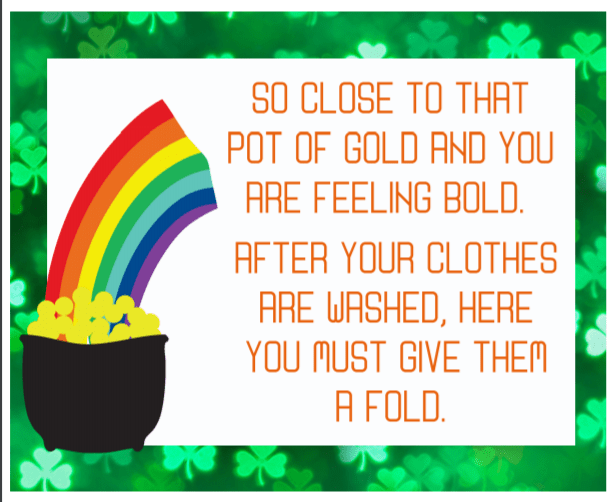 Clue 4 Put this clue on a basket of clean laundry or another spot where you typically fold clothes after they've been washed.
If it's treasure you seek, come take a peek, on the place where you sleep.
Clue 5 Put the fifth clue on your child's bed. Put it on top of the pillows, or even inside the pillowcase or under the covers to make the search a little harder.
Don't give up. Keep looking for those clues. I come in twos and you put me on before your shoes.
Clue 6 – This next clue should be placed in your child's sock drawer or wherever they keep their socks. Make it harder by placing it inside a sock.
Leprechauns are smart and hard to trap. To find your next clue you don't need a map. Just go to the place where you wash your hair and you'll find it in a snap.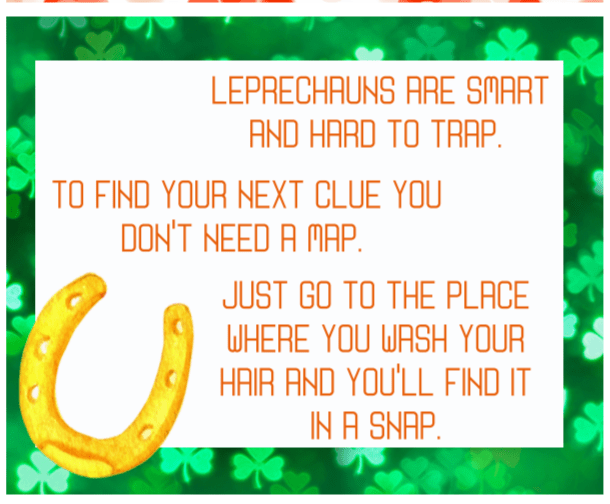 Clue 7 – Place this clue in the bathtub or shower. Close the curtain or even tape it to the curtain to make the hunt a little more exciting!
Those sneaky little leprechauns sure think you are groovy. Find the next clue where you to watch a movie.
Clue 8 – This next St. Patrick's Day treasure hunt clue goes in the spot where your family typically watches TV and movies. It can go directly on the TV, on a coffee table nearby, or even under the remote.
Now use your feet to find your seat. You might try looking underneath.
Clue 9 – Keep your kids hot on the leprechauns' trail hide by hiding this clue beneath a couch cushion, behind a throw pillow, or even under a blanket.
You did it again. You're hot on the trail. Now look for the place where you go check the mail.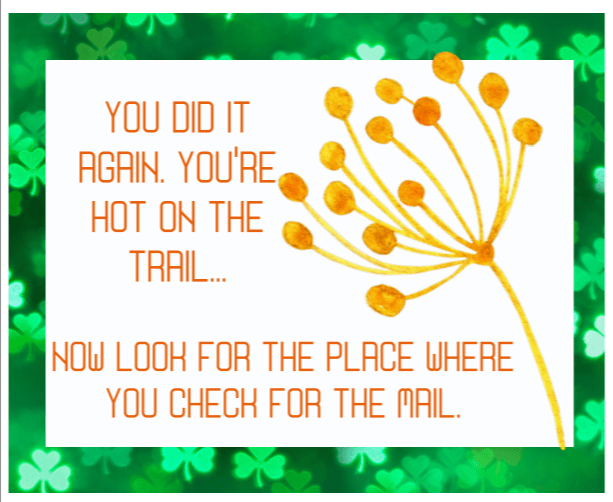 Clue 10 – Put this St. Patrick's Day treasure hunt clue on or in your family's mailbox.
Irish kisses and shamrock pinches, search in the place where you keep your riches.
Clue 11 – To keep your kids searching, hide this one under your child's piggy bank or change jar.
You're nearing the end. It's almost done. We sure hope you had some fun. Now look in the place that keeps milk cold. Then you're on the path to the rainbow and gold.
Clue 12 – Finish the St. Patrick's treasure hunt by placing this final clue in or near the refrigerator, along with a small treasure for your kids to enjoy.
This pot of gold is yours to keep. Enjoy this Happy St. Patrick's Day treat.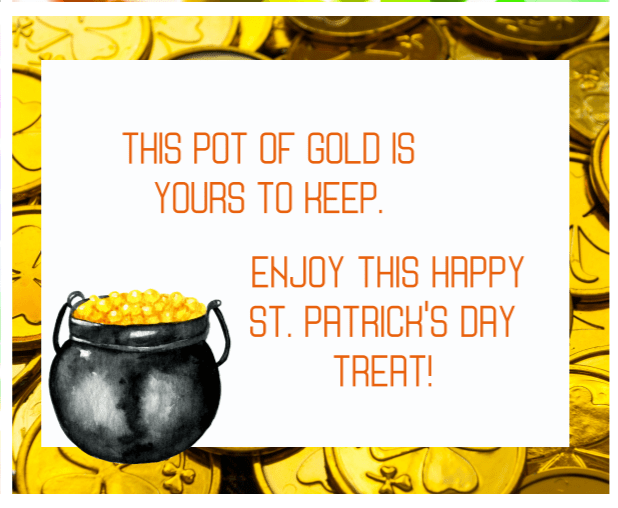 WHAT KIND OF PRIZE SHOULD I USE FOR THIS ST. PATRICK'S DAY TREASURE HUNT?
Speaking of treasures and 'pots 'o gold', (unabashed self-promotion alert), I have a PERFECT idea – especially since the treasure hunt ends in the refrigerator: these Pot of Gold Dirt Cups!
Another sweet treasure idea would be these St. Patty's Day Pot of Gold Cupcakes! These tasty treats are ideal for this St. Patrick's Day Treasure Hunt. They're quick, easy-to-make, and absolutely delicious!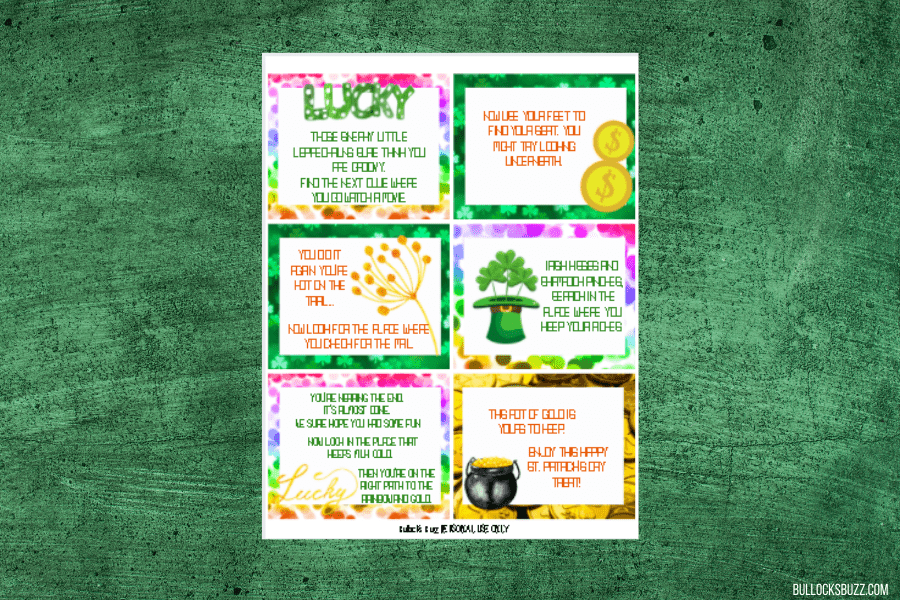 Here are some other easy St. Patrick's Day treasure hunt prize ideas:
Bake up a batch of golden cookies, rainbow cookies, or pot of gold shaped cookies
Rainbow colored candy, such as sour straws or gummy bears
Coloring books and crayons or markers
Fill a little green basket with gold candies such as peanut butter cups, caramel candies, chocolate gold coins, and Rolo's for a sweet treasure!
Use a small container and fill it with colorful non-candy treats from the dollar store such as slime or playdough
Movie tickets to see an upcoming family movie
A kid's craft kit or activity kit
MORE FREE PRINTABLES
Looking for some more printable games? Check these out: