Whether you have a green thumb or a black thumb, with Succulents Box, you can quickly and affordably collect an amazing selection of healthy, gorgeous succulents. Plus you get to enjoy the excitement of opening a new box every month!
For those of you who read this blog often, you know I have a love for plants. And one of my favorite types of plants is succulents (so much so that I even came up with an adorable edible succulent craft). I also have a love for subscription boxes. So when I was offered the opportunity to check out a succulent subscription box from Succulents Box, there was no way I was going to pass it up.
Thank you Succulents Box for providing a box for review! All of my opinions are my own.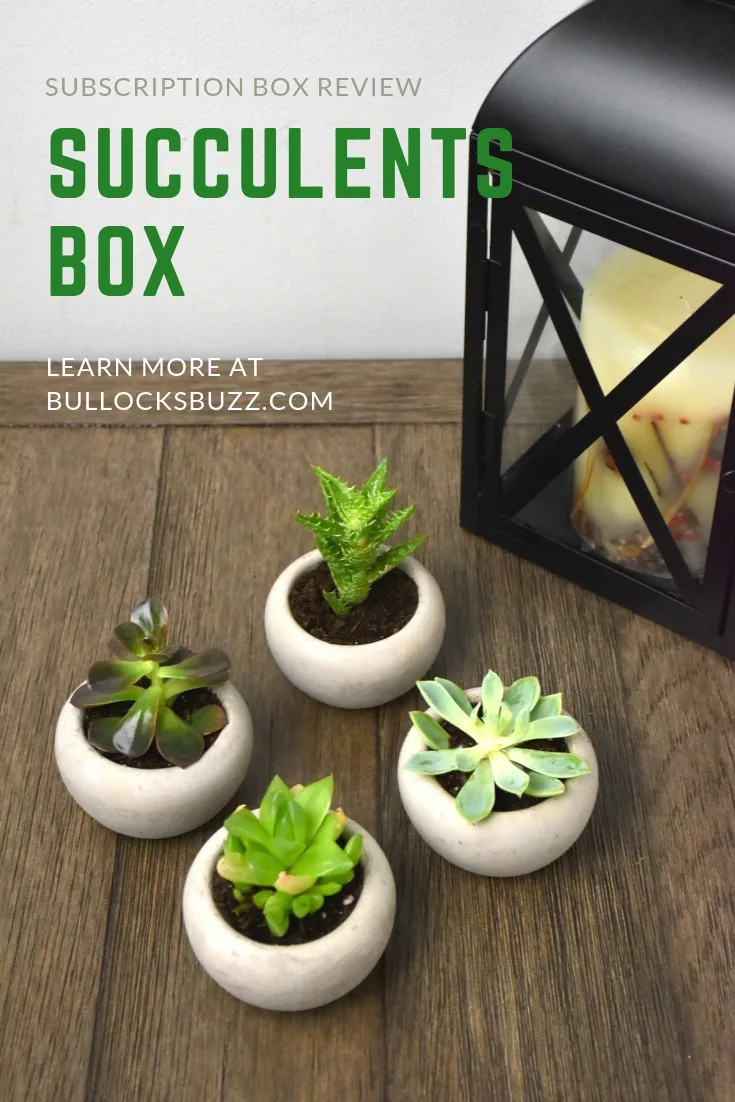 Succulents: Take Little, Give a Lot
Succulents are incredibly easy to care for and are a simple way to bring a bit of nature into your home or office. Since these little guys actually love poor soil and dry conditions, they are extremely hardy and much harder to kill than regular plants. This makes them the perfect plants for people that have a 'black thumb'. 😉
Succulents are also remarkably giving plants, especially when you consider how little they take in return. Just like other houseplants, succulents help cleanse the air in our homes. They also add fresh oxygen to the air, remove toxins from the environment, enhance the humidity of your home (which in turn deters illnesses like the common cold), and even lead to increased productivity. Plus they are pretty, too! And that's just a few of the known benefits of having succulents in your home!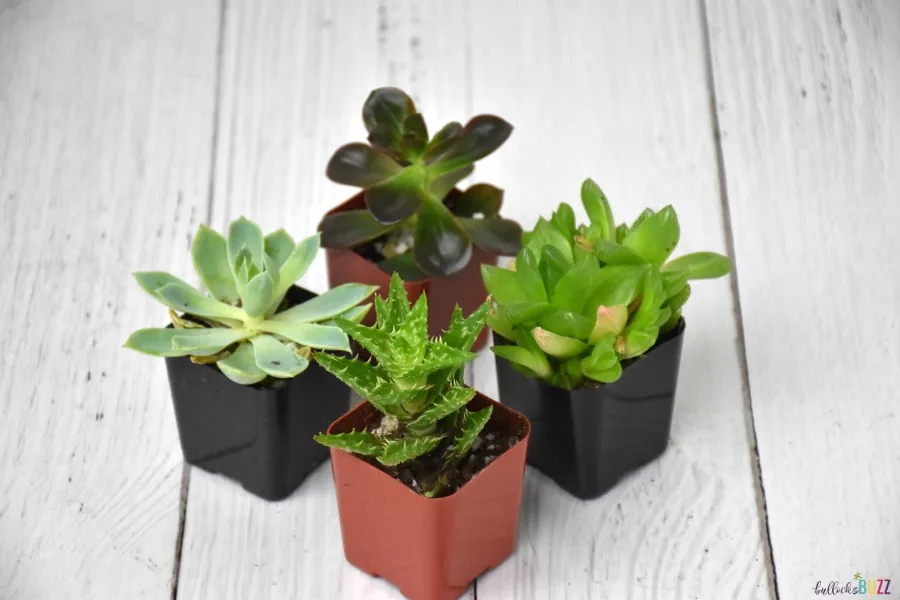 If you are looking to add plants to your home or garden that are adorable, beneficial and practically indestructible, then succulents are definitely worth looking into. And the easiest way to start collecting or to add more to your collection? A succulent subscription box, like Succulents Box.
Succulents Box – Succulent Subscription Box
Succulents Box is a monthly plant subscription box that sends anywhere from 1-4 small succulents directly to your door. Based in California, they offer more than 200 several varieties of organically grown succulent including many popular and rare varieties.
Subscribers can choose from four different succulent box subscriptions, as well as 1 air plant subscription box. These include:
1 plant per month for $5.00 + shipping
2 plants per month for $10.00 + shipping
3 plants per month for $15.00 + shipping
4 plants per month for $20.00 + shipping
1 air plant per month for $5.00 + shipping
The plants are shipped out within one week of ordering, and shipping rates vary depending on your location. Succulents Box only ships within the United States.
They also sell individual plants and have a great selection of pots and accessories for pretty reasonable prices.
Succulents Box Review – June (4 plants/month plan)
My succulent subscription box order for June arrived in just a few quick days. Inside the box, each individual succulent was carefully wrapped in layers of bubble wrap for protection and was nestled inside several layers of tissue paper. And considering the way some of my packages are not-so-carefully "delivered", that extra protection was a great thing!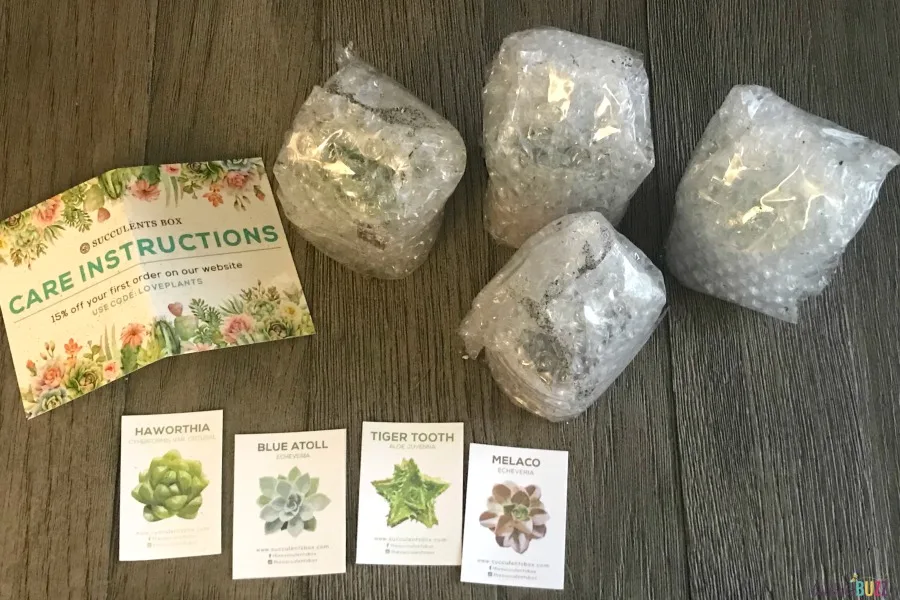 Each plant was also in its own little plastic pot along with an identification card and instructions for care.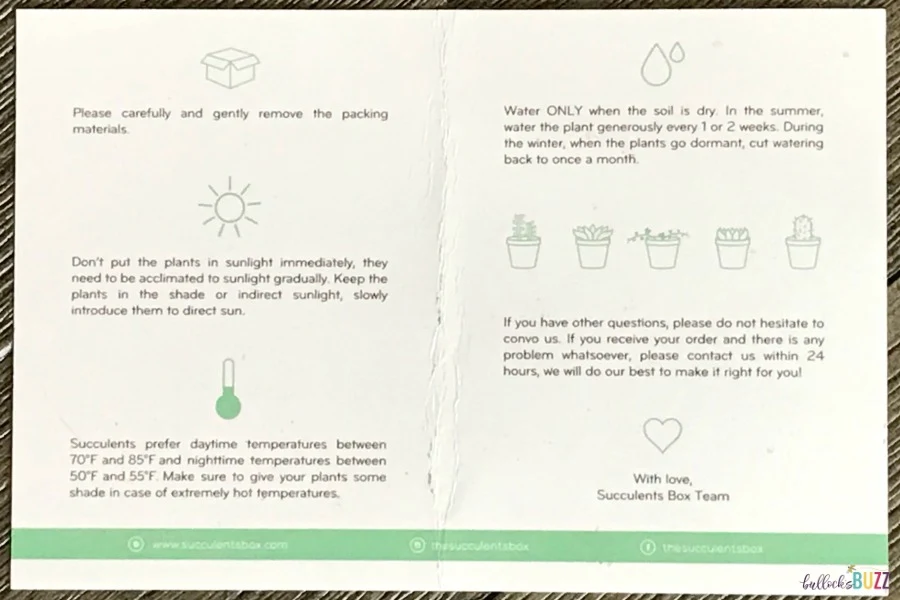 Plants Included in June's Box
June's Succulents Box came with:
Melaco Echeveria
With its shiny, reddish brown leaves surrounding a vibrant green rosette center, it's easy to see why this particular Echeveria is known as a Brown Rose. This hardy fellow can grow up to 6 inches in diameter and up to 6 inches tall.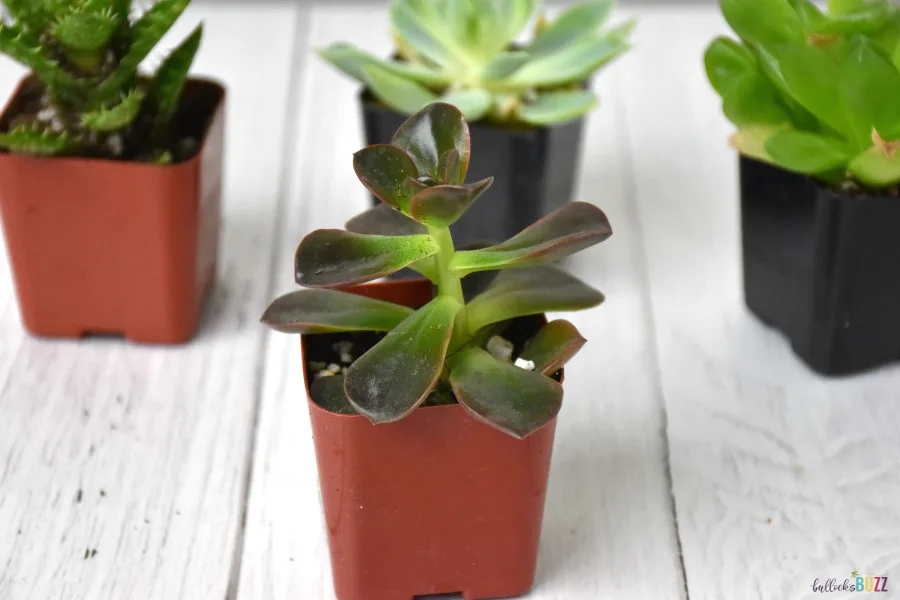 As it flowers, the Echeveria will produce small, orange, bell-shaped flowers. It's also quite easy to propagate from leaf cuttings.
Haworthia Cymbiformis Var Obtusal
This is one of the most interesting succulents in this succulent subscription box. The bright icy-green leaves are thick and squishy and form a dense rosette. Each individual leaf has an almost molded glass appearance with trails of darker green running through it out towards the rounded tips. And the tips have the palest coloring bordering on translucent.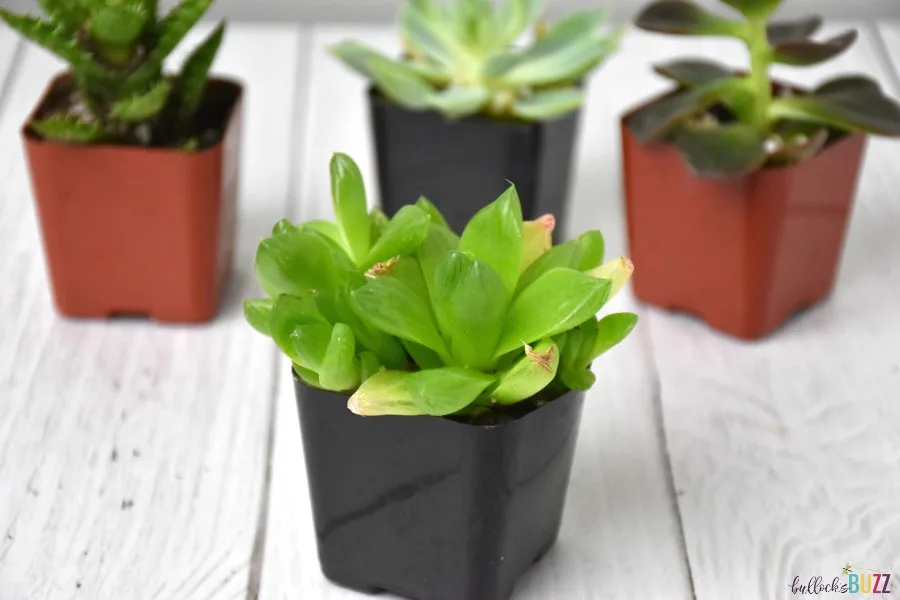 Haworthia Cymbiformis can grow up to 6 inches in diameter and will flower with white to pale pink flowers with brownish-green veins. It will also offset rather freely. In fact, mine had two tiny offsets that I was able to remove and plant into their own tiny pots!
Blue Atoll Echeveria
Another of my favorites, the Blue Atoll Echeveria has fleshy, blue-green leaves that look like they are covered with a powdery white coat. The leaves form a pretty rosette, and in Spring it will send up stems that are crowned with small, orange and yellow bell-shaped flowers.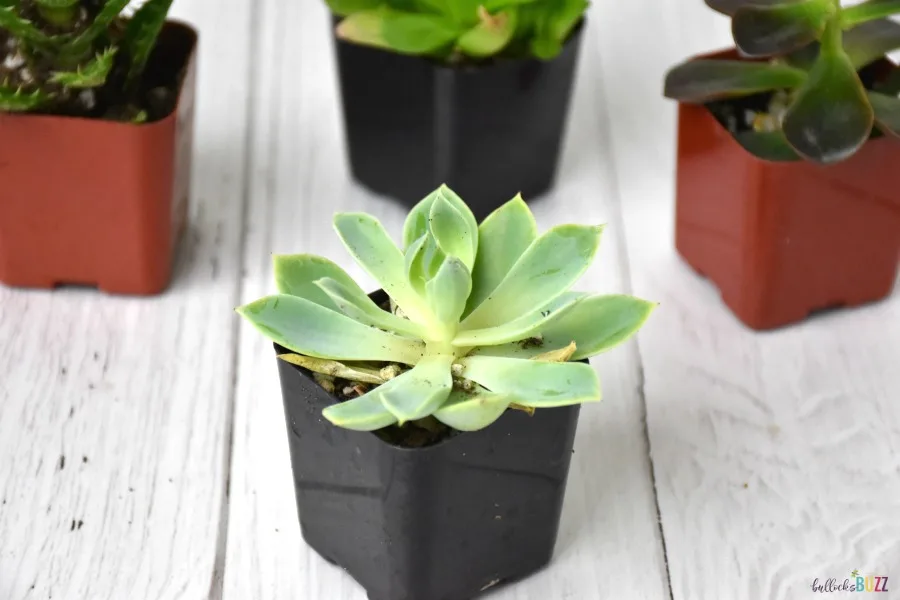 This particular succulent can grow up to 4-6 inches tall and 8-12 inches wide and offsets freely. In fact, mine already had two offsets that I was able to remove and plant in their own tiny pots.
Tiger Tooth Aloe Juvenna
This plant has always been one of my favorite succulents, and I was thrilled to get one in the succulent subscription box. A small, clump-forming plant, it has an erect stem that can grow up to 12″ tall, yet branches off at the base. Its dark green leaves have tiny teeth-like edges and are flecked with white spots.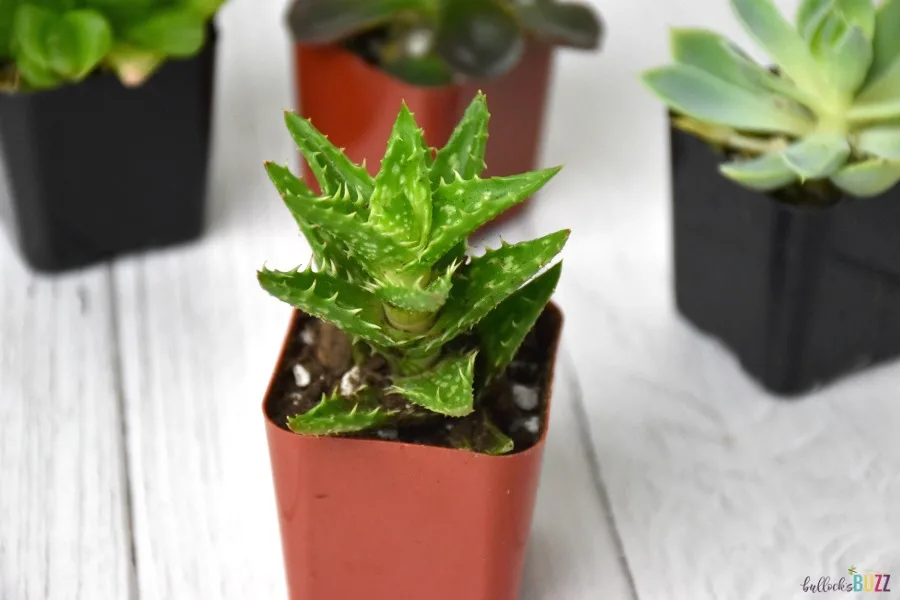 When it flowers, it sends up a stem that can reach up to 10″ in height that is topped off with bright coral-pink to orange-red flowers. I cannot wait for it to grow and bloom!
Plant Health
The plants were all in great shape and very healthy. The soil was a bit dry, but we are talking about succulents here, so no damage was done. I was actually pleasantly surprised to see that they held on to their unique colors so well after being out of sunlight for a few days.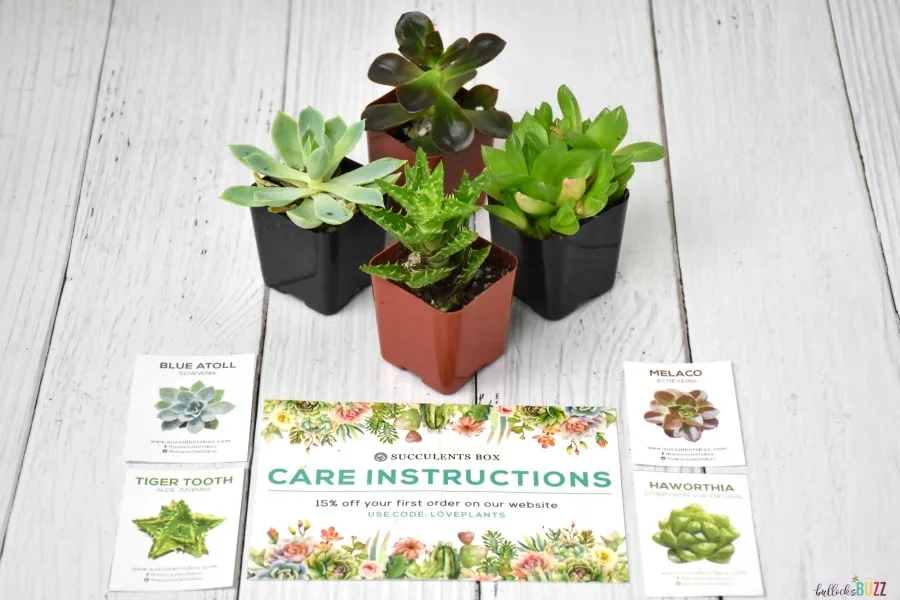 Repotting the Succulents
My next step was to replant them into their new home. However, there are so many ways to plant succulents it took me a while to figure out exactly what I wanted to do with them!
I could make a garden bowl by putting them all together in one planter, or plant them in individual terrariums as with this DIY hanging globe terrarium. They'd also look amazing in a Rustic Hanging Address Planter or even in an upcycled window frame planter!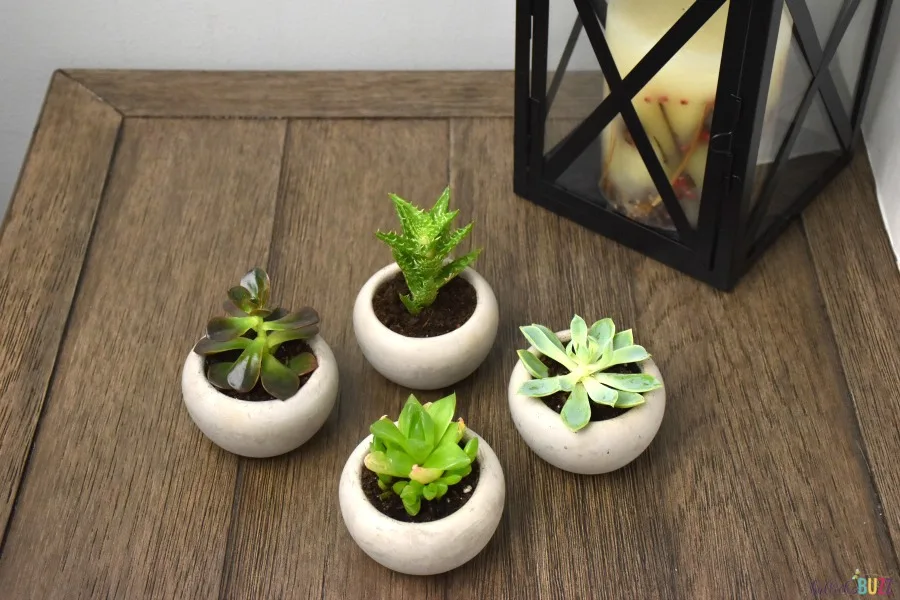 After much mind-changing, I finally decided to replant my succulents into individual planters. I found some super fun rounded concrete planters, but unfortunately, they didn't have drainage holes. However, with a concrete drill bit and about ten minutes, I soon had drainage holes in the bottom of each one.
And now I absolutely love the way my new plants from this succulent subscription box look in their new homes!
Two Week Update
It's been a little over two weeks since I received the June Succulents Box and repotted them into their new homes. The plants are all doing very well, and growing nicely. In fact, they are doing so well that the Haworthia Cymbiformis has a few more offsets starting. Plus, the others all have new growth!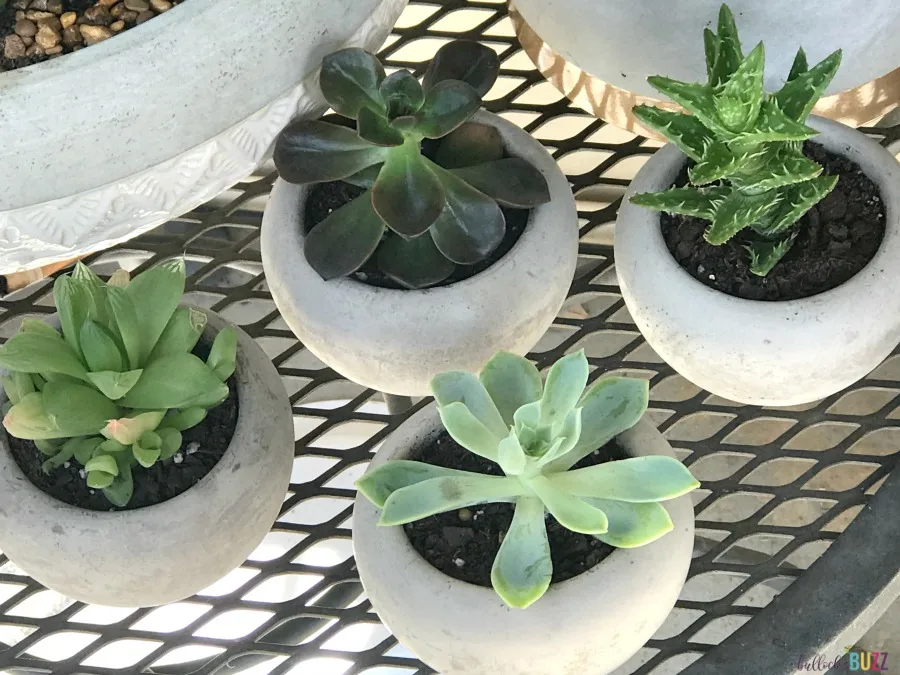 Overall I am absolutely thrilled with my first Succulents Box! The quality of the plants was great, and I love that they are grown organically right here in the USA. You can tell that the people behind this succulent subscription box know their stuff and that they share a love of plants and gardening.
In addition, I love the fact that a portion of the Succulents Box profits goes to a Vietnamese charity that provides meals to the impoverished. That's something I am more than happy to take part in.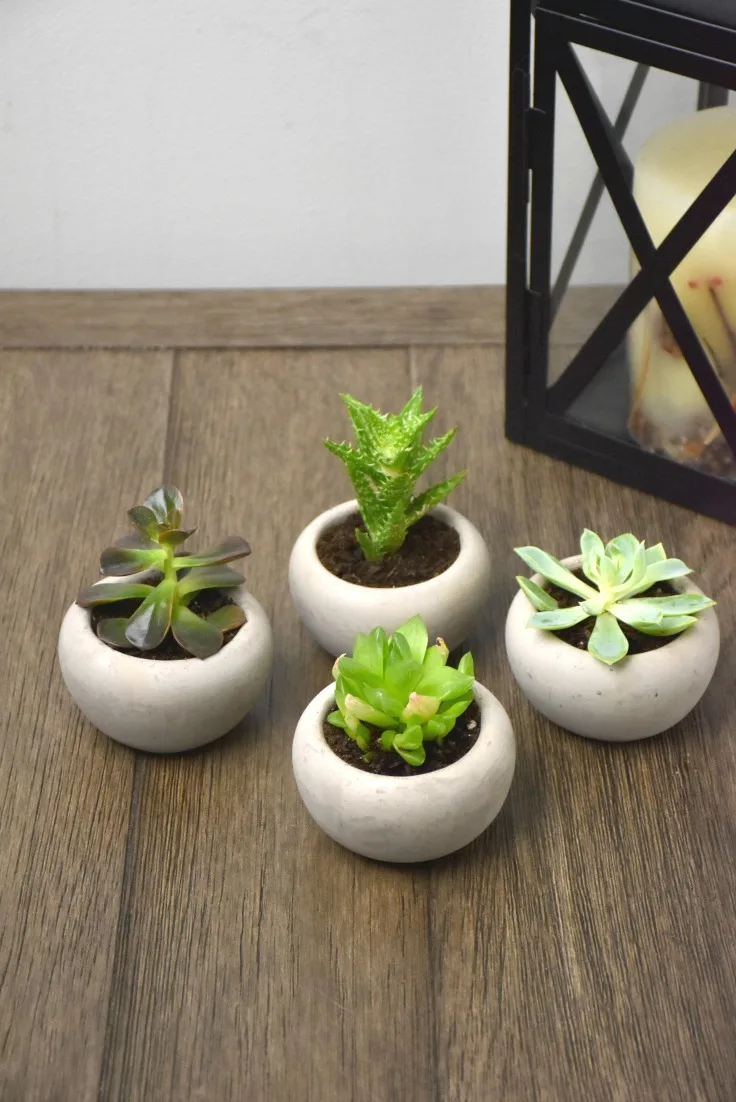 Final Thoughts on Succulents Box Succulent Subscription Box
Succulents are not inexpensive, and you can pay anywhere from $5 to $9 per plant depending on where you buy them. However, with Succulents Box, you can quickly and affordably collect an amazing selection of healthy, gorgeous succulents. Plus you get to enjoy the excitement of opening a new box every month (and who doesn't like that)!?
Want to check out this monthly succulent subscription box yourself? Join Succulents Box today!