Vampire's Kiss Halloween Cocktail is a fun and easy Halloween boozy drink recipe made with crangrape, pineapple juice, grenadine, and some spiced rum for a spooky bite. You'll enjoy sinking your teeth into this Halloween drink!
Coming up with boo-tiful and spookalicious Halloween recipes is something that I look forward to every year. For example, last year I made this colorful Witch's Brew Popcorn, and the year before that I made these super cute Halloween Bat Twinkies.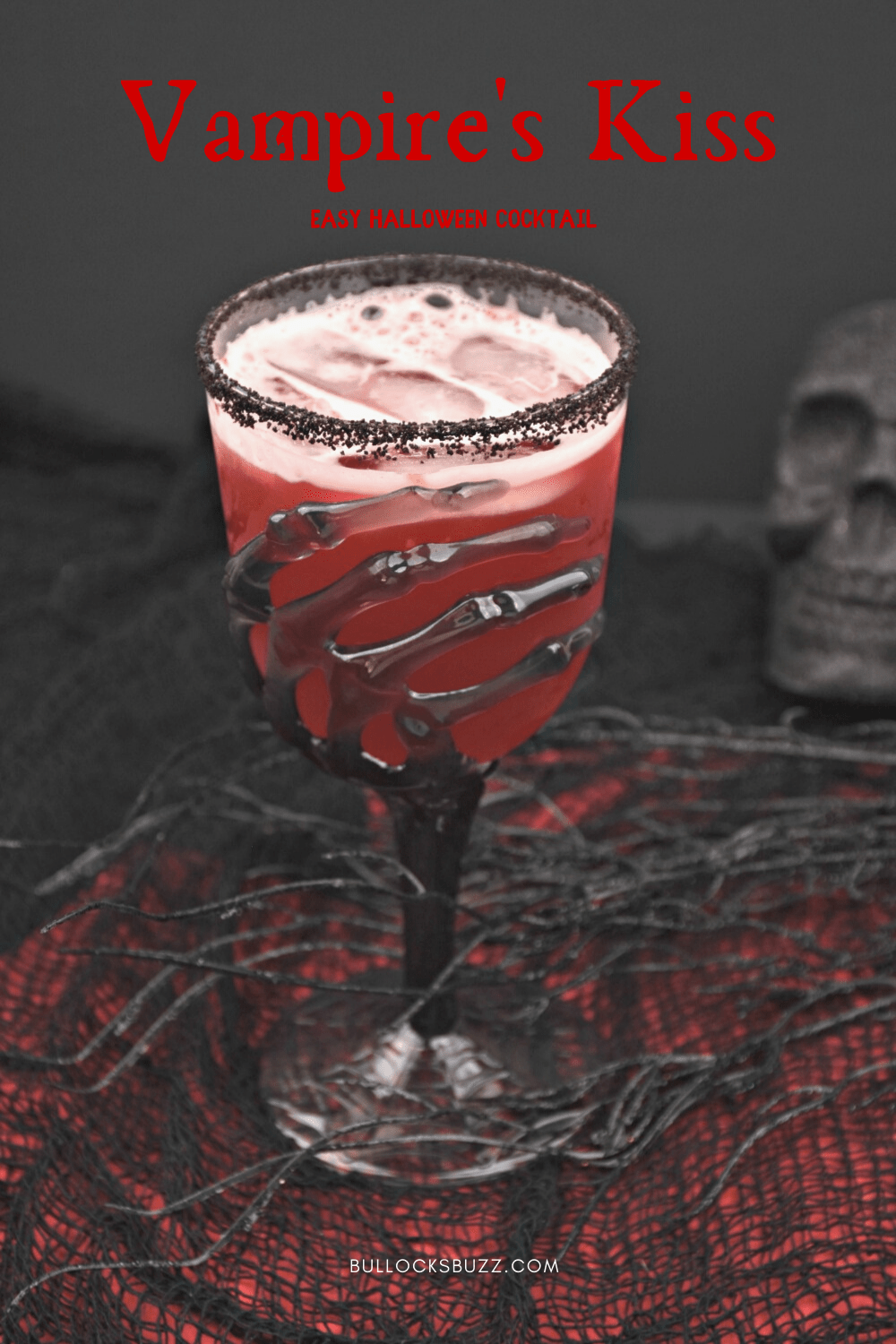 This year I wanted to mix things up (get it?) a bit by conjuring up some seriously spooky Halloween cocktails. Enter the week of Haunted Halloween cocktails.
Friday I shared a devilishly delicious Gravedigger Halloween Cocktail, And today I'm sharing this fangtastic Vampire's Kiss cocktail! After all, a touch of spooky makes every day better, especially when it comes to food and friends.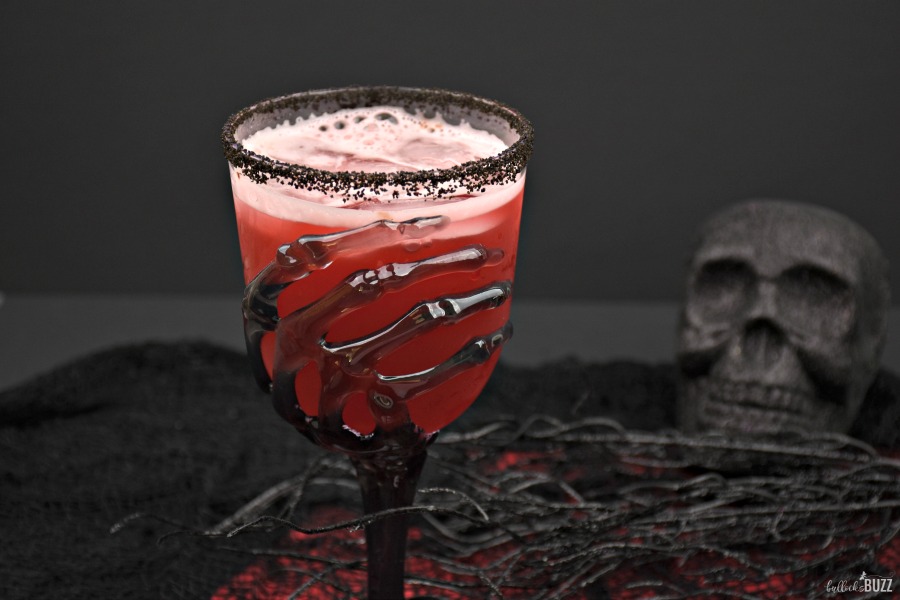 The Vampire's Kiss Halloween cocktail is sure to please both mortals and vampires alike! This easy Halloween cocktail isn't as frightening looking or tasting as the name implies. Instead, it has a sweet, fruity, and tangy taste that's yummy enough to wake the undead!
Its deep red color is reminiscent of two trails of blood trickling down a victim's neck as the vampire sinks his fangs into the warm mortal flesh which slowly becomes as pale and cold as alabaster with the vampire's kiss.
Are you ready to go get a bite to drink?
HOW TO MAKE VAMPIRE'S KISS HALLOWEEN COCKTAIL
Get your Halloween started in spooky style with this mesmerizing Vampire's Kiss cocktail. This tasty Halloween boozy drink with grenadine is extremely easy-to-make and so boo-tiful that you'll be known as the ghostess with the mostest!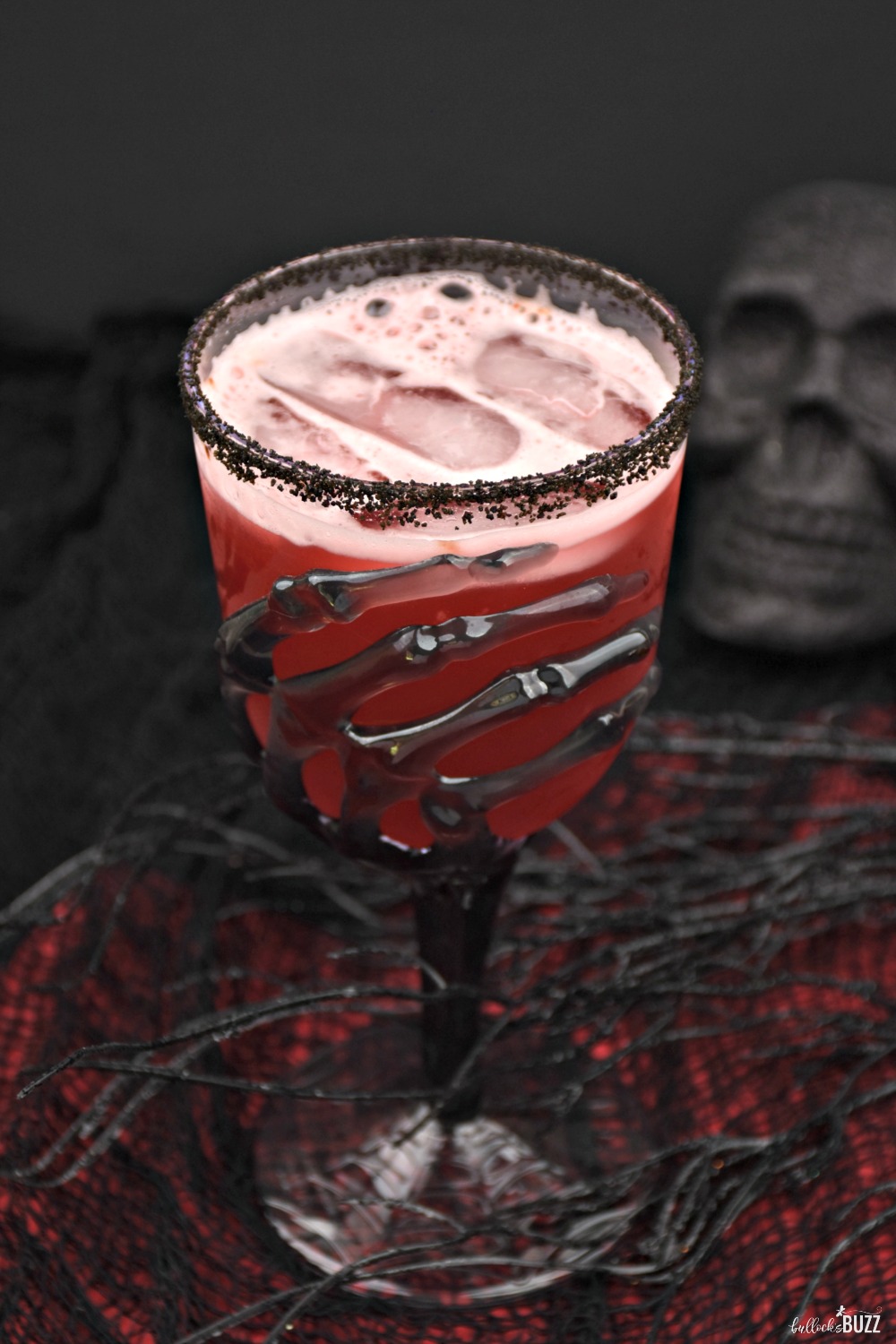 Disclosure: This blog post contains affiliate links for products or services I think you'll like. This means if you make a purchase from one of these links, Bullock's Buzz will make a small commission at no additional cost to you. I only recommend products that I use and love.
You'll find the complete ingredient list and instructions in the printable recipe card near the end of this Halloween cocktail recipe post.
BARTENDER'S TOOLS I USED
VAMPIRE'S KISS HALLOWEEN COCKTAIL INGREDIENTS
Vampire's Kiss Halloween cocktail is hauntingly easy to make. It requires just a few simple ingredients including crangrape juice, spiced rum, pineapple juice, and a splash of grenadine.
It's the crangrape and grenadine that gives this libation it's deep, blood-red hue. The black sugar-coated rim of the skeleton hand glass completes this eerie cocktail.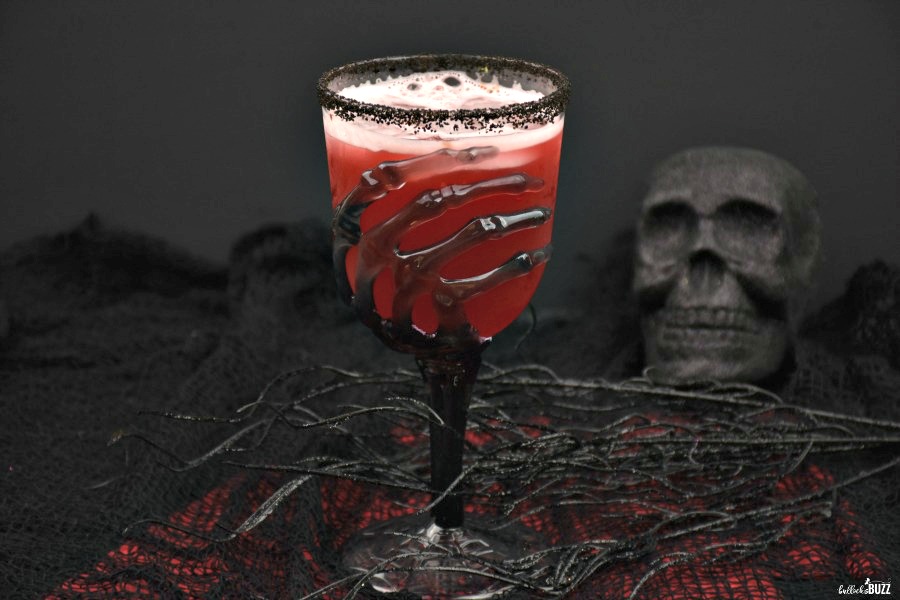 VAMPIRE'S KISS COCKTAIL RECIPE INSTRUCTIONS
This blood-curdling Halloween cocktail recipe couldn't be any easier. In fact, you could have it ready to go in 5 minutes or less!
Begin by coating the rim of a goblet with a dab of simple syrup or other sticky liquid such as Sprite, lemon juice, etc.
Then dip the coated rim in a saucer of the black sanding sugar, and gently twist the goblet to thoroughly coat the rim.
Next, in a cocktail shaker with ice, combine the rum, cranberry grape juice, pineapple juice, and grenadine.
Shake for about 30 seconds to mix, then strain the cocktail into an ice-filled goblet making sure not to splash the sugar-coated rim.
And that's it! Your blood-red Halloween cocktail is ready to enjoy.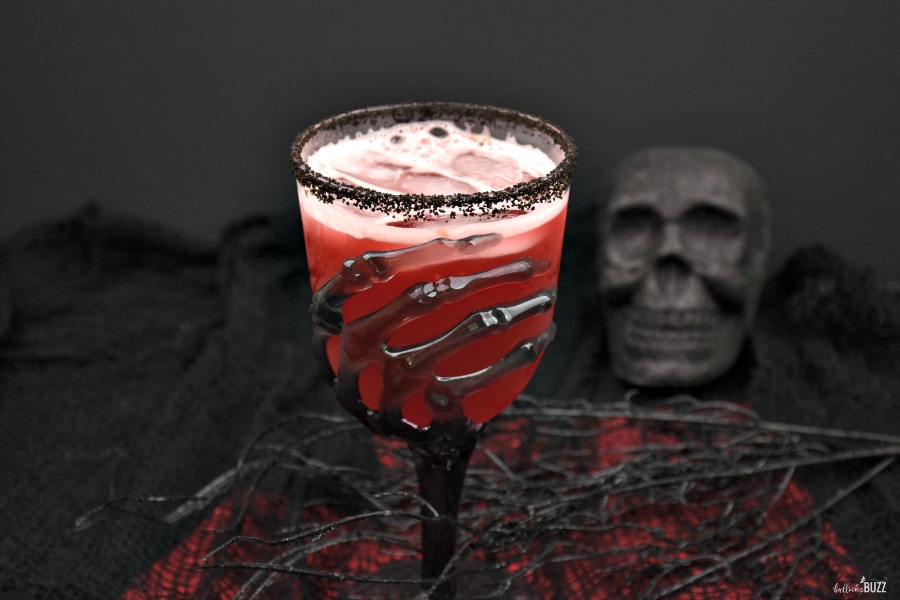 COCKTAIL RECIPE TIPS
If this red Halloween cocktail recipe is too sweet, you can also use light cranberry juice. Just note that the color may not be as deep a red. However, you can easily fix that by adding another splash of grenadine then stirring carefully.
WHERE CAN I FIND SANDING SUGAR?
Sanding sugar can be found at most stores. Amazon carries it, as does Walmart, Michael's, Kroger, JoAnns, and Publix.
WHAT IF I CAN'T FIND SANDING SUGAR?
If you cannot find any sanding sugar, you can make your own easily. All you need is regular sugar and food coloring. I prefer to use gel food coloring as it gives a more vibrant color.
To make you own sanding sugar you simply mix a few drops into the sugar until you get the color you desire. Pour the sugar into a plastic baggie. Then add in a few drops of food coloring at a time. Remember to start small because you can always add more but you cannot take it out.
Shake the baggie until the sugar is completely colored. Store in an airtight container.
Some people also like to put it in the oven to give the sanding sugar a sparkle and sheen. Six Sister's Crafting has a great tutorial on making it.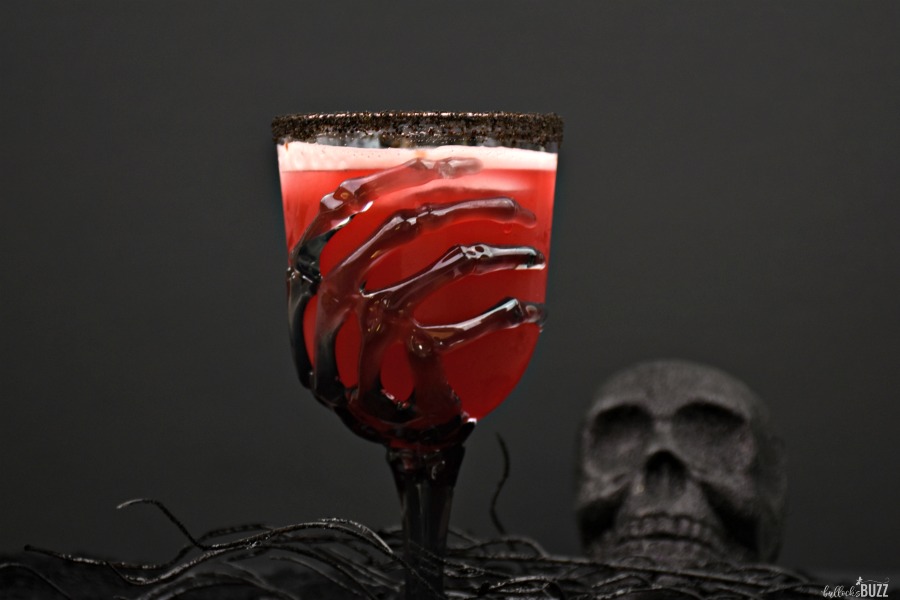 HOW TO SERVE THE VAMPIRE'S KISS RED HALLOWEEN COCKTAIL
While this Halloween cocktail looks pretty sinister on its own, there are all sorts of fun ways to increase the spooky vibe. Here are a few suggestions:
The possibilities are absolutely terrifying!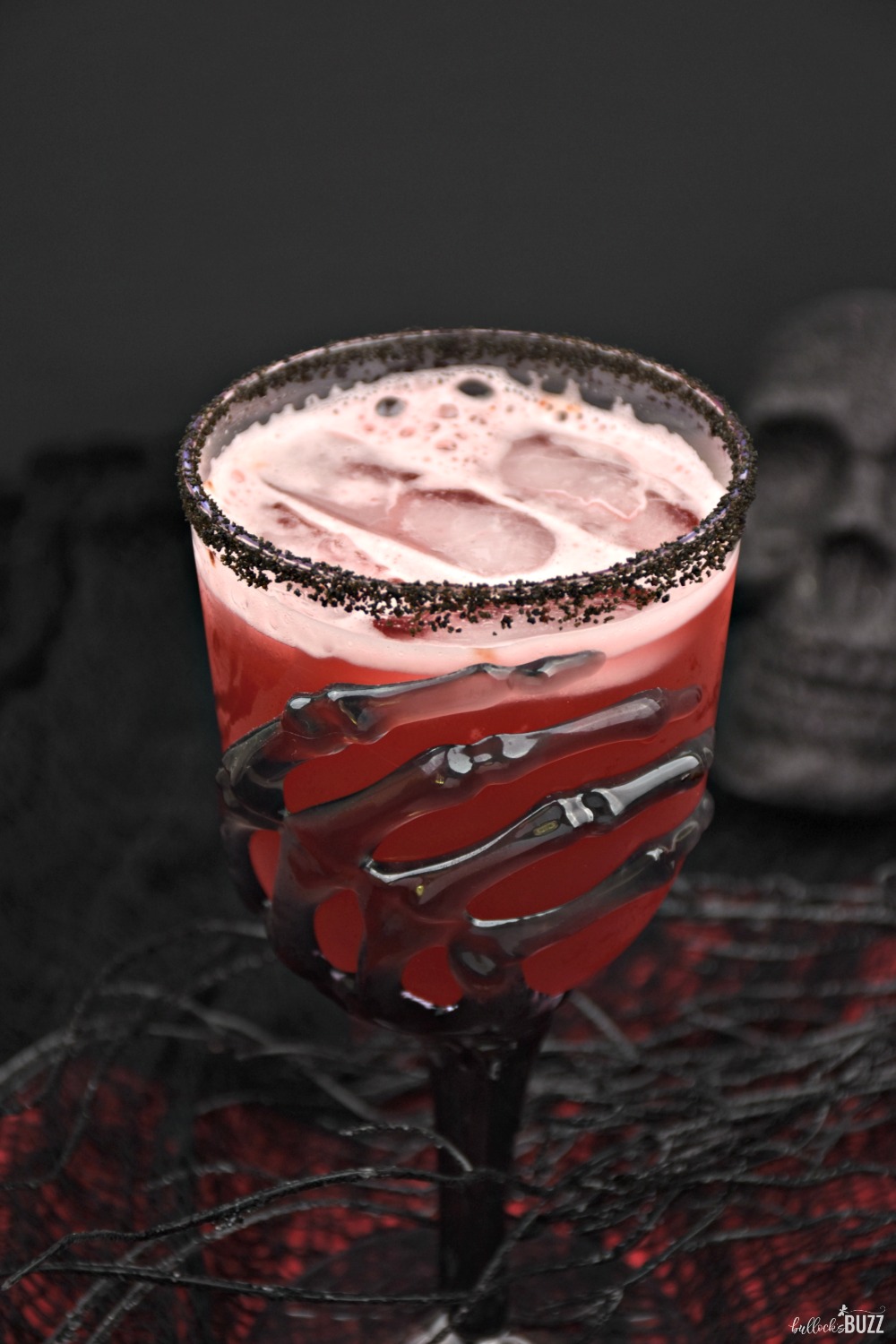 TRY IT AND SHARE IT!
Be sure to let me know how you like our Vampire Kiss cocktail! If you try it, I'd love to hear about it! Let me know on Instagram or Pinterest and tag me with #BullocksBuzz on your Instagram photo! Or leave a comment below.
And if you want to try , but haven't made it yet, be sure to save the recipe on Pinterest so you'll remember where to find it.
Speaking of Pinterest, you may also enjoy my Cocktails board, Mocktails board, and my Halloween board!
Be sure to check back tomorrow for another spookalicious Halloween cocktail recipe!
GRAB A FREE PRINTABLE RECIPE FOR MY GRAVEDIGGER HALLOWEEN COCKTAIL
If you like this recipe, please rate it! I'd also love to hear your thoughts in the comments below!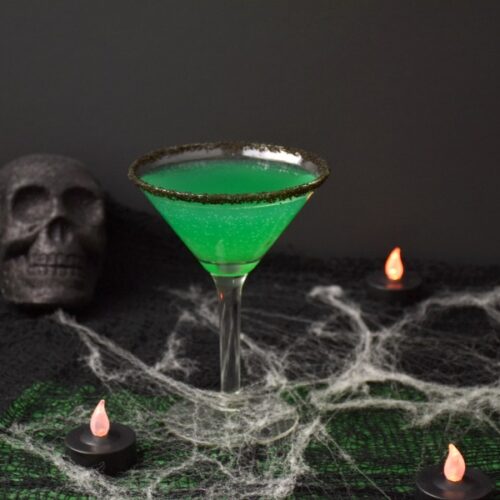 Green Goblin Halloween Cocktail recipe
Scare up some adult fun on Halloween with this frightfully fruity Green Goblin Halloween Cocktail recipe! Made with dark rum, pineapple juice, lemon juice, Blue Curacao, and lemon-lime soda, this spooky Halloween drink will leave you wanting more!
Print
Rate
Pin Recipe
Ingredients
For Individual Cocktails
1½

ounces

dark rum

1

ounce

pineapple juice

½

ounce

lemon juice

fresh

1

ounce

lemon-lime soda

½

ounce

Blue Curacao

black sanding sugar

simple syrup

or other sugary/sticky liquid
For Punch Bowl
5¼

cups

dark rum

3½

cups

pineapple juice

1¾

cups

lemon juice

fresh

3½

cup

lemon-lime soda

1¾

cups

blue curacao
Instructions
For Individual Drinks
Pour some black sanding sugar on a saucer, making sure it's at least ¼ inch high and wider than the rim of the goblet.

Dab the rim of the goblet with a simple syrup or another sticky liquid such as Sprite, lemon juice, etc.

Dip the coated rim into the saucer of black sanding sugar and gently twist the goblet to cover the rim with the sanding sugar.

In a cocktail shaker filled halfway with ice, combine the rum, lemon juice, pineapple juice, and blue curacao. Shake for about 30 seconds.

Strain the cocktail into a glass taking care not to splash the sugar-coated rim, then top off with the lemon-lime soda.
For Punch Bowl
Chill all ingredients for several hours or overnight.

Combine all ingredients in a punch bowl and stir well.

Lay out some black sugar-rimmed glasses to add the punch to.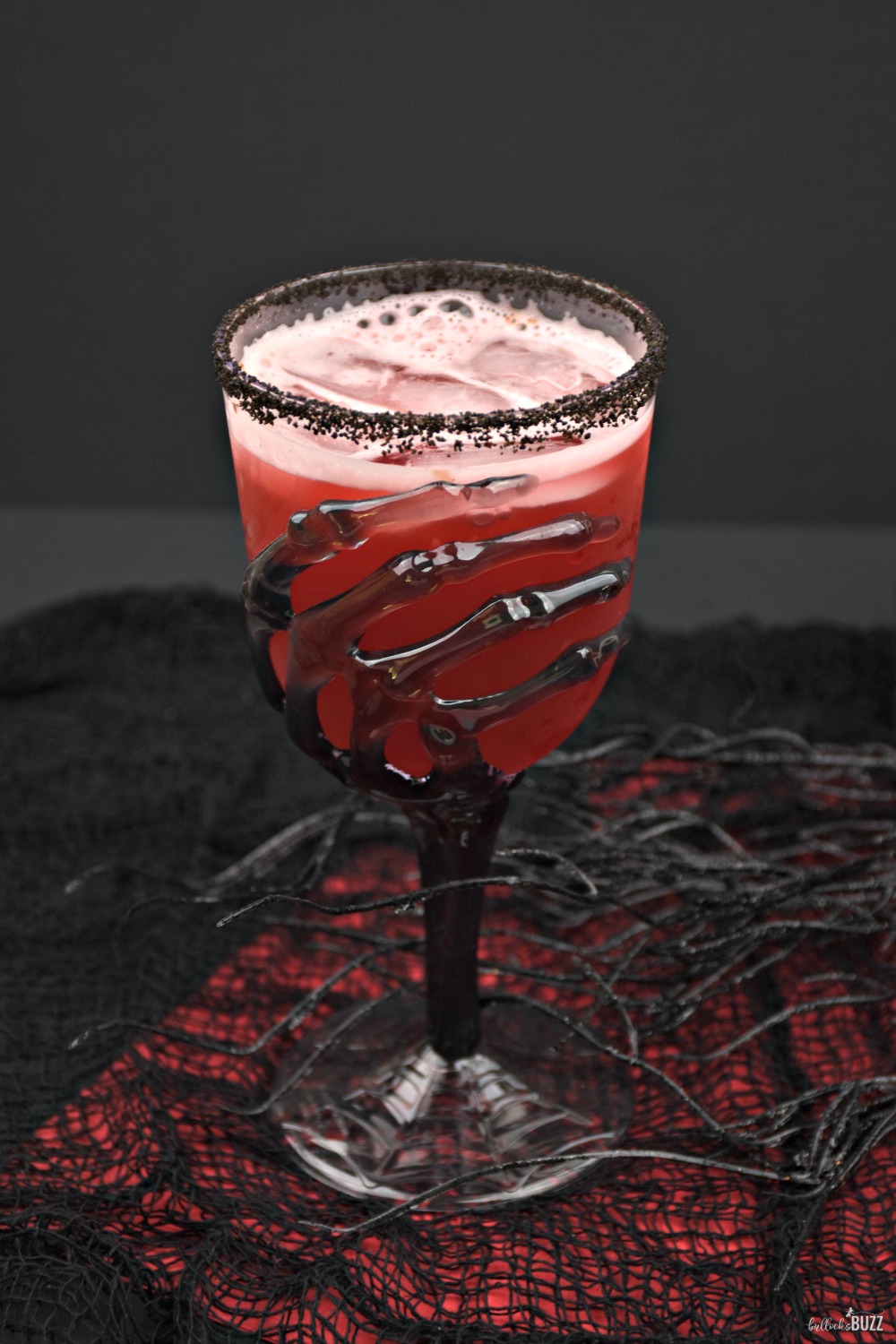 LOOKING FOR MORE EASY HALLOWEEN RECIPES?
Here are some of my most popular and fearful Halloween recipes for you to sink your teeth into!