2014 Holiday Gift Guide

Kids learn so much through play which is why encouraging imaginative play is such a great thing to encourage. Role playing and make-believe are second nature to young children and can turn a boring day into a fun adventure! Props are a great way to both encourage your children to partake in imaginative play and to promote a whole new level of creativity.Often props found around the home work great, but it never hurts to bring in something special like this adorable 1960's VW Tent from The Monster Factory!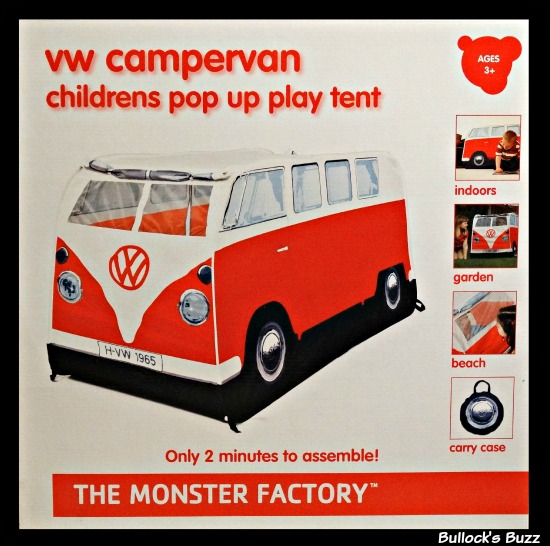 The Monster Factory has been creating and selling unique gift ideas and licensed products since 1998. Their most popular item is by far their innovative VW Camper Van Play Tent for kids! Modeled after the 1965 Split Screen VW Camper Van, these play tents are not only super cool and cute, but are the perfect size for indoors or out. Each tent is made of a material that is waterproof, fire retardant and even offers UV protection. When erect, the tent measures about 21.25″ wide, 56″ long and 30.5″ high.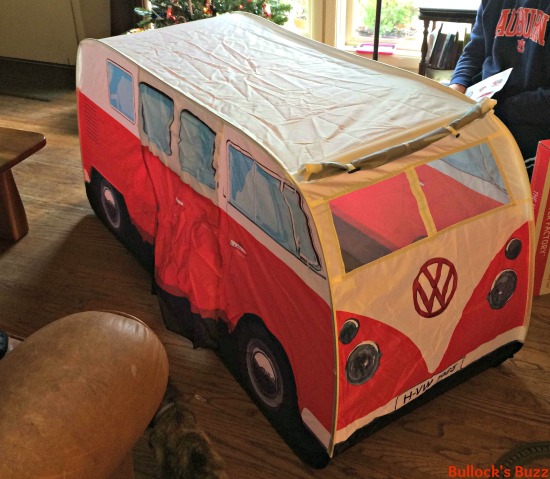 Even cooler is the set up and the storage! The tent takes maybe two minutes to set up and consists of nothing more than simply unfolding the pop-up tent and inserting 4 small poles for support – no ties or stakes to be bothered with! Once up it is very sturdy, and you can tell it's well made and durable. When the kids are finished playing, you simply remove the poles, fold the tent back up and store it all in its unique zippered carrying case made to look like a spare tire! The case itself is small enough to easily be placed in a closet, drawer, or even under a bed.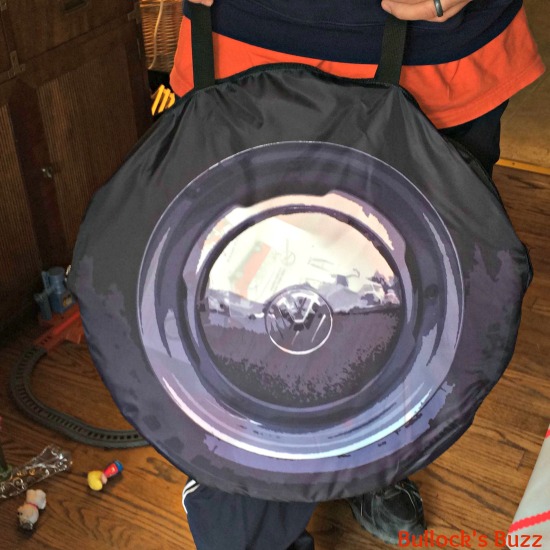 My husband and I were not only impressed with how quickly it was to set up, but also with how realistic and authentic the tent looks from the round headlights to the hubcaps! Inside it is completely covered (a floor, walls and ceiling) and is roomy enough for 2 or 3 young children to play comfortably. My niece fell in love with it the second she went inside! She really got a kick out of the lift up windshield and the two doors (one in the back and one on the side). During the day it is nice and bright on the inside due to the material and the front windows, and at night she will have a blast lighting it up with a flashlight!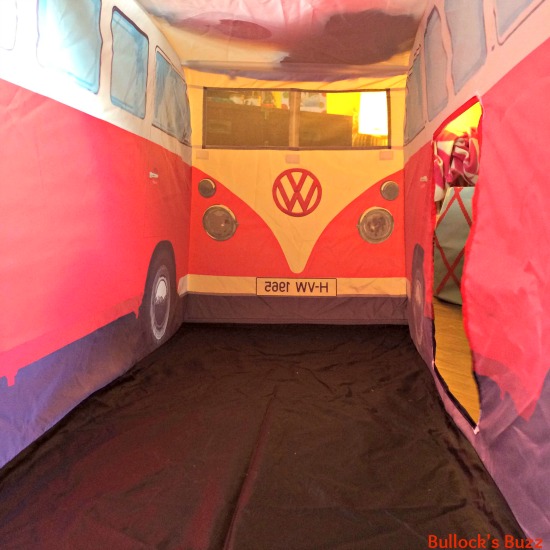 With Christmas just days away, The Monster Factory's VW Camper Van Play tent would make a wonderful gift! It comes on three fun colors: pink, blue and red. Just think of all of the fun and adventures the kids will have in their new VW Camper Van!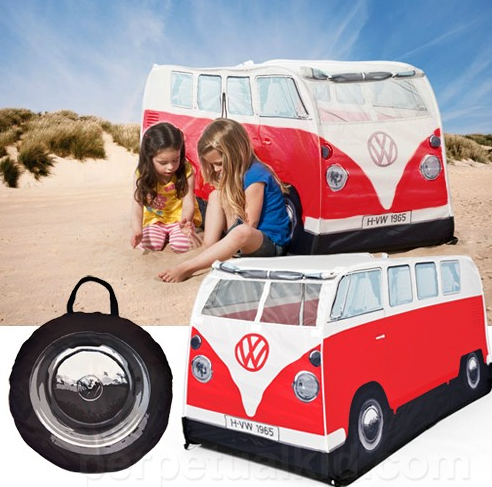 Oh, and for all of you adults that want one for yourself (like we do), The Monster Factory also makes adult size VW Camper Van tents that are the exact dimensions of the original VW's buses! How fun is that!?! Plus, they also make all sorts of other cool licensed products!
To order either tent, visit The Monster Factory online, and get ready for some groovy fun!
Connect with The Monster Factory: Shop | Facebook | Twitter
Last Image courtesy www.themonsterfactoryusa.com