Alabama is rarely at the top of the list when it comes to vacation destinations. But that's only because people don't realize all this beautiful state has to offer. From white sandy beaches to the mountains where eagles fly, the Yellowhammer State truly is a hidden gem! So, today I'm sharing five of my favorite family-friendly Alabama road trip destinations.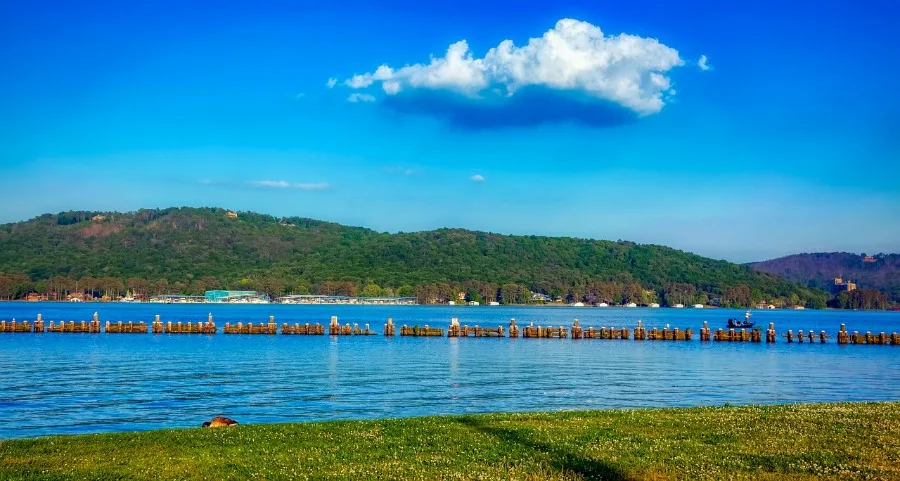 Some of these Alabama road trip destinations are limited to certain cities or areas, while others are spread out across the state. Regardless of which you choose, you're sure to find something amazing for everyone regardless of your age.
The Alabama Gulf Coast
Some of the best memories are made on a beach vacation. With 32 miles of white, soft sandy seashore and sparkling turquoise water, Alabama's Gulf Coast is full of opportunities to play in the surf and dig your toes into the sand.
You can check into one of the major resorts in Gulf Shores such as The Beach Club, or in Orange Beach, where beach services with lounge chairs and umbrellas are available, and visitors can rent kayaks, catamarans, and other water sports equipment.
Or, if you're wanting something a bit more secluded, find one of the many tranquil spots that dot the shoreline. Just don't forget the blankets, chairs, and umbrellas, along with plenty of snacks and water.
Another Alabama coastline destination that you won't want to miss is Gulf State Park. With 3.5 miles of sugary white sands, the park has plenty of options for outdoor adventures and relaxation.
Rent a kayak or paddleboard or set out on one of 25 miles of biking trails.
Kids will love the Nature Center, as well as the Gulf State Fishing and Education Pier. This pier is the second largest on the Gulf of Mexico and an ideal spot to fish.
But beaches aren't all the Alabama coastal region boasts. There's also wetlands, rivers, and bays.
And, if you're looking for a bit of hands-on history, pack up the kids for a full day of adventure at Mobile Bay. As the fourth-largest estuary in the United States, the 413 square mile bay has six different rivers feeding into it.
It's home to dolphins and seabirds, as well as two 19th-century forts that saw action during the Civil War, Fort Morgan and Fort Gaines. Nearby is the Battleship USS Alabama where kids can explore the ship, a submarine, and even an airplane hangar.
Just don't forget to break for some of the amazing seafood you'll find along the way.
Muscle Shoals Region aka The Shoals
Get ready to rock n roll when you visit the four towns along the Tennessee River collectively known as "the Shoals." Begin your trip in the small town of Muscle Shoals in northwestern Alabama where some of the world's greatest hits were recorded.
FAME Studios
As Keith Richards simply stated about Muscle Shoals: "It's rock 'n' roll heaven." This was the very town where, at Rick Hall's FAME (which stands for Florence Alabama Music Enterprises) Studios and the rival Muscle Shoals Sound Studios, Aretha Franklin found her groove, Paul Simon developed "Kodachrome" and Wilson Pickett cranked up "Mustang Sally."
FAME Studios is still actively operating. In fact, Rick Hall, who is also known as "the father of the Muscle Shoals Sound" received the Trustees Award at the 2014 Grammy Awards at age 82. And in 2016, the site was added to the National Register of Historic Places.
Just the simple act of walking into the studio puts you in the same place as musical legends like Mick Jagger, Paul Simon, the Osmonds, Steve Winwood, Percy Sledge, Duane Allman, Etta James, and more!
Alabama Music Hall of Fame
Next stop, the Alabama Music Hall of Fame in Tuscumbia. Open Tuesday to Saturday, 9 a.m. to 5 p.m., visitors can see exhibits of gold records, life-size statues of Fort Payne's favorite band, Alabama; Tuskegee's Lionel Richie; and Montgomery's Nat "King" Cole; costumes from the Commodores and Hank Williams, and much more.
Muscle Shoals Sound Studios
Head north to Sheffield where the Muscle Shoals Sound Studios is located. You might recognize its cinder block facade which has appeared on numerous albums covers. Also, where performances of the "Swampers" Jimmy Johnson, David Hood, Roger Hawkins and Barry Beckett drew recording artist greats including the Rolling Stones, Lynyrd Skynyrd, Bob Seger, the Staple Singers, and Alicia Keys.
Pegasus Garage
Next up, just a few blocks east of downtown Florence, sits a small venue behind Pegasus Records called the Pegasus Garage. Here is where you can see emerging musical talents play on Friday nights.
It's also where Grammy-winner John Paul White of The Civil Wars found and signed St. Paul and the Broken Bones and where Patterson Hood – son of "Swamper" David Hood and member of the Drive-By Truckers – discovered Alabama Shakes from nearby Athens.
W.C. Handy Home
Another must-see for music lovers is the nearby W.C. Handy Home, Museum and Library where visitors can see an extensive memorabilia collection that includes sheet music and instruments belonging to Florence native W.C. Handy, the "Father of the Blues".
U.S. Space & Rocket Center, Huntsville
Huntsville, Alabama is home to the U.S. Space and Rocket Center, one of the largest and most comprehensive space flight museums in the world. At the museum, visitors can view a variety of space artifacts including the Apollo 16 capsule, Mercury and Gemini capsule trainers, and one of the few V-2 rockets in the nation.
There are also several space simulators to explore including a G Force accelerator and a rocket launch simulator called Space Shot.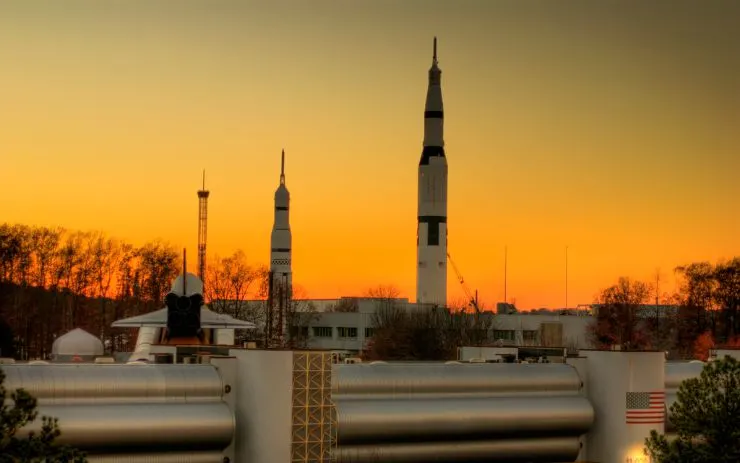 The museum also boasts an IMAX theater and even a German Biergarten on Thursday nights where you can grab a brew and listen to live music inside the Davidson Center for Space Exploration. Just be sure to make advance reservations if you'll be visiting during a major event, like an eclipse, meteor storm, or other cosmic happenings!
EarlyWorks Family of Museums
However, the U.S. Space and Rocket Center isn't all that the Rocket City has to offer. There's also the popular EarlyWorks Family of Museums, which includes the EarlyWorks Children's History Museum, the Alabama Constitution Village, and the Huntsville Depot and Museum.
For nature lovers, Huntsville also offers a variety of outstanding outdoor activities. There's the Land Trust of North Alabama, Huntsville Botanical Gardens, Big Springs Park and Monte Sano State Park. Within an hour's drive are Cathedral Caverns and Lake Guntersville, and Buck's Pocket is just a little over an hour away.
Birmingham – Alabama Road Trip Destination
If you're looking for Alabama road trips destinations that are not only interesting but also educational, then a stop by the Civil Rights Institute in Birmingham is a must. This museum is home to a large collection of artifacts and documents pertaining to the civil rights movement.
There's even an oral history exhibit where you can hear from people who participated in it. Make sure you check out the website for special events and workshops happening around the time you plan to visit.
A bustling hub of culture and heritage, Birmingham, also known as the Magic City, is famous for its gorgeous golf courses, fabulous shopping, world-class dining, and year-round calendar of entertainment.
While there, check out the Barber Motorsports Park which has one of the most beautiful racetracks in North America as well as the country's largest collection of vintage and modern motorcycles.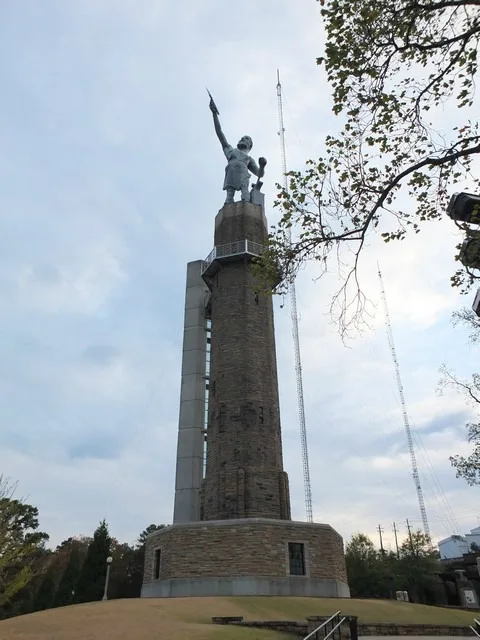 And don't forget to stop by the world's largest cast-iron statue, Vulcan, which sits atop the mountain over-looking the city. The Vulcan Park & Museum also features interactive exhibits and gorgeous panoramic views of Birmingham.
Kids will love the Birmingham Zoo which has 750 animals, including sea lions, elephants, kangaroos, and endangered species from six continents. And a visit to the McWane Science Center is an absolute must with four floors of hands-on exhibits, larger-than-life IMAX films and other extraordinary programs.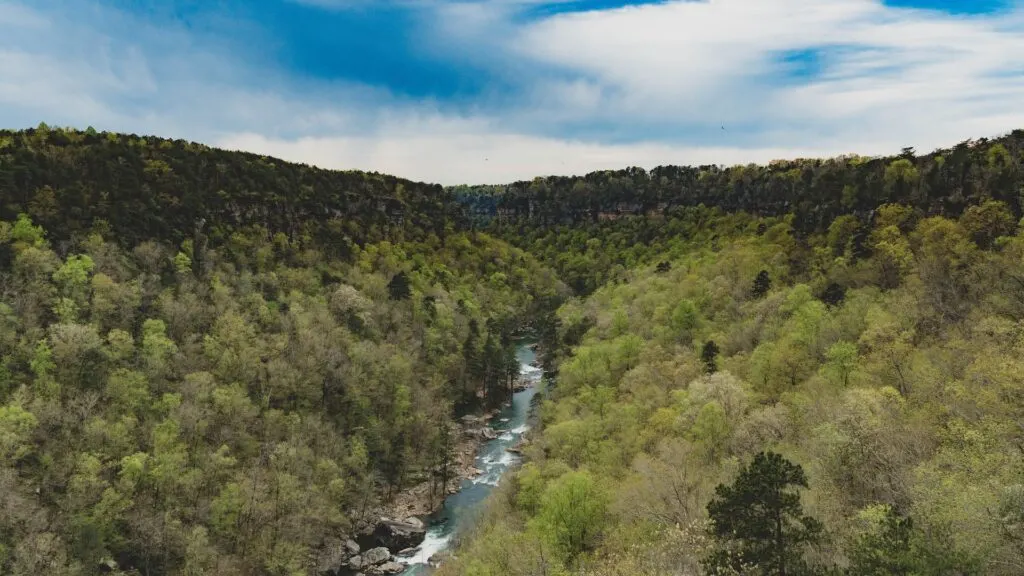 Little River Canyon – Fort Payne/Lookout Mountain
Little River Canyon National Preserve is a must-see for nature-lovers. Carved out by a river after thousands of years, it is one of the deepest canyons in this part of the United States.
The 23-mile drive along the canyon's rim offers spectacular views into the 700-foot-deep gorge. The drive also features several stop-off points worth pulling over to get some Instagram-worthy photographs.
For hikers, inside Little River Canyon you will find beautiful natural forests and sandstone cliffs towering 600 feet above the canyon floor. There are also several hiking trails you can take along the edges of the canyon.
The canyon also offers three beautiful waterfalls, Little River Falls, Little Falls (aka Martha's Falls), and the seasonal Graces High Falls which at 133 feet is the highest falls in Alabama.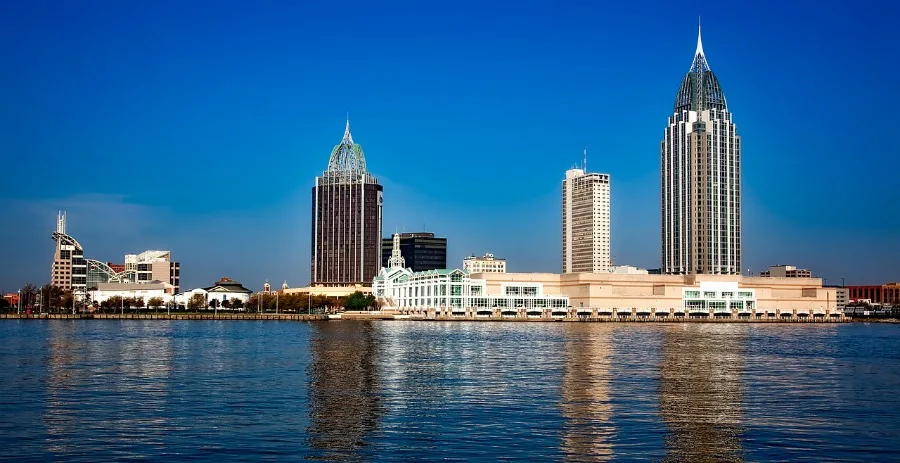 Alabama Road Trip Destinations Final Thoughts
There is a common misconception that Alabama is nothing more than cotton fields and farms from one end of the state to the other. In reality Alabama is not only full of rich history and cultural traditions, it's also one of the most beautiful states in the country.
Plus, with at least 64 ecosystems, including wetlands, prairies, forests, mountains, rivers, streams, and marine, Alabama is also one of the most biologically diverse states in the country.
Whether you're interested in exploring history, embarking on outdoor adventures, or just spending time with the family, Alabama has something for everyone – regardless of their age.
There's a reason why we call our state Alabama the Beautiful. So, whether you're a longtime resident or new to the Heart of Dixie, pack your bags and come discover the Yellowhammer State.