Crafted with strawberries, cherries, blueberries, provolone cheese, and white chocolate or yogurt-covered pretzels, this delicious and stunning American Flag Fruit Tray is the perfect way to celebrate the 4th of July and other patriotic holidays!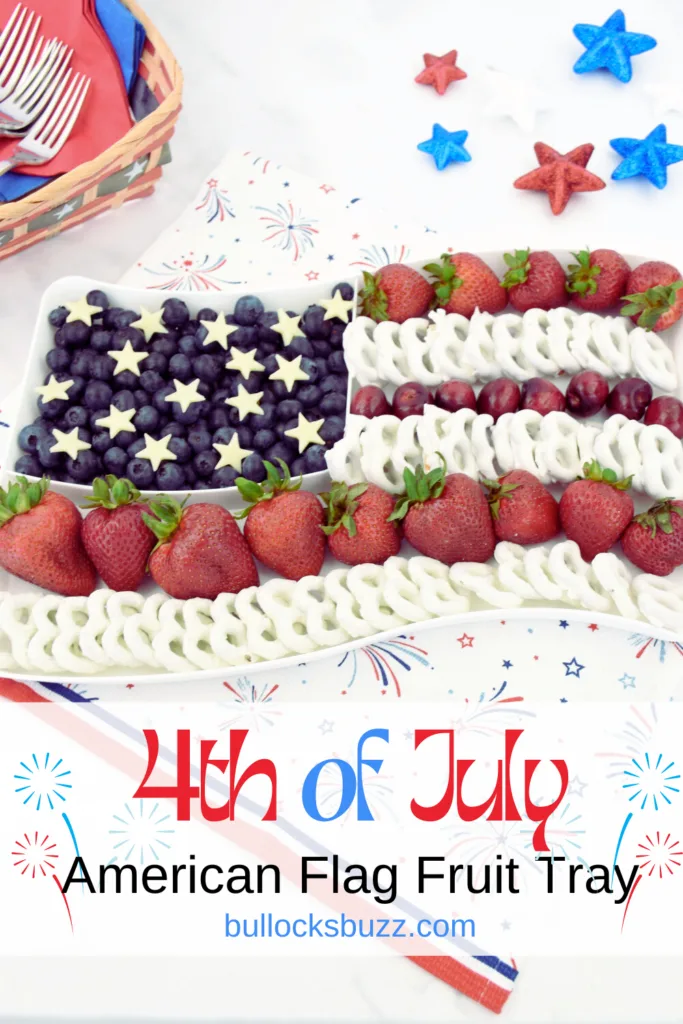 Are you ready to impress your guests with a dazzling display of patriotism? Look no further! Today I'm sharing one of the most awesome Fourth of July fruit ideas ever. This show-stopping American flag fruit tray will show off your patriotic spirit in the most delicious way. It is incredibly easy to make and is sure to be a huge hit because it's absolutely adorable!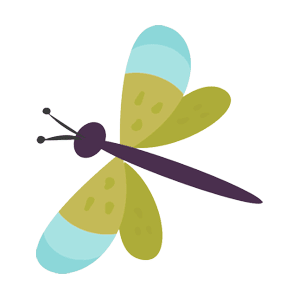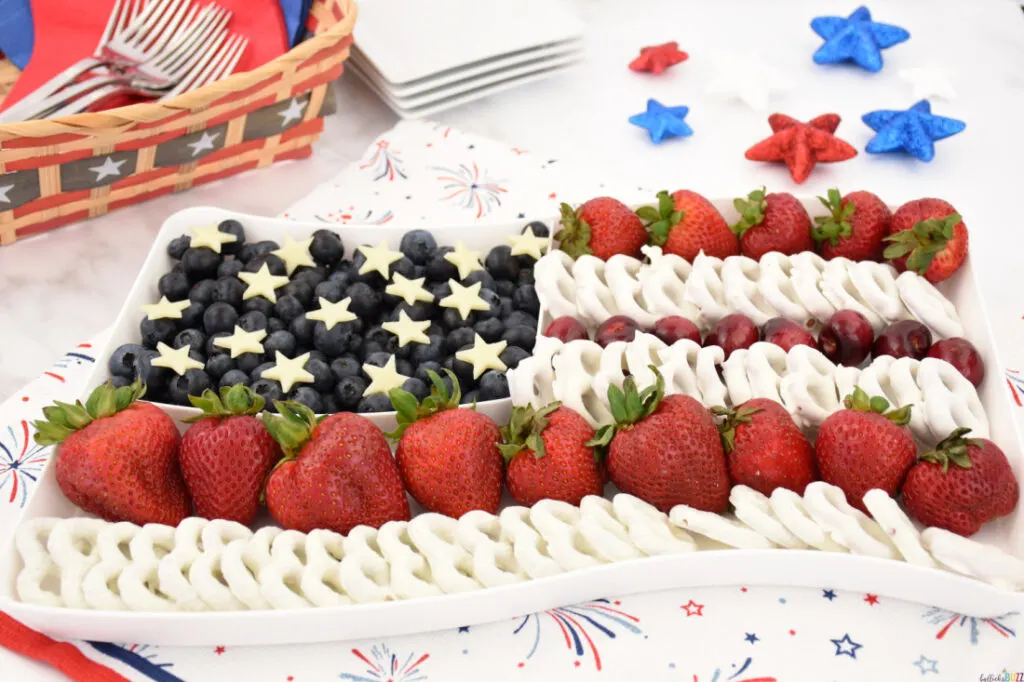 Fourth of July Fruit Ideas
Why settle for a traditional 4th of July fruit plate when you can create a stunning flag-themed masterpiece that will impress your guests?
Crafted from fresh berries including strawberries, cherries, blueberries, and yogurt-covered pretzels, this American Flag Fruit Tray is a fun, festive, and patriotic treat that's perfect for celebrating July 4th or any other national occasion.
This easy 4th of July fruit tray is naturally a low-calorie and nutritious choice, and it can be ready in just a few simple steps.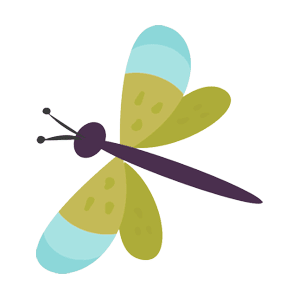 Pin for Later
Too busy to make this tasty recipe right away? Why not Pin it for later? Pin this easy recipe to your favorite board on Pinterest and it will be there waiting for you when you are ready!
It's time to unleash your inner party patriot and create a show-stopping American flag fruit tray that will make jaws drop and taste buds sing.
So, grab your apron, gather the freshest fruits, and let's get started!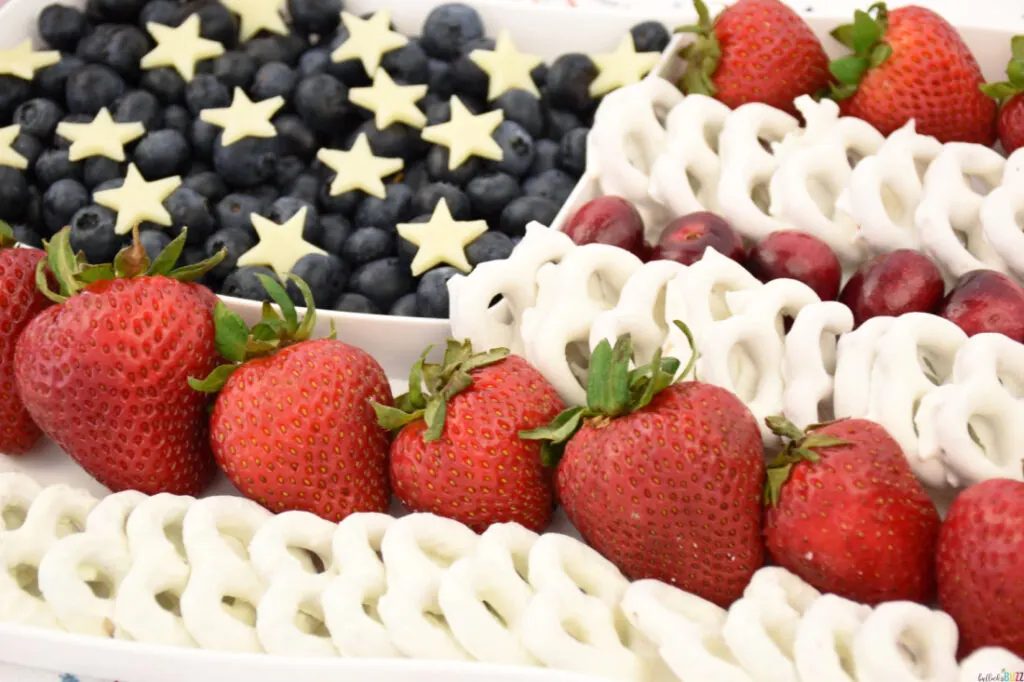 How to Make An American Flag Fruit Tray
This adorable 4th of July American Flag fruit platter is the perfect treat to bring to any of your patriotic parties this year. It provides a refreshing and guilt-free snacking experience that is super easy to make. And on top of that, it is also super cute and it makes a great addition to your patriotic decor (at least until everyone dives in, that is).
So gather your favorite fruits, unleash your creativity, and let's get started on this festive fruity adventure that will have your taste buds saluting the stars and stripes.
Kitchen Tools You May Need
Disclosure: This blog post contains links to products or services I think you will like. If you purchase from one of the links, I may make a small commission at no extra cost to you. As always, I only recommend products that I use and love.
To create an impressive American flag fruit tray, you'll need a few essential kitchen tools to assist you in the process. With these tools in hand, you'll be fully equipped to bring your patriotic fruit tray vision to life.
star-shaped cookie cutter – I actually used the small star from this Linzer cookie cutter set! Make sure it is small, around 1 to 1.5 inches..
serving tray – I found this American Flag shaped tray in the Dollar Section at Target for $5!
sharp knife – optional, for cutting tops off strawberries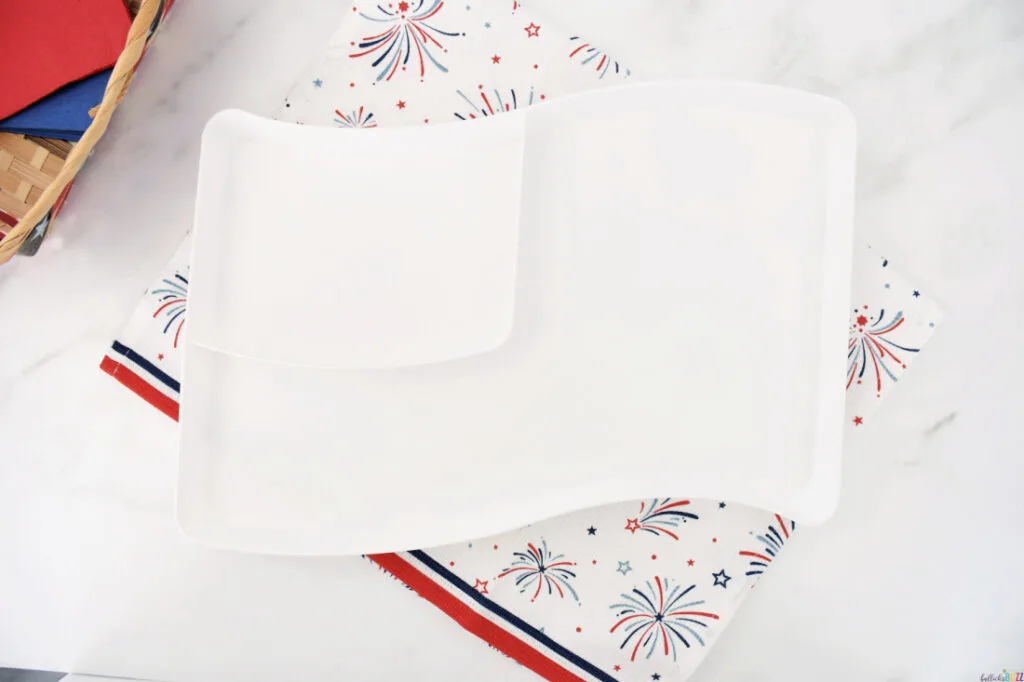 Selecting the Tray
If you cannot find the same flag tray I used, opt for a rectangular platter or a cutting board. Make sure it's large enough to accommodate the fruits. This will serve as the canvas for your fruit tray masterpiece!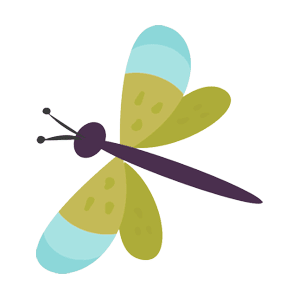 This section includes the needed ingredients and notes to make this recipe. For full ingredient measurements, see the free printable recipe card at the end of this post.
Fourth of July Fruit Plate Ingredients
When it comes to creating stunning 4th of July fruit ideas, the key lies in selecting the freshest and most vibrantly colored ingredients. With a medley of these delectable fruits, you'll be well on your way to crafting an American flag fruit tray that is as delicious as it is beautiful!
Here's a list of ingredients you'll need to create your 4th of July fruit plate:
strawberries – I leave the crowns on, but you can remove them if you prefer
cherries – the redder, the better
blueberries – remove any remaining stems
yogurt or white chocolate-covered pretzels – your choice
provolone cheese slices – thick enough to be able to cut with a cookie cutter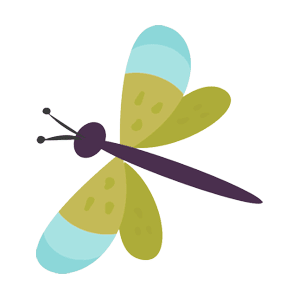 This section shows you how to make the recipe with step-by-step instructions. For the full recipe, see the free printable recipe card below.
Step-by-Step 4th of July Fruit Tray Instructions
Creating this mesmerizing American flag fruit tray is easier than you think! Simply follow my simple step-by-step guide below and get ready to impress your guests with a visually stunning and delicious centerpiece.
Step One: Preparing the Fruit
Wash all the fruits thoroughly under cold water and pat them dry.
Optional: remove the stems from the strawberries
Step Two: Creating the Stars
Use the star-shaped cookie cutter to cut out star shapes from the provolone cheese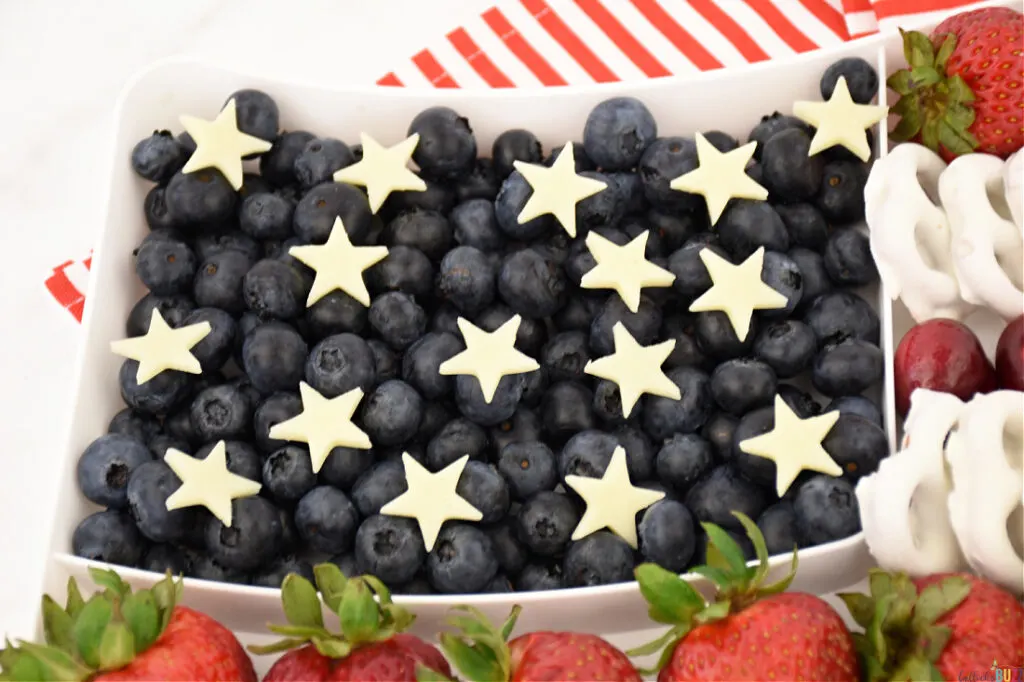 Step Three: Assembling the American Flag Fruit Tray
First, place the blueberries in the top left corner to represent the blue field behind the stars on the flag.
Then arrange the cheese stars on top of the blueberries.
Next, for the red and white stripes, start at the top of the tray and arrange one horizontal row of strawberries.
Below the strawberries add a row of white yogurt-covered pretzels.
Then, below the pretzels, add a row of cherries.
Follow the cherries with another row of pretzels.
Lastly, finish it up with another row of strawberries.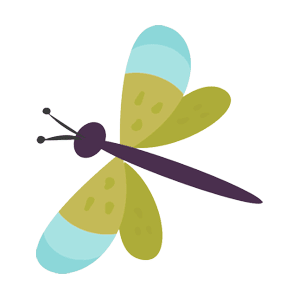 Pro Tip
This flag tray is designed to look like it is waving in the wind. When placing the fruits, aim for slightly wavy lines that follow the shape of the flag tray.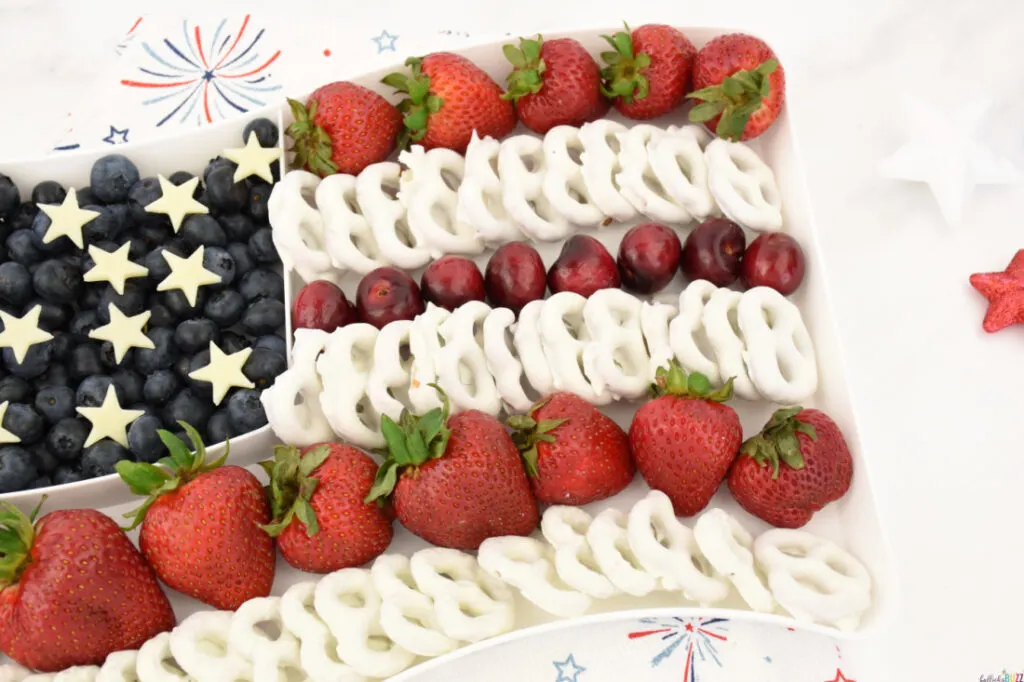 And that's it. Your culinary creation is complete! Isn't it beautiful?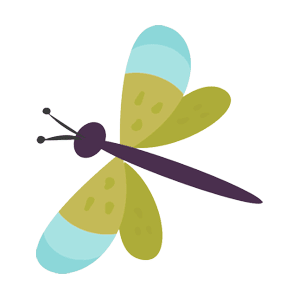 Pro Tip
If you do not have a flag-shaped tray, use the same layout on a rectangular tray. You could use a small rectangular bowl to hold the blueberries, then arrange the red fruits and white pretzels around that to create your American flag design.
Tips and Tricks for a Picture-Perfect Platter
Want to take your American Flag Fruit Tray to the next level? In this section, I will share some valuable tips and tricks to help ensure that you create a picture-perfect masterpiece that will impress your guests and make your Fourth of July party truly memorable.
Select fresh fruits that are firm, ripe, and in their prime to ensure the best flavor and texture, and visual appeal for your American Flag fruit tray.
Depict the American flag as accurately as possible. For example, if you are using a rectangular tray, try to make perfectly straight lines for the stripes.
Keep the fruit platter refrigerated until it's time to serve, especially during warmer weather, to maintain freshness.
To make the blueberries shine, lightly brush them with a mixture of honey and water before placing them on the platter.
Consider adding small American flag toothpicks or skewers to the tray, providing an additional festive touch and making it easier for guests to enjoy the fruits.
Remember to lay out some small plates for guests to put the fruit on.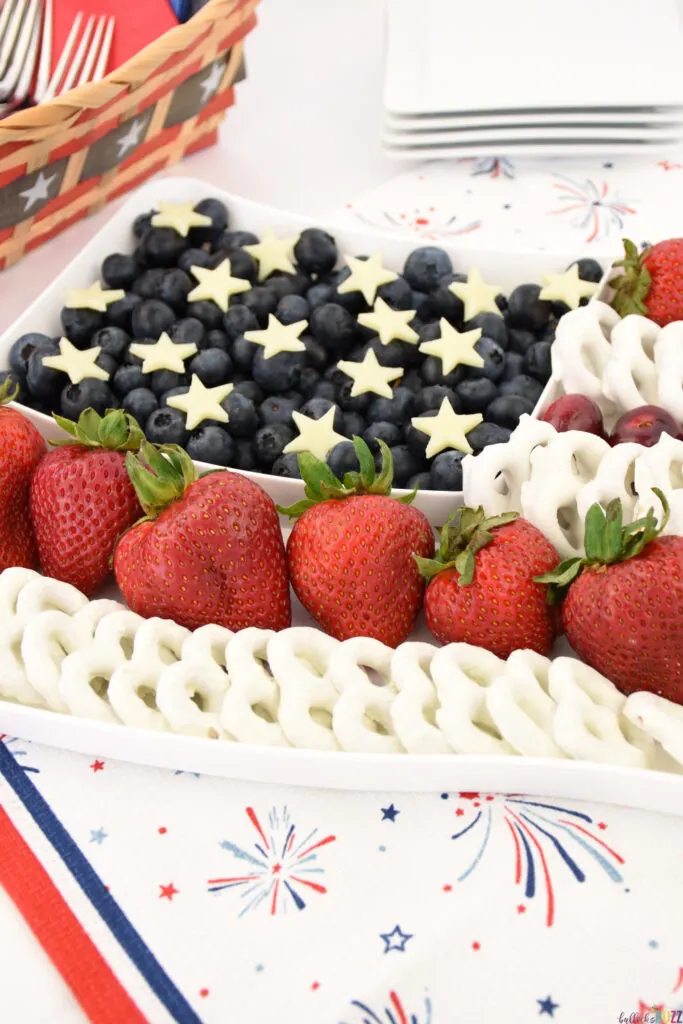 Substitution, Additions, and Variations
Now that you've mastered the art of creating this creative American flag snack tray, let's explore a world of possibilities with additions, variations, and substitutions. Get ready to take your American flag fruit tray to new heights as we explore the realm of culinary creativity and discover delightful twists on this patriotic treat.
Below you will find some creative ways to enhance your fruit tray, including exciting additions to elevate the flavors, innovative variations to experiment with, and substitutions to cater to different preferences and dietary needs.
Substitutions:
For a twist on this classic American flag fruit tray, try using different fruits that still represent the red, white, and blue colors. Consider using raspberries or red grapes, sliced white peaches, and blue plums for a unique and flavorful variation.
Substitute stars cut out from a banana slice for the cheese stars.
Add a touch of creaminess to your fruit tray by using dollops of whipped cream or yogurt instead of the pretzels between the red fruit rows to mimic the white stripes.
If you're feeling adventurous, substitute exotic fruits like dragon fruit, kiwi, and blackberries to add a unique touch to your American flag fruit tray.
Additions:
Add a handful of toasted almonds or walnuts for a delightful crunch and nutty flavor.
Consider sprinkling a handful of fresh mint leaves for a burst of freshness and aroma.
Incorporate a drizzle of honey, melted chocolate, or even a sprinkle of toasted coconut for added sweetness and texture.
For a touch of indulgence, serve the fruit tray alongside a side of yogurt dip made by combining plain Greek yogurt, honey, and a hint of vanilla flavoring.
Garnish the tray with sprigs of fresh mint or basil leaves to add a touch of elegance.
To satisfy those with a sweet tooth, include small bowls of honey, chocolate sauce, or my Patriotic Funfetti Cake Mix Dip for dipping the fruits.
Add a savory twist by accompanying the fruit tray with a selection of cheese cubes or small ramekins of yogurt.
Variations:
Instead of the classic rectangular flag shape, get creative with different shapes such as a circular fruit tray resembling a flag wreath.
Experiment with different fruit arrangements to personalize your patriotic creation.
Create the Amercian flag on the tray by using mini fruit skewers. Thread blueberries and pineapple and place them in the top left corner for the blue field and stars. Then lay out a line of skewers threaded with strawberries alternating with pineapple or banana to form the red stripes and the white stripes.
Make mini American flag fruit kabobs by threading red fruits and blue fruits onto skewers, alternating with white mini marshmallows or cubes of angel food cake.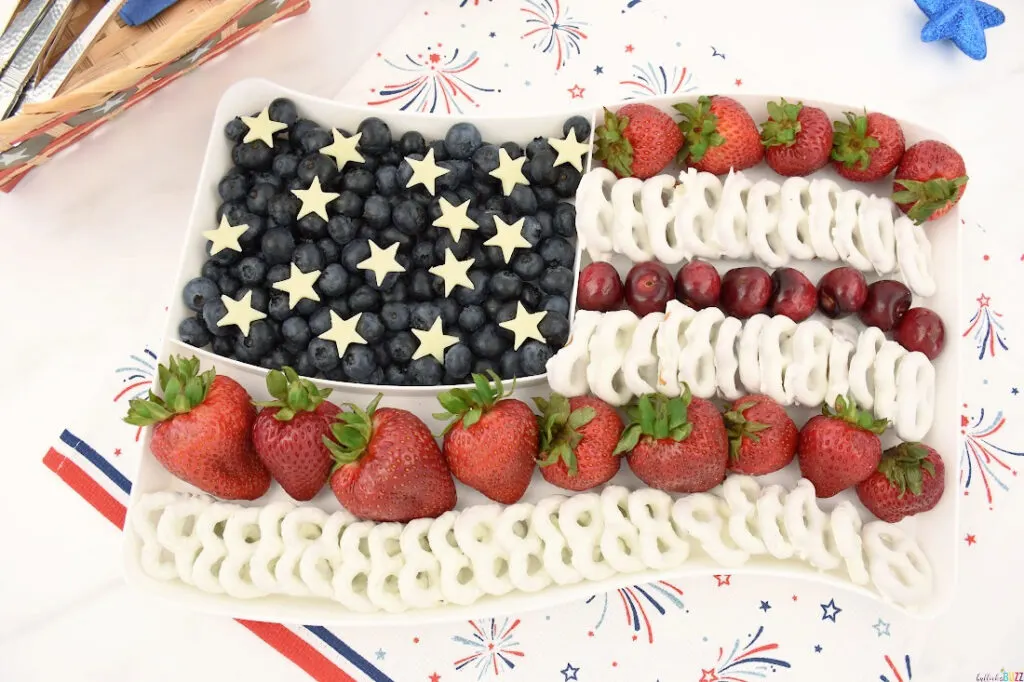 Frequently Asked Questions
Can You Make A Fruit Tray the Night Before?
It's best to make a fresh fruit platter on the morning of the day you are going to serve it. But if you absolutely have to, you can make it the night before, especially if you are using heartier fruits that don't turn color when exposed to air. Just make sure you store it tightly wrapped in a cold refrigerator.
How Many Days in Advance Can I Prepare This American Flag Fruit Tray?
In order to maintain its freshness and visual appeal, it's best to make the American Flag Fruit Tray on the day of the 4th of July parties or other celebrations. However, you can prepare some of the elements a few days in advance.
Go ahead and wash all of the fruit ahead of time, remove the strawberry tops if you plan to, and then store the fruit separately in airtight containers in the refrigerator. They should last up to 3-4 days. Then when it is time to serve all you have to do is arrange the fruit on the tray.
How Do I Transport the Fruit Platter Without Ruining the Design?
While transporting this 4th of July fruit plate can be a bit tricky, with some careful planning, you can preserve the design. Here's how:
Use a large, flat tray or platter with raised edges (like the flag tray I used) to hold the fruit securely.
Cover the fruit platter tightly with clear plastic wrap or a fitted lid to prevent shifting during transportation.
Place the fruit platter on a stable surface in your vehicle so it won't slide around or tilt. I'll use a hoodie or other item to help secure it in place.
Drive carefully, avoiding sudden stops or turns.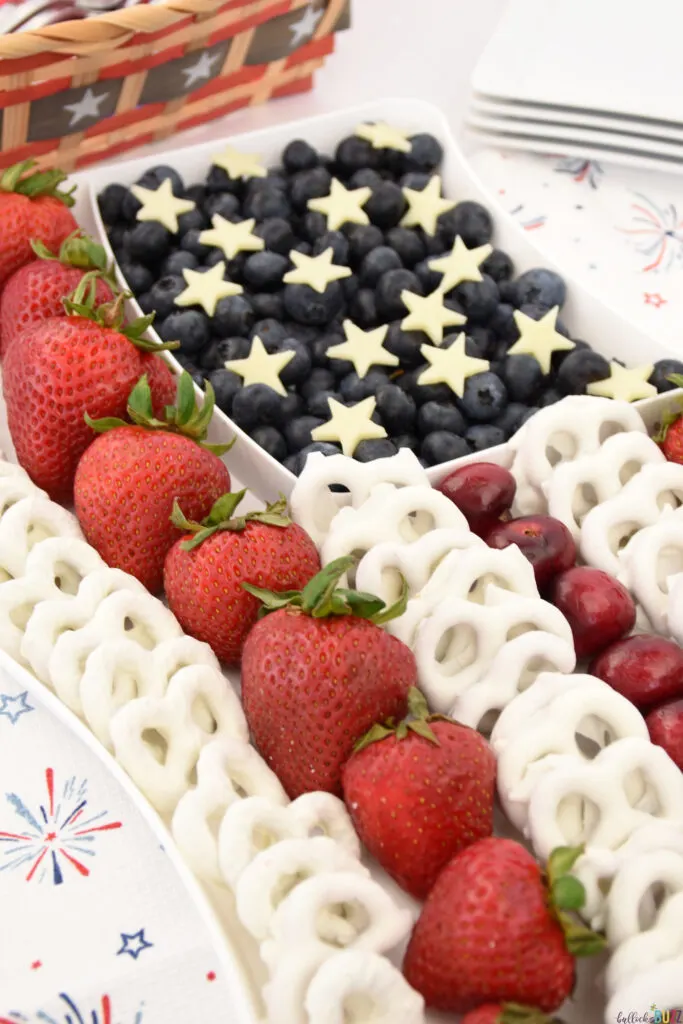 Conclusion
Now that you know how to master the creation of a show-stopping American Flag Fruit Tray, it's time to put your creative skills to the test. Create a stunning patriotic fruit platter that will capture everyone's attention and earn you the recognition you deserve.
Showcase your culinary artistry, have fun, and let your fruit platter become a true centerpiece of patriotism and celebration. Happy creating!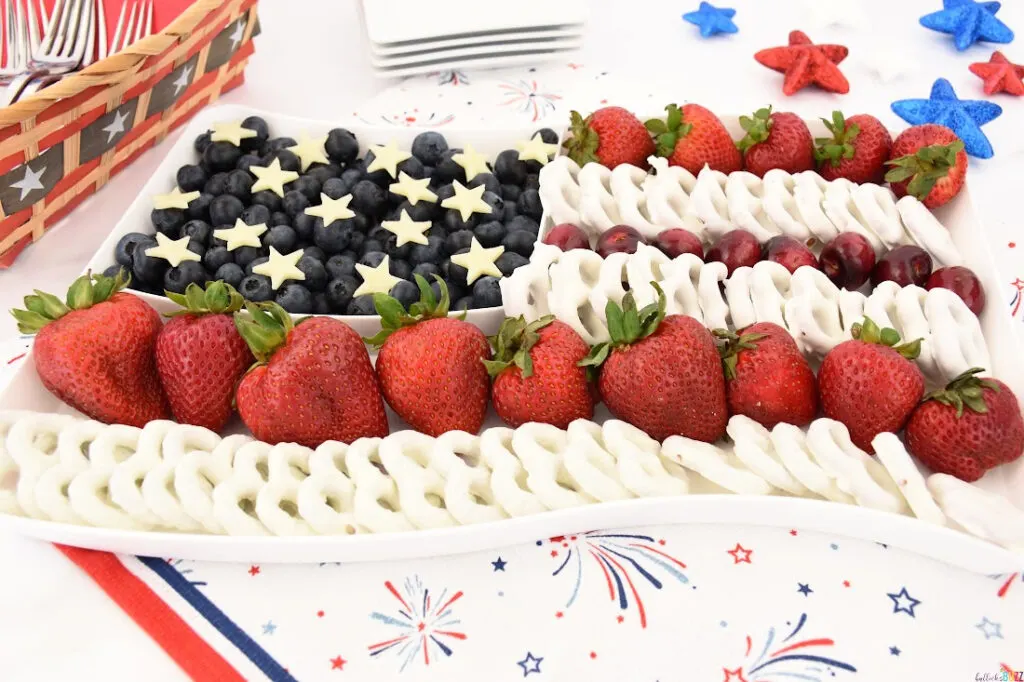 More Patriotic Recipes
Whether you're hosting a Fourth of July gathering, a party for other patriotic holidays, or you simply want to showcase your love for the country, below are some more patriotic snacks, July 4th desserts, and other fruit salad recipes that will add a delicious and festive touch to your celebrations. Give these a try!
And if you have any questions, drop them below and I'll be sure to answer as soon as possible!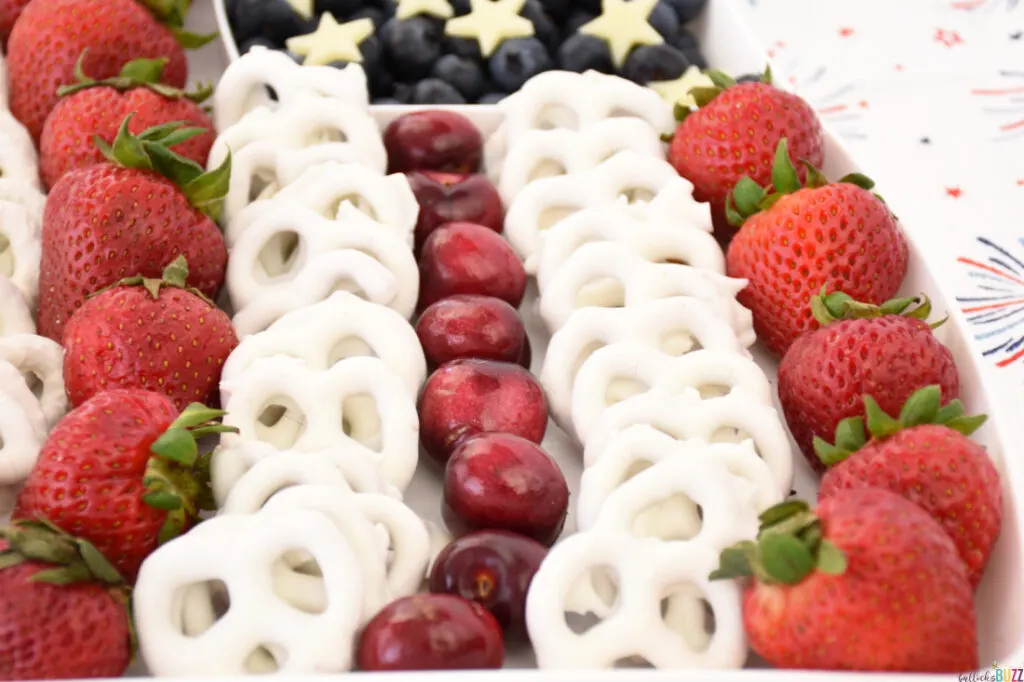 Like It? Love It? Please Share this Fourth of July Fruit Plate Recipe!
Did you make this delicious fruit plate recipe? If so, I'd love to see how it turned out! I absolutely adore seeing your take on my recipes.
Tag me on Instagram @bullocksbuzz or using #bullocksbuzz and share a photo of your tasty creations!
Be sure to save this post either by clicking on that little heart over there to your right or by pinning it on Pinterest. Then share with your friends and family by clicking the share buttons above the post title, too!
And, if you really liked this American Flag Fruit Tray recipe, comment and leave me a ⭐⭐⭐⭐⭐ rating on the printable recipe card below!
And finally, don't forget to follow us on Pinterest, Facebook, and Instagram!
Printable American Flag Fruit Tray Recipe Card
Yield: 1 fruit platter
American Flag Fruit Tray: Best Fourth of July Fruit Plate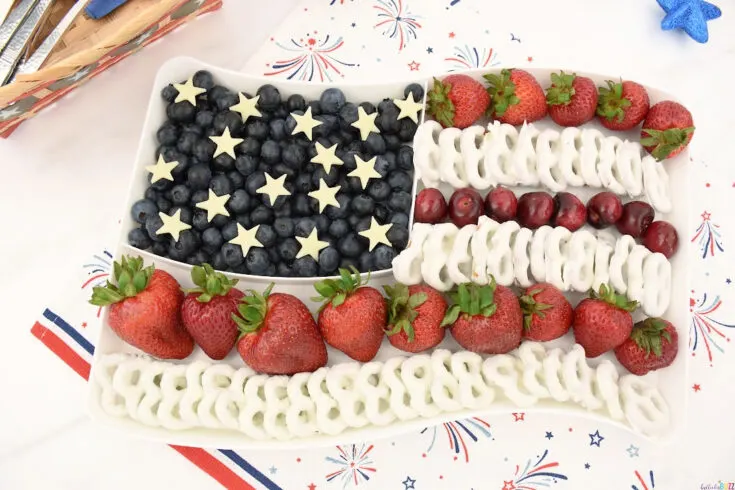 Crafted with strawberries, cherries, blueberries, provolone cheese, and white chocolate or yogurt-covered pretzels, this delicious and stunning American Flag Fruit Tray is the perfect way to celebrate the 4th of July and other patriotic holidays!
Ingredients
1 pint blueberries
1 lb. strawberries
1 lb. cherries, as red as possible
2 - 3 slices provolone cheese, thick
2 - 3 (5-oz) bags of Flipz White Chocolate Pretzels OR of yogurt covered pretzels
Instructions
Thoroughly wash the fruit and dab dry with a towel. Optional - remove crowns from strawberries.
Begin by filling the upper left corner of the flag tray with blueberries. Or, if using a rectangular tray, add a small bowl of blueberries and place it in the upper left corner.
Place the star-shaped cheese cutouts on top of the blueberries.
Starting at the top of the tray, add a horizontal row of strawberries, then a row of white chocolate or yogurt-covered pretzels, followed by a row of cherries, another row of pretzels, and finally another row of strawberries to complete your patriotic fruit tray,
Serve and enjoy!
Nutrition Information:
Yield:
12
Serving Size:
1 cup
Amount Per Serving:
Calories:

90
Total Fat:

3g
Saturated Fat:

2g
Trans Fat:

0g
Unsaturated Fat:

1g
Cholesterol:

5mg
Sodium:

79mg
Carbohydrates:

15g
Fiber:

2g
Sugar:

10g
Protein:

3g
Nutritional information is automatically calculated with ingredients and serving size and may not be accurate. Please always double check with your own nutritional apps as well.