If you're looking for a simple, yet delicious patriotic treat for your 4th of July celebration, look no further than this red, white, and blue candy bark recipe! This stunning patriotic candy bark is perfect for your Independence Day celebration. It's fun to make, looks quite impressive, and tastes great!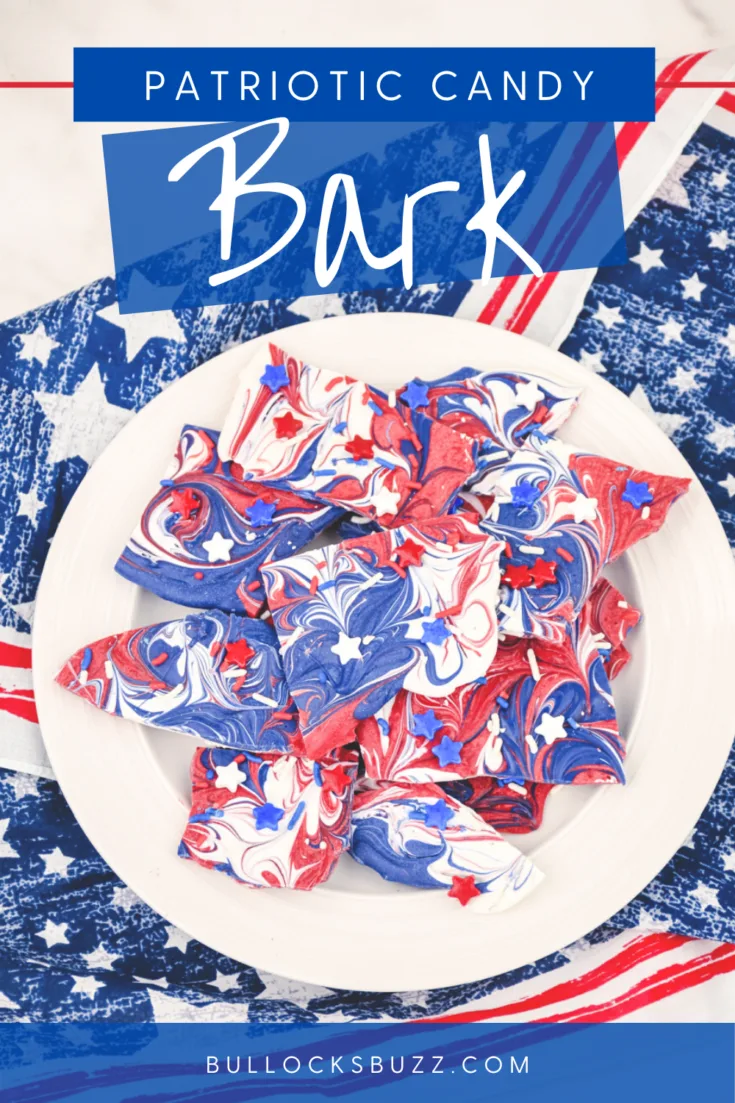 Welcome to my guide on creating the perfect Patriotic Candy Bark, a delightful treat that is sure to impress your guests and add a touch of patriotic flair to any occasion. With its vibrant colors and delicious taste, this recipe is not only visually appealing but also incredibly easy to make.
This easy homemade Patriotic Candy Bark makes a great red, white, and blue dessert. It's no-bake, so it comes together quickly. It has everything you could want in a 4th of July dessert including sweetness, pretty color, and pride! Plus, it's so yummy, it'll disappear in a flash at your picnic or party!
You can eat it by itself or use it to decorate cakes or cupcakes! It also looks great on a 4th of July dessert tray.
It is also easily transportable, making it a perfect choice for potlucks, picnics, or sharing with friends and family. Pack it in a sealed container, and it will stay fresh and intact during your summer adventures.
Oh! And did I mention that this 4th of July candy goes perfectly with this pretty DIY Patriotic Mason Jar Centerpiece?!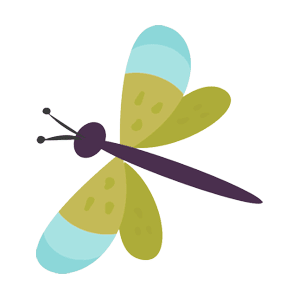 Candy bark is one of my favorite easy homemade candy recipes! It's so simple, fun, and versatile! I've got many other candy bark recipes for you to try out including my creepy Halloween Candy Bark, this colorful Grinch Bark, and my personal favorite, Cookies and Cream Spring Bark. Simply right-click any of these links to open these other sweet treats in a new tab so that you can check them out after this one!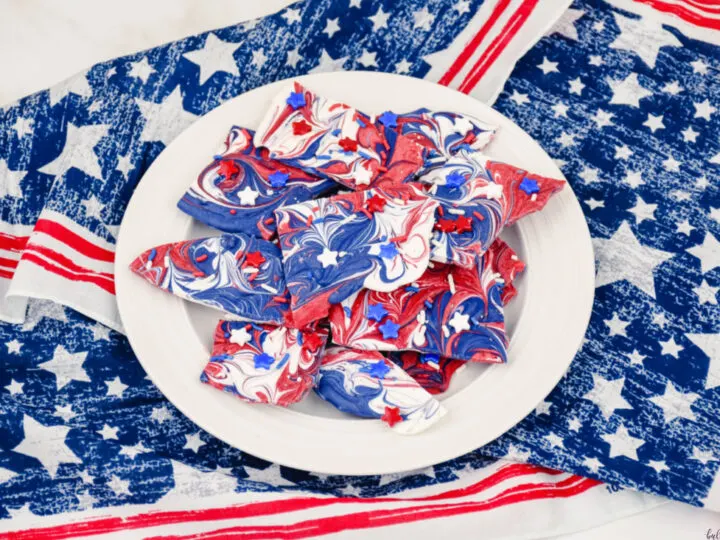 Easy No-Bake Dessert for the 4th of July
Swirled candy bark is an impressive dessert. It looks stunning, and it tastes great! And while it looks like it takes a lot of skill, effort, and time to create, the truth is, making swirled candy bark is very fast and very easy, so don't let it intimidate you.
By following my step-by-step guide below, you can quickly and easily create this mouthwatering red, white, and blue candy bark patriotic dessert that is guaranteed to make your taste buds tingle with joy and amaze your friends and family.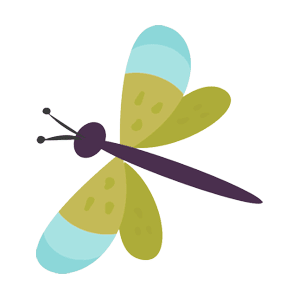 Pin for Later
Too busy to make this tasty recipe right away? Why not Pin it for later? Pin this easy recipe to your favorite board on Pinterest and it will be there waiting for you when you are ready!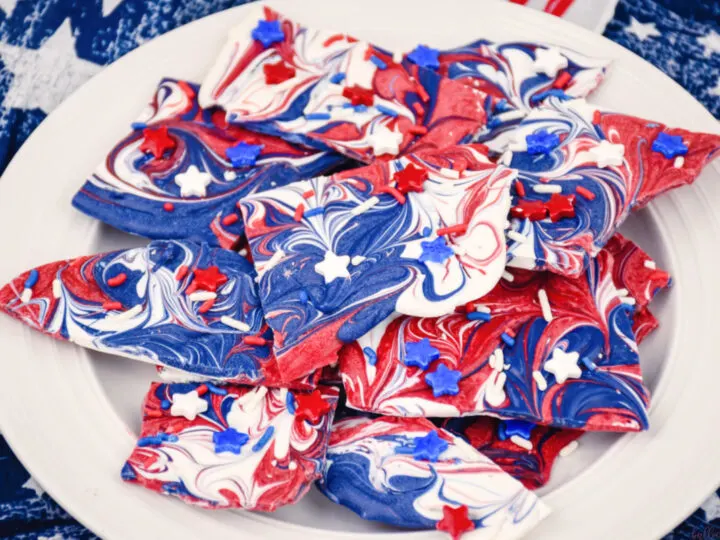 How to Make Patriotic Candy Bark for the 4th of July
With its vibrant red, white, and blue swirls and patriotic sprinkles, this candy bark is visually stunning. It adds a festive touch to your table and makes for a captivating centerpiece.
So, are you ready to see how to make this 4th of July patriotic candy bark? You'll find the complete recipe in the free printable recipe card at the end of this post.
While I had step-by-step pics for this recipe, when transferring the images from my camera to my computer, I somehow overwrote them (insert eye roll here). So instead, I'm using images from my Shark Bark recipe to illustrate the process. The only difference between that candy bark and this patriotic candy bark is the colors.
And, if you're still not 100% sure how to create the swirled design in the candy bark, you can find other step-by-step instructions along with images in my Halloween Swirled Candy Bark recipe, too.
Kitchen Tools You May Need
Disclosure: This blog post contains affiliate links for products or services I think you'll like. This means if you make a purchase from one of these links, I may make a small commission at no additional cost to you. I only recommend items I use and love.
Ingredients Needed to Make Red, White and Blue Candy Bark
This pretty patriotic candy bark concoction calls for simple and readily available ingredients, making it convenient to whip up anytime you're in the mood for a delicious treat. IN fact, you need nothing more than two simple ingredients. Both of which you can find on Amazon, at Walmart, or even in your local grocery.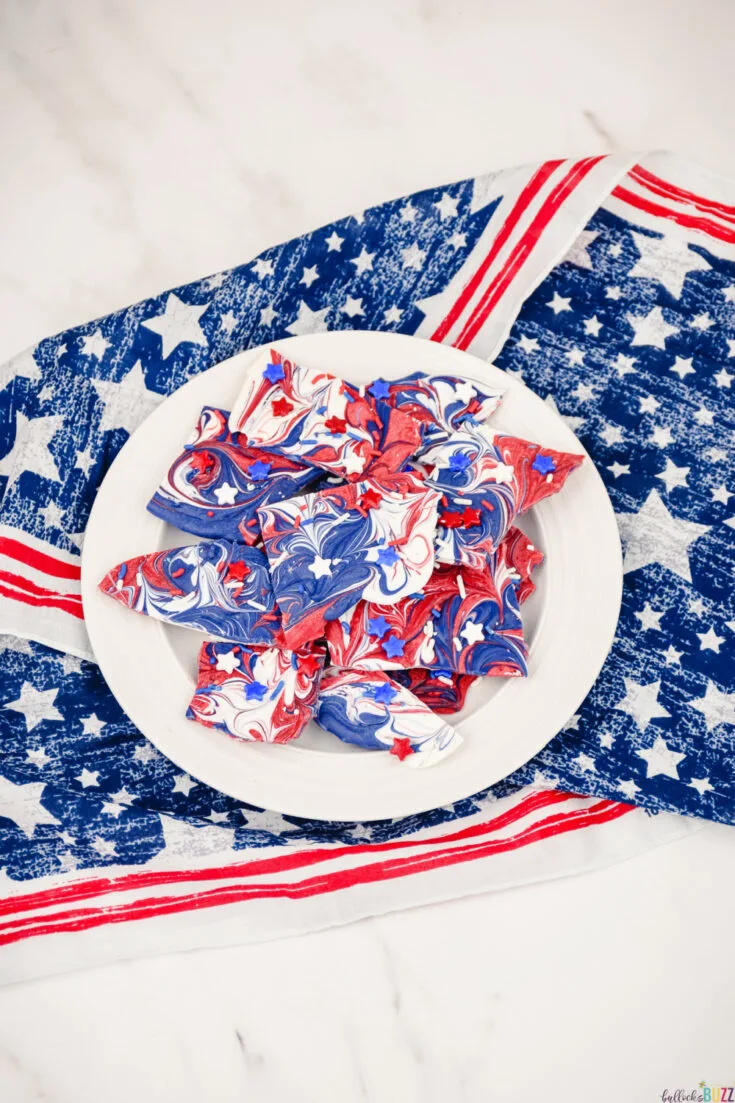 4th of July Swirled Candy Bark Instructions
Making this red, white, and blue candy bark is as easy as melting the candy melts, swirling them together, and then adding the sprinkles. In just 10 minutes of active prep time and 30 minutes of setting time, you can have a batch of mouthwatering candy bark ready to be enjoyed. It's a time-efficient recipe that doesn't compromise on taste.
When making homemade swirled candy bark, the most important thing you need to keep in mind is to work quickly. This is a huge part of making sure that the chocolate doesn't set before you've swirled the three colors and added the sprinkles.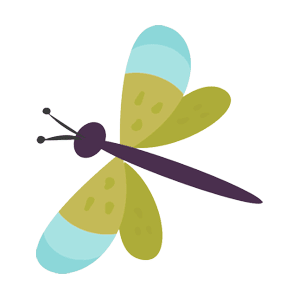 Pro Tip
Before starting, set out all of the ingredients for this patriotic candy bark and get them ready to go (open the candy bags, take the lid off the sprinkles, and so on). This enables you to work much quicker.
Step 1: Prepare the Baking Sheet
Before diving into the candy-making process, ensure that you have a suitable baking sheet ready. Line the baking sheet with a Silpat Mat or parchment paper to prevent the candy from sticking.
Step 2: Melt the Candy Melts
In order to achieve the vibrant red, white, and blue colors, you'll need to melt each of the candy melts separately. Grab three separate microwave-safe bowls and follow the package directions to melt the candy melts accordingly. You can also use a double boiler or a candy melting pot.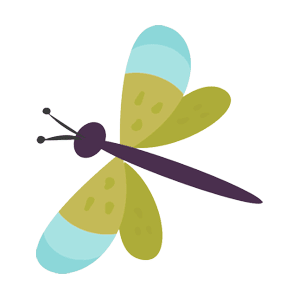 Step 3: Create the Candy Bark
Now comes the exciting part – creating the colorful and visually captivating candy bark. Using a spoon, scoop dollops of the melted red, white, and blue chocolates onto the prepared baking sheet. Aim to create a big square or rectangular shape, alternating the colors as you go. You can see a picture of this below from my Shark Bark recipe.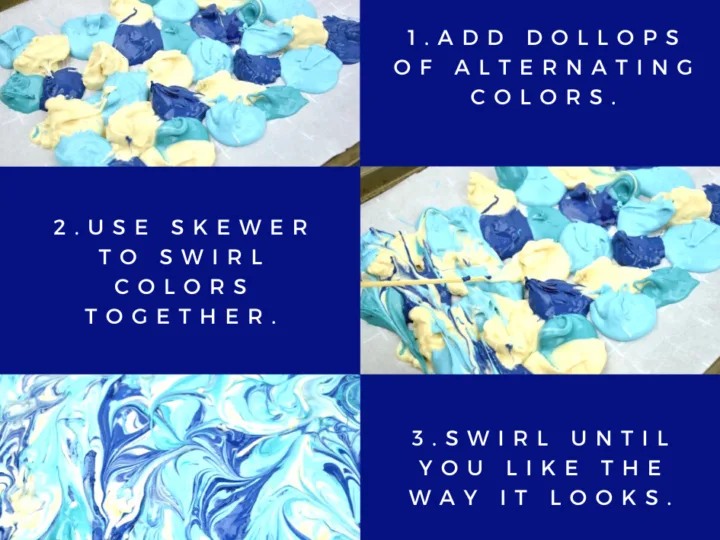 Step 4: Swirl the Colors
Next, to achieve the beautiful marbled effect, take a skewer, fork, or knife and gently swirl the different colors together. Be careful not to over-swirl, as you want to maintain distinct color variations within the bark. Also, work quickly so the candy doesn't harden before you're finished.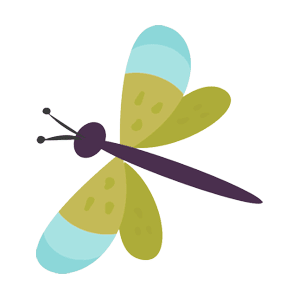 Pro Tip
There's no right or wrong way to do this, just swirl until you like the way it looks. Take care not to over-swirl as you don't want the colors to become muddy-looking.
Step 5: Add a Festive Touch
Enhance the patriotic spirit of this homemade candy bark by generously sprinkling patriotic-themed sprinkles over the top. The vibrant colors and shapes of the sprinkles not only take this bark to the next level but also add an extra touch of flavor.You could also use candies or edible glitter!
Step Six: Allow Hardening
Patience is key in this step. Let the candy bark harden, which usually takes between 15 to 30 minutes. During this time, the chocolate will solidify, ensuring that your bark can be easily broken into delectable pieces.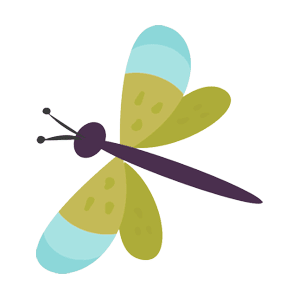 Pro Tip
Speed the process by placing the candy in the fridge or freezer until it hardens.
Step Seven: Break and Serve
Once the Patriotic Candy Bark has completely hardened, it's time to enjoy it! Using a knife, break the bark into various-sized pieces, or simply snap it with your hands. Serve the delightful candy bark to your guests, or store it in an airtight container for future indulgence.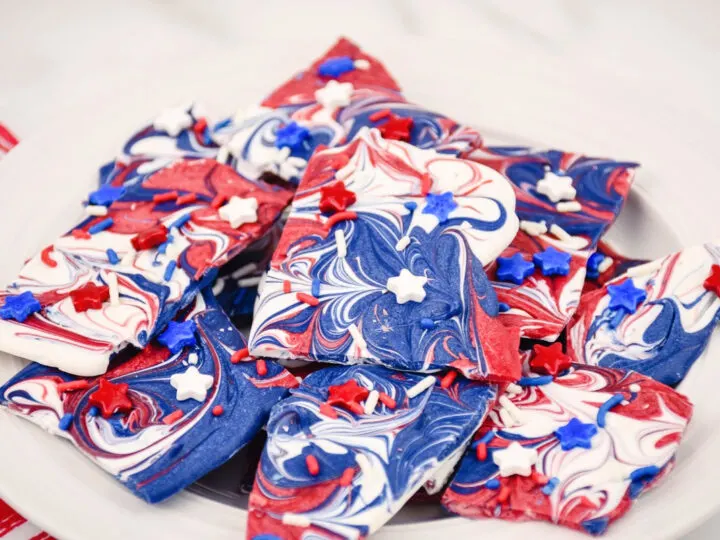 And that's it! Your festive homemade candy is ready to be served.
This Patriotic candy bark is easily transportable, making it a perfect choice for potlucks, picnics, or sharing with friends and family. Pack it in a sealed container, and it will stay fresh and intact during your summer adventures.
Frequently Asked Questions (FAQ) – Patriotic Candy Bark Recipe
How long does the candy bark last?
When properly stored at room temperature in an airtight container or sealed bag, Patriotic Candy Bark can stay fresh for up to two weeks. However, it's best enjoyed within the first few days.
Can I Freeze the Candy Bark?
Yes, you can freeze Patriotic Candy Bark for up to three months in a freezer-safe and air-tight container. Make sure to thaw it in the refrigerator before serving to preserve its texture and flavor.
Can I Make the Candy Bark in Advance?
Yes, you can make the candy bark in advance. In fact, it's a great make-ahead treat for parties and gatherings. Once the candy bark has hardened completely, store it in an airtight container at room temperature or in the refrigerator until you're ready to serve. This way, you can save time and ensure that the candy bark is ready to enjoy whenever you need it.
Can I make smaller or larger batches of candy bark?
Absolutely! This recipe serves 12, but you can easily adjust the quantities based on your needs. Simply maintain the same ratio of candy melts and adjust accordingly. If you want to make a smaller batch, reduce the amounts proportionally. Conversely, if you need a larger quantity, increase the amounts while maintaining the same ratios.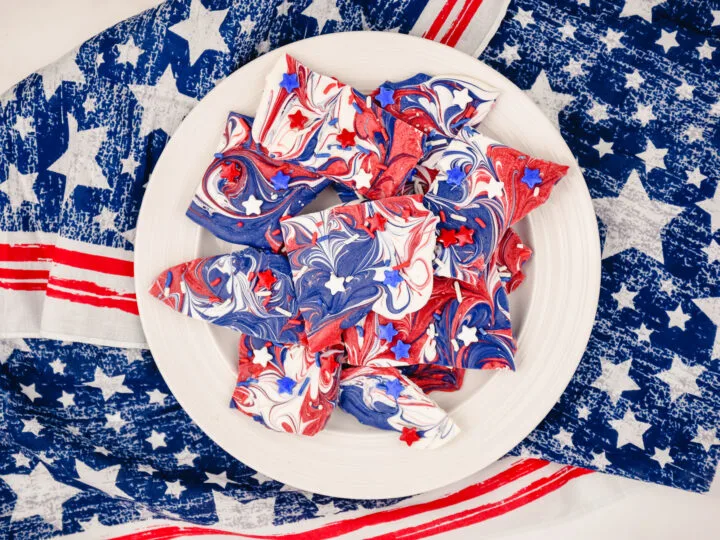 Additions, Substitutions, and Variations
This homemade Patriotic Candy Bark is a versatile dessert that can easily be customized. Here are some simple substitutions, additions, and variations you can try. Let your taste buds guide you, and have fun exploring different flavors and textures!
Substitutions
Use Real Chocolate – Instead of candy melts, use white chocolate chips for an even more chocolatey flavor. However in order to retain the colorful swirls, you will need to color some of the white chocolate chips using oil-based coloring. Do not use alcohol-based food coloring as this will cause the melted chocolate chips to seize.
Additions
Chopped Nuts – Consider adding a handful of chopped nuts to your candy bark to give it a delightful crunch and added richness. Walnuts, almonds, or pecans all work well with the sweet chocolatey flavors.
Dried Cranberries – Try sprinkling some dried cranberries over your candy bark for a burst of tartness to balance the sweetness. Plus, the vibrant red color of the cranberries complements the patriotic theme.
Mini Marshmallows – Scatter a handful of mini marshmallows on top of the candy bark before it sets, for a wonderfully soft and chewy texture in every bite.
Crushed Pretzels – Sprinkle a handful of crushed pretzels to introduce a salty and crunchy contrast. Just like chocolate-covered pretzels, the combination of smooth chocolate mixed with crunchy pretzel bits creates a delicious sweet-and-salty flavor experience!
Edible Glitter – forgo the sprinkles (or add to them) and use edible glitter instead. This sparkly topping comes in red, blue, white, and silver and is perfect for adding to a party atmosphere!
Variations of Patriotic Candy Bark
If you're wanting to switch things up and try different variations of this Patriotic Candy Bark recipe, here are a few exciting ideas to inspire your creativity:
Flavored Candy Melts – traditional candy melts are often vanilla flavored. Switch things up by looking for limited-edition flavored candy melts such as raspberry or cherry and blueberry.
Add Your Own Flavoring – add unique flavors to this Patriotic Candy bark by adding flavored extracts after melting. Again, make sure your extract is oil-based so it will not cause the candy melts to seize.
Feel free to explore further and create your own signature variations by experimenting with different flavors, colors, and toppings. Experimentation is key to making the candy bark your own unique creation so let your imagination run wild and enjoy the delightful results!
Enjoy the Sweet Delights of Patriotic Candy Bark
As the warm summer days approach, there's no better time to indulge in the delightful and visually stunning Patriotic Candy Bark. This easy-to-make treat is not only a feast for the eyes but also a burst of sweet flavors that will make your taste buds dance with joy.
With its vibrant red, white, and blue colors, this candy bark is the perfect addition to your summer gatherings, barbecues, or patriotic celebrations. The swirling patterns and patriotic sprinkles evoke a sense of pride and create a festive atmosphere for everyone to enjoy.
Patriotic Candy Bark is an ideal dessert for various occasions, including Independence Day, Memorial Day, or any patriotic celebration. Its vibrant colors and delicious taste make it a crowd-pleasing treat. The blend of creamy chocolate and the satisfying crunch of the sprinkles will leave everyone wanting more.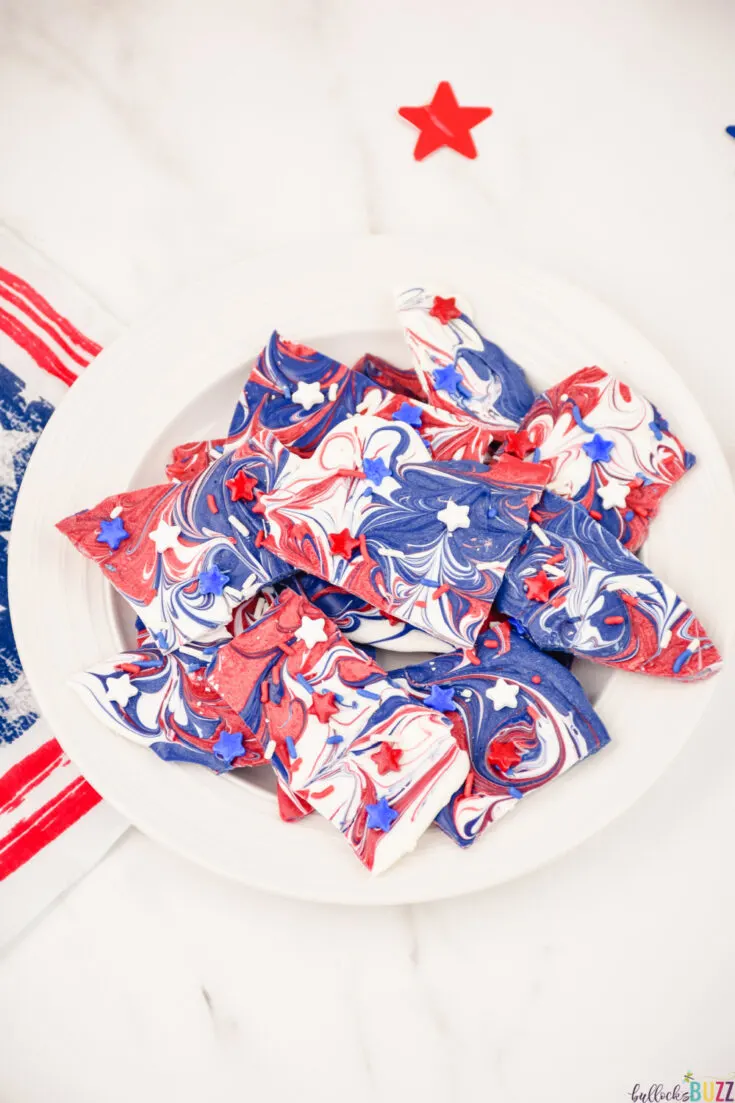 MORE 4th of JULY RECIPES
Looking for more patriotic recipes? Look no further! I think you will really like these other red, white, and blue recipes!

CELEBRATE AND SHARE THE SWEETNESS
Did you make this tasty red, white, and blue patriotic candy bark recipe? If so, I'd love to see how it turned out!
Nothing makes me happier than seeing your take on my recipes. So please be sure to tag me on Instagram @bullocksbuzz or using #bullocksbuzz and share a photo of your tasty creations!
Don't forget to share your experience in the comment section below. I'd love to hear about your adventures in the kitchen and the joy my recipe brought to your celebrations. Did you follow the recipe precisely, or did you add your own unique twist? Share your thoughts, modifications, or any tips you discovered in the comment section below. I can't wait to read about your creations and learn from your creativity!
So, what are you waiting for? Let the candylicious journey begin!
LIKE IT? LOVE IT? PLEASE SHARE IT!
Be sure to save this post either by clicking on that little heart over there to your right or by pinning it on Pinterest. That way you always have this fantastic recipe at your fingertips.
Then be sure to share with your friends and family by clicking the share buttons above the post title, too!
And, if you really liked this Patriotic Candy Bark recipe, comment and leave me a ⭐⭐⭐⭐⭐ rating on the printable recipe card below!
And finally, don't forget to follow us on Pinterest, Facebook, and Instagram!
Yield: 12 pieces
Patriotic Candy Bark - Red, White and Blue Bark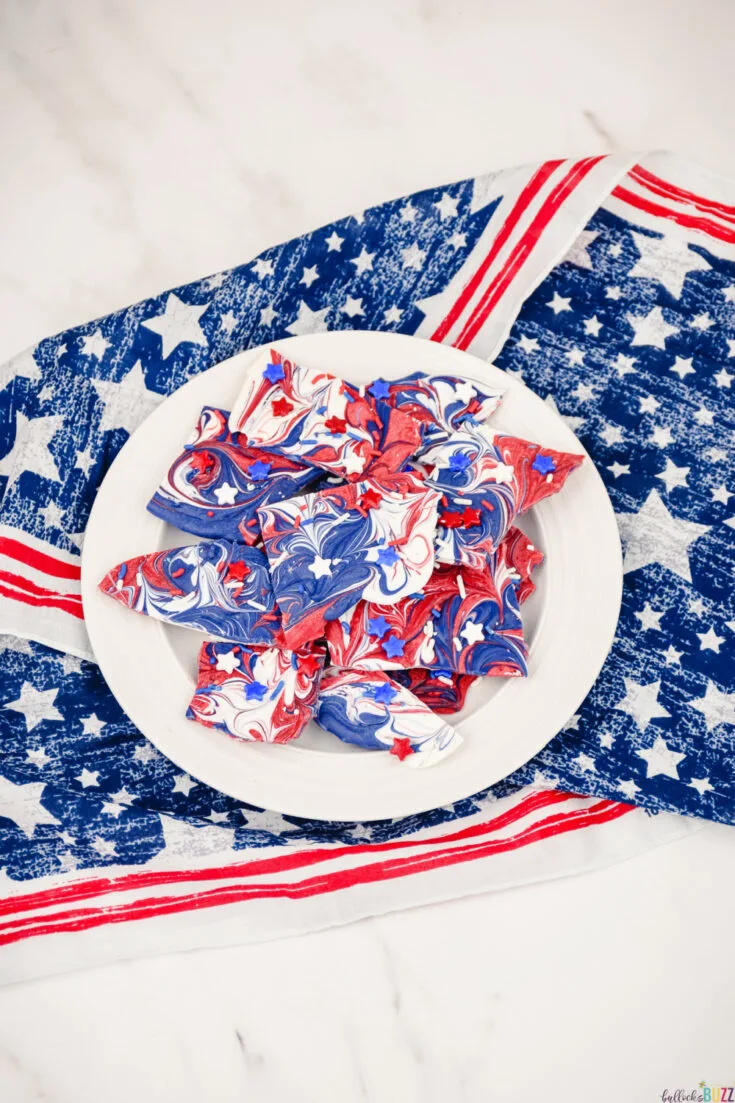 This stunning patriotic candy bark is perfect for your Independence Day celebration. It's fun to make, looks quite impressive. and tastes great!
Ingredients
1 cup White Candy Melts
1 cup Royal Blue Candy Melts
1 cup Red Candy Melts
Patriotic Sprinkles
Instructions
Prepare a baking sheet with a Silpat Mat or parchment paper.
In separate bowls, melt each of the colors according to package directions.
Use a spoon to scoop dollops of the melted chocolates into a big square or rectangular shape on the baking sheet, making sure to alternate colors.
Using a skewer, fork, or knife, swirl the colors together, making sure to work quickly before the candy sets. Be careful not to over-swirl!
Once swirled, add the sprinkles evenly over the candy.
Allow candy to harden; usually 15 to 30 minutes,
Once the candy has hardened, use a knife or break it into pieces.
Recommended Products
As an Amazon Associate and member of other affiliate programs, I earn from qualifying purchases.
Nutrition Information:
Yield:
12
Serving Size:
1 piece
Amount Per Serving:
Calories:

225
Total Fat:

0g
Saturated Fat:

0g
Trans Fat:

0g
Unsaturated Fat:

0g
Cholesterol:

0mg
Sodium:

22mg
Carbohydrates:

56g
Fiber:

0g
Sugar:

36g
Protein:

0g
Nutritional information is automatically calculated with ingredients and serving size and may not be accurate. Please always double check with your own nutritional apps as well.