Introducing your newborn to your beloved dog can be an exciting first step in a life-long friendship between Boxer and baby, but what's the best way to do it? If your fur baby doesn't take well to your human baby, it can be a tense situation for everyone involved. Here are a few tips on how to introduce your dog to your newborn that can help you ensure a smooth meeting between your two bundles of joy.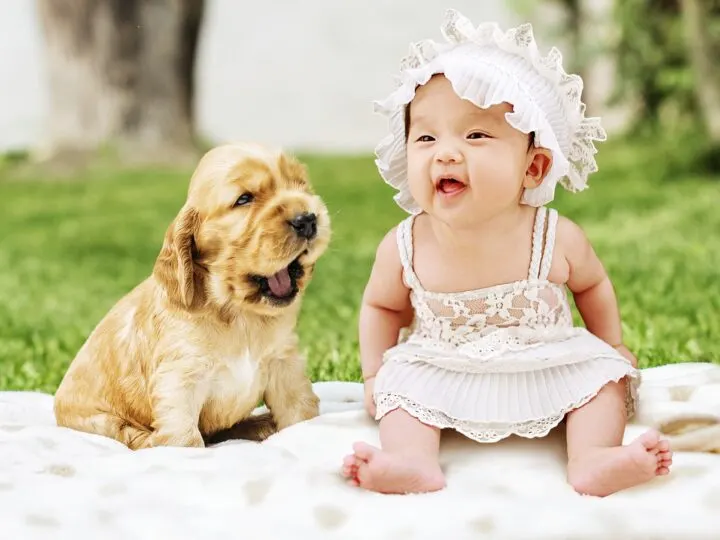 Consider your dog's breed
One of the biggest things to consider when looking to introduce your dog to your newborn is your dog's breed. It's no secret that some breeds generally behave better around children than others. Perhaps you and your partner are looking for a species known for being playful and family-friendly. Labrador Retrievers, for example, have a long, steady reputation for being affectionate family dogs.
If you're searching for a puppy to raise alongside your young children, it's essential to factor in the dog's breed and that they come from a reputable breeder like Snowy Pines White Labradors. These professionals assure that your puppy will be healthy, happy, and socialized.
If you're considering adding a new four-legged friend and growing your family by two, you can't go wrong with a child-friendly dog breed.
Exercise patience
Patience plays a big role when its time to introduce your dog to your newborn. Whether this is your first baby or your third, bringing a new child into the family is an adjustment for everyone, including your furry friend. Exercise patience as your canine adjusts to a new schedule, sounds, and smells.
You want to take a gentle yet firm approach to your dog's actions during this time. Reward good behavior. React positively when your dog is gentle and mindful around your baby. Allow your dog to gently sniff the baby, and remember to warn them if they get too rowdy near your child.
With a new baby comes lots of new responsibilities, and your dog may feel jealous or neglected. Try to make time for play or walks and ease into a new schedule that works for you, your baby, and your dog. Consistency is key for a healthy, happy dog. Over time, your pup will come to accept and love your little one as part of the family.
Plan ahead
Because this is such a big moment for your family, it's critical to plan all aspects before you introduce your dog to your newborn. Ask yourself where, when, and how.
It may be a good idea to choose a familiar yet neutral place to make the introduction. Perhaps your neighborhood park or another outdoor area. Remember to keep your dog leashed during the first interaction, as they may be so excited or overwhelmed and accidentally harm the baby.
It's best to make the introduction sooner rather than later, as it gives your dog more time to process the arrival of your new baby. Experts say to greet your dog without the baby first. It's likely the dog will smell the baby on your clothing, which will help prepare them for the introduction.
It's also likely that your pregnancy was no secret to your dog. Evidence suggests that dogs may be able to detect pregnancy, especially in their owners. Even though these keen-sensed canines are likely able to detect hormone shifts and your growing belly, they may not understand you are growing a human.
Another way to prepare for the introduction is to have calming medication or supplements for your dog if they seem overwhelmed or anxious at the baby's arrival. Hemp oil is a popular and effective treatment for dogs in stressful situations.
Wrapping up
Introducing your dog to your newborn baby is an exciting moment. As your dog's owner, you know them best. Exercising patience while paying attention to their limits and behaviors will ensure a successful introduction between kid and canine.