Scare up some frightful fun on Halloween with this terribly tasty Green Goblin Halloween Cocktail recipe! Made with dark rum, pineapple juice, lemon juice, Blue Curacao syrup, and lemon-lime soda, this spooky Halloween drink will leave you wanting more!
It's time to keep the party rolling and share another fun Halloween drink as part of my Haunted Halloween Cocktails series! Today I'm sharing a dangerously delicious Halloween cocktail recipe that's sure to get you and your friends in the spookiest of moods — the Green Goblin cocktail.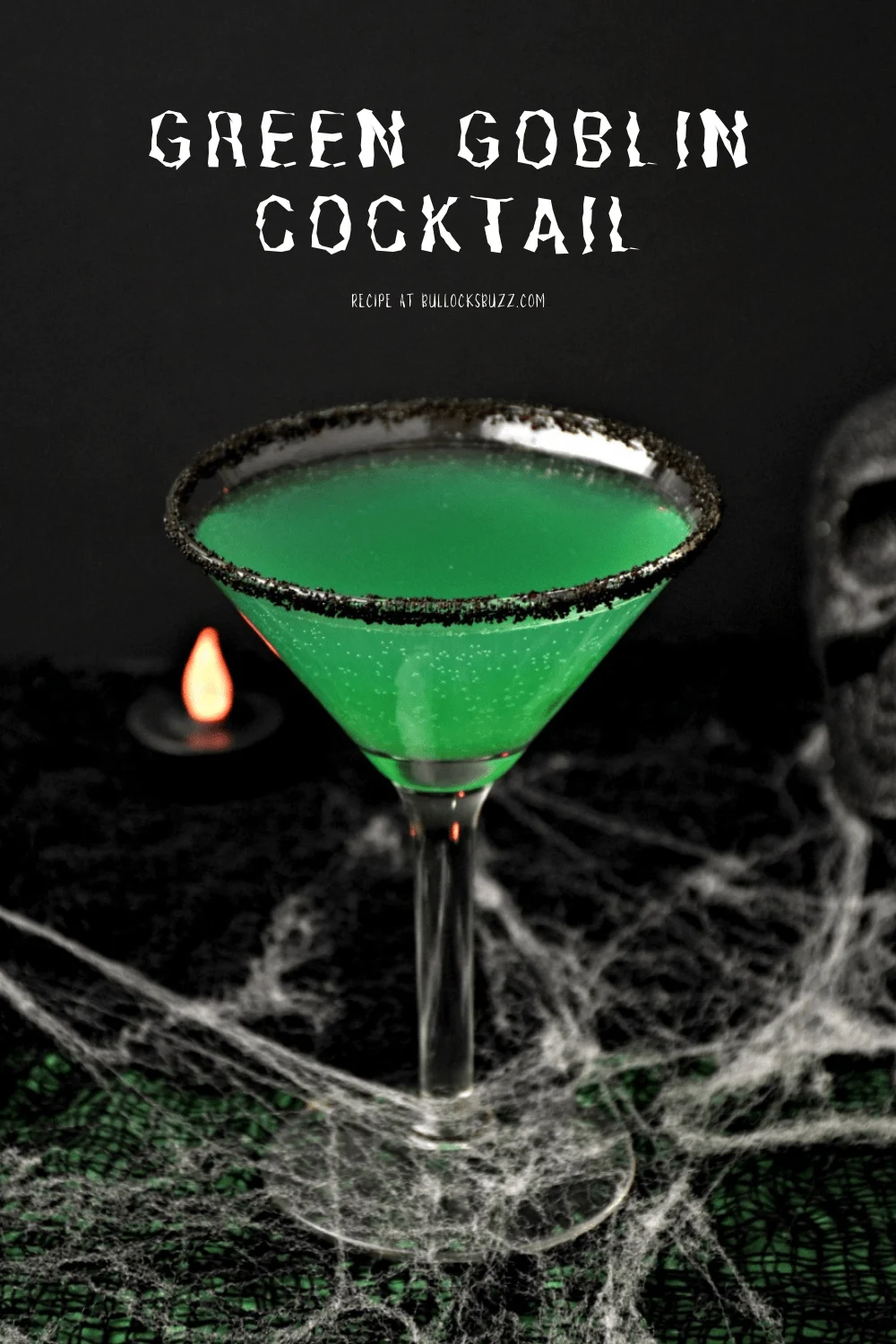 So far I've shared two creepy cocktails including The Gravedigger and the Vampire's Kiss. Both of which are dreadfully delicious. And today I've conjured up another libation to add to the list of creepy cocktails, the Green Goblin!
If you like pineapple rum drinks then this creepy, green Halloween cocktail recipe is the perfect spooky sipper. It's crisp, sweet, and tart and its vibrant green color practically screams Halloween.
Plus, it can also be served as a green Halloween punch!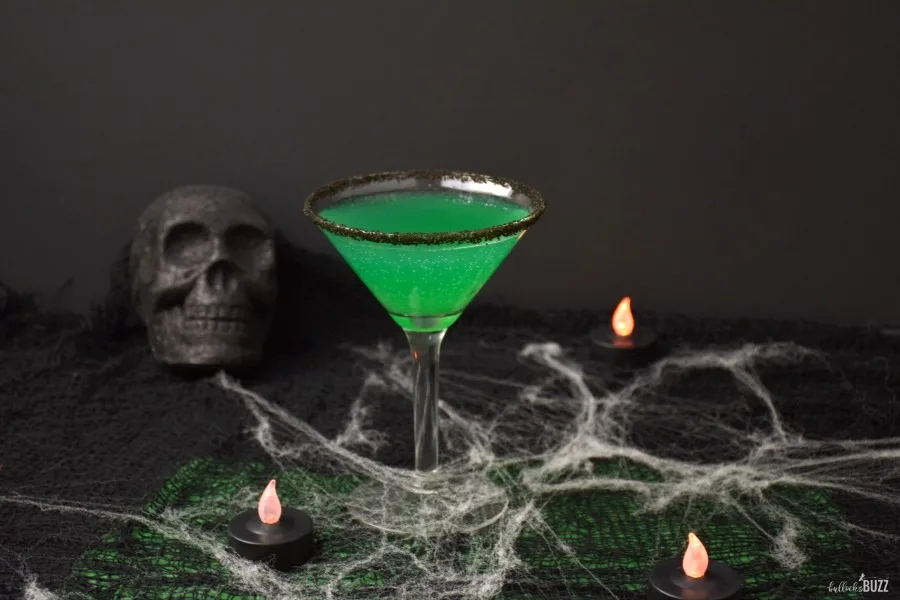 The Green Goblin is sure to scare up some fun with all the guys and ghouls this Halloween! Pineapple juice, lemon juice, blue curaçao syrup, and lemon-lime soda give this drink a gorgeous green hue, while the dark rum adds just enough bite.
Sweet and fruity, this Green Goblin cocktail is one of my favorite Halloween cocktail recipes. Plus it's dead easy to make, so you can quickly whip up a batch or more for an adult Halloween party large or small.
Drink it if you dare!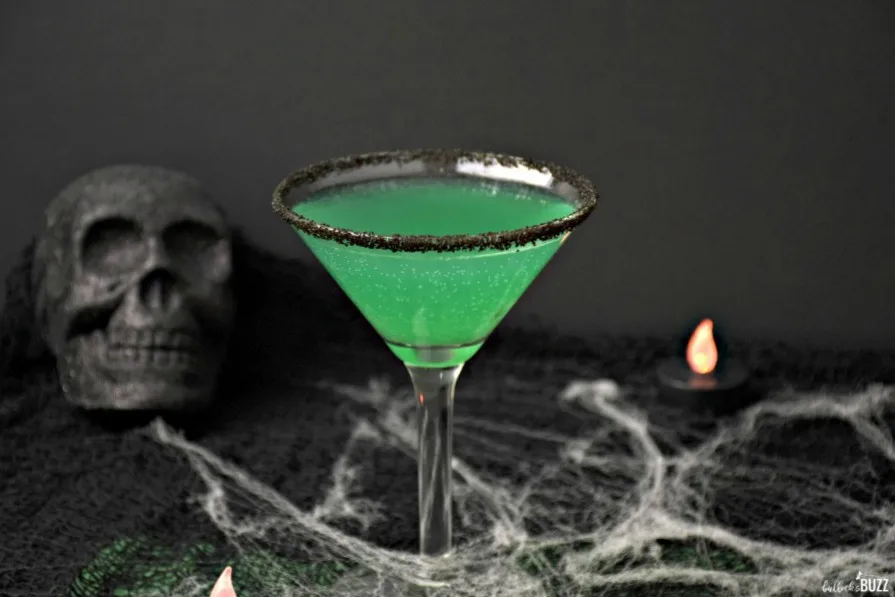 HOW TO MAKE GREEN GOBLIN COCKTAIL FOR HALLOWEEN
No need to be a professional bartender to take on this boo-zy Halloween cocktail recipe, it's extremely easy to make and best of all, even easier to drink. That's what makes it dangerously delicious!
Disclosure: This blog post contains affiliate links for products or services I think you'll like. This means if you make a purchase from one of these links, Bullock's Buzz will make a small commission at no additional cost to you. I only recommend products that I use and love.
You'll find the complete ingredient list and instructions in the printable recipe card near the end of this Halloween cocktail recipe post.
BARTENDER'S TOOLS I USED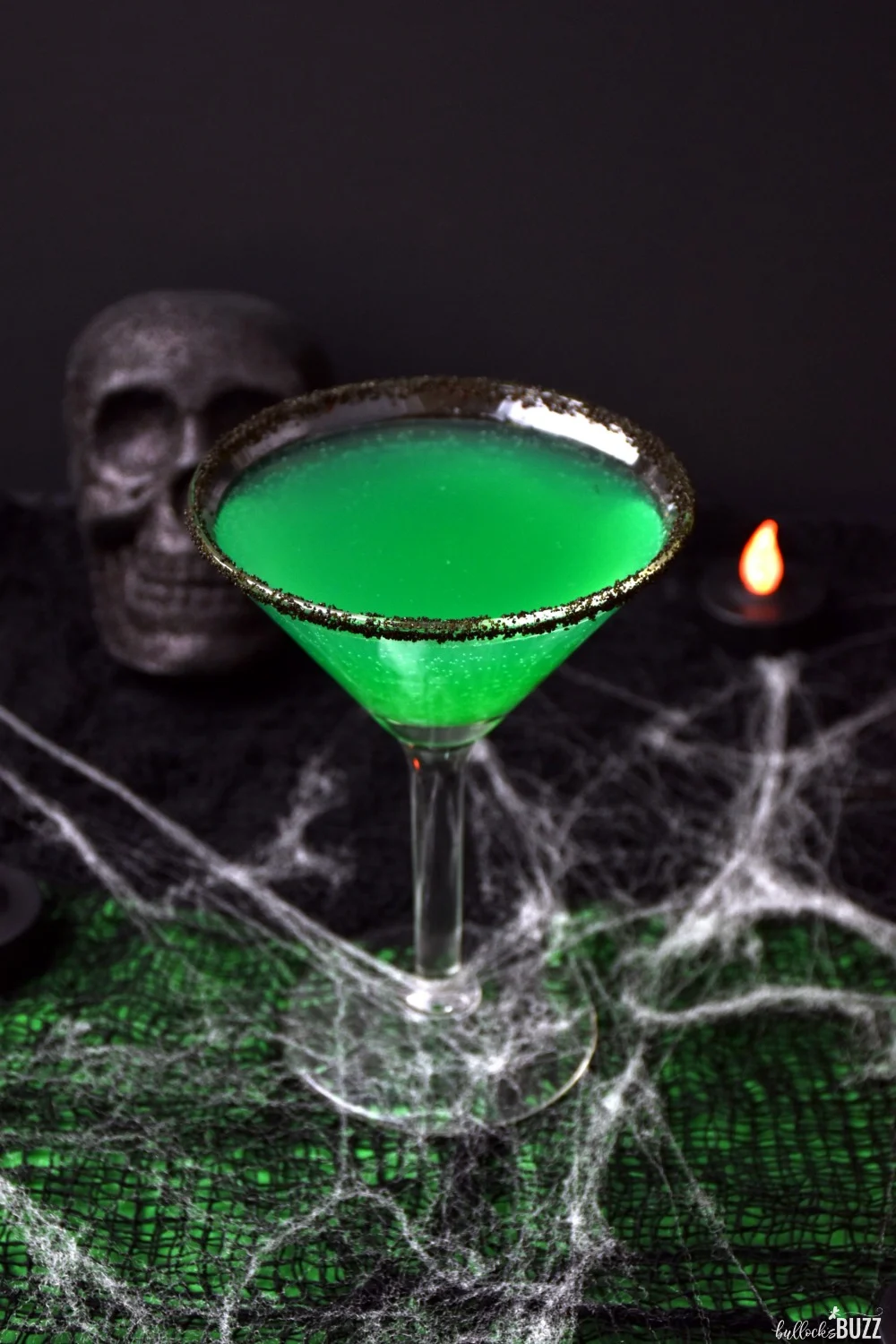 GREEN GOBLIN HALLOWEEN COCKTAIL INGREDIENTS
I'm not a fan of cocktails that require an entire liquor store to make them. Which is why I enjoy eerily easy Halloween cocktail recipes like the Green Goblin. You can just quickly throw it together and serve it in a martini glass or a punch bowl. And you're done.
The ingredients you'll need for this creepy concoction include:
dark rum
blue curacao syrup
pineapple juice
lemon juice
lemon-lime Soda (pop) like Sprite or 7-Up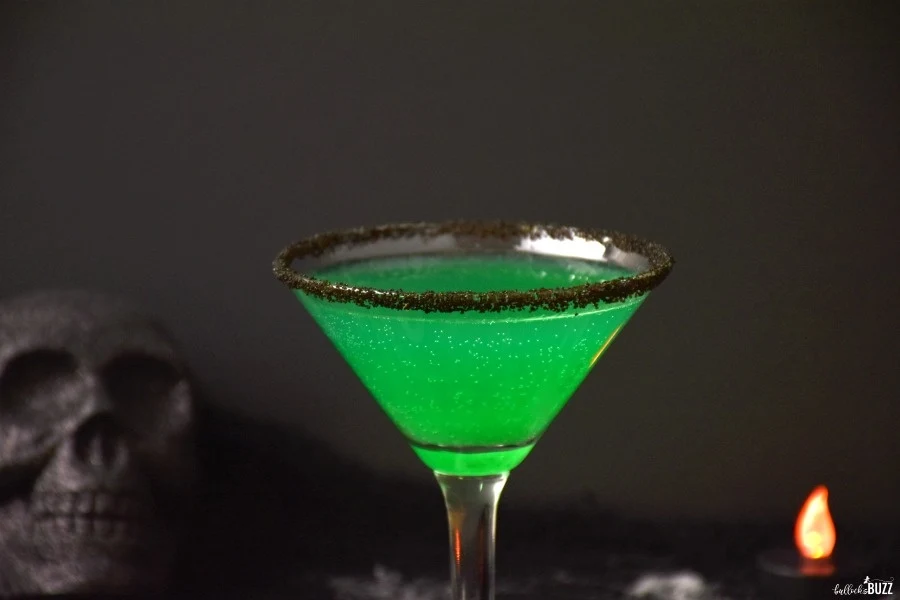 GREEN GOBLIN HALLOWEEN COCKTAIL RECIPE INSTRUCTIONS
To make this easy green Halloween cocktail, begin by adding a sugar coating to the rim of the glass. Then just combine the rum, pineapple juice, blue curacao syrup, and lemon juice in a cocktail shaker. Shake for about 20 seconds, then pour it into the glass. Finally, top it off with the lemon-lime soda pop, and you're done.
And that's it! Cheers for a spooky cocktail!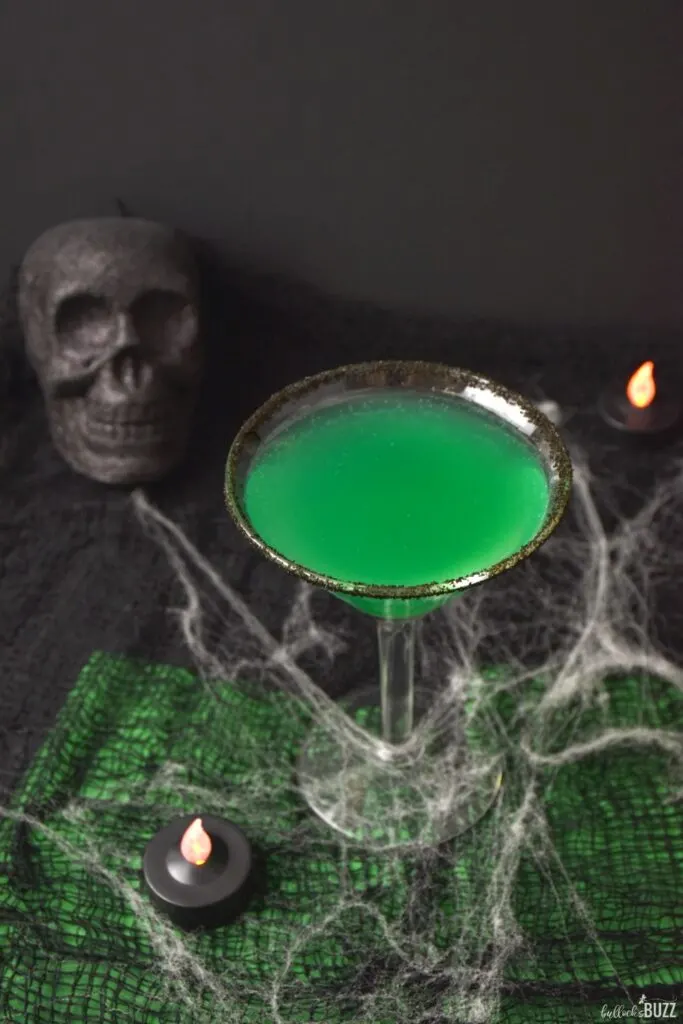 GREEN GOBLIN PUNCH – ALCOHOLIC HALLOWEEN PUNCH
This green Halloween cocktail can also be made into an eerie green Halloween punch! To make this green alcoholic punch you'll need a punch bowl (or a cauldron) and the same ingredients (just a lot more).
Instead of mixing the Green Goblin in a cocktail shaker, simply add all of the ingredients to a punch bowl and mix well.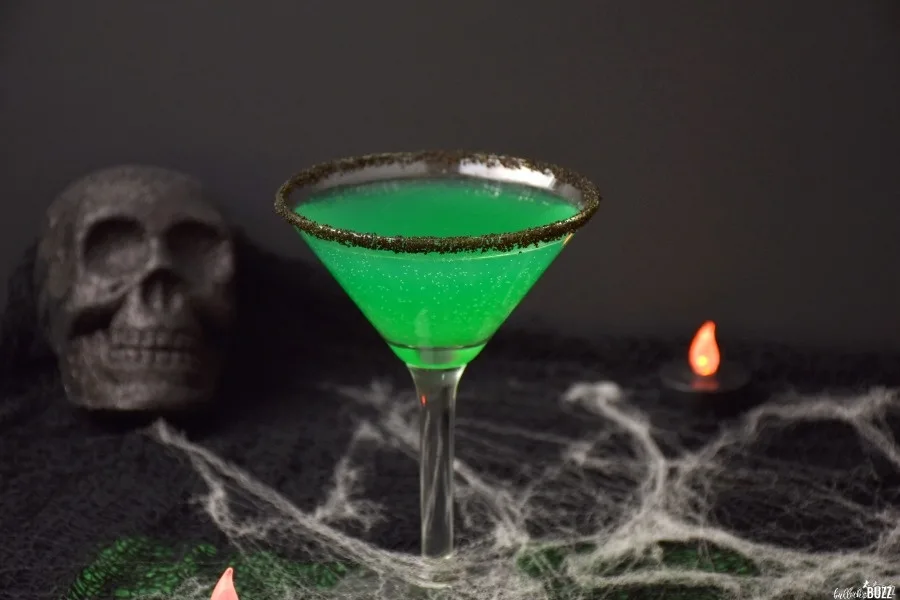 You can then add a black sanding sugar rim to the cups and fill them as you go.
CAN THE GREEN GOBLIN BE MADE WITHOUT THE ALCOHOL?
Yes! This spooky Halloween cocktail recipe tastes just as good without the alcohol. Simply omit the rum and you'll have a tasty green Halloween punch for kids or adults who don't want to drink alcohol.
(edited 10/13 to add the word 'syrup') Blue Curacao syrup,(edit: not to be confused with Blue Curacao liquor), is simply a coloring agent, a simple syrup. There's no alcohol in it so you can still use to get the eerie green color.
TRY IT AND SHARE IT!
Be sure to let me know how you like this Green Goblin Halloween cocktail recipe! Leave a comment below.
Did you make this easy Green Goblin cocktail recipe? If so, I'd love to see how it turned out! Nothing makes me happier than seeing your take on my recipes.
So please be sure to tag me on Instagram @bullocksbuzz or using #bullocksbuzz and share a photo of your tasty creations!
Don't forget to save it either by clicking on that little heart over there to your right or by pinning it on Pinterest. And then share with your friends and family by clicking the share buttons above the post title, too!
If you really liked this cake box cookie recipe, comment and leave me a ⭐⭐⭐⭐⭐ rating on the printable recipe card below!
And finally, don't forget to follow us on Pinterest, Facebook, and Instagram!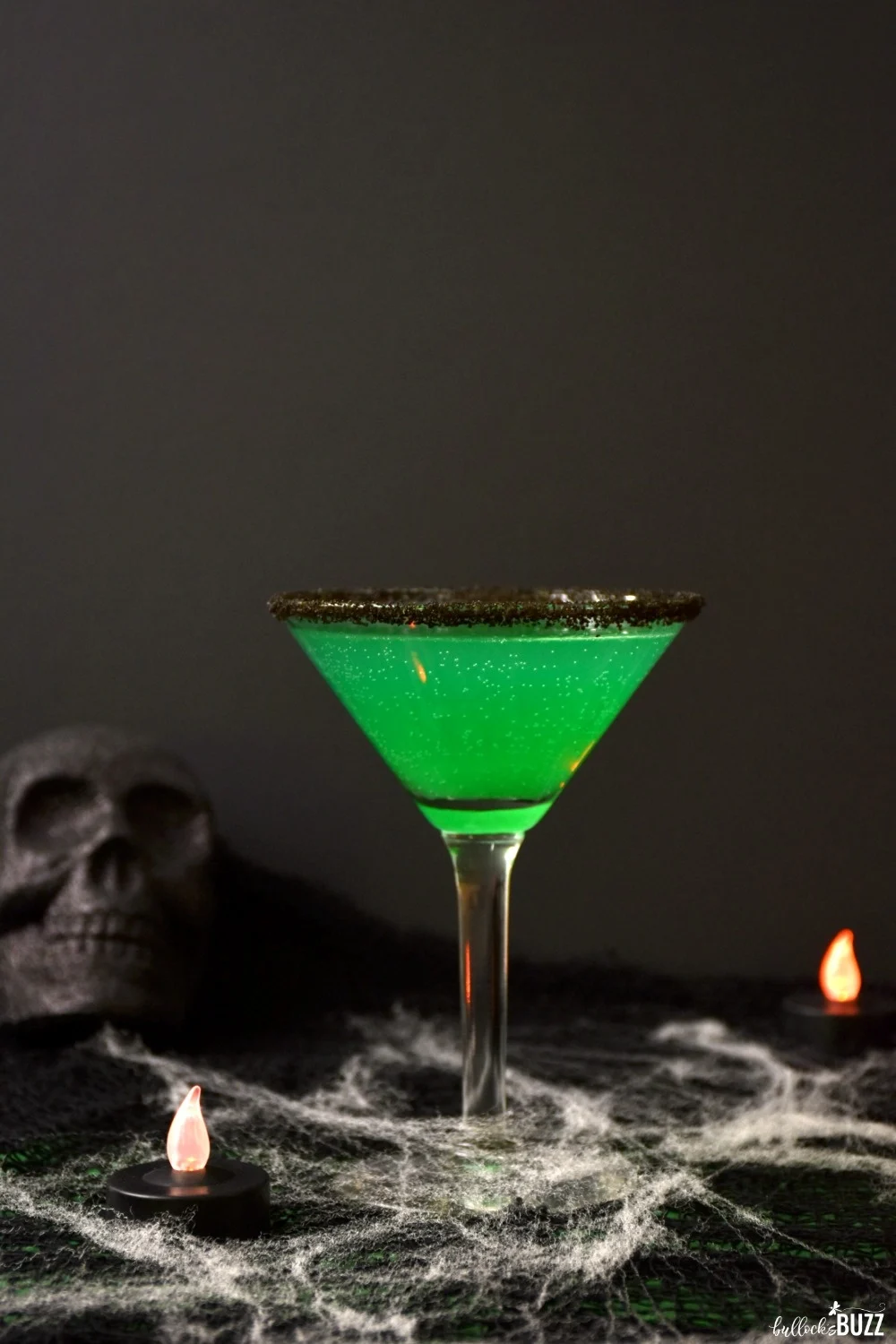 And if you want to try it, but haven't made it yet, be sure to save this Halloween cocktail recipe on Pinterest so you'll remember where to find it.
Speaking of Pinterest, you may also enjoy my Cocktails board, Mocktails board, and my Halloween board!
Be sure to check back tomorrow for another spookalicious Halloween cocktail recipe!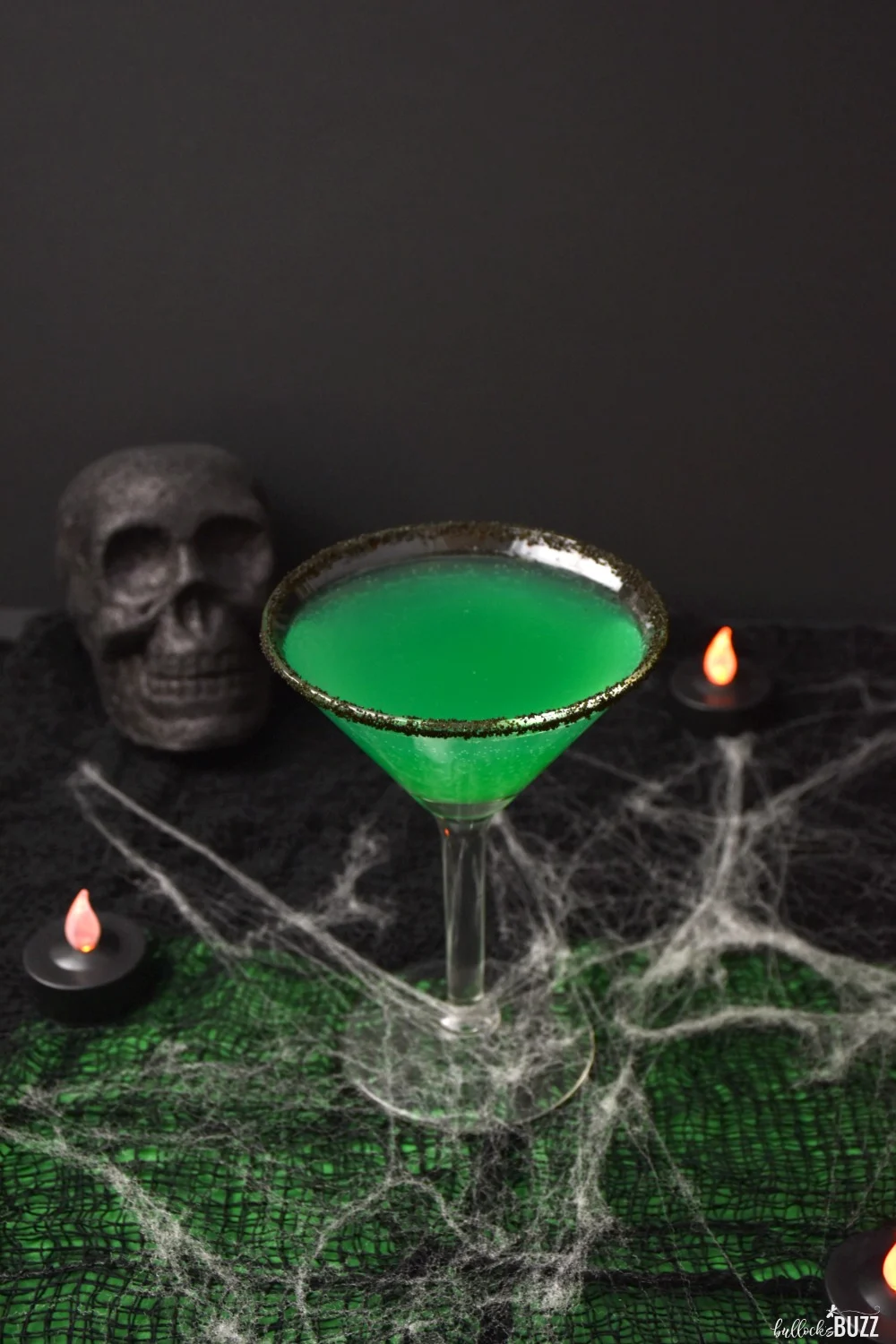 OTHER HALLOWEEN RECIPES YOU MAY LOVE
Here are some of my most popular and fearful Halloween recipes for you to sink your teeth into!
GRAB A FREE PRINTABLE RECIPE FOR THE GREEN GOBLIN HALLOWEEN COCKTAIL
Yield: 1 cocktail
Green Goblin Halloween Cocktail recipe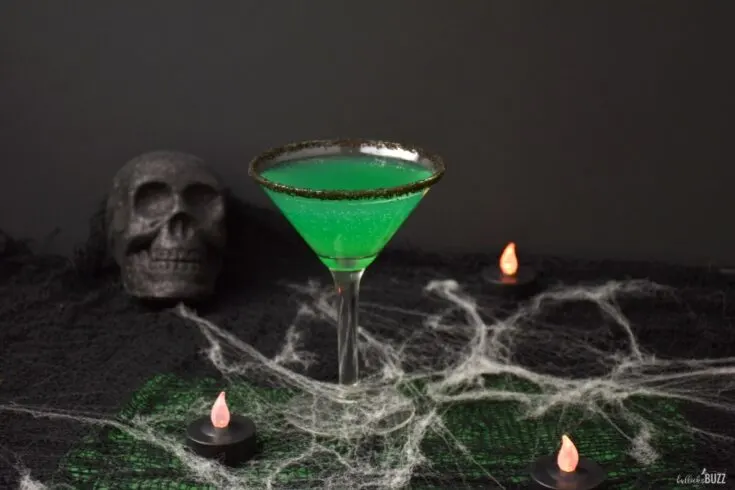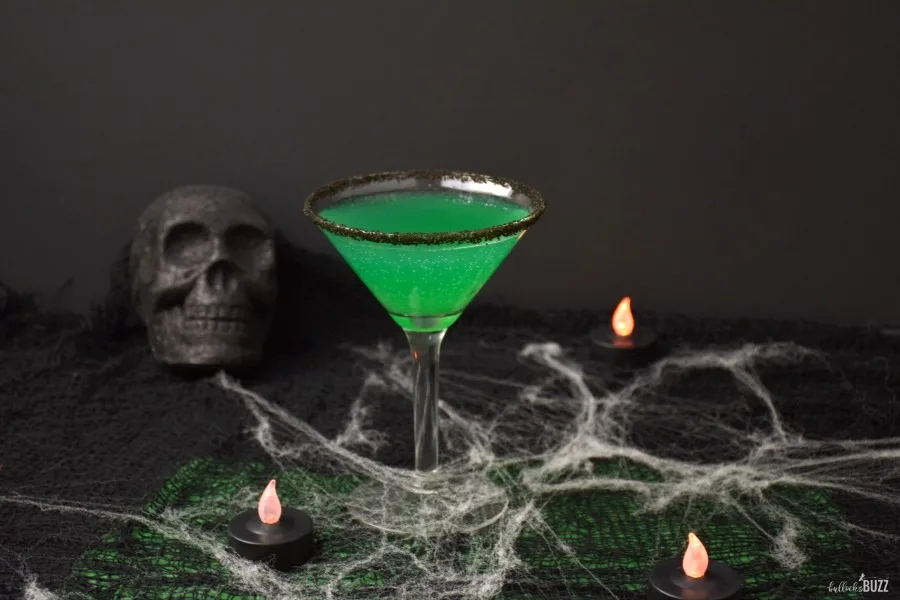 Scare up some adult fun on Halloween with this frightfully fruity Green Goblin Halloween Cocktail recipe! Made with dark rum, pineapple juice, lemon juice, Blue Curacao syrup, and lemon-lime soda, this spooky Halloween drink will leave you wanting more!
Ingredients
1½ ounces dark rum
1 ounce pineapple juice
½ ounce lemon juice, fresh
1 ounce lemon-lime soda (pop) like Sprite or 7-Up
½ ounce Blue Curacao syrup
black sanding sugar
simple syrup, or other sugary/sticky liquid
For Punch Bowl
5¼ cups dark rum
3½ cups pineapple juice
1¾ cups lemon juice, fresh
3½ cup lemon-lime soda
1¾ cups blue curacao
Instructions
For Individual Drinks
Pour some black sanding sugar on a saucer, making sure it's at least ¼ inch high and wider than the rim of the goblet.
Dab the rim of the goblet with a simple syrup or another sticky liquid such as Sprite, lemon juice, etc.
Dip the coated rim into the saucer of black sanding sugar and gently twist the goblet to cover the rim with the sanding sugar.
In a cocktail shaker filled halfway with ice, combine the rum, lemon juice, pineapple juice, and blue curacao. Shake for about 30 seconds.
Strain the cocktail into a glass taking care not to splash the sugar-coated rim, then top off with the lemon-lime soda.
Enjoy!
For Punch Bowl
Chill all ingredients for several hours or overnight.
Combine all ingredients in a punch bowl and stir well.
Lay out some black sugar-rimmed glasses to add the punch to.
Nutrition Information:
Yield:
1
Serving Size:
1 glass
Amount Per Serving:
Calories:

3727
Total Fat:

1g
Saturated Fat:

0g
Trans Fat:

0g
Unsaturated Fat:

1g
Cholesterol:

0mg
Sodium:

226mg
Carbohydrates:

389g
Fiber:

5g
Sugar:

344g
Protein:

6g
Nutritional information is automatically calculated with ingredients and serving size and may not be accurate. Please always double check with your own nutritional apps as well.