This chillingly cute Halloween Candy Charcuterie Board is one of my favorite dessert charcuterie boards to make! Filled with traditional Halloween candies, this frightfully sweet Dessert Charcuterie Board for Halloween has it all!
October is finally here and in full swing! Already my house is decorated with Halloween decorations including ghosts, witches, and ghouls. Not to mention a hair-raising Haunted Harlequin Halloween tablescape and DIY Halloween wreath.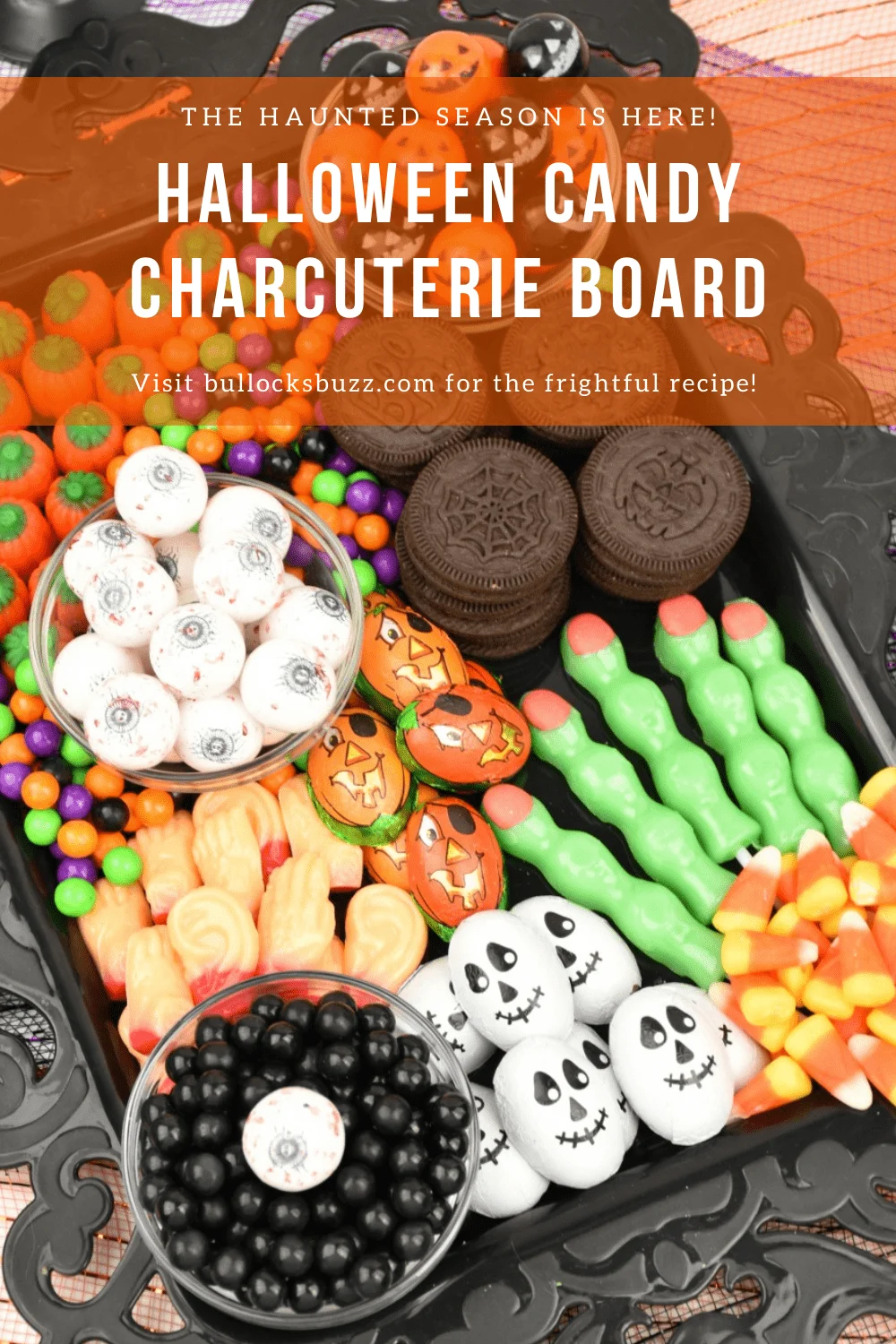 I've also been busy baking up some dreadfully delicious Halloween treats like these bootiful Bat Twinkies and Marshmallow Witches. The only thing I hadn't tackled yet was a Halloween candy board!
What Is a Charcuterie Board?
A charcuterie board (pronounced "shahr-ku-tuh-ree") is basically a smorgasbord of crackers, meat, cheese, and grapes arranged on a board or tray. These food boards are perfect for parties and other large gatherings.
A candy charcuterie board is simply another type of grazing board that's made with candy and other sweets instead of meats and cheeses.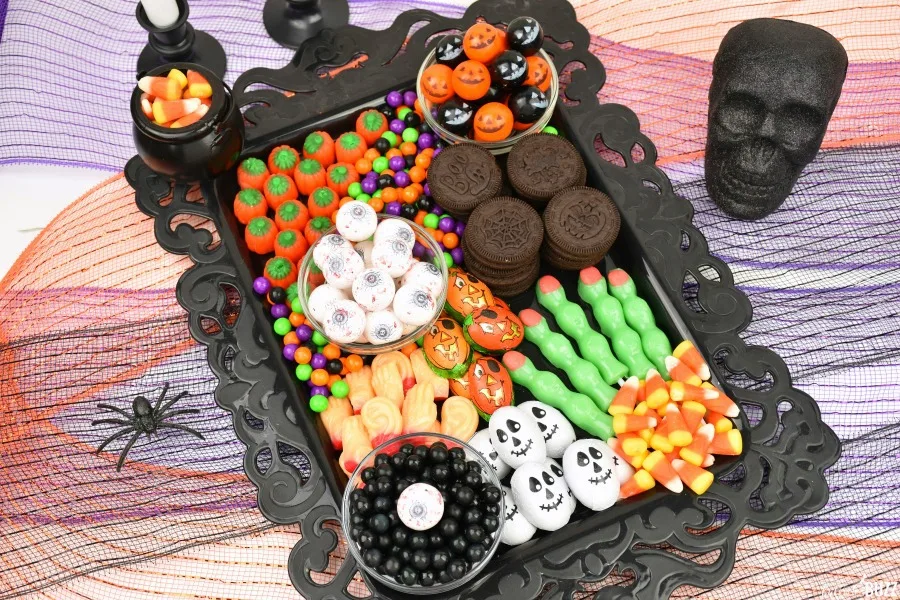 I think it's safe to say that I've been bitten by the charcuterie board vampire-bug! After making this super fun St. Patrick's Day Charcuterie Board, I started getting emails asking me to make some candy grazing boards for other holidays.
Easter was the next holiday, and my Easter Charcuterie Board was a hit! After that, I couldn't wait for Fall to roll around so I could make a candy board for one of my favorite fall festivities, Halloween!
Haunted Halloween Candy Charcuterie Board
This hair-raising haunted Halloween Candy Charcuterie Board makes the perfect centerpiece for any gathering of ghosts and ghouls! It's filled with a delicious selection of Halloween-themed sweets and treats. And it's incredibly easy-to-make. Plus, with all the great Halloween candy all over the store shelves, it was eerily easy to get inspired!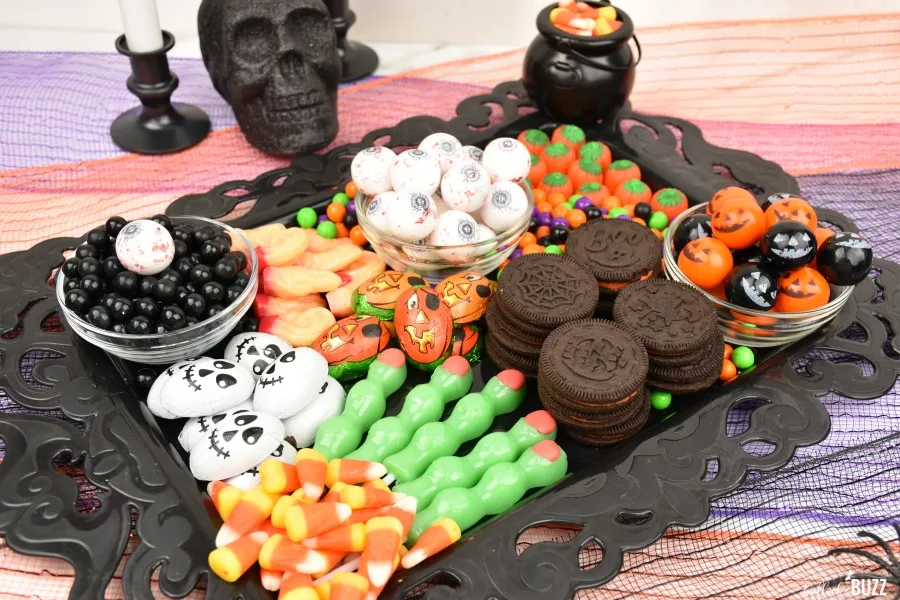 Why Make a Halloween Candy Board?
If you're looking for alternate ways to enjoy Halloween other than trick-or-treating, then you NEED this candy grazing platter in your life. It takes a frightfully small amount of time to scare up (seriously…10 minutes max), it looks fiendishly fantastic, and everyone will be happy because there's such a large variety of sweets to choose from.
It's perfect for a family movie night or for a gathering of witches, ghosts, goblins, and ghouls. Plus this Halloween candy board can easily be scaled up or down depending on the number of expected monsters.
Best of all, there will most likely be enough leftovers so that all the Halloween haunts can take some home.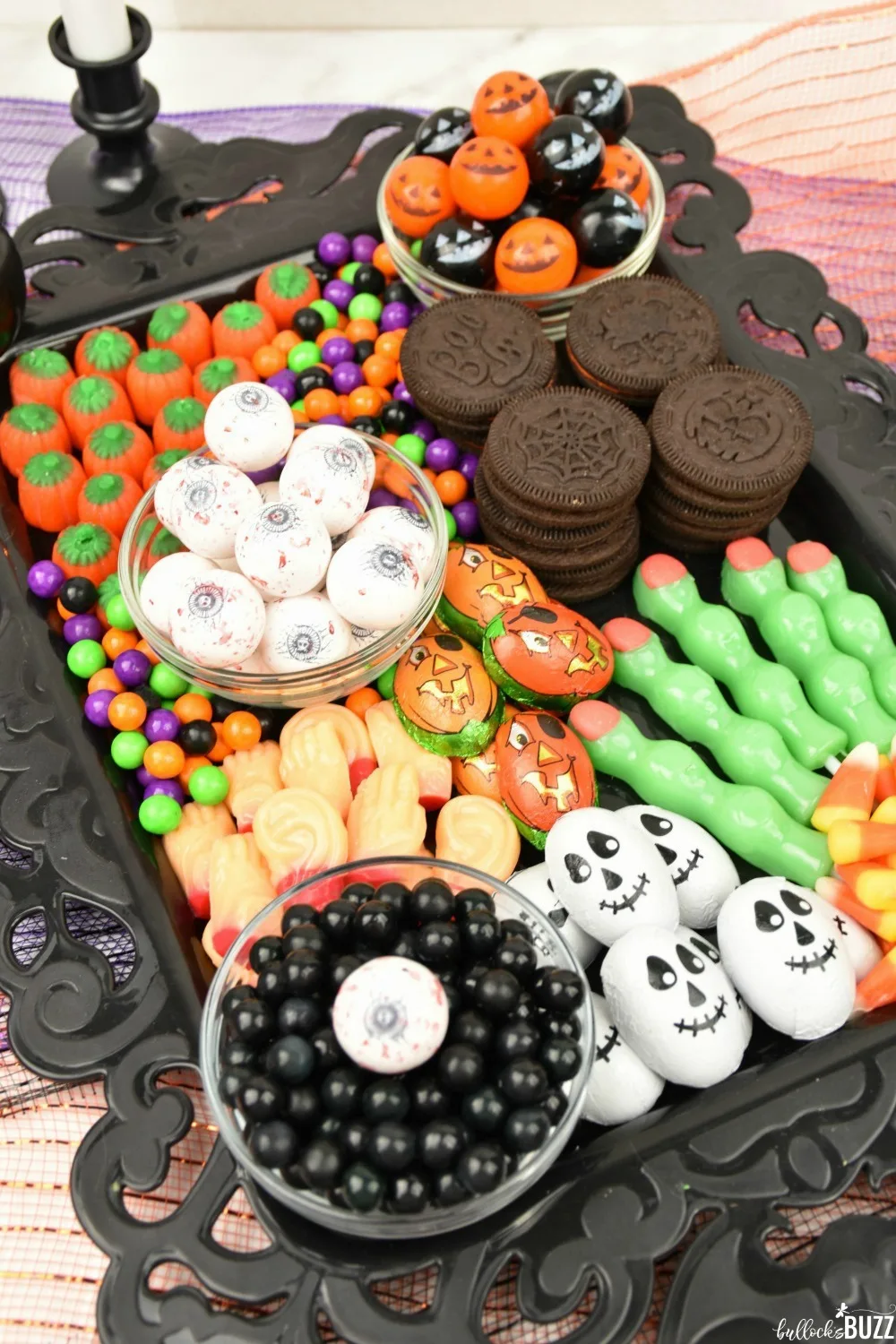 What Goes on a Halloween Candy Charcuterie Board?
This devilishly sweet dessert tray is all about the treats without any tricks. When making a frightful Halloween Candy Charcuterie Board, or really any candy charcuterie board, the goal is to fill it up with a wide variety of sweets.
You'll want to look for different, but complementary, colors, shapes, textures, and sizes. And make sure you have a little something for everyone. I'm talking sweet, sour, salty, and even fruity!
You're also going to want more candy than you think you need, and then you'll need even more! Just remember, there are no set rules when it comes to building a Halloween Candy Charcuterie Board. Just get creative and have fun with it!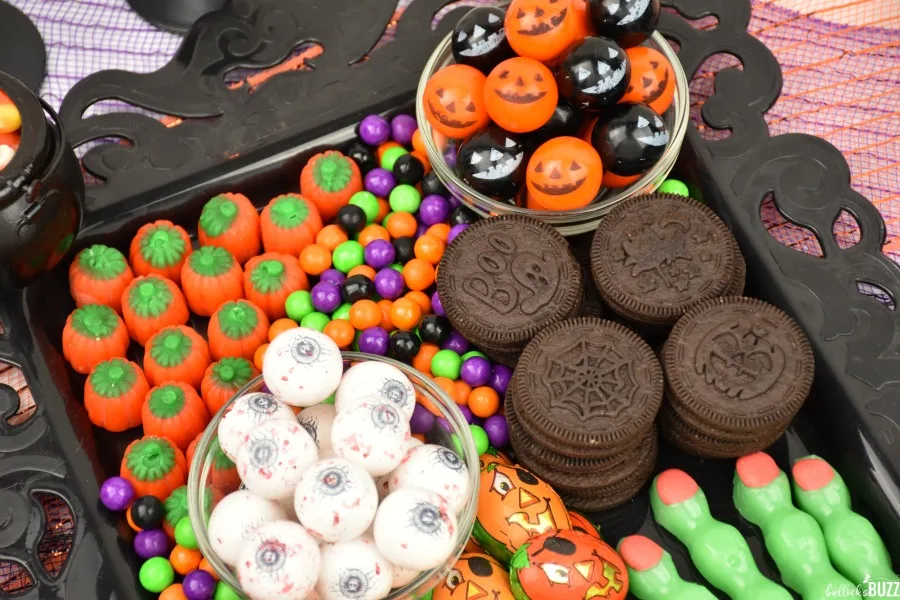 How to Make a Candy Charcuterie Board for Halloween
While most charcuterie boards are put together on a board, I figured why not add to the fun and use a Halloween-themed serving tray instead. Then I filled this spooky Halloween Dessert Charcuterie Board with delicious sweets and treats!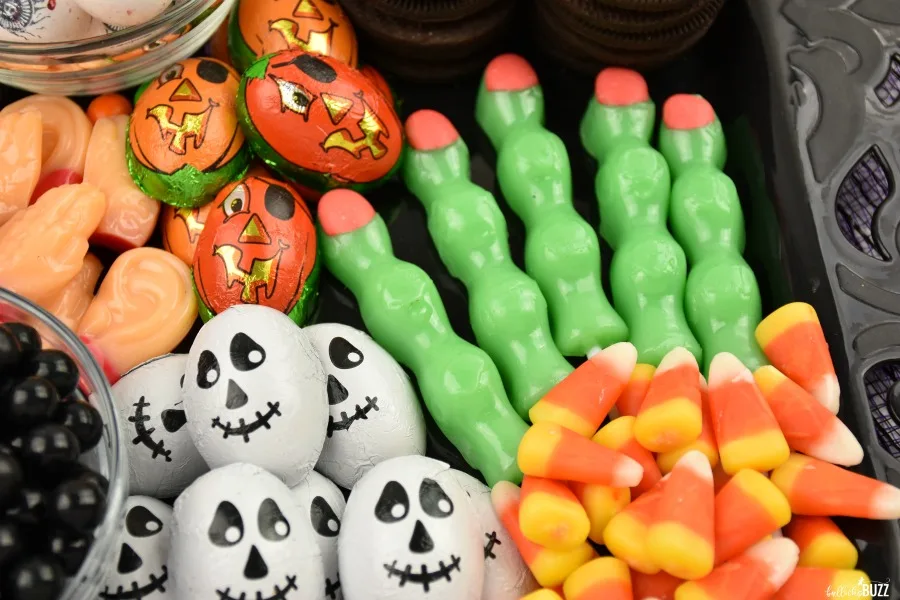 Disclosure: This blog post contains affiliate links for products or services I think you'll like. This means if you make a purchase from one of these links, Bullock's Buzz will make a small commission at no additional cost to you. I only recommend products that I use and love.
Kitchen Tools You May Need
In addition to the stars of the show (the candy), you will need a few more items, including: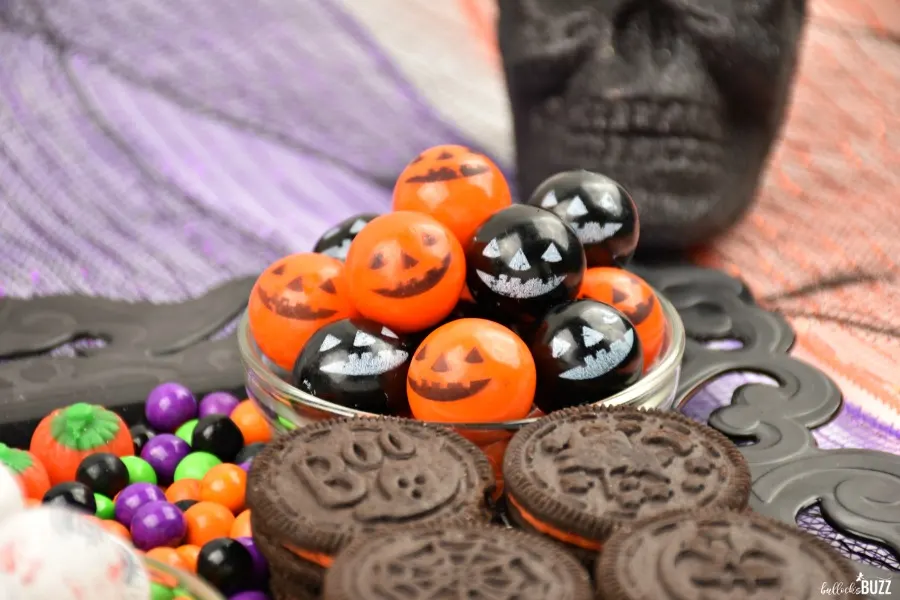 What To Put On a Halloween Candy Board
This spooktacular Halloween candy charcuterie board is filled with a delicious selection of Halloween-themed sweets and treats. And with all the great Halloween candy all over the store shelves, it was eerily easy to get inspired!
The Halloween serving tray I found at the Dollar Tree, while all of the candy came from Walmart and Dollar General. You can also find many of the exact items or similar ones on Amazon. I linked to some of these to make it easier for you to find. 🙂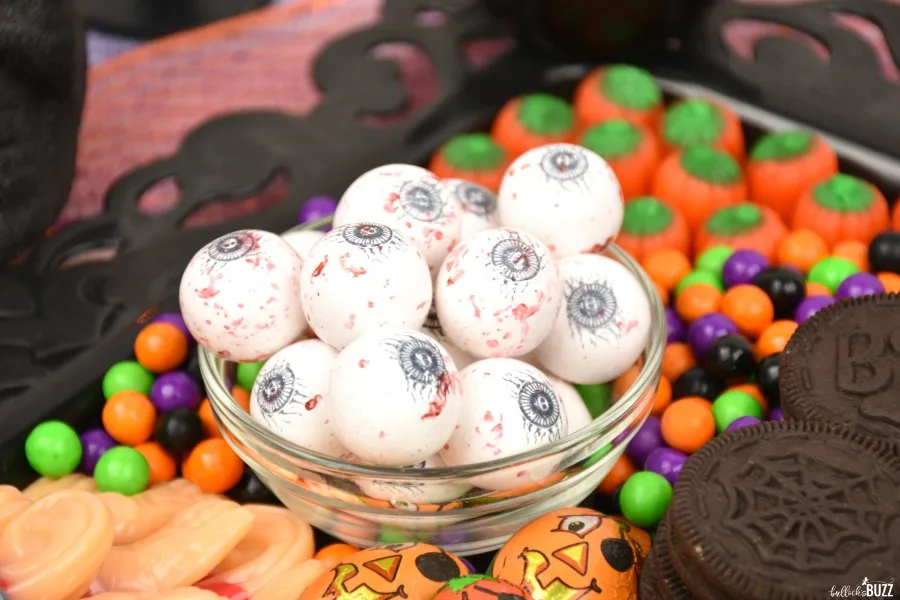 Here's a list of treats I used to make my Halloween dessert board:
OREO Orange Creme Chocolate Sandwich Halloween Cookies
Purple, green, black, and orange Halloween Sixlets
Halloween Lollipops – I used Galerie Lollipop Bouquet at Dollar General
Chocolate Skulls – Palmer Double Crisp Skulls at Dollar General
Palmer Milk Chocolate Pumpkin Pals – at Dollar General
Candy Pumpkins
Candy Corn, the candy everyone loves to hate 😉
If you can't find some of the ingredients I've used in my Halloween candy charcuterie board, don't worry at all…just choose any candies and treats you like, follow the tips above and it will look SPOOKTACULAR!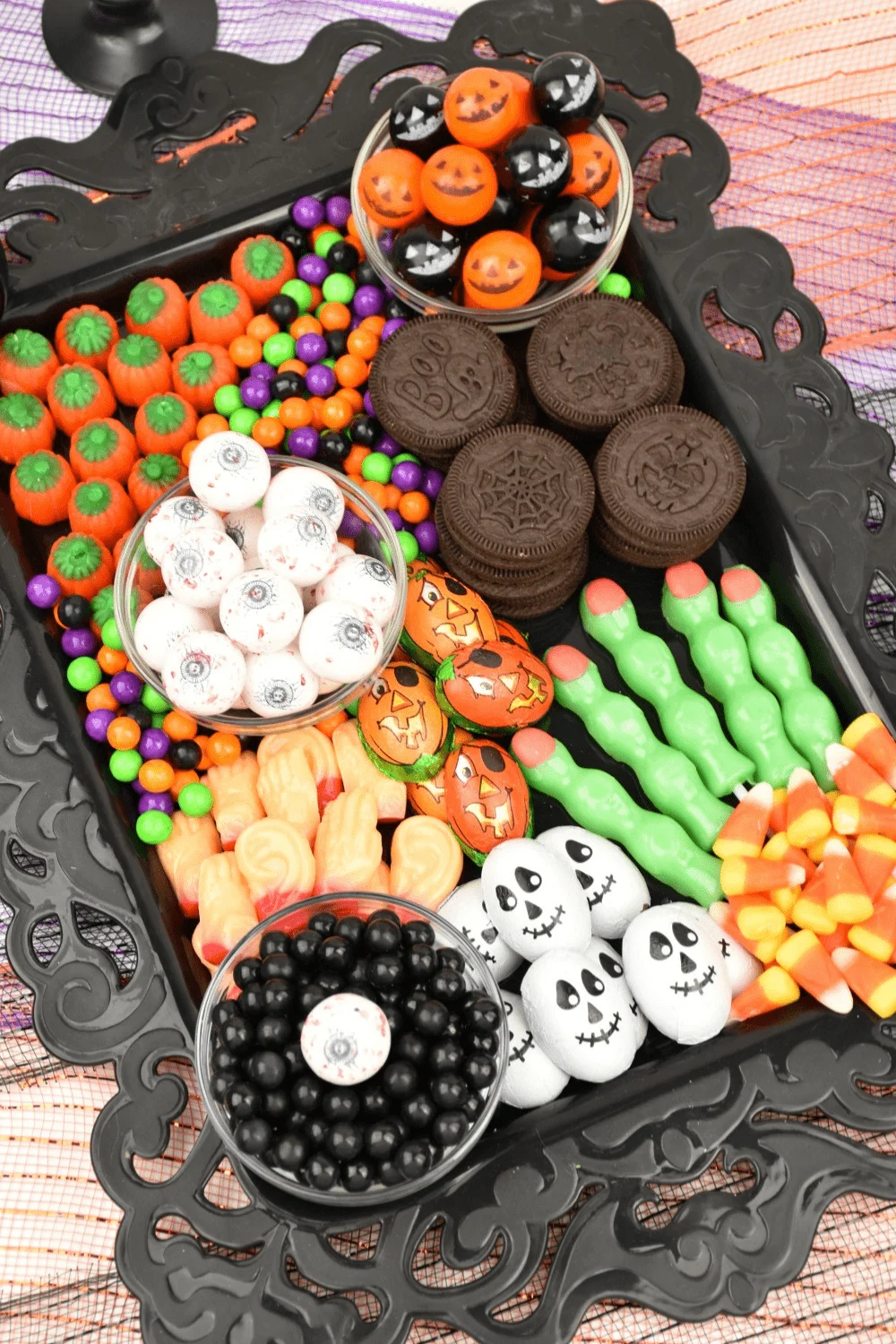 Top Tips for Building a Halloween Charcuterie Candy Board
Here are some simple tips to help you create the perfect Halloween dessert grazing platter that'll wow your little ghouls and goblins.
Choose a nice flat board, tray, or platter.
Start by placing all of the larger ingredients on the platter.
Then add some visual interest by using a few smaller bowls or dishes for smaller candies like the mini cauldrons I used.
Fill in the gaps with the smaller candies and treats.
When putting the treats down, be sure to alternate types and colors to make the candy selections stand out more.
Use lots of colors and textures.
Play around with the layout until you're happy with how it looks. No need to overthink it, candy boards are meant to be fun and imperfect. The ultimate goal is to cover the entire tray.
Have some treat bags on hand for leftovers!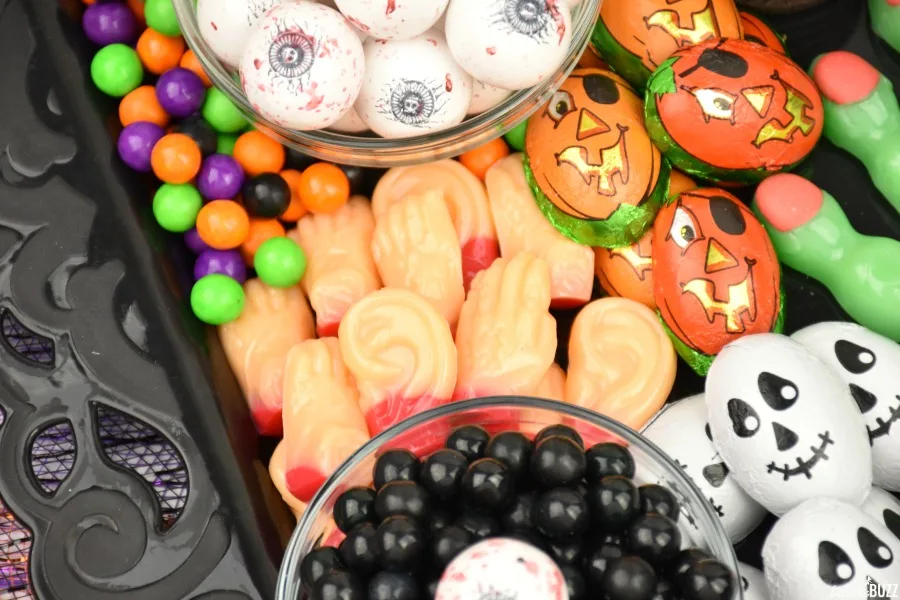 I hope you find this Halloween Dessert Charcuterie Board as spooktacularly fun as I did! Let me know if you give it a try! Leave a comment below and/or tag your photo @bullocksbuzz and #bullocksbuzz on Instagram or Facebook so I can see your Halloween creations!
More Halloween Recipes
There are so many chilling and cute Halloween recipes to make – why not try one of our favorites! They're a fun way to bring a little spookiness to the table. And your kids will love it!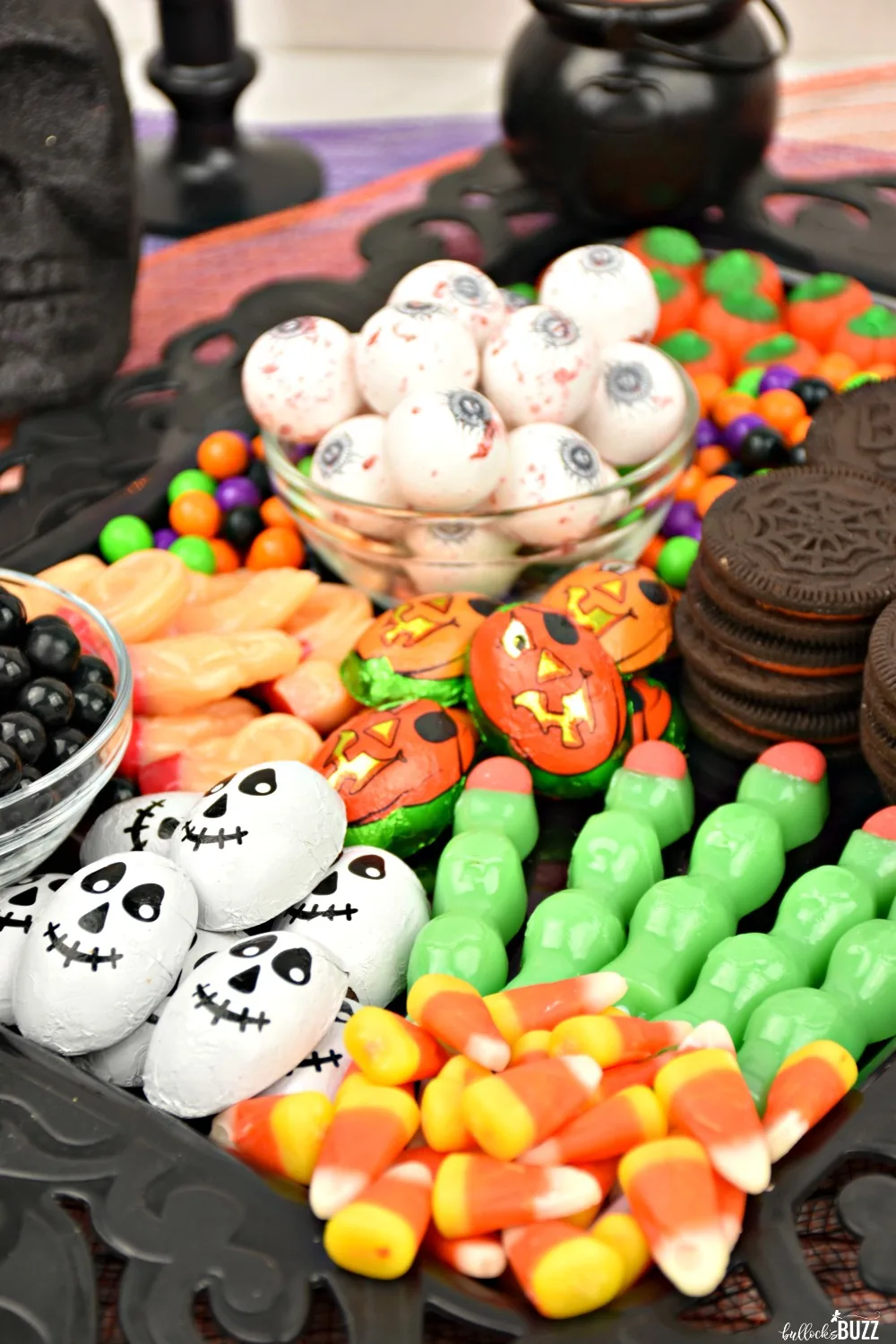 Are you hungry for even more delectable recipes? Check out these recipes on my other blog, Sweet and Savory Morsels!