Adorable DIY Halloween Candy Ornaments
One of my favorite parts of Halloween, aside from the candy of course, is the DIY Halloween crafts! This year I am even more excited for holiday crafts thanks to my new Cricut Explore Air! And these DIY Halloween Candy Ornaments are my first Halloween craft I made with my Cricut!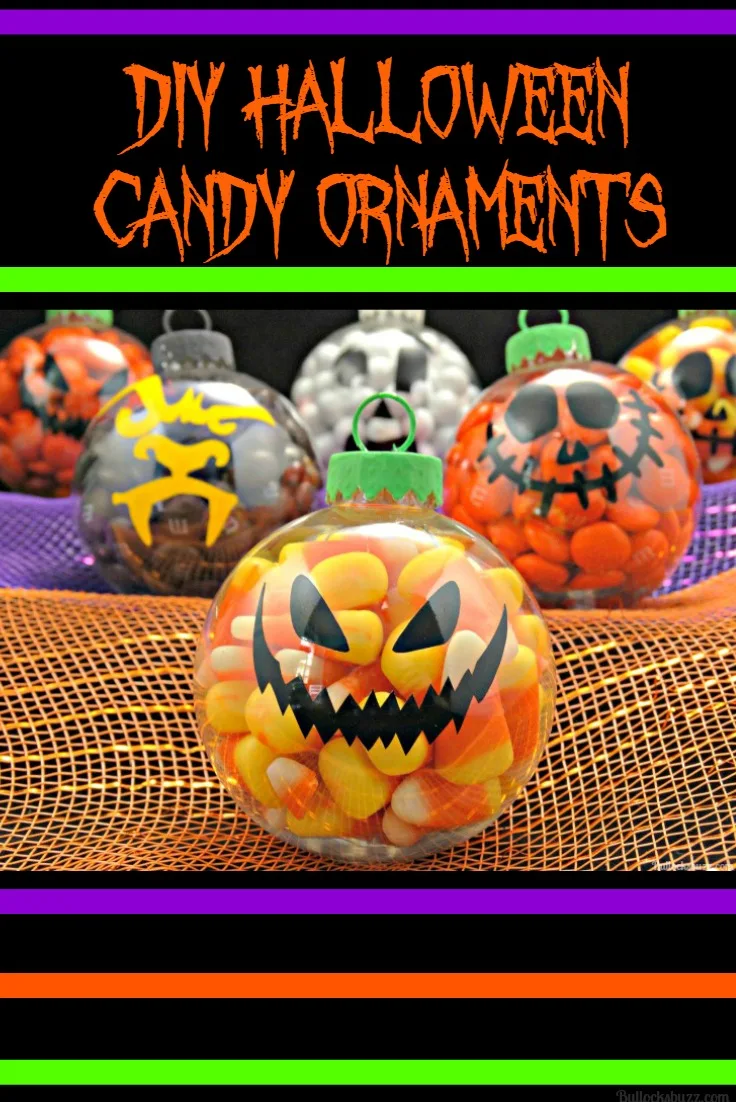 If you missed my review of the Cricut Explore Air, you should really check it out! I am amazed at how easy it is to use, and how much it enables you to do! Below is one of the first crafts I made. They are super easy to make, and didn't take long at all. And if you don't have a Cricut, all you need is a black and a yellow permanent marker or some paint for the faces, and you can make them too!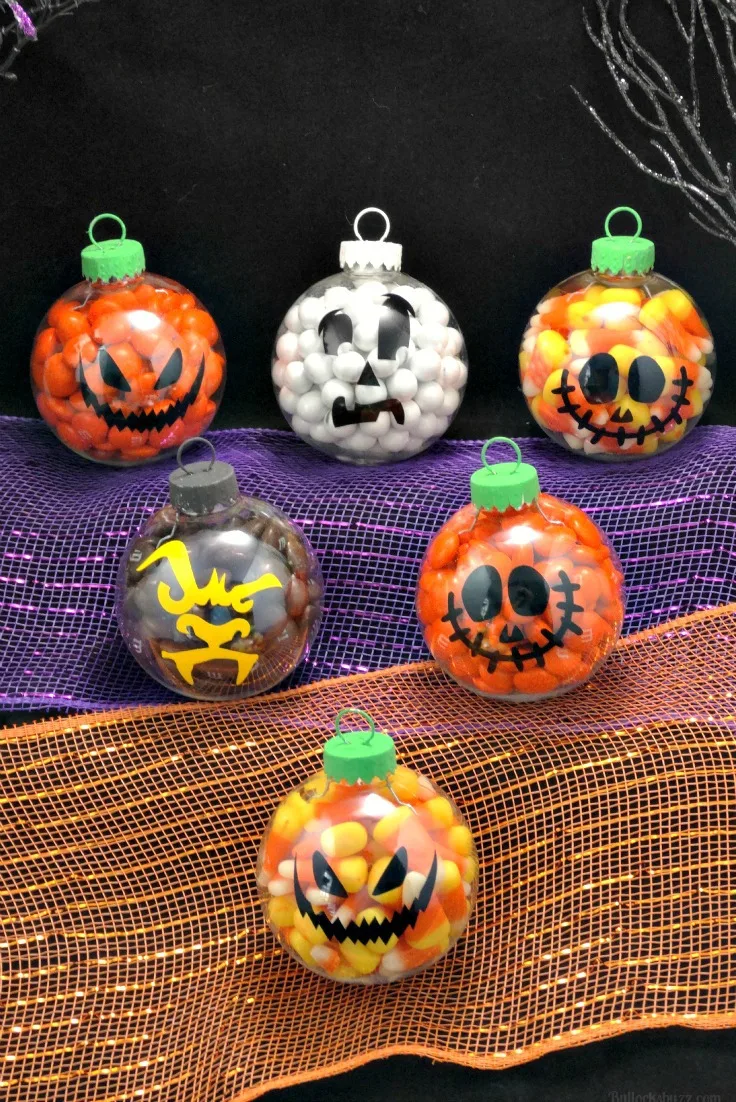 These DIY Halloween Candy Ornaments can be used for decorations, classroom parties and even as goodies for Trick or Treat (if, of course, the parents know you)! And the best part is…they are inexpensive and easy!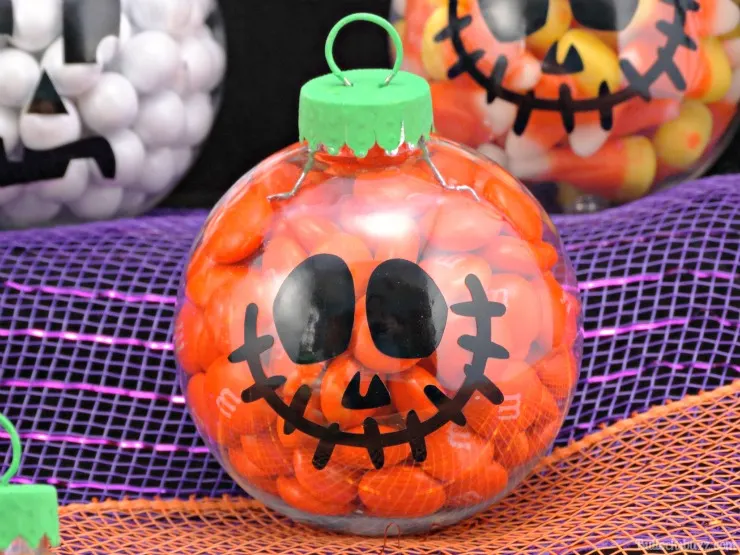 Ready to see how to make these adorable DIY Halloween Candy Ornaments?
To get started you will need several clear, plastic ornaments, craft paint in green, white and black, your Cricut with some black self-adhesive vinyl and yellow self-adhesive vinyl (or permanent markers), and a bag of candy corn, M&M's and some of those round, white cake decoration candies. Make sure you wash the ornaments with hot soapy water first. Swirl it around inside, rinse and place upside down on a rack to dry.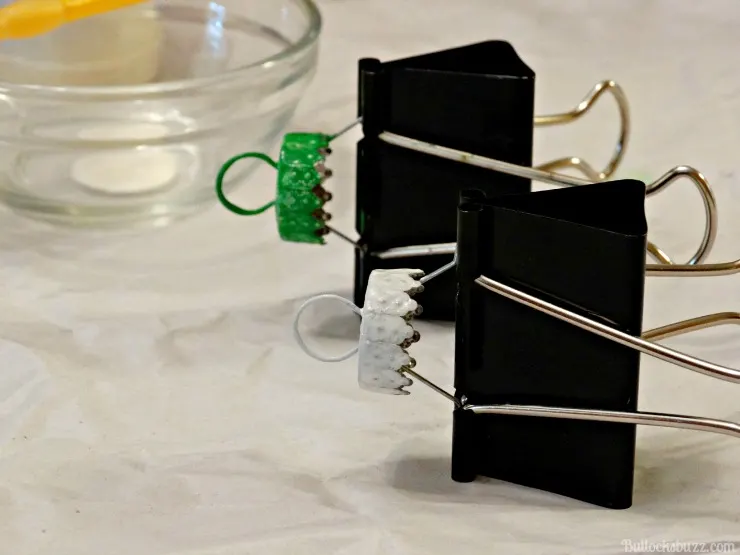 Next, take the silver caps from the ornaments and paint them green for pumpkins, white for ghosts and black for werewolves, and allow to dry. Tip: use a paper clip to hold them while you paint them and while they dry!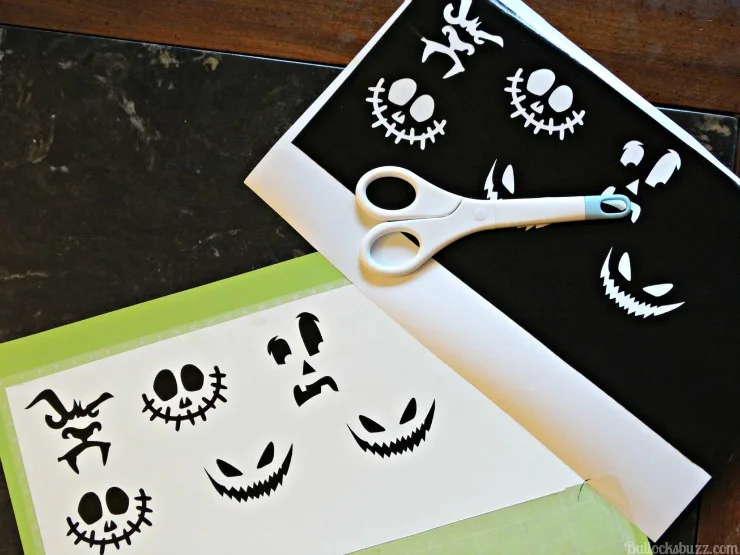 Create the faces using black vinyl for the pumpkins and ghosts, and yellow vinyl for the werewolves on your Cricut. I downloaded these faces directly from Cricut Design Space. Once the faces are cut, weed them and then apply to each ornament. If you don't have a Cricut, simply draw some faces using paint or permanent markers. Tip: when applying the face to a rounded ornament, slightly bend the transfer paper and apply the middle part first. Then work your way smoothing to one side and then to the other side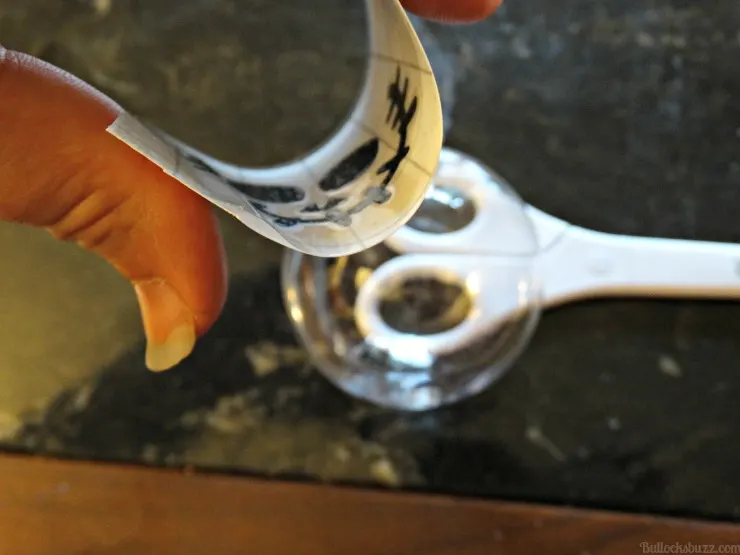 Once you have the faces on, simply add the candy, replace the now-dry caps back on to the ornaments…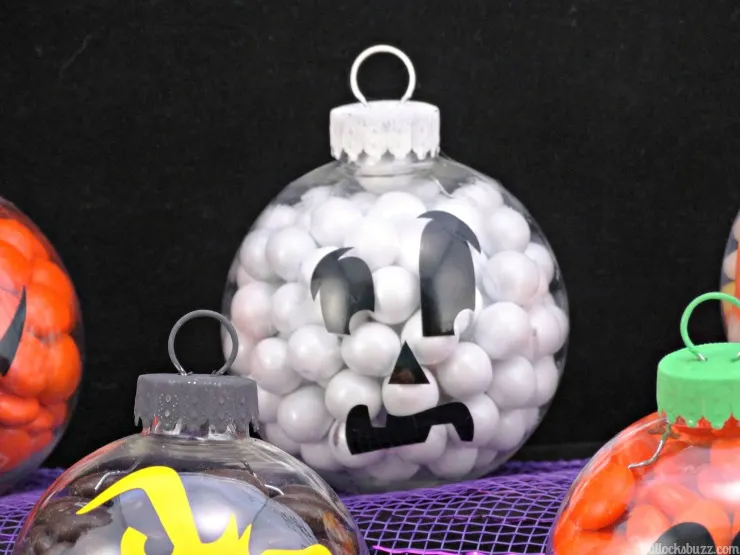 …and you are done! Keep in mind that the candy corn are hard to get back out, but the M&Ms and the cake decorating balls came right out!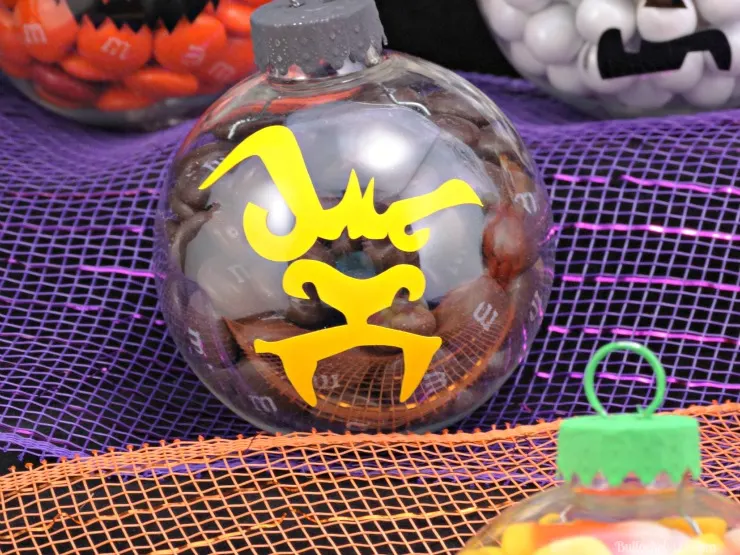 Easy as pie! Be sure to check back so you don't miss my next Halloween craft project in a few days!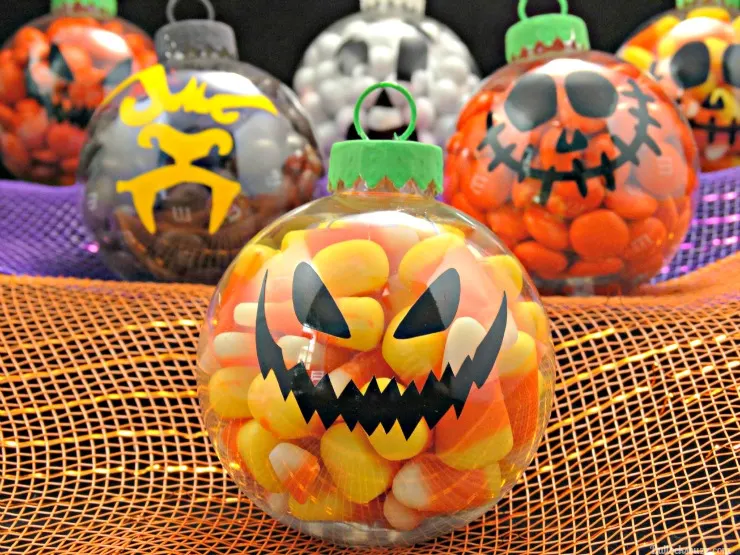 Want a Cricut for yourself? Visit the Cricut website where you can find all of the machines, tools and tons of fun crafts!
Connect with Cricut: Shop | Facebook | Twitter | Pinterest | Instagram
Love these? I've made more for this year! Check them out HERE. And then check out these adorable DIY Halloween Treats perfect for parties and decor!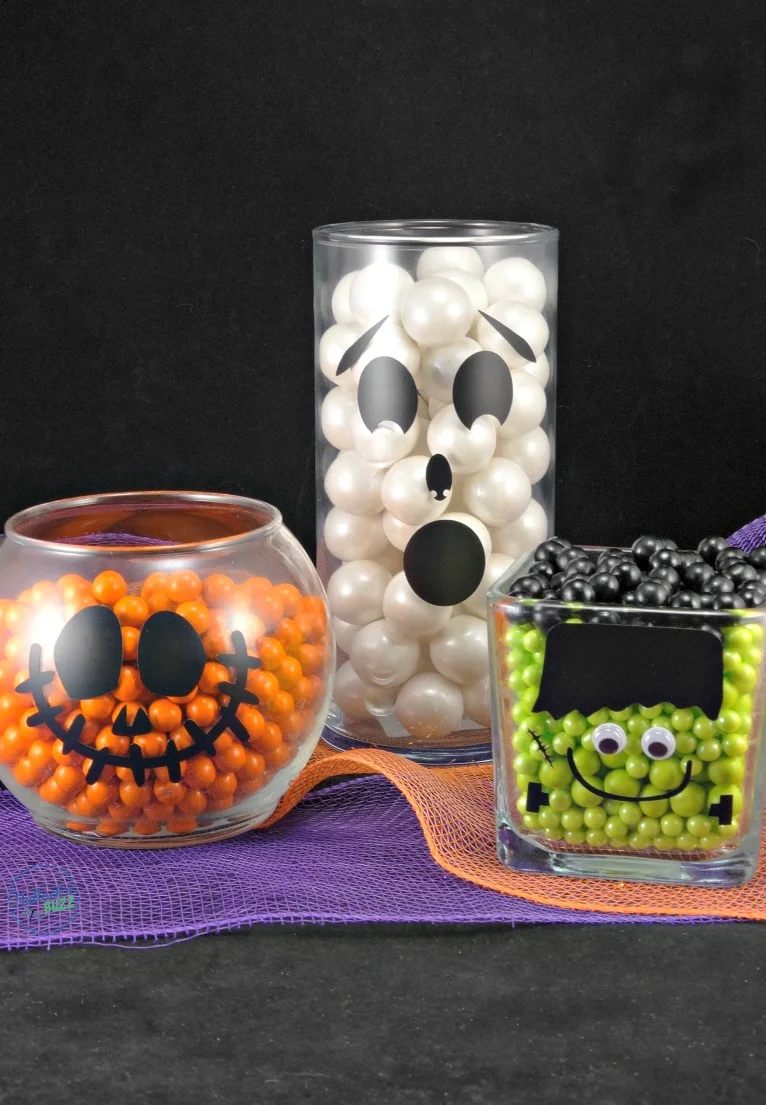 Want to share this Halloween craft with your family and friends? Simply use the social media buttons at the top of the post below the title!
What's your favorite Halloween craft?
LET'S BE FRIENDS! STAY UP TO DATE ON ALL BULLOCK'S BUZZ FUN BY FOLLOWING ME ON:
FACEBOOK | TWITTER | PINTEREST | INSTAGRAM | GOOGLE+
Enjoy this post? Subscribe to our newsletter so you'll never miss another!
Subscribe to Newsletter
Love this DIY Halloween craft? Share it with friends and family by using the social share buttons right below the post title! And then…
Check out these DIY Thanksgiving Turkey Treats!