Holiday Countdown
Days Hours Minutes Seconds
Spread Christmas Cheer with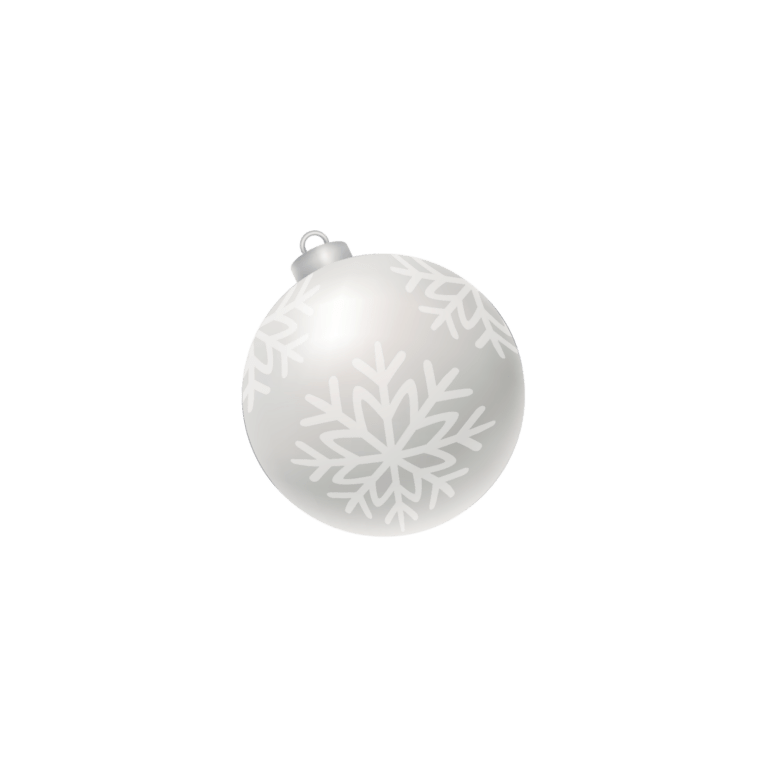 Crafts
Inspiration is knocking! Create something special and handmade this holiday season with these easy and cute DIY Christmas crafts and Hanukkah crafts!
Printables
From gift tags, cards, and games to holiday decor and more, these free holiday printables will have you in the holiday spirit in no time at all!
Recipes
Eat, drink, and be merry with this collection of mouth-wateringly delicious recipes for everything from drinks to desserts – and more. Yummy!
Gift Ideas
Find some of the best gift ideas for men, women, children, pets, friends, coworkers, and everyone else on your list!
Holiday Crafts
These cute, easy, and inspiring DIY Christmas crafts and Hanukkah crafts will get you in the holiday spirit in no time at all! Some can even double as a holiday gift!
Holiday Printables
From calendars to cards to games, these free holiday printables will make your holiday sparkle and shine!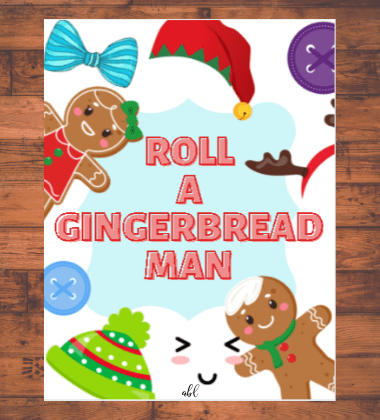 ROLL A GINGERBREAD MAN PRINTABLE HOLIDAY GAME
Get in the holiday spirit with the fun and festive, free printable Christmas Game, Roll a Gingerbread Man. Players take turns rolling the dice and creating their gingerbread person. First one finished, wins! A great way to stay entertained while waiting for Santa to show up!
CHRISTMAS GIFT TAGS
For years I spent money on gift tags before it finally dawned on me that I can make my own! Y'all, these Christmas Gift tags turned out so cute, I had to share! These printable Christmas Gift Tags are fun, festive, and the perfect way to dress up your present for the holidays! Best of all, they are FREE!
HANUKKAH GIFT TAGS
After making my printable gift tags for Christmas, I knew I had to do the same for Hanukkah! The Festival of Lights starts at sundown December 10, this year, so to celebrate I've made these lovely free printable Hanukkah gift tags for all my friends to use and enjoy! Chag Sameach!
HANUKKAH TREAT BAG TOPPERS
These fun free printable Hanukkah treat bag toppers are perfect for treat bags filled with cookies, candies, or small toys! There are eight different printable Hanukkah gift tags – one for each night. Four feature general Hanukkah wishes, while the other four are ideal for those with a good sense of humor! Please remember these printable Hanukkah gift tags are for personal use only. Measures 5.5-inches wide, so will fit a standard sandwich bag with some edge showing or a 5.5-inch-wide bag perfectly.
HANUKKAH GIFT CARD HOLDERS
Looking for an easy way to make a gift card even more special? Download these free printable gift card holders for Hanukkah! These super cute Hanukkah Gift Card Holders are available in two fun designs. Simply use double-sided tape or removable glue to attach the gift card and your Hanukkah present is ready to be gifted! For personal use only.
Printable #6
Use this space to talk about what readers will find here and how it will provide value.
Download
Holiday Recipes
Eat, drink, and be merry with these amazingly delicious Christmas recipes and Hanukkah recipes. Perfect for friends, family, and parties!
Holiday Gift Ideas
Whether you are looking for Mom, Dad, Grandma or Grandpa, the kids, pets, or anyone else, the Bullock's Buzz Holiday Gift Guide will help you find the perfect Christmas gift or Hanukkah gift for everyone on your list. Just click the links to go to each item's website. Be sure to come back often as I am adding new and fantastic holiday gift ideas daily.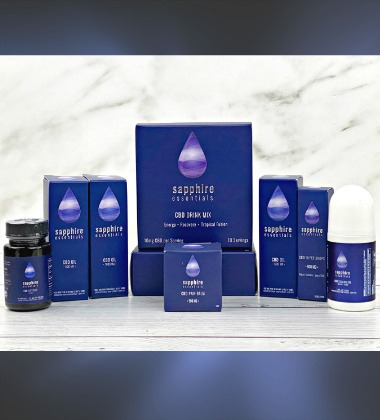 Sapphire Essentials CBD
Created by Dr. Jim Collins, a healthy aging expert, Sapphire CBD is of the highest quality CBD products medically created for those 45 & up. The line includes everything from balms for pain to sports drinks to tinctures and gelcaps.
Cat Cave
Cat Cave Co. cat caves are the purrfect gift for your beloved feline. With over 30 adorable designs, including 3D caves, you're sure to find a Cat Cave your kitty will love! Check out my Cat Cave Co. review to learn more about these adorable cat caves your cats will love!
The Grate Grill Scraper
No more worries of wire bristles in your food. The Grate Grill Scraper is small and portable perfect for camping or tailgating. Attach it to the optional handle for more leverage and for cleaning a hot grill.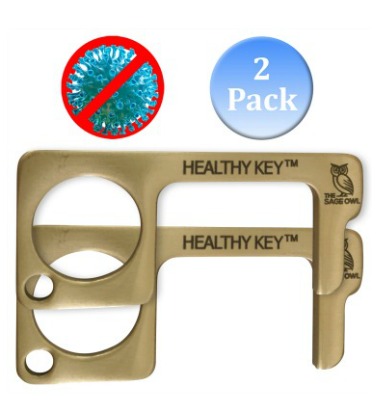 The Healthy Key
Stay Germ-Free with The Healthy Key! This handy brass key is antimicrobial and eliminates the danger of touching dirty and germ-contaminated surfaces that you touch on a regular basis. Use it for doors, buttons, shopping carts, and more – reducing the need for constant hand sanitizing.
Check It Out!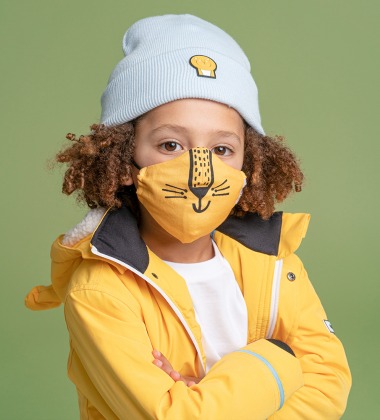 DINOSKI
Finally, a mask kids will want to wear! These super cute Dinoski face masks are reusable, machine-washable, and made with 3 layers of super soft fabric. Plus, each mask is adjustable to ensure it fits correctly. The gang's all here with Cub, Hop, Pouch, and Pounce! Fits kids aged 3-16. Machine washable.
Receptra Rest CBD Gummies
Get the rest your body and mind are craving with vegan-friendly Receptra Serious Rest CBD + CBN gummies for sleep. These Mountain Strawberry flavored full spectrum hemp CBD gummies contain 25mg of CBD and have the added benefits of CBN to help optimal sleep become more achievable.
DESALU NATURALS
Desalu Naturals all-natural skincare offers a variety of oils and body butters for both women and men. Made with all-natural ingredients, vitamins, and cancer-fighting antioxidants, their oils and body butter are sourced from all over Africa to deliver high-quality products at affordable prices. Available in various scents. Plus they give back by helping the less fortunate, especially women and girls in Africa.
LUMI CHARGE
The Lumi Charge II Premium desk lamp is more than just a light, it's a smart light! Featuring 10 levels of brightness, 3 hues, a built-in LED screen that displays information like the time, date and temperature, a built-in motion sensor so you never have to worry about running into anything in the dark, a built-in universal phone charging stand, and a 10W Fast Wireless Charger that allows you to charge two phones simultaneously.
BANI BANDS
A female-veteran owned company, Bani Bands was created for female athletes to perform their best without their hair getting in the way. Their fun and stylish headbands are stretchy and soft, and perfect for both men and women. Plus, the lightweight material is perfect for working out, running, hiking, biking, and playing outdoors all year round. Proudly made right here in the USA, Bani Bands are available in a wide variety of colors and patterns.
WOW FACTOR PHOTOGRAPHY COURSE
Cameras are popular gifts during the holidays, but it wouldn't be complete without a guide that teaches you how to get creative using your new equipment. The Wow Factor Photography course will teach shutterbugs of any age how to take amazing photos with basically any gear. This online course will walk you through 30 different "creative challenges", using everyday household items, easy-to-get and inexpensive props, and the camera you already own. You'll learn how to take amazing photos without having to leave your home!
THE CHEF'S GARDEN
Enjoy farm-fresh veggies delivered to your door with The Chef's Garden. The Chef's Garden supplies regeneratively farmed boxes of fresh vegetables, herbs, edible flowers and microgreens to top chefs and restaurants around the world. And, now you can get the exact same delivered to your home with their subscription boxes. Perfect for home chefs, The Chef's Garden offers nutritious, sustainably grown vegetables delivered directly from Farmer Jones Farms to your doorstep. Simply choose the vegetable box you like best, and they'll harvest them and ship them to your door. All you have to do is wash, eat, and enjoy!
GROOVY GROOMSMEN GIFTS
The Muscle Duffle is one groovy gift for guys that's perfect for overnight, travel, gym, work, or sports. At 23 x 12 x 11, this tough duffle bag features one large exterior pocket with a flap and 2 zipped side pockets. It has leather accent brass closures and also comes with an adjustable shoulder strap. Two handles with leather connectors make for easy carrying. The Muscle Duffle comes in three cool colors, and can be embroidered to personalize it for your favorite guy.
WISSOTZKY TEAS
Family-owned since 1849, Wissotzky Tea offers a delicious assortment of premium teas and blends from around the world. From classic black and green tea to artisan spiced chai to fragrant herb and fruit infusions, finding the perfect flavor for those on your list will be a breeze. Plus, all are non-GMO, so you can be sure your tasty gift is also a guilt-free indulgence.
EXPLORER COLD BREW CO.
Explorer's Cold Brew Co. offers a delicious and unique selection of specialty, premium cold brew concentrate. Made from 100% hand-picked Ethiopian Arabica beans, this delicious, concentrated coffee is available in 4 different caffeine levels, each of which comes in a 2oz bottle that makes 1-2 cups of coffee. Enjoy a glass of iced coffee, or use it to make lattes, cappuccinos, smoothies, tiramisu, affogatos, and more! Now you can enjoy having Third Wave cafe-style coffee delivered straight to your door either as a one-time purchase or as a subscription (bi-weekly/monthly/quarterly – you choose!).
SHASHI SOCKS
Perfect as a gift or stocking stuffer for fashion conscious athletic women and women on the go, SHASHI Socks are cute, cozy and comfy. Designed by women for women, SHASHI Cool Feet Socks are a fashion-forward and functional patented mesh grip sock that provides a great alternative to those plain and boring bulky socks. SHASHI socks are unique in that they have a patented mesh top panel, COOLMAX® moisture wicking fabric for comfort, and a specific left and right foot design for a custom fit. Available in a great selection of bright, cheerful colors, these socks are the ideal way to complete your outfit.
KEY'P SAFE
From the creators of the Finders Key Purse® (a super stylish hook to hang your keys on inside your purse), comes another neat little tool designed to keep you safe and healthy: the Key'P Safe. Machined of brass (gold plated), the Key'P Safe tool is designed with hook to open doors with handles and a tip you can use for touch buttons, touchpad, touch screens, and more. It eliminates the need to use your fingers. And at just a few inches long and weighing under 1 oz., the Key'P Safe fits easily on your keychain or fob. Attach it to a Keychain or a Finders Key Purse key finder and you'll always know right where it is whenever you need it.
The Key'P Safe can be purchased on its own or as part of a set with a Finders Key Purse®.
OWN HARMONY CALLUS REMOVER
This awesome callus remover by Own Harmony is the ultimate DIY pedicure tool! The cordless callus remover easily removes years of dry, hard skin leaving you with baby-soft, smooth happy feet. Featuring 360 degrees flexibility, lightweight, compact, and easy to hold design, plus FAST 2-hour charging and long-lasting power. Get the feel of a professional salon without the high cost! Models available for both women and men and even grandma and grandpa!
MASAMI
MASAMI offers clean premium haircare products that are made with the Japanese ocean botanical, Mekabu, and other "good-for-you" natural ingredients such as japonica laminaria, blueberry extract, aloe & grapeseed oil. All of their products are free of phthalates, sulfates, and parabens; plus, they're vegan and cruelty- free. Masami's high performing and luxurious hair care products work for every hair type, including mine. I've always had issues with my naturally curly hair being dry, but after using their amazing-smelling shampoo and conditioner, my hair is so soft, shiny, moisturized, and frizz-free. I seriously love these products! They also offer a shine serum and styling cream.
MEAT DISTRICT
Looking for the perfect gift for those who love to grill and cook? You've found it with the Meat District's Ultimate Grilling Pack! Filled with butcher-crafted, premium meats that are seasoned to perfection and ready to cook, this meat box is mouth-wateringly delicious! Made with premium cuts of beef, pork and poultry, the Ultimate Grilling Pack features executive chef-created recipes that will blow your dinner guests away. Each pack includes:
1 pack of Zesty Ranch Chicken Party Wings
1 pack of Sweet & Sassy Drumsticks
1 pack of Shwarma Chicken Thighs
1 pack of Steak House Premium Tri-Tip
1 pack of The O.G. Short Rib, Angus Chuck and Brisket Burger Patties
1 Pack of Bacon Wrapped Garlic Peppercorn Juicy Pork Tenderloin
The box arrives very-well packed on dry ice, and you even get a cool insulated bag! We had the Tri-Tip last night and it was sooo yummy! Order online or find Meat District's products at your favorite grocery store.
BUSHWICK KITCHEN GIFT KITS
Another great gift for foodies, Bushwick Kitchen's signature gift kits are delicious and include tasty treats such as the Bees Knees Honey Trio, the Weak Knees Maple Trio, and the Weak Knees Sriracha Trio. Bushwick Kitchen serves up finger-licking, flavor-addicting sauces and condiments perfect for elevating meals and sharing a unique culinary gift with friends and family. However these aren't just any old honeys, syrups, and srirachas! Nope, they are infused with hand-picked, flavor-packed ingredients like gochujang chili paste to revamp ordinary taste and make extraordinary pairings. Every bottle of deliciousness is strategically sourced and infused, mixed, packaged, and shipped from the Northeastern Region in the U.S. Available online and at retailers like Walmart, Amazon, Sur La Table, and more.
TROPICAL FRUIT BOX
Sourcing fresh tropical and exotic fruits and roots from all over the world and delivering them directly to customers' doors, Tropical Fruit Box makes for a delicious gift idea for the fruit-lover on your list! Discover and try premium tropical and exotic fruits that are not commonly available in your local markets. Their incredibly fresh, exquisite and rare fruits and roots are sourced from local family farms of mostly Florida, South America, Central America, and the Caribbean. You can choose from single fruit boxes or curated variety boxes with freshness guaranteed! Plus, all boxes are paired with fruit reference cards with authentic food and drink recipes by Chef collaborators! Delivery in the continental U.S. only.
BUCK NAKED SOAP COMPANY
Offering hand-crafted all- natural and vegan skin care products, the Buck Naked Soap Company is dedicated to being chemical free by only using pure and natural ingredients. Relax, rejuvenate, soak and scrub your worries away with the romantic scent of jasmine in this Jasmine Sugar Scrub and Bath Bomb Gift Set. Featured in this kit are 2 Jasmine bath bombs and a jar of cleansing Jasmine + Charcoal sugar scrub that smell heavenly and leave your skin feeling soft and moisturized. Check out their selection of amazing bath and body products. You're sure to find the perfect gift for anyone on your list.
ANNIE TAYLOR DESIGNS
This Inspirational Desk Calendar by Annie Taylor is the perfect way brighten your workspace and your life. With 12 months of colorful motivation, each 5″ x 7″ calendar card is made from heavy-weight card stock. Each individual month comes on a different color card and has it's own inspiring quote. And a handmade, natural wooden holder makes it easy to prop up the calendar wherever you prefer. Created and printed in the US.
EMBOSSED CO.
A great gift for someone who loves baking and wants to take their baking to the next level, these unique rolling pins easily give your cookies and pies a beautiful decorative texture in just seconds. And pies and cookies aren't the only thing these pins can be used for! Try them for cakes and other sweets or for savory items like homemade noodles or pasta. You can even use them to work with clay and other art mediums! Each rolling pin is made from 100% pure high-grade solid beech wood, and is 100% food-safe and free of BPA or any other toxic substances. Available in a great selection of patterns including snowflake, floral, paisley, reindeer, leaves, hearts, and paw prints. Embossed Co. rolling pins are sold exclusively online and shipped anywhere in the world.
BABA BAGS
Looking for an eco-friendly gift idea that also gives back? You've found it! Baba Bags is a reusable bag social enterprise focused on eliminating single-use plastic bags. Baba means grandma in Ukrainian, and their goal at Baba Bags is to treat their customers, our planet and our community with the same love, attention and care as your grandma would. Handmade in the Ukraine from organic cotton, each Baba Bag can hold over 120 pounds, and is so durable, it comes with a LIFETIME warranty! Baba Bags can hold an amazing amount of food (clothes, etc.), yet when empty, can easily fit in your purse or pocket. Best of all, Baba Bags has partnered with
2 different charities and for each bag sold, 2 dollars is donated to one these
charities. Baba Bags can be used as reuasble shopping bags, laundry bags, or even as tote bags for travel or the beach. It's completely up to you! Available in red and green.
SHREWD SNACKS
Shrewd Snacks offer a great selection of satisfying high-protein and low carb snacks that are nutritious AND delicious! Plus, all of their products are free from artificial flavors, preservatives, and high fructose corn syrup. Shrewd Snacks' tasty treats include:
Protein Puffs – reminiscent of those beloved childhood cheesy puffs, this crunchy, low carb snack is made of puffed protein and available in a tasty selection of flavors ranging from sweet to savory to spicy.
Protein Dippers – a delicious combination of healthy protein puffs and crispy chocolate candy. Available in two mouthwatering flavors, Milk Chocolate and Dark Chocolate, these treats have less than 200 calories and an impressive 10g of protein per bagful.
Protein Cookies – two of the best wholesome oatmeal-like cookies you'll ever eat, these mouth-watering snacks are full of prebiotics, probiotics, and the nutrients of a full serving of fruits and veggies. Plus, they have 8g of protein in each serving! These bite-sized crunchy cookies are available in Oat & Chip and Oat & Berry.
Keto Dippers – the newest addition to the product line, these tasty keto snacks are basically their high protein, low carb puffs smothered in sugar-free, rich, dark chocolate. They're like super healthy Whoppers!
Shrewd Snacks would make a great stocking stuffer, or you can gift them as a monthly or yearly subscription box!
check it out!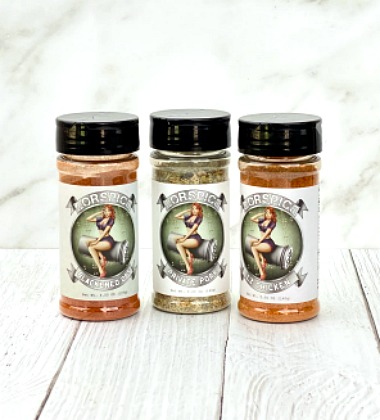 CORSPICE PREMIUM SPICE CO.
Give the gift of deliciousness with these 3 unique spice blends from the veteran-owned Corspice Premium Spice Company. Each scrumptious spice is made in the USA, and contains zero MSG or GMO and is Gluten Free. Plus, with every bottle sold, Corspice gives back to active military, veterans and first responders!
Corspice has 3 mouth-watering spice blends from which to choose. And while the following descriptions pulled from their site are sure to make you smile, the taste of each blend will make you smile even bigger!
LZ Chicken – "this ditty-boppin' chicken toppin' will have your whole household screaming "Winner, winner chicken dinner!" And you'll be screaming, "WTF does that even mean?" But it's all good. And now, so is your chicken."
Private Pork – "the seasoning that makes you put dat pork on your fork! Let's be real–nobody invites friends over to microwave, so fire up that grill, wear your stretchy sweats, and let's dine on swine!"
Blackened Ops– "If the smoke alarm announces dinner before you do, you know the joy of blackened cooking! Seafood, steak, poultry, and pork will all taste better on your fork with a little Blackened Ops action!"
Even the artwork on the bottles labels are cool, with each designed off of 1940's airplane nose art.
OLEAVIA OLIVE OIL
Recognized as one of the best olive oils in the world, award-winning Oleavia cold pressed organic olive oil is produced using traditional harvesting methods. The family-owned brand produces their premium oils through a meticulous process to maintain the fresh taste and the highest levels of polypenol and antioxidants. From the handpicked harvesting to cold pressing and storage, each step is handled with precision and care resulting in some of the best olive oil around. A great gift for foodies and cooks! Sold in the US via the Cocinella company.
nCAP SIGNAL PAIN RELIEF PATCH
The nCAP Signal Relief device is a general wellness product that helps relieve pain, promote physical activity, and a healthy lifestyle. As the world's first nano-capacitive pain relief device, the works by interrupting the pain signals transmitted between your brain and body. Billions of tiny high-tech capacitors are packed into a thin flexible patch that's simple to use, just place the patch "Between the Pain and the Brain" and feel the pain fade away in minutes.
nCAP Signal Relief Patch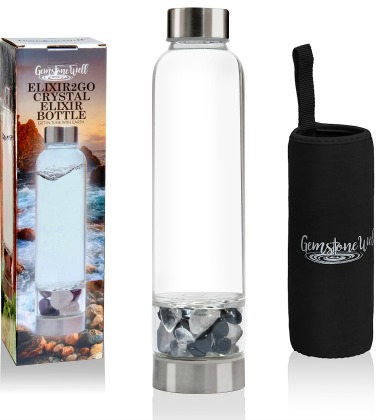 GEMSTONE WELL CRYSTAL WATER BOTTLE ELIXIR SET
Crystal elixirs have been used for thousands of years for their powerful healing properties. Now, with the Elixir2Go Crystal Water Bottle you, too, can easily enjoy the benefits, stay hydrated, and positively charged everywhere you go. Gem water, aka gem tonic, is created when gemstones are placed in close proximity to water. This allows the subtle, positive radiation of the stones to affect the molecular structure of the water. The benefits of crystal infused water include healing properties, balancing your energetic field, enhancing intuitive connection, improving health, and generating a positive state of mind. Made of high-quality, lead-free borosilicate glass, this gemstone water bottle keeps the water separate from the stones. It comes with a pack of gemstones, and allows you to easily switch them out for others. Plus you get a neoprene sleeve and an unbeatable lifetime warranty.
LET'S TALK!
One of the best stocking stuffers ever, Let's Talk conversation starter cards are a great way to encourage communication and family interaction. Loaded with 45 questions like "Who inspires you?" the deck encourages meaningful discussions that promote bonding and self-expression, and nurture emotional balance in kids. These neat little pocket-sized cards come on a carabiner which makes it easy to attach the conversation card game onto your purse or bag so you can take it with you and never be at a loss of what to do to pass the time. So turn off the screen and get ready to spend some fabulously fun family time together! Be sure to check out Open the Joy's other grab and go Joke Cards and Riddles!
BLINKS
An amazing gift for kids, teens, adults, and game and and tech-lovers, the world's first smart tabletop game system is here! This unique game is built with AI-powered intelligent game pieces that actually respond to your touch, communicate with each other, and even think for themselves! Every piece knows its own game and can learn new games. Blinks are completely modular, so the more Blinks you have, the bigger games and experiences you can create. Choose from multiple Blinks sets for all types of games. They even have a developer set so you can make your own Blinks games! This is one gift the entier family will enjoy!
MARMALS
The perfect gift for creatives ages 8 and up, Marmals enable children to bring their imaginations to life! Each Marmal arrives as a blank slate ready to be customized with marker, pencil, pen, any variety of paint, or other media creators choose to use. Once decorated, you simply put your Marmal together and it's ready for play! Their unique patent-pending magnetic component allows for parts to be updated and easily swapped around with new figures as the Marmal universe grows. These adorable and engaging fidget toys also help promote sensory awareness, tactile and audible stimulation, calmness, and concentration.
OF UNKNOWN ORIGINS
A company born during the Covid lockdown, Of Unknown Origins makes a unique and beautiful gift for anyone on your list! These custom art prints are inspired "by the roots you grew from, the dreams you're chasing, and the places you play along the way". From the custom map prints to show off the places that mean the most to you to That Place We Said "I Do" prints, Of Unknown Origins custom art prints make a wonderfully meaningful gift to those you love.
Check It Out!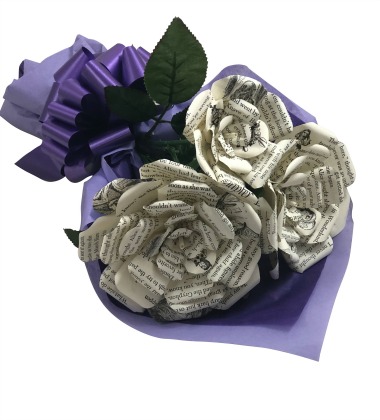 LITERARY BLOOMS
Give the gift of flowers that will never fade with Literary Blooms. These beautiful handmade flowers are made from your favorite books including Alice in Wonderland (shown above), Pride and Prejudice, Anne of Green Gables, Dracula, Sherlock Holmes, and more. They also make "I Love You" script flowers, Atlas and Pride Rainbow flowers! Literary Blooms are made from books that can no longer be donated or sold due to condition, making them an eco-friendly gift. And as in nature, no two flowers are alike. Best of all, these flowers will last forever. Flowers are sold individually or in bouquets.

check it out!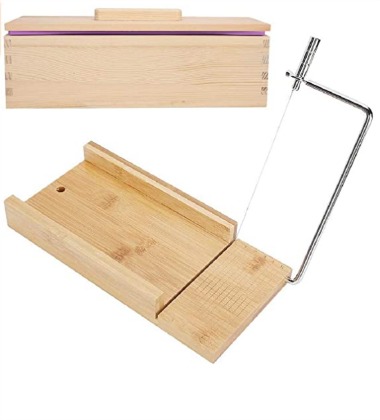 EMERGING GREEN SOAP MAKING KIT
A great gift idea for creatives on your list, this well designed soap making kit from Emerging Green is perfect for those who are just learning and those who are wanting to make smaller batches of soap. The melt-and-pour Soap Making Kit is extremely user friendly and safe. The bamboo and pine kit comes with a 1.98 lbs capacity soap mold and a precise, stainless steel wire soap cutter that's quick and easy to use. Included with this kit is: 1 soap loaf cutter with numbers for measuring, 1 wooden soap mold, 1 purple silicon mold and 1 wooden cover lid.
BAMBOO UTENTSILS EMERGING GREEN
This beautiful 12-piece Bamboo Utensils Cutlery Set from Emerging Green is a great alternative to plastic cutlery and silverware. Perfect for the eco-conscious person on your list, this set comes with 4 spoons, 4 knives, and 4 forks. Each lightweight piece has a smooth texture, is comfortable to hold, and varnish free. Plus, the entire set is compostable, durable, and dishwasher safe. It's the perfect eco-friendly option for travel, picnics, barbecues, school lunches, parties, or everyday meals.
SET OF 2 HANDWOVEN HANGING BACKETS FOR PLANTS
These elegant, vintage-inspired straw hanging baskets for plants are hand woven by the households in the village of the Shang Dong province. Made from natural and biodegradable rush grass (Juncus effusus), each planter is eco-friendly, durable, flexible, and pretty. These planters from Emerging Green can be used indoors or out, and can accommodate various shapes and sizes of plants up to about 8 pounds. Each hanging planter measures approximately 9.6 x 7 inches, and comes with a 15 inch metal chain. A great gift idea for plant-lovers!
AMERICAN BLOSSOM LINENS
Looking for an ultra soft, ultra comfortable set of sheets? Look no further than small family-owned American Blossom Linens! With 115 years experience providing linens to the hotel and healthcare market, American Blossom Linens has created a new line of linens specifically for the home. Made of 100% USA organic cotton, American Blossom Linens are the only brand of bedding made completely in the USA (from grown to sewn) using 100% pure, chemical free, Organic Cotton grown in West Texas. Their luxurious linens are incredibly soft, durable, and eco-friendly. Products include sheet sets, pillowcases, blankets, duvets, and crib sheets. All products come with a 2 year Happiness Guarantee, and ship for free in the US!
SEA WITCH BOTANICALS
Sea Witch Botanicals was created in an effort to do actual good on the planet. Their products are all natural and free from synthetic ingredients including synthetic fragrances, preservatives, irritants, and carcinogens. They offer a great selection of products for the home including this all-natural bamboo incense – "The White Lodge". Made with cedarwood atlas and fir needle essential oils, this wonderful smelling incense will fill your home with a medley of familiar forest scents. Like all of Sea Witch Botanicals products, this incense contains no synthetic fragrances, plastics, or animal products – even the packing peanuts are eco-friendly!
ANOTHER GREAT GIFT IDEA FROM SEA WITCH BOTANICALS
Another eco-friendly gift idea from Sea Witch Botanicals, this Quoth the Raven Solid Perfume combines the fresh and bright scents of orange, clove, and cinnamon spice into a signature scent that is subtle, long-lasting, and simply amazing! This solid perfume is certified fair trade and certified non-gmo, and is made from 100% all-natural ingredients including candelilla wax, coconut oil, grapeseed oil, cocoa butter, shea butter, and an essential oil blend of orange, cinnamon, clove. Packaged in a reusable, low-profile tin, it's the perfect size for you to take anywhere as it easily fits in a pocket or purse. To apply, simply scrape a small amount of the mixture with your fingernail or applicator, and apply to your wrists and behind your ears. Layer on more as needed.
23 SKIN
For the ultimate pampering experience, give her the gift of 23 Skin! Developed by a licensed esthetician and beauty and wellness expert, 23 Skin takes skincare to a whole new and unique level. Using only natural, simple, well-sourced, and nutrient-rich ingredients, their products are designed so you can truly personalize your skincare regimen. By mixing natural ingredients, you can create products that are customized to meet your unique and individual needs. These DIY skin care products make it easy for you to develop your own perfect skin care ritual at home. 23 Skin's new holiday gift set trio features their three mini powder-to-mask formulas including Matcha Clay Powder, Seaweed Powder, and Pink Milk Clay Powder. These waterless products are fragrance free, preservative free, and made with the best quality, nutrient-rich ingredients to give you true spa-worthy results at home. This gift set will have you mixing powerful face and body scrubs, facial masks and body wraps in no time.
MUNCHUM
The purrfect gift for cat lovers, parents, and everyone else who enjoys a good taco, Munchum makes dinner time fun once again with their cute animal-themed serving ware! Say goodbye to messy Taco Tuesdays thanks to the Original Tacocat, This adorable cat-shaped taco holder includes a silicone insert to help keep messes at bay. BPA Safe and FDA approved, these taco holders can be used for more than just tacos; use them for sandwiches, hot dogs, ice cream tacos, and more. Plus, they are dishwasher-safe which makes them super simple to clean. To use simply place the silcone insert on the cat (holder), feed the tacocat, and watch messes become hissstory!
Check It Out!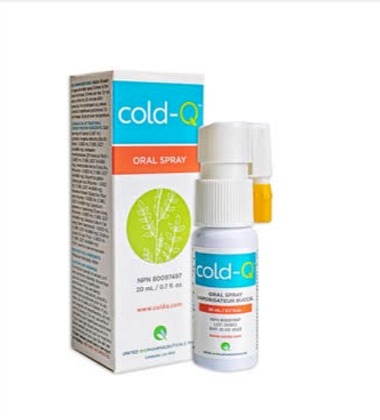 COLD-Q
Give the gift of health this holiday season with the perfect stocking stuffer, Cold-Q. While it may not be your typical stocking stuffer, it's a gift they'll truly appreciate this cold and flu season and will help everyone stay healthy for the holidays. Cold-Q is an all-natural herbal oral spray designed to help your body fight infections. It contains medicinal herbs that have been shown to possess immune enhancing, anti-inflammatory, and antiviral properties which may help your body fight an infection. As soon as you feel symptoms coming on, start spraying. Learn more at the website.
OSMO CODING FAMILY BUNDLE FOR IPAD AND FIRE TABLETS
Give your kids a gift they'll love to play with as they learn. Coding is becoming a must-have skill, and Osmo gives them a head start with interactive STEAM learning that promotes creativity and problem-solving skills. With Osmo, children interact with an iPad or Fire Tablet and actual hand held pieces, to bring a child's game pieces and actions to life. The Osmo base is where it all begins! To launch into the Osmo universe, simply stand your iPad or Android in the base, clip on the reflector and play! Osmo transforms a tablet into a universe full of hands-on, engaging coding adventures. Pair this Coding Family Bundle with an Osmo base to help kids build their coding skills in progression with 3 hands-on learning games. Designed for children ages 5–10, your kids will learn to code as they connect colorful blocks of code in the physical world to chart the adventure on their screen. Kids learn best when they are engaged and having fun, and Osmo makes learning fun! Base and games sold separately. More bases, games, and accessories are available through the Osmo website and Amazon.
OE EARTH'S ENERGY SHOTS
Another great stocking stuffer idea, OE Earth's Energy shots are USDA 100% Organic and developed by combining the varied expertise of a cardiologist, a fitness expert and a neurologist. These tasty energy shots incorporate a unique blend of ingredients that are beneficial for your overall health and well-being, and contain no preservatives, artificial additives, and no toxic chemicals! Instead, natural ingredients like Green Coffee Beans, Ashwagandha, Ginger, Ginseng, and Turmeric combine to make an energy shot that's also a wellness drink. Each natural ingredient has it's own set of benefits ranging from supporting and increasing your energy, focus, and mood to helping with inflammation, stress and anxiety to helping support immunity and antibacterial properties. Elevate your mind and body's performance without harming you or the planet. Available in Mixed Berry and Pina Colada flavors.
CELESTIAL SILK
Who couldn't use some pampering, especially this year? Celestial Silk pillowcases are the perfect pampering gift idea! Silk has long been synonymous with luxury. The smooth texture and shine of silk not only looks fantastic, but it feels luxurious, too, especially on a bed. Did you know that silk can actually help you sleep better? This is because silk is temperature-regulating so you sleep more comfortably. It's also hypoallergenic – which makes it perfect for allergy sufferers. Plus, hair stylists and dermatologists recommend silk pillowcases to keep hair smooth and skin moisturized and clear. Made with 25 mm silk, Celestial Silk's pillowcases contain 30% more silk than the average silk pillowcase. And starting at just $35 and available in 25 colors & prints, Celestial Silk pillowcases make excellent gifts! Best of all, Celestial Silk understands social obligation – they donate 10% of proceeds to charity.
HOLIDAY POPPERS
Hog Wild introduces Holiday Poppers as part of its POPular Poppers line! Perfect stocking stuffers for kids ages 4 and up, Holiday Poppers are fun for everyone over the holidays. Squeeze the Popper to shoot a soft foam ball up to 20 feet away! Each Holiday Popper includes 6 foam balls. You simply load them into the popper and squeeze. And the harder you squeeze, the faster and further it shoots!
Hog Wild Poppers Can be used for both indoor and outdoor play. Collect them all.
PLAYMOBIL SCOOBY-DOO! SCOOBY AND SHAGGY WITH GHOST
Another fun gift idea for kids, PLAYMOBIL continues to befriend a whole new generation of curious-minded kids – and evoke nostalgia with parents – with the launch of their new Scooby-Doo! line. Kids will have a blast comgin up with etheir own myserties to solve with this adorable set that includes Scooby-Doo, Shaggy, Ghost, Scooby Snacks and more! Available on Playmobil.us for $12.99.
MANUAL PASTA MAKER STAINLESS STEEL
Another gift idea for foodies! Make your own delicious homemade pasta with ease thanks to this affordable Manual Stainless Steel Pasta Maker. This easy to use pasta maker comes with 5 different molds so you can make a variety of pasta shapes and sizes. Plus, the noodles flow out easily with no hassle, saving you from wasting time trying to dig out the noodles. Use it with regular flour or gluten free flour, like tapioca or almond flour. The stainless steel design remains rust-free and makes it very easy to clean. Available on Amazon.
DINKUS INK
Bring a little joy to Monday mornings with Dinkus Ink. A covid-19 business baby, Dinkus Ink was created by three women who had a bit too much to drink during lockdown. Lucky for us, that resulted in a growing collection of mugs (and soon to be other items) with one grand purpose – to make people smile again! Choose from a great selection of corny mugs all priced at a mere $20 – with free shipping! You can find Grey's Fanatomy mugs, Office Culture mugs, Holiday Mugs, and the 2 mug categories that are perfect for these times, What's Going On?! mugs and Coranviiirus mugs,. So head on over to their site and check it out!Besides what better gift than the gift of laughter?
BEL ESSENCE SKIN CARE
Bel Essence all-natural skin care products are based on one simple principle – nutrition for the skin. For centuries, plant based ingredients have been cherished and used for their healing and restoring properties, giving your body and skin what it needs to regenerate and rejuvenate itself to its best. Plant oils are also rich in vitamins, omega 3s, fatty acids and other nutrients that are important for soothing and treating common skin conditions and irritations. Bel Essence's uses these plants to make their products which are all natural and organic, cruelty-free certified, paraben and sulfate free, made in the US, and very effective in repairing and rejuvenating skin. Head over to their site to check out several different gift bags which would make a great gift. Plus, most gift bags are under $25.
BEAVERCRAFT WIZARD WOOD CARVING SET
Give him a new hobby he'll love – wood carving! The BeaverCraft offers everything you need to indulge in the art of wood carving. They even offer all-in-one kits that include everything you need to get started. For example, their wizard carving kit includes everything you need to get started including a whittling knife, wood, finishing supplies, booklet, step-by-step video guide, safety tape and even a pencil.
TWIRL – PILLOWCASE GIFT SETS
Perfect for a luxurious night of sleep, Twirl Pillowcase Sets are a unique and memorable gift. In addition to wraps, masks, and receiving blankets, Twirl also offers 2 cute pillowcase sets with everything you need for a great nights' sleep! Each standard-sized pillowcase is made from Egyptian Cotton and comes beautifully embroidered with either "love and appreciation" or "dream BIG".
The "Love and Appreciation" set includes 2 standard pillowcases with "Love and Appreciation" embroidered on the hem, an Eyepillow, and a Twirl bookmark.
The "dream BIG" set includes 2 standard pillowcases with "dream BIG" embroidered on the hem, an eye mask with "dream BIG" monogrammed on it, and a pair of earplugs.
check it out!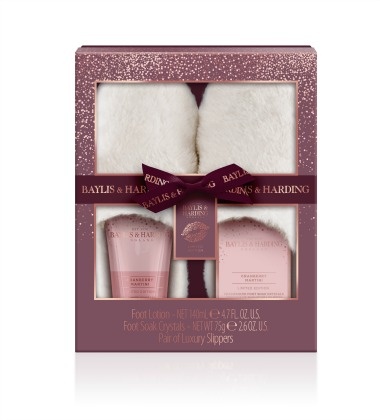 BAYLIS & HARDING CRANBERRY MARTINI LUXURY SLIPPER GIFT SET
Give the gift of ultimate pampering with a Baylis and Harding gift set box! This limited edition Cranberry Martini Set includes a luxuriously soft pair of slippers, soak crystals, and lotion in the scentsational new fragrance that blends the juicy, ripe fruits of mulberry and raspberry with accords of plum and creamy vanilla. Best of all, this gift set is very affordable and comes already wrapped. So all you have to do is set it under the tree or by the menorah.
BAYLIS & HARDING TOILETRY GIFT SET FOR MEN
Even men deserve to experience a bit of luxury and pampering – especially after this year. This Baylis & Harding Lime & Mint Toiletry Set is the ultimate gift of relaxation he'll love. The clean and zesty top notes of lime and bergamot have been expertly blended with woody base notes to create a truly refreshing fragrance he'll enjoy.. Included in this luxurious masculine set includes hair and body wash, shower gel, aftershave balm, soap, and an imitation leather toiletry bag. Best of all, this affordable gift idea for men is already packaged and ready to be set under the tree
FUZZY BABBA SOCKS
Fuzzy Babba, the super fun slipper sock brand that's all about comfort and style, has a great selection of stocking stuffeers and gift ideas for the holidays! For example, their Women's Ru-Dox (get it, haha!) Holiday Slipper Socks with Sherpa Lining are perfect for any woman or teenaged girl. These soft and fuzzy socks are fun, festive, and feel like they are keep your feel snuggly warm! The plush, sherpa lining is incredibly soft, the pillow-soft knit outer offers cushiony comfort, and the Safety Dots® non-slip grippers help keep you from slipping or sliding around on hard floors. These snuggly slipper socks are machine washable, and available in all sorts of fun and festive designs, They also have a great collection of socks, slippers, and more fuzzy and fun gift ideas!
GREEN KID CRAFTS
Looking for a gift for the holidays that is both fun and educational? Subscribe to Green Kid Crafts! Green Kid Crafts is a leading provider of award-winning science and craft subscription boxes for kids ages 2-10, with an emphasis on STEAM (science, technology, engineering, arts, and mathematics) learning. These fun-filled boxes are specially designed to help children exercise creativity, develop a love of discovery, and learn about the world around them. Some examples of themes include Ocean Box, Rainbow Science, Human Body, Feathered Friends, and the one shown here, the Robot Box. Sign up now for access to their newest holiday boxes and deals!
COOL ME SCARF
It's the coolest gift for all of us hot mamas, the Cool Me Scarf! In fact, this scarf is so cool that it was in the gift bags at the 2020 Oscars! This stylish, luxurious, and unique scarf does so much more than look good, it makes you feel good, too. Or rather, feel cool!
The Cool Me Scarf temporarily and instantly provides relief from all of those uncomfortable hot flashes caused by menopause, pregnancy, chemotherapy treatments, or other ailments, or from uncomfortably hot days. There's no wetting, no freezing, and no waiting, because it works at room temperature.
The Cool Me Scarf provides cooling relief by discreetly concealing a comforting, cooling pack that uses the simple science of thermodynamics to get cool without pre-freezing or wetting. And for temporary extra cooling power, the cooling pack can easily be refrigerated first. The scarf itself is made of lyocell, a luxurious silky soft fabric that is made from 100% natural wood fiber.
It's more moisture wicking than cotton, wrinkle resistant, and can be machine washed and dried. Carry the scarf in your purse, or store in a drawer, so it is ready to cool you anytime you need it.
check it out!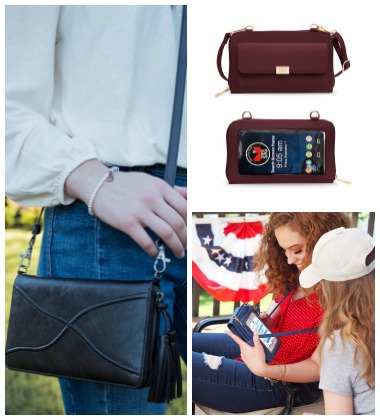 SAVE THE GIRLS + PROMO CODE!
For those who love fashion and their phones, the Save The Girls Touchscreen Purse is a holiday must-have. These stylish purses enable you to access any feature of your phone without ever removing it from the purse. You can text, talk, scroll social media, watch videos, and more, all while your phone is safe and secure in a cute purse. It also keeps your cell phone clean and germ-free by keeping it off of floors, restroom counters, sinks, toilets, and everywhere else that germs and viruses like congregate. Best of all, ten percent of every sale is donated to Breast Cancer Research. Save The Girls purses are available in lots of different styles and colors so you're sure to find one you love! They also have a great selection of hip, fun and funky masks that are cute enough to make wearing one a bit more fun! As a special holiday treat, use promo code BULLOCK10 to get 10% off any purchase!
LOLA LEGGINGS
Those days of searching for activewear that truly fits women of all shapes and sizes are over! LOLA, a brand founded with a mission to create fit-focused and size-inclusive activewear for all women and empowers them to feel great about themselves, offers premium high-waisted leggings that will fit any size. LOLA's leggings come in sizes 0-24, and are available with or without leggings. I got a pair a few days ago and I already love them! They really do fit well, and the fabric is so soft and silky, and they breath easily so I don't get hot regardless of my activity level. And I love how they fit just right in all the right places – especially the waist when I am sitting down. When ordering online, LOLA has a guide on how to measure yourself so you're sure to get the perfect fit. LOLA leggings would make a great gift for fitness lovers, fashion lovers, and women of any age, shape, and size.
MAMA GERALDINE'S BODACIOUS FOOD CO.
The holidays just wouldn't be complete without some delicious treats, and Mama Geraldine's Bodacious Food Company provides just that. Whether you're craving savory or sweet, Mama Geraldine's has got you covered. Based off the founder's late mother's homemade recipes, The Bodacious Food Company makes true Southern treats including cheese straws and wedding cookies. Their cheese straws are touted as being the best in the US, and I can definitely see why! The cheesy, crunchy snacks are available in six mouthwatering varieties including gluten free, Aged Cheddar, Chipolte Cheddar, Parmesan Herb, and more. If you're craving something a bit more sweet, The Bodacious Food Company has now expanded to include a line of cookies as well. From Italian Wedding to Pecan Cini-Minis to Key Lime, these bite-sized cookies are baked to perfection and full of flavor. They're so good, it's hard to eat just one. They're perfect for holiday parties, snacking, stocking stuffers, or gifts!
DEAR MAMA PRINTS
Created by a talented hand lettering artist and mother, Dear Mama offers a wonderful collection of prints of original hand lettered art featuring inspirational messages for mamas. These 5"x7" prints come in sets of 3, each offering a different inspirational message on the front and a letter from a fellow mama on back. Printed on 100# white card stock, these beautiful prints are designed for mama's, but are perfect for every woman. Each set also comes with a wood display stand so you can display the artwork wherever you want. Dear Mama also has a wonderful collection of cards and postcards. And if you ever wanted to try your hand (pun-intended) at lettering, be sure to check out her Brush Lettering Course to teach other mamas how to use lettering as a tool to stay positive in their motherhood journey. All would make a lovely holiday gift for the women in your life!
TREEMENDOUS ORNAMENT DECORATING KIT
A gift for the whole family, this is one present you might want to pick up early! From the creators of the original EggMazing Egg Decorator comes the perfect DIY craft for the whole family to enjoy together and embrace the holiday season. The Treemendous Ornament Decorating Kit is a simple and fun craft to get into the holiday spirit. Simply place one of the included ornaments included with the kit into the tree-shaped decorator and let the fun begin! The machine will hold and spins the ornament while you use the included markers to create stripes, line and other fun designs! Refills available.
DINOMAZING EGG DECORATOR
The perfect gift for crafty kids, DinoMazing Egg Decorator allows your children to color and create their own dinosaur eggs! Using a mechanism that spins the egg, kids can simply use the included markers to decorate their dinosaur egg! Plus, inside each Dino egg is slime and your own collectible dinosaur! Refills available.
PIZZA PARTY THROWDOWN!
Another great gift idea for kids or the whole family, Hog Wild's popular game, Pizza Party Throwdown! In this frantic, fun action game players race to see who can fling the most pizza toppings on the spinning pizza pie game board before time runs out! Guaranteed fun for everyone!
PRANA BRUSH – IONIC BODY BRUSH
Give the gift of health and a spa-like experience from the comfort of your own home with the Prana Brush. Body brushing has long been recognized as a beneficial health practice, which has its origin in ancient Ayurvedic practices. Its benefits are enhanced through the use of an ionic body brush, like the Prana Brush. This unique ionic body brush is made with extra-fine ion-charged copper bristles. These bristles naturally create negative ions (created by the friction between the copper bristles and the skin) that help protect the body from free radicals. Using an ionic dry brush also stimulates the natural lymph flow, which helps make the lymphatic system more effective at purging toxins and pathogens from the body. This makes a wonderful gift for those who practice alternative and natural health.
CASELY
Keep your phone protected without sacrificing on style with a gift from Casely. As one of the most popular suppliers in the U.S., Casely offers a huge selection of colorful and stylish cases and accessories for dozens of iPhone and Samsung models. For example, this Light Teal phone case from the Bold Collection does a great job of keeping your phone safe. The ridged soft side grips lets the phone rest comfortably in your hand, while four, built-in inside air pockets act as shock absorbers in case you accidentally drop your phone. A 3mm raised front lip further protects by acting as a deterrent to cracks and scratches. Their phone rings add functionality and stability to any phone by acting as a holder and stand. It swivels 360 degrees so you can view your phone from any angle, and provides an easy and secure way to hold the phone so you can text and take photos one-handed without the fear of dropping your phone, From protective cases to battery cases, phone rings to Airpod cases, and more, Casely would make the perfect Christmas gift or stocking-stuffer for anyone, from teenagers to high-flying businesswomen.
AROMA43
If you need a gift idea for friends, co-workers, teachers, or bosses, look no further than Aroma43. Aroma43 offers a scent-sational collection of eco-friendly, luxury home fragrance gifts. These beautiful handcrafted products include hand poured soy candles, recycled paper aroma reeds, sugar scrubs, and more. Like all of their products, the candles are designed to give great fragrance, and are responsible to the environment, both the Earth and the environment in your home. They are also cruelty-free. Each 11-ounce candle is made of 100% soy wax with an all-cotton wick and essential oil based fragrances. There are zero additional additives, dyes, colorings, phthalates, or unwanted chemicals. The soy wax is hand-poured into a beautiful, heavy bottomed glass vessel that can be cleaned and used over and over again. Plus, they provide up to 85 hours of burn time.
FEIYUTECH AK2000C HANDHELD MIRRORLESS DSLR CAMERA STABILIZER GIMBAL + WIFI
An ideal gift for photographers, influencers, vloggers, techies, and hobbyists, the FeiyuTech AK2000C camera stabilizer gimbal makes photos and videos turn out even better making shaky scenes and unintentional blur things of the past. Compatible with many top and popular brands – both large and small cameras – the AK2000C is very user-friendly and packed with features including a 3-inch, crystal clear OLED touchscreen on which various operations such as mode switching and setting parameters can be completed manually. It can also be adjusted in 5 different directions, has a fast response speed, a foldable quick release plate, a three-axis motor lock, wifi/cable control, and is ergonomically designed to fit comfortably in your hand. With a durable yet lightweight aluminum alloy body, it weighs a mere 2.4 pounds but has a load capacity of 4.8 pounds. And close to the size of a standard sheet of paper, the FeiyuTech AK2000C is easily portable. This camera gimble also offers lots of special features including multiple modes such as Long exposure – timelapse/ VLOG selfie/ TikTok portrait shoot, and even the wildly-popular Inception mode – all accessed with one simple click. There are so many awesome features, it's too much to mention here. And at just $299, it's an affordable gift that can be used for years to come. There are also 8 expansion accessories available, too!
FIT SNACK SUBSCRIPTION BOX
A delicious and healthy gift idea, Fit Snack subscription box is much more than just food, it's wellness in a box! Each Fit Snack box is packed with healthy snacks and a Virtual Fit Life Guide which features at-home yoga challenges, workout challenges, meditation challenges, recipes, mindfulness and nutrition tips, and more. The snacks are hand selected by Fit Snack's Nutritionist, and the majority are sourced from local businesses. Even better, Fit Snacks gives back by donating to kids in need, front-line workers and hospitals being impacted by COVID. Choose from multiple plans spanning from 1 month to a year.
YUBI BEAUTY
Yubi Beauty, a Black-owned, innovative beauty brand is a must-have gift for any beauty lover and self-care enthusiast looking to achieve a flawless finish. Their award winning Miracle Brush and Blend Sponge combine the control and precision of using your fingertips, with the cleanliness and convenience of a makeup brush. Yubi Beauty also has a cleaning set for their brushes and sponges to keep them dirt and bacteria free and working their best.
WATERDROP WATER FILTER PITCHER AND FILTERS
A wonderful gift idea for the home, Waterdrop specializes in providing all kinds of water purification solutions. Their 10-cup Water Filter Pitcher is the perfect size for fitting in the refrigerator door or on a shelf so you always have clean, cold water ready to drink. It's easy to refill without having to remove the cover, and comes with a gravity induction indicator to remind you when its time to change the filter. Speaking of filters, the 7-layer filter is NSF 42 certified to reduce chlorine, taste and odor, as well as NSF 372 certified for lead-free material. It also has a massive 200 gallons filter capacity, which is the same as 3 months. Available in several pretty colors, it sells for around $30 making it an affordable gift option.
Waterdrop also offers water pitcher replacement filters, refrigerator replacement filters, water filter straws, and the under-sink water reverse osmosis system.
TILE
A cool gift idea for everyone on your list, Tile makes it easy to find things. This unique tracker uses Bluetooth-enabled devices and the handy Tile app to help you you keep up with things like your phone, your keys, your purse, or anything else you connect it to. Simply download the free Tile app on your phone (it works with Android and iOS), pair it with your Tile and attach to anything you want to keep track of — phone, wallet, keys, purses, luggag, makeup bag, etc. It even works to find your phone — simply double press the Tile button and your phone will ring, even while on silent. Available in 2 sizes, original and slim (fits in your wallet!), a bunch of colors and designs, as well as 11 fun and unique limited edition holiday designs that are only available at Tile.com
HANDSON GLOVES
A purrfect gift idea for your pets! Add comfort and joy to grooming, bathing and massaging your pets at home with the #1 Ranked, Multi-Award Winning, HandsOn Gloves. These innovative gloves are all-in-one tool for shedding, bathing, and grooming. Made of hypo-allergenic, bio-friendly components clinically proven to be safe for use with humans and animals, including a strong nylon fabric that has non-abrasive, flexible rubber scrubbing nodules with round tips on the palms. They also provide a flexible grip and secure, hook and loop fasteners to keep them from slidding off of your hands. The gloves will work wet or dry providing for the perfect combination to care for your pet at home and on the go. HandsOn Gloves also offers support for those that may suffer from inflammatory arthritis conditions in their hands adding a health benefit for the mobility of the finger and palm joints.Use them on cats, dogs, horses, and even livestock to help keep shedding fur to a minimum and bonding to a maximum. Available in Green, Black, or Purple, and in multiple sizes including Kids Junior and Adult S, M, L & XL.
EVEL KNIEVEL STUNT CYCLE! RERELEASE OF 1970'S TOY!
Another fun gift idea for kids (or grownups who are still kids at heart) is this super fun Evel Knievel. Made by California Creations, this blast from the past is a rerelease of the iconic 1970's Evel Knievel Stunt Cycle! The wind-up gear stunt bike is back and is all ready to introduce the fun of revving, jumping, and crash landing to a whole new generation and bring back great memories for us grownups that had it. Hours of fun with no batteries or wifi are waiting on you now. For a limited time you can own a retro gem – this item will sell out and become a collectors item!
CATSPRING YAUPON
Yaupon is the only naturally caffeinated plant to grow wild in North America.It is packed full of incredible health boosting properties including anti-inflammatory, naturally cleansing, antioxidants that are comparable to blueberries, and much more. It was brewed for centuries by Native Americans, and pretty much forgotten until CatSpring Yaupon Tea came along. CatSpring Yaupon wild-harvests yaupon in Cat Spring, Texas where nothing has touched the leaves but sunshine and rainwater. They take the yaupon and brew it into delicious, natural, sustainable tea.They offer three preparation methods, including a dark roast, medium roast, and green, and provides the tea in loose leaf and teabags to satisfy all the taste profiles. Without tannins, there is no bitterness, and without pesticides, you receive natural and organic flavor with every sip. Catspring Yaupo tea makes a great stocking stuffer or gift for practically everyone on your list.
VIVID-PIX RESTORE
Don't let your photos fade away, restore them and preserve your memories for years to come with Vivid-Pix. Vivid-Pix RESTORE software restores and revives your cherished memories with vibrant color. It even works with black & white and sepia photos, too! The patented artificial intelligence software provides instant improvement for scanned prints, slides, documents, and digital photos in seconds. The software is easy-to-use, and makes your photos look great. Best of all, it works quickly! Available for MAC and Windows.
As a special offer, Vivid-Pix is holding a Buy One Get One special on their Vivid-Pix RESTORE software! So when you purchase one Vivid-Pix RESTORE for Windows Full License Software, you also get a 100% Off Gift Coupon Code for an additional license of Vivid-Pix RESTORE for Mac or Windows to give to someone else. That's a $50 savings and a great gift to give to someone on your list! And be sure to check out the Vivid-Pix Gathering Traditions, FREE online tutorials that will show you how to create holiday and reunion time capsules to preserve your holiday memories – especially since the holidays will look so different this year! More info. at: https://vivid-pix.com/education.html.
KITCHEN MAMA ELECTRIC CAN OPENER
A wonderful gift idea for foodies, cooks, grandmas and more, the Kitchen Mama Yes You Can electric can opener eliminates the days of struggling to open cans, the bulky electric can openers taking up precious counter space, and the pain from trying to use a handheld manual can opener with arthritic hands! As the bestselling can opener brand on Amazon in the US, the Kitchen Mama Automatic Can Opener is an innovative, battery-powered, hand-held can opener that enables you to quickly and effortlessly open cans. With the simple touch of a button, the can opener does all the work for you quickly and efficiently. And because it cuts along the side of the can instead of on the top of the lid, it eliminates any dangerous, sharp, jagged edges. Instead, the edges of both the lid and the can are left smooth and safe. This also enables you to reuse the lid as a cover unitl the can is empty. This handy can opener also features a built-in magnet which makes lifting the lid from the can much easier, and a lightweight design that fit comfortably in your hand. The Yes You Can can opener is powered by four AA alkaline batteries and has a motor speed of 12,000 RPMs. This means it takes mere seconds for this can opener to cut open a can! It is available in 2 cheerful colors, red and green, and is perfect for small and medium-sized cans. Plus, at just $24.99, it's quite affordable. There are also 2 other models of this can opener including a mini, and a hands-free model. Buy them on the Kitchen Mama website or on Amazon.
DAISY RAIN SPRINKLER POTS
For gardeners and plant lovers, Daisy Rain Gardens is a great gift idea! The Daisy Rain Garden Systems make adding color and creativity to your garden projects loads of fun. They are the only pots with an integrated macro-drip irrigation system to help you grow and water long-lasting flowers and plants. Once set up, this system enables you to quickly and easily water numerous plants at once with a simple turn of a hose. The entire system is incredibly easy to set up by simply connecting it to any garden hose or irrigation system. There's no reservoir, and using it is a piece of cake. Plus, it's very reliable at keeping your plants watered. The Daisy Rain patented Sprinkler Pots can be used in the garden, on a porch or patio, or anywhere else you want to add life and color. Each kit comes with eveerything you need including three 7-gallon Daisy Rain Sprinkler Pots, a Micro-Drip™ Conversion Kit with 25 PSI pressure regulator and 25 feet of hose, three adjustable sprinkler heads, three risers, six figure-8 hose ends, and all of the couplers and fittings needed to connect the entire system. They also have a unique Sprinkler Saucer which easily turns any pot into a sprinkler pot.
NO FADE FRESH COLOR DEPOSITING SHAMPOO & CONDITIONER
Beauty and make up lovers, here's a perfect gift for you! No Fade Fresh, by Celeb Luxury, the creator of the color depositing shampoo and conditioner category, and the "1st Clean Hair Color" on the market. In addition to their line sold through professionals, salons, and online (Gem Lites/Viral), they have recently launched No Fade Fresh, for home use! These color depositing shampoos and conditioners can be applied in the shower in just 2-5 minutes, and easily transform the color of your hair.They come in a variety of beautiful, fun, and funky shades – from traditional browns, blondes and reds to pastels and vibrant colors like pink, purple, and blue. All of the products contain a bond rebuilder to heal hair, and are 100% vegan and cruelty free. In addition, they also have a BondHeal bond rebuilding mask that works with all hair types to give you soft, shiny, and healthy-looking (and feeeling)tresses.Their products can be found at CVS, Target and ShopRite.
PAINT BY SHADOWS ART KITS
Using shadow prints and color guides, these Paint by Shadows Art Kits from Chirpwood come with everything you need to paint gorgeous art, even if you're a beginner! These unique Paint by Shadows Art Kits are similar to painting by numbers, except you use shadow prints and an in-color image to reference instead of numbers. The kits come with everything you need including multiple canvases in varying sizes, in-color image guides, a set of acrylic paints, paintbrushes, and instructions in both written and video format. There are several kits from which to choose, too! They are the ideal gift for both children and adults, as well as those who want to learn to paint and those who need a refresher. Learn more from my review and then head over to the Chirpwood site to pick out the perfect kit for every craft-lover and painter on your gift list!
THE ORIGINAL WALL STAMP
Roll paint on, Stamp, Remove, Repeat. That's how easy it is to create gorgeous do-it-yourself design and decor at home! You could easily stamp an entire wall in 30-45 minutes or a whole room in an hour or two, adding eye-catching and color. The Original Wall Stamp are large rubber stamps with embossed designs and a patented "self-leveling system" that allows users to paint patterns quickly and easily on walls, floors, table tops, furniture, fabrics, and other surfaces. It's more effective than wallpaper, faster than stencils, is versatile, and enables you to finish your project a quick and easy soap and water clean up. And with 7 stamp styles to choose from: Brick, Couture, Damask, Dior, Fleur de Liv, Lattice and Roses, you're sure to find the one that fits your style perfectly.
BEDOL WATER POWERED CLOCK
If you're looking for a unique and innovative gift idea with a fun twist, one that everyone will love, then you need to check out Bedol's collection of Water Clocks. Yep you read that correctly, clocks that are powered by water! Bedol features the latest in innovative products that gives a fun and edgy spin to everyday products for the home and office.Products that are also an eco-friendly alternative to everyday products. And a prime example of this is the Bedol water clock line. These awesome digital clocks have fun designs, are 100% functionable, and are powered by nothing but water. No batteries, no electricity. Just water. The clocks work via Bedol's innovative ion harvesting mechanism that converts ions in the water into clean energy power. Built-in memory chip remembers time so you don't have to reset, and the water won't need to be replaced for 6 months or more. The latest addition to this eco-friendly clock line is the Bedol Water Alarm Clock design. This truly green, battery-free, quirky timepiece is sculpted in the shape of a water squirt and features an alarm and easy-to-set 12 hour or 24 hour clock. A semi-transparent enclosure serves as a colorful water reservoir for the visually intriguing ion harvesting mechanism. The Bedol Squirt water-powered alarm clock measures approximately 3 ½" tall x 4 ½" diameter, and is available in five cheerful colors. It can be purchased for a mere $26 through Bedol's website and at Bedol retailers across the country.
HAIR HEALTH SYSTEM FROM BLUMANN
In 2014, noticing an obvious lack of quality and affordable men's hair styling products, Joseph Andrews created BluMaan's. This men's grooming company believes that in order to achieve the best hairstyle possible your hair needs to be at optimum health. BluMaan's developed a line of versatile, non-toxic, high-hold hair styling products for men that are made in the USA with ingredients that will nourish hair and are safe to use on a daily basis. They offer a wide selection of men's styling products including masks, creams, pomades, gels, and more. If you need a gift for the man in your life, one of their Hair System kits, like the Hair Health System Kit, would make a wonderful present. Designed to help restore, repair and rejuvenate dry hair, the Hair Heath System will keep his hair soft, healthy, and easy to manage. Included are a Fifth Sample Styling Mask Pomade, their all-natural Cloud Control hair oil, and Original Styling Meraki.
FOCI AI
The kids are running around, the phone's ringing, the cat's wanting attention, and my computer won't stop dinging as emails come in. Sometimes there is so much going on, that I can't focus to get my work done! Sound familiar? If so, you're going to love FOCI AI. FOCI AI uses technology to power up your focus so you can get things done. This innovative, thumb-sized wearable device clips to the waist and, when paired with the app, is able to track things such as your emotions and physiological changes during work to help you focus better. FOCI tracks your Focus, Calm, Distracted (Not in Focus), Fatigue, Stress, and Flow (aka being "in the zone"). It then transforms this information inside the app into colored orbs so you can visualize and understand your current state in real time. It also points you to your optimized state of mind where you can stay focused and perform at your best. And, when you leave focus, FOCI will let you know and remind you to refocus with a gentle vibration. With FOCI and its app, you can also Set Pomodoro timers, view detailed productivity stats on your working patterns, use and set 5 different distraction alerts to stay on track, and focus music breath pacing to stay focused longer, and more. You can even learn to control your attention and refresh from fatigue and stress by training with focus biofeedback and relaxation biofeedback. FOCI is best used for typical desk work. FOCI works with both Android and iOS, and comes with a 1 year warranty.
Here's a little holiday gift for my readers: get 15% off when you use this exclusive discount code: BULLOCK15
ZAPHYR CROSSBODY PHONE CASE
The Zaphyr Crossbody Phone Case would make a stylish gift for women, especially tweens, teens, college students, and fashionistas. The perfect accessory in these crazy digital times, the Zaphyr Crossbody Phone Case is a 2-in-1 phone case is designed to protect your phone while allowing you to carry it in a stylish way. Featuring a 55-inch adjustable strap that can also easily be removed, the Zaphyr Crossbody Phone Case makes your smartphone accessible and hands-free at all times. Plus, its hard to loose your phone when your carrying it around your neck. The case is made from a high-quality silicon, and comes with a detachable hook and strap. Pretty and convenient, it's available in several beautiful colors including black, peach, blush, and mid-gray.
SHANTIVA HANDMADE COPPER WATER PITCHER
Did you know that drinking water from a copper water pitcher has health benefits according to ancient Ayurvedic medicine? According to Ayurvedic health principles, water stored in a copper jug balances the three doshas in your body (vata, kapha and pitta) by gently infusing the water with the many health benefits of copper. In addition, numerous research studies over the past few years have shown that copper has anti-bacterial properties, strengthens the immune system, helps promote good health, slows the appearance of aging, and helps stimulate the brain. Plus, because copper is naturally anti-bacterial, copper jugs are also naturally self-sterilizing. A beautiful gift idea for the home, this copper water pitcher from Shantiva is both functional and beautiful to look at. It is handmade by skilled artisans using traditional techniques and sustainably-sourced copper. Each pitcher they make is shaped from a single sheet of pure copper, which means that they have no joints or seams. As a result, these copper jugs are of exceptional quality, and guaranteed to last a lifetime. Plus, they are easy to clean. Use a water pitcher that supports the environment while also making your kitchen shine.
VELVET LAMB
The perfect stocking stuffer for less than $20? Yes, please! These top-notch accessories are the perfect antidote for ugly Christmas sweaters and impractical stocking stuffers. Stylish and affordable, Velvet Lamb's multi-use headbands are comfy, functional, and accentuate your own unique personality. Like all of Velvet Lamb's products, these super soft and versatile multi-use headbands are sustainably and responsibly made right here in the USA. These unique pieces can be worn as a mask (non-medical), headband, neck gaiter, or even a sweatband. It's totally up to you. They come in a variety of beautiful earth tones and fun prints designed by rising Latinx artists. Plus, they are breathable, stretchy, and machine washable.
Ships worldwide within 2 days of order.
MIMBLEBALLS
Give an adorable gift of comfort, cuddles, and fun with Mimbleball. Not just for kids, these cuddly, snuggly, fun, incredibly soft and adorable stuffed "friends" double as therapy toys. The best way to describe them comes from their 10 year old creator: a hairball with personality. And speaking of hair, it's one of their best features. Incredibly soft, you'll want to spend hours running your fingers through it, twisting it into a mowhawk, or stroking it into spikes. But when you give the toy a gentle shake or pat on the bottom, the hair becomes a thing of laughter as it stands stright up on its ends.And the wide-set button eyes only serve to give the Mimbleball a hilariously innocent look. These 5″ round balls of joy are of made with only the softest and safest materials making them more pettable than even the softest pet. They have endless uses including as a calming therapy toy; a soothing companions for friends in the hospital, undergoing chemo, quarantine, or even at the dentist's office; a friend to help focus during meditation; a comfort tool for those with Alzheimer's and dementia; an excellent tool for restless hands; a fun fuzzy ball with which to play catch; and so much more. Each Mimbleball has its own unique and engaging color combination. And with 6 Original Crew Members, and another on the way, everyone will have a favorite. Mimbleballs can be hand-or-machine washed on gentle, to ensure they last to give years of love and comfort.They are the perfect gift for anyone who needs a little extra joy, happiness, comfort and love. And honestly, after a year like this, who doesn't?!
BARRINGTON WATCH WINDERS
A must-have for any watch collector or anyone with an automatic watch that they don't wear too often, the Barrington Watch Winder is a wonderful gift idea. These beautiful watch winders have a minimal, sleek design and are packed full of features. Each one has an ultra-quiet Japanese motor, multiple rotation settings (clockwise, counterclockwise or alternating), and multiple turns per day (TPD) settings ranging from 650 up to 1950 that will suit pretty much any watch. They also come with the Barrington 'Jump' feature that allows multiple winders to be connected together via cable, an LED light when operating, and an international adapter with fittings for the UK, EU and US plugs. These watch winders can be operated either by AC or through the use of 2 AA batteries. This, along with their small, compact size (4.5″W x 4.7″H x 6.2″D), also makes them usable for travel. Best of all, they're super affordable, yet have all the features and high-quality you'd expect from a much higher-priced watch winder. Available in a variety of pretty colors, you're sure to find the pefect one to gift to someone on your list, or to keep for yourself.
COLORADO GREEN CHILI SAUCE & SALSAS
With over 400K jars sold, Colorado Green Chili Sauce & Salsas would make a delicious and unique gift for foodies and spice-lovers! Hand-crafted from all-natural ingredients including green chilis grown in Southern Colorado, Colorado Green Chili Sauce & Salsas are vegan, gluten free, Non-GMO project verified, and taste amazing. Developed from the King's Chef Diner in Colorado Springs, each batch is crafted by hand in small batches which allows the fresh ingredients to cook together and create robust and vibrant flavors that is found in every jar. Their products include Colorado Green Chili Sauce in Hot and medium, and Fire Roasted Autumn Salsa. As winter settles in, turn up the heat and stay toasty warm with the taste of the Colorado Green Chili! Colorado Green Chili sauces and salsa can be found in Whole Foods markets, King Soopers, Natural Grocers by Vitamin Cottage.
DOSHA MAT
Pamper yourself and those you love with a luxurious premium acupressure mat from Dosha Mat. Acupressure is an ancient Ayurvedic treatment similar to acupuncture, massage, and reflexology. It works by massaging and stimulating key points on the body to promote deep relaxation and healing. An acupressure mat benefits the body by helping to relieve tension, soreness, and pain in the back, head, neck, shoulders, hips, feet, and other parts of the body. But that's not all, an acupressure mat can also reduce stress, eliminate headaches, increase circulation, help you enjoy deeper and more restful sleep, increase circulation, increase energy levels, help you enter a deep state of relaxation, and so much more. Dosha Mat acupressure mats are unparalleled in quality and beauty, and are 100% eco-friendly. Each mat is carefully handmade using only the highest-quality, hypoallergenic natural linen. They also contains a removable cushion made of 100% natural coconut fiber, and feature more than 4,500 high-quality acupressure points in the beautiful shape of lotus flowers. They are lightweight and travel-friendly, too. Dosha Mats would make a wonderful gift for anyone on your list this holiday season!
ONTHE MUV miniTREAD®
Tech meets lifestyle meets health in the miniTREAD®, a great gift idea for fitness-lovers, those who work at home, work at a desk, and others. Designed to fit under most desks, the miniTREAD® enables treadmill use while you're sitting.
Whether working on your laptop or watching TV, the miniTREAD® is a better way to burn calories and measure results… all while seated.It's safe, cost-effective, and perfect for working from home or while watching TV, reading, or playing online. And weighing just under 10 pounds, it's easily portable, especially as recessed handles on each side make it super simple to move. Speeds range from .3mph to 2.5mph, there are several incline options from which to choose, and it has leveling feet for stability. Appropriate for most age groups from teens to the elderly, the miniTread is a low-impact exercise option with very little to no stress on your joints. A handy remote controls speed and scans to tracks calories, distance, time, speed and steps. It comes with a risk-free 30-day return policy as well as a 1 year warranty on parts.
SIMPLE SHINE ULTRASONIC JEWELRY CLEANER
Restore luster and shine to your jewelry using the Simple Shine Ultrasonic Cleaner. The machine safely and effectively cleans jewelry by using millions of tiny bubbles to gently break up and lift away dirt and grime. It's completely safe for metals and precious metals including silver, gold, brass, copper, platinum, titanium, stainless steel, diamonds, glass, and even plastic. So you can clean your necklaces, earrings, rings, bracelets and even waterproof watches. Plus, you can also use it to clean and sanitize eyeglasses, toothbrushes, dentures, mouth guards, coins, shaver heads, and razors. The Simple Shine Ultrasonic Jewelry Cleaner kit features push button controls, digital display, automatic shut off, and a clear viewing window so you can monitor cleaning. Five cleaning cycles can accommodate different soiling level and material cleaning needs. The kit comes with a basket, ring holder, and watch/necklace holder as well as their best selling concentrated jewelry cleaning solution. Now you can get that jewelry-store clean right at home.
INNA ORGANIC
Inna Organic skin care makes a great gift idea for women looking to pamper themselves! This year, they are offering a gorgeous box set featuring ten of their best-selling Frankincense Rich Revitalizing sheet & eye masks. Suitable for all ages and all skin types—even sensitive skin, the "Let It Glow" gift set is enclosed in a beautiful gift box, and comes with ten (10) of Inna Organic's best-selling masks: their Frankincense Rich Revitalizing Face Mask (5x) and their Frankincense Rich Revitalizing Eye Mask (5x). This set targets fine lines, dark circles, dryness and uneven skin tone with a revitalizing blend of eco-sourced Frankincense Oil and powerful botanical extracts. Even better, each luxe mask is crafted from certified-organic cotton, which is then woven into a soft, luxurious mask. 100% vegan, cruelty-free and gluten-free, the set is also formulated without parabens, phthalates, silicones, sulfates (SLS/SLES) and artificial fragrances. Plus, for every Inna Organic "Let It Glow" face mask gift set sold on Amazon, 10% of the purchase will support childhood education in Africa.
SILICON BAKING MAT/PASTRY MAT
Another great gift idea for those who love to bake is this super-versatile Silicone Baking/Pastry Mat. Made of food grade silicon, this mat can be used for rolling dough, cutting, and baking. It is safe for temperatures from -30°F to 470°F, and features measurements to make baking and rolling even easier. This non-stick mat is perfect for rolling out dough for pies, pizza crust, bread, homemade biscuits, and cookie dough, and it works just as well as a baking mat. I've even used it for kneading bread and cutting pasta! It's non-stick so there are no worries of your pastries sticking to it once baked, and it's super easy to clean. Measuring approximately 24 " × 16", it's the perfect size for a variety of uses, and at around 0.7mm thick, it won't move around or crinkle while rolling or cleaning. And once you're finished with it, you can simply roll it up and tuck it away in a drawer until next time.
MOFT® Z 5-in-1 SIT-STAND DESK
The perfect gift for those who work online, game, or simply enjoy playing on their laptop, the MOFT® Z 5-in-1 Sit-Stand Desk is inspired by the art of origami to provide an innovative 2-in-1 stand for laptops. It's unique and flexible Z-shaped structure provides one mode for standing and four-modes for sitting. The stand instantly folds into a 10-inch standing desk or offers three angles for sitting – 25°, 35°, 45°, 60°. These five positions encourage you to develop a healthy sit-stand working posture, keeping you productive and out of pain. When not in use, the Moft Z folds up into a 0.5-inch thick magazine-size making it easy to carry with you or store out-of-sight. Made from a sturdy, PU fiberglass material, it can support a max weight of 22 pounds. The Moft Z easily attaches to the bottom of your laptop, and can just as easily be removed without any damage to your computer.
And, since it is designed to be sturdy, you don't have to worry about swaying or wobbling, instead you get rock-steady typing even when it's extended to its full height. It's compatible with all laptops.
FIMO LEATHER EFFECT ART CLAY
An awesome gift idea for crafty people, STAEDTLER-Mars North America has announced the newest member of the FIMO family, Leather Effect Clay! This unique crafting clay can be used to produce crafts that look and feel similar to leather. It's easy to handle, has high stability after hardening, and it comes in 12 different colors so you can create all sorts of awesome crafts from tassels to jewelry to home decor and more! The clay is bendable, punchable, sewable, and cuttable. And after baking in the oven for 30 minutes at 130° C / 266° F, it retains it's leather look and feel. Leather-Effect is available in individual blocks as well as in kits that come with everything you need to create whatever your imagination holds. Find it on Amazon, at Michaels, and directly through the Staedtler website. It's the perfect gift or stocking stuffer for kids, adults, crafters, and artists of any skill level.
AVANI DEAD SEA COSMETICS
AVANI Dead Sea is an innovative and luxurious range of cosmetics and beauty products that are made in Israel and designed to help give you beautiful skin. Enriched with Dead Sea mud, salt, and minerals, along with a wealth of moisturizing plant extracts and essential oils, their Dead Sea products are based on the most natural of ingredients, and use the most innovative technology, to give you results that you'll love. Choose from a range of products including masks, eye creams, scrubs, body butters, serums, makeup and more. They even offer combination kits that would make a wonderful holiday gift! For example, their Bath & Body Starter Kit (shown above) comes with Dead Sea Mineral Mud, Mineral Soap, Sea Salt Scrub, and Body Butter to ensure you feel and look your best from head to toe. AVANI also has several other product lines including anti-aging, natural, and more. Perfect for women of any age, you're sure to find the perfect present for the lady on your gift list!
NUMBER 4 HIGH PERFORMANCE HAIR CARE GIFT SETS
Whether you're stuffing your own stocking or searching for gifts for your loved ones and friends, Number 4's limited-edition holiday sets are sure to make people smile and make their strands sparkle and shine! This year you can give the gift of healthy hair with the 12 Days to Transformed Tresses Holiday Countdown Calendar where the recipient gets to open a new surprise each day for 12 days. This limited-edition treasure trove features 12 irresistible beauty treats in the form of Number 4's best-selling hair care products; each packaged behind a darling little door. Or give them individual gifts sets like the Holly Jolly Hydration Set shown above. They're the perfect stocking stuffers, and perfect for any age! All products are 100% Vegan, Sulfate & Sodium Chloride Free, Gluten Free, Bad Taste and Paraben Free. Plus, there are never tested on animals.
check it out!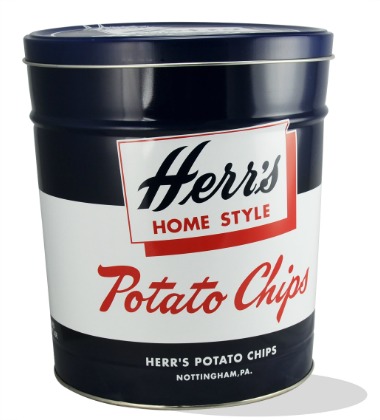 HERR'S SNACKS
Add some flavor to your holiday with a stocking full or git of tasty snacks from Herr's. Fans of The Office, you know what I'm talking about! Herr's offers several unique and fun gifts filled with Herr's famous snacks, all priced under $30! These great gift ideas are perfect for families, nostalgia lovers and snack lovers of all ages. For example, the 3.5 gallon Retro Tin shown here comes with all sorts of yummy treats including .6 oz.-1 oz. bags of assorted snacks and 20 .6 oz.-1 oz. bags of chips. Plus, all gift items are only available online from Herr's.
GATEWAY TABLET
A great gift for kids and tweens, this Gateway tablet is fast, colorful, and affordable! This wifi-ready 8-inch tablet comes with the user-friendly Android 10 (Go) OS and is packed with 32 GB storage and an expandable SD slot. It also features Quad Core, 2GB Memory, 0.3MP Front Camera, 2MP Rear Camera, USB-C, Sound ID, and more. Plus it's available in lots of fun colors including blue, black, and purple.
MAYRAKI VEGAN HAIRCARE
Combining the purest organic ingredients and the latest in hair care science and technology, Mayraki vegan hair-care products are designed to give you healthy, manageable, and beautiful locks. The extensive line includes shampoos, conditioners, tools, and treatments all designed to help with the most common hair problems such as
damaged/frizzy hair, split ends, graying, hair loss, itchy scalp, and dandruff. All of their products are paraben-free, sulfate-free, silicone-free, and cruelty-free so your hair is getting all of the good with none of the bad. Mayraki's Proactive Hair Repairing Treatment (shown above) works to balance moisture, strengthen, and increase your hair's shine and silky texture from the roots to tips, restoring your hair to a healthy, strong and bouncy state as you continue to use the product. It's perfect for people like me who have dry, curly hair.
STEGO
Looking for a great gift idea for men and women? Check out Stego socks! Now I know what you're thinking, socks? As a gift? Absolutely! But these are not just any socks. These are truly some of the most comfortable and well-fitting socks I've ever had. And that's because Stego has developed very specific fabric formulas that target your intended adventure and provide support in the areas that your feet need most. Each Stego series is meticulously crafted to provide cushioning, breathability, and most importantly security so they stay up on your foot where they are supposed to be. Some other fit features include cuffs crafted to keep your socks from bunching up and therefore protect your feet from blistering; a tapered toe that fits just right (on all toe shapes and sizes) and doesn't have that annoying seam right where you feel it most. The arch is made as wide as possible to help fight off fatigue, and the heel is high-tech enough to comfortably cradle the back of your foot perfectly and reduce blistering. And there's more. Stego has also designed what they call a WickLink Channel which is a special stitching pattern that allows moisture and heat to escape from the bottom of your feet, so you can say goodbye to uncomfortable, sweaty feet. Stego's socks are also intentionally designed unisex to better tend to every foot's silhouette, aka shape and size. Simply use their sock Universal Unisex size chart to find the perfect fit for your feet. And did I mention their socks have a lifetime guarantee?! Best of all, Stego socks are available in a great selection of colors and patterns for each of their specific sock formulas (running socks, trail socks, athletic socks, and everyday socks). So head to their site and find the perfect pair of socks for your adventure.
CIEL CAFE PRIVE SELECT
A great gift for coffee-lovers, Ciel Café Privé Select offers nine of the most rare, elusive, and limited coffees one can find. It's coffee for those who appreciate the finer things in life and for those who truly love to savor a delicious cup of coffee. Ciel Café Privé Select makes it easy to access the ultimate coffee experience by offering unique coffees from the world's most elite growers – many of which are exceedingly rare and produced only in small lots. Carefully curated, micro-roasted, and expedited for maximum flavor, Ciel's exclusive selections are the only coffees in the world to bear the name Café Privé Select. And to ensure a truly exceptional cup of coffee, Ciel also provides the knowledge and tools to help you prepare a truly extraordinary cup of coffee by offering detailed instructions on four suggested brewing methods through their website. On the day of roast, finished beans are vacuum sealed and shipped express to your home, ensuring you get the freshest and finest coffee around. A new favorite of mine, Cafe Prive Select Wush Wush Heirloom Ethiopian coffee is a green coffee that comes from a very small village named Wush Wush in the Kaffa province of Ethiopia. This coffee has a deliciously elegant, sweet, unique and complex flavor with a blend of herbal, citrus, and floral notes. If I had to pick one that stood out the most, I'd say blueberry. This medium-light roast is a lot lighter than other coffees I've had, and it works perfectly as a cold brew, too. The aroma is simply wonderful. Ciel describes it best as having flavor notes of "blueberry muffins, bergamot, and dark rum". Find your new favorite coffee on their site today. Each coffee is roasted to order, beautifully packaged, vacuum sealed, and accompanied by an enlightening and informative coaster.
JANIE'S CAKES
Janie's Cakes is a mother-daughter owned bakery in Tyler, Texas that creates delicious old-fashioned pound cakes that are packed with flavor. Using an old family recipe, each pound cake is made from only the freshest, all-natural ingredients including farm-fresh eggs, real butter, and real cane sugar. You won't find any preservatives or fillers in these tasty treats. The pound cakes are then topped and filled with a variety of mouth-watering flavors ranging from the traditional Vanilla Jane to more unique options such as the Texas Bourbon Whiskey Lane Jane and Pierre's Rum Jane. One of their most popular cakes, the Italian Jane (shown above) is a vanilla pound cake filled with Italian buttercream and topped with toasted pecans. It is incredibly delicious! Each 8-inch pound cake is large enough to serve 12 people, although Janie's Cakes also offers Petite Jane's which are about 3-inches and enough to serve one or two. But pound cake isn't all that's offered; you can also choose from a tempting selection of gourmet snacks including biscotti, flavored nuts, granola, snack mix, and more. Luckily Janie's Cakes will ship anywhere in the country so you don't have to live in Tyler to enjoy her scrumptious cakes and snacks. You can find a cake for any occasion on the Janie's Cakes website. Be sure to check out their Christmas offerings, too!
JOIEDOMI
Brighten up your holiday decor both inside and out with Joiedomi. Create an outdoor winter wonderland with their great selection of outdoor decor ranging from lighted wire-framed animals to inflatable yard decor to door hangings. Or bring the holiday cheer indoors with their colorful "gift" boxes, ornaments, trees, wreaths, and garlands. Speaking of ornaments, they have a great selection of both tradition and unique ornaments. For example, these super cute wooden reindeer ornaments, available with or without LED lights. Joiedomi's radiant embellishments will enhance the festive atmosphere and bring holiday cheer to all. They also have all sorts of clever storage and organization tools for after the holidays when it's time to put everything away until next year.
L'DUEX
A great gift idea for kids, teens, and women, L'Duex is a unique and innovative line of jewelry that doubles as hair accessories. Launched by fashion designer and stylist Vickie Adamson, these elegant, beautifully designed pieces are the first of their kind. With designs inspired by nature's elements, colors and textures, these beautiful pieces make gorgeous bracelets and hair ties. The collection includes natural stones, metals, and even rhinestones, and are available in all sorts of pretty designs and colors. They are the perfect solution to wearing unattractive hair bands on your wrist.
I have one in Heather, shown above, which is a beautiful dark purple crystal-like stone set in a gold colored rectangular holder. Its very comfortable to wear as a bracelet and works great as a ponytail holder securely holding my hair in any style I choose without grabbing or breaking individual strands. I love it!
L'Duex is perfect for women of all ages at the gym, shopping, running errands, or even in photos wearing a rubber band on their wrist who would like to replace it with something more chic and stylish. Best of all, they are super affordable! So head on over to the site, and find one for everyone on your list!
MAEMARIE INTENTION WRAPS
Show your loved one's how much you care by giving the gift of intention, with a stylish, weightless piece of jewelry that is not only beautiful, but purposeful in the unique message they carry. Each MaeMarie Wrap is a lovely way to gently remind your loved ones to take care of themselves through mindfulness, set personal goals and intentions for the new year. Each unique MaeMarie Intention Wrap is hand-strung on strong nylon using European glass beads (approximately 1800 beads) and cut 24kt gold-plated or sterling silver beads. Even the clasps are made of Vermeil Gold or a 925 Sterling Silver Branding Bead with Gold-Filled or Sterling Silver Crimp Covers. The wraps are available in a large selection of beautiful colors and sizes, and can be worn as an anklet or a necklace (several different ways: a single choker, double choker, or long and tied as a lariat!) They can also be worn in the shower. Available in various price points, MaeMarie is a great gift for both the conscious and splurging holiday shopper. Plus, these beautiful wraps are so unique the recipient will never forget who gave it to them! Learn more and pick out the ones you love on the MaeMarie website!
THULISA NATURALS
This handcrafted line of all-natural bath and body products really lives up to its name Thulisa – bringer of peace. Each of these sustainably handmade shower steamers is handcrafted in the USA using only natural ingredients and beneficial essential oils. They also offer body butters, body scrubs, soaps, and so much more. All of which are made with ingredients that you can recognize and pronounce. In fact, even the packaging is eco-friendly and is fully compostable. Plus, for every product they sell, they donate a portion of their sales to a non-profit organization in South Africa to provide nutritious meals to vulnerable pre-schoolers. Check out their products today and give the women on your list the gift of natural and safe bath and body products that will empower them to create self-care rituals that bring peace and balance without sacrificing precious time and energy.
ARTESAO CUSTOM COOKIE MOLDS
For those who love to cook and bake, Artesão Cookie Molds are a gift they'll truly love! These innovative handcrafted cookie molds are unlike anything I've used before. Made of food-safe silicone, they are flexible, easy-to-use and incredibly detailed. You won't lose any of the design details with these molds. Plus, there's no dusting or oiling needed before use; simply press the dough into the mold, then peel the mold off the dough and bake. You'll have amazing-looking cookies with instant character in no time at all! Each cookie mold is hand sculpted and individually cast, ensuring attention to detail in every step – something you just won't get with mass produced cookie molds.
Artesão has a wonderful selection of designs – from jellyfish to zombies to political caricatures. There is even a series of Give Back molds whose proceeds go to support various charitable organizations. They even have a line of mini molds which are perfect for smaller hands that love to have fun in the kitchen. And, if you can't find exactly what you are wanting, they take custom orders, too. Cookies aren't the only thing you can make with these molds, either. Artesão molds are super versatile and work great with chocolate making, candy molding, sugar casting, paper crafting, and more! Each Artesão Mold comes gift-ready in a cotton drawstring bag and includes Use & Care instructions along with Susan's Favorite Recipe. Plus, you can find more recipes and helpful 'how to use' videos on their website, as well as an Artesão Cookie Mix.
GIFT IDEAS FOR PETS!
'Tis the season to spoil your loved ones and that includes your furry family members, too. From food mats to toys to treats, these gift ideas for pets are sure to make your pets and their humans extra happy! So head on over and check these gift ideas out! Your pets will have a happy howliday with these purrfect gift ideas for pets!
NEST COOLING MATTRESS TOPPER
What better gift to give than the gift of a wonderful nights' sleep?! Made with locally-sourced, organic, non-toxic, CERTI-PUR certified materials, and made right here in the USA, this cooling mattress topper is unlike any other I've tried. Incredibly comfy, the Nest cooling mattress topper is made with 2-inches of unique Energex™ Foam and covered in a soft, luxurious quilted top. It's soft, plush, and –yep you guessed it — cooling! Whether your bed is old, too hard (like ours), or you simply are wanting to sleep cooler, this mattress topper from Nest Bedding is definitely worth a look.
A BAR ABOVE
This 4 piece craft cocktail set from A Bar Above is a wonderful gift for men, women, and anyone else who enjoys making their own cocktails and/or mocktails. This set comes with the best of the basics including the three tools you need to make most common cocktails: a Hawthorne strainer with extra-tight spring, a two-sided Jigger with measurement lines all the way down to 1/4 ounce, and a trusty two-piece Boston shaker. This set, and all of their sets, is available in copper finish or stainless steel.
FABERWARE 3-QUART STEAMING SAUCEPOT
A great gift for those who love to cook, this beautiful Faberware Steaming Saucepot with glass lid is part of the Classic Traditions collection. It is quite versatile as you can make pastas, steamed veggies, sauces, and so much more! One of my favorite things about it is that you don't have to mess with a collander since the steamer basket doubles as one. I also love that it is oven-safe up to 350 degrees F, induction suitable, and the handles do not get unbearably hot. Plus, it's dishwasher safe which is always a bonus in my book!
BANISH STARTER KIT
The gift that keeps giving back…the Banish Starter Kit is a wonderful gift for any female on your list. This all-natural skincare kit comes with everything you needs to treat yourself to a luxurious facial in the comfort of your own home, and to help you prevent and combat your skin's main concerns, naturally! This Banish Starter Kit is their best-selling kit and their number 1 recommendation when starting your Banish journey! Each product included is chosen to give you more even textured, even toned, firmer and fresher feeling skin along with an extra confidence boost. The starter kit includes Banish Oil (Vitamin C Serum, Vitamin C Beauty Elixir, Pumpkin Enzyme Masque, Fighter Gel, Vitamin C Creme, and the Banisher 2.0 tool to help you effectively battle acne scars – all in a handy storage bag.
Best of all, Banish products are made fresh to order from all-natural, pure, plant based ingredients that you can actually pronounce. Their products are also vegan, cruelty-free, and contain zero dyes, fragrances, silicone fillers, or parabens. Plus, they are never tested on animals. Head on over to the Banish website where you can order individual products and Banish skin care kits including this awesome Starter Kit!
WORKMAN PUBLISHING – SOMETHING FOR EVEYONE
From their revolutionary Page-A-Day Calendar format to planners and impossibly cute calendars you didn't know you need, Workman Publishing has tons of great gift ideas for everyone on your list! Here are just a few examples of what you can find…The Rise and Shine 17-Month Large Planner is like having all-in-one personal assistant! This super cute monthly organizer is completely customizable and filled with awesome things including 1,000 stickers, creative prompts and inspiration, color-coded monthly tabs, a silver holographic storage pouch, an expandable storage pocket, and more! The full-sized Escape Wall Calendar is a beautiful monthly calendar that'll look great on any wall. Filled with breathtaking photographs of some of world's the most gorgeous natural spots, this calendar is the perfect way to organize your year. Plus, each beautiful image is enhanced by an outdoors- or exploration-themed quote! Another great gift idea is this Go with the Flow, a 2021 magnetic monthly calendar is the perfect way to stay on the ball while promoting mindfulness all year long. This handy calendar features spacious grids for adding appointments, beautiful illustrations, and uplifting affirmations. Plus, its pages can easily be removed as the months pass. Its compact size and magnetic backer make it perfect for hanging on the fridge or in other small spaces. The Year of Self-Love Page-A-Day Calendar is another fantastic gift idea. From spiritual and self-help author Tanya Carroll Richardson, this beautiful calendar is filled with daily messages paired with prompts that will help improve self-esteem and self-worth while promoting daily reflection and personal growth. These gift ideas and many more can be purchased directly though the Workman Publisher site or at your favorite retailers including Amazon, Barnes & Noble, Books-A-Million, and others.
TELETIES
The perfect stocking stuffer for women, Teleties combines fashion with function with their strong-grip, no-rip hair ties. These unique hair ties are designed to hold strong, hurt less and look great not only in your hair, but on your wrists, too. Teleties are made of a strong, flexible material that is water resistant and completely smooth. That smoothness prevents them from snagging, ripping, and tearing your hair. It also provides greater hair support, which helps to reduce head and scalp tension meaning less headaches. Plus, it makes for very easy removal. Teleties' unique shape and material also leaves less of a crease compared to traditional ties, and they are super easy to remove. These fun hairbands are available in a great selection of colors and patterns including animal prints, camo, neon, Fall colors, holiday colors, Luxe, their latest collection, Metallic, and many more. They are also available in 3 sizes including tiny, small, and large, so you're sure to find the perfect color and fit. And did I mention that they make headbands, too! Even better, Teleties believes in giving back so for each purchase made, they make a charitable donation. Check out their collection on the Teleties website linked below.
BATCH CBD GIFT BUNDLE
Give the gift of wellness with the CBD Gift Bundle from Batch. Batch offers premium CBD products that are "rooted in science and crafted from nature". Working closely with local farmers in Wisconsin, they carefully select the finest hemp genetics, that when paired with their commitment to organic cultivation, produce CBD products that really work . All of their CBD products are crafted to ensure you receive only the best, most natural and effective benefits. In addition, their products are also third party tested to ensure high quality and effectiveness. This gift box is perfect for those who are just starting to learn all of the different uses and benefits of CBD. All packaged together in a cheerful box, the CBD Gift Bundle includes CBD Tincture, CBD Balm, Lotion, Muscle Gel, CBD Gummies, CBD Softgels,
CBD Chocolate Bar, and a
CBD Bath Bomb. You can order the gift set as well as many other CBD products directly through the Batch website,
check it out!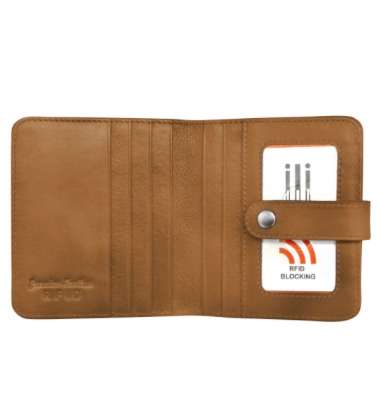 ILI NEW YORK WINE VALLEY WALLET
Another great stocking stuffer or gift idea, ILI New York offers a wonderful selection of handbags, wallets, gloves, and other accessories for women and men. For example, the Ili New York Wine Valley Wallet (shown above) is crafted with high quality leather and packed with features. This multi- use, bi-fold wallet is small in size a has a secure snap closure and RFID protection. It has six credit card slots on the outside, and six slots, an I.D. window and currency compartment on the inside. Measuring approximately 4.25 x 3.75 inches, it's the perfect size for any purse. It's also available in a great selection of stylish colors and can be purchased through the Ili New York website or Amazon.
ENVIROSAX
Envirosax designer reusable bags would make a wonderful gift for the eco-friendly people on your list. Envirosax was one of the first reusable bag brands to combine sustainability with style. Using sustainable production methods and printed with certified eco-friendly dyes, these reusable bags feature double stitching to ensure strength and durability. Each bag has also been load tested to carry more than 44 pounds, and can carry the equivalent of 2 plastic grocery bags. Their wide handles/shoulder straps make carrying heavier loads much easier and more comfortable. Once you're finished using your Envirosax bags, they will easily roll up into a much smaller size; four inches to be exact- the same size as a sushi roll. This, plus the fact that each bags weighs a mere 1.4 ounce, makes Envirosax easy to carry in a handbag or put in your glove compartment. Envirosax can also be used for so much more than just carrying your groceries. You can use them for travel, as a gym bag, as an overnight bag, to carry baby gear, and so much more. And, since they are also water-resistant, they're perfect for trips to the beach, pool, river, or lake. Envirosax Bags are very high quality and can be cleaned and disinfected in the washing machine without any worry of fading. They come in a range of stylish and fun designs and colors, and can be purchased as singles or as a Pouch (set of 5 complementary designs). Envirosax also carries other eco-friendly products including sustainable bamboo utensils and organic hemp face masks. Learn more and find your favorite ones on the Envirosax website.
H.E.A.L'S STRESS RELIEVER KIT
Stress is something that we all want to avoid, which is why H.E.A.L's Stress Relieving Kit is such a wonderful gift idea! This lovely kit includes everything you need to melt the stress away so you can focus on enjoying life. Like all of H.E.A.L's products, each item contains only the best natural ingredients, and none of the bad stuff. Included in this Stress Relieving Kit is a 7 ounce package of magnesium bath flakes, a 0.3oz bottle of Magnesium Oil, a 2oz container of Magnesium Body Butter, and a 0.5oz bottle of Relaxation Essential Oil. Be sure to visit H.E.A.L's website where you can find this kit and so much more (link below), and to learn more read my H.E.A.L Stress Reliever Kit review.
VIVALATINA JEWELRY
What woman wouldn't love the gift of jewelry? Vivalatina Jewelry has a strong history of making gorgeous, custom pieces using the finest precious metals and gems. Whether you're looking for a gold ring set with precious stones, a unique piece of silver inlaid with fine stones, or a necklace with diamonds, Vivalatina can help you find exactly what you want. And if you can't find what you're wanting in their shop, they can make it for you using a unique mix of traditional and modern jewelry-making techniques. In addition, all custom jewelry pieces are made to order ensuring that each piece is unique. This beautiful pair of white gold and malachite earrings is just one example of Vivalatina's custom work. Designed, drawn and created in their workshop, these lovely earrings feature drop shaped malachite stones hanging from the end of a dainty chain with an 18 carat gold leaf hollow pearl in halfway up the chain. Light and stylish these earrings work well with both casual or dressy attire. Find the perfect piece for the woman on your list on the Vivalatina website linked below. And be sure to check out my article on these gorgeous custom earrings!
JINS SWITCH GLASSES
JINS Switch glasses are a wonderful gift idea for anyone who wears glasses and is tired of having to change from prescription eyeglasses to to prescription sunglasses all the time. These unique glasses come with sunglasses lens that attach to the glasses via a magnet. The magnetic sunglasses plate is light yet secure enough to stay on top of the regular prescription glasses without falling off or making the glasses uncomfortably heavy. In addition, all shades are anti-reflection coated, and all single-vision lenses are thin, anti-glare, UV Cut
and have less distortion.
JINS makes stylish prescription and non-prescription glasses and sunglasses for men and women at affordable prices without lacking in quality. They offer a wide range of lens options including prescription sunglasses, progressive lenses,
JINS SCREEN (blue light screen), polarized, photochromic, and performance lenses. You can easily virtually try on different styles and digitally fit your eyeglasses true to size with no app required. They accept most common out-of-network benefit insurances, and all glasses come with a 100% no questions asked 30-day money-back guarantee and a 1 year limited warranty. Visit the JINS website to learn more.
SPRIGBOX – URBAN GARDEN KIT
Sprigbox, the unique garden-in-a-box is a great gift idea for gardeners and foodies! Growing your own garden couldn't be easier with Sprigbox! These innovative and incredibly cute small wooden cubes come with everything you need to grow your own little Urban Garden. All you have to do is add water! Choose from a great selection of plants including herbs and flowers, wait for your box to arrive, then follow the simple instructions for your particular plant. Each Sprigbox comes with natural seeds, soil, and a grow box. Follow the simple instructions to get started, and you'll soon have a garden growing with a lot less effort than you imagined. Most seeds begin to sprout in a just a few weeks with the right amount of TLC (water and light). Then, a few months later, you can transfer your plant to a larger pot for continued growth. Still need help? You can find all sorts of helpful Pro Tips on the Sprigbox site. Whether you have a green thumb with no room for a garden, or a black thumb but yearn to grow your own herbs and veggies, you should give Sprigbox a try!
NYLAH HAIR CARE
Nylah´s Natural, a young vegan hair care brand uses a science-based approach to introduce textured hair products into its new natural hair care line. In Nylah's Moisture Retention Leave-In Curl Cream, all natural ingredients including Davina Flower, Jojoba oil and Ginger oil are blended into an incredibly hydrating hair cream that penetrates the hair fiber to improves hair moisture content, strength and elasticity. Curly hair is left hydrated, manageable, and shiny without any frizz.
SUGAR PLUM GIFTS – NUTS & EXOTIC MEATS BOX FOR MEN
A delicious collection of exotic meats handpicked to cater to men, Sugar Plum's Nuts & Exotic meats Box is the perfect gift for the man on your list. This manly snack box includes a wild boar summer sausage, two beef sticks which range in heat from mild to wild, a pork-and-antelope blend stick, and a pork-and-alligator blend meat stick.In addition, this special gift box also includes two 4oz portions of hand-crafted, kettle-cooked nuts including Memphis BBQ almonds and Texas BBQ peanuts – from their collection of flavors inspired by some of America's most well-known regional BBQ styles.
MORE GREAT GIFT IDEAS COMING DAILY!
Check back daily for more great gift ideas for everyone on your list!
ANOTHER GIFT IDEA IS COMING SOON!
Check back daily for more great gift ideas!
MORE GREAT GIFT IDEAS COMING DAILY!
Check back daily for more great gift ideas for everyone on your list!
MORE GREAT GIFT IDEAS COMING DAILY!
Check back daily for more great gift ideas for everyone on your list!
This Holiday Gift Guide may contain affiliate links for your convenience. If you use a link to make a purchase, I may make a small commission at no extra cost to you. Read my full disclosure policy here.