2013 Holiday Gift Guide Suggestion
Just a few more weeks to get all of your Christmas shopping in, and while you are out getting gifts for friends, family, co-workers, teachers and bosses, be sure you don't forget the four-legged members of your family!
If you read this blog regularly then you know all about our cat Sookie, and how much she's a part of our family. And if you share a home with a cat, then I am sure you share one of my biggest pet peeves, the dreaded nail-scratching-on-your-favorite-furniture syndrome that seems to get along with having a cat. Thankfully, I was recently offered the opportunity to review an item that not only provides a better scratching surface, but goes right along with the season, Scratch 'n Shapes by Imperial Cat.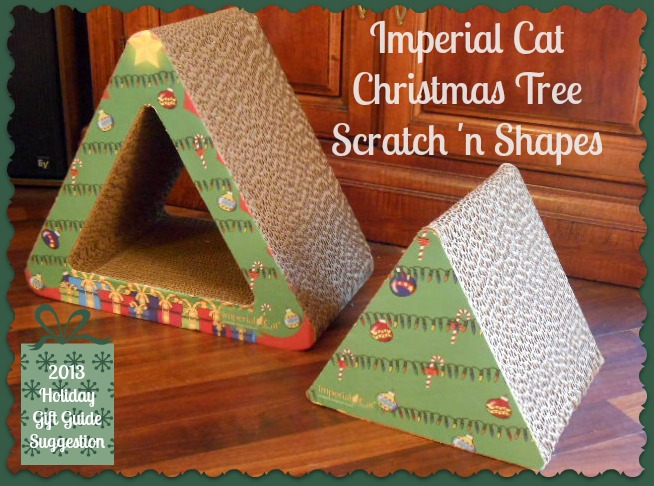 Imperial Cat Scratch 'n Shapes give cats their own special space to scratch, play and laze around. They are available in several different styles, and even include seasonal themes for Halloween, Christmas, and Valentine's Day. Each Scratch 'n Shape is made in the USA from post consumer recycled corrugated cardboard and printed with non-toxic soy inks, making it both pet-friendly and eco-friendly. They are made to last longer than most of the other corrugated scratching posts available, and help to keep cats' claws groomed by removing the old outer claw and revealing the new inner claw for use.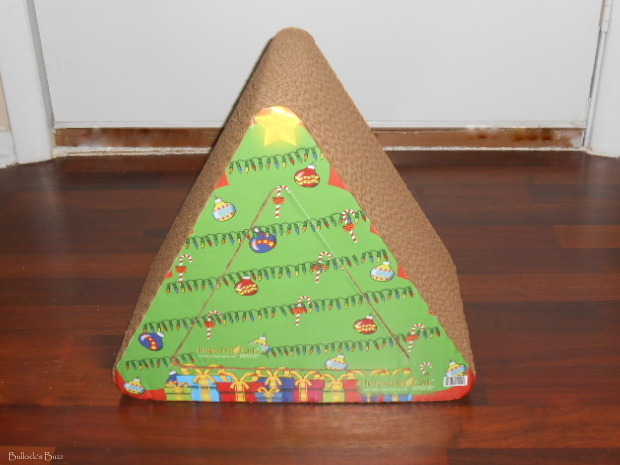 The Christmas Seasonal Scratch 'n Shape cat scratchers are available in several festive holiday shapes such as Reindeer, Sleighs, the North Pole Express and several different Christmas Tree options. I received the Imperial Cat Christmas Tree Scratch 'n Shape, Small which is in the shape of a green triangle. It has a yellow star at the top, brightly colored, wrapped gifts at the bottom and ornaments and holiday words along the middle. The center actually pops out providing a second, smaller triangular scratcher for cats to use. The sides of both triangles are tough, corrugated paper ready to scratch that can be rotated from side to side for extended use. Both provide multiple angles for scratching and stretching. The small Christmas Tree Scratch 'n Shape measures around 16″ by 9″ by 13.8″.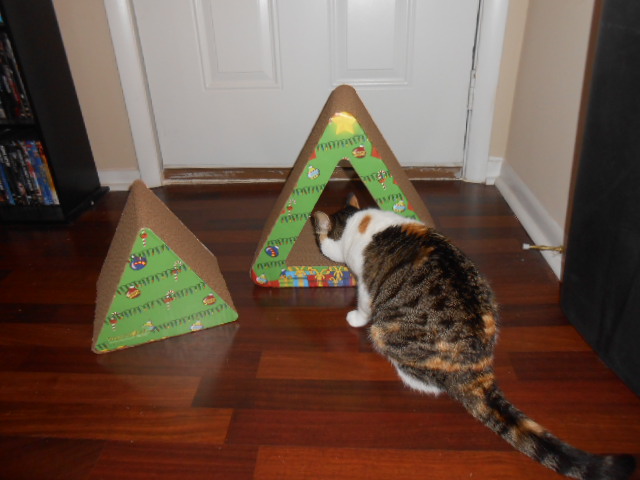 A bag of organic catnip included has served to entice Sookie into giving it a try. And although we have only had it here for a few days, and she still goes for the chairs, I have seen her scratching on her Scratch 'n Shape several times. So now, whenever I catch her scratching on the chairs, I pick her up and move her to her Scratch 'n Shape and place her paws against it hoping she'll get the idea. She also likes to rub against the larger triangle, and loves to crawl through the hole left by the smaller triangle.
In addition to the Scratch 'n Shape cat scratchers, Imperial Cat offers a large line of eco-friendly, products that are tested in-house by cats, and are made by people who have and understand cats. Their products can be found at several sites online and many stores offline.