Handmade Grinch Christmas Ornaments Tutorial
Growing up, my favorite Christmas cartoon was always Dr. Suess' How the Grinch Stole Christmas. When the movie with Jim Carrey was released, I fell in love! If that yellow-eyed fuzzy green Grinch is one of your favorite holiday icons, too, then you are going to love these two adorable DIY Grinch Christmas ornaments!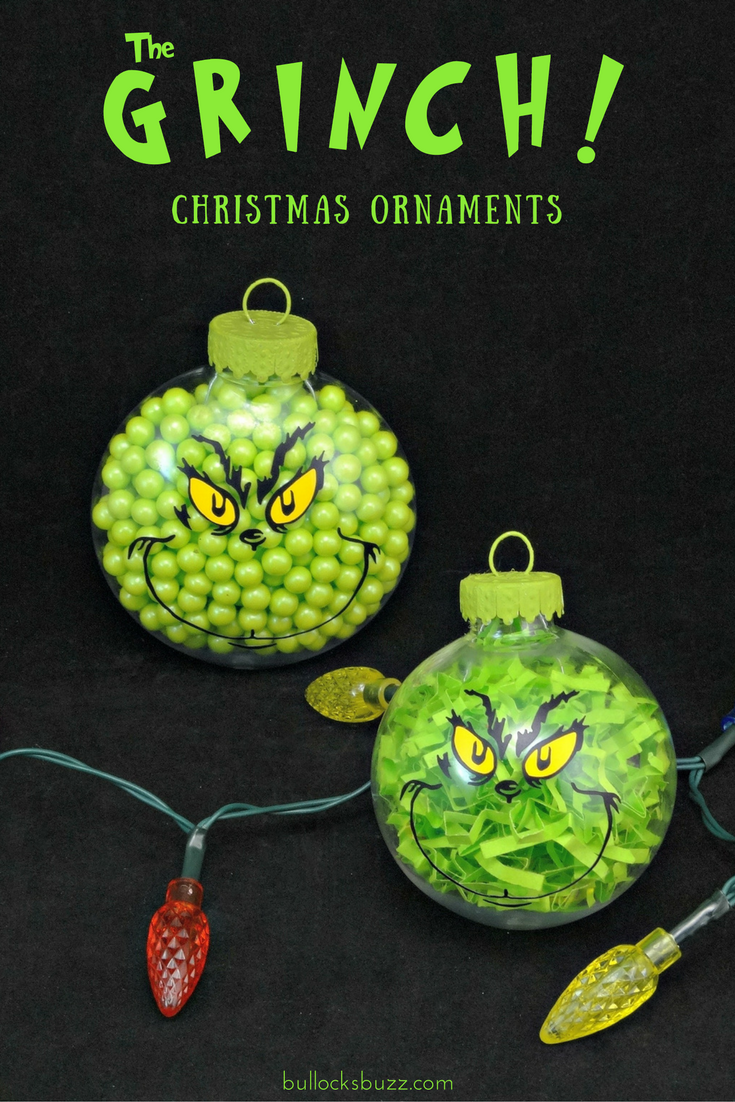 Using my Halloween candy-filled ornaments and DIY Thanksgiving Turkey Treats as inspiration, these fun ornaments are extremely easy-to-make and take very little time. Although I used my Cricut Explore Air™, if you don't have a die cutting machine, paint markers or craft paint will work just as well! If you are using a die cutting machine, you will need a Grinch SVG file like any of these from Etsy for both ornaments.
How to make
DIY Grinch Christmas Ornaments
The candy-filled Grinch ornament is perfect for your tree, as holiday decor, or even as a unique holiday treat! And the shredded paper-filled Grinch ornament will look great on the tree, and it makes a wonderfully unique gift! Best of all, these Grinch ornaments are extremely easy and inexpensive to make! Even the kids can help you and have a special Christmas memory to keep!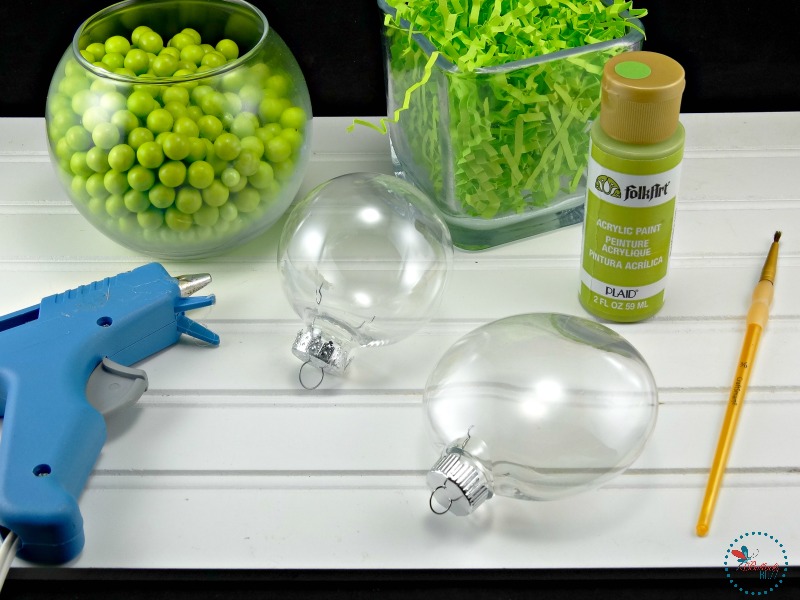 Here's What You Will Need to Make the DIY Grinch Christmas Ornaments
Please note, I added Amazon affiliate links to make shopping easy. If you make a purchase through these links, I'll make a small bonus at no extra charge to you:
Grinch SVG file (I found mine on Etsy– the URL to this file often changes, so you may have to search)
Cricut or other die cutting machine
Black waterproof vinyl such as Oracle 651
Yellow waterproof vinyl such as Oracle 651
12 x 12 Cutting mat
Transfer tape
Clear, round, disc plastic ornament
Clear, round plastic ornament (if you will be eating the candy, please use a food-safe ornament instead)
Lime green Sixlets candy or green M&Ms
Lime green crinkle cut paper shreds (like those you find in Easter baskets)
Lime/apple/citrus green craft paint
Hot glue gun and glue sticks
(If you are an Amazon Prime member or like shopping through Amazon, you can purchase any of the necessary items by clicking them in the above list. These are affiliate links so if you make a purchase using them, I'll make a small commission at no extra cost to you). You can also find these supplies at any craft store, and even some supplies at dollar stores.
Before getting started, wash the outside of both ornaments to remove any fingerprints, oil, or other dirt. If you are going to give the candy-filled ornaments as gifts to eat, make sure you wash the inside as well. Let ornaments dry completely.
Here's How You Make the DIY Grinch Christmas Ornaments
To get started, remove the silver caps from both ornaments and paint them green. Put them off to the side to dry. Depending on the paint, it may take two layers. Tip: use a paperclip to hold the lids while you paint them and while they dry.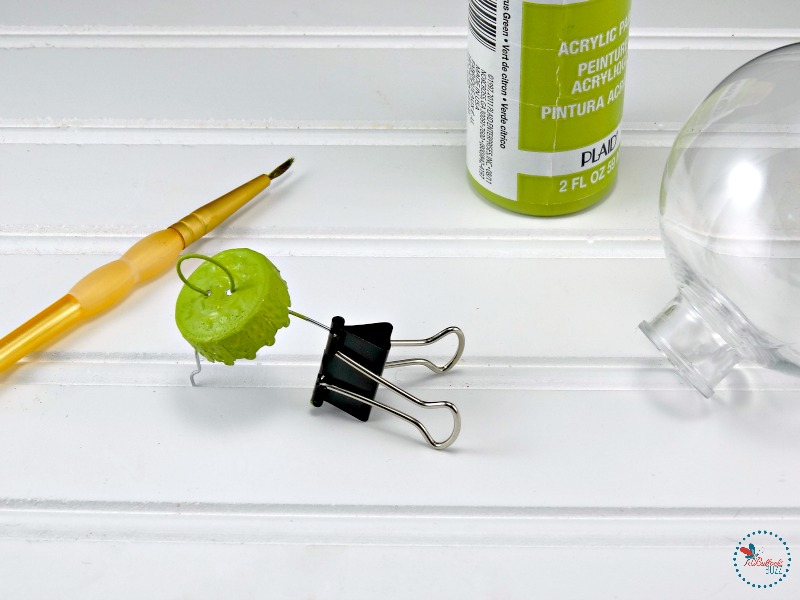 Next, if you are using a Cricut or other die cutting machine, open your Grinch SVG file in Design Space or whatever program your machine uses. Size the file to make sure it fits the ornaments.
for the round ornament, I sized mine to 2″ by 1.9″

the disc ornament I sized to 2.5″ by 2.38″
Place the vinyl on the mat, set your machine to cut 'vinyl', and then step back and let your machine do its thing.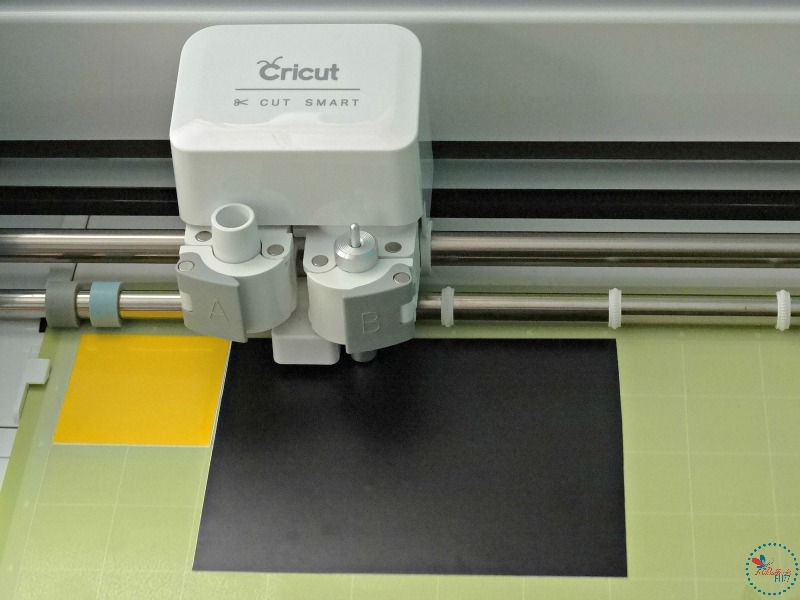 Once the designs are cut, peel off the top layer of vinyl.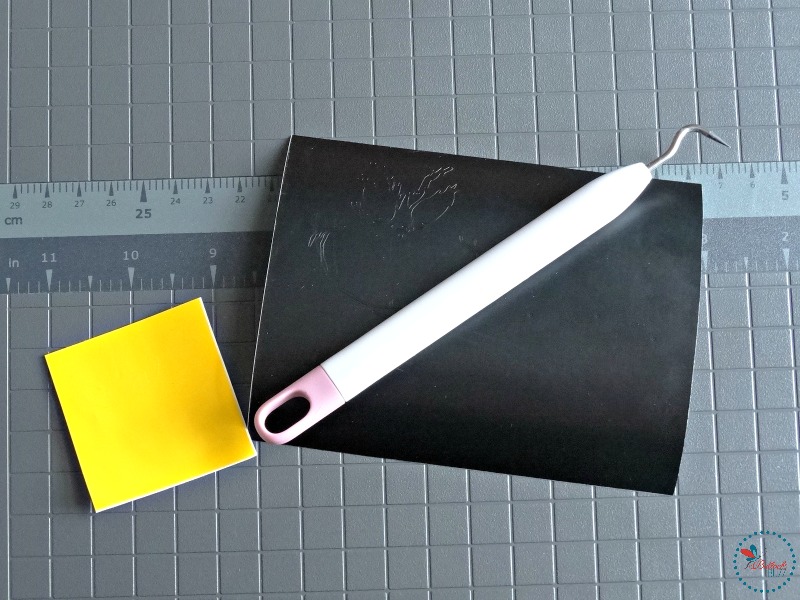 Next, carefully apply the transfer paper, burnishing it to make sure it sticks to the vinyl. Tip: for making ornaments, I usually cut some lines into the design to make it easier to apply to the rounded surface.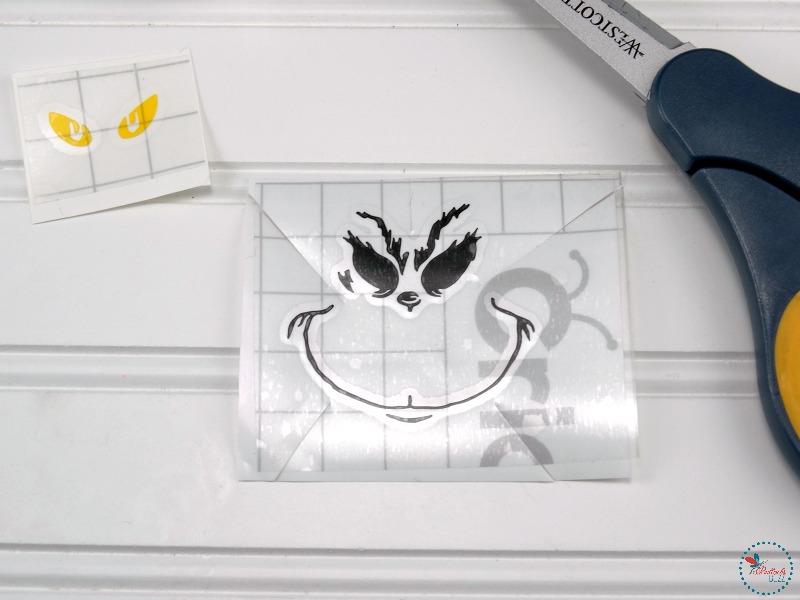 Carefully apply the black vinyl to the ornament first, smoothing it with your spatula or a credit card once the vinyl is in place. Next, add the yellow vinyl eyes on top of the black, once again smoothing to ensure it adheres. Repeat with the second ornament.
Once the face is on, all that is left to do is fill the round ornament with the crinkle paper shreds, replace the lid, and hot glue it shut. And then…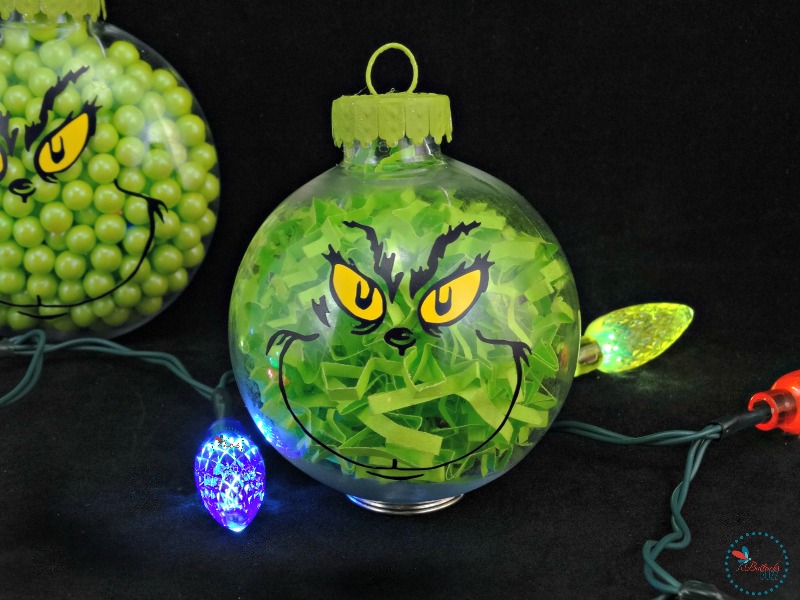 …fill the disc ornament with green candy and replace the lid (if you are not using it as a treat, seal this lid with hot glue, too). You could also glue a green feather sticking up from the top if you wanted!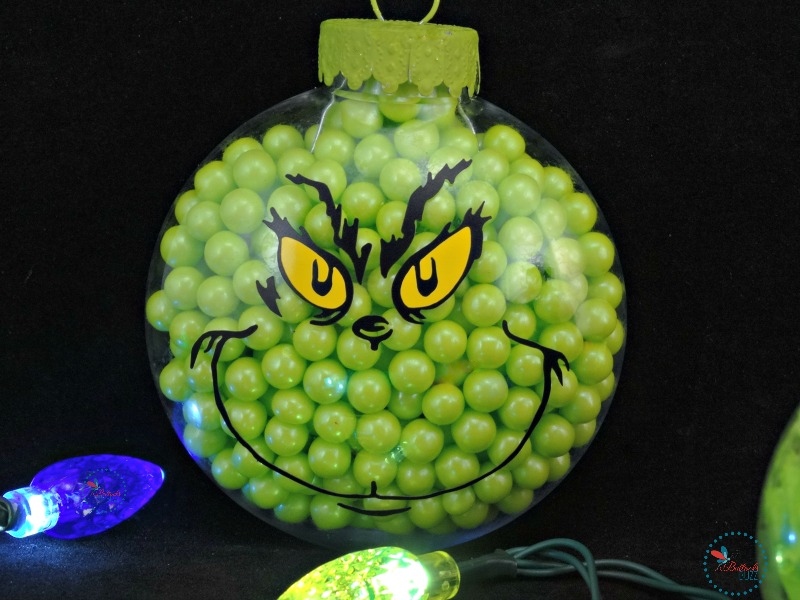 And that's it, you're done!
So there you have it. Two adorable DIY Grinch Christmas Ornaments that everyone is sure to love! Give them as a gift, put on them on the tree, or use them as decor around your home – and every time you see it you'll be reminded of the true meaning of Christmas!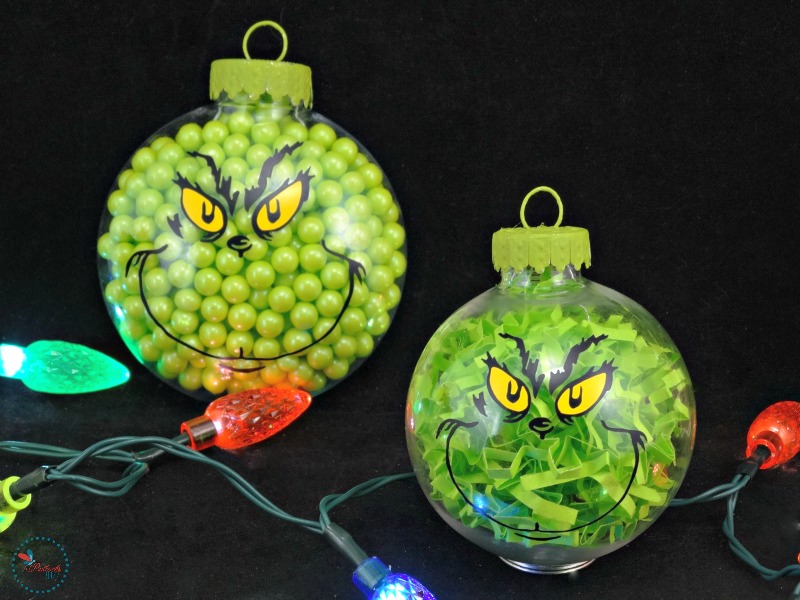 Love this DIY Christmas craft? Share it with friends and family by using the social share buttons right below the post title! And then…
Check out these

o

ther DIY Christmas Crafts and Recipes you may enjoy.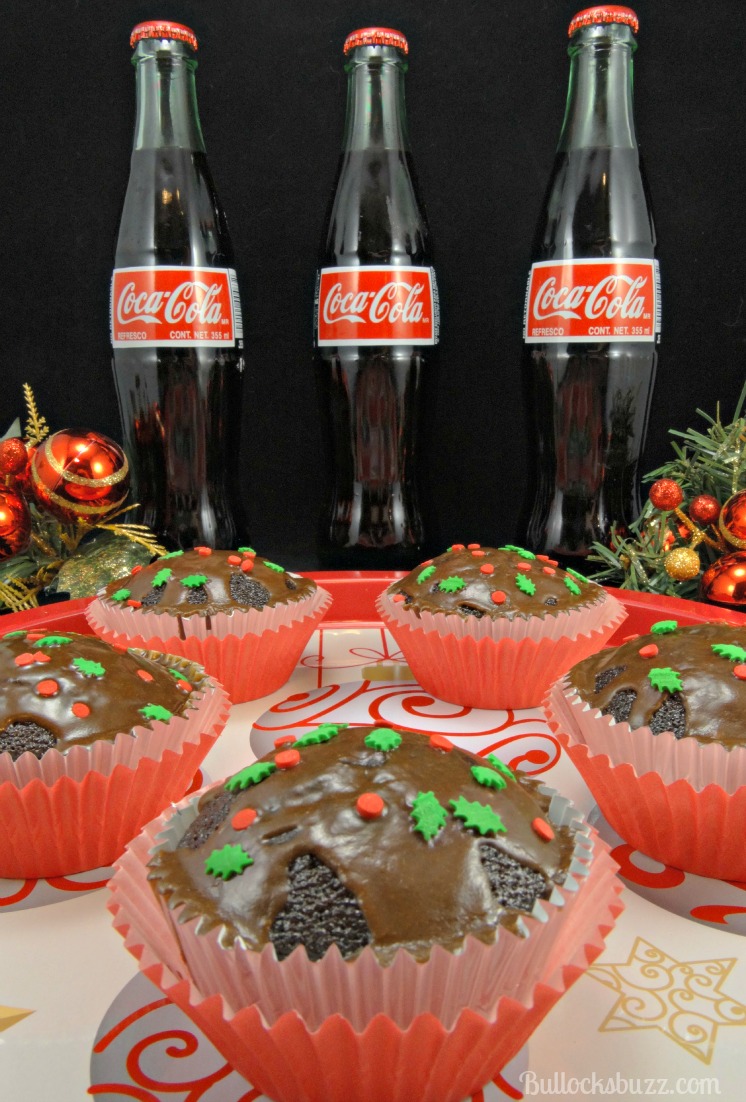 Do you have a favorite Christmas craft? I'd love to hear about it! In fact, I may even feature your treat in a blog post, with credit to you, of course! Share with us in the comments below.