Today's post featuring a DIY Gingerbread Man Candy Card tutorial, is written in partnership with SC Johnson. Regardless, all thoughts and opinions are my own.
I cannot believe the holiday season is already upon us! I am so excited to get started with my holiday baking, crafting and giving! In fact, one of my favorite holiday traditions is creating unique and fun cards and gifts to give to the special people in my life. And this year I made this adorable Gingerbread Man Candy Card using Ziploc® Brand bags in some super cute holiday designs!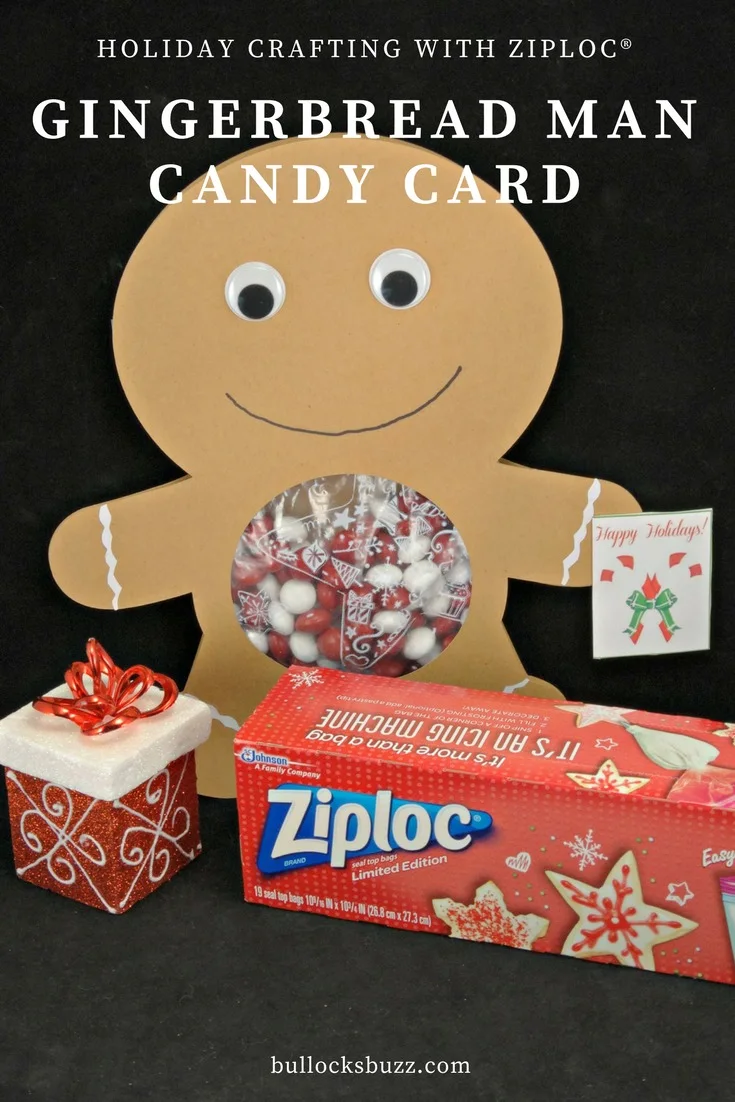 These Ziploc® Brand bags feature adorable holiday prints that are perfect for crafting, gifting and all sorts of holiday fun! I found them along with everything else I needed at Walmart. They come in several different sizes and patterns, and there are also some great holiday Ziploc® Brand containers, too.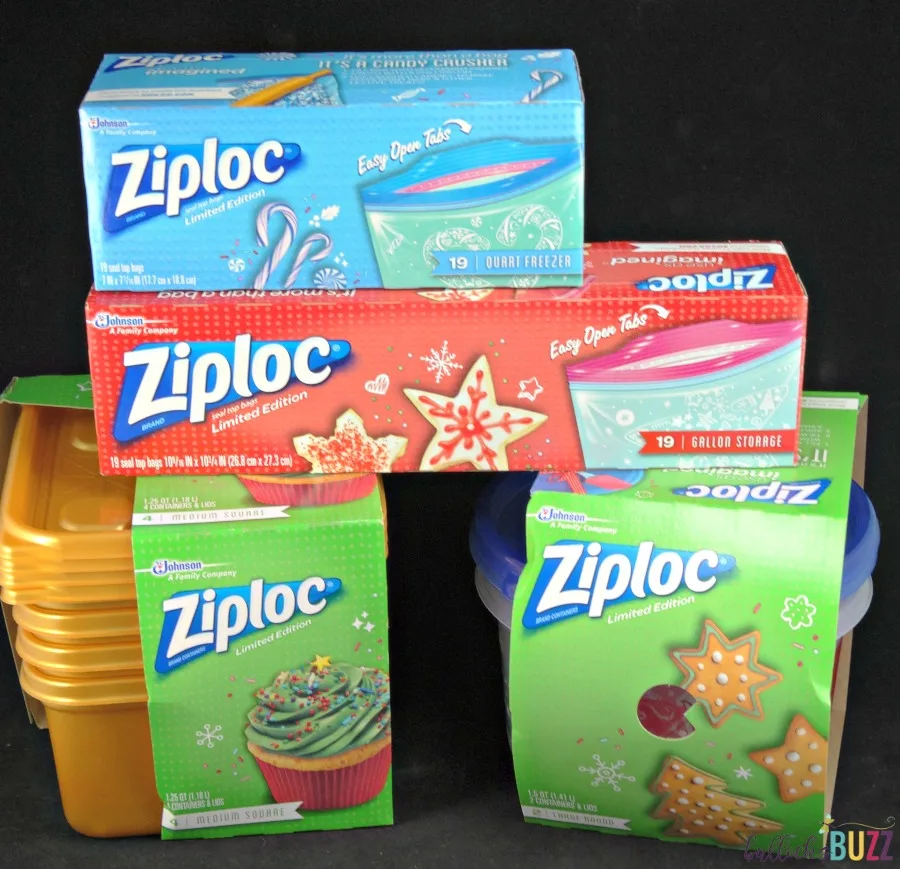 This DIY Gingerbread Man Candy Card is the perfect way to spread some holiday cheer. It takes about 30 minutes to make and is super easy. What better way to show your love than with a cute card and sweet candy?! Ready to see how to make these candy-filled holiday cards?
DIY Gingerbread Man Candy Card
Gingerbread Man Candy Card Materials
Card Stock in light brown
Cricut Explore Air™ or other die cutting machine (or scissors)
Gingerbread Man File if you have a Cricut
color printer
Mini Holiday Card (download and print HERE)
Small candies in holiday colors
Ziploc® Brand Quart Size Easy Open Tab Bag in your favorite holiday pattern
White Rick Rack
Black marker
Wiggly Eyes (large)
Scissors
Glue
Stapler
Tape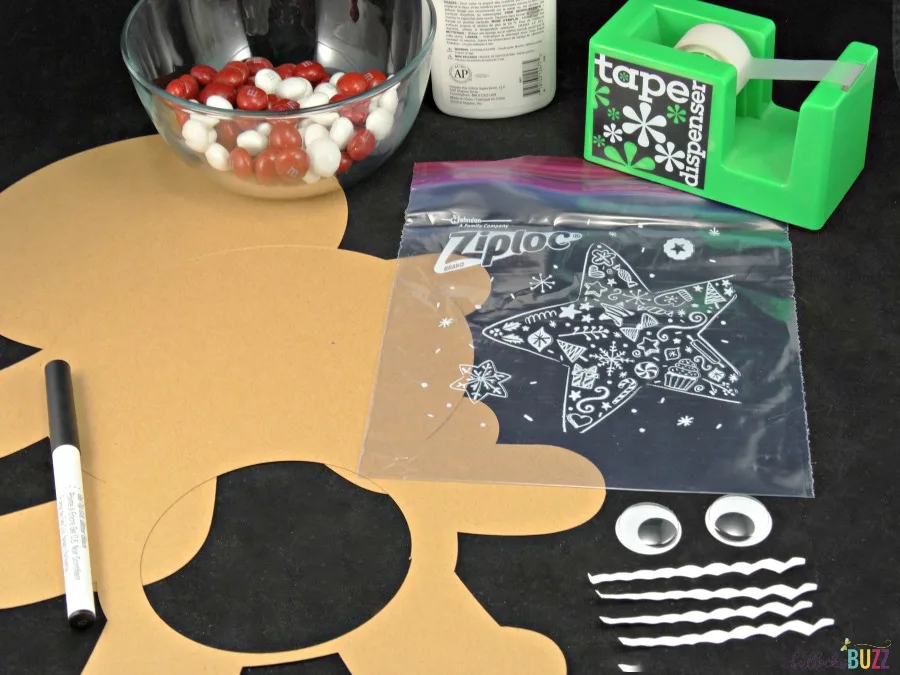 How to Make Gingerbread Man Candy Card
For the Gingerbread Men Templates
With a Cricut or similar machine:
For the gingerbread men, I used this SVG file.
Make sure both images are the same size. I sized mine to 10.3″ wide by 11.387″ high.
Use your Cricut or other machine to cut both images on brown cardstock.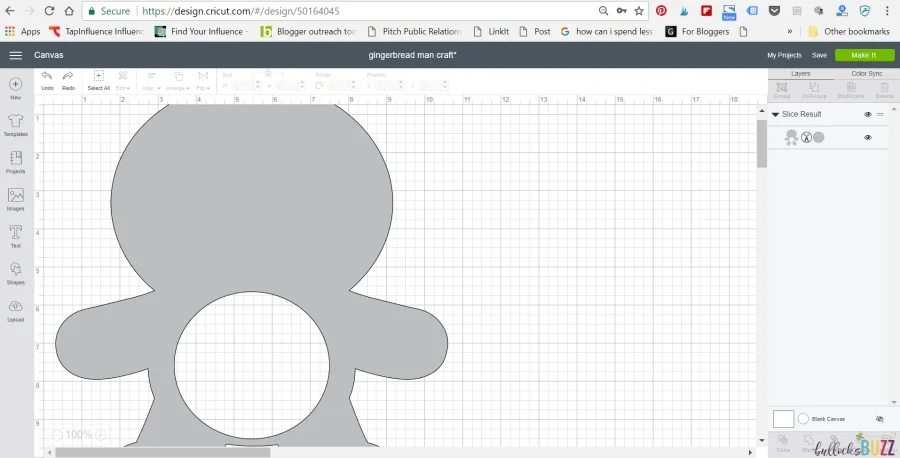 Without a Cricut or Similar Machine
Search Google for a fitting image, print it, cut it out and then trace it onto a stiff piece of paper so you can use it as a template.
Use that template to make TWO gingerbread men on brown cardstock. Cut both gingerbread men out.
Next, cut a 4″ circle out of the belly of ONE of the gingerbread men. This will be the top of the candy card.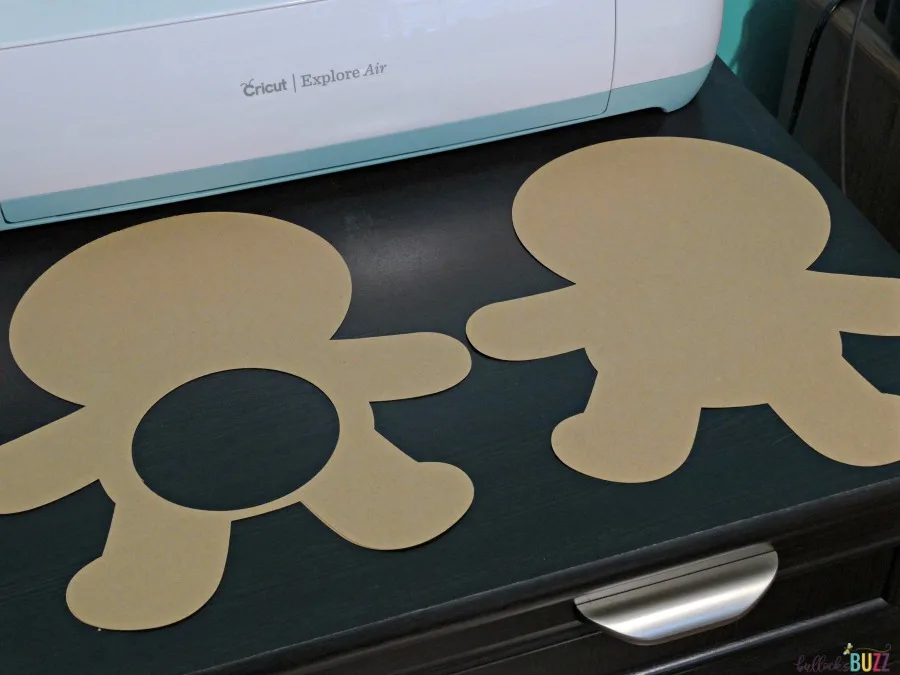 Once you have both gingerbread men cut out, go ahead and decorate the top gingerbread man (the one with the hole cut out). Use glue to attach white Rick Rack on both arms and both legs. Then glue on the wiggly eyes, and use a black marker to draw the mouth.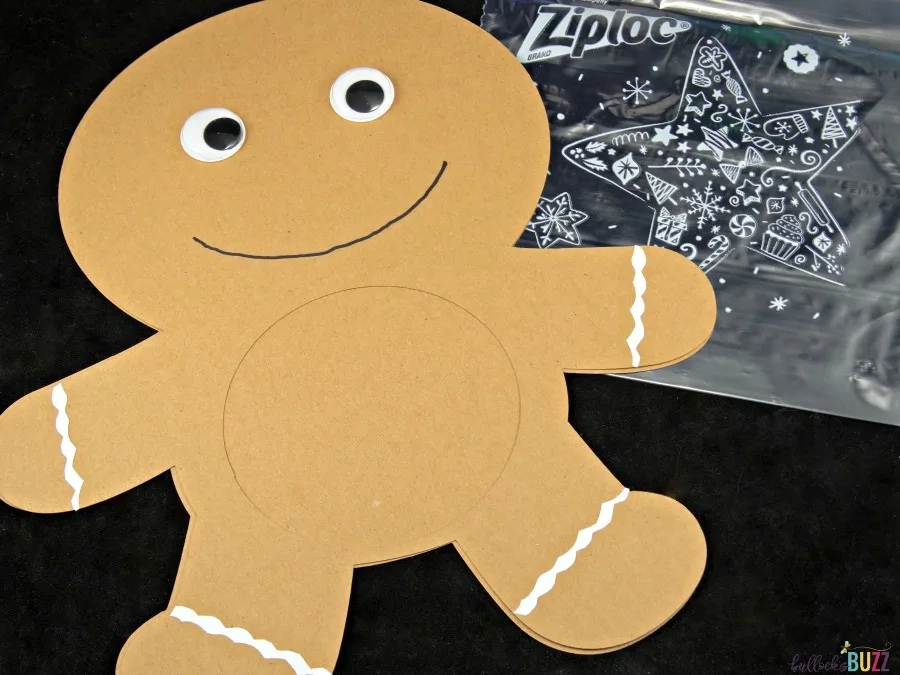 Next, print out the free printable Mini Holiday card. Cut the card out, fold it in half, and write your own personal message on the inside. Place to the side.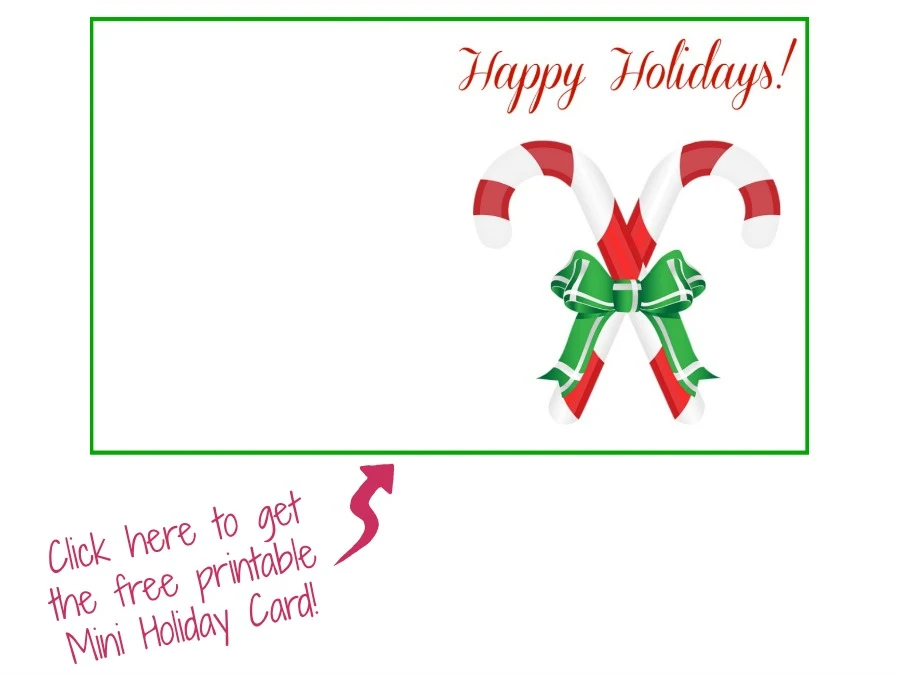 Now you are ready to put your Gingerbread Man Holiday Candy Card together!
Begin by turning the top layer of your card (the one with the hole) over so the back side is facing up. Center an empty Ziploc® Brand bag so it fits behind the circular cut out. Make sure you can see some of the holiday design on the bag through the hole!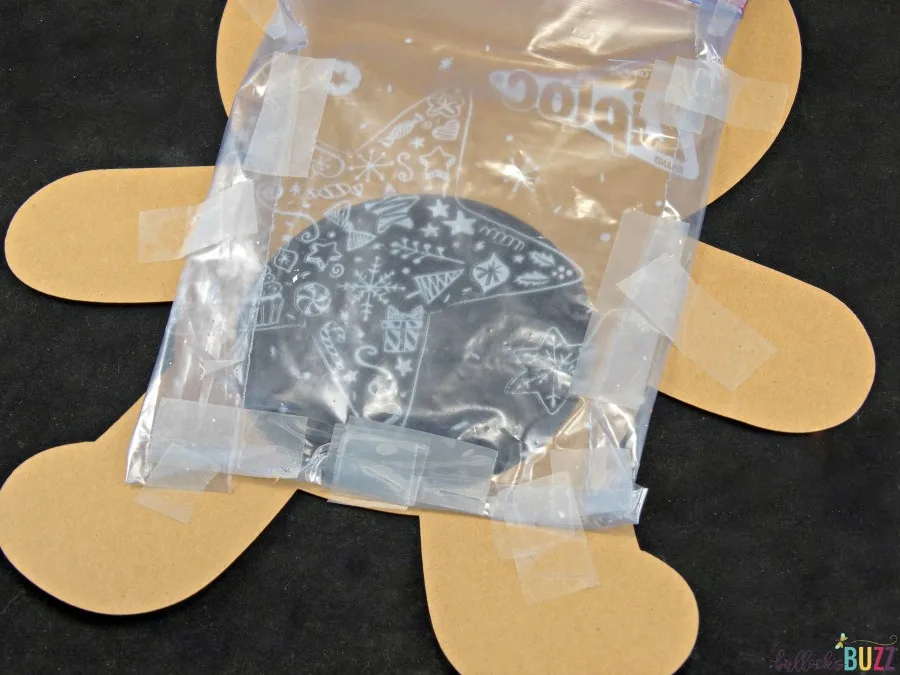 Next, fold and tape the bottom corners and both sides of the bag so they fit on top of the Gingerbread Man without any of the bag sticking out around the edges. You don't want to be able to see any of the bag from the front side except for the part inside the hole.
If needed, use some more tape to make sure the bag is securely attached to the Gingerbread Man.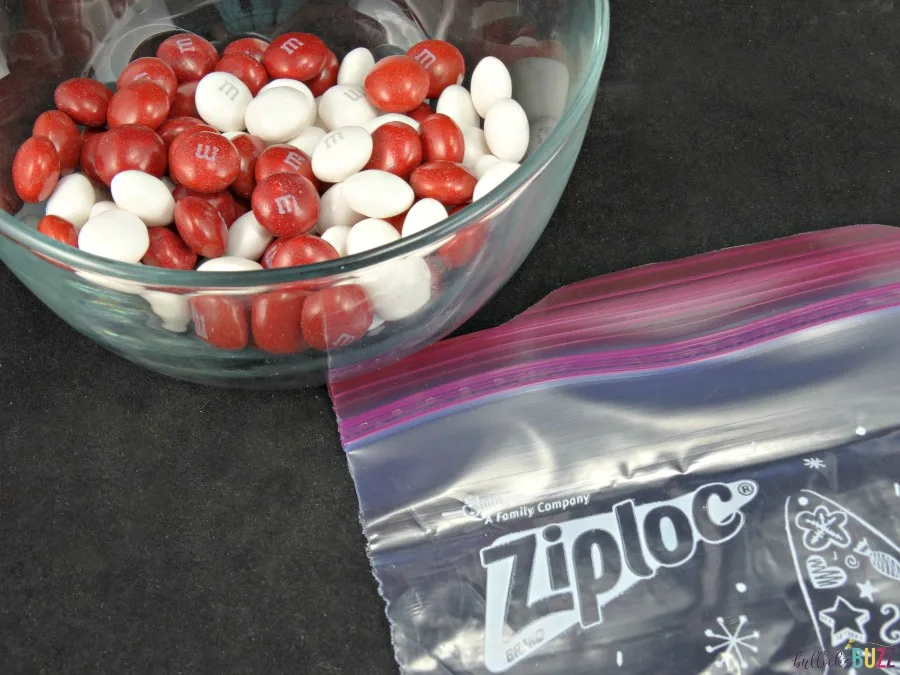 Now carefully fill the Ziploc® brand bag with the candy, making sure the candies lay flat in a single layer.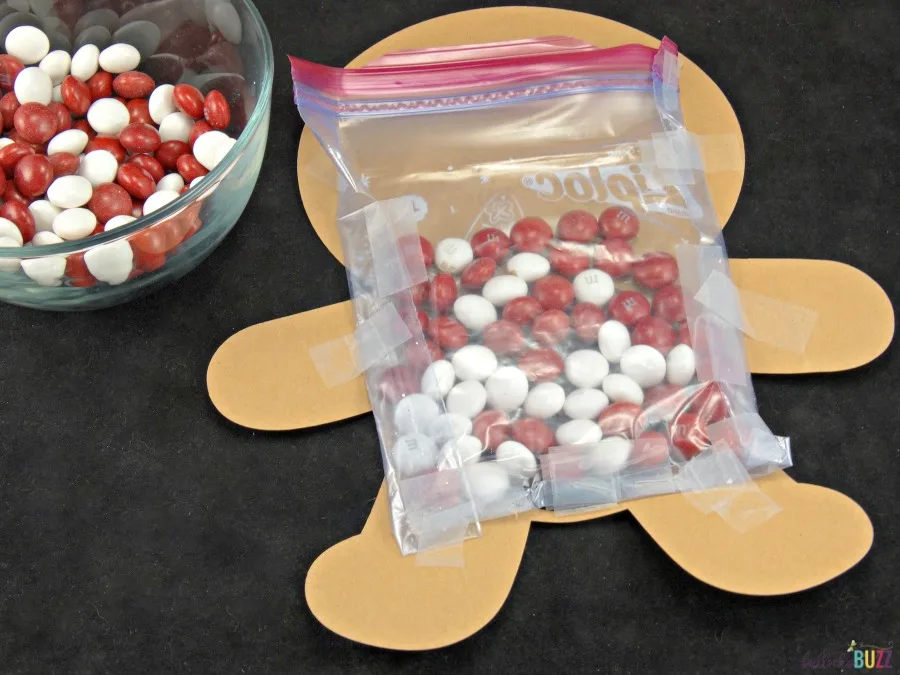 Zip the bag closed, then fold over and staple the top corners (to the bag itself, not to the Gingerbread Man) so they will sit flat.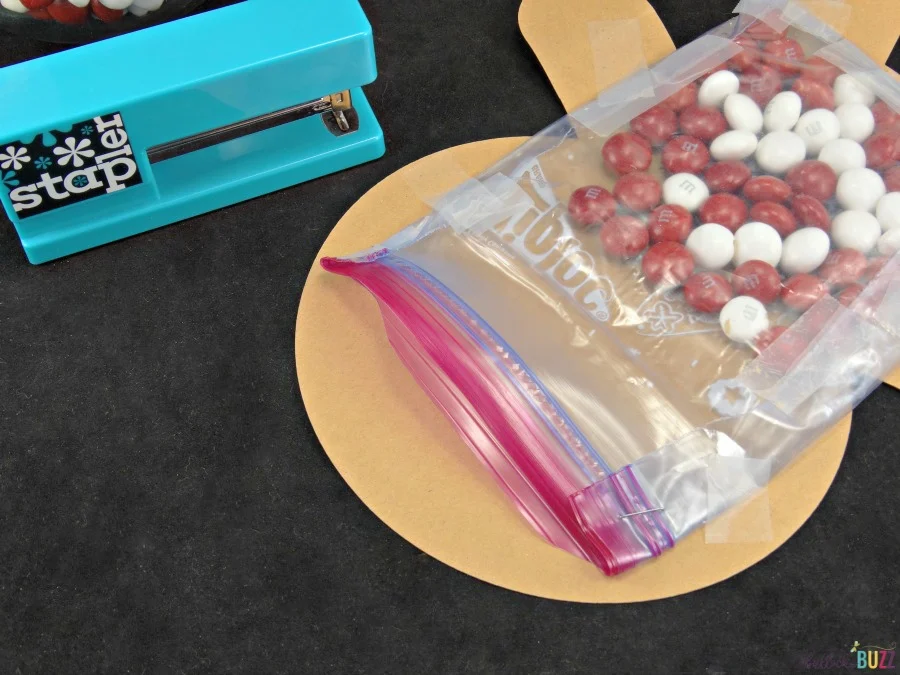 Use a bit more tape to secure the corners to the card.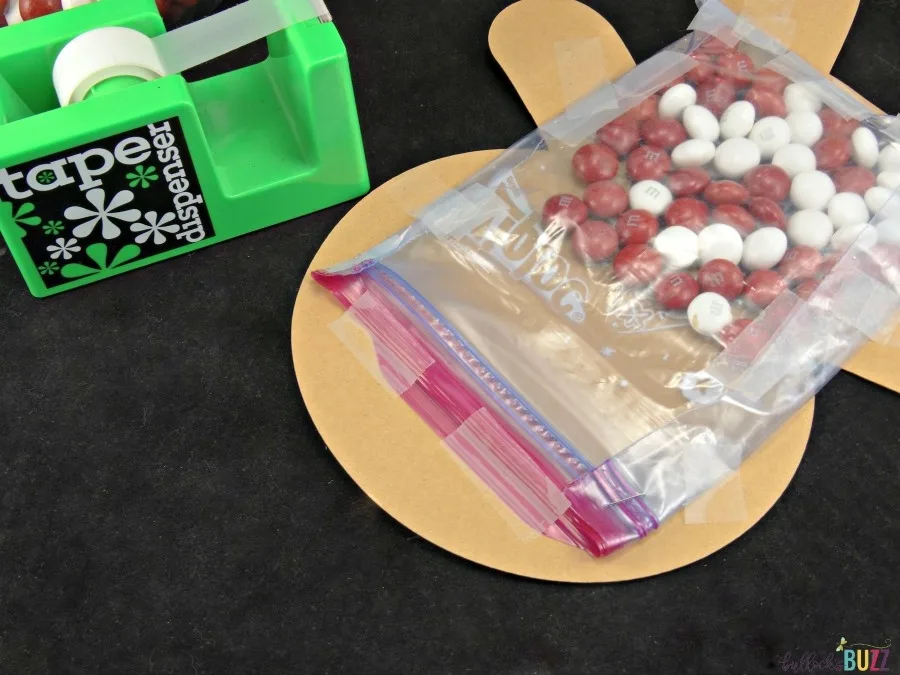 Next, using either glue or tape (I used tape), secure the bottom layer to the top layer of the card. This will help hold the candy-filled bag in place more securely, and give the card itself more durability. Place it on top of the candy bag and make sure the arms, legs and head line up before securing the two layers together.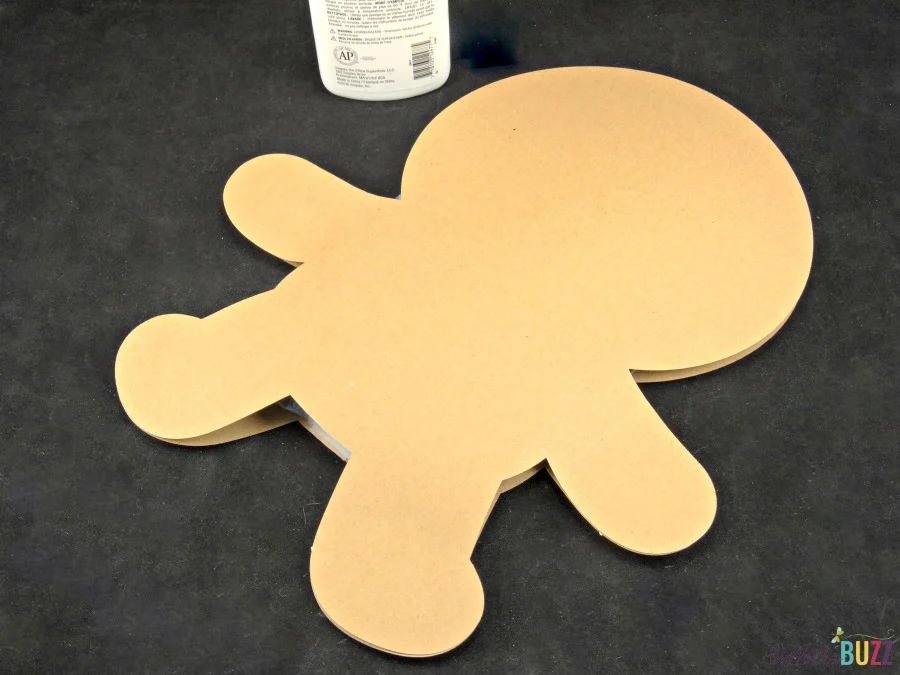 Lastly, flip the card over, and use a dot of glue to attach the Mini Holiday Card to the Gingerbread Man's 'hand'.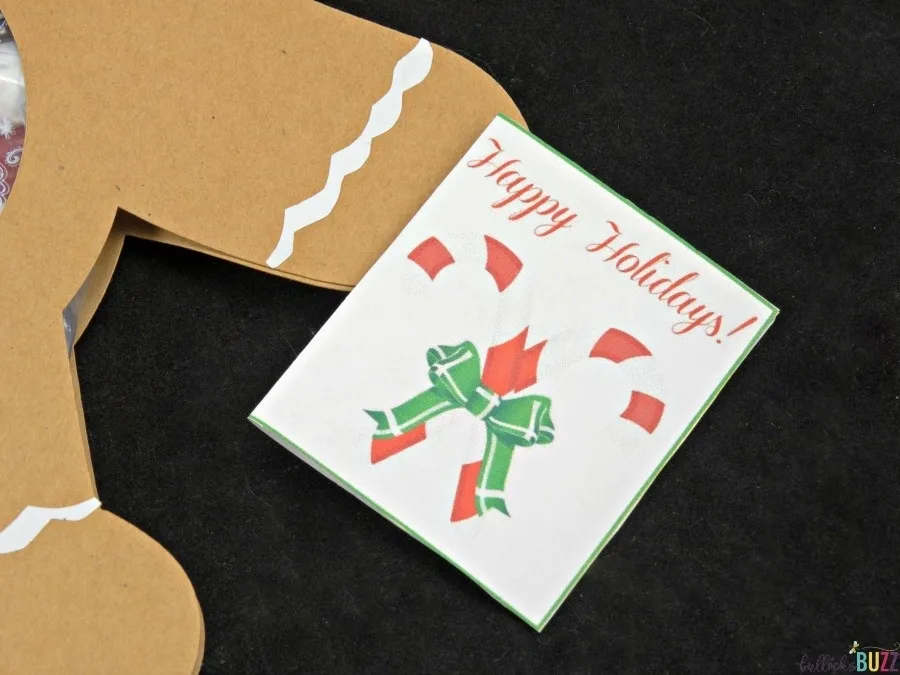 And there you have it. An adorable holiday Gingerbread Man Candy Card ideal for kids, family or friends!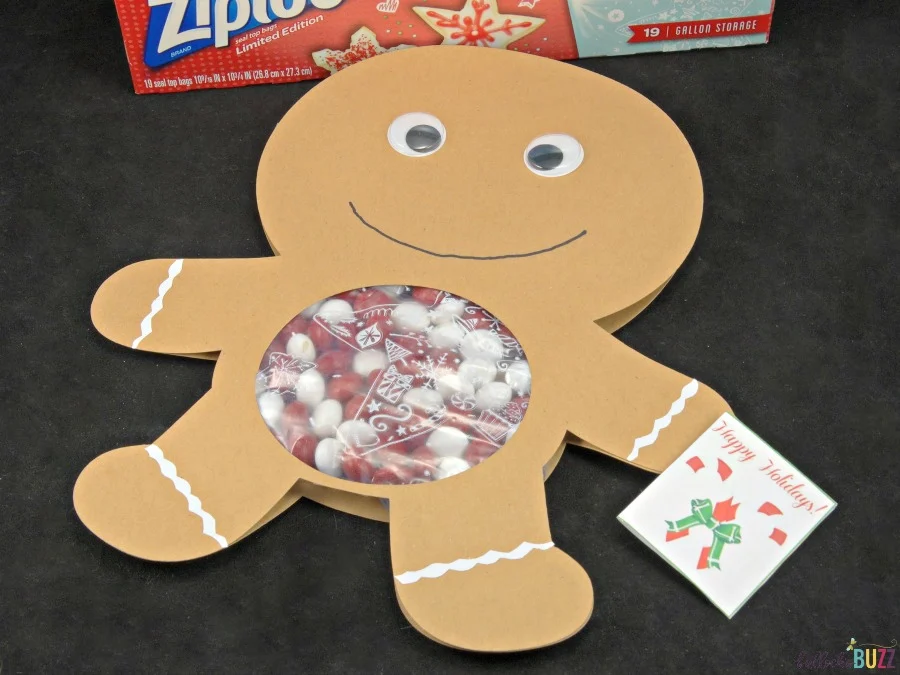 I hope you love this Gingerbread Man Candy Card for the holidays as much as I enjoyed making it! Be sure to pin it and share with family and friends! And check back soon, because I can't wait to get started using more of these Ziploc® Brand bags and Ziploc® Brand containers for some more creative crafting, delicious baking and holiday giving!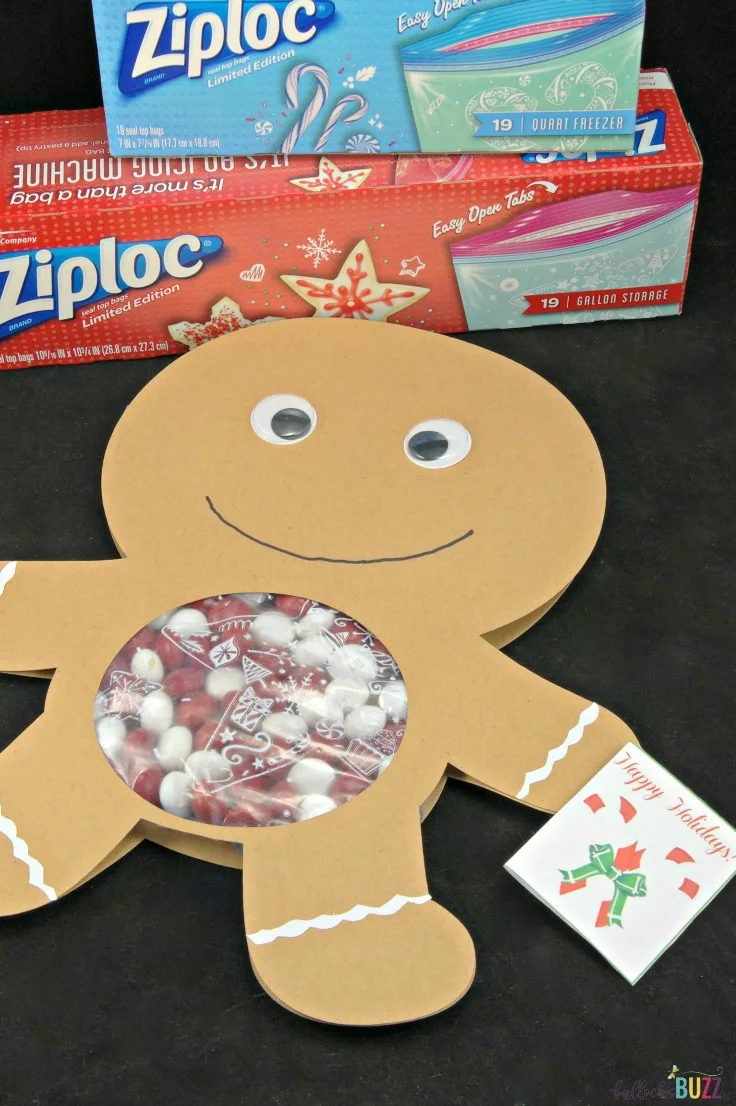 What creative way will you use Ziploc® Brand bags and Ziploc® Brand containers this holiday season? Use this coupon to save!