While the 2018 wedding season is coming to a close, 2019 brides and grooms are in full-on planning mode this time of the year. It's no secret that planning a wedding can be stressful — so it helps to know ahead of time what's going to be in style. So if you're looking for some of the best wedding trends in 2019 we can expect to see, keep reading.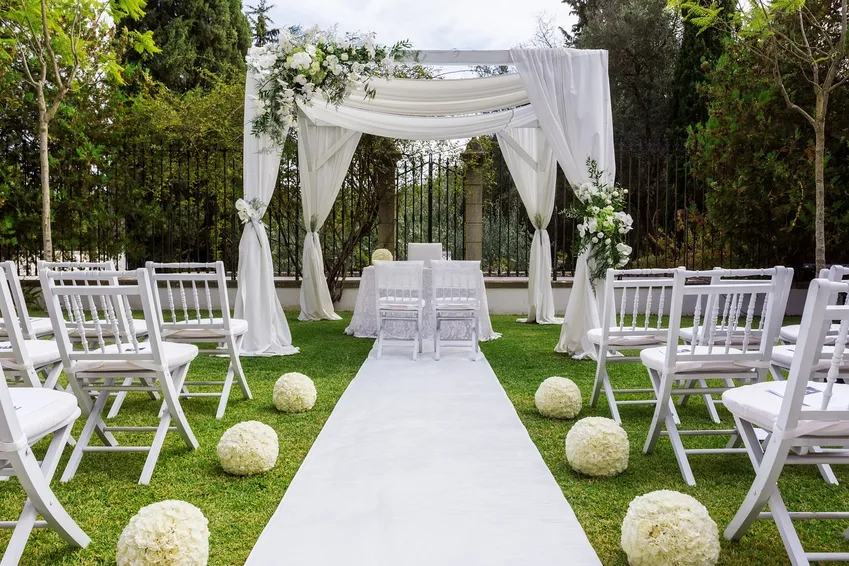 Unique Wedding Destinations
Choosing a place to get married is usually one of the first, and most important, steps in wedding planning. Weddings today take place in so many different locations and venues that couples have tons of options to choose from. And while there are still the popular wedding venues of churches, party houses, and barns, couples in 2019 will be looking for more unique destinations and venues.
In fact, studies show that about 40% of engaged couples are looking for venues that are more unusual and reflect their personalities. With that in mind, experts predict that upcoming weddings will take place in more remote and unique locations.
Whether it's a tropical beach or a castle in Ireland, more couples are choosing to travel to say their vows than ever before. So, if you're looking for a unique wedding experience, consider a destination wedding.
Wedding Trends in 2019: Custom Wedding Favors
One of the best parts of going to a wedding, besides celebrating a happy marriage, is getting to take home some goodies. And this is why so many couples are putting a heavy focus on coming up with some awesome favor ideas.
For wedding trends in 2019, it's expected that more couples will go more of a custom route with their favors, offering guests things like wedding scents, teas, or coffee that reflect their tastes as a couple. And monogrammed or etched glasses or even koozies are going to continue to be a popular choice next year.
Some couples will even offer their guests unique experiences for their favors, like getting tattoos. That's right, more and more couples are choosing to have a tattoo artist at their wedding to give their guests some ink.
And even though about 45 million Americans already have at least one tattoo, not many people can say they got inked at a wedding they went to. All in all, favors will continue to be more custom and personal.
Wedding Trends in 2019: Darker Colors
While many weddings in 2018 saw pastel and light colors, 2019 seems to be going down a darker path — in a good way. Brighter, deeper colors are expected to be seen in weddings, with a lot of purples and reds. Darker colors can often give weddings a more elegant feel and can be paired with a few light accent colors to really make the deep colors pop.
Along with darker colors, couples next year will be incorporating more greenery and nature into their wedding themes, which is a trend carrying on from this year. Adding greenery instead of flowers can give a more rustic, vintage feel, especially when paired with darker hues.
Hopefully, this article on wedding trends in 2019 gave you some good ideas you can incorporate into your wedding. But just remember that your wedding is exactly that — yours. So, plan your wedding to your tastes and it will truly be the best day of your life.