Many people look forward to having a child, but some may be caught off guard by the pleasant surprise of twins. One baby can greatly increase costs for a family, while two will double those costs. Here are some tips to help you save money if you are expecting twins.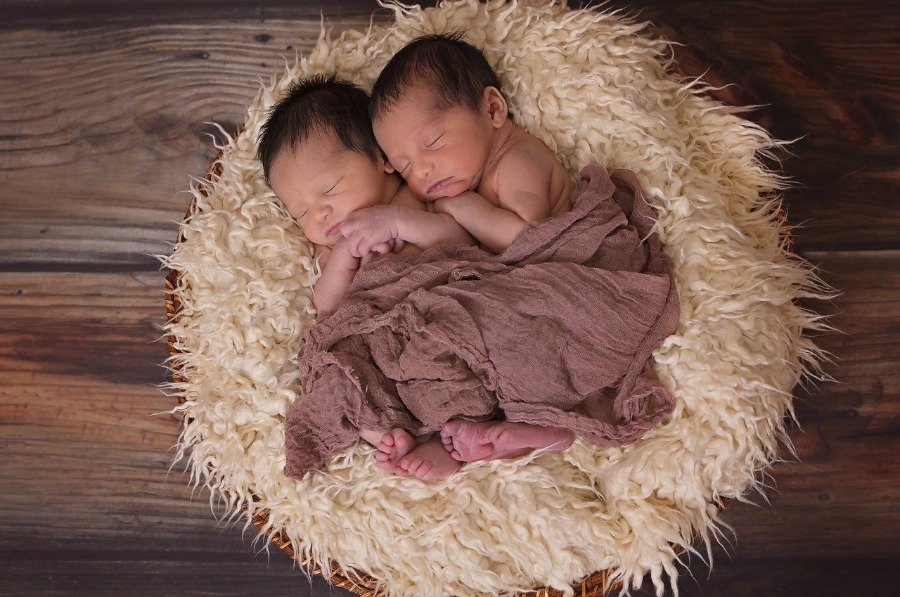 Consider Breastfeeding
Some people may question the value of breastfeeding, but doing so can help provide your twins with nutrients while keeping food costs down. You do have other options such as baby food or formula, but that will cost you money. After all, you may have planned to buy formula for one baby, but you might not have the budget for two babies when expecting twins.
It's also well known that that breastfeeding is healthier, but formula and baby food works perfectly well, too. After all, society went millennia without formula as an option. Plus some babies are lactose intolerant or have other health restrictions that may prevent breastfeeding.
What it comes down to is doing what's best for your twins.
Get Coupons and Join Rebate Programs
Many people don't realize that different stores and businesses will offer coupons for parents with newborn children. These coupons can help you save money on food, diapers, clothing and other necessities for your twins. Keep an eye out for these coupons in newspapers, mailers, and them online.
Rebate programs can also provide you with discounts on necessities for your twins. Many of these rebate programs focus on formula and diapers, but you might find different offers based on your area or the program. Make sure to take a look online and also ask around to find out about different programs.
While it may take some research and a bit of digging, if you don't put forth the effort, you won't find any deals or coupons.
Get Advice from Programs and Others
Adjusting to having one child is challenging enough, but expecting twins opens up a whole new set of challenges. Seek advice from others during this time to help you prepare for parenthood with twins. There are many support groups for families who are expecting twins where you can learn all sorts of helpful information, find advice, get support, and even discover new friends.
You can also ask parents or friends that have twins for any advice. These people can offer plenty of tips and tricks to help you take care of your twins. And you should also ask if they have any clothing or other items from when their twins were young which can help you save money.
Seeking advice and help from others can greatly benefit your twins. If you're new to having kids, let alone twins, then it's great to hear from others that are having similar experiences and those that have already welcomed their twins.
Plan for Emergencies
While you can't predict emergencies, you can plan ahead for them. The unexpected can happen, and it can be a lot to handle, especially if something happens to two babies at once. Therefore, you should make sure that you have a backup plan if the unexpected happens and your savings aren't enough to cover it. Do your research way before your due date.
One option is to begin a savings account specifically for various emergencies including baby-related ones. This will give you money to rely on if you need to pay for an unexpected emergency. It may take some extra effort to do so, but it will save you a lot of stress if an emergency happens. and you need the funds.
Another option is to familiarize yourself with the types of loans online loans direct lenders offer should you find yourself faced with unexpected medical bills or other emergencies. You'll be glad you have the information should an emergency ever happen.
Conclusion
While expecting twins may intimidate a couple new to babies, making the necessary changes and preparations to prepare yourselves mentally, emotionally, and financially makes a huge difference. Using these tips above can help you be prepared so you can welcome your little bundles of joy without the stress and worries.