2014 Holiday Gift Guide
Ever since I was a little girl I have wanted a bean bag chair. They always looked so fun and comfy! And now, thanks to The Bean Bag Chair Outlet, I finally have one – one that is a much higher quality than anything I remember seeing as a child.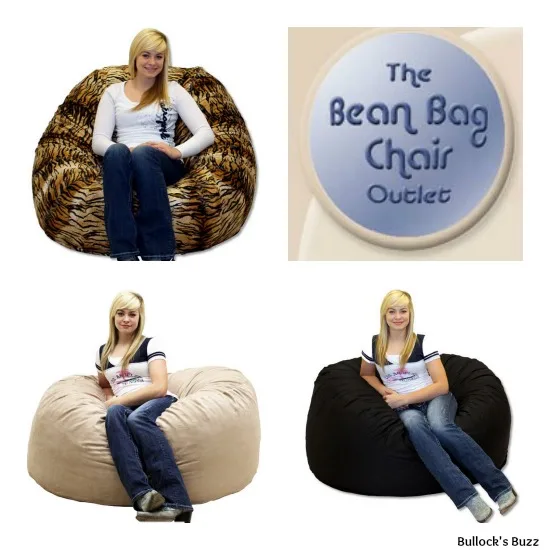 The Bean Bag Chair Outlet
The Bean Bag Chair Outlet has a great selection of bean bag chairs ranging in size from small to extra-large, with all sorts of fabrics, colors, prints and even fillings from which to choose. One of the most popular styles, and the one I selected, is their Large Royal Sack. This is actually a bean bag-like chair filled with foam, that is offered in Small, Large and X-Large. They are perfect for anyone that likes oversized chairs, and they are B.I.G! In fact, the X-Large is so big, it can comfortably seat two adults! I personally have one of the Large Royal Sacks and I love it!
The Bean Bag Outlet Chair Large Royal Sack
The Royal Sack bean bag chair is part of The Bean Bag Chair Outlet's line of bean bags that come with a fully-removable, machine-washable cover. An inner liner holds the foam inside, and the cover simply unzips and comes off. This makes it so much easier to keep clean. At first I was worried the cover would be a big pain to put on, but I was wrong. The cover is actually made with an extra long zipper that opens almost all the way around, providing an opening plenty large enough. I simply unzipped the cover, placed the bag on top, wrapped the cover over and around it, and then zip it up. Simple and fast. And I love that the covers are designed so the zippers are covered by a special patch that prevent children from being able to get into the bean bag chairs!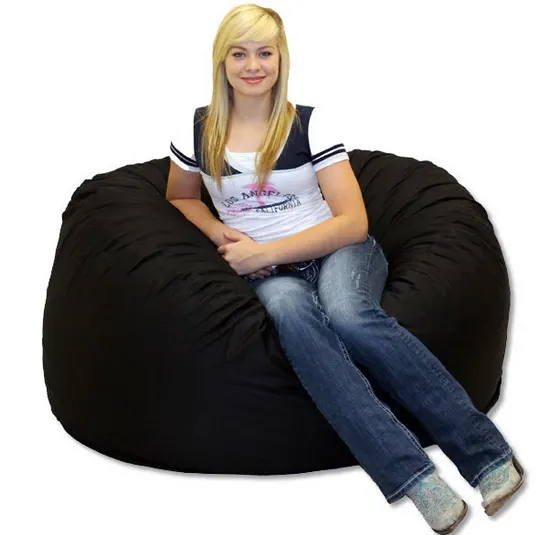 Each cover is made from the highest quality material, and is available in your choice of fabric including Twill and Durable Denim fabrics, Animal Fur fabric or Ultra Suede fabric . Each of the fabrics are available in several colors and patterns, practically ensuring that you can find a Royal Sack to match any room and personality. Oh, and did I mention that they offer embroidery?! Yep, you can even personalize these bean bag chairs – a great gift idea!
Size-wise, the Large Royal Sack measures approximately 154″ in circumference and 48″ in diameter. In terms of the amount of floor space it uses, it measures 44″ in diameter, 54″ in width, and 44″ in height – although the dimensions can vary based on how the chair is positioned! Regardless, this is one large bean bag chair, with enough room for my husband and I to snuggle together and watch a movie! And as far as comfort, this chair far surpasses any bean bag chair I have ever sat upon. The Royal Sack is big, soft and cushy, and provides the perfect amount of support to sit, lean back or lay down comfortably!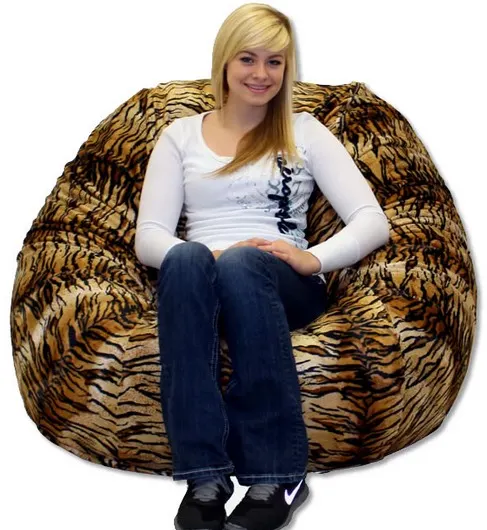 You can order the Royal Sack bean bag chair directly from The Bean Bag Chair Outlet online. Orders ship the day after they are placed, so you still have time to get one before the holidays!
Connect with the Bean Bag Chair Outlet – Shop | Facebook | Twitter