I received the Coosh Mfi-Certified Rapid Dual – USB Port Car Charger in exchange for a honest review. Regardless, all opinions are my own.
Coosh Rapid Dual-USB Port Car Charger with Built-in Lightning Cable & Micro-USB Adapter
As a blogger, it seems I am always online, especially when we travel. I'll work while my husband drives. Since I use the internet on both my iPhone or iPad while working, the batteries on my devices tend to go down quickly. In addition, we are a multi-brand family. I have iOS products, while my husband has a cell phone relic from the late 90's – aka non-iOS or Android. That used to pose a problem when we both needed to charge our devices while riding in the car, but then I discovered the Coosh Mfi-Certified Rapid Dual-USB Port Car Charger.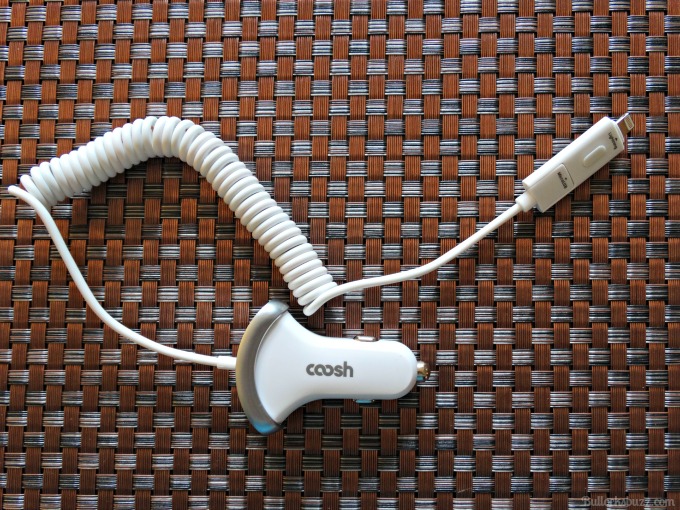 This impressive car charger is capable of charging all Apple iPhone, iPod, and iPad models with a lightning connector, as well as any devices that use a micro-USB connector – which includes most Android-based devices and pretty much any other non-Apple device. All it takes is a simple pull or push, and the Coosh can easily be switched between a lightening and a micro-USB connection.

In addition, it also has two, yes, two extra USB input ports giving you the ability to charge up to 3 devices all at the same time! And did I mention the LED indicator that lets you know when charging is complete?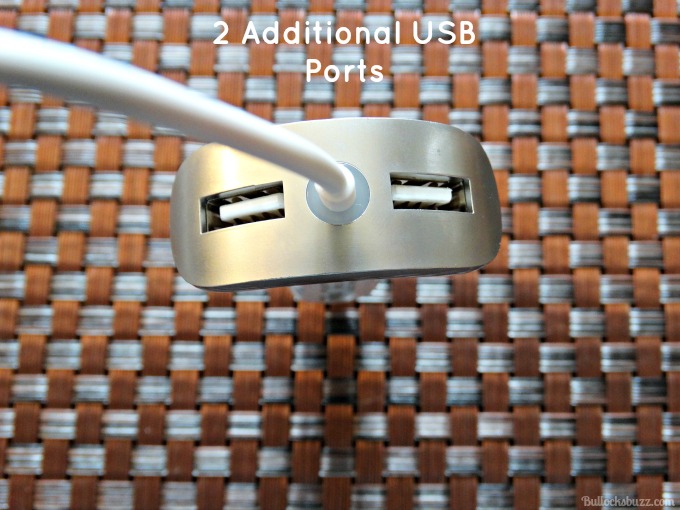 Aesthetically, the Coosh Dual Lightning – USB Car charger has a very sleek design from its bell-shaped power dongle to its combination lightning cable and micro-USB charging bit. It has a very sturdy feel, and is built well. In addition to its high-quality build, the Coosh is also Apple MFI-certified. No more worries about damage and no more annoying incompatability messages popping up on your screen.
Power-wise it has an input rating of 12V-24V, output is a maximum of 5A/5V, and maximum current protection is 5.5-6.2A with support for OVP, OCP, OTP, and SCP. And speaking of output, the Coosh is also one of the fastest chargers I have ever used. It charges my phone in minutes and my iPad in a few extra.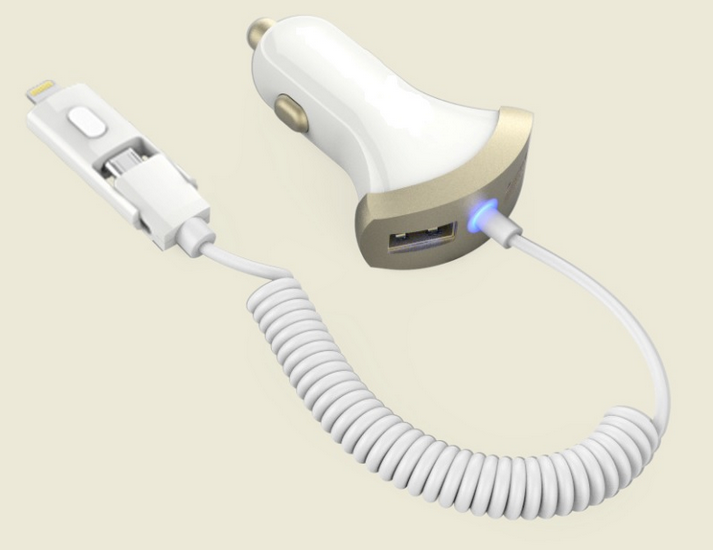 So far I have only found two drawbacks. First of all, the coiled cord is a bit short causing you to have to keep the device a little closer to the charging port in the car – but that really seems to be par for the course with many car chargers. Secondly, because of its unique reversible charging bit (lightning and micro-USB), the casing is a bit larger, thereby causing it not to work with certain cases. Of course, you can easily work around this by using one of the other two USB ports on it with a cable that does fit. But if you happen to have a case that does not work with every charger, you may want to take this into consideration.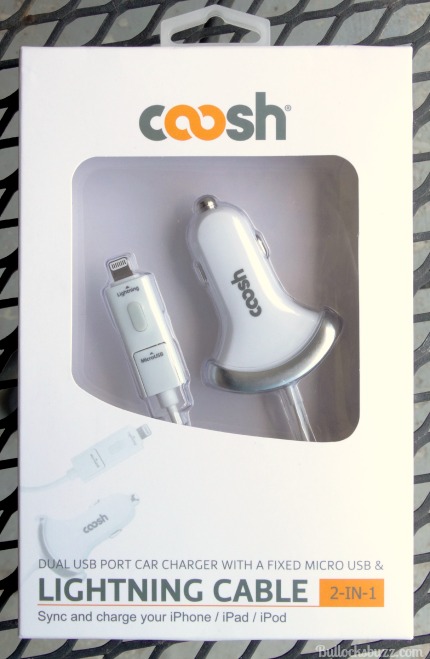 Other than those two small considerations, the Coosh Mfi-Certified Rapid Dual -USB Port Car Charger is definitely worth purchasing! My family (and friends) love it! No more having to swap out chargers when riding with different brand devices, and no more having to wait for one device to charge before you charge another. It is literally the most innovative car charger I have seen!
The Coosh Mfi-Certified Rapid Dual-USB Port Car Charger with Built-in Lightning Cable and Micro-USB Adapter is available through Amazon.com
(affiliate link).

Connect with Coosh: Website
Is your family a multi-brand family like mine?