This post was brought to you by Advertise with Bloggers and Golden Blossom Honey!

Golden Blossom Honey: A Review, a Recipe and a Giveaway!
Like many, I have certain staples that I keep in my house year round. Simple things like flour, bread, milk, eggs and honey. All of these things I use on a regular basis, especially the honey. I use honey in all sorts of recipes from cakes to glazes to sauces and more. I also like to use it in place of sugar as a sweetener and even as the main ingredient in some all-natural, homemade health and beauty recipes! The only problem is sometimes finding high quality, pure honey. Many of the honeys sold in stores have fillers, leaving me having to pay more to buy it in natural food stores or farmer's markets. That is until I found out about a new brand of honey made right here in the United States – Golden Blossom Honey.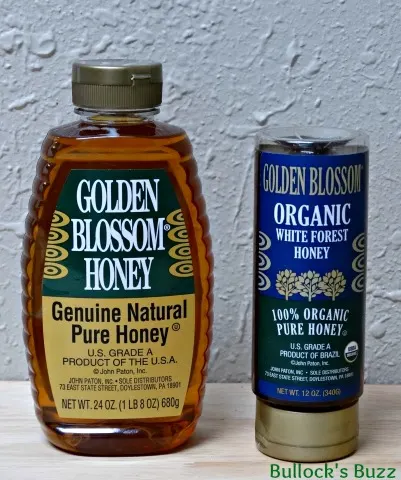 Golden Blossom Honey – What Is It
Golden Blossom Honey has been blending their own unique recipe of honey since 1921. Using a blend of the thick, rich and pure honeys sourced from white clover, sage buckwheat and orange blossom, Golden Blossom Honey has its own distinct flavor, color and fragrance like no other. All of their honey is certified Kosher by the Orthodox Union,
Golden Blossom Honey is available in two rich, delicious varieties: the first of which is their traditional Golden Blossom Honey – Genuine Natural Pure Honey. This honey has a wonderfully rich, smooth taste that goes great on toast, biscuits and even in a cup of tea. Just like they claimed, the taste is completely different, and when you buy it you are supporting American Beekeepers and American Agriculture.
The second variety is their Golden Blossom Organic White Forest Honey. Certified Organic by QAI, this delicious honey is a blend of organic honeys sourced from the White Forest Region of Brazil, and is a 100% pure product of Brazil. It too has a rich, full taste, and is perfect for flavoring and baking. When you purchase this honey, 1% of Organic sales are donated to Pollination Planet, which helps to educate Beekeepers and the public of the importance of saving the bees and other pollinators in order to protect our food supply.
Golden Blossom Honey Recipe: Honey Butter
Earlier I mentioned that I use honey in all sorts of recipes including one for health and beauty. Golden Blossom Honey has a huge collection of recipes on their site that are all worth trying! One of my favorite things to make with honey is (and my husbands!) honey butter, and using Golden Blossom Honey brings this recipe a step above the rest!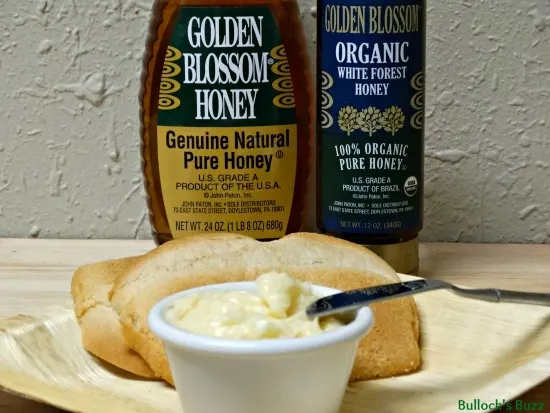 Honey Butter
Ingredients
1 stick butter or margarine, at room temperature
1/4 cup GOLDEN BLOSSOM HONEY
Instructions
Beat together butter and honey until light and creamy. Refrigerate until ready to use. Can be stored in refrigerator for up to 7 days.
While looking through their recipes, I found another Honey Butter recipe I cannot wait to try: Orange Honey Butter! I bet it would taste great on all sorts of stuff from muffins to biscuits to toast!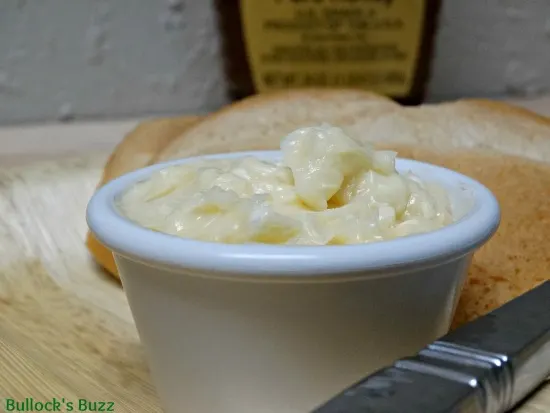 Orange Honey Butter
Ingredients
1 1/2 sticks butter or margarine, room temperature
2 Tablespoons GOLDEN BLOSSOM HONEY
1 Tablespoon grated orange zest
2 Tablespoons fresh orange juice
1/4 teaspoon vanilla
1/8 teaspoon nutmeg
pinch of salt
Directions
Combine butter, honey and orange zest in a bowl. Beat until light. Slowly beat orange juice, vanilla, nutmeg and salt until smooth.
Place in a small bowl, cover and refrigerate.
Yields: 1 cup
Golden Blossom Honey: Where to Purchase
If you would like to learn more about Golden Blossom Honey, be sure to visit their website. And if you want to try it for yourself, you can purchase it at many well-known retailers, both online and off, including Amazon.com. Also, be sure to stay up to date with all of the latest products and promotions by following Golden Blossom Honey on Facebook, Twitter and Pinterest.
Win in the Golden Blossom Honey Giveaway
One lucky Bullock's Buzz reader is going to win 4 bottles of Golden Blossom Honey (2 Golden Blossom Honey – Genuine Natural Pure Honey and 2 Golden Blossom Organic White Forest Honey). The giveaway is open to residents of the US, 18+, (No PO Boxes will be accepted), and will run through 11/20. Winner will have 48 hours to respond to winning email before a new winner is selected. *All entries are verified, so please make sure you are properly entering for the entries you claim. Total value of $28.36. Bullock's Buzz is not responsible for prize fulfilment.
GOOD LUCK!