Halloween is getting closer and it's time to start spook-ifying your home! I'm so excited to share some ideas for creating a festive Halloween tablescape or vignette! Thanks to At Home for partnering with me and helping me get a head start on my Halloween decor! #AtHomeStores #AtHomeFinds


If you haven't figured it out by now, I'm one of those people who has a little too much fun with Halloween. And when I say that this Halloween tablescape is just me getting started, I'm for real! I still have a front porch to decorate, windows to fill, Halloween wreaths to hang, and lots of fun Halloween crafts and Halloween treats to make (be sure to check back).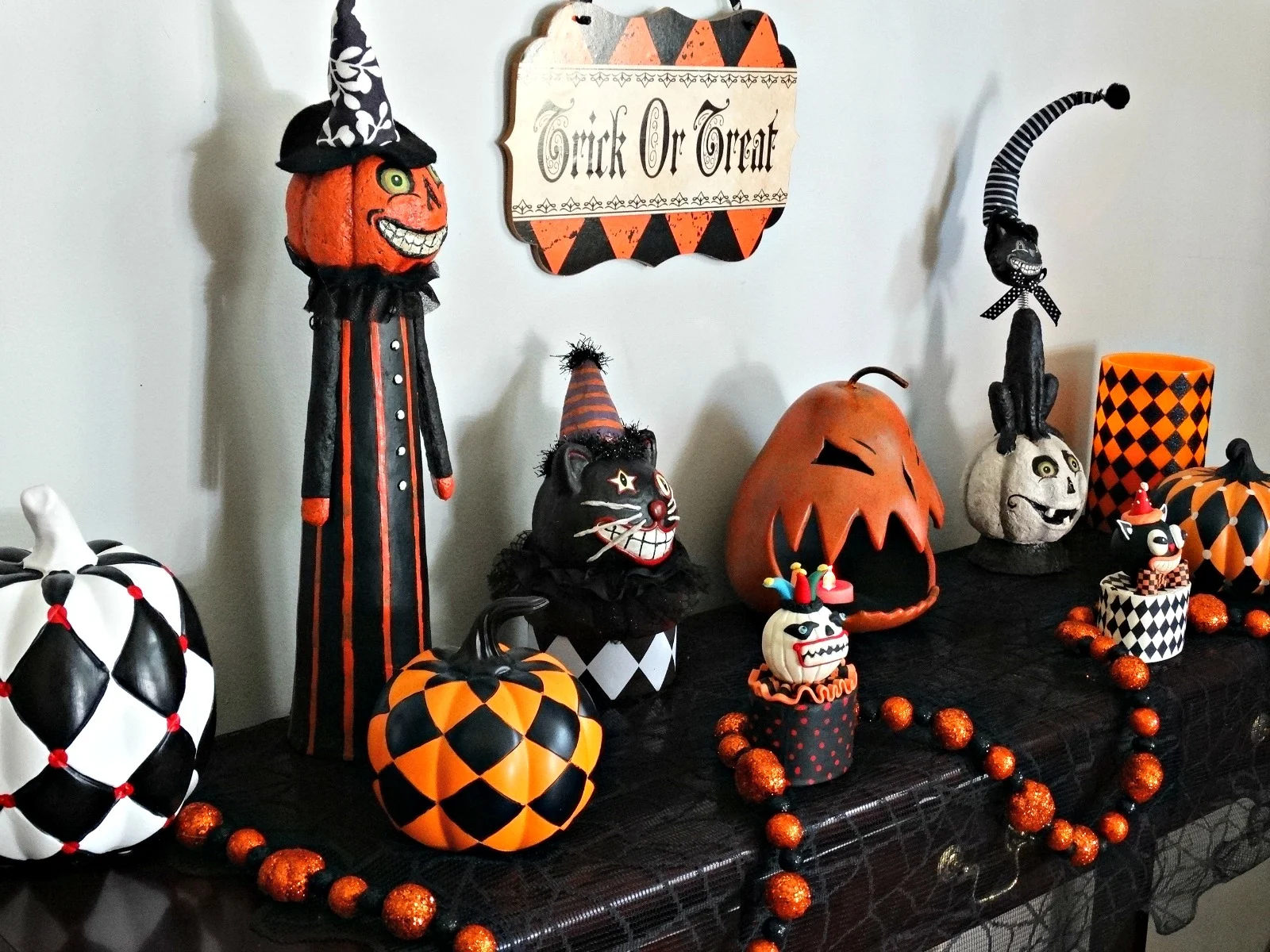 My entryway table is now all decked out to welcome Halloween – and it's a great example of how you can incorporate a little seasonal Halloween decor in just one small area! I thought it'd be fun to go with a theme for this Halloween tablescape, but instead of the usual bats, witches, ghouls, ghosts and goblins, I decided on Haunted Harlequin!
Haunted Harlequin Tablescape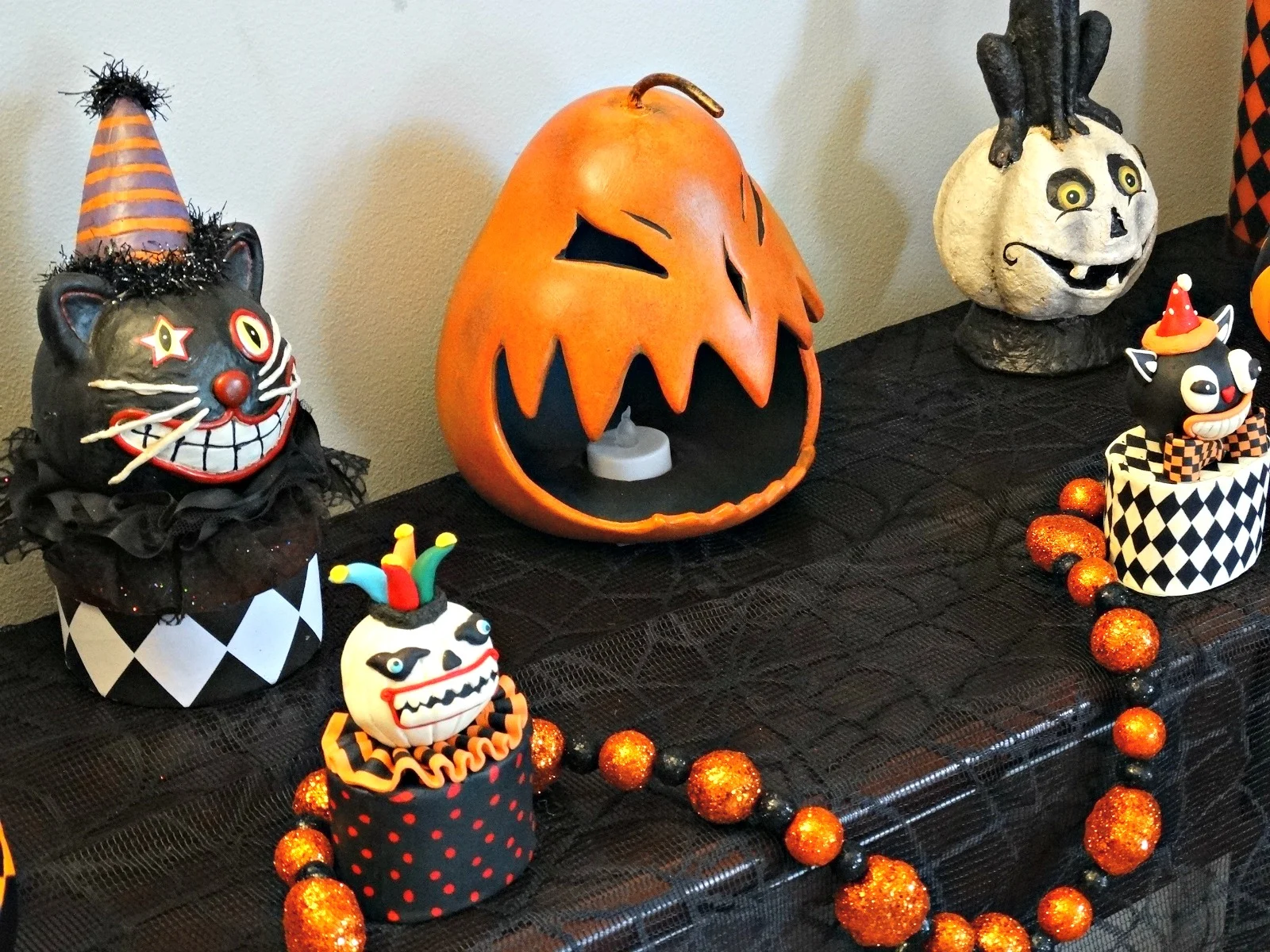 I love the mix of the crisp orange and black with a little bit of white thrown in. And the different patterns work so well together. It's hard to pick my absolute favorite piece from this Halloween decor, but this Pumpkin Man comes close!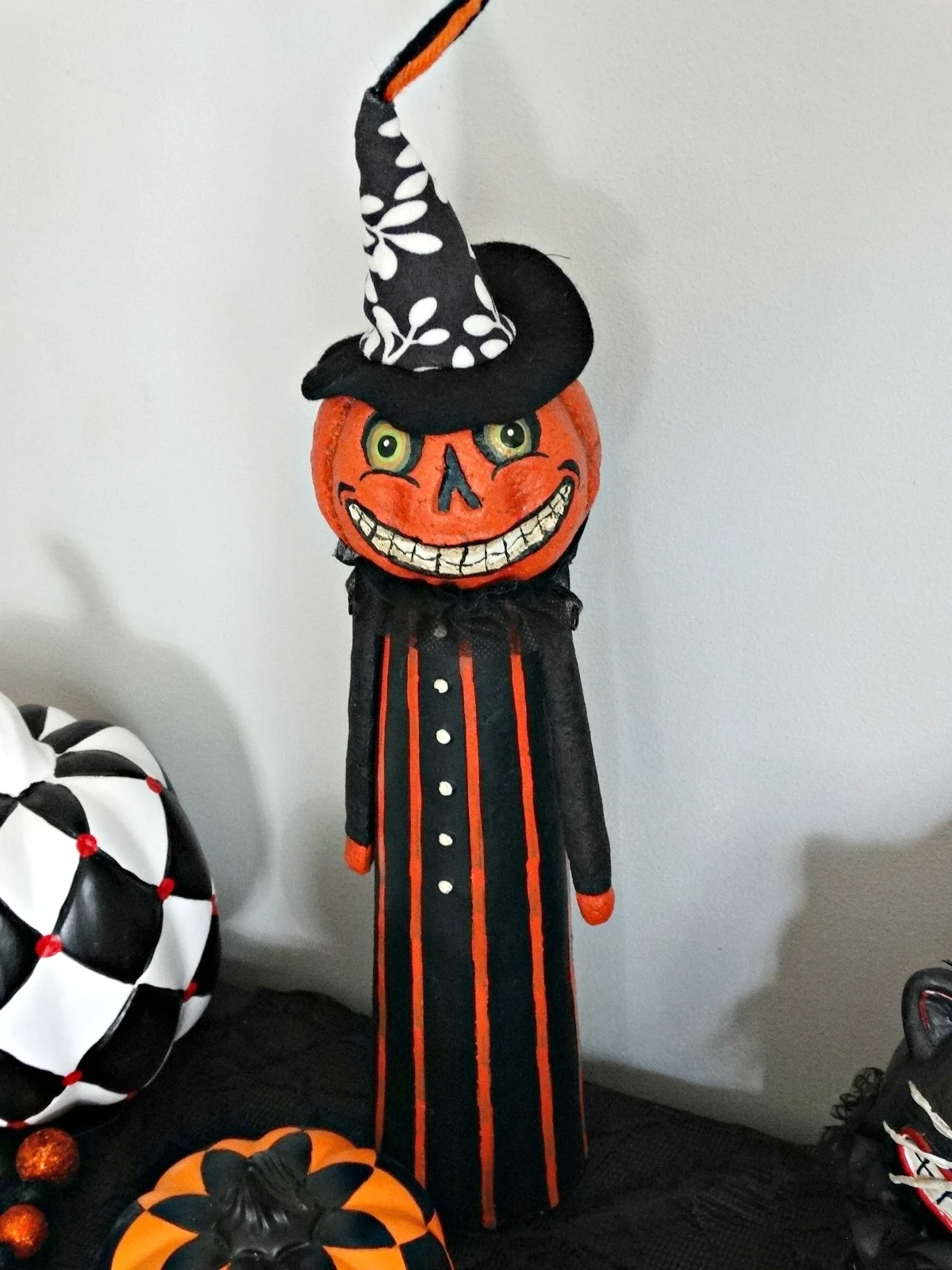 This star-eyed grinning cat is actually a paper pulp box perfect for storing those Halloween treats you want to keep for yourself!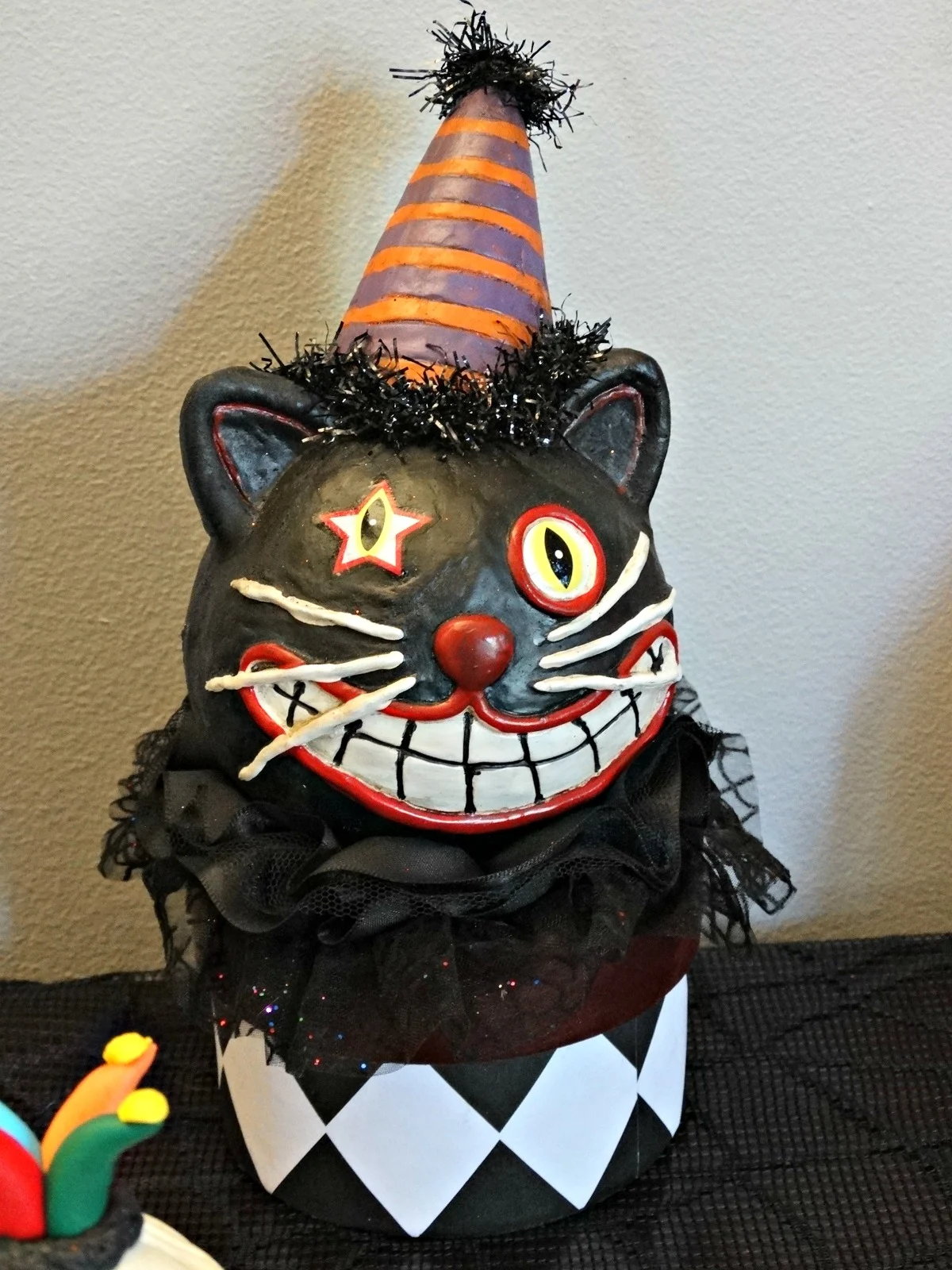 The different pumpkins with their geometric patterns are a fun little touch of fall. I think this one is my favorite…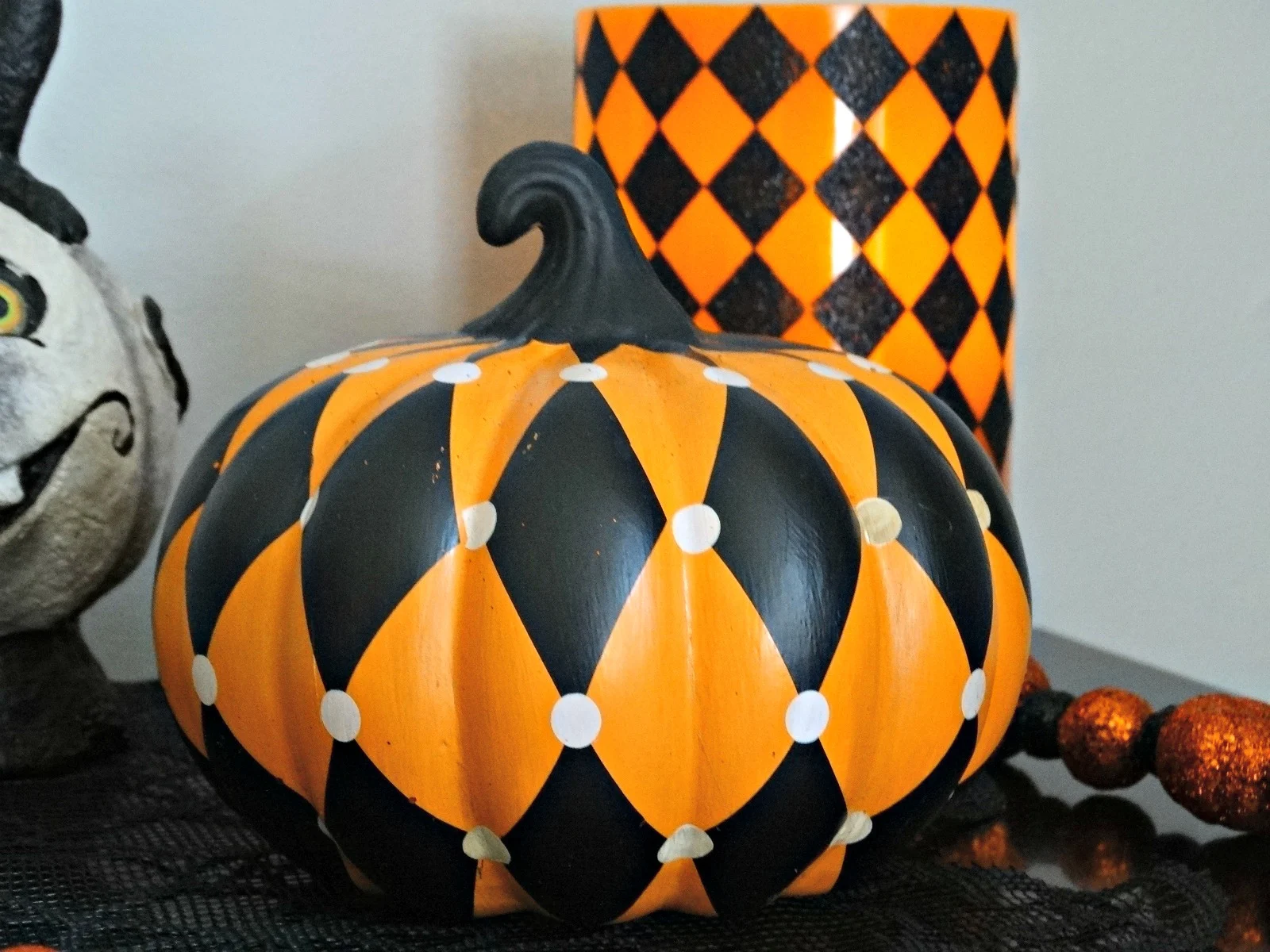 ….although these are lots of fun, too!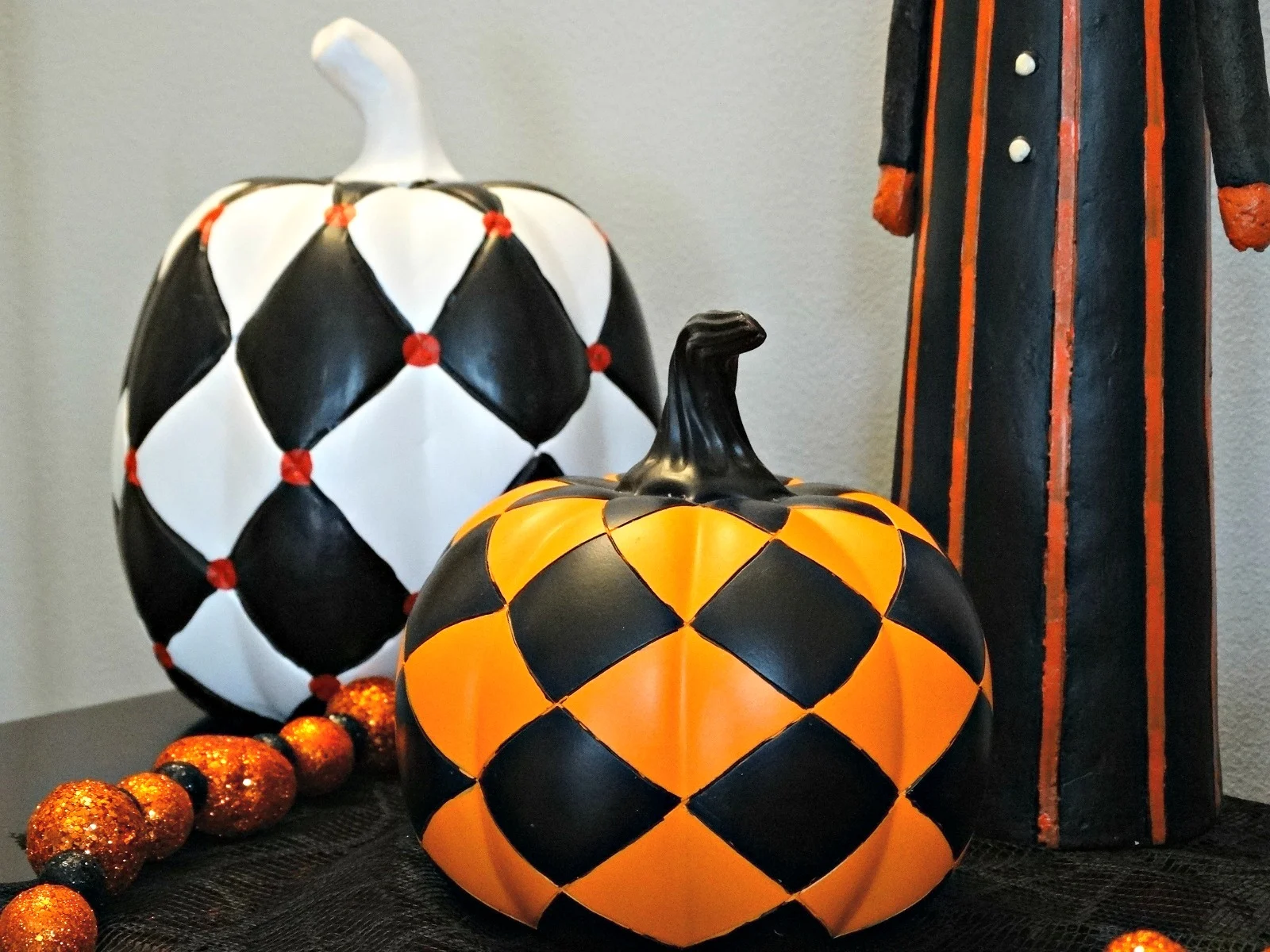 And this evil-looking one lights up with a color-changing tea light!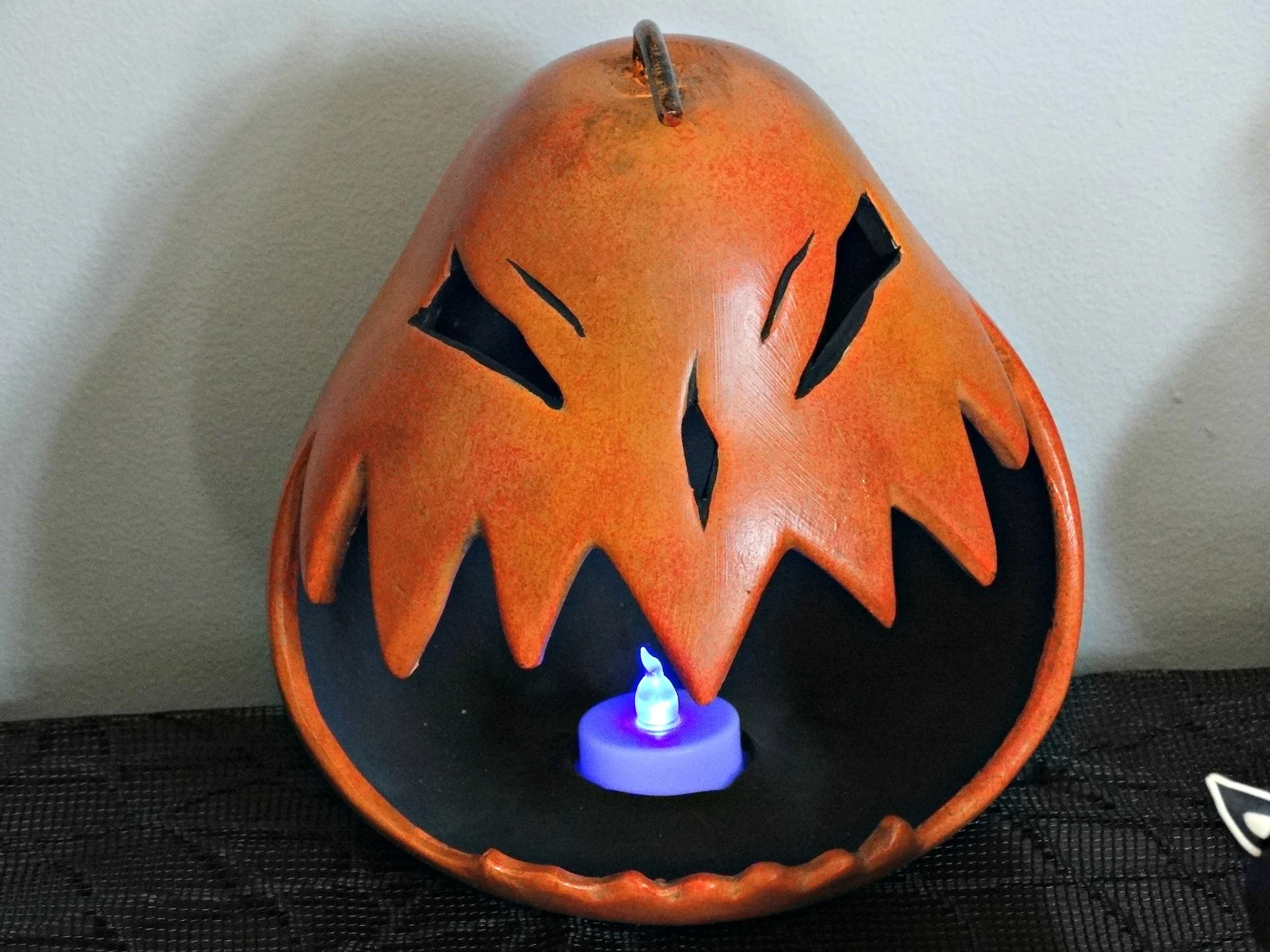 This pumpkin man wearing the jester hat adds the perfect amount of spookiness to my Halloween tablescape…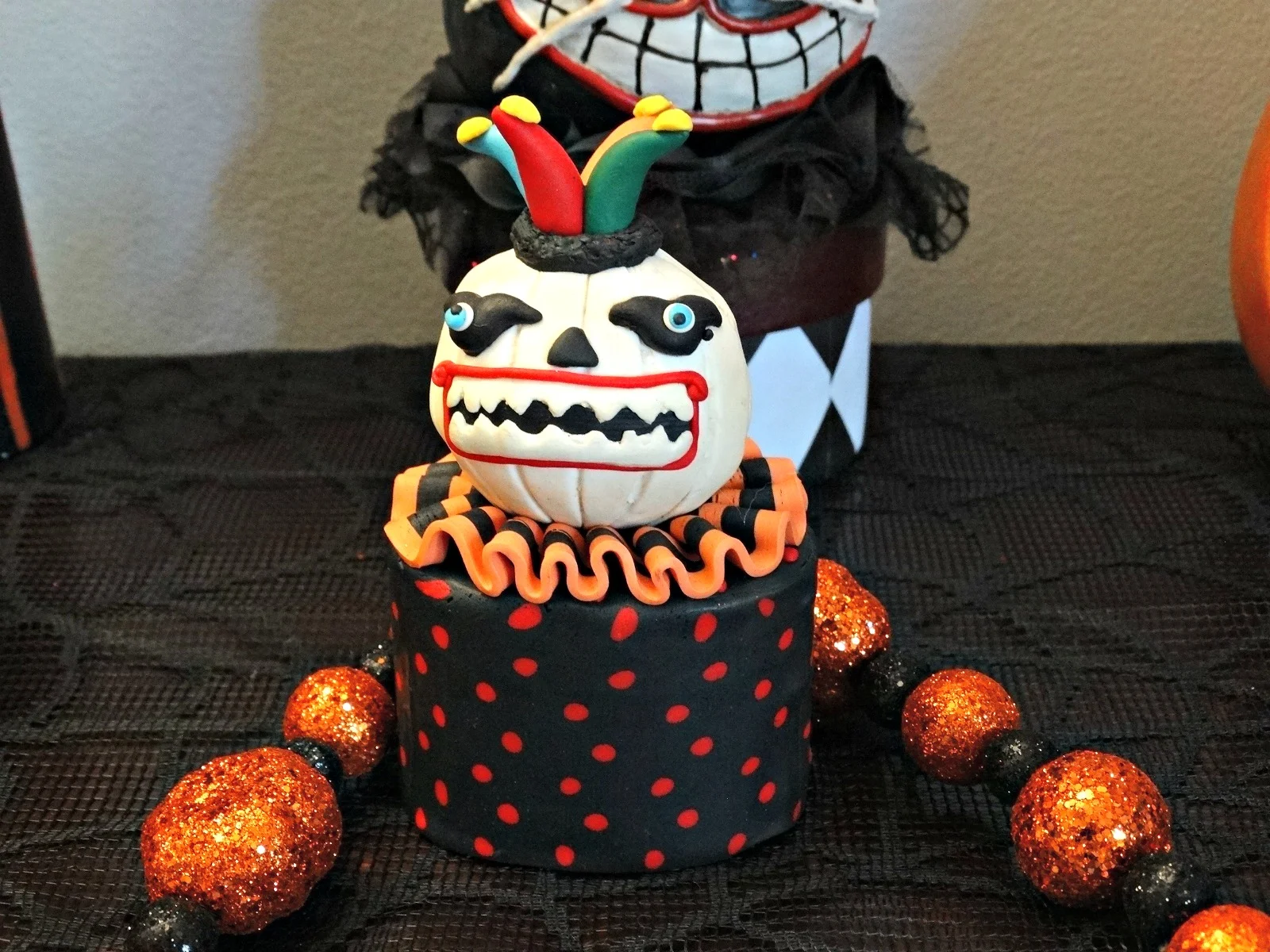 while this little cat just makes me smile!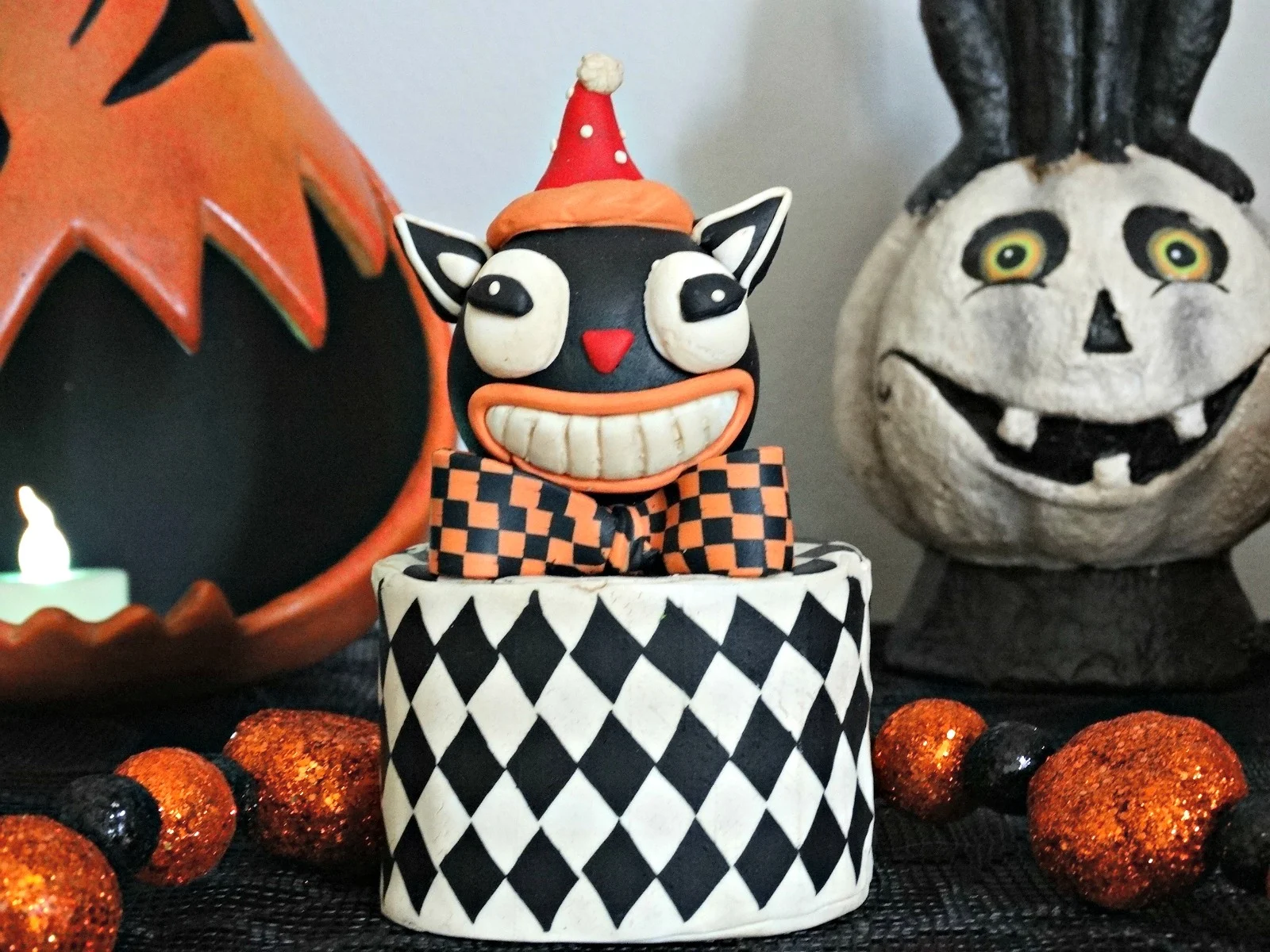 And if you love whimsy, this bobble-headed cat sitting on the pumpkin has all that and more!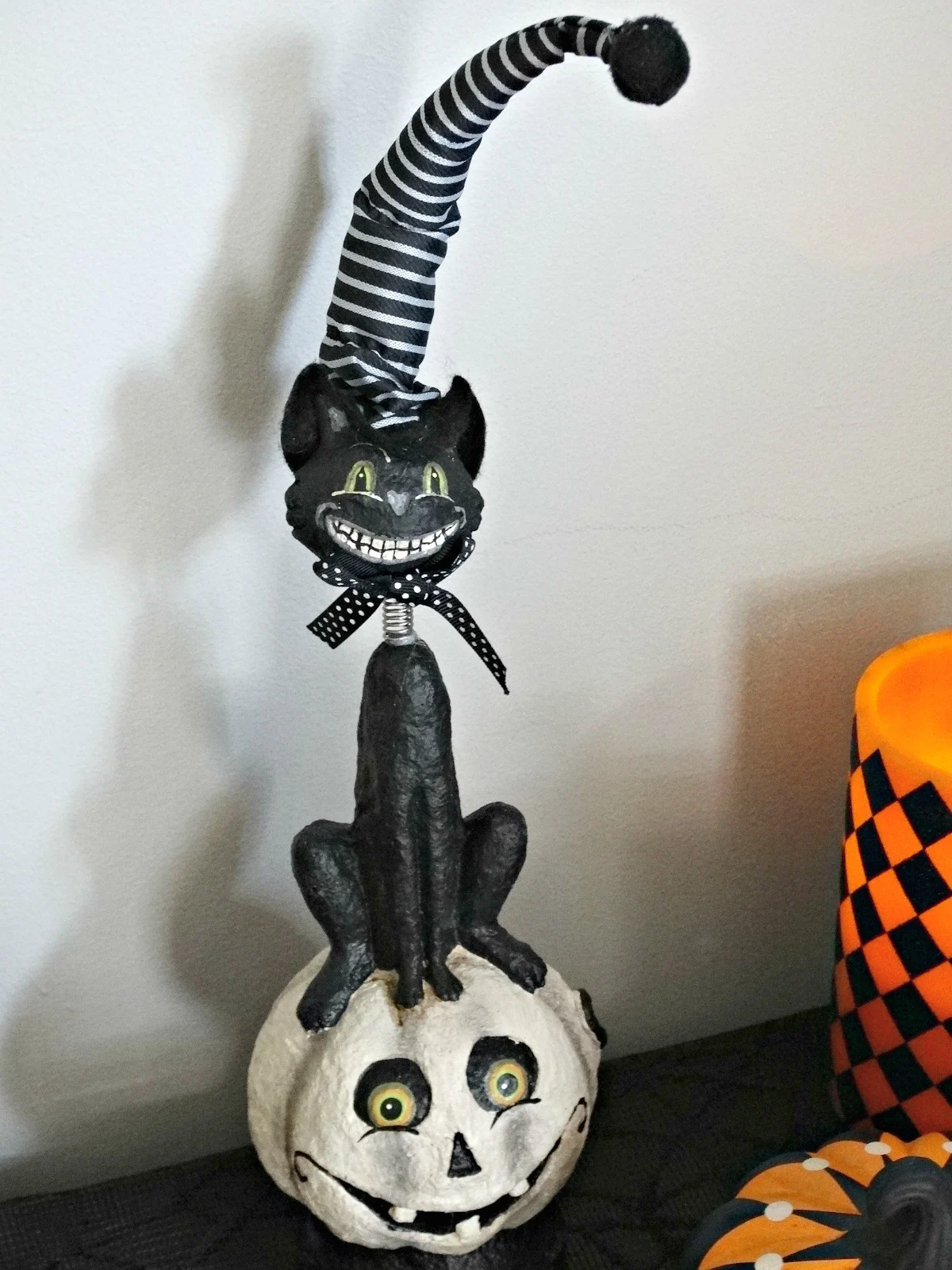 I love the realistic flicker of this orange and black diamond LED candle, too!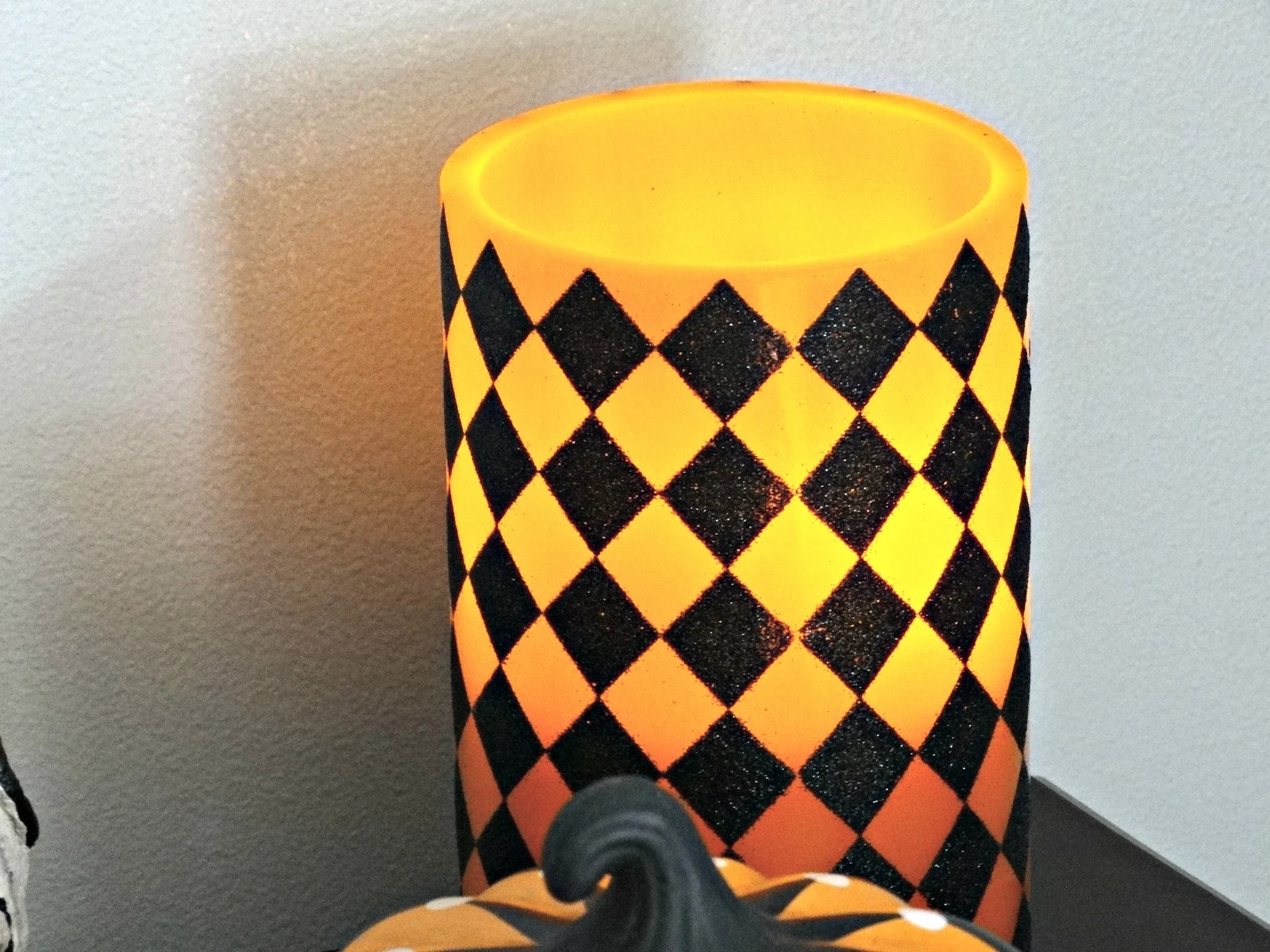 I think this sign pretty much says it all…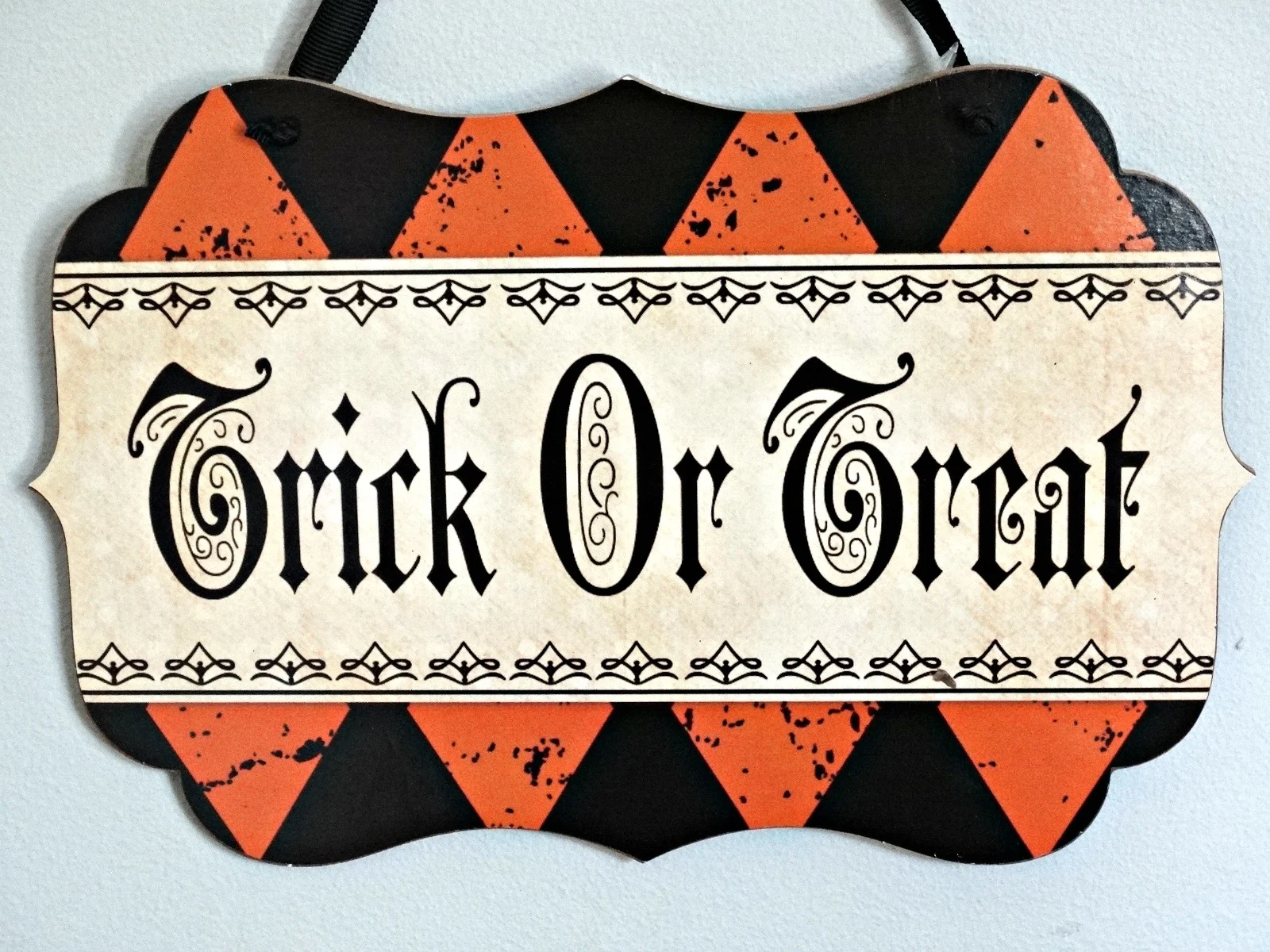 And the glitter garland of orange pumpkins and black balls ties the whole Halloween tablescape together.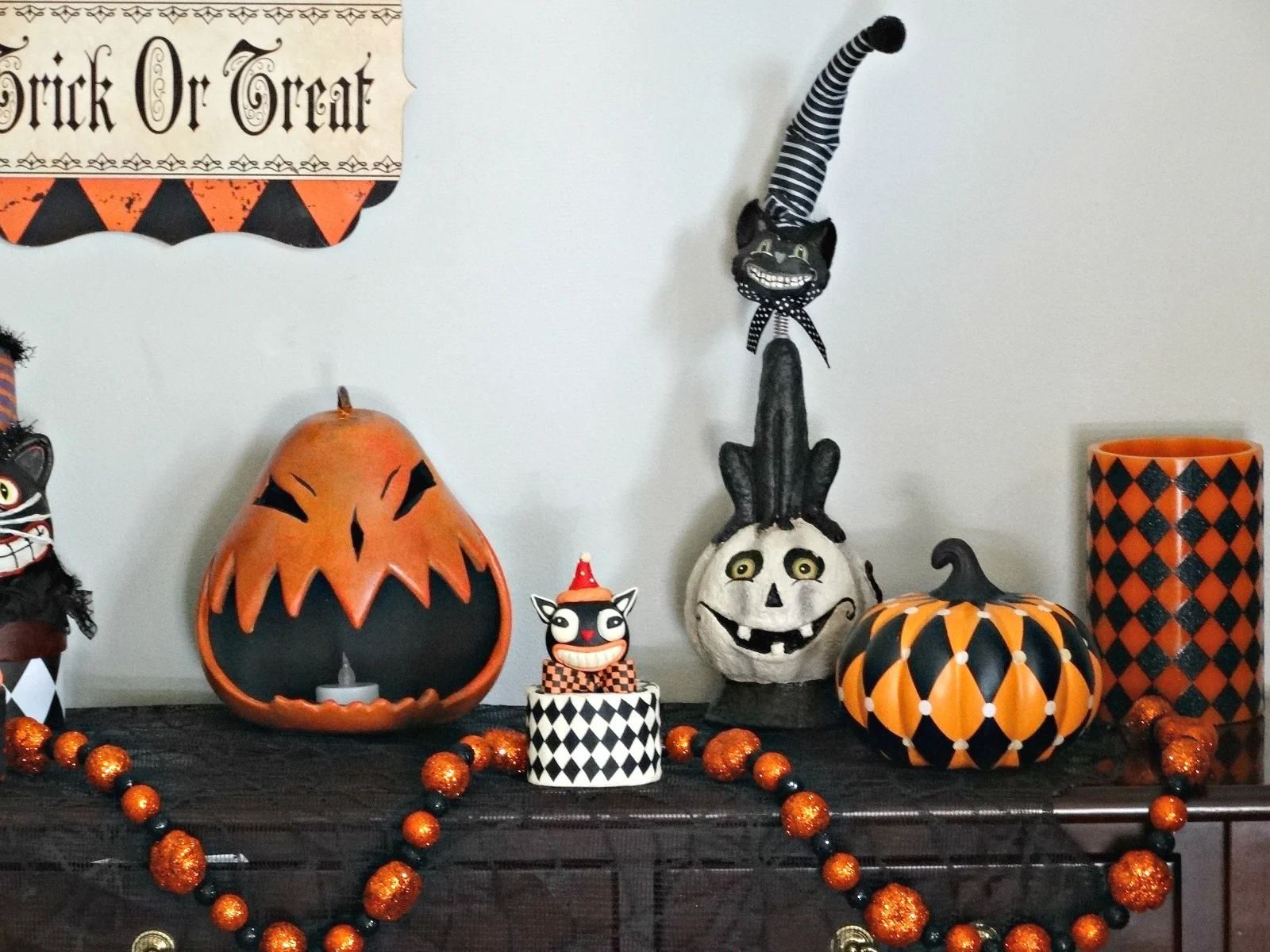 Super spooky, yet cute, too, right?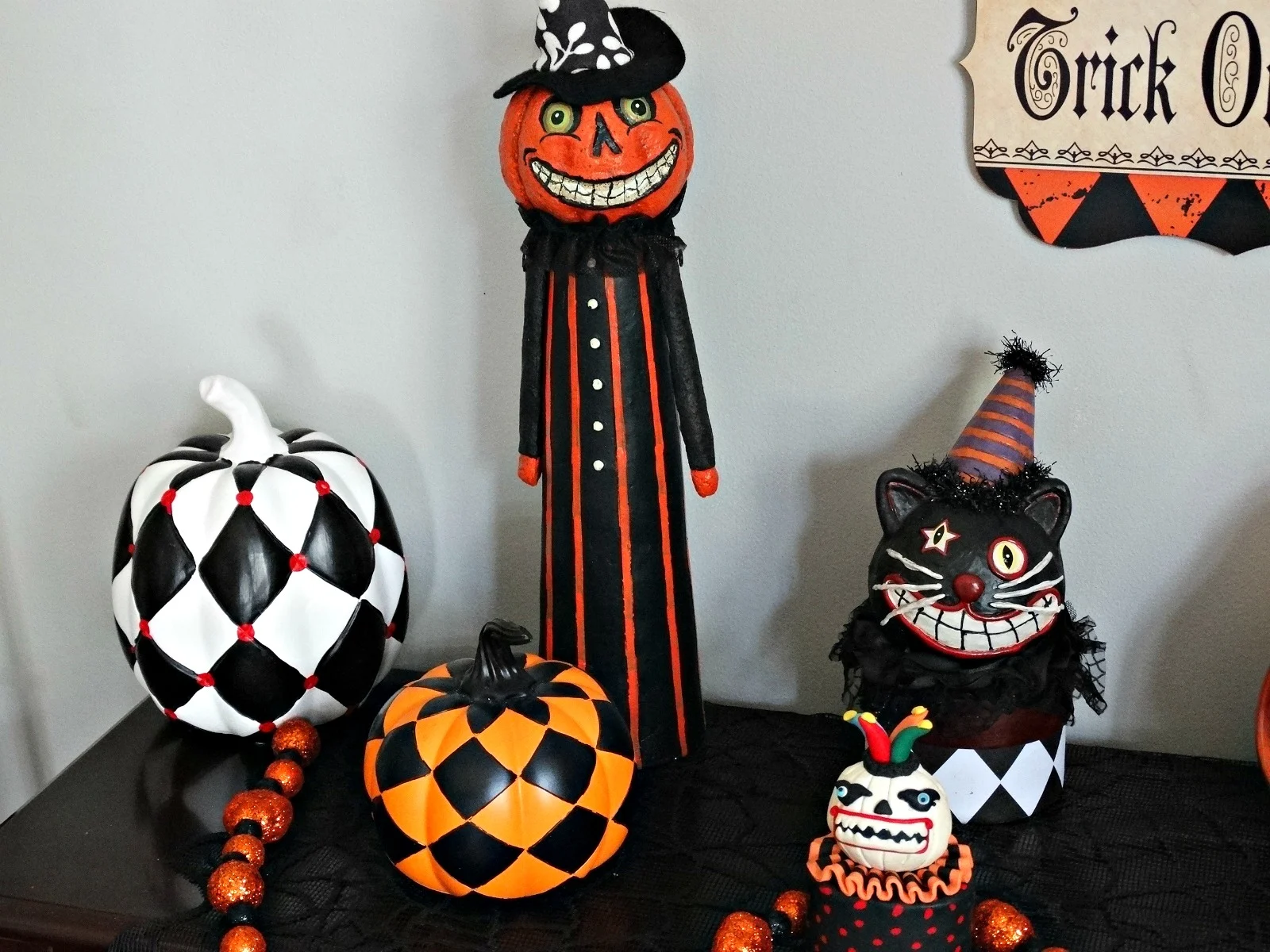 Where to Buy Haunted Harlequin Halloween Tablescape and Halloween Decor – At Home Stores
I found everything in my Haunted Harlequin Halloween tablescape at my local At Home store. They have a massive selection of specialty products for Halloween – both indoor and outdoor. Best of all, they make it super easy to decorate on a budget. The most expensive thing I got was still less than $20.00!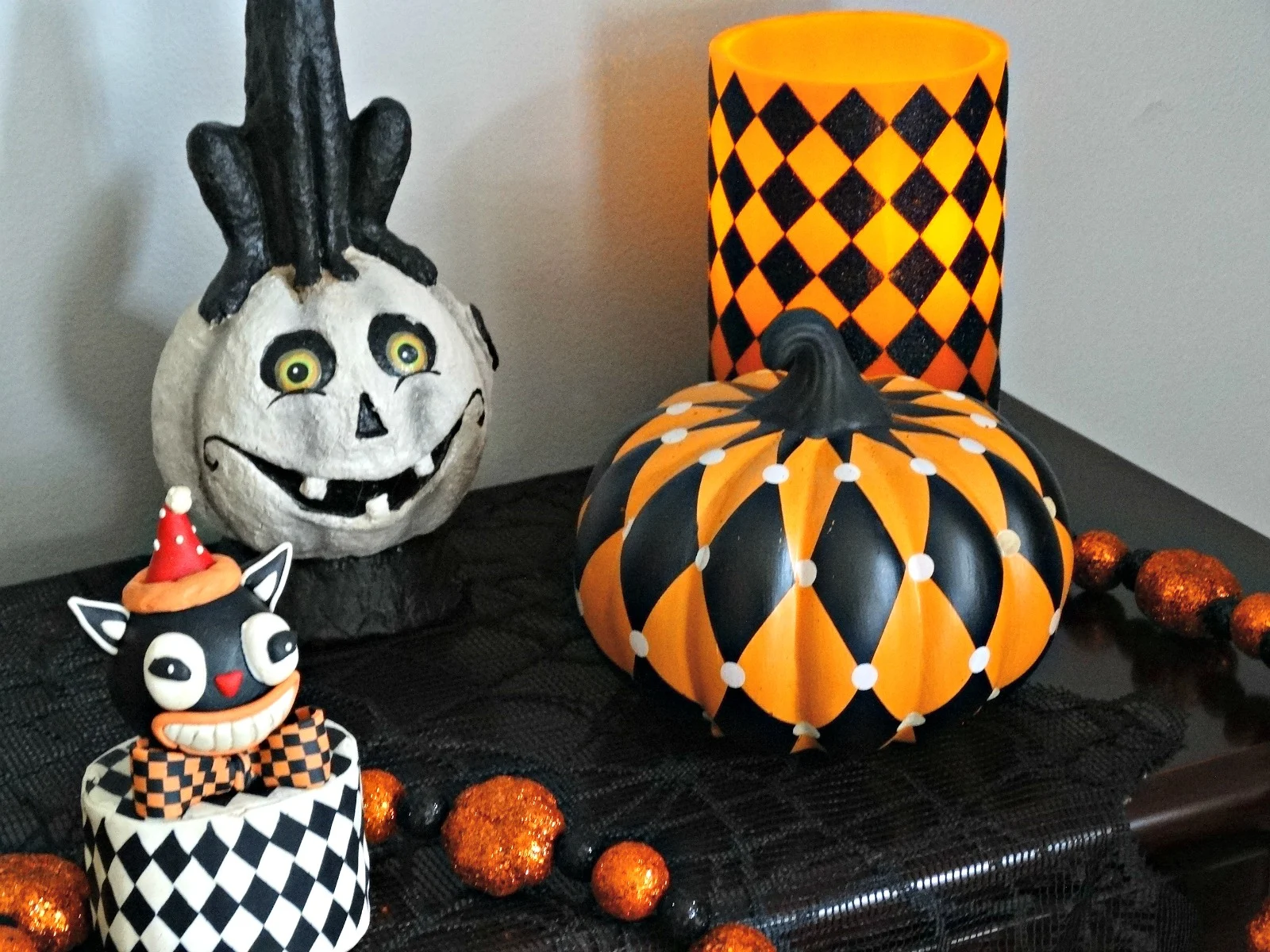 Here's the rundown of everything in my Halloween tablescape, along with how much it cost at my store. Just keep in mind that Halloween decor selection and prices may vary from store to store.
7″ Black/White Checks Ceramic Pumpkin $9.99
11″ Trick or Treat Wall Decor $3.99
4.5″ Black/Orange Clay Pumpkin $14.99
5.3″ Black/Orange Harlequin Pumpkin $7.99
14″ Black Cat on Pumpkin $12.99
17″ Pumpkin Man $18.99
13″ Black Cat Figurine $14.99
4 x 6″ Orange Glittered LED Pillar Candle $11.99
5″ Pumpkin Man Clay Box $4.99
5″ Black Cat Clay Box $4.99
9″ Paper Pulp Black Cat Box $11.99
6-foot Glitter Pumpkin Garland $4.99
Are you decorating for Halloween this year? Do you like to go with a theme, too, when choosing your Halloween decor?
Looking for more Halloween ideas? Check out these spooktacular crafts and recipes: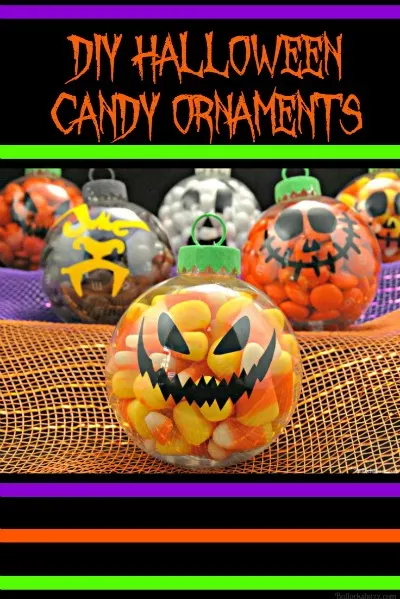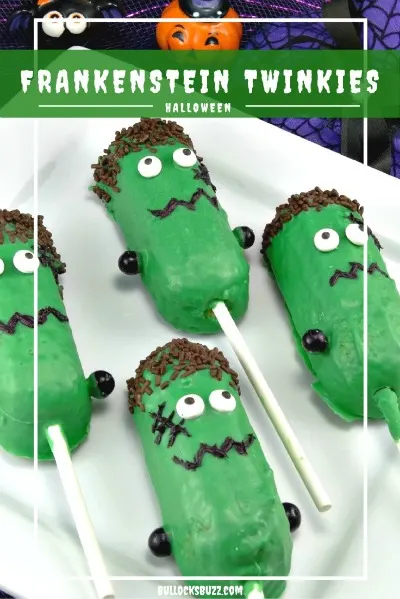 LET'S BE FRIENDS! STAY UP TO DATE ON ALL THE LATEST BUZZ BY FOLLOWING ME ON:
FACEBOOK | TWITTER | PINTEREST | INSTAGRAM
Enjoy this post? Subscribe to our newsletter so you'll never miss another!
Subscribe to Newsletter