Warner Bros. Home Video provided me with some of the materials I used in this Blog Post/Giveaway. The opinions I share are my own.
LEGO® FRIENDS GIRLZ 4 LIFE Interactive Blog App
How many LEGO® fans do you have in your home? We have quite a few in ours – both kids and adults! After all, LEGOs sparks creativity and provides hours of fun, imaginative play. And we especially like the LEGOs Friends sets which are geared towards young girls who love to build! Speaking of LEGO Friends, have you heard about the new LEGO® Friends GIRLZ 4 LIFE movie featuring your child's favorite LEGO Friends characters?

LEGO FRIENDS: GIRLZ 4 LIFE on Blu-ray
Set to an awesome rock soundtrack that you and your kids are going to love, LEGO FRIENDS: GIRLZ 4 LIFE brings to life (in animated form) the LEGO construction based toy LEGO Friends!
There are few things as important in life as your friends. No matter how old you are, your friends are there to be by your side through the good and the bad. Friends will be there to celebrate your accomplishments, help you when you are down, support you when you make mistakes, and be your rock when the going gets tough.
The new movie, LEGO FRIENDS: GIRLZ 4 LIFE, is all about friendship, trusting yourself and standing up for what's right no matter what the cost. Join Olivia, Stephanie, Emma, Mia and Andrea as they learn about friendship, fame and pop star fun in Heartlake City. The girls' friendship is put to the test when mega pop star Livi comes to town. When our friends' hit song "Girlz" is stolen by Livi's manager, it's time for a cunning plan. As the girls try to tell Livi the truth about her latest hit single, they all learn that fame isn't everything and friendship is the most precious thing in the world.
Own the LEGO FRIENDS: GIRLZ 4 LIFE on Digital HD 1/19 and on
Blu-ray Combo Pack and DVD 2/2!
LEGO FRIENDS: GIRLZ 4 LIFE Interactive Blog App!
Check out the LEGO Friends Girlz 4 Life Interactive Blog App below which is full of exciting videos, songs, activities and more your kids will love! Simply:
Click the play button at the very top to watch a special sing-along music video for Girlz by L2M! Be sure to grab your pop star microphone first and get ready to sing-along!

Click the lower left play button to listen to the song 'High Tops' by L2M!

Click the picture of the L2M girls to watch the "Meet L2M" the next girl-pop power sensation!

Click on the purple heart to download the Girlz 4 Life Activity Pack and to unlock your inner pop star! This fun activity pack includes Selfie props, a "Spot the Difference" game, making the Band DIY pop star instruments, Friendship Card and more!
Click on LEGO® FRIENDS: GIRLZ 4 LIFE Blu-ray Combo Pack for a link where the film can be purchased!
Just For Fun!
Can you spot the difference in the frames below?
Win LEGO® FRIENDS: GIRLZ 4 LIFE Blu-ray below! GIVEAWAY IS OVER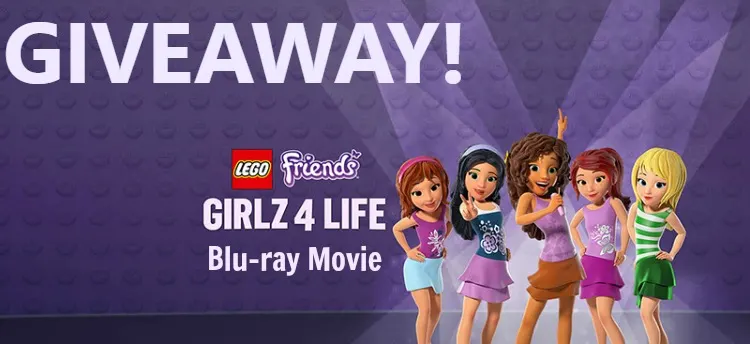 Alaina