Mother's Day Gift Suggestion! YouCopia Spice Stack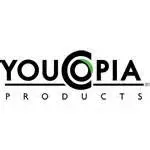 It is time for another Spring cleaning project, and this one I have been needing to do for a long, LONG time, but have kept putting off…my kitchen cabinets. I love cooking and baking, and as a result I have a plethora of spices, seasonings, sauces, cooking wines and more.
Unfortunately, our apartment kitchen is sorely lacking in cabinet space, and I do my best to make them as organized and easy to get to as possible. I have tried so many different solutions from wire shelves to those step-like spice bottle stands, yet nothing has ever worked without my having to remove practically the entire contents of the shelf just to get to one spice!
Finally, thanks to YouCopia Products, I have found the perfect solution! YouCopia makes innovative kitchen organizing products for spices, coffee and espresso, baking products and even medicine! When I was given the opportunity to review a product, I knew exactly which one I wanted (really, which one I needed), the Classic Spice Stack!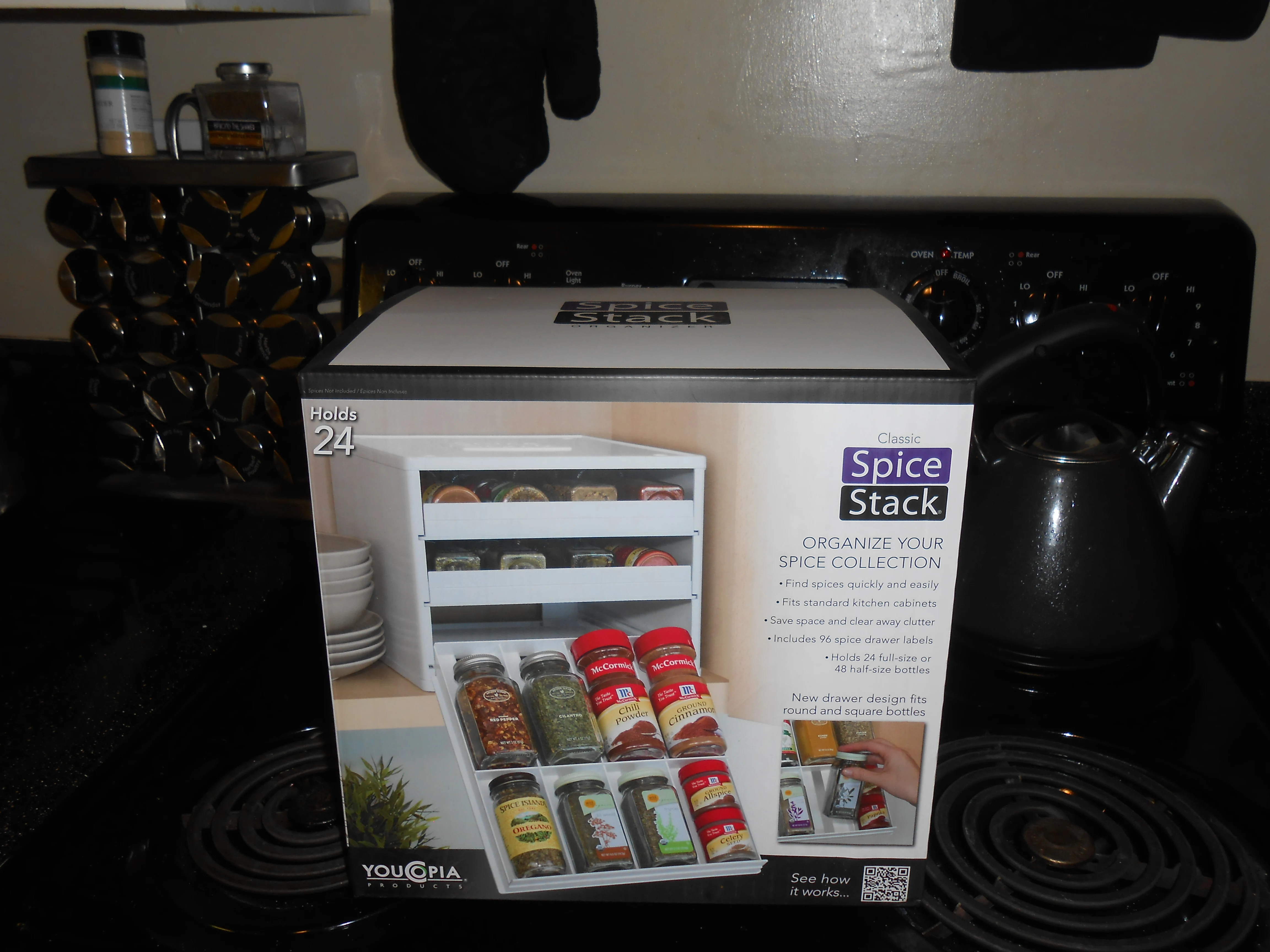 The Classic Spice Stack is basically a spice shelving system that has three slide out shelves, each of which can hold either 8 full size or 16 half size spice bottles in individual slots. Both round and square-shaped bottles fit in the slots perfectly.
Each shelf actually pulls out and folds downward so you can look straight-on at the spices and see which one you need.
To help make finding the spices even easier, the Classic Spice Stack also comes with a sheet of 96 removable drawer labels, 48 of which are pre-printed, 48 of which are blank.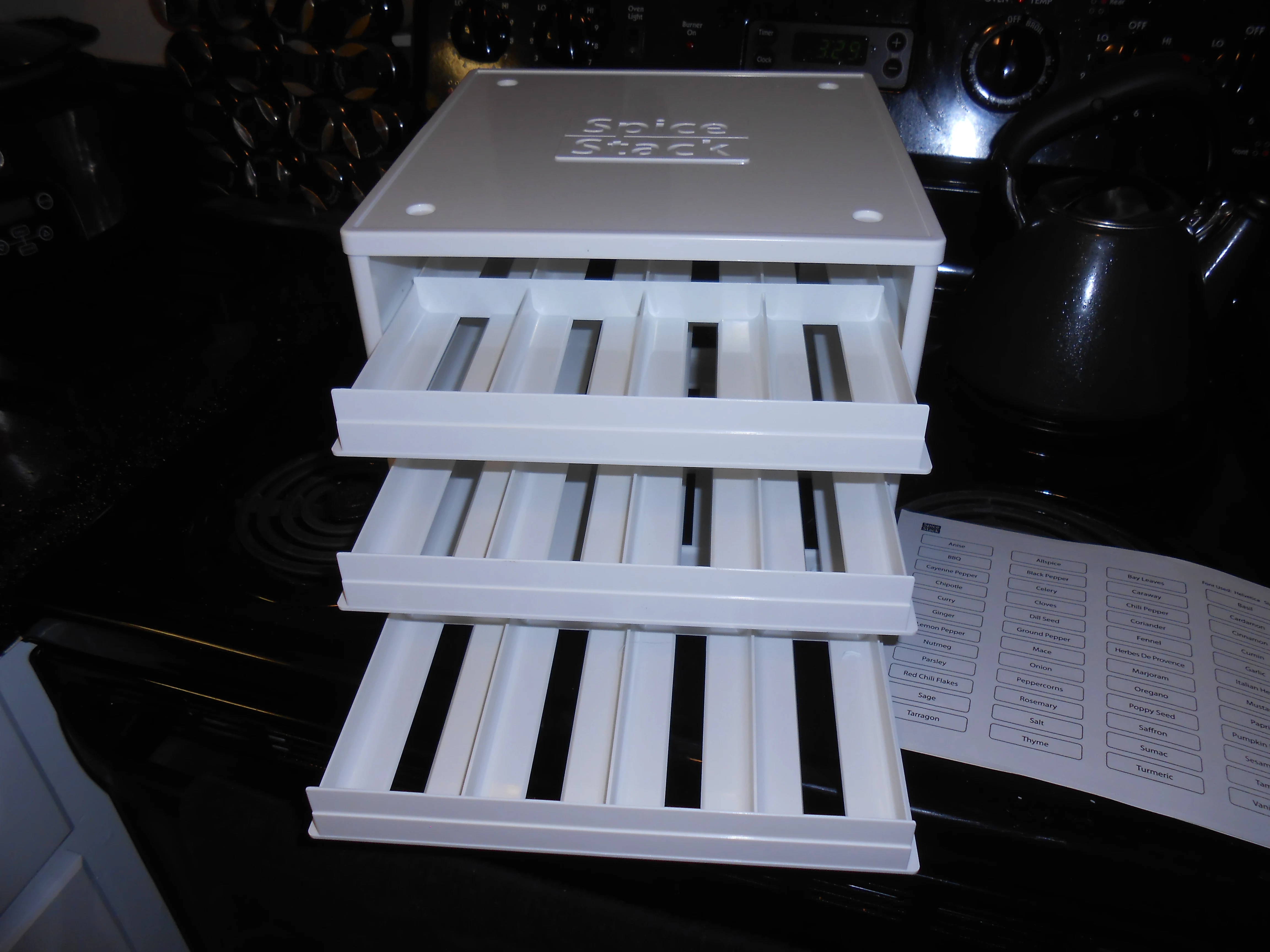 The unit comes assembled so all you have to do is add the spices and the labels. It took me maybe 30 minutes to completely re-organize all of my cooking and baking ingredients! At first I wasn't too sure about how well the system would work as far as the shelves pulling out and downwards.
I was afraid all of the bottles would fall out, but I needn't have worried, it works perfectly! In fact, since the shelves do fold down, it makes it that much easier to get to the spices I need since they are up in the cabinet. And with the no skid feet, I don't have to worry about the entire unit sliding around.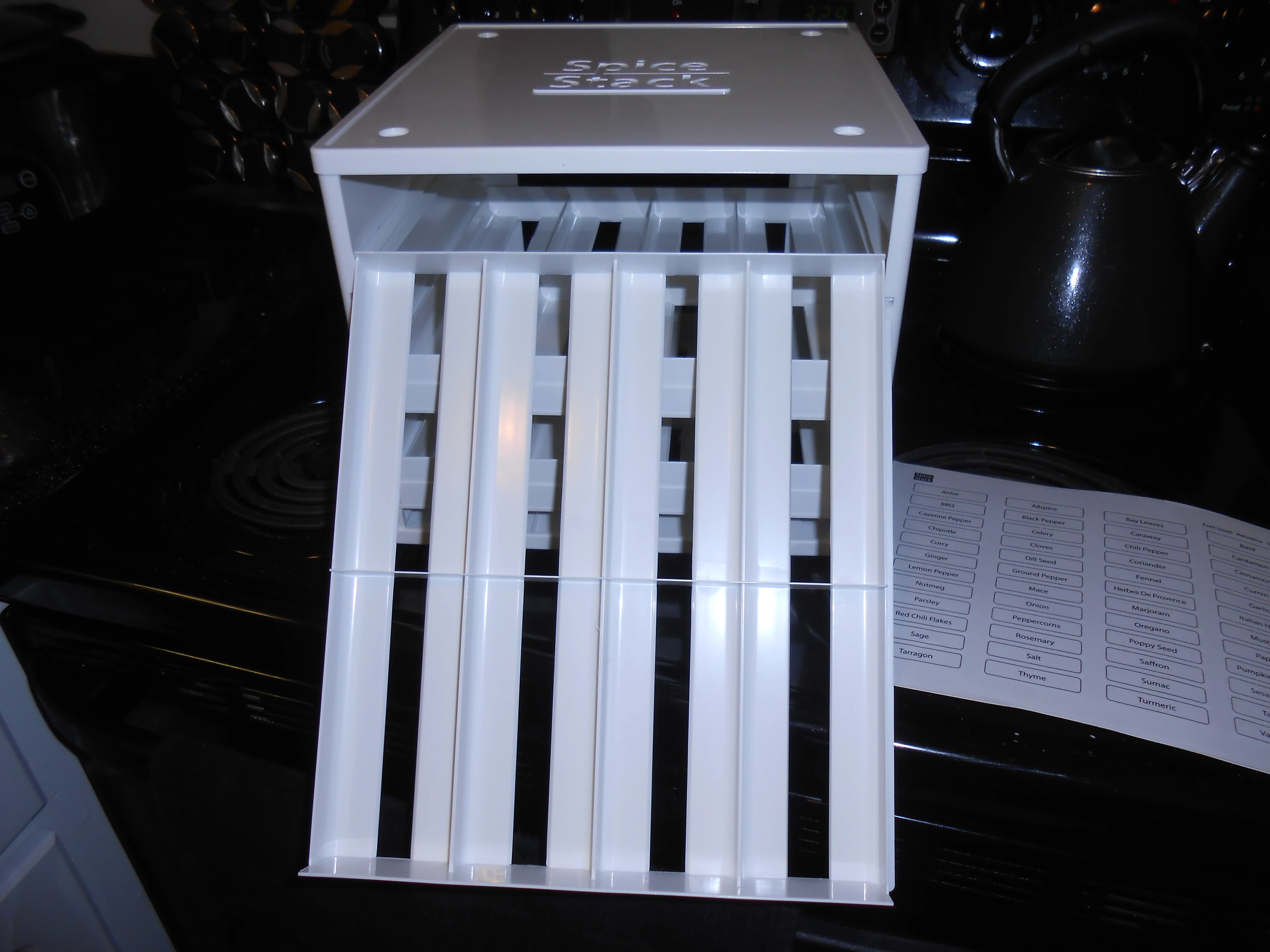 This awesome spice organizer has literally made my cooking life much easier! It measures approximately 10.9"D x 10.4"W x 8.8"H, and fits perfectly in the cabinet above my stove. It truly makes finding the exact spice I need a breeze.
Plus, it has freed up an entire shelf and-a-half in my other cabinet, allowing me to spread out and easily find items that were near impossible to find before! Now, instead of pulling out a bunch of spice bottles to find just one, I can open my cabinet door, glance at the labels and find exactly what I need within seconds.
It is truly an amazing space, time and even stress-saving item!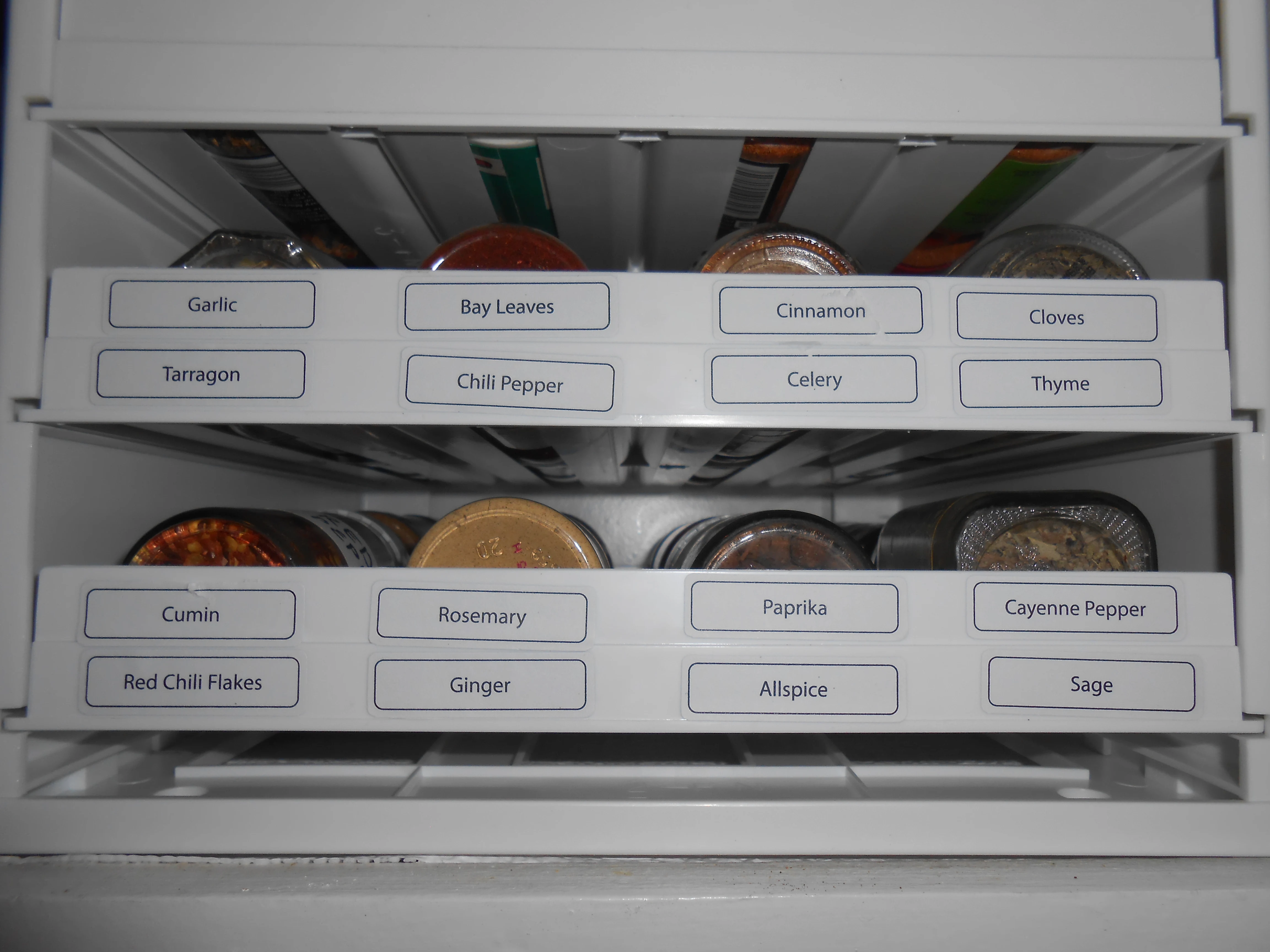 I definitely recommend the Classic Spice Stack to anyone who wants or needs to organize their spices! If you don't have the cabinet space, the Spice Stack's compact and modern design will work perfectly on the counter top, and can be stacked on top of one another, too!
If you need more or less storage room, the Spice Stack is available in several different models including the Mini Stack, Silver Stack, Original Stack and Chef's Edition, all of which will hold various amounts of bottles. The exact dimensions of each unit is given on the YouCopia website. As I mentioned above, YouCopia also offers similar products for different coffees including Capsules and K-Cups as well as for medicine and baking items!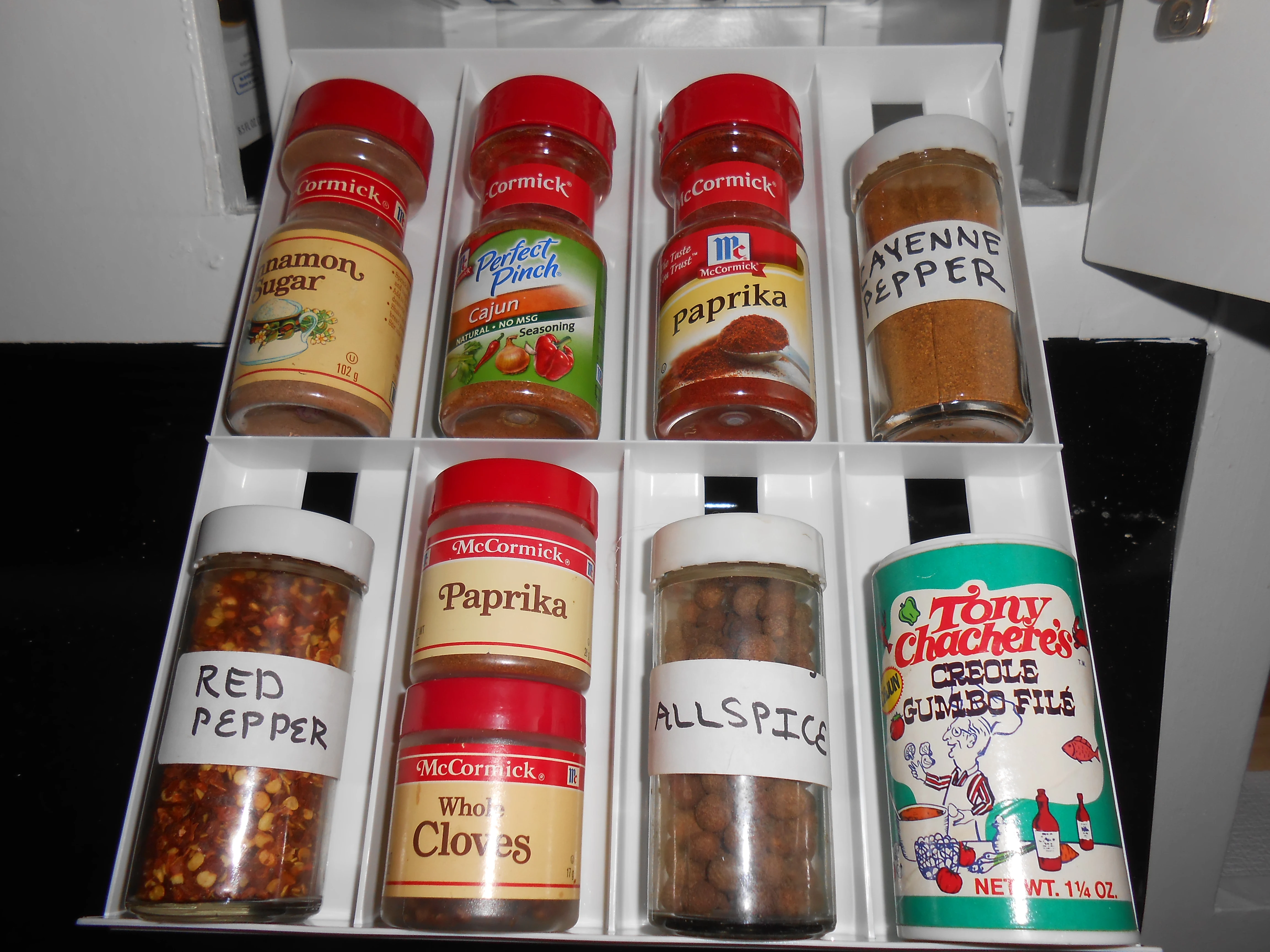 The Classic Spice Stack and all of YouCopia's products can be purchased online through Amazon and other online retailers, as well as at many department and specialty stores. To find a location near you, use YouCopia's store locator found on their website.