It is finally Spring, and you know what that means! Spring Cleaning Time! For many, myself included, cleaning can be a chore that involves a lot of time, elbow grease and chemicals. And if you are like me, trying to live a more Green lifestyle, then you are doing what you can to avoid using harmful chemicals. This Spring, thanks to HomeRight, I won't have to use a lot of chemicals, or spend a lot of time and elbow grease on cleaning our home thanks to the SteamMachine Multi-Purpose Power Steamer I received for review!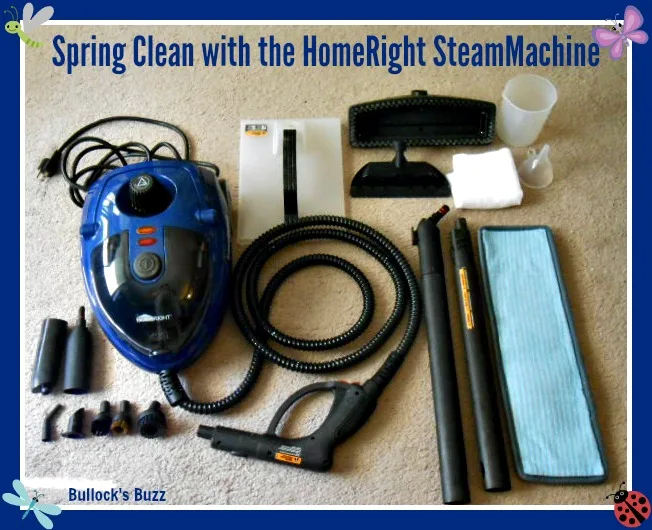 The HomeRight SteamMachine Multi-Purpose Power Steamer is the perfect device for cleaning your home without the use of harsh or harmful chemicals. Instead, it uses pressurized, high temperature, steam to loosen and dissolve dirt, grease, grime without leaving behind any chemical residue.
Better yet, it kills 99% of all germs and bacteria! It makes cleaning your home fast and easy and it comes with so many attachments it can be used to clean everything from the stove to the windows to the bathtub; in fact, it can even be used to remove wallpaper!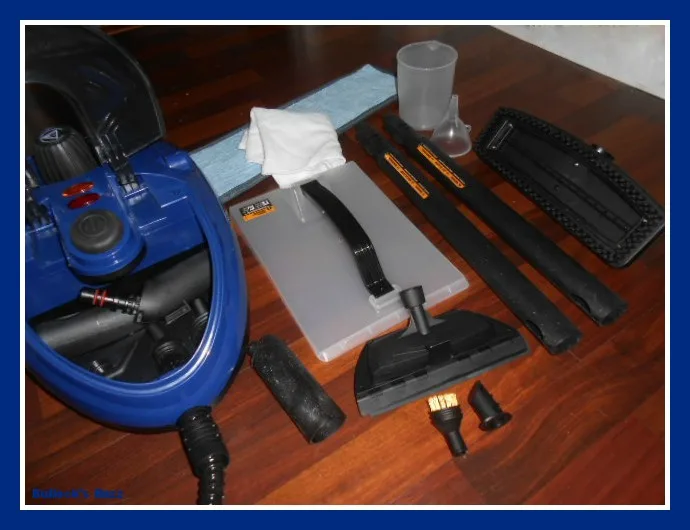 There are several features about this SteamMachine that I absolutely love aside from its ability to make cleaning fast and easy.
First of all, its size. I was absolutely amazed at its compact design and light weight, plus it has a handle for easy carrying and two wheels for easy mobility – especially when using it to mop floors! Moving it from one room to another is a cinch.
Secondly, the amount and assortment of attachments it comes with makes you job even easier. I love not having to use a bunch of different cleansers, rags, cloths, and other cleaning materials for each individual job – this one machine practically does it all. It's 8-foot hose makes it super easy to reach high or low spots (especially if you are short like me), and I like that is also has an 8-foot cord so I don't have to mess with extension cords if working somewhere without a plug.
I also love that it is designed so that the majority of the attachments fit right inside the front cover so you don't have to lug around a bunch of different brushes and nozzles.
Speaking of attachments, here is a list of everything that comes with the SteamMachine:
Wallpaper steam plate
Floor steam mop with microfiber cleaning pad
Brass brush
Two nylon brushes
Jet nozzle
Squeegee
Measuring cup with fill funnel
Owners instruction manual
Using the HomeRight SteamMachine is quite simple. Using the included measuring cup and funnel, you first add the recommended amount of water.
When you turn it on, two lights (one red, the other orange) will light up. As soon as the red light goes off, it is ready to use.
I've used other steam machines in the past that seemed to take forever to heat up, and then would only last only a few minutes and would emit a weak jet of steam. This one is ready to go in about 15 minutes and will give you 40 minutes' worth of steam time at 45 PSI of pressure at the nozzle – not bad for such a small machine!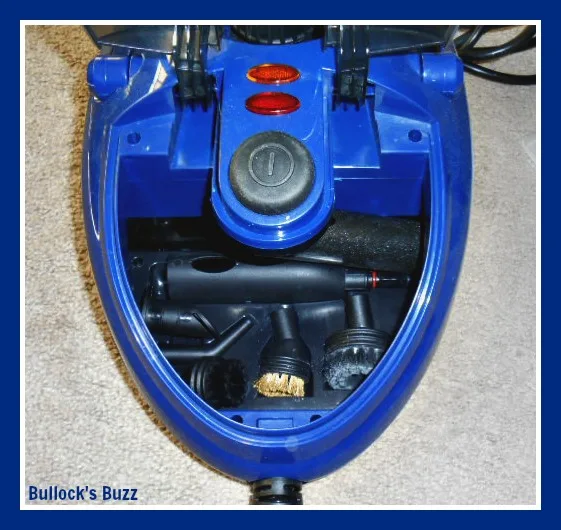 My first use of this machine came a short while ago when we moved to our new apartment. Now call me picky, but although I know many apartments are cleaned before you moved in, there was no way I was not going to give it a thorough cleaning myself, especially the tub, sinks and floors.
The HomeRight SteamMachine made this quick and easy! Using all of the different attachments, this one machine helped me clean the bathtub, the shower door, the bathroom sink, the bathroom floor, the kitchen floor, the kitchen sink and the counters!
And the best part of all? No harmful chemicals were used!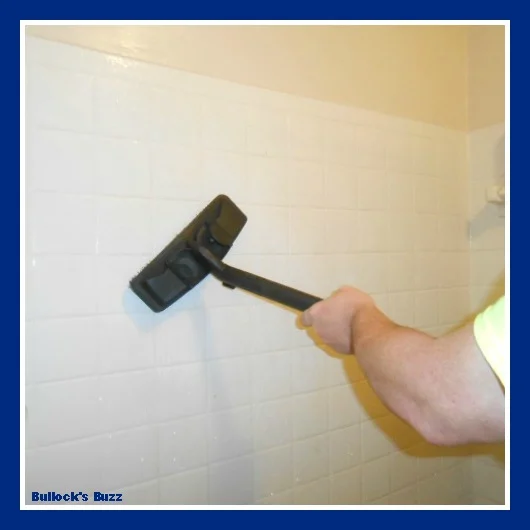 If you have ever used a steam machine then you know that these things release incredibly hot steam (this particular one heats to 205° at the nozzle) so you need to be careful; and if you have kids then you need to be even more so!
The HomeRight SteamMachine has a couple of safety features included. First of all, if I were still a kid, the first thing I'd grab on this machine would be the handle because it looks like it'd make a great imaginary gun! Well HomeRight must have thought about this because the user-controlled handle comes with a locking mechanism that prevents the trigger from being squeezed until you unlock it.
With a steam machine, the lid to the reservoir where you pour the water needs to be kept securely closed anytime it has water in it. If you release that cap when the machine is on, hot steam will come pouring out. To help remedy this, HomeRight made the lid so that it cannot be opened all the way until it has cooled down to a certain temperature.
My Verdict
The HomeRight SteamMachine Multi-Purpose Power Steamer is a great steam cleaning machine for around the house. It really does save you time and makes cleaning your entire home much easier. It is powerful enough for the jobs I need it for (and then some), and all of the different type brushes makes tough cleaning jobs easier.
For example, just using a stream of steam to clean the grout between the shower wall tiles was not enough. Yet when I attached one of the nylon brushes, the majority came right off. In those few extremely stubborn spots, the copper brush was successful!
And speaking of the copper brush, it works great on the grill! Overall, I would definitely recommend this steam machine for anyone that wants an easier way to clean!
To learn more, visit HomeRight.com where you can also purchase the SteamMachine for only $99.99! And be sure to connect with them on Facebook and Twitter to keep up with the latest cleaning tips, deals and promotions!