Car theft has always been a popular past time for thieves. Luckily, today's technology has helped make cars harder to steal and easier to recover. Today's auto thefts are most often opportunity-based, with thieves looking for unsuspecting drivers who leave their cars unattended.
While motor vehicle theft rates have declined over the past decade, according to a report on Safercar.gov, a car is still stolen every 44 seconds in the United States. There are several steps you can take to help in order to protect your vehicle from a crime of opportunity. Today, I've partnered with Kayser Chrysler Center to share a few easy ways to protect your car from theft.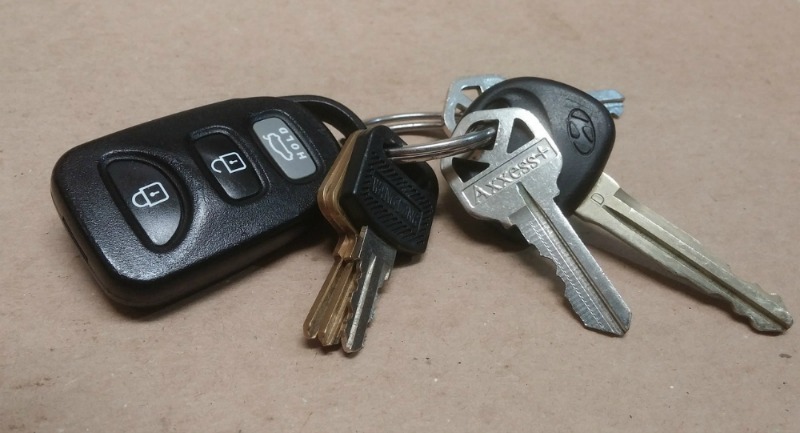 Put Valuables Away Before You Park
Thieves often watch and look through parking lots for people who leave valuables in their cars. Always put your valuables out of site before you park so as not to attract the attention of thieves.
Park in Plain Sight
Thieves will steal even in broad daylight if they can find cover. You should always remember to park in a visible and safe location. At night, you should look for well-lit areas and open, unblocked spaces when you park. Try to avoid parking in places away from plain site which will allow a thief to have time to get into your car and bypass the ignition.
Always Lock and Arm Your Car
Always lock all doors, roll up the windows and remove the keys whenever you leave the car. If you have one, arm your alarm, too. Even if you are just running inside the store for a quick errand, do it. Also make sure you carry any tempting items such as your keys, phone and purse with you or store them out of sight (again, before you park).
Hide All Electronic Cords
Avoid unintentional visual tips for thieves, which include leaving chargers for phones and gadgets as well as holsters for navigational equipment in plain sight.
Do Not Leave Your Vehicle Unattended While Idling
A lady I know from the Chinese restaurant where we sometimes eat made the mistake of leaving her car idling while she ran inside the gas station store to grab a drink. Even though she was in a familiar neighborhood, in the middle of the day, when she came out her car was gone. The lesson here? Never, ever, leave your keys in the car and the ignition running. Even in you are just running inside for a second. Thieves like to frequent convenience store parking lots and gas stations, where people sometimes leave their cars running and keys in the ignition.
Likewise, during the winter, it may be tempting to let your vehicle idle to warm up while you finish gathering your stuff to leave. Don't. This is a very inviting target for car thieves.
What To Do If You Believe Your Car was Stolen
If you come outside to find your car gone, there are four steps you should take immediately. First, verify that it was actually stolen and not parked or moved by someone else with access to your vehicle. If it is truly gone, your next step is to call the police. Then, if you have a vehicle recovery device or vehicle assistance plan or system, contact the company to activate the locator. Finally, notify your agent or insurance company.