Wicker furniture has maintained its position as one of the most popular types of furniture for several decades. It is popular because the style is considered to have a timeless appeal and easily fits in with different design styles. The wicker style dates as far back as 5000 years ago to the ancient Egyptians, and is believed to be one of the most ancient techniques for making furniture documented in history.
Making wicker furniture involves using pliable plant materials that are bent and twisted to achieve the desired pattern. The most common materials used to make them are reeds and grasses from swampy areas. The art passed on from Egypt to Rome to Celtic artists, then finally to Europe and America in the 19th century. The technique is still used today in making popular everyday items such as furniture.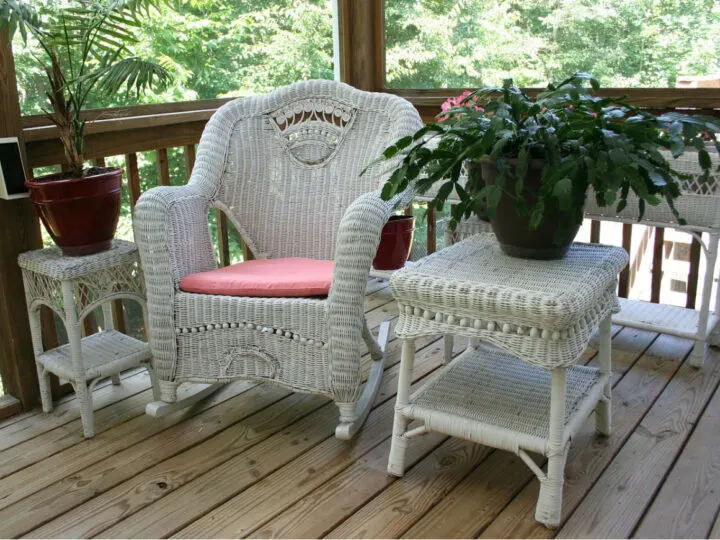 Reasons Why You Should Get Wicker Furniture Like a Wicker Bench
Wicker benches and other wicker furniture will fit right in with any style of interior decoration. Aside from their uniqueness and aesthetic value, there are so many reasons why wicker furniture, even something as small as a wicker bench, would look great in your home!
Wicker Furniture is Versatile
Wicker furniture, especially wicker benches are versatile. Wicker benches can be used as either indoor or outdoor furniture and easily accessorize and spruce up. They look equally as good in elegant and modern spaces as they do in traditional setups. A couple of throw pillows or a shawl can go a long way in transforming the bench and will give your house a new look. They can also be customized and painted in different colors, depending on personal preference.
Wicker benches are eco-friendly
Wicker furniture, especially wicker benches, is the perfect furniture choice for those keen on environmental conservation. They can be used over long periods, are biodegradable, and can be repurposed or recycled in some cases. They are also non-toxic and safe for babies and pets.
It's Functional
Wicker furniture is functional and flexible. Wicker benches are strong and can hold weight. Other than the decorative aspect, they are functional and can easily be sat on.
Wicker is Durable
Modern wicker benches are easy to maintain and are made of quality material, ensuring they stay functional for a long time. They hold very well under the elements such as rain and sunshine without damage. They are also easy to clean and dry pretty quickly when left out in the rain. They are more breathable thanks to their design and are perfect for hot weather as they help you stay cool.
Wicker Benches Are Affordable
Wicker furniture is easily accessible and affordable. There are many reputable online sources where you can get pieces such as a wicker bench at an affordable rate..\
They Are Sturdy
Wicker benches are sturdy, steady, and safe. They are made of solid material which can support the weight without getting damaged.
Wicker Is Small and Lightweight
They don't take up much space and are the perfect piece for those living in tight spaces. They are also light, and moving them around while cleaning or redecorating can be done without assistance.
Wicker Looks Good
Wicker benches will have your space look chic and classy without making too much effort. They can be added to bathrooms, bedrooms, living rooms, and even the outdoors on patios and porches.