Latest School Supplies from Five Star®
Please note, this post may contain Amazon affiliate links to make shopping easy. If you make a purchase through these links, I'll make a small bonus at no extra charge to you.
Can you believe it's already THAT time? Where in the world did summer go?! Now that it's time to turn our focus to school, I figured I'd give you a little help with your back to school supplies shopping. After all, there are so many supplies out there, it's hard to know what will work best for your child's needs! Today, along with Five Star®, I'm sharing some products that can help make Back to School a little bit easier!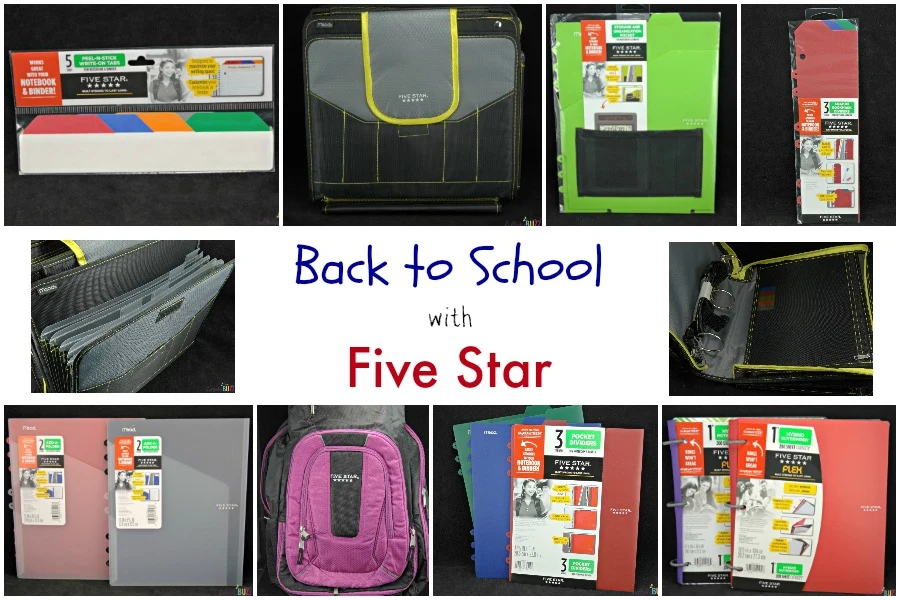 Over the years I've noticed that my stepson seems to have a little problem when it comes to organization. I can't even begin to count how many school papers were misplaced or lost last year! This year, Five Star makes organizing easy with several new and unique school supplies, many of which can snap right into a binder or a notebook for easy carrying and excellent organization.
Five Star Tabbed Pocket Dividers (3 pack)
Now students can easily divide their notebooks or binders by subject and conquer the clutter with these neat little Tabbed Pocket Dividers. Unlike the one's I used in school, these are made of a durable material that won't easily tear, and is guaranteed to last the school year.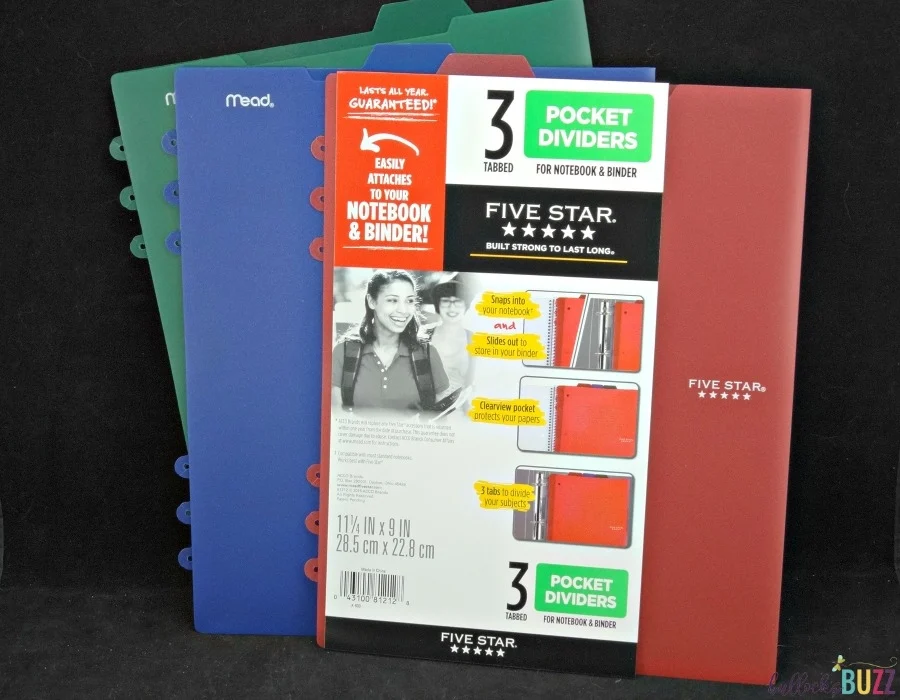 Five Star® Storage and Organization Pocket
The new Five Star® Storage and Organization Pocket is a simple way to protect loose homework, notes and papers. It can easily snap into a binder, and the mesh storage pockets provide an ideal place to store smaller school supplies.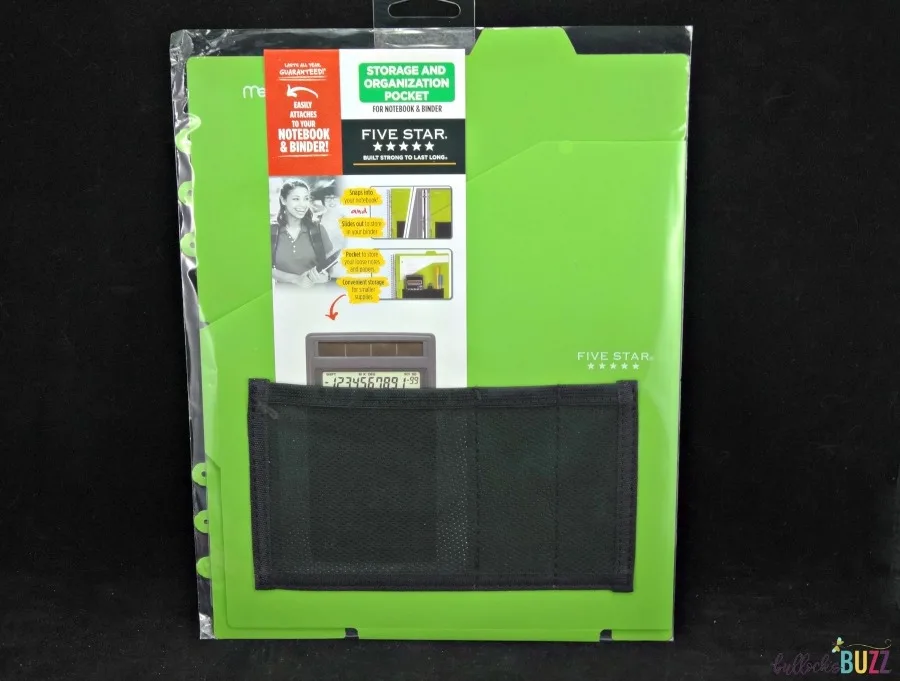 Five Star® Add a Folder
The new Add-a-Folder features a unique design featuring tall pockets to help keep those important papers from falling out, while a clearview window allows students to see and reference their assignments, notes or handouts while the folder remains closed. Like all Five Star products, the Add a Folder is made from a tough and durable material guaranteed to last the entire school year.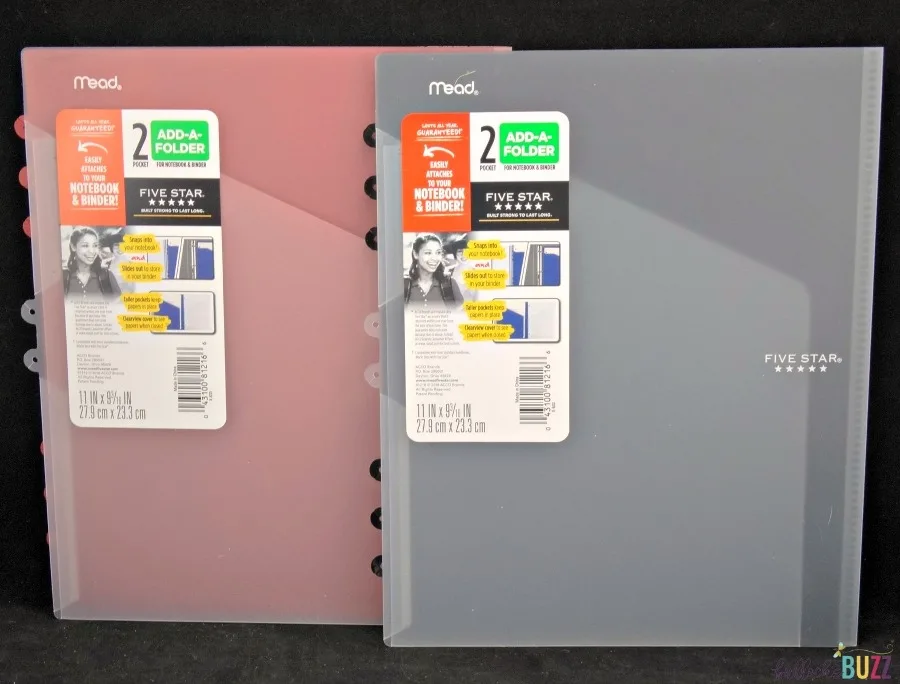 Five Star® Snap In Bookmark Dividers (3 pack)
Perfect for keeping students organized and keep up with their busy schedules, the Five Star Snap In Bookmark Dividers are made of durable material that students can actually write on, making keeping track of "To Do" lists or homework assignments a breeze. Even better, they can easily erase and reuse each one.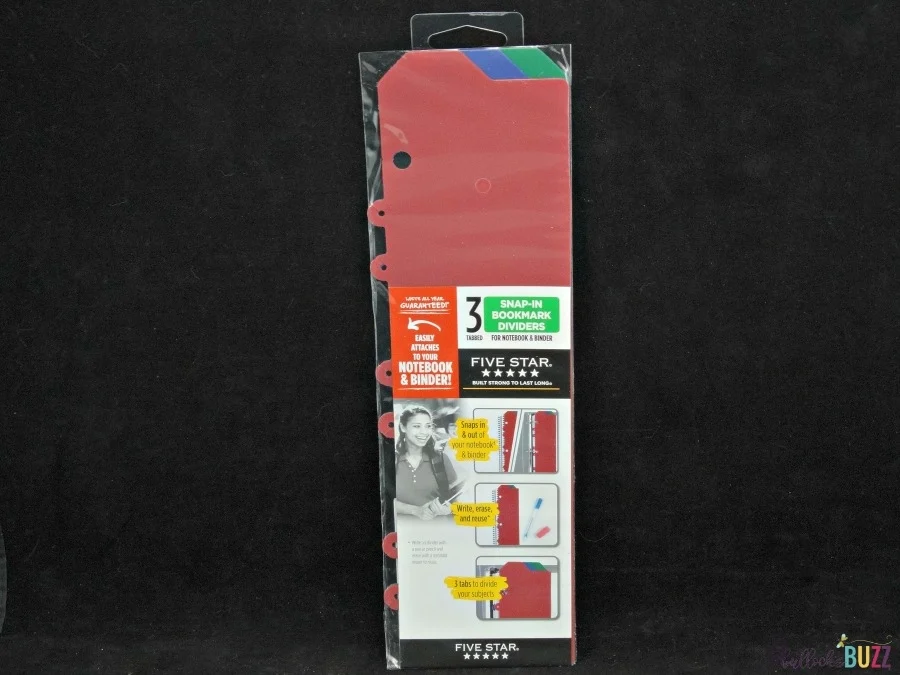 Five Star 4″ Capacity Zipper Binder
Another of my favorites (this works great for blogging, too) is the Five Star® 4″ Capacity Zipper Binder. Made of durable, water resistant materials, this Zipper Binder is literally packed with storage options including a five-pocket expanding file that makes organization a breeze, and sides that can stretch for over two inches of extra capacity.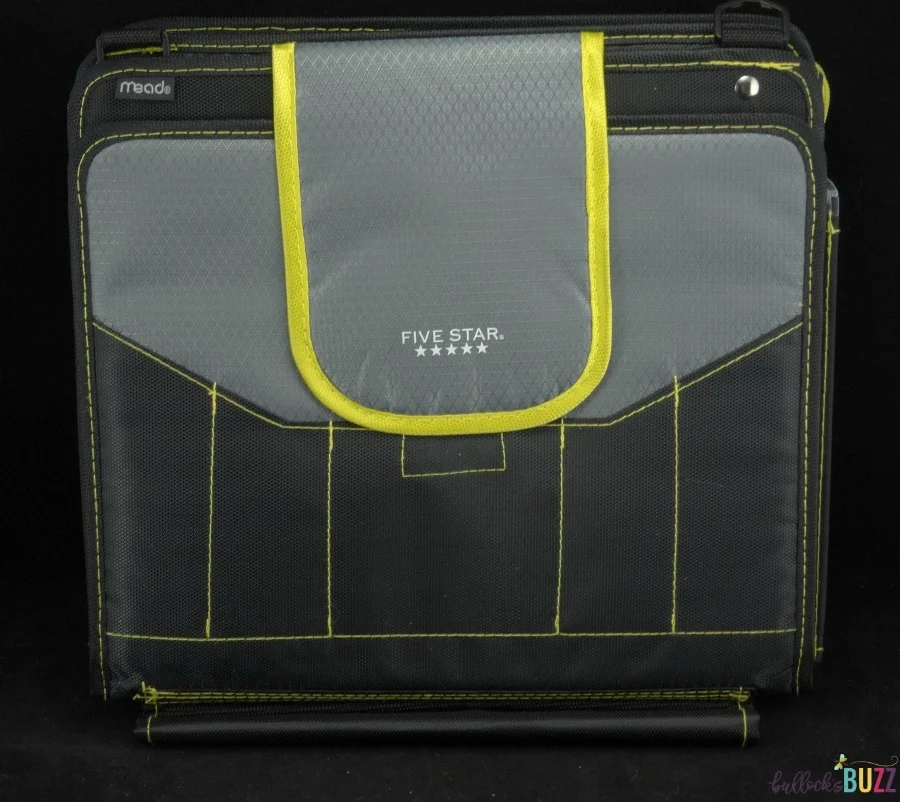 This handy binder also has 2″ rings, an internal expanding pocket, a mesh zipper pocket that's perfect for supplies, five smaller outside pockets for quick access to small items such as pens, calculator or your phone.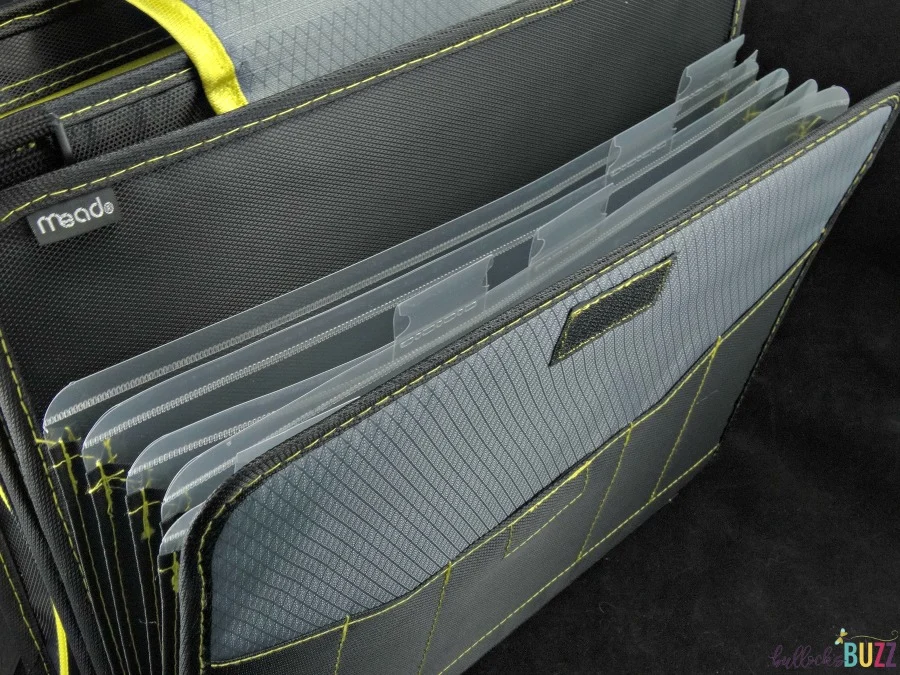 The sheet capacity is 380 sheets on the rings, 570 in the expandable file plus another 150 sheets in the storage pocket! Storage will definitely not be an issue with this bad baby. Oh, and there is also a removable strap make carrying a full load easier.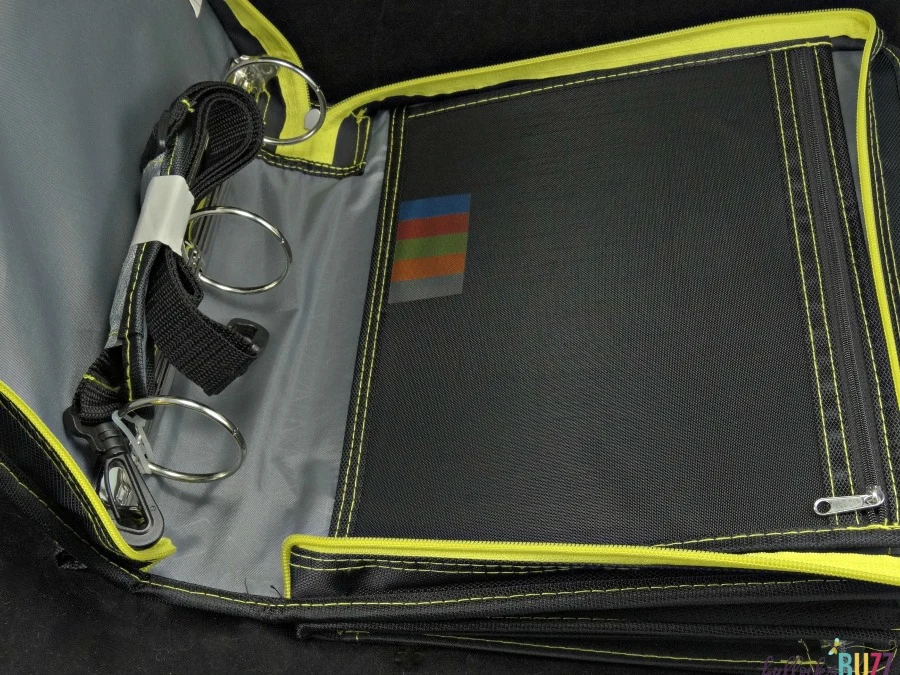 Five Star Style Five Star Flex 1″ Hybrid NoteBinder
Another favorite from last year is the Five Star Flex® Hybrid NoteBinder®. Check out my review for a more detailed description. This handy little NoteBinder is really a mix between a notebook and a binder. Made from durable, long-lasting materials, the Hybrid NoteBinder comes complete with 80 sheets of 8.5" x 11″ paper (60 college and 20 quad/graph ruled), 3 NoteProtector® dividers and 2 NotePocket® dividers. Its non-tear plastic cover folds over to lie flat just like a regular notebook, and the Patented TechLock® rings open easily to allow the addition of more paper and dividers. The NoteBinder can hold up to 200 sheets of notepaper.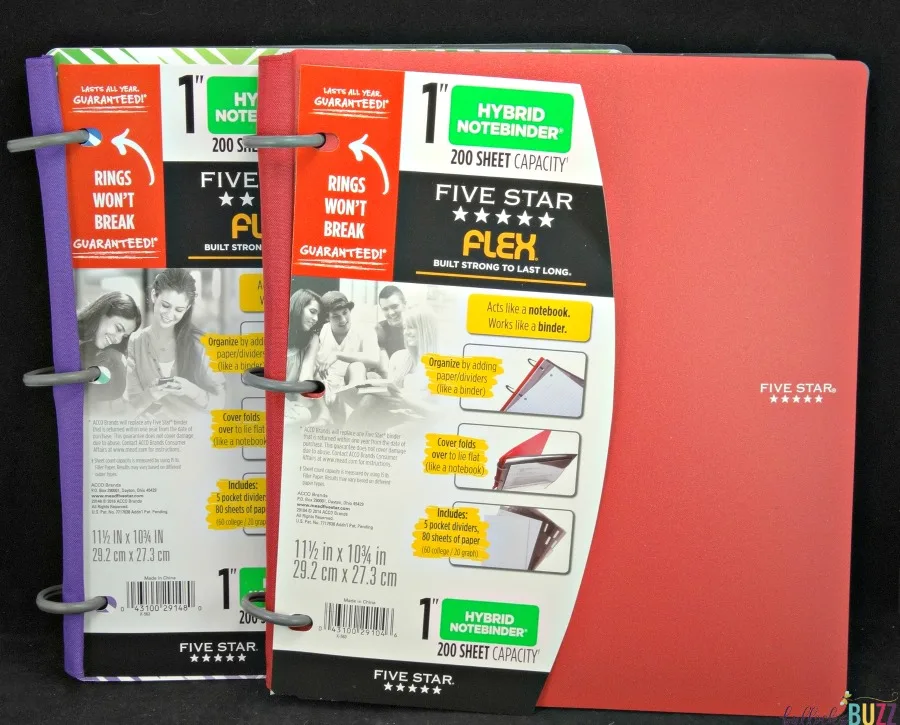 Inside the NoteBinder, the two plastic NotePocket® dividers come with reinforced holes for extra strength, Stay-Put tabs to help keep paper in place, a horizontal pocket, and another pocket that is ideal for index cards and more.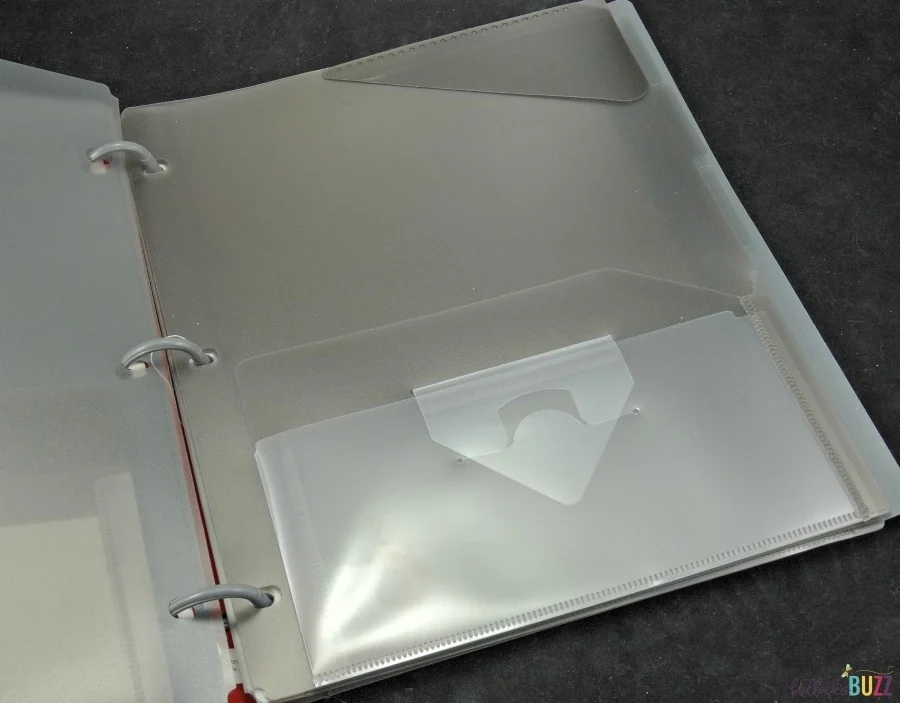 The three NoteProtector® sheet protector dividers are also made of plastic with reinforced holes, and have a unique Flap system that is designed to help keep papers in place.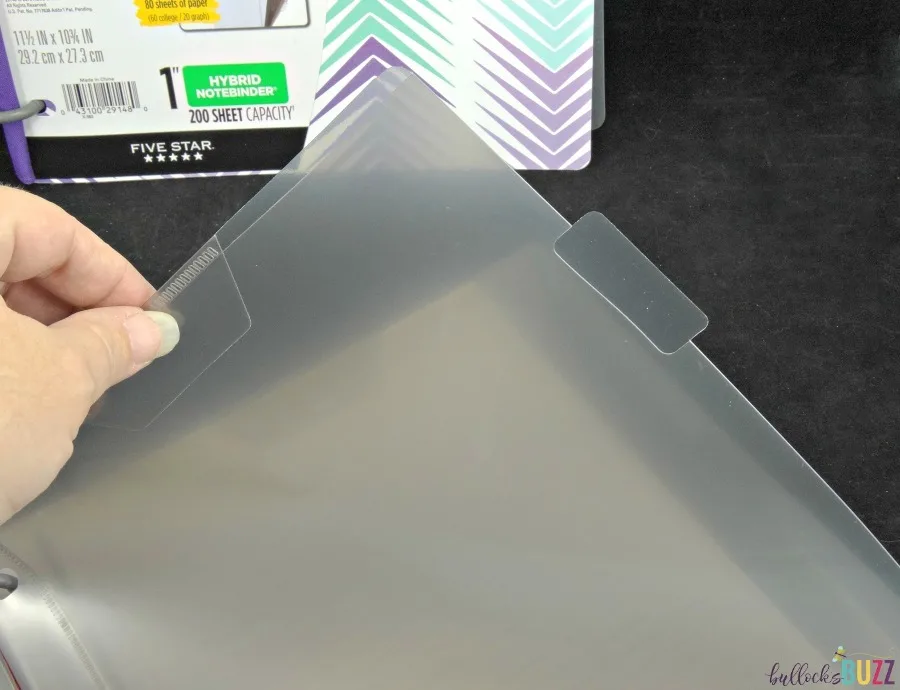 The Five Star Hybrid NoteBinders come in both 1 inch and 1.5 inch, as well as a 1 inch with customizable cover. You can also choose from 6 different bright and fun color options.
Five Star Peel & Stick Write-On Tabs
The Peel-N-Stick Write-On Tabs are an ideal way for students to index their notebooks or binders. Made of durable plastic for long-time use, each tab is a different color to make color coding subjects or projects simple. Each tab provides plenty of room to write, and there is even additional space beneath each tab so you can add more detailed information. Securing the tabs is fast and easy, simply peel away the backing and place on either the top or the side of the page or folder. The strong adhesive permanently seals to pages in your notebook or binder.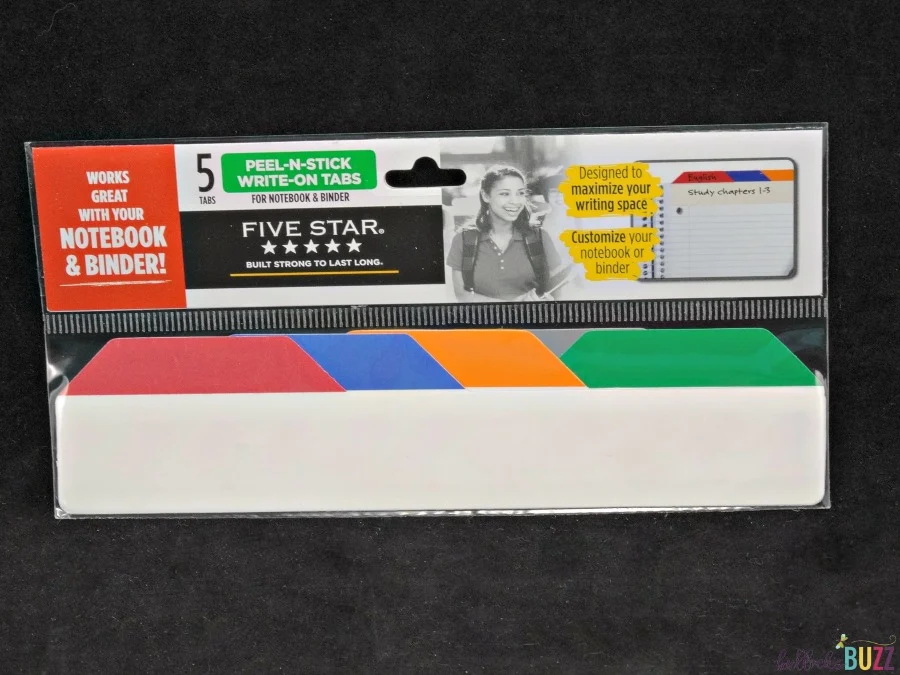 Five Star® Expandable Backpack
Of course, a Back to School supply post just wouldn't be complete without mentioning a backpack! Our favorite is the Five Star® Expandable Backpack which I shared about last year. Constructed from durable, water resistant materials, this awesome backpack offers plenty of room for everything your child could need including multiple storage pockets, a patented curved zipper allowing for side access while hanging in a locker, an organization pocket for small items, a bottle pocket and even a padded laptop sleeve. Plus, the Expandable Backpacks extra large main compartment can easily accommodate textbooks, notebooks and school supplies, and both the front pocket and main compartments expand to create an extra seven inches of storage (3″ in the front pocket, 4″ in the main compartment). And there is even a separate padded compartment to protect and secures a laptop.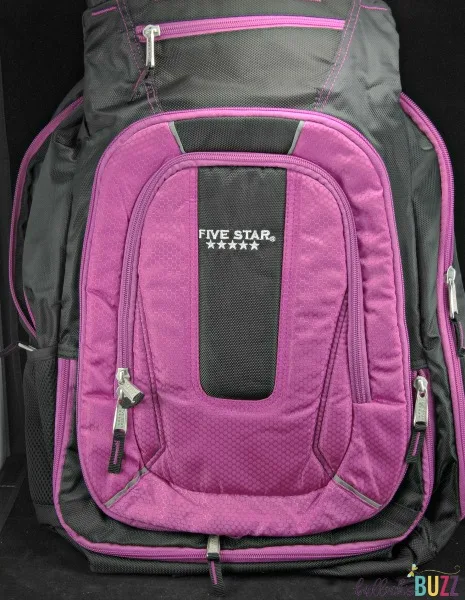 More Five Star® Products
In addition to the new binder and backpack, don't forget that mead Five Star makes all sorts of school supplies including notebooks, composition books, student planners, locker organizing items and more! Find these products and more either online at www.MeadFiveStar.com or at your favorite store that carries Five Star school supplies!