Change can be a good thing, especially when it comes to updating the look of a room. And sometimes, it's the smallest things that can make the most difference. Especially when it comes to home decor on a budget.
My husband and I moved into a rental house a little over a year ago. The house belongs to my brother-in-law, and in exchange for us doing a few updates to the mid-1960s rancher, we get to stay here.
So far we've pulled up the carpets, laid 'hardwoods', added shoe molding, updated the master bath, and are now working on painting the rooms. At some point during the year, my husband and I decided that we want to try to buy the house for ourselves. But until then, we are limited in what we can do when it comes to making a house a home.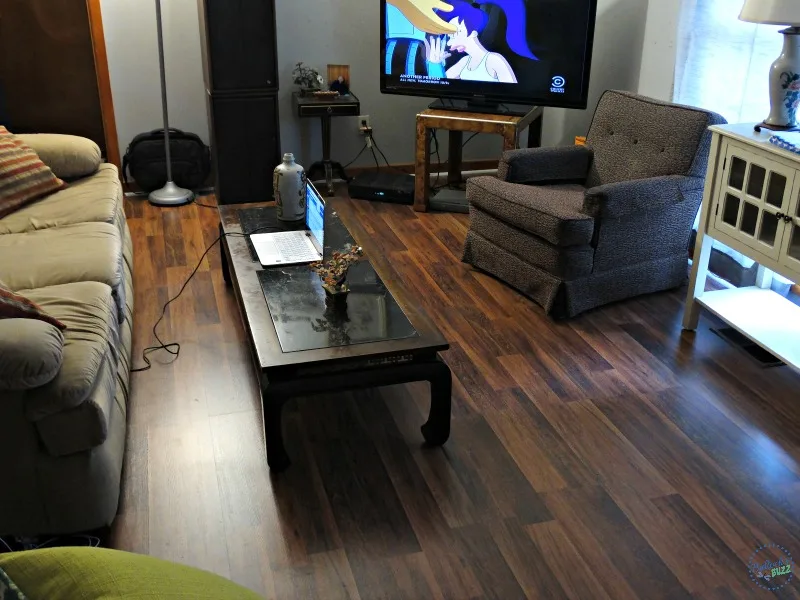 Create Warmth and a Cohesive Look
While I love the look of the new floors, the living room was lacking warmth. So what better way to add warmth and pull a room together than an area rug? And so the search began. I knew I wanted something in neutral colors as we weren't yet sure of what color to paint the walls. After looking at multiple furniture and home decor sites, I finally found a rug that would work perfectly – the Primordial Rust Area Rug, from Jerome's Furniture.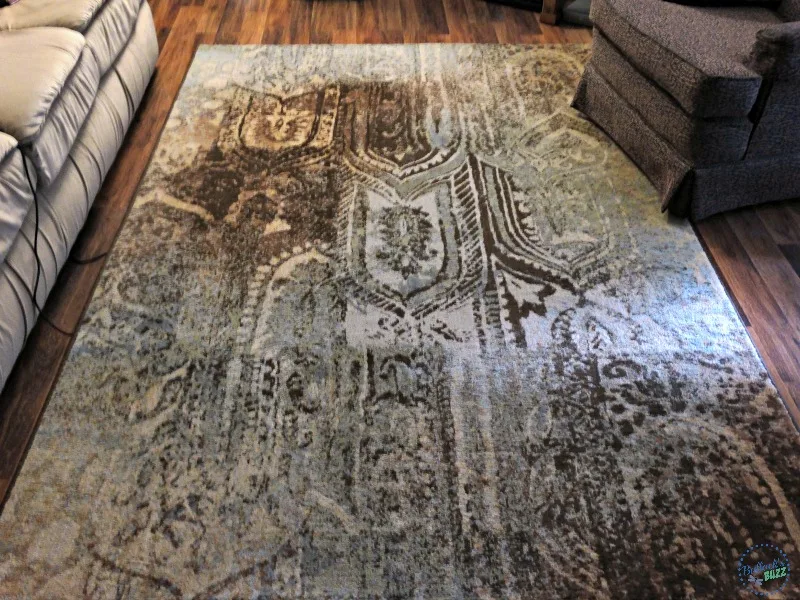 If you've ever shopped for a large area rug, then you know it's difficult to find one in the size you want at a reasonable price. I wanted a rug that measured at least 8′ by 5′, but rugs in that size were priced at $400 and up everywhere I looked! Way too much.
However, the rugs I saw on Jerome's Furniture website were very affordable. Now all I was curious about was the quality.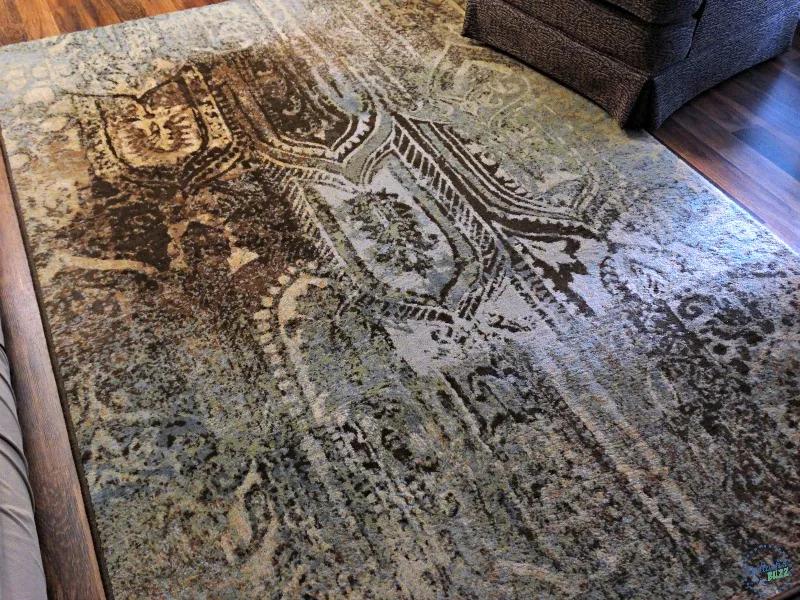 Add Color to Plain Flooring
The rug arrived within just a few days of ordering. I was so excited, I started moving furniture out of the way the minute I had it inside! I should mention that there was a noticeable odor from the fabric and dyes once the rug was unrolled. But it quickly dissipated.
My very first thought was the rug was a bit thinner than I had originally thought, but once I had it laid out I knew I'd made a good decision. The colors were exactly as pictured on the website, and it pulls everything in the room together perfectly.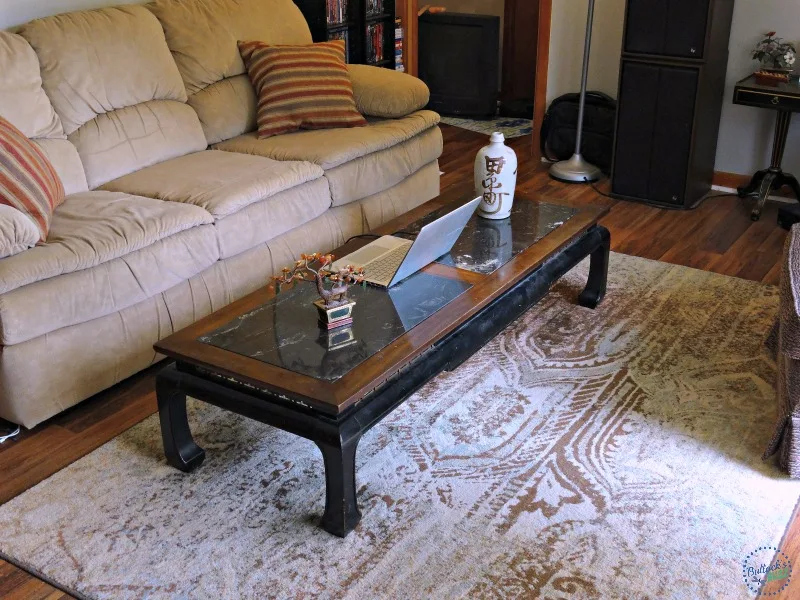 The coloring of the rug also does a great job of hiding any cat fur. This is huge because I was originally worried about the darker areas showing the fur, especially since every time I brush our cat, there's enough excess fur in the brush to make a whole other cat! I also love that all it takes is a quick vacuum to keep the rug clean and looking new.
Warm and Inviting
It's been several months now since I first got the rug, and it is holding up extremely well. It has its fair share of foot traffic, but I've yet to notice any wear and tear. Although the coffee table holds it in place just fine, we decided to add some padding beneath it. This not only adds extra insurance against sliding on the wood floors, but it also makes it extra soft/squishy so one can comfortably lay on the floor when watching tv.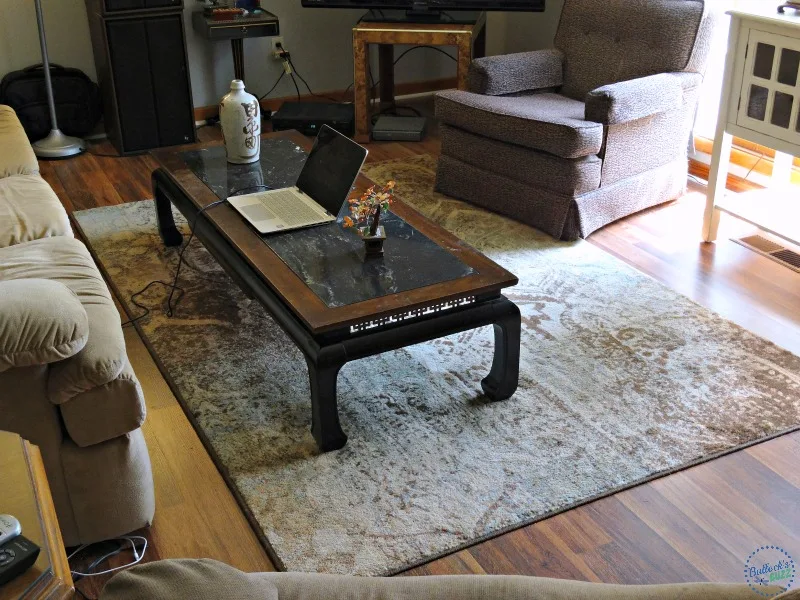 Now our den/living room is much more warm, inviting, and comfortable. So now I am off to tackle the next thing this room needs, a set of curtains!
Tips on Finding Home Decor on a Budget
Looking for affordable, quality home decor? One of the best – and easiest ways – to quickly find great deals on home decor is to do some research online. Specifically, look for sales, coupons, and discount codes such as lowes promo codes for the items you are wanting. You'd be amazed at how much money you can save if you take the time to do the research before you buy!
How have you made your house or apartment into a home on a budget?