We don't typically spend much time in the bathroom. We do our business and then leave. Even if you take long, extended baths, it doesn't amount to more than 30 minutes per day total. That said, if you make your bathroom more luxurious, you'll want to spend more time there.
When you have it set up well, it can end up being like having a spa in your own home. It can be made to always be very fresh smelling and simply pleasant to spend time there. Luxury shouldn't be a concept that is out of reach for the average person. Starting in the bathroom is a great way to do this without breaking the bank.
In this article, we will go over several simple ways that you can make your bathroom more luxurious to where it becomes the centerpiece of your home.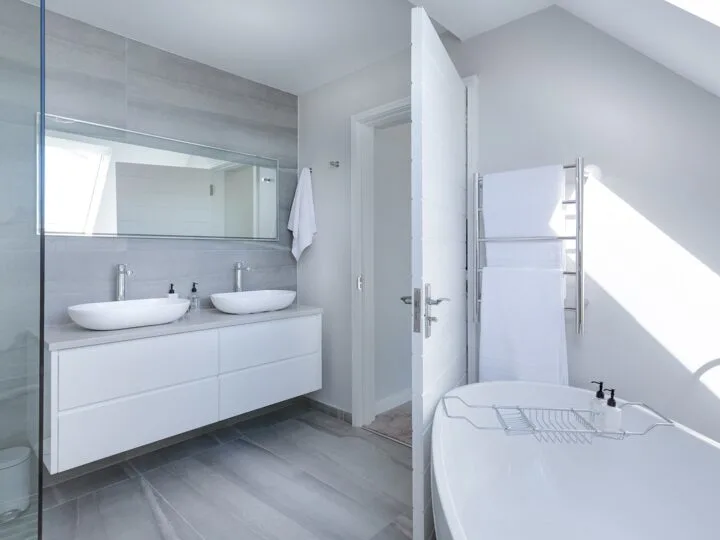 Add a whirlpool tub
One way to make you bathroom more luxurious is to add a whirlpool or soaking tub. Who wouldn't love to come home after a hard day of work and a long commute to a hot tub or jacuzzi? Soaking in the bubbles and hot water is a treat for those weary muscles. It also has a lot of health benefits aside from just being an ideal way to relax. Yet, many people think this is not attainable because they don't have enough space for a hot tub.
There are many regular-sized tubs that have whirlpool features so you can enjoy a relaxing soak with water jets massaging you all over your body. They take up no more space than the tub you currently have in most cases.
There is also the possibility of adding a wrap-around shower so if you just want to shower and not soak, then you can still get a luxurious spa experience. The only downside is that they can be a pain to clean so a scrubber sponge is not usually enough and requires spending some time and elbow grease.
Use a smart toilet
If you have ever traveled to Japan you no doubt were wowed by their smart toilets. These toilets are electronically controlled with a lot of luxurious features even though they are found in just about every home. It isn't just the wealthy that enjoy the toilet going experience with one. It's also a great way to make your bathroom more luxurious.
Essentially, a smart toilet is a toilet bidet combo that cleans you after you've done your business. With the press of a button, a jet of warm water will clean your backside so you can have a hands-free experience. Once you've used the water to clean up, then a dryer will blow warm air onto your backside to dry. You need no toilet paper and literally, never have to touch yourself by hand to clean off. It is very sanitary.
They also have heated seats so you can sit in comfort even on the coldest days. And some even have lighted seats so you can do your business in a unique atmosphere. If you've never thought of how luxurious going to the bathroom could be, then you are in for a treat if you get a smart toilet.
Use marble
Nothing says "Spa" like the use of marble tiles all around the bathroom. They can give you the impression that you are walking into a Turkish hammam or a Roman bath. It's a great way to make your bathroom more luxurious
Marble comes in a wide variety of colors and textures. They can be polished for a shiny finish or left a bit raw for a different texture and feel. There is an added benefit in that it can be used for every surface in the bathroom. The floor can have one texture and style while the walls can use yet another. Even the shower stall can be all marble for the height of luxury.
Make a steam room
To complete the spa experience at home in your bathroom, you should convert the shower into a steam room. If you have the marble-tiled wall in the shower then the entire experience will be the most authentic.
To do this, you should have an enclosed shower space with a door that closes completely. Even above the shower should be closed so the steam doesn't escape. Then add a steam generator to the system that can heat up water to around 90°F and can last for at least 20 minutes.
Having an enclosed shower also gives you the opportunity to add a chair or even a bench against the wall so you can sit and enjoy the steam. Adding essential oils like eucalyptus can help your breathing and create an even more luxurious experience.