These adorable Mini Donut Turkey's are the perfect Thanksgiving treat. Transform simple ingredients into adorable turkey treats that will bring joy to your holiday table!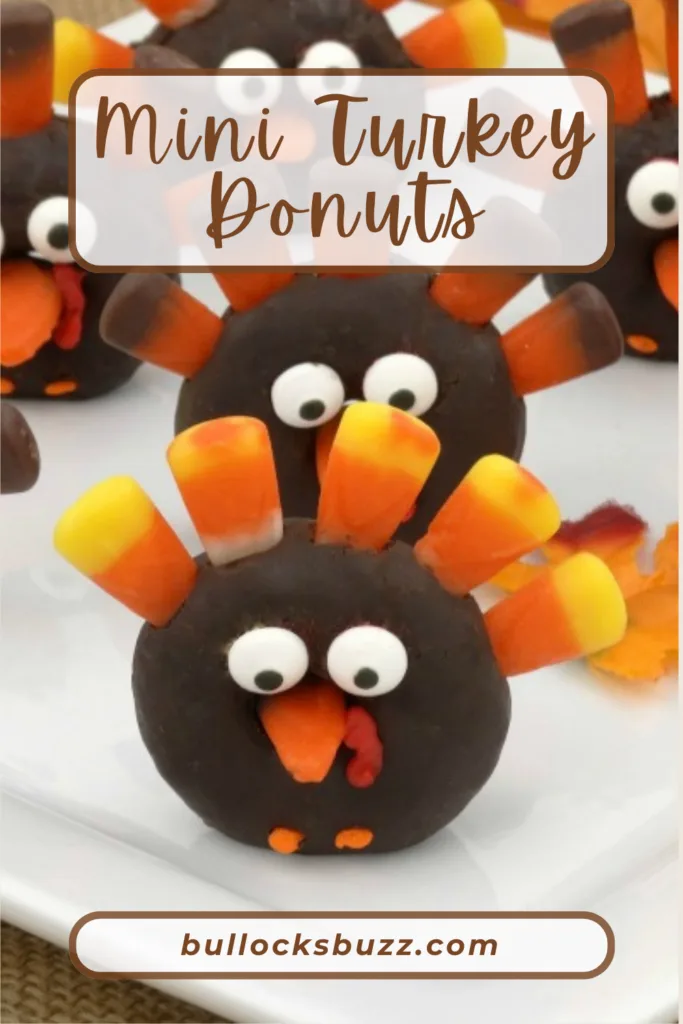 One of my favorite parts of the Fall and Winter holidays is all the fun decorations and cute food I get to make! Like these Thanksgiving Turkey treats and these Hanukkah Pinata Cookies. Today, I'm sharing one of the cutest Thanksgiving treats yet, Mini Turkey Donuts!
Easy Thanksgiving Treat Idea
Get ready to transform your Thanksgiving celebrations with a dash of creativity and a whole lot of sweetness! Mini Donut Turkeys are a Thanksgiving treat that will make your holiday celebration extra fun and festive. These delightful creations are incredibly adorable and are also easy and budget-friendly to make.
Using simple ingredients such as store-bought donuts, candy corn, candy eyes, cookie icing, and Wilton Pumpkin Mix sprinkles, these charming treats will add a delightfully sweet touch to your festive spread.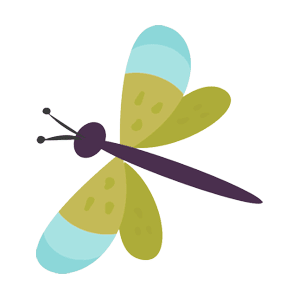 Pin for Later
Too busy to make this tasty recipe right away? Why not Pin it for later? Pin this easy recipe to your favorite board on Pinterest and it will be there waiting for you when you are ready!
These turkey donuts are perfect as a Thanksgiving dessert, and they also make an excellent addition to Thanksgiving lunch boxes, classroom parties, and afternoon snacks.
Plus, crafting these cuties is so easy that they're a great Thanksgiving activity for kids to create during a class party at school or over the holiday break at home.
And the sweetest deal of all? They provide a creative way to use up that extra Halloween candy corn!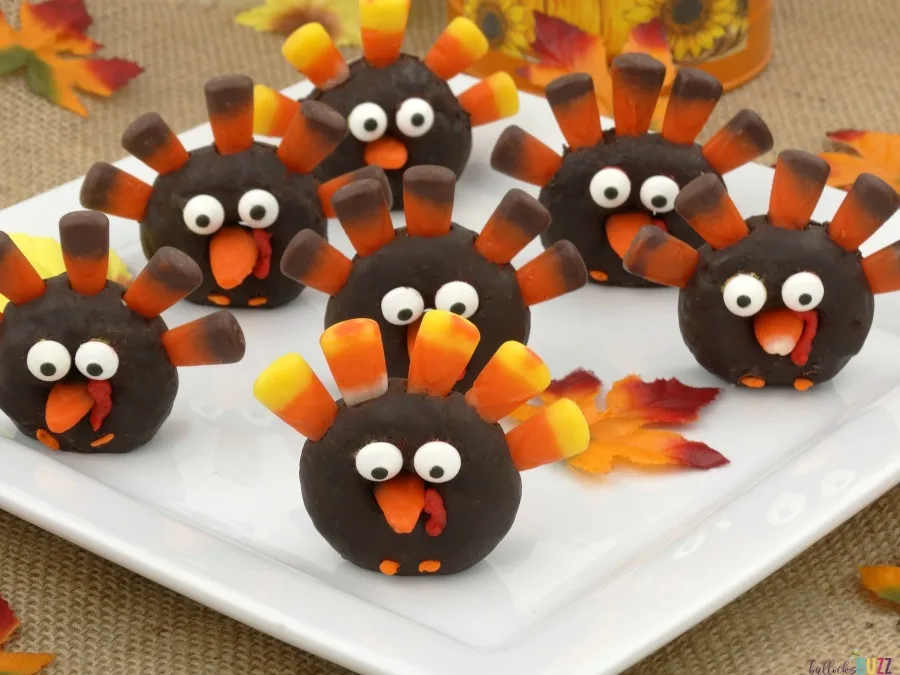 How to Make Mini Donut Turkeys for Thanksgiving
So, are you ready to see how to make these fun Thanksgiving treats? You'll find the complete recipe in the free printable recipe card at the end of this post. However, below I've added step-by-step instructions to help you make these mini turkey donuts along with images so you can see exactly how to make this edible craft!
Let's turn those leftovers into a masterpiece, one Mini Donut Turkey at a time!
Kitchen Tools You May Need
Below is the turkey-inspired toolkit for your Thanksgiving cooking extravaganza that will help you transform mini donuts into culinary artistry.
Disclosure: This blog post contains affiliate links for products or services I think you'll like. This means if you make a purchase from one of these links, I may make a small commission at no additional cost to you. I only recommend items I use and love.
bread knife – to cut a thin sliver off the bottom of the donuts so they can "stand" up.
frosting tip – I used a round piping tip (also called a writing tip)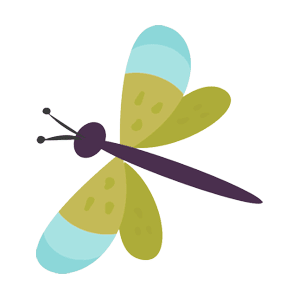 Pro Tip
You do not want to use just any knife to cut these donuts as they are more likely to break apart. Use a bread knife instead. Bread knives are specially designed to cut through bread and similar foods without tearing them apart.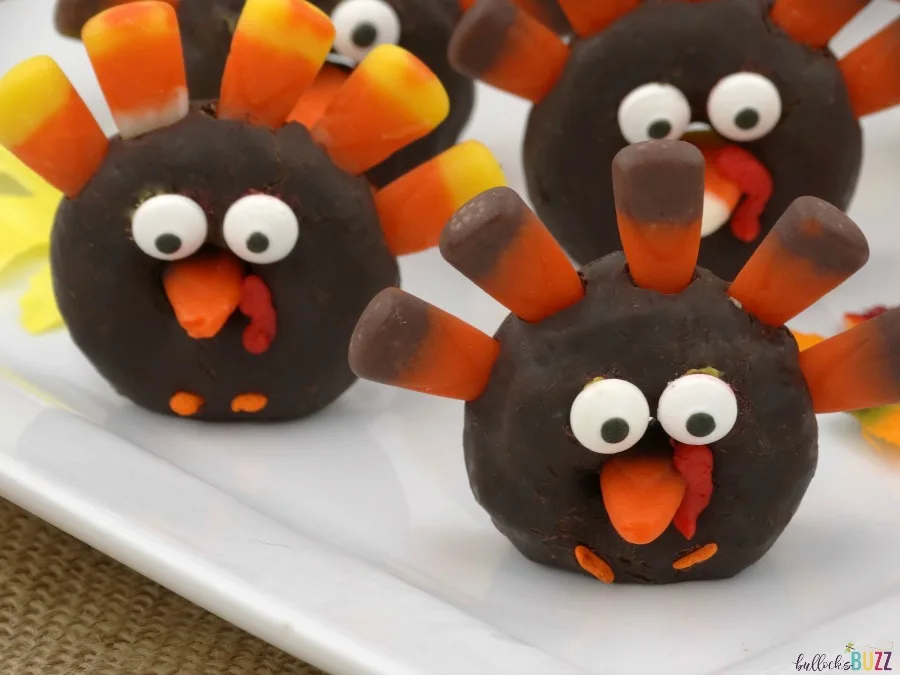 Ingredients Needed to Make Mini Donut Turkeys
These tiny turkeys call for nothing more than a few simple ingredients that when put together provide a cornucopia of flavors and colors. You will need:
Chocolate Mini Donuts – using store-bought donuts make this recipe fast and easy
Fall Harvest Candy Mix – the one with Candy Corn and Indian Corn
Wilton Pumpkin Mix sprinkles – any leaf or pumpkin-shaped sprinkles will work
Instructions to Make Mini Donut Turkeys
These step-by-step instructions are your map to transforming ordinary ingredients into charming Mini Donut Turkeys. Give yourself about 10 minutes, and you'll be gobbling them up in no time at all!
Step One: Create a Flat Edge
Begin by slicing off a small part of the bottom edge of the donut so it makes a flat surface for the 'turkey' to stand.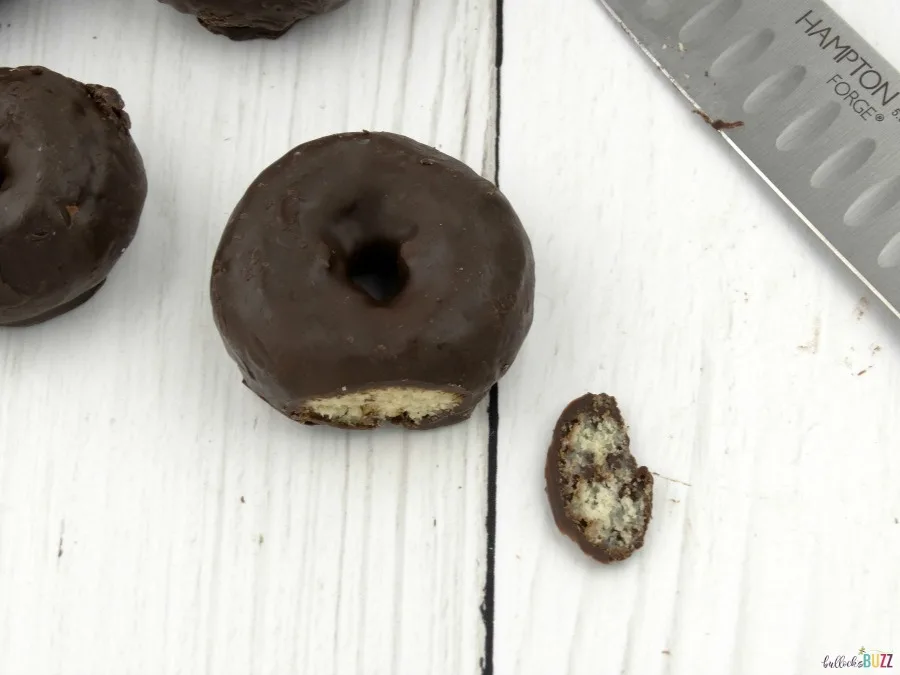 Step Two: Add the Feathers
Next, carefully insert 5 to 6 candy corn pieces into the top edge of the donuts to create the turkey's colorful feathers. Be sure to insert the pointed ends first, and be gentle so you don't accidentally break the donuts.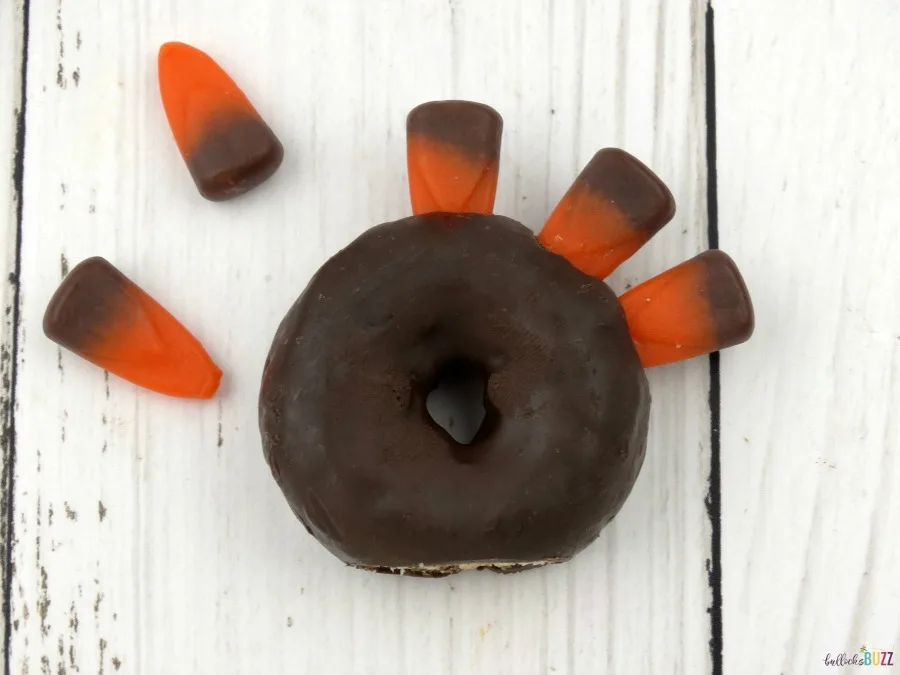 Step Three: Place the Eyes
Use a dab of icing to attach the candy eyes, giving your turkeys a cute little gaze.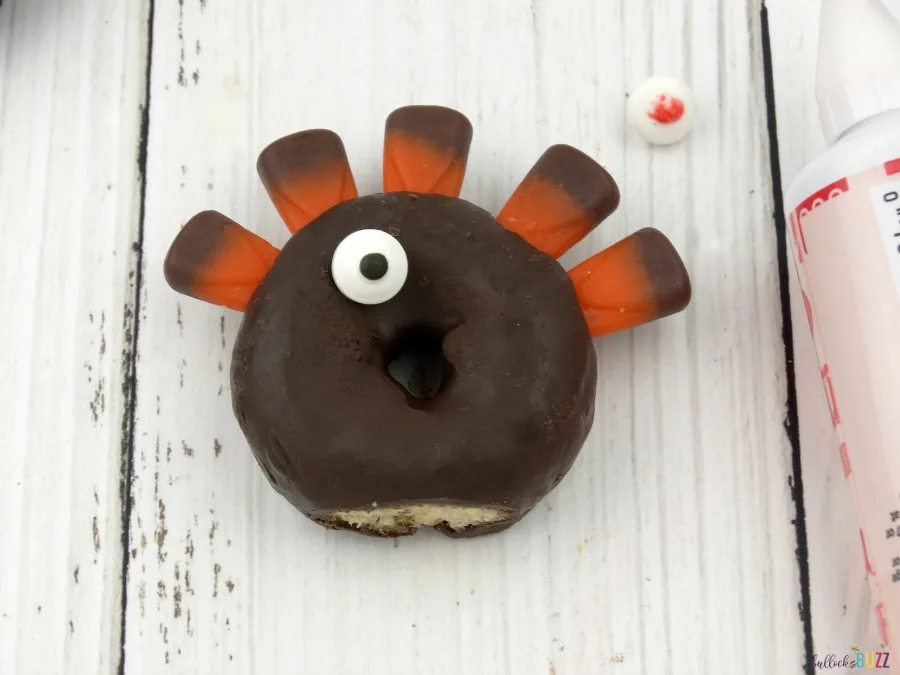 Step Four: Create the Beak
Make the candy corn beak by inserting another candy corn, flat side first, into the hole in the middle of the donut. Be sure the pointed end of the candy corn is facing out.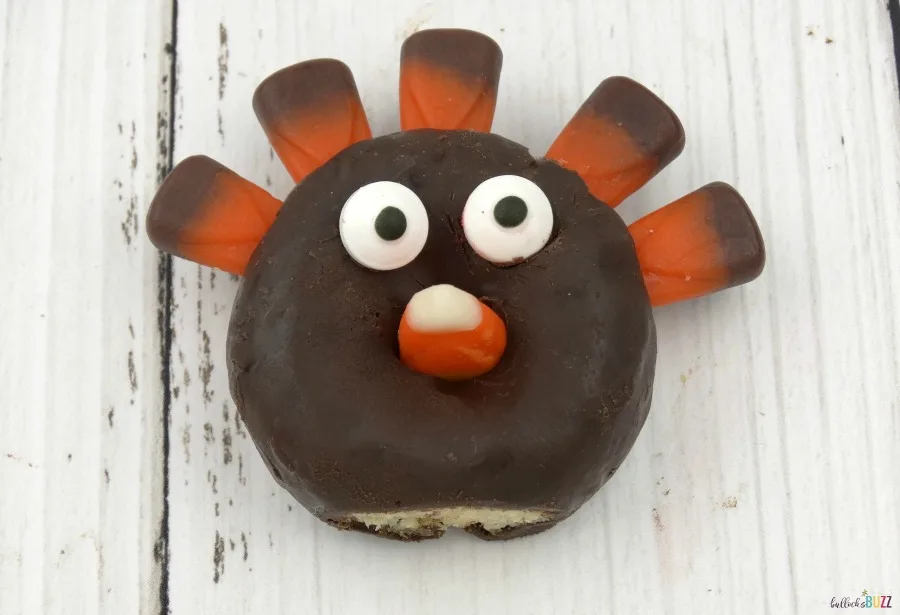 Step Five: Add the Feet
Remove the pumpkin-shaped sprinkles from the Wilton Pumpkin Mix, and carefully insert them near the bottom edge of the donut to create the turkey's feet.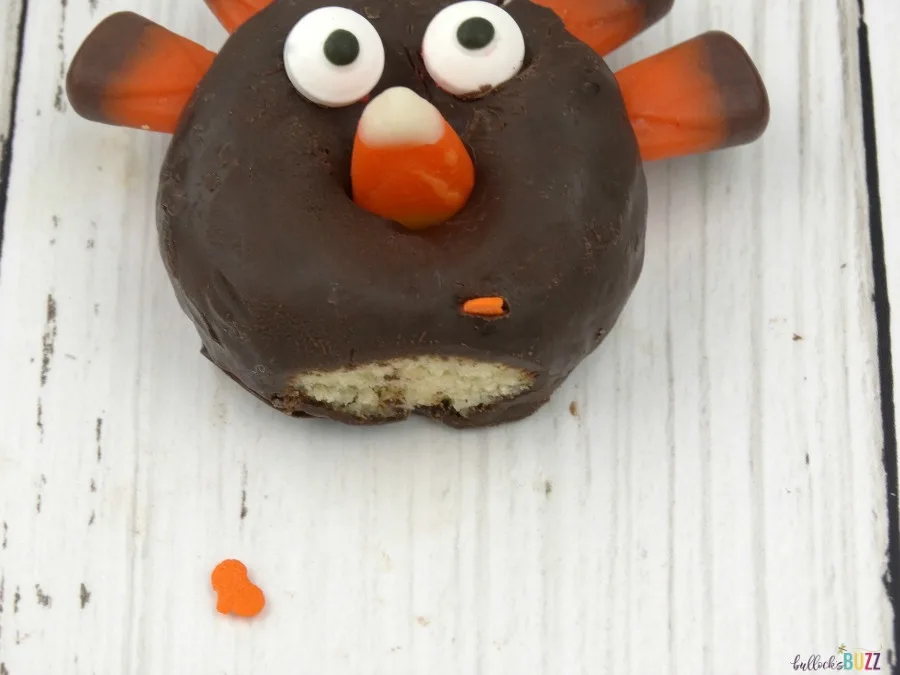 Step Six: Craft the Snood
Last, but not least, use the red cookie icing to draw the turkey's snood next to the beak, completing the delightful look.
Step Seven: Allow Icing to Set
After decorating, allow the icing to set before serving. This step ensures your Mini Donut Turkeys are picture-perfect and ready to charm your guests!
Aren't they simply adorable?! And they taste good, too! Now all that's left to do is… "gobble" them up!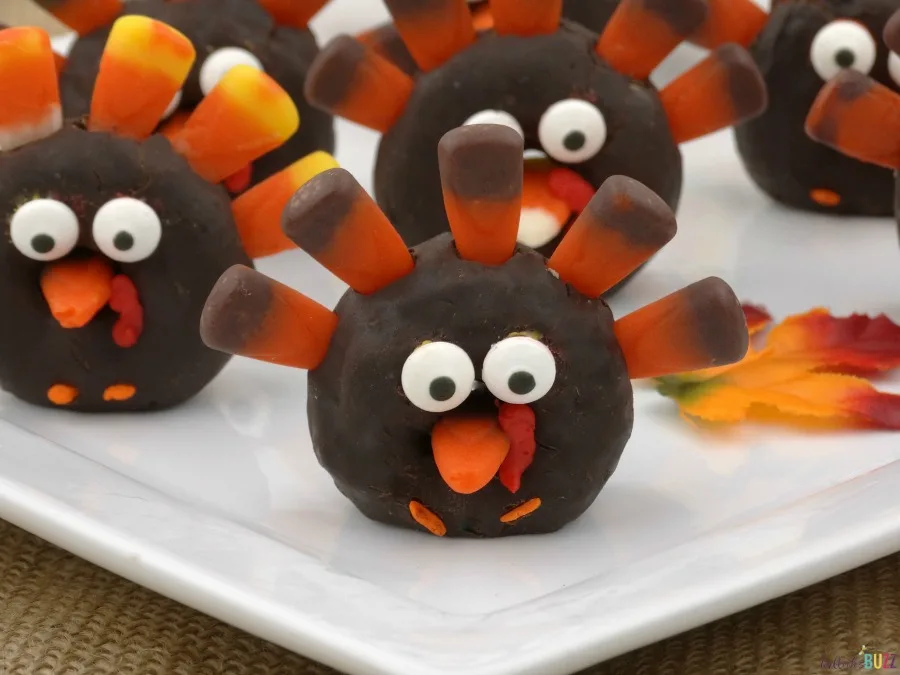 Tips for Making the Best Mini Turkey Donuts
Freshness Matters
Use fresh mini donuts to ensure they are soft and easy to work with. Stale donuts may crumble during the decorating process.
Choose the Right Candy Corn
Using both Candy Corn and Indian Corn ensures your turkey feathers look lively and colorful.
Ensure Proper Icing Consistency
When choosing the icing, you want one that has the perfect consistency which is why I opted to use Cookie Icing. Icing that is too runny might not hold the decorations well, while icing that is too thick can be challenging to work with.
Plus, since the icing comes in a tube, it is much easier to apply a frosting tip so you can easily pipe on the small amount needed to hold the eyes and draw the snood.
Embrace Imperfections
Keep in mind that each Mini Turkey Donut is unique, just like real turkeys! So embrace imperfections and enjoy the charming variety in your edible creations.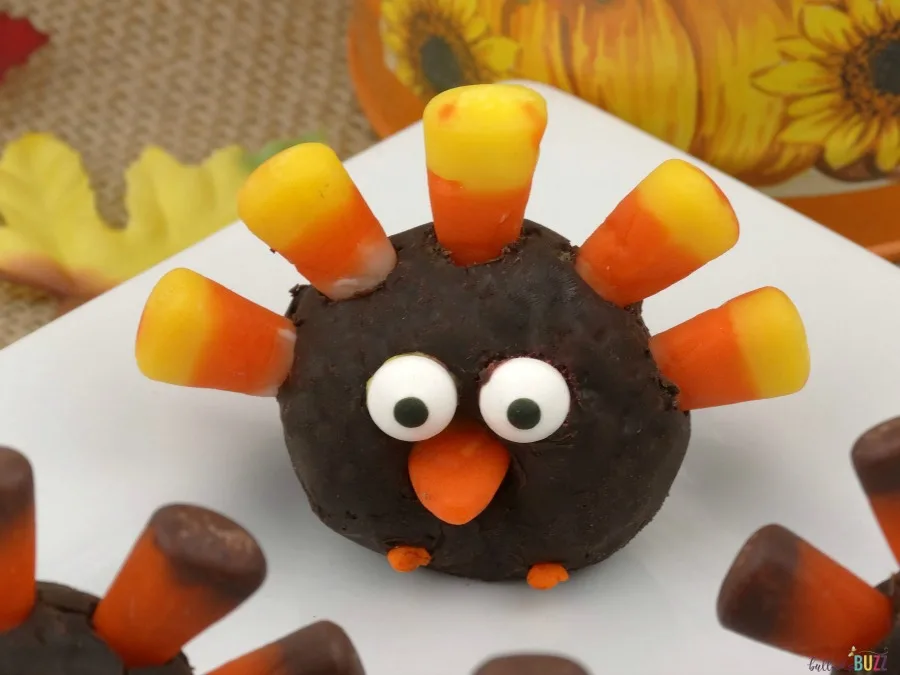 FAQs on Mini Turkey Donuts
Below you will find some of the most common questions and detailed answers to ensure your Mini Turkey Donut-making journey is a breeze. So you can have a Thanksgiving feast full of turkey treats and endless smiles!
Can I make Mini Turkey Donuts in advance?
Yes, you can! Just be sure to store them in an airtight container. Also, try to complete them as close to serving time as you can in order to maintain their visual appeal.
How long do Mini Turkey Donuts stay fresh?
While these Mini Turkey Donuts are best enjoyed fresh, ideally on the day they are made, if you need to store them, place them in an airtight container and consume them within 24 to 48 hours to ensure they retain their delicious taste and texture. You can store them at room temperature.
What other candies can be used for creative variations?
Feel free to get creative with your decorations! Besides candy corn, you can use other small candies like M&M's, Skittles, licorice, or even miniature marshmallows. These candies offer a diverse selection of colors and textures, allowing you to customize your turkeys according to your preference.
Hopefully, these frequently asked questions provide helpful insights into the world of Mini Turkey Donuts, and will make your creative culinary journey even more enjoyable! If you have more questions I did not answer, feel free to ask! I will answer them as quickly as possible.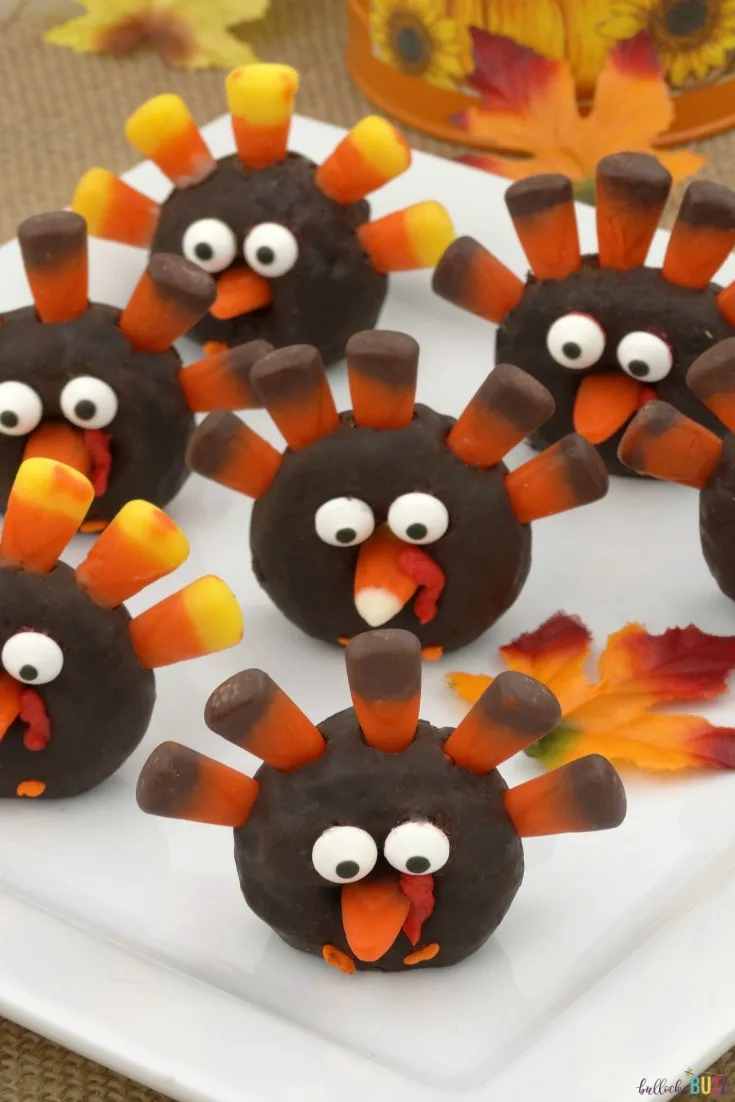 Variations, Substitutions, and Additions
Let your creativity soar and craft your Mini Turkey Donuts to match your taste preferences. Below are some variations, substitutions, and additions that will make your edible turkeys truly one-of-a-kind!
1. Candy Substitutions: Experiment with different candies for feathers, eyes, and beaks. Try using colorful jellybeans, gummy candies, or chocolate chips to add a diverse and tasty touch to your turkeys.
2. Nutty Crunch: Add a bit of crunch to your Mini Turkey Donuts by sprinkling them with chopped nuts. Peanuts, almonds, or pecans can all add delightful texture and a hint of nutty flavor to these sweet treats!
3. Fruity Flair: Add a healthy twist by substituting small fruit slices, like strawberries or kiwis for the candy corn feathers. Slice thinly, then attach them by either inserting them into the donut or with a drizzle of melted chocolate, allowing a few extra minutes for the chocolate to set.
4. Marshmallow Treats: Replace the candy corn feathers with mini marshmallows to create a fluffier and softer feathered look. Dip the bottom of each mini marshmallow in a bowl of melted chocolate, then stack them together. I would use 3 to 4 marshmallows for each feather. Once the chocolate has set, redip the bottom one then stick it in position on the donut, again allowing the chocolate to set. This may make them too heavy to stand up though.
Another option is to stack the marshmallows on a toothpick, and then stick the toothpick in the donut. Just make sure everybody knows the toothpicks are there before they take a bite!
5. Chocolate Drizzle: Speaking of melted chocolate, elevate the richness of your Mini Donut Turkeys by drizzling them with melted chocolate. A drizzle of dark or white chocolate can add an elegant touch and intensify the indulgent experience.
6. Sprinkle Medley: Add some extra Fall color by drizzling the donuts with chocolate then add sprinkles. Enhance the festive vibe by using a medley of different sprinkles. From colored sugar crystals to metallic edible pearls, sprinkles can add a touch of sparkle and excitement to your Mini Turkey Donuts.
7. Caramel Coating: Dip the bottom of your Mini Turkey Donuts in caramel sauce and then roll them in crushed cookies or nuts for a delectable coating. This sweet and crunchy layer will add depth to the flavor profile. Add the feet once the caramel coating has set.
In Conclusion
I hope you love these Mini Turkey Donuts as much as I do! Crafting these edible mini donut turkeys isn't just about food; it's about creativity, togetherness, and the joy of bringing smiles to the faces of your loved ones. Here's to a Thanksgiving filled with sweetness, laughter, and endless gratitude!

Like It? Love It? Share It!
Did you make these tasty Thanksgiving turkey treats? If so, I'd love to see how they turned out!
Nothing makes me happier than seeing your take on my recipes. So please be sure to tag me on Instagram @bullocksbuzz or using #bullocksbuzz!
And if really like this Thanksgiving recipe, please comment and leave me a ⭐⭐⭐⭐⭐ rating on the printable recipe card below!
And finally, don't forget to follow us on Pinterest, Facebook, and Instagram!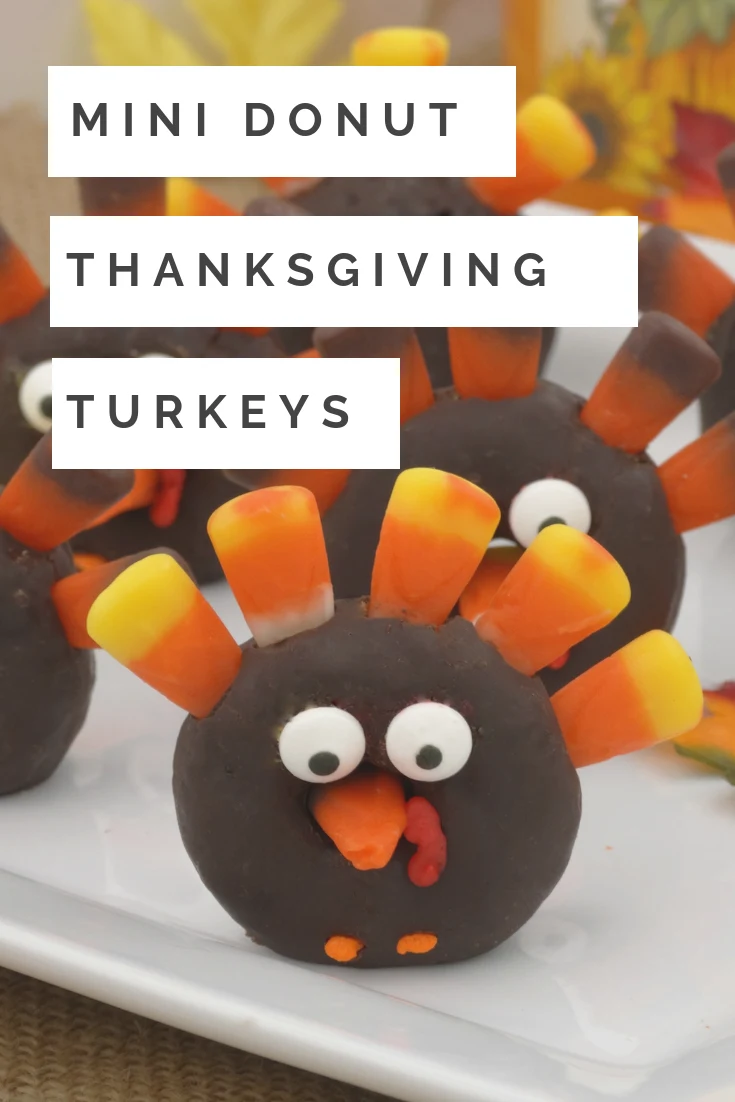 MORE CREATIVE THANKSGIVING RECIPES
If you're looking for more Thanksgiving treats to add to your dessert table, here are some delicious suggestions:
Do you have a favorite Thanksgiving treat recipe? Leave a comment below or come and chat on Facebook!
Printable Mini Turkey Donuts Recipe Card
Yield: 12 Turkey Donuts
Mini Donut Turkeys - Easy Thanksgiving Turkey Treats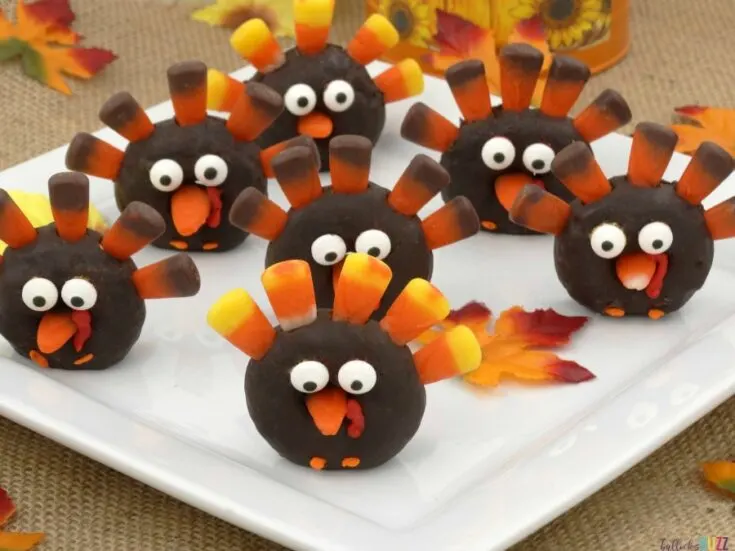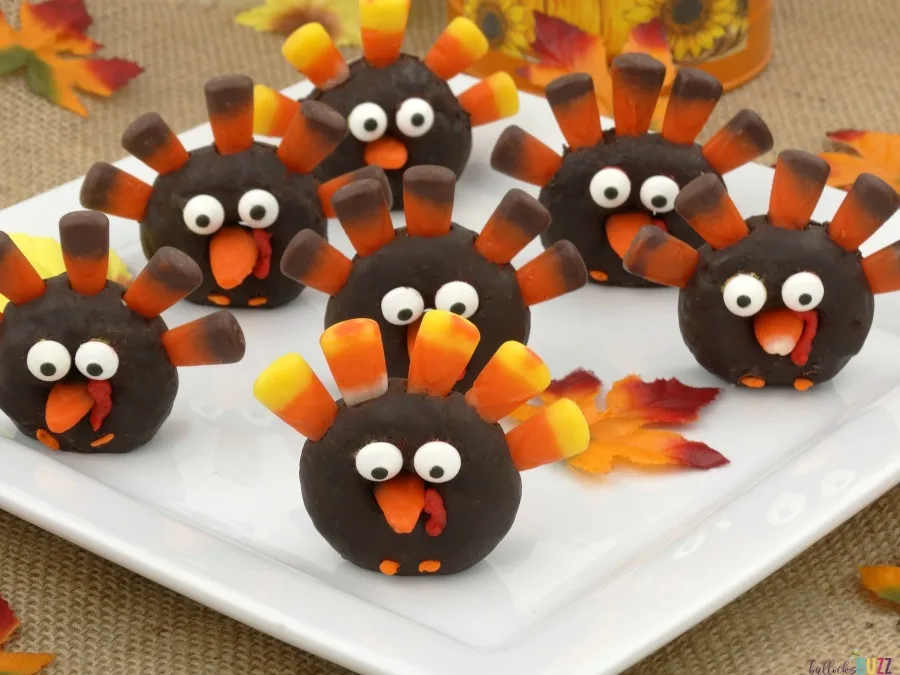 These adorable Mini Donut Turkey's are the perfect Thanksgiving treat. Plus, they are so easy, even the kids can help make them!
Ingredients
12 Chocolate Mini Donuts
Fall Harvest Candy Mix - the one with Candy Corn and Indian Corn
24 Candy Eyes
1 tube Red Cookie Icing
Wilton Pumpkin Mix sprinkles - any leaf or pumpkin shaped sprinkles will work
Instructions
Begin by slicing off a small part of the bottom edge of the donut so it makes a flat surface for the 'turkey' to stand.
Next, carefully insert 5 to 6 candy corn into the top edge of the donut to make the feathers. Be sure to insert the pointed end first. Don't push too hard or the donut may break apart!
Use a dab of icing to add the eyes.
Insert another candy corn into the donuts' hole to make the beak.
Remove the pumpkin-shaped sprinkles from the Pumpkin Mix sprinkles. Carefully insert them near the bottom edge of the donut to make the feet.
Use the red cookie icing to draw the turkey's snood next to the beak.
Allow icing to set before serving.
Nutrition Information:
Yield:
12 turkeys
Serving Size:
1 turkey donut
Amount Per Serving:
Calories:

105
Total Fat:

3g
Saturated Fat:

1g
Trans Fat:

0g
Unsaturated Fat:

1g
Cholesterol:

0mg
Sodium:

37mg
Carbohydrates:

19g
Fiber:

1g
Sugar:

14g
Protein:

1g
Nutritional information is automatically calculated with ingredients and serving size and may not be accurate. Please always double check with your own nutritional apps as well.
More Popular Holiday Treat Recipes
If you liked this fun Thanksgiving food craft, then you will love these other holiday treats. Here are 3 more of the most popular holiday recipes on the blog: