One of my favorite parts of the Fall and Winter holidays is all the fun decorations and cute food I get to make! Like these Thanksgiving Turkey treats or these Hanukkah Pinata Cookies. Today, I'm sharing one of the cutest Thanksgiving treats yet, Mini Donut Turkeys!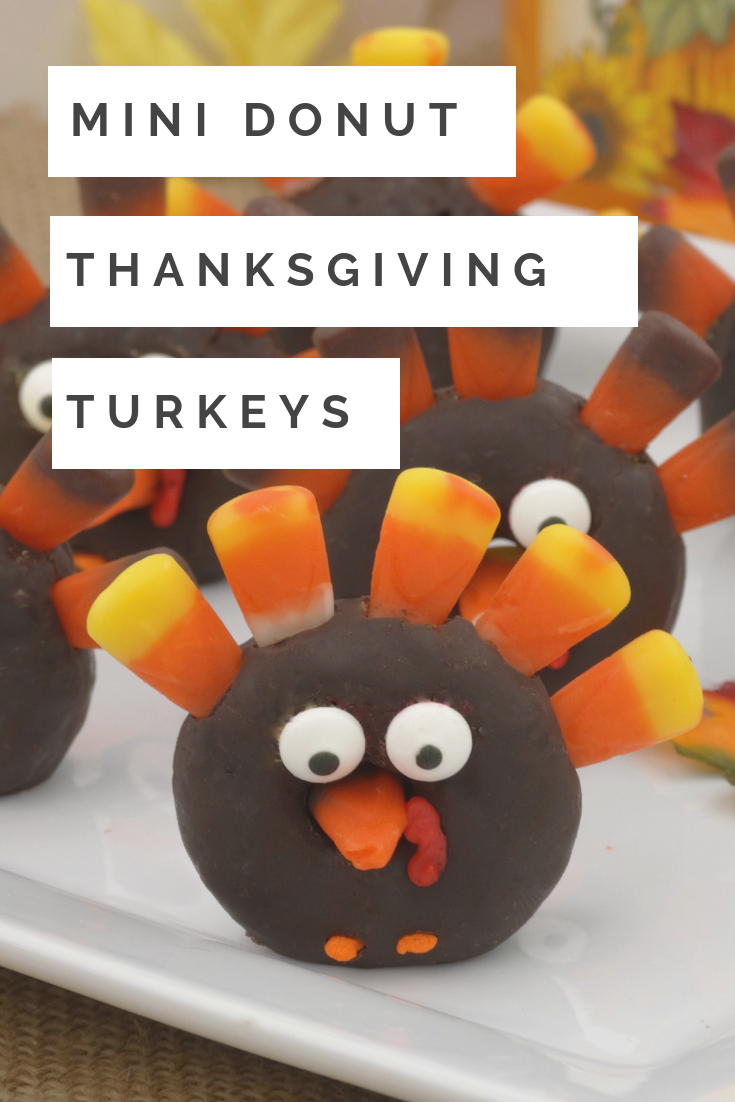 These adorable Mini Donut Turkeys are super cute and are perfect for classroom parties, Thanksgiving dessert or even as a fun Fall treat for kids. Best of all? They are incredibly easy – and inexpensive – to make! Plus if you need something to use up all that leftover Halloween candy corn, this is it!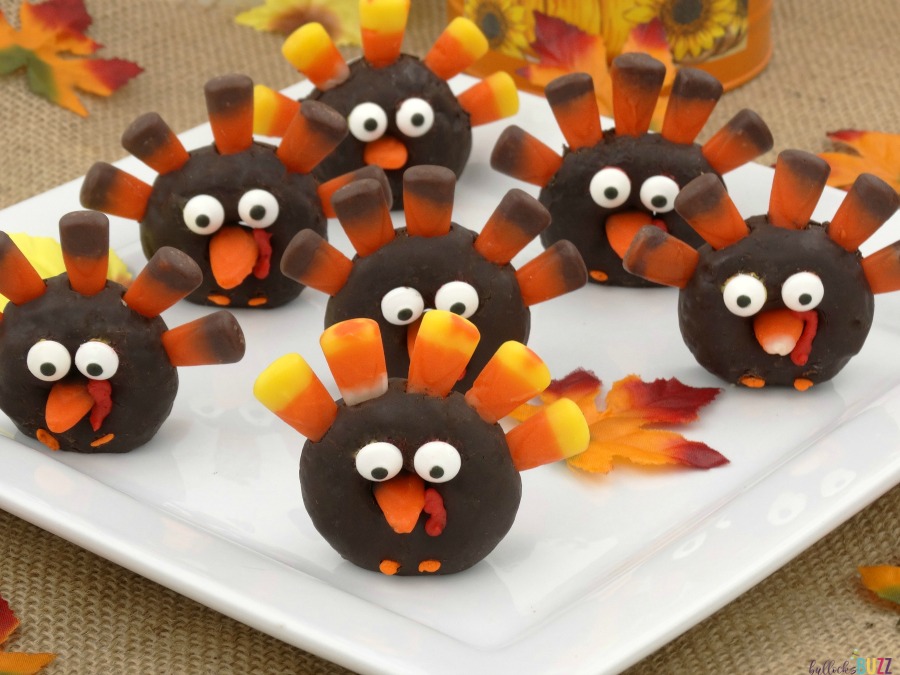 This fun Thanksgiving treat idea is so easy that the kids can make some themselves! All you need is a package of mini chocolate donuts, candy corn, candy eyes, Fall-themed sprinkles, and some icing to use as glue. Give yourself about 10 minutes, and you'll be gobbling them up in no time at all!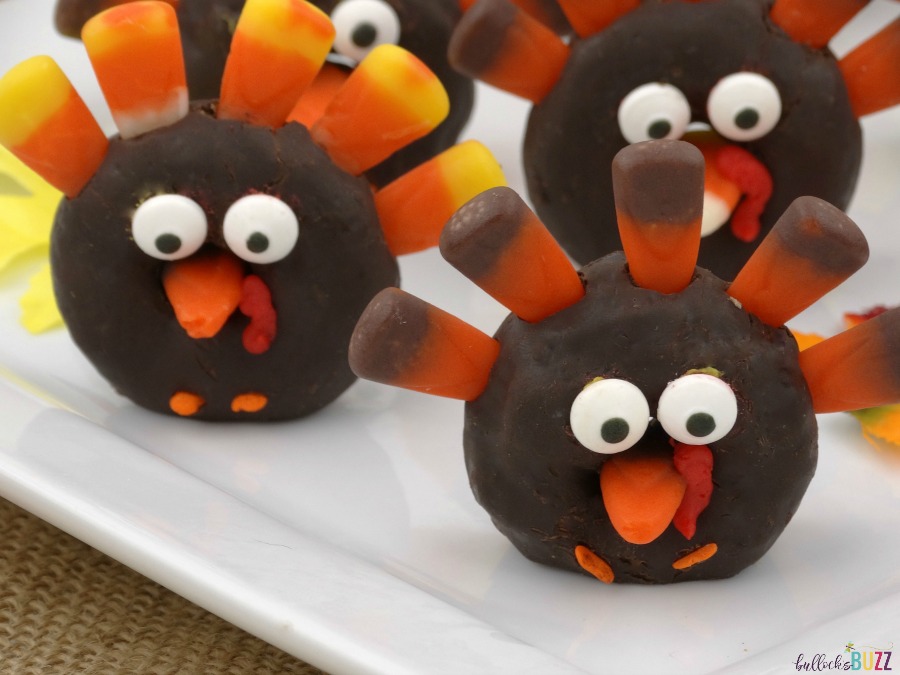 Mini Donut Turkeys
Mini Donut Turkey Ingredients
Chocolate Mini Donuts
Fall Harvest Candy Mix  – the one with Candy Corn and Indian Corn
Candy Eyes
Red Cookie Icing
Wilton Pumpkin Mix sprinkles – any leaf or pumpkin shaped sprinkles will work
Instructions to Make Mini Donut Turkeys
Begin by slicing off a small part of the bottom edge of the donut so it makes a flat surface for the 'turkey' to stand.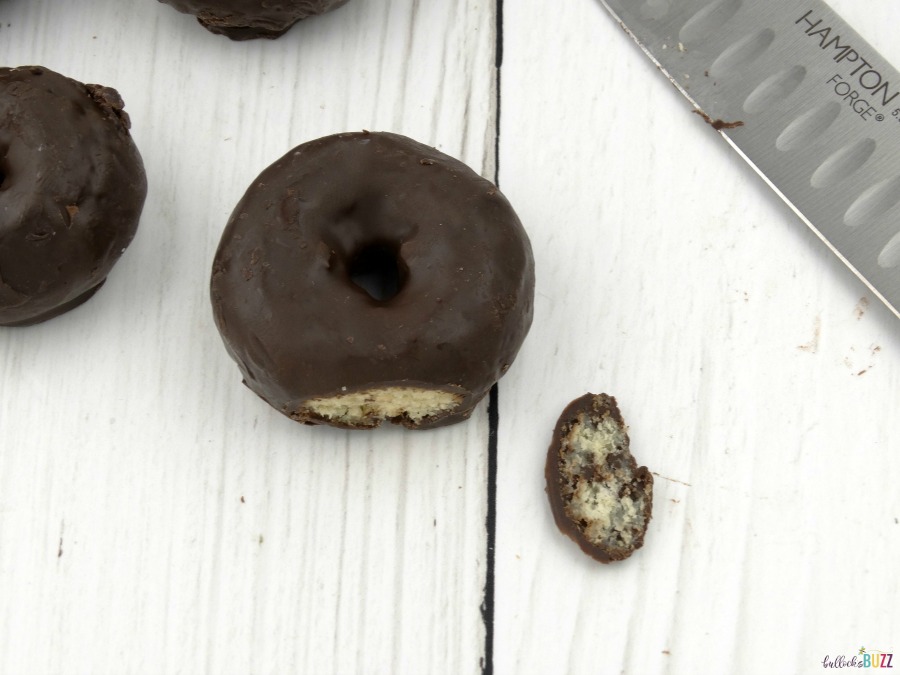 Next, carefully insert 5 to 6 candy corn into the top edge of the donut to make the feathers. Be sure to insert the pointed end first. Don't push too hard or the donut may break apart!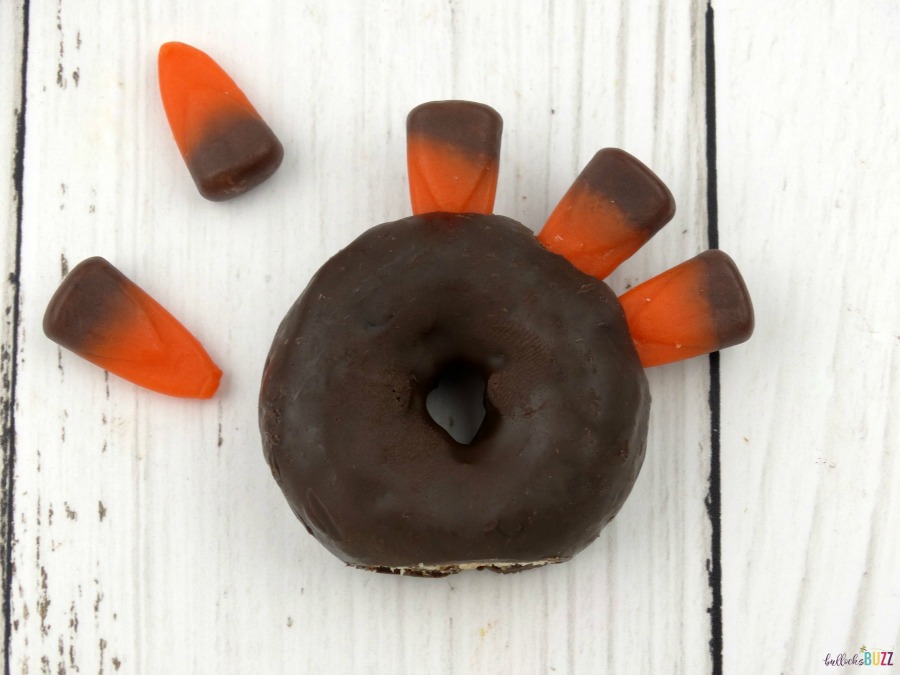 Next, using a dab of icing as glue add the eyes.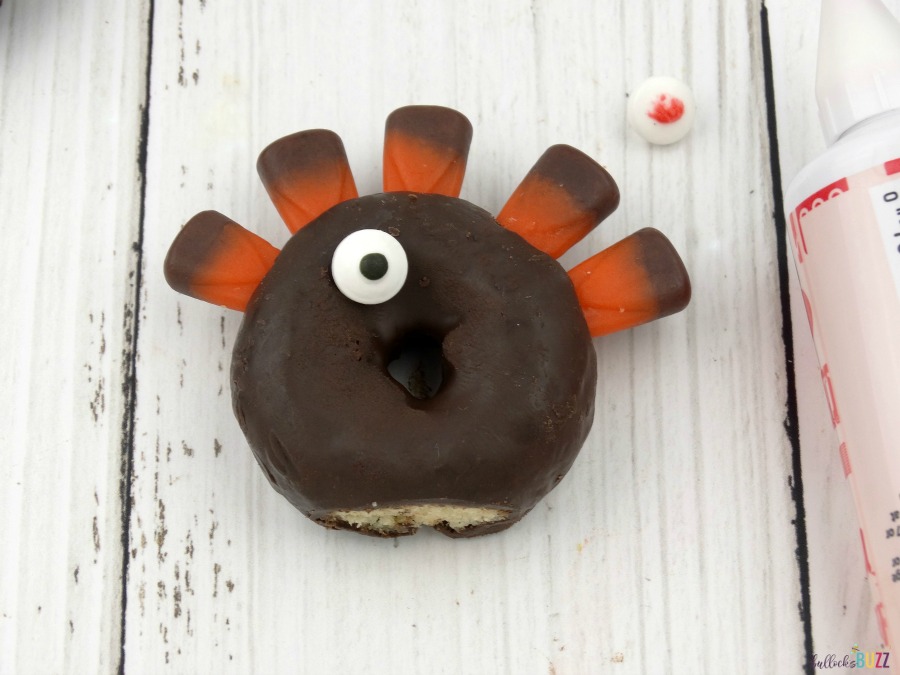 Then, insert another candy corn into the donuts' hole to make the beak.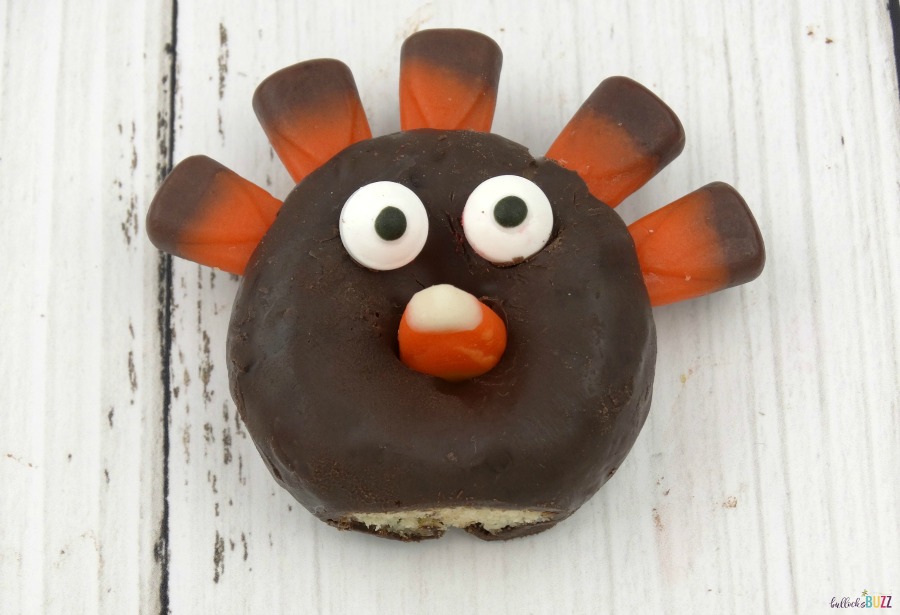 For the feet, remove the pumpkin-shaped sprinkles from the Pumpkin Mix sprinkles. Carefully insert them near the bottom edge of the donut to make the feet.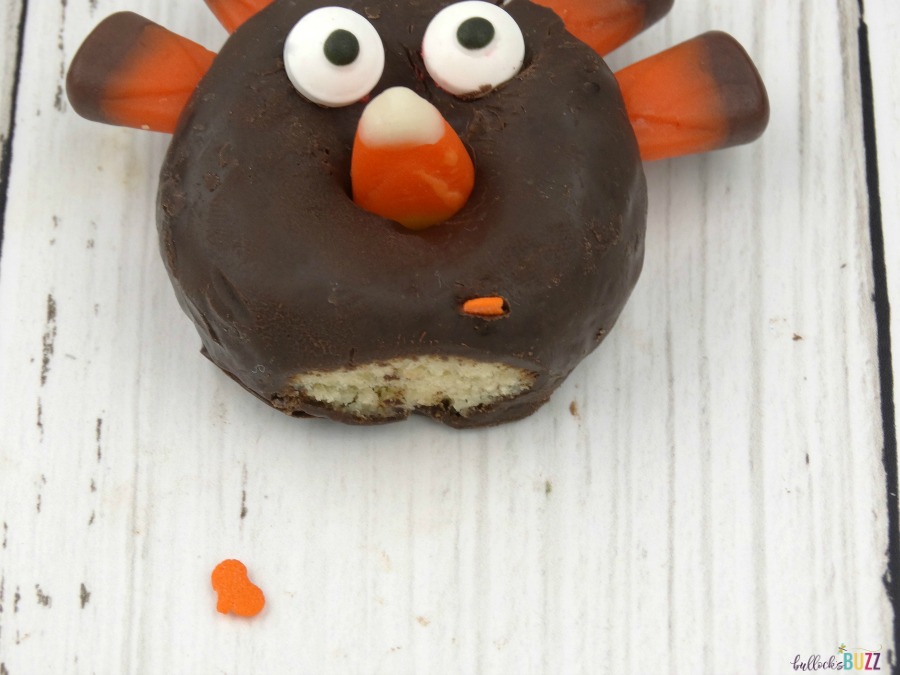 Last, but not least, use the red cookie icing to draw the turkey's snood next to the beak. Let the icing set, and that is it! You're done!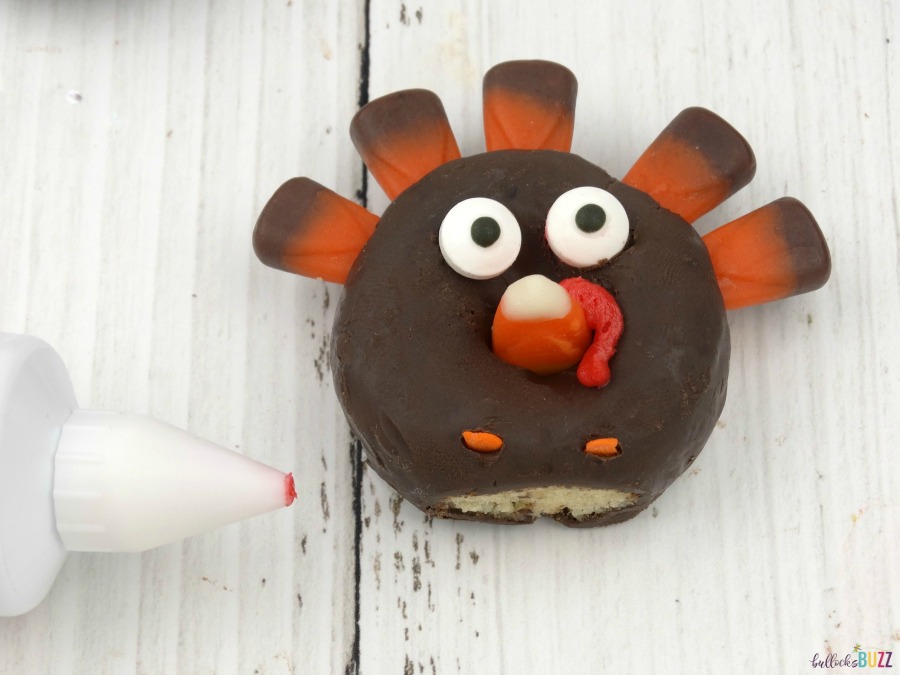 Aren't they simply adorable?! And they taste good, too!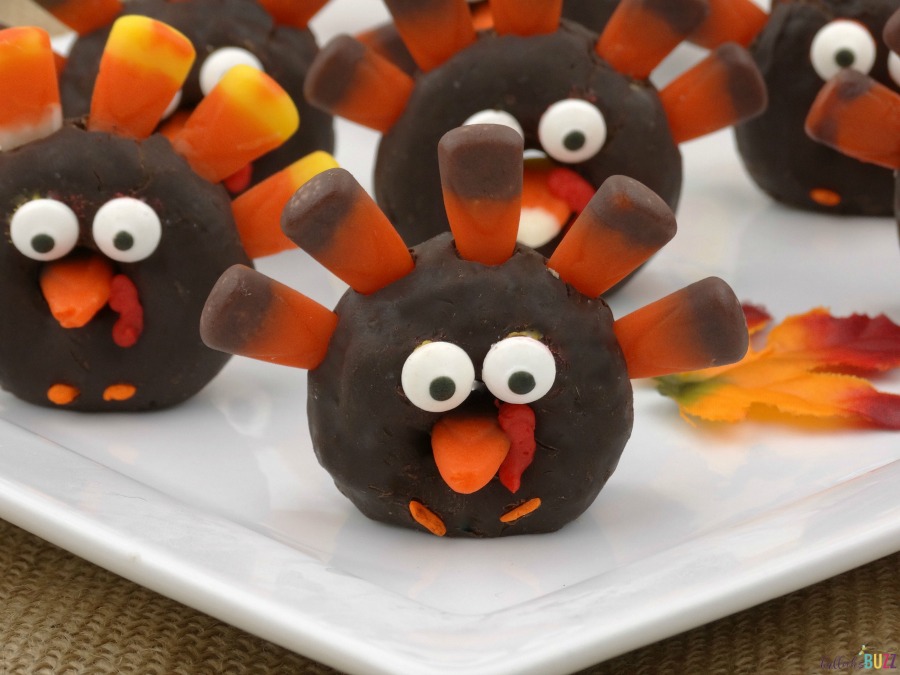 Now all that's left to do is… "gobble" them up!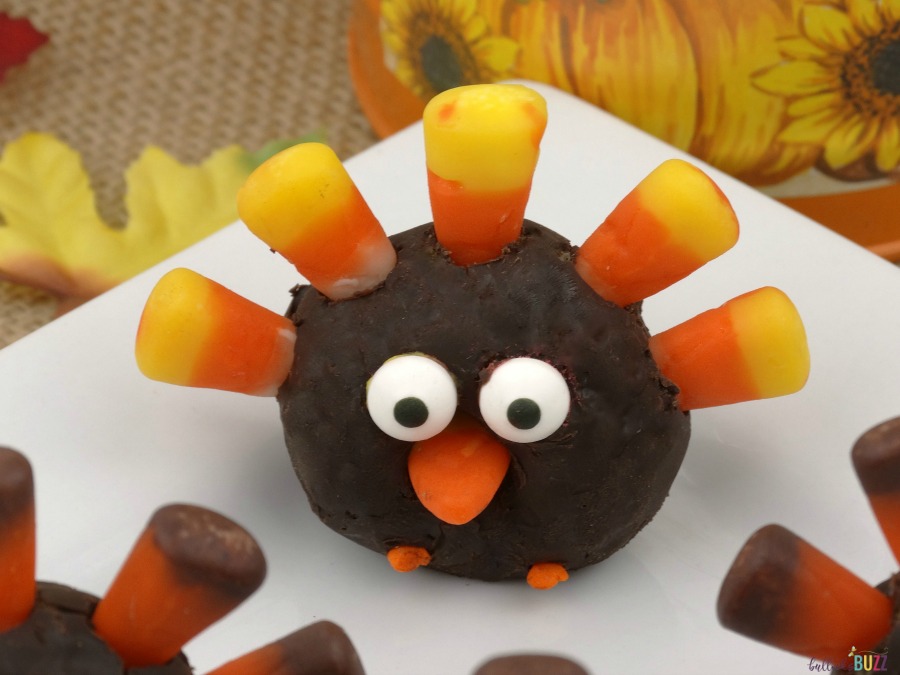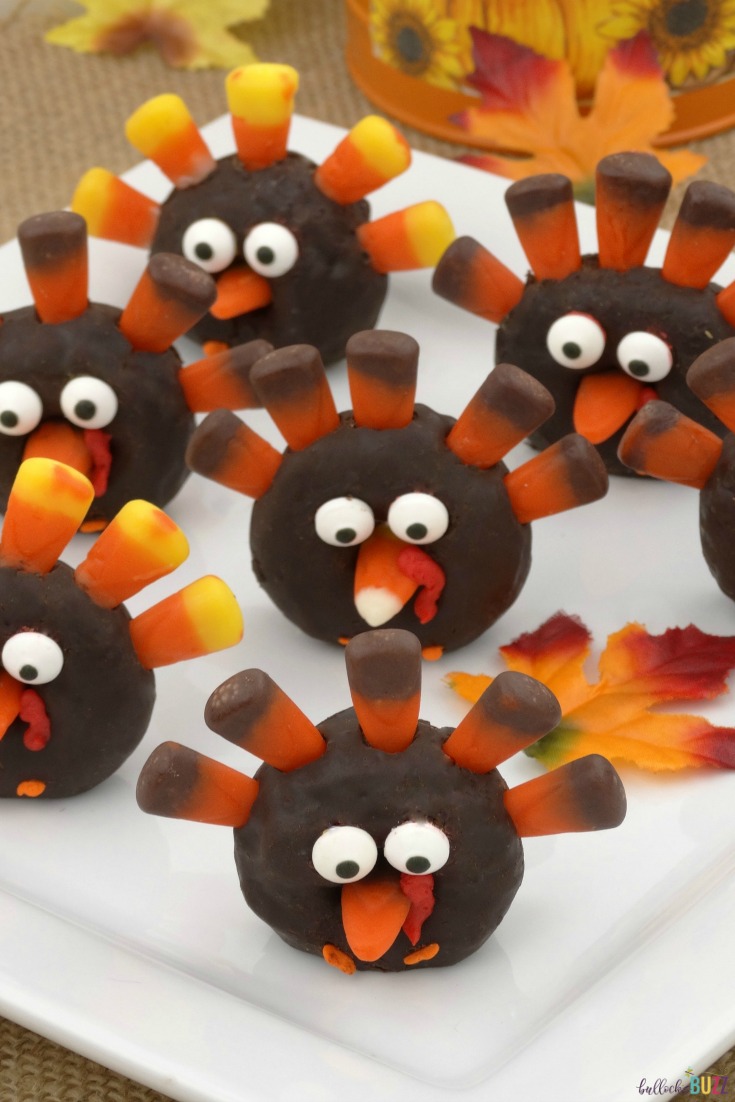 I hope you love these Mini Donut Turkeys as much as I do!
Be sure to follow our Pinterest board below with more great Thanksgiving ideas! And use the social sharing buttons below the post title to share with friends and family!
Do you have a favorite Thanksgiving treat recipe? Leave a comment below, come and chat on Facebook or sign up for our email updates!
Like this fun Thanksgiving treat? Then you'll love these other holiday favorites!