As a lover of all books, I was excited to receive a hard cover copy of the children's book Polarity Bear Tours the Zoo: A Central Park Adventure, and I could not wait to read it! Written in 2011 by Sue de Cuevas and illustrated by Wendy Rasmussen, Polarity Bear Tours the Zoo is one of those must-have children's books that will soon become a classic!
Polarity Bear is bored. She arrived at Central Park Zoo when animals still lived in cages instead of their natural environments. Polarity decides it's time for a break. She escapes from her cage and tours Central Park where she visits attractions we can still see today, This book tells the tale of her adventures.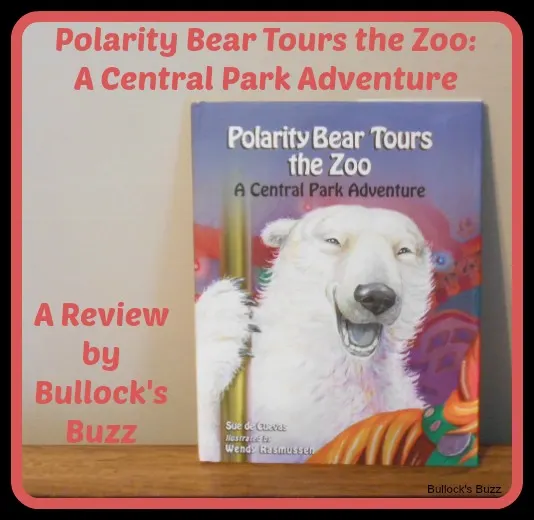 Polarity Bear Tours the Zoo: Story Line
While geared towards children ages 3 to 8, children of all ages can follow along with Polarity Bear on her adventures through Central Park. For those who are familiar with this urban oasis, they will see some of their favorite attractions through the eyes of a bear including the sea-lion pool, the Delacorte Clock and the carousel. And for those who have never been, this first time visit opens your eyes to a totally different side of one of the largest cities in the world.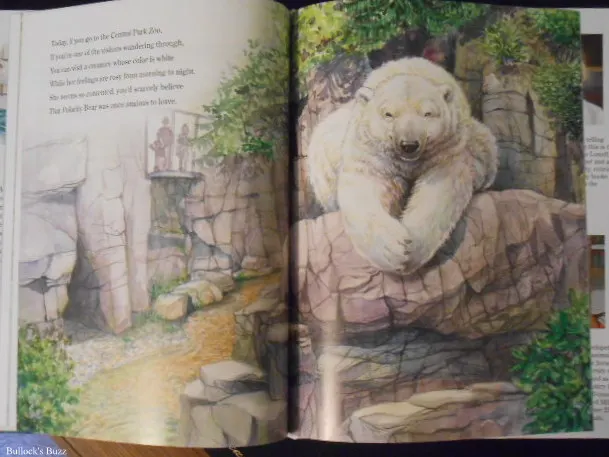 Set at a time before the zoo began making the change from cages to more natural habitats for the animals, Polarity Bear is behind her cage bars in Central Park Zoo and longs for a life a little bit more exciting. Like many of the other animals, she has nothing to play with and has humans staring and pointing at her all day long. As a result, she is in a terribly sad mood and is tired of being so bored. One day, much to her delight, her cage bars break and she sets out to explore and make her own fun. It takes little time before she discovers that she really does like her own place in the zoo – even if it is behind bars with nothing to do.
Polarity Bear Tours the Zoo: Style
The first thing I noticed when reading is the fun, rhyming cadence the author used which quickly grabs a child's attention and holds it. Children will love hearing it read as well as reading it themselves. The large illustrations are absolutely beautiful and captivating. Rich and full of color, they complement the story and bring it to to life!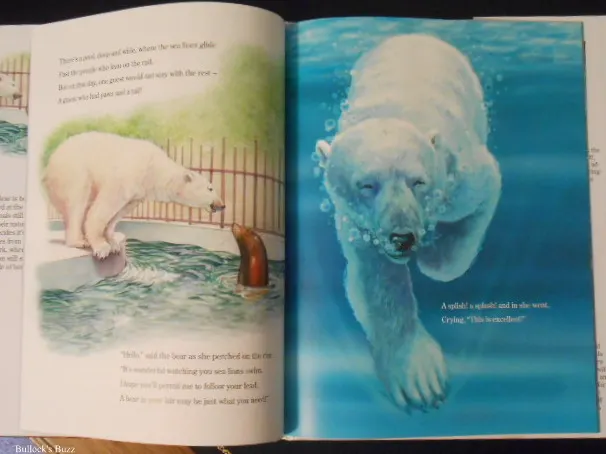 Polarity Bear Tours the Zoo: My Thoughts
This has to be one of the cutest children's book I have read in a while. As a teacher and book lover, I have read many children's books over the years, and this is one I am happy to recommend. Not only is the main character a lovable, beautiful polar bear, but the story itself is endearing and memorable. It is a great way for children to see how the zoo used to be and what it would look like were they to visit the current day Central Park Zoo.
Like all good books, Polarity Bear Tours the Zoo also reinforces several lessons for children. Not only can it be used as a discussion on animals, but it also teaches children about learning to appreciate what they have and where they are, and that the grass is not always greener on the other side. If you have a child that loves to read, a child who loves animals or a child you are encouraging to read more, I highly recommend Polarity Bear Tours the Zoo!

Polarity Bear Tours the Zoo: Where to Purchase
You can purchase a hard cover copy of Polarity Bear Tours the Zoo: A Central Park Adventure on Amazon.com for $15. This is a great bargain for such an endearing book with beautiful pictures. This beautiful book would make a wonderful addition to your child's library, and is truly a story they will love to read again and again.