Halloween Dinner Party Ideas: A Frightful Feast!
Halloween: it's not just for the little kids, it's for us big kids too! That's why, every year I love to host a hauntingly good, spooktacular Halloween dinner party for us big kids, and the little one's too!
Each year I toss a cob-web looking table cloth over our dining room table, cover the entire apartment with spooky Halloween decorations and cook a frightfully fantastic feast fit for…well, fit for a monster!
Here are some of my favorite Halloween Dinner Party Ideas!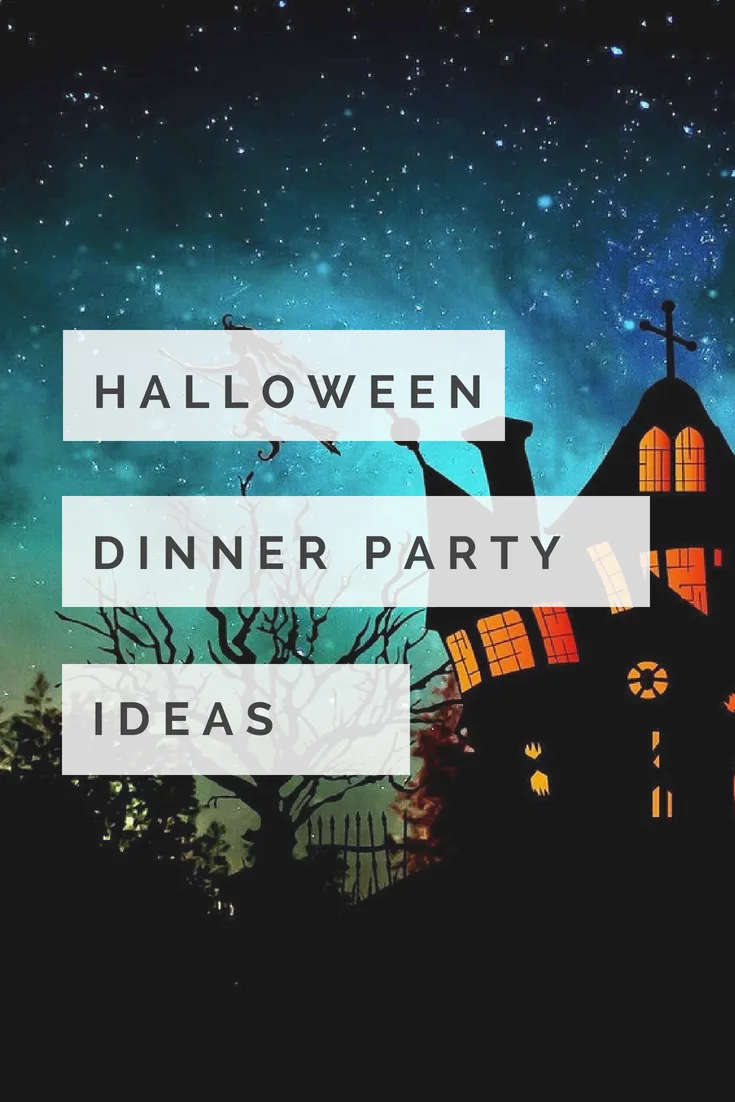 Tablescape and Decor Ideas
No list of Halloween dinner party ideas would be complete without decor! When our guests arrive, they are greeted by my fantastically frightening DIY Halloween wreath hanging on the front door. Inside, the main table is set up cafeteria-style, and each ghoulishly-gross food is identified by a sign written in an eerie script with a fitting picture.
Lights are dimmed, and long white candles with red-colored wax drizzled down their length to resemble blood sit in candelabras with gauzy spider web stretching between each branch. An assortment of creepy, crawly plastic bugs run all over the table.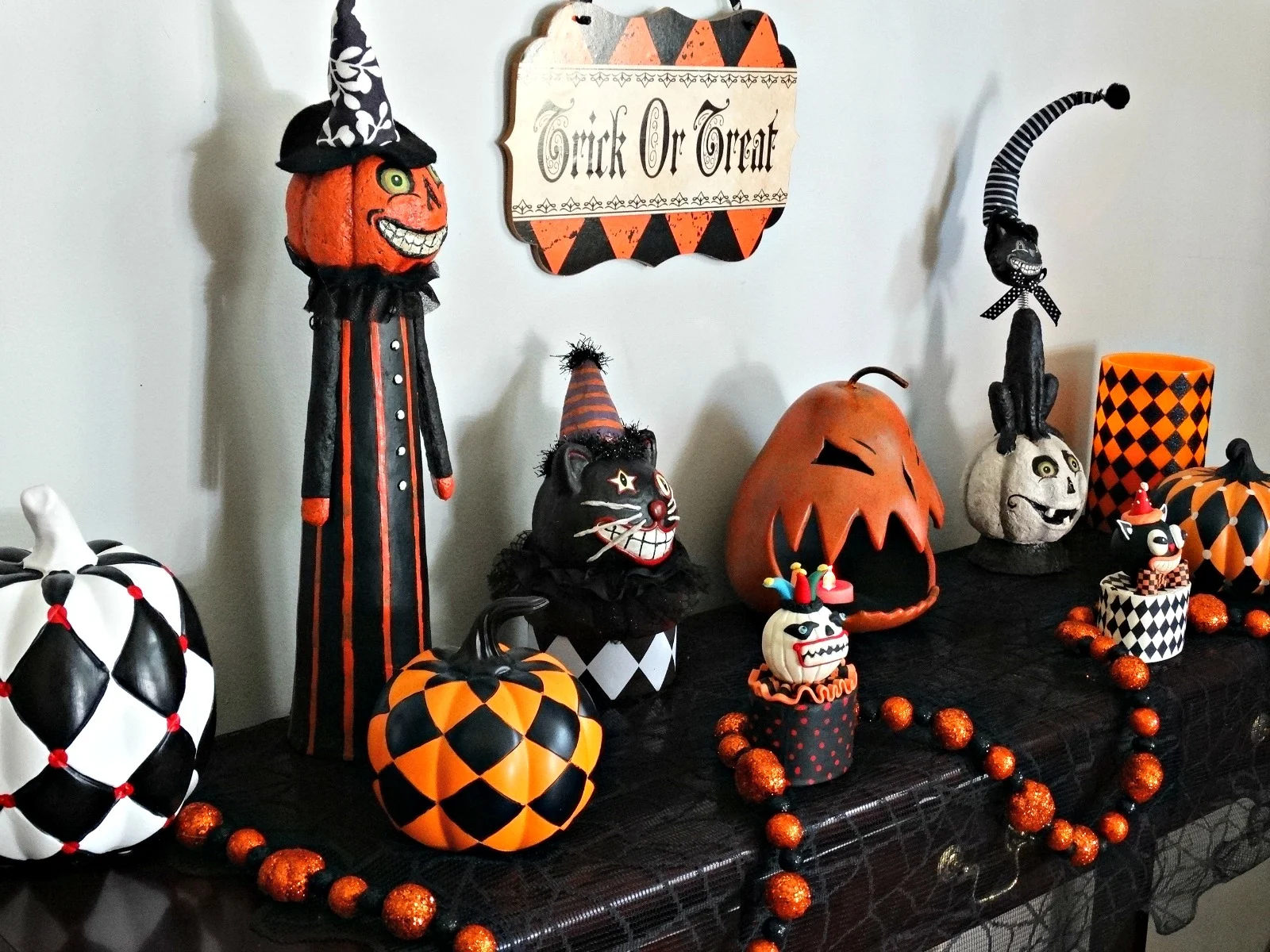 On the long table against the wall is a spooky Haunted Harlequin Halloween tablescape. My Frighteningly FaBOOlous DIY Halloween Sign and another Halloween wreath I made completes the decor.
Halloween Dinner Party Recipes: Ghoulish Goods to Eat
Below you will find a few of my favorite ghoulish goods to cook for your own frightful feast! I found almost all of these recipes online, from sites such as myrecipes.com and allrecipes.com, and I just added my own twist here and there. From meat and vegetables to desserts and drinks, there is guaranteed to be something to make everyone's taste buds water and their skin crawl!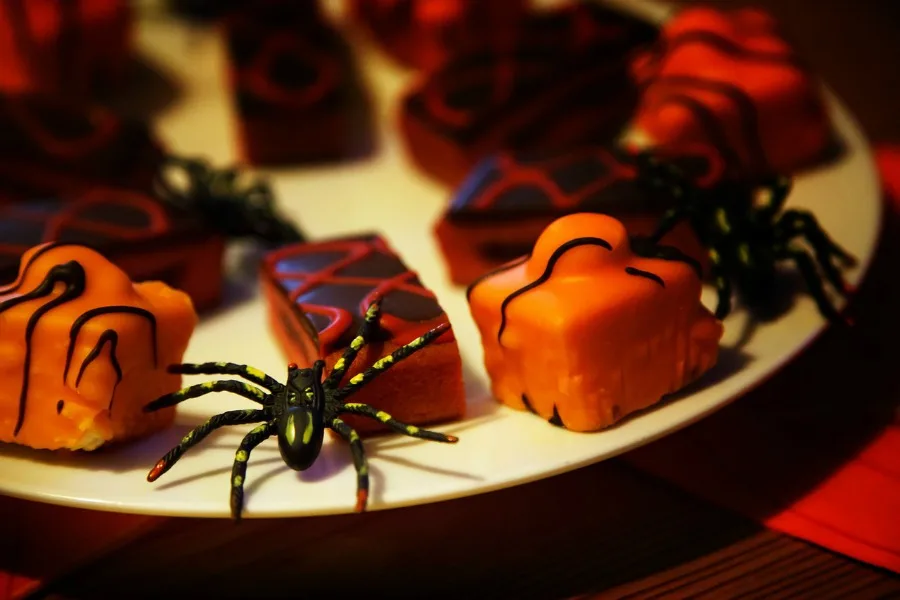 Our feast this year is scheduled for the weekend before Halloween, so be sure to check back to see how it turned out this year!
Dead Man Meatloaf
This Dead Man meatloaf recipe is sure to make them scream! An eerily delicious meatloaf recipe shaped to resemble a dead man with a knife in his chest.
Ingredients
1 tablespoon butter
1 tablespoon minced garlic
1 onion, chopped
1 cup chopped celery
2 eggs
2 pounds lean ground beef
1 tablespoon Cajun seasoning
1 cup seasoned bread crumbs
1 pitted black olive, cut in half
1 cup ketchup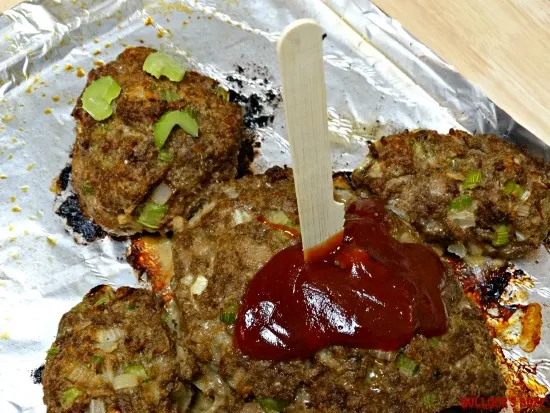 Directions
Melt the butter in a skillet over medium heat. Cook and stir the garlic, onion, and celery in the hot butter until the onion has softened and turned translucent, about 10 minutes. Transfer the vegetables to a mixing bowl, and allow to cool to just warm.

Preheat an oven to 350 degrees F (175 degrees C). Place a sheet of aluminum foil onto a baking sheet, and spray with nonstick cooking spray.

Crack the eggs into the mixing bowl with the vegetables, and mix until the egg is smooth. Add the ground beef, Cajun seasoning, and bread crumbs. Mix with your hands until the mixture is evenly blended. Form the meat mixture into the shape of a stick man.

Bake in the preheated oven until no longer pink in the center, about 35 minutes. An instant-read thermometer inserted into the center should read at least 160 degrees F (70 degrees C).

Once done, place the olive halves onto the head for eyes, and pour the ketchup onto the abdomen. Return to oven, and bake 10 more minutes.

Serve with a plastic knife impaled in the abdomen for effect.
Ghostly Mashed Potatoes
Make your favorite mashed potato recipe. Using either an icing bag or a large Ziploc with the very bottom corner cut off, pipe the mashed potatoes onto the plate in the shape of a ghost. Add raisins or black currants for the eyes and mouth.
Eyes of Newt
These are simply your favorite recipe of black eyed peas, cooked up and served in a bowl.
Goblins Brains
Frankenstein or Goblin brains can be either of two vegetables, both of which look a bit like brains. For white goblin or mummy brains, use cauliflower. For green Frankenstein or Wicked Witch of the West brains, use broccoli.
Instructions
Break the cauliflower and/or broccoli into flowerettes.

To enhance the "brain" effect of the food, steam the vegetables whole rather than chopping into pieces.

If possible, serve the broccoli on a stem, so it looks like the brain on a brainstem!
Breadstick Bones
Ingredients
Refrigerated bread sticks – Pillsbury® or other brand
Whole or Sliced Almonds
Instructions
Open can and separate breadsticks.

Break breadsticks into "finger sized" pieces, usually in two.

Shape into a finger.

Add a whole almond for the fingernail.

Then cook according to the instructions.
Chocolate Covered Strawberry Ghosts
Ingredients
30 fresh strawberries
8 ounces white baking chocolate, chopped
1 teaspoon shortening
1/8 teaspoon almond extract
1/4 cup miniature semisweet chocolate chips
Directions
Wash strawberries and gently pat with paper towels until completely dry.

In a microwave-safe bowl, melt white chocolate and shortening at 50% power; stir until smooth. Stir in extract.

Dip each strawberry in chocolate mixture; place on a waxed paper-lined baking sheet, allowing excess chocolate to form the ghosts' tails.

Immediately press chocolate chips into coating for eyes.

Freeze for 5 minutes.

In a microwave-safe bowl, melt remaining chocolate chips; stir until smooth.Dip a toothpick into melted chocolate and draw a mouth on each face.
Jello Brain
Cherry JELLO made with a brain-shaped mold.
Ingredients
Brain mold
3 boxes (6 oz each) of peach flavored gelatin
1 can (12 oz) light evaporated skim milk
Vegetable cooking spray
Red food coloring
Green food coloring
2 1/2 cups boiled water
1 cup cold water
Instructions
Begin by spraying the inside of the mold with the vegetable cooking spray.

Place the gelatin into a medium sized bowl, and add 2 1/2 cups of boiling water. Stir with a whisk until completely dissolved, for about 2 to 3 minutes.

Next, stir in 1 cup of cold water.

Then add in the skim milk, stirring for about 2 minutes.

To get the flesh color, add a few drops of green food color, and stir well.

Wrap the mold in a kitchen towel and place into a bowl, sitting upright. You'll want to be sure that the mold is sitting tight in the bowl, so that it won't move around.

To create the blood vessels, add several drops of red food coloring to the bottom of the mold.

Next, pour the jello mixture into the mold, making sure to leave approximately 1 inch space from the top of the mold.

Place in refrigerator overnight, and allow to set completely.

When ready to serve, dip the bottom of the mold into warm water and gently shake until the jello is loosened from the mold. Once you are sure it is loose, invert it onto a serving plate and the jello brain should slide out.
Kitty Cat Litter Cake
Serve in new litter box with new scooper
Ingredients
1 (18.25 ounce) package German chocolate cake mix
1 (18.25 ounce) package white cake mix
2 (3.5 ounce) packages instant vanilla pudding mix
1 (12 ounce) package vanilla sandwich cookies
3 drops green food coloring
1 (12 ounce) package tootsie rolls
Directions
Prepare cake mixes and bake according to package directions (any size pan).

Prepare pudding according to package directions and chill until ready to assemble.

Crumble sandwich cookies in small batches in a food processor, scraping often.

Set aside all but 1/4 cup. To the 1/4 cup add a few drops of green food coloring and mix.

When cakes are cooled to room temperature, crumble them into a large bowl.

Toss with 1/2 of the remaining cookie crumbs, and the chilled pudding. You probably won't need all of the pudding, you want the cake to be just moist, not soggy.

Line kitty litter box with the kitty litter liner. Put cake mixture into box.

Put half of the unwrapped tootsie rolls in a microwave safe dish and heat until softened. Shape the ends so that they are no longer blunt, and curve the tootsie rolls slightly. Bury tootsie rolls randomly in the cake and sprinkle with half of the remaining cookie crumbs. Sprinkle a small amount of the green colored cookie crumbs lightly over the top.

Heat 3 or 4 of the tootsie rolls in the microwave until almost melted. Scrape them on top of the cake and sprinkle lightly with some of the green cookie crumbs.

Heat the remaining tootsie rolls until pliable and shape as before. Spread all but one randomly over top of cake mixture. Sprinkle with any remaining cookie crumbs.

Hang the remaining tootsie roll over side of litter box and sprinkle with a few green cookie crumbs.

Serve with the pooper scooper for a gross Halloween dessert.
Witches Brew with Frozen Hand
Ingredients
1 envelope unsweetened grape drink mix
1 envelope unsweetened orange drink mix
2 cups white sugar
3 quarts cold water
1 liter ginger ale
Preparation
In a large punch bowl, stir together the grape and orange drink mix with the sugar and water until the solids are dissolved. Add the chilled ginger ale just before serving.

To make a frozen hand, wash a disposable glove, fill with water, seal with a rubber band and freeze until hard. I usually do this the night before the party.
Spooky Treats
No Halloween party is complete without a tasty selection of spooky sweets! Here are some of our favorites:
Candy-Filled Halloween Jars
These adorable Halloween candy-filled jars serve as both decor and treats!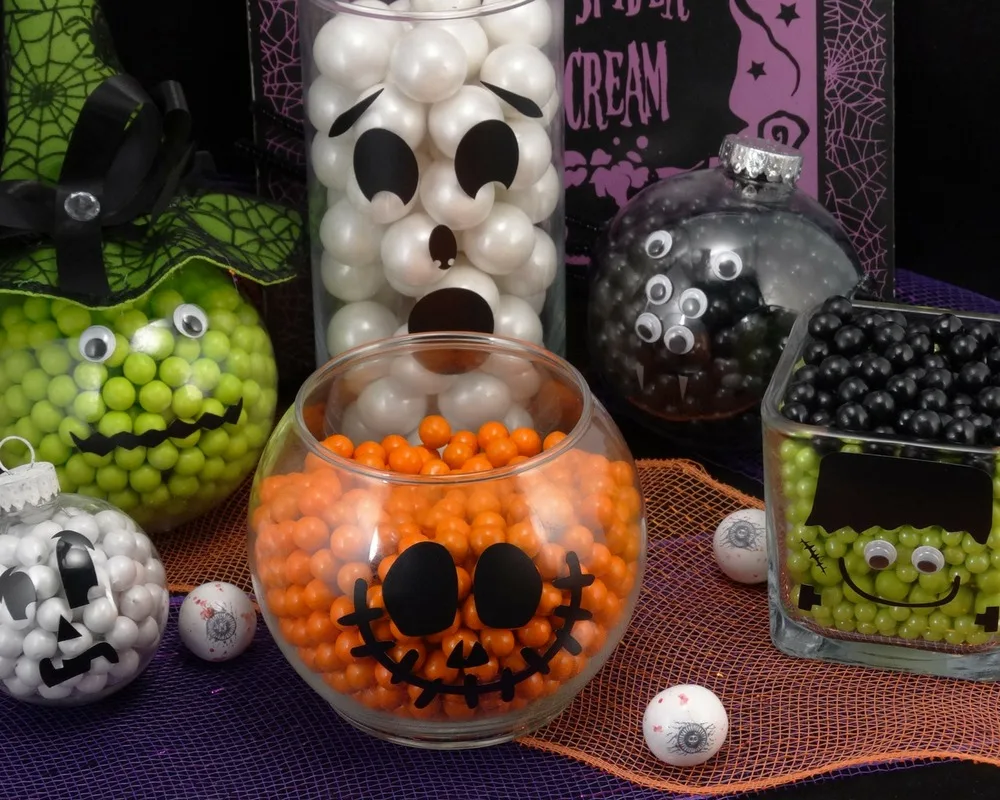 Frankenstein Twinkies
This simple Frankenstein Twinkies recipe calls for just a few basic ingredients and literally takes just minutes to make. You can also make Twinkie ghosts, too!