The holidays are always exciting with a toddler or baby. Starting new family holiday traditions can help to make the season even more special. Get inspired with this list of fun and festive holiday activities. Years from now, you will look back on how treasured the tradition has become to your child and family!
1. Wear New Holiday PJs
It is always nice to get a fresh, cozy pair of pajamas. Buy an outfit for each member of the family so they can sleep tight until Santa arrives. Find a unique pair of PJs for everyone or match with the same print or pattern. There are plenty of cozy and festive adult pajamas and baby pajamas out there to put you in the holiday spirit.
Ideas for cute outfits include striped pajamas and checkered pajamas in the colors of the season. Other popular choices include garments adorned with candy canes, penguins and snowflakes. Some PJs are meant to look like Santa Claus outfits or an elf's clothing. Pair them with a warm cap and matching socks for an adorable photo before it is time for bed.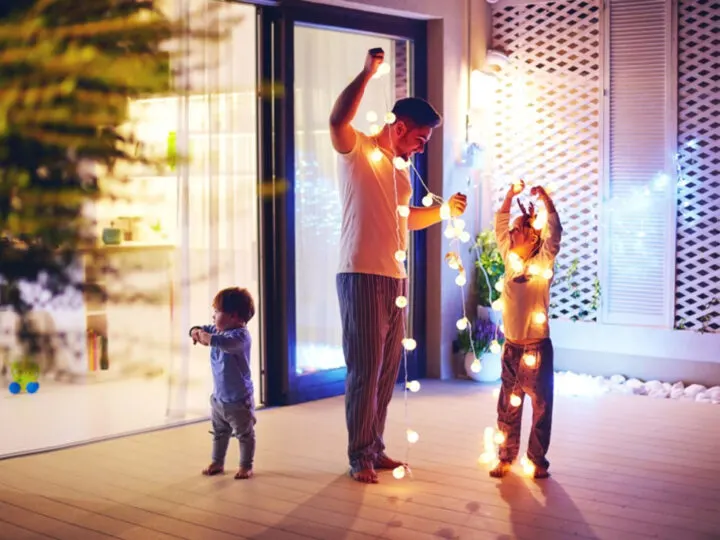 Wrap the pajamas or place them in a gift bag so everyone can get excited about opening presents. Gather around the fireplace or drink hot cocoa as you take a look at each pair of PJs. Every year, your children will love to open their brand new holiday clothing. You may even find that it excites the adults or pets in the family!
2. Take a Holiday Family Photo
There is nothing more timeless and memorable than a family photograph. Taking a picture together is also a great way to see how all have grown over the years. Snap your first photo during the baby's first holiday. Feel free to schedule a shoot or keep the photos within the family. Take a picture at a favorite spot in your neighborhood or snap a photo under the lights of your living room tree. As long as you are enjoying the moment together, the pictures will come out wonderfully.
To create photos that are worthy of your fireplace mantel, plan your outfits ahead of time. Start by choosing a color palette that will work for everyone in the family. Clothing in neutral colors like silver, brown or cream can make a great backdrop for a snowy backyard or forest. Bold colors such as red, green or navy will pop against a neutral background, while burgundy, hunter green and pecan make for a wonderful rustic holiday look.
Your toddler and baby clothes can be formal or casual. Have your little one wear a fancy dress, a suit with suspenders or a bodysuit with cozy pants. Accessorize with warm socks, baby shoes and hair accessories like a bow or headband. Parents can celebrate the looks of the season with textured fabrics, trendy boots and tailored bottoms.
If you love your holiday pajamas, you can even wear them during your photograph session. Baby pajamas and toddler pajamas are easy to put on and they will keep your child cozy throughout the shoot. Since everyone can wear the same look, they will also make your holiday photos look put-together. When you are done taking your pictures, save them in a digital photo album. Print out your favorite shots and place them around your home during the holiday season.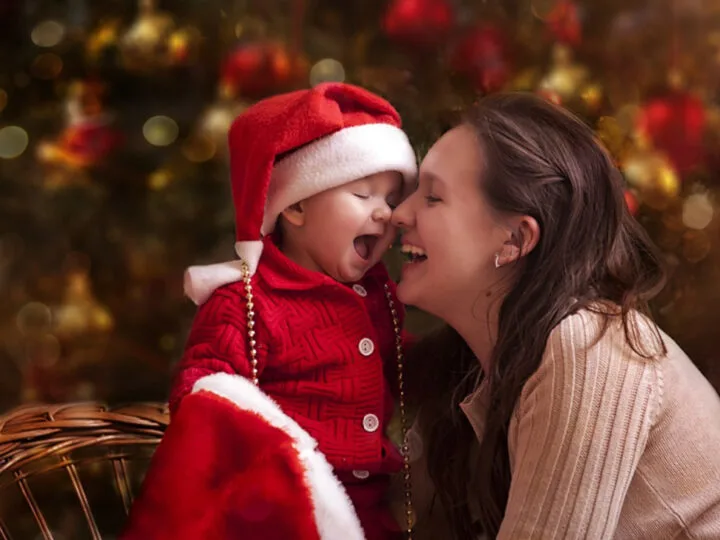 Source: Julia Shepeleva/Shutterstock.com
3. Buy a New Ornament for Each Family Member
Ornaments are fun to collect and place on the tree. You can make everyone in the family feel a part of the holiday tradition by buying an annual keepsake for them. Start your child with a "Baby's First Holiday" ornament and then purchase them something inspiring every season. When they are old enough to have their own tree, you can give them their ornaments as presents.
In the meantime, you will enjoy watching your little one open the bright and colorful gifts. Some of the best choices for small children include soft keepsakes and shatterproof ornaments that will not break if they drop them. Animals, cartoon characters and decorations made to look like food are sure to excite your baby or toddler.
If you would like to keep track of when you buy the ornaments, personalize the items with their name and year. You can DIY this part or buy custom gifts from artists and craft makers. The effort you put into the process will be appreciated later. The ornaments you buy will be available for generations of children in your family to enjoy.
4. Read Holiday Books
There are many benefits of reading to babies. While they will build their vocabulary and memory skills, you will also teach them about shapes, numbers and letters in an interesting way. As they begin to learn more about language, they will appreciate unique stories and characters. Your toddler will especially love the vibrant, festive tales that are a part of holiday books for kids.
Buy at least one new book each year, starting when your child is a baby. Over time, you will create a holiday collection that will last for years. Read the stories throughout the season, picking your favorite to recite on big days like a holiday eve such as Christmas. As your little one gets sleepy, they will be filled with visions of gifts they will receive in the morning.
Enjoy the books over milk and cookies or save the story until it is time to snuggle into bed. While you bond together as a family, you will also encourage the joy of reading in your child. There are a variety of fun holiday books for kids out there, so be sure to choose one that is appropriate for your baby or toddler's reading level. One day, you will experience the joy of watching your little one read their favorite holiday books to the family.
5. Take Time to Give or Volunteer
The holiday season is also about the joy of caring for others. Teach your child the importance of giving by donating or volunteering to a worthy cause. While your baby will not understand the reasons behind your generosity at first, you can still include them in the activity. Having them with you will make for lasting memories as you start new holiday traditions.
Parents with newborns or small children could choose to give a gift to a needy child, "adopt" a family to help provide gifts for their little ones or send a small donation to their favorite charity. There are even virtual volunteer opportunities available in your neighborhood and across the country.
Over time, when everyone in the family can participate, you can do more for your community. Sing carols for seniors at an assisted living facility or help serve a meal to the hungry. Enjoy the same activity each year or choose a new cause annually.
If you would like, you can give to others by spending quality time with a friend or family member. Bring the baby to visit grandparents or elderly loved ones. Their precious face and adorable smile will have everyone feeling the magic of the holidays. If you are miles away from the ones you love, communicate through video chat. Your family will appreciate the conversation and cuteness at such a special time of year.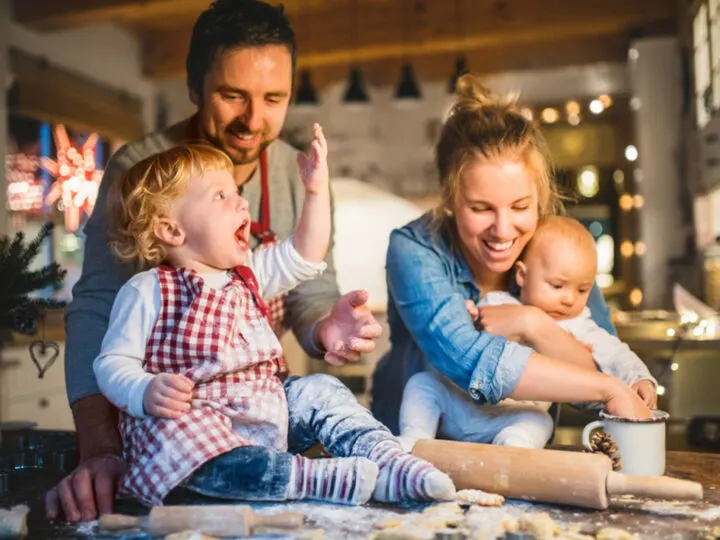 Source: Halfpoint/Shutterstock.com
Creating a Special Family Tradition
A unique family tradition can make it even more exciting to get ready for the holidays. Find something that fits your personality and how you enjoy the season. As you do the same activity each year, it will become a part of the fabric of the way you celebrate. There is no right or wrong way to create holiday traditions, as long as everyone is spending time together. Through the years, your kids will appreciate the time you put into the holidays and pass it on to their own family.